Paul Kilfoil's World of Travel, Technology & Sport
---
Spain & France : May-June 2018
Map © Nations Online Project (

info

)

Spain


Capital
Area
Population
Languages
Currency

Madrid
505 990 km2
46 529 000
Spanish, Catalan, Basque, Galician
Euro (EUR)

The Kingdom of Spain occupies most of the Iberian Peninsula in Europe, with long coastlines on the Mediterranean Sea to the south-east and the Atlantic Ocean to the north-west. Spanish territory also includes the Canary Islands in the Atlantic (Tenerife, Lanzarote and others), the Balearic Islands in the Mediterranean (Ibiza, Mallorca and others) and two cities in north Africa (Ceuta and Melilla). Gibraltar, a tiny British enclave on the south coast of Spain, has long been a thorny diplomatic issue. Several minority groups in Spain (notably the Basques and the Catalans) have been demanding independence for years, often via violent protests.
This page describes a trip by Paul Kilfoil and
Karen Gray-Kilfoil
to Europe in 2018.
Check out my
travelogues
page for details of other trips we've done.
If you enjoyed reading this, please send me an email. All correspondence is appreciated!
For a more detailed explanation of the various walking trails in Europe that converge on the city of Santiago de Compostela in Spain, read my blog about the Camino de Santiago.
[Monday 28 May 2018 : Cape Town, South Africa] The long haul from South Africa to Spain started with a ten hour flight between Cape Town and Doha in Qatar, landing in the tiny desert kingdom just before midnight. Neither Karen nor I had ever flown Qatar Airways before, but the experience was a pleasure - we enjoyed a bewildering range of new and old in-flight movies, excellent food and friendly air hostesses. In fact, it's amazing how good airline food has become in recent years - gone are the days of limp and soggy sandwiches and chicken that tastes like plastic; now you get gourmet wine, a nicely printed menu (with three choices) and tasty meals.
The wine was an oddity - alcohol is strictly prohibited in Qatar, but they serve it on the national airline? There were big warnings on the plane stating that you may not bring alcoholic drinks of any kind into Qatar, even stuff bought at duty-free shops; all liquor is confiscated at the airport and you cannot get it back. A bit hypocritical I would say ... but I suppose if they want to compete in the lucrative but cut-throat airline industry they simply have to give travellers what they want - wine, beer and hard drinks like whiskey and gin.
[Tuesday 29 May : Doha, Qatar] South Africans no longer need a visa to enter Qatar, so if we had had a longer layover we could have taken a quick look around Doha itself. Doha may have a reputation as the most boring city in and around the Persian Gulf, but I'd like to have seen for myself ... oh well, maybe next time. As it was we had to rush, because our connecting flight to Barcelona in Spain took off at 1:30 AM - there wasn't even time for a quick coffee between flights. But what we saw of Doha airport was most impressive, a spacious and futuristic expanse of gleaming tiles and glass, with an automated train running from one end to the other.
The airport is shaped like a "T", with two small "kinks" at the bottom of the vertical arm, and as luck would have it we arrived at the end of one of these "kinks" and had to walk all the way up the vertical arm to the "T" then down to the end of the left horizontal arm to find the boarding gate for our flight to Barcelona. It was so far we were actually tired by the time we got there ... but in our defence it was nearly 1 AM.
[Tuesday 29 May : Barcelona, Spain] Bleary-eyed with lack of sleep, we stumbled into Barcelona's airport after a six hour flight from Qatar. I was expecting the usual interrogation that South Africans normally endure when entering the Schengen zone, but going through Immigration couldn't have been easier; in fact, the officer barely acknowledged my "Buenos dias", just looked at my passport, stamped it and waved me through. I wasn't asked a single question, and Karen's experience was similar ... now that is how countries should greet tourists. Welcome to Spain!
On the train from Barcelona airport into the city
There are several ways to get into Barcelona from the airport - taxi, bus, train, metro. But we would be spending three days in Barcelona at the end of our trip and would probably be using the metro then, so it made sense to buy a "T10" multi-trip ticket, use two of the rides now to get into town from the airport and keep the remaining eight rides for later. You can use the T10 tickets on any bus, train or metro in Barcelona ... EXCEPT the airport metro line, go figure. But the T10 ticket IS valid on the airport TRAIN (which is different from the metro), so it was a no-brainer to take the train - the T10 ticket would reduce the cost of the ride from the airport to about one Euro each, but if we bought single tickets it would be about five Euros each.
Of course, nothing is ever simple - the metro has stations at both terminals T1 and T2, but the airport train only goes to terminal T2, and as you would already have guessed by now, we landed at terminal T1. So that meant catching the free airport bus from T1 to T2 then walking over a long overhead bridge above a construction zone to find the train station. After that it could not have been simpler - the guy at the ticket counter knew exactly what a T10 ticket was and a friendly guard at the automated gates showed us how to put the same ticket through the machine twice so that two people could get through the gate. A uniformed lady beckoned at us to hurry and we sprinted to get onto a train that was parked there waiting. Immediately after we were aboard the train departed and we rolled though the suburbs to Barcelona Sants station, the main railway hub in Barcelona. The train was spotless, comfortable and very smooth.
On 1 January 2020 the Barcelona T10 public transport ticket was discontinued and replaced by the T-Casual ticket. The main difference between the two is that the new T-Casual ticket cannot be used by more than one person on the same journey. With a T10 ticket, two or more people could go through a Metro turnstile at the same time - the person in front just handed the ticket over to the person behind them. So a couple could use one ticket and have five rides together, or three people could have three rides together (with one ride left over). But from 2020, every person has to have their own T-Casual ticket.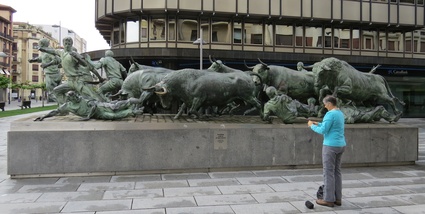 Karen contemplates the bronze sculpture of
the running of the bulls in Pamplona
Sants station is huge and we had quite a long wait before our 12:10 PM train to Pamplona (we'd pre-booked tickets for this over the internet), so we had plenty of time for a strong cafe con leche (coffee with milk) ... just what I needed to revive my flagging energy levels. Afterwards we strolled around the outside of the station to get some fresh air and stretch our legs, then boarded the long-distance express to Pamplona. It almost felt like we were in Switzerland, because the train moved out at EXACTLY 12:10, not a second before or after. Impressive punctuality indeed.
[Tuesday 29 May : Pamplona, Spain] We had intended to do some planning on the four hour train trip north-west to Pamplona, but lack of sleep caught up with us and we dozed most of the way. Luckily we'd pre-booked a place to stay in Pamplona, because neither of us felt like searching for a hotel when the train arrived there ... a bus from the train station to the city centre and a short walk in the rain through the confusing streets of the old town brought us to Aloha Hostal, a recently renovated backpackers' place in a graceful old building near Plaza Castillo. It was a relief finally to dump our backpacks in the room and relax for a while after 32 hours of travelling (two flights, two trains and two buses, plus quite a lot of walking).
Pamplona is a small but attractive city, made famous by Ernest Hemingway in his classic 1926 novel The Sun Also Rises. Of course, Hemingway's other legacy to Pamplona (and to many other places round the world where he stayed) was a set of bars cashing in on his legendary reputation as a heavy drinker - there's nothing quite like a sign saying "Hemingway drank here" or "Hemingway's favourite bar" to drum up business from thirsty tourists. Hemingway apart, Pamplona is renowned for bull running, bull fights and bullish pilgrims, who pass through here in their thousands as they walk the Camino westwards to Santiago de Compostela (as we would be doing in a couple of days time). During our wanderings around town we saw several people who were obviously pilgrims, with worn clothes, sturdy shoes and legs that could kick start a double-decker bus.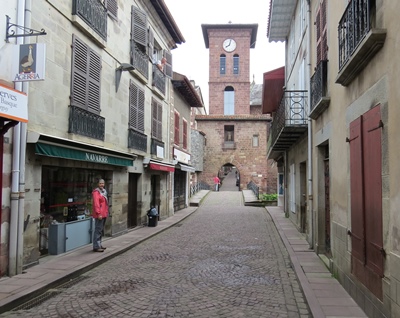 St Jean Pied-de-Port in France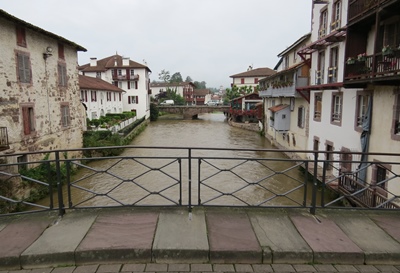 It was still raining that evening when we went out to get something to eat. We strolled the back streets around Plaza Castillo, looking at restaurants and the various menus on display, and eventually went into what looked like a typical Spanish bar. And despite the grumpy bartender (in fact, he was the only staff member in evidence, which may have been why he was grumpy), we had a superb meal there. Washed down with massive glasses of red wine, of course ... Comfortably replete, we trudged back to our digs in the rain.
[Wednesday 30 May : St Jean Pied-de-Port, France] Our bus to St Jean Pied-de-Port in France was only at 2:30 PM, so we had plenty of time to stroll around Pamplona in the morning. Our ramblings included excellent coffee and chocolate croissants at a bar, a walk along the old city walls and some photographs of the statue of Ernest Hemingway outside the bull ring (home of possibly the most barbaric legally-sanctioned human activity on the planet). It is truly staggering that a civilized, educated, modern society like that of Spain continues to allow, indeed encourage, the sheer cruelty of bullfighting ... but our feelings on the subject weren't going to make any difference, so we just snapped our pictures and moved on.
The Catalan people of the Spanish province of Catalunya (the area around Barcelona) are totally opposed to bullfighting, and in fact the Catalan regional government passed a law banning it. But the Spanish central government overruled this, saying bullfighting was a "cultural right". Nonetheless, there have been no bullfights in Catalunya for several years now. This is just one of the many examples of the differences between the Catalans and the Spaniards, and partly explains why the Catalans are so determined to attain independence from Spain.
Lunch was half a baguette each with some cheese from a supermarket, sitting on a bench on Plaza Castillo while watching well-heeled American tourists quaffing absurdly overpriced food at Cafe Iruna [Aside: Cafe Iruna occupies pride of place on Plaza Castillo and was reputedly much enjoyed by Ernest Hemingway during his time in Pamplona. And it's been cashing in on that legend ever since].
Then it was time for our bus to France. When I was in Pamplona 19 years ago (see my 1999 travelogue), the bus station was a dirty, chaotic open square, with dozens of bus companies competing to sell tickets to hundreds of different destinations in Spain and beyond. There was no order to proceedings or any central place where you could find out the times of buses to where you wanted to travel - you had to go to each bus company's office in turn and ask, an incredibly irritating and time-consuming procedure.
But things have moved on since then ... a brand new bus station has been built, completely underground, not far from where we were staying. It is quiet and ordered and has screens like an airport showing the times and platform numbers of buses arriving and departing. Of course, most people buy bus tickets over the internet these days, but there was also one central ticket window with several counters where you could buy any bus ticket to any destination if you wanted to. What an improvement - finding the bus to St Jean was simple and we climbed aboard with the minimum of fuss. And just like our experience on the train from Barcelona the previous day, the bus departed at 2:30 PM to the second. Public transport in this country sure has become supremely efficient and a pleasure to use.
The bus ride over the Pyrenees was a spectacular experience on a road that twisted and turned its way up to the summit of the pass (a paltry 922 metres above sea level) then down again via a series of u-turns. The scenery was magnificent, even though it rained most of the way. We saw several pilgrims cycling up the pass, soaked through with rain and grim-faced with effort.
The Camino Frances (French Way) from St Jean Pied-de-Port (France) to Santiago de Compostela (Spain), a distance of 790 km

We never even saw the border of France but surmised we'd left Spain when we saw signs like gite (instead of casa) and gare (instead of estacion). The rain had stopped by the time the bus reached St Jean Pied-de-Port, where we walked a couple of hundred metres down a cobbled street to the albergue we'd booked into - no luxuries like an en-suite bathroom here, just two bunk beds in a tiny "box", a rough blanket each and a toilet down the hall. But that's the life of a Pilgrim on the Camino de Santiago, so we decided to get used to it straight away. At least the coffee is always good here, unlike in Nepal (where I had to endure instant coffee or tea for three weeks while walking the Annapurna Circuit in 2016).
After checking in we strolled round town and along the river, admiring the centuries-old architecture. St Jean Pied-de-Port is a small town but very attractive, with narrow cobblestoned streets and a dilapidated fortress alongside the Nive river. It is clean and well kept; even the ruined fortress was given a makeover in 2010. For over a thousand years St Jean Pied-de-Port has been the traditional starting point for the Camino Frances, the pilgrim route across northern Spain from France, and almost everything in town seemed to be connected to the "pilgrim business" in some way. In fact, there are hardly any locals on the streets - almost everybody we saw was quite obviously a tourist. Mass for pilgrims is said every evening at 7 PM in the old stone church in the centre of town.
Our route on the first 4 days of the Camino (68 km)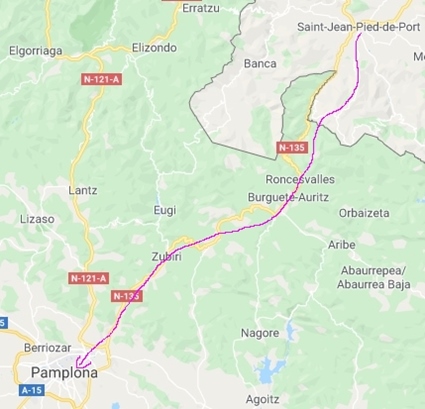 For a more detailed explanation of the various pilgrimages in Europe that all converge on the city of Santiago de Compostela, read my blog about the Camino de Santiago.
Camino Trail Log
---
Day 1 : St Jean - Orisson
---
| | |
| --- | --- |
| Distance | : 7.8 km |
| Total | : 7.8 km |
[Thursday 31 May : Orisson, France] We were woken early by the noise of other guests packing up and leaving, presumably to tackle the long and hard 24 kilometres walk over the Pyrenees to Roncevalles in Spain. Given the distance and mountainous gradient (very steep), we had decided to be prudent and had rather booked an intermediate overnight stop at a "refuge" called Orisson, 8 kilometres away and half way up the pass. So we had a leisurely breakfast of coffee, baguettes and jam then finally hit the road at 9:30 AM for our first day on the Camino. Neither of us had done any serious hiking since the Annapurna Circuit two years before, so we struggled with the unaccustomed weight of our backpacks - many other pilgrims passed us on the road out of St Jean, but the Camino isn't a race and we simply greeted them with a cheery "Bonjour" as they went past.
I was expecting a rough track out of St Jean, but unfortunately we had to walk on a tar road for the first few kilometres, and even though it was a very minor country road we still had plenty of cars and trucks roaring past us in both directions. That was unexpected, but it was also very steep (which we did expect) and slow, so the 8 kilometres to Orisson took over four hours. A brief stop at a gite along the way for cafe au lait broke the journey, but then it clouded over and the rain came down. Tired and dripping wet, we were mightily relieved when we reached Orisson at about 1:30 PM. Refuge d'Orisson was very basic (bunk beds in a dormitory) but it was pleasant, with a warm and convivial common room that doubled up as a restaurant. No wifi though - Orisson's location in the Pyrenees makes it one of the most remote and isolated spots in France.
Karen on the endless uphill from St Jean Pied-de-Port to Orisson
Supper was excellent - everybody staying at Orisson sat at long refectory tables and was served bread, huge pots of steaming soup, chicken and mixed vegetables followed by rice pudding, all washed down with (no kidding) limitless quantities of rough red wine. What an amazing meal! You could hardly hear what the person opposite you was saying above the noise of 50 pilgrims from almost as many countries jabbering away to each other. Lots of people stood up and introduced themselves and gave a brief insight into why they were doing the Camino, mostly in English but also in Spanish, French, German and Dutch. We ate and drank far too much then staggered down to our cramped dormitory room for a night of squeaking bed springs, snoring, farting, grunting, coughing, sniffing and multiple visits to the single toilet ... and no, that wasn't me but the other nine people who were also sleeping in the dorm.
[Friday 1 June : Burguete, Spain] Breakfast was another boisterous affair at Refuge d'Orisson - as many baguettes as you could stuff down your neck and bottomless coffee in soup bowls ... typically French. But after a short first day on the Camino we had over 20 kilometres to cover today, including climbing up and over the Pyrenees, so by 8 AM we were packed and on the road.
Up, up, up - the minor country road snaked ever upwards, with brief bursts of rain along the way. The scenery was mostly rolling grassland, pasture for cattle and sheep. Eventually the tar road came to an end and we continued on a muddy track through forests of beech trees. Every now and then we'd see a distance and altitude marker, so we knew exactly how much more climbing we had to do; the highest point on the Route de Napolean is 1450 metres above sea level - ridiculously low by Himalayan standards (we'd gone up to 5416 metres above sea level on Thorung La in Nepal in 2016), but we'd started at only 170 metres in St Jean Pied-de-Port so it was still a substantial altitude gain.
Karen is pleased to arrive at Refuge d'Orisson
Once again, just when we needed it the most, a coffee option appeared. We knew there were no towns or settlements between Orisson and Roncevalles (17 kilometres away in Spain), so it was a pleasant surprize to come across a "mobile cafe" just off the road, shortly before the Spanish border. It was a van operated by an entrepreneurial Frenchman where you could get coffee, hot chocolate, fruit, boiled eggs and a variety of other drinks. The coffee was excellent too, certainly the best coffee I've had in France on this trip.
Day 2 : Orisson - Burguete
---
| | |
| --- | --- |
| Distance | : 20.4 km |
| Total | : 28.2 km |
The Spanish border was nothing more than a small sign and a cattle grid - in these days of European unity locals hardly even think about borders any more. After that it was more uphill on a gravel path until we reached Col de Lepoeder, at 1450 metres the highest point on the path over the Pyrenees. Then it was steeply downhill on a slippery trail that was inches deep with mud in places; I felt sorry for the people wearing running shoes as I sloshed through the mud in my waterproof Merrill boots. Just when the steep descent was causing my thighs to protest in pain, the stone walls of the monastery at Roncevalles appeared through the trees. After a quick look inside the ancient church and the obligatary photograph next to the sign that says "Santiago de Compostela 790 km" we headed west on the path to Burguete.
Thankfully it was flat all the way to Burguete (a distance of only 3.1 kilometres) because our legs were in no condition to deal with any more steep slopes, either up or down. Hostal Burguete (where we had a booking) turned out to be a small hotel in an old building, beautifully restored - it had creaking wooden floors, wide passages and ancient furniture in the reception area, but everything was gleaming and clean. Apparently Ernest Hemingway once stayed at the hotel and there is a piano in the dining room that bears his scrawled signature. But best of all, our room was huge! We revelled in having space to unpack after two nights of cramped living in dormitories crowded with other hikers.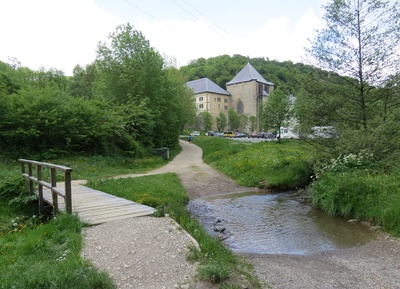 The path leading to the monastery at Roncevalles
We showered and walked around town, but everything was closed - the familiar siesta syndrome in Spain. In the end we were forced to have supper at the hotel, which only had a set menu for 14.50 Euros and that after 8 PM; rather more expensive than we were accustomed to paying but there was no other choice. There wasn't even a small shop where we could buy some bread and cheese. But supper was excellent - three courses, bread and an entire bottle of red wine. We ate and drank our fill then weaved our way up the creaking staircase to our room. After walking more than 20 kilometres today up and over the Pyrenees the bed felt like heaven.
[Saturday 2 June : Larrasoaña, Spain] We stepped out of the front door of our hotel onto the main road through Burguete and joined swarms of other pilgrims walking through from Roncevalles. It was early, all the houses and shops were shut, no cars were about and the pilgrims walking through weren't talking so it was eerily silent - there was just the sound of footfalls and walking sticks click-clicking rhythmically on the tar. The trail left Burguete over a bridge and wound through a delightful patch of sun-dappled forest for several kilometres before rejoining civilization at the town of Espinal. We joined scores of other walkers at the only bar we could find open, where we had excellent tortillas and rather less than excellent coffee for breakfast.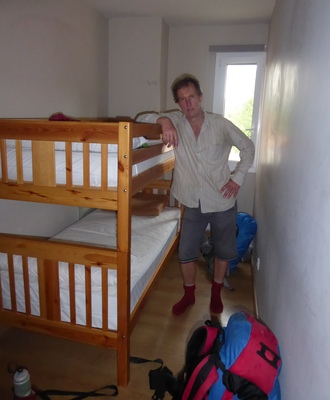 The dorm room at Albergue San Nicholas in Larrasoaña
After Espinal we passed through lush meadows, where cows gazed at us with doe-eyed bemusement, some more patches of forest and enjoyed absolutely outstanding coffee at a back street bar in the village of Viskarret. This place was called Bar Juan and was in a nondescript whitewashed building, ignored by the other pilgrims (most of whom stopped at an attractive outdoor restaurant on the edge of town). Bar Juan was dark and smoky inside and had no waitresses, merely an uncommunicative Spaniard operating the espresso machine behind the bar ... but the coffee was superb and not even expensive, proving yet again that the best coffee is usually to be had in the most unlikely looking places. On the way out of Viskarret we chanced upon a supermarket and bought a baguette and cheese for lunch.
Day 3 : Burguete - Larrasoaña
---
| | |
| --- | --- |
| Distance | : 24.1 km |
| Total | : 52.3 km |
An afternoon of toiling up forest paths eventually brought us to Paso de Roldán, highest point on the route we were walking today. We knew that the descent to Zubiri from there would be steep but we didn't realize how difficult it would be - the path was mostly thick mud, with water in places, loose stones and rock. It was infernally slippery and going down became an exercise in staying on your feet. We emerged from the forest at the bottom of the hill and walked into Zubiri over (yet another) Roman arched bridge. Zubiri is a big town, with a busy main street and loads of accommodation for pilgrims. Hundreds of pilgrims were walking around, lying in the sun, soothing their feet in the river and putting away beer by the barrel-load at the few restaurants that were open. We stopped at one place to get something to eat but waited so long for service that we gave up; in any case, we still had over 5 kilometres to walk that afternoon.
We had already walked 19 kilometres so our legs were not happy as we headed out of Zubiri, first on a road then on a narrow path through forest. It was past 6 PM when we finally saw the rooftops of the town of Larrasoaña through the trees, and wearily forced our bodies the last few hundred metres down the main street to Albergue San Nicholas. The previous night we'd had the relative luxury of a private en-suite hotel room in Burguete, but we knew we were back to the cramped dormitory routine in Larrasoaña - a prospect neither of us was looking forward to. But Albergue San Nicholas was a delight - spotlessly clean, with spacious dorm rooms and a superbly designed shower that helped considerably to ease my tired legs.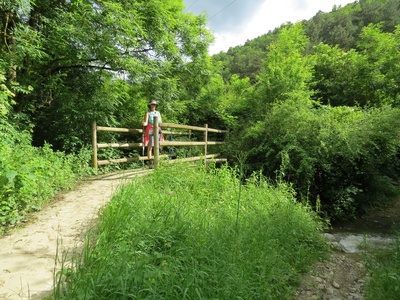 Karen takes a break on a wooden bridge in the forest
We ate the special pilgrims' meal that night at the albergue and enjoyed an absolutely delicious repast - thick vegetable soup, pork cutlets and red peppers, cheesecake, bread and wine, all in limitless quantities. A wonderful end to a very long and tiring day of over 24 kilometres.
[Sunday 3 June : Pamplona, Spain] We'd put in a couple of hard days so today we only had about 15 kilometres of walking to get to Pamplona. The day started with a wet and slippery path through the forest next to a fast-flowing river until the village of Zuriain, where we breakfasted on coffee and tortillas. Cafe la Parada was impressively eco-friendly - no plastic here, only compostable cups and plates, and forks made of bamboo.
By now we where fairly close to Pamplona, so we passed lots of houses, smallholdings and settlements. It was also Sunday and the roads were full of cyclists. At a sawmill in the suburb of Arre Karen and I became separated - she followed the alternative path on one side of the river and I went on the main pilgrim route on the other side; not a great choice, because it turned out to be several kilometres of shops, houses, streets, traffic lights and cars. It was a huge relief to see the massive stone walls of Pamplona's old town ahead of me and to walk through the Portal Francia into familiar territory. Even so, I took a few wrong turns in the confusing streets of the old town before getting to Aloha Hostel (the same place we'd stayed in five days before) at 1:45 PM.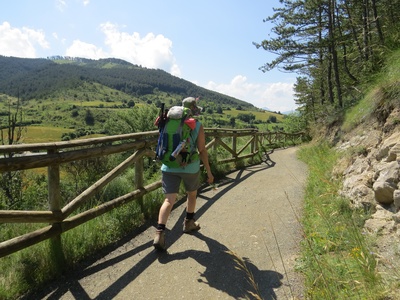 Karen on the path between Irotz and Pamplona
Karen wasn't there yet, so I checked in, retrieved the bag we'd left behind from the hostel's storage and relaxed with coffee and a biscuit in the common room. Karen turned up half an hour later, tired but pleased to have made it - 68 kilometres in 4 days of walking for two 50-somethings carrying all their gear was a successful start to our Camino experience [Aside: Most pilgrims don't carry their gear at all - they send it from one hotel/albergue to the next via one of the many luggage transport services that have sprung up along the Camino route]. We ended the day by going to Mass at the Cathedral of Santa María la Real, a magnificent 15th century Gothic building with a neck-bendingly high ceiling and exquisite interior arches.
Day 4 : Larrasoaña - Pamplona
---
| | |
| --- | --- |
| Distance | : 15.6 km |
| Total | : 67.9 km |
[Monday 4 June : León, Spain] We didn't have enough time on this trip to walk the entire distance from St Jean Pied-de-Port to Santiago, so we decided to skip the section between Pamplona and León, some 450 kilometres to the west. That allowed us a leisurely morning before our train, during which we strolled around Pamplona, drank coffee and looked in shop windows. Pamplona really is a charming city - the winding cobbled lanes of the old town are home to great many gracious buildings, atmospheric restaurants and interesting little squares. At noon we checked out of our guest house and took a bus to the train station, where we stood in the queue at the ticket counter wondering how difficult it would be to get our train tickets printed - we had bought them online the night before but had no way of printing the tickets; all we had was a reference number. But things are slick and organized in Europe these days ... we gave the guy at the counter a piece of paper with our ticket details on it and tried to explain the problem in broken Spanish but we needn't have bothered; he understood exactly, didn't say a word and within seconds we had our tickets.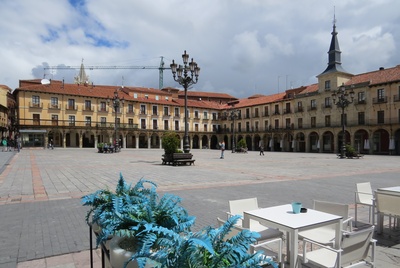 León in Spain ... Plaza Mayor (above) and the
magnificent stained glass windows in the cathedral (below)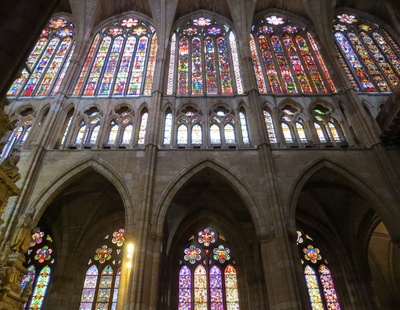 The four hour train trip west to the city of León was relaxed and uneventful, and by 5:30 PM we were walking up Avenue de Ordoño II from the train station. After a couple of wrong turns in the typically confusing streets of old town we arrived at the address of the hotel we'd booked into ... to find the place shut up and closed, dark inside, without even a sign in the window or a bell to ring. Now what? All the shops and buildings in the street were closed. We walked to both ends of the road and checked the names but there was no doubt - it was the right street and the number matched the address on the booking. Round the corner I found a woman standing in a shop doorway and asked her but she simply confirmed that we were in the right place. What was going on here?
The tourist information office was a short distance away, in the main square opposite León's imposing Gothic cathedral, so we went there - thankfully it was still open even though it was past 6 PM. I approached the lady behind the counter and started explaining the problem, but as soon as she saw the name of the hotel on the piece of paper I handed her she reached behind her for a map of León, circled another hotel just across the square and pointed to it. "Their reception is here" she said. She must have seen my confused face because she smiled and added "It's no problem - both hotels have the same owner. This is the main one".
"Gracias senora" I replied. I looked more closely at the map and realized that the second hotel she had circled was right on the corner of the main square, no more than 50 metres away from where we were. Obviously many other guests at the hotel we'd booked into had faced the same problem we had, and had also visited the tourist information office in confusion - the people there knew all about it. But more confusion was still to come ...
We found Hostal Albany easily enough, and the guy behind the reception desk confirmed that we were at the right place. When I tried to query why we were given the wrong address, he explained in very bad English that the address was correct but because the "main" hotel wasn't full we could stay here and not the other one. It still didn't really make sense to me, but it was late and we were tired so I merely signed the form and we humped our stuff up the stairs to our room. In addition, I was starting to suspect that we had got lucky - this second hotel looked very nice indeed, far better than the price we had paid for the other place would indicate, and its location on cathedral square was absolutely perfect. And when we got to the room this suspicion was confirmed; we even had a view of the cathedral from a small balcony! Sometimes you just have to get lucky, and today was one of those days ...
A "hostal" (spelt with an "A") in Spain isn't a "hostel" but rather a small hotel. A "hostel" (spelt with an "E") would variously be called albergue, hospedaje or hostel.
We may have hit the hotel jackpot in León, but the weather was another matter entirely - it was icy cold and after we had checked in the rain came down. We went out to supper wearing thick jerseys and jackets, squelching through puddles in a desperate attempt to find a restaurant that was both open AND serving food. The problem was that nobody in Spain eats supper before 8:30 PM, perhaps 8 PM at the earliest - before that restaurants only serve drinks and small snacks. We were eventually driven to eat in a tacky place which proved to be awful in the extreme, certainly our worst meal of the trip so far.
[Tuesday 5 June : León, Spain] A relaxing day in the city of León started with a tour of the cathedral. I had thought the cathedral in Pamplona was impressive, but the one in León was jaw-droppingly spectacular, easily the second best cathedral I've ever been into (St Peter's in Rome simply has to top the list). It has slender Gothic arches that seem to go up for ever and huge stained glass windows that flood the interior with light. Every aspect of the cathedral was a wonder ... and this in what is today a relatively minor city. But in centuries past León was a major centre in Spain, and the size of its cathedral was an indication of the city's power and influence back then.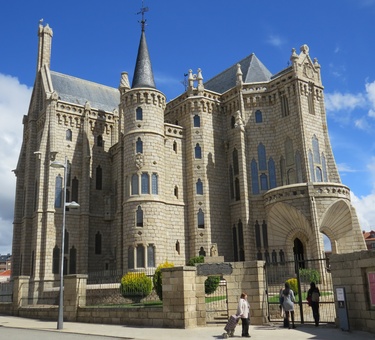 Gaudí's Episcopal Palace in Astorga
After leaving the cathedral we walked round León, following the sights listed on the map we'd received from the tourist office. Unfortunately it was icy cold and drizzly most of the day, which meant that our rambling wasn't a stroll in the summer sunshine ... But we did at least spy out a better restaurant for supper that night, a much tougher task than you'd think because we didn't want to eat at 9 PM as the Spaniards do. So that evening we went to the pilgrims' Mass in the cathedral (actually in a small chapel to the side) and afterwards trudged through the rain to the restaurant we'd earlier scouted. It was orders of magnitude more pleasant than the dreadful dive we'd eaten in the night before, and we had a very pleasant dinner before braving the rain and wet streets back to our hotel and a warm bed. I thought it was supposed to be hot in Spain in June ...?
[Wednesday 6 June : Santa Catalina, Spain] We were starting to feel like Camino frauds after cutting out over 400 kilometres of the walk in one train ride (and two days of not walking at all), but today we got back on the trail. First we cut our "walking backpacks" to a bare minimum by chucking out anything that our first four days on the Camino had shown we didn't need; in my case that included a walking stick (which I had taken as an experiment, but it proved to be more of a nuisance than of any value), a blanket (for extra warmth in the Pyrenees) and an extra jersey. We crammed all our unwanted gear in Karen's "wheelie" suitcase, checked out of the hotel in León and went to the main post office ... which was luckily on the way to the bus station, so we didn't have to make a long detour - we were booked on a bus out of León at 10:15 AM.
The Spanish postal system is extremely helpful to pilgrims on the Camino and allows bulky suitcases to be posted to any post office in Santiago de Compostela, where they will be stored for up to 15 days for free; thereafter there is a nominal fee per day. That suited us perfectly, so we posted Karen's suitcase Poste Restante to the main post office in Santiago, a quick and simple process that left us ample time before our bus to walk round the corner to a bar for coffee and a pastry. And excellent coffee it was too - we were out of the tourist area of the old town so the bar was frequented by locals, exactly the kind of place you should go to for really good coffee.
Then it was time for the bus to Astorga, a small town 45 kilometres or so to the west of León. Astorga is where we had decided we would rejoin the Camino, but before we hit the road westwards we explored the town. Astorga is quite small but very pleasant, with a main shopping street winding through from cathedral square at the north end to Plaza Mayor and Plaza San Bartolome in the south. There are old city walls, Roman ruins, ancient churches and remarkable buildings everywhere, the most spectacular being the Palacio de Episcopal, an eye-catching castle-like building designed by renowned architect Antoni Gaudí in the 1890's.
Our route from Astorga to Santiago (233 km)
Gaudí abandoned the project before it was complete (a habit of his), so the palace was only finished early in the 21st century. It now contains a museum documenting the history of the Catholic Church in the area, but it is the building itself which catches the eye - typical Gaudí arches, buttresses and domed ceilings, as well as odd nooks and crannies that are somehow not out of place but blend perfectly with the rest of the structure. It looks rather like a cross between Neuschwanstein Castle (a multi-domed 19th century Romanesque palace on a hill high above the village of Hohenschwangau in Germany) and Dracula's forbidding (and thankfully mythical) Transylvanian keep. But just like all of Gaudí's buildings, the inside is light and airy, a delight to explore.
Finally, at about 1 PM we began walking again. The way out of Astorga was on a busy road for several kilometres, but after veering through the village of Murias de Rechivaldo we thankfully struck a gravel track through open country. Murias de Rechivaldo was the first of several Maragato villages we came to, with red stone buildings and a distinctive Mexican feel about it. The gradient took us steadily upwards as we started the long haul to the highest point on the entire Camino route (Alto Altar at 1515 metres above sea level). In contrast to the hills, forests and woodlands of the area round Pamplona, the countryside was flat and open, with low scrub and occasional small trees.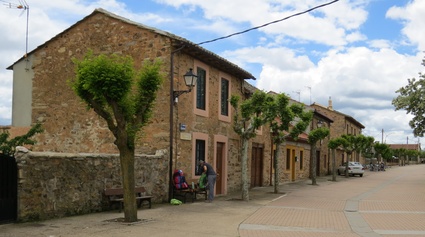 The village of Murias de Rechivaldo
Day 5 : Astorga - Santa Catalina
---
| | |
| --- | --- |
| Distance | : 9.4 km |
| Total | : 77.3 km |
The village of Santa Catalina appeared as a knot of stone and adobe houses at the end of a winding lane. It was already 4 PM and we'd had enough for our first day back on the trail, so we stopped at the first albergue we came to. The owner was brisk and efficient, and he had a private en-suite double room available - almost unheard of luxury on the Camino. The room was spotless and we took it without hesitation. In fact, El Caminante Albergue was a green and tranquil oasis in the dusty town of Santa Catalina; the rooms were on two levels surrounding an open stone-flagged courtyard, in the middle of which was a profusion of pot plants around a fountain. Birds were flying around and an elderly gentleman was tending to the plants with a wheelbarrow full of compost. It really was a very pleasant place to stay.
Santa Catalina itself closely resembled a Mexican border town in a Western movie, with a dusty street winding between low, squat stone houses. I half expected to see Clint Eastwood emerge from a cantina, hat shading his steely gaze, cigar clamped between his teeth and sixgun at the ready to face down the bad guys who had stepped into the street in front of him. But no such luck - all we saw when we strolled up the road before supper were a couple of rather thin cats, not neutered, who latched on to us with pitiful mewing.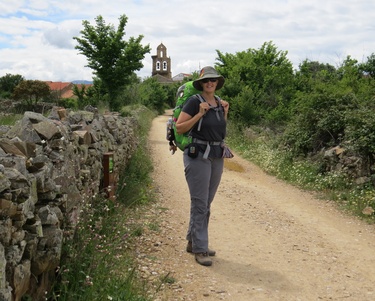 Approaching the village of Santa Catalina
[Thursday 7 June : Foncebadón, Spain] We were packed and on the road out of Santa Catalina at 8 AM, looking forward to coffee and breakfast in the next town, five kilometres away. The path was alongside a minor country road, flat and easy, and by 9:15 AM we were drinking espresso and eating tortillas in The Cowboy Bar in El Ganso. This place has achieved quite a lot of fame in Camino folklore because of its unusual name and the fact that John Brierley specifically mentions it in his Camino handbook (the bible of most Camino walkers). But the proprietor of The Cowboy Bar wasn't very welcoming and he hasn't made much effort to make the place pleasant for customers (and it's quite expensive), so I'm not sure how successful he'll be in the long term ... but his tortillas were filling and we were recharged for the long and gradual ascent to Rabanal.
El Ganso appeared to be semi-abandoned; many of the buildings were for sale, clearly not inhabited or simply falling down. But every now and then we saw a place that was either new or recently renovated, some with smart cars parked outside and even garages (very unusual) ... so at least there are some signs of life here.
The skies darkened on the way out of El Ganso, but the rain stayed away as we traversed sparse woodland, climbing steadily. At one point the path ran alongside a fence and for several kilometres pilgrims had twisted sticks and bits of wood into the wire of the fence to form makeshift crosses. I found a couple of sticks and we added our own cross to those already there. Slightly further on we came across a guy dressed in medieval clothes with a falcon on his arm, raising money for a children's Cancer Foundation; we took a couple of photos and gave him our spare coins.
Rabanal proved to be a big, obviously prosperous town; even the side streets were paved, and the bars along the route were welcoming. We stopped at La Posada de Gaspar and enjoyed excellent coffee in a pleasant enclosed courtyard. Then it was onward and upward on a path that became ever more muddy. The rain that had been threatening all day started as a light, cold drizzle, and by the time we arrived at the village of Foncebadón it was raining properly.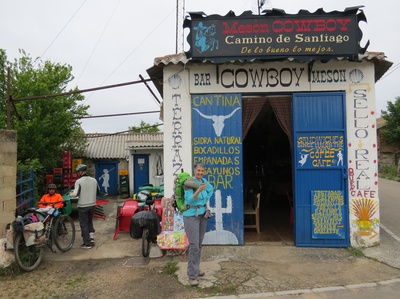 The Cowboy Bar in El Ganso
Foncebadón was a wreck of a town - broken buildings, piles of rubble, uncollected trash, unpaved streets full of mud and puddles and pilgrims everywhere desperately looking for somewhere to stay the night. We went to five albergues before we found a place at the top of town that (miraculously) had a "double" room available, for the even more miraculous price of 17 Euros each, including breakfast! The double room turned out be a tiny closet with two bunk beds in it, with an even smaller adjoining closet containing a toilet, basin and shower - the shower was above the minuscule space between the toilet and basin. But we were so relieved to be out of the rain with a place to stay that we took the room, and only just in time too - swarms of pilgrims arrived shortly after us; if we'd waited just 15 minutes the room would undoubtedly have gone to somebody else.
Day 6 : Santa Catalina - Foncebadón
---
| | |
| --- | --- |
| Distance | : 16.5 km |
| Total | : 93.8 km |
Grateful though we were to get somewhere to sleep, the place we were in did not inspire much confidence for supper ... So we headed out into the rain, dodging mud, puddles and potholes, and found a warm dining room at El Trasgu - a guest house-cum-restaurant that we'd tried to get into but which had been full. Their "Peregrino Menu" looked enticing, and indeed the food was excellent - three courses plus wine and bread for 10 Euros. We were served by an Italian waitress who was happy to practice her English on us; we in turn were relieved not to have to stumble along using our broken Spanish.
We holed up in our room for the rest of the evening, wrapped up in blankets and listened to the rain dripping down outside. The albergue at least had fast and reliable wifi, so I was able to write this blog and upload it.
[Friday 8 June : Molinaseca, Spain] It rained most of the night, it rained while we ate breakfast in the chaotic common room at our albergue and it rained most of the day as we continued our walk westward. Mostly it was a light drizzle, but after midday it came down hard and by the time we reached Molinaseca and decided to call it a day we were soaked through. I asked the guy at the guest house we booked into if this non-stop rain was common for this time of year and he shook his head. "Very unusual" he said. "In fact, nobody can understand it. We never get rain like this in June." Memories of China in 2012 came back to me, when we'd been pursued by rain everywhere we went and we kept seeing TV reports of massive flooding in towns we'd just visited.
Wet and cold, but beautiful countryside around El Acebo
At least the gradient was fairly easy throughout the day, starting with a gradual uphill to the Cruz de Ferro (Iron Cross), a small metal cross on a 10-metre high pole. Generations of pilgrims have left stones and other momentoes from home at the base of the pole, symbolic of leaving one's problems there or in memory of a loved one. We duly placed our own items among the rest - a stone from our garden and a shell from Fish Hoek beach.
The gentle climb continued to Altar Mayor, at 1515 metres above sea level the highest point on the entire Camino route; it was such a trivial ascent that we weren't even sure we'd reached the high point (unlike the Himalayas, where the mountains leave you in no doubt whatsoever that you've been climbing).
From that point on we began descending. The countryside was astoundingly beautiful - everything was lush and green, glistening in the rain, the hills covered with purple heather bushes and fields of yellow, blue and white flowers. The Camino path generally followed the LE-142 minor road but because of the rain the path was mostly mud, puddles or rivers of running water. We noticed that most pilgrims had given up on the path and were walking on the road to avoid getting their feet wet, but we were determined to stay true to the route and sloshed through the mud - unlike most pilgrims (who wear running shoes), we had good waterproof boots so even with all the water we walked through our feet stayed dry. The few in running shoes who stayed on the path had a torrid time trying to avoid the pools of water, stepping gingerly to the side or attempting to find an alternative route. After a while even they gave up and walked straight through the water - it was simply impossible to stay dry without boots.
Karen outside Casa San Nicolas, our hotel in Molinaseca
Lunch was coffee and an overpriced empanada (pie) in a cafe in El Acebo. It coincided with a brief lull in the rain but when we moved on the rain started again and continued unabated through the attractive village of Riego de Ambrós and all the way down a steep descent to Molinaseca. Once again we were slipping and sliding in the mud; quite often the path appears to have been routed through a watercourse ... or perhaps the amount of unseasonal rain that had fallen had created watercourses where there weren't any.
Day 7 : Foncebadón - Molinaseca
---
| | |
| --- | --- |
| Distance | : 19.3 km |
| Total | : 113.1 km |
The streets and gutters were streaming with water as we crossed the medieval arched bridge into Molinaseca, the river a foaming torrent below us. It was only about 2 PM and we debated walking on to the next town, but we were wet, tired and cold so the lure of a hot shower prevailed. And our luck was in, because we found a very nice private room at Casa San Nicolas, without the frenzy of bed-hunting that we had endured the previous night. In fact, the place was half empty; I wonder what happened to all the pilgrims who caused such overcrowding in Foncebadón?
We were so wet and tired from the hours of rain and mud that we couldn't face going out into the cold to find a restaurant for supper. Instead I walked round the corner to a small grocery store and bought sardines, spaghetti, soup, fruit and yoghurt, and after a hot shower we ate a fantastic home-cooked meal in the communal kitchen upstairs. Three middle-aged ladies from Canada (sisters, in fact) came in while we were washing up and we exchanged stories of the wet conditions we'd walked in; they admitted they'd caught a taxi to Molinaseca to avoid the worst of the rain.
[Saturday 9 June : Cacabelos, Spain] A long, hard day - we covered 21.9 kilometres, the second longest distance we've walked in one day. But at least it was fairly flat most of the way, starting with a lengthy stretch on the road from Molinaseca to the city of Ponferrada. Not many people or cars were about, less even than usual in this nation of late-risers, but then we realized that it was Saturday. That also meant it was difficult to find a bar open for our first coffee hit of the day ... until my eagle eye (actually my coffee-antennae, which by this time were starved of necessary nutrients) spotted a typical neighbourhood place down a side street just after we crossed the Roman arched bridge into town. The lady proprietor had just opened and gladly served us excellent cafe con leche at a table on the sidewalk.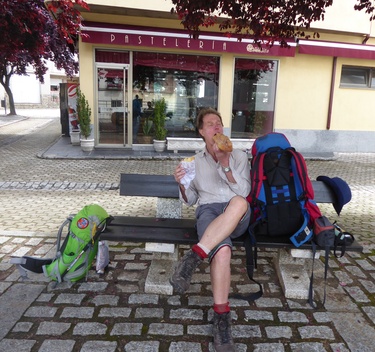 Eating an apple custard pastry in Columbrianos ... the
pastelaria we bought it from is in the background
We split up through Ponferrada - Karen took the scenic riverside path and I walked through town, and we met up again at the "iron bridge" over the Sil river (after which the city was named). It took ages to get out of Ponferrada - the suburbs seemed to go for ever, and even when we'd left the city limits we walked through a succession of little towns and smallholdings. The only break in the monotony was when we came across a tiny neighbourhood pastelaria in Columbrianos, where we bought an apple custard pastry that was so lip-smackingly good that we went back and bought another one for the road ... which we ate at a bar a couple of kilometres further on, washed down with another very strong coffee each (as you are no doubt realizing by now, the Camino is tough, but we forced ourselves to battle gamely on).
Day 8 : Molinaseca - Cacabelos
---
| | |
| --- | --- |
| Distance | : 21.9 km |
| Total | : 135.0 km |
For several kilometres after that we walked either on a narrow road, dodging cars, or on the sidewalk through built-up areas, until finally at a truck stop at the edge of Camponaraya we veered away from the road onto a dirt track. We crossed a busy freeway over a pedestrian bridge and entered a tranquil area of vineyards and rolling fields. Unfortunately by this stage our legs were aching from hours of pounding tarmac, so we did not fully appreciate the beauty of the last five kilometres to Cacabelos.
Cacabelos proved to be a charming town, and we found a fantastic room at Hostal La Gallega in the centre of old town. The shower was wonderfully soothing on legs that were dead-tired after walking nearly 22 kilometres. Somehow we managed to find the energy to go to Mass in the old church nearby - a massive Baroque structure, with walls and pillars solid enough to withstand a nuclear attack. But after that we only had one thought - bed.
[Sunday 10 June : Alto do Poio, Spain] We regretfully left our very comfortable hotel in Cacabelos and hit the road out of town. Our problem was that we had to be in Barcelona on 23 June and we wanted to spend three days in Santiago before that, so it meant we had to arrive in Santiago on 20 June; but there were not enough days between now and then for us to walk the distance still remaining (about 200 kilometres). In addition, pilgrims MUST walk the last 100 kilometres to Santiago if they want to get their certificate, or "compostela", attesting that they have completed the pilgrimage - you may not take a bus, taxi or train in the last 100 kilometres, you have to walk the whole way. Therefore we would have to take a bus or taxi at some point in the next few days in order to make it in time, and today seemed a logical choice because after the city of Villafranca del Bierzo there is a long, steep climb up to the mountain village of O'Cebreiro.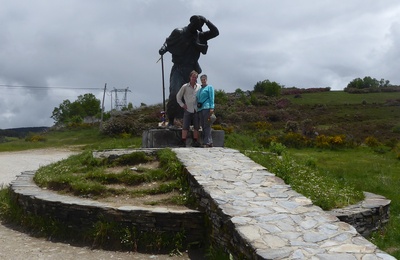 Paul and Karen in front of the Peregrino Monument at Alto San
Roque (above) and Paul at a typical Camino waymarker, with
the road on the left and the Camino on the right (below)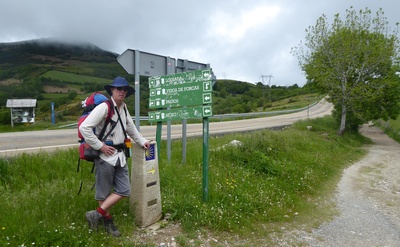 We couldn't arrange anything early on Sunday morning in Cacabelos, so we walked on to Villafranca del Bierzo, a distance of 8.7 kilometres. Breakfast was tortilla and coffee at a cafe on the main square, after which we ambled down to the tourist office and enquired about buses. The chap there was most helpful but apologetic. "There are buses" he said. "But you have to buy tickets at a tobacco shop, and on Sunday this shop is closed. So you can't take the bus on Sunday unless you bought your tickets the day before". He saw our looks of befuddlement at this odd arrangement and looked embarrassed. "Yes, we even find it strange that you must buy bus tickets at a tobacco shop, but that's the way it is."
"What about a taxi to O'Cebreiro?" asked Karen. "How much would that cost?"
"Yes, I can call a taxi for you. I think it would be about 35 Euros ... but I would have to ask."
Karen and I looked at the map. There didn't seem to be any other solution - if we didn't cut out about 20 kilometres of walking we would not finish in time. We were both in our 50's, carrying all our gear, and we simply could not manage 25-30 kilometres of walking per day as some younger pilgrims do. It really was a no-brainer.
"OK, can you call us a taxi, please?" I asked the tourist office guy. "And ask him how much it will cost to take us to O'Cebreiro."
Our luck was in - the taxi driver quoted only 30 Euros, we accepted and he was outside the tourist office in five minutes. We climbed in, I confirmed the price and half an hour later we stepped out of the taxi into the cold air of the mountains near the village of O'Cebreiro. The drive from Villafranca had been steadily upwards and we'd seen many pilgrims battling up the steep ascent on a path next to the road - if we had to skip a section of the route then this was definitely the day to do it.
O'Cebreiro is a pedestrians-only village full of old stone houses and cobbled pathways, almost artificially attractive and swarming with both pilgrims and tourists. We looked around briefly, bought a baguette and some cheese for lunch then took to the trail. After a brief respite from the weather the clouds rolled in again and it became steadily colder as walked through the villages of Linares and Hospital de la Condesa. We had coffee at a restaurant in Hospital de la Condesa full to bursting with Spaniards enjoying a late Sunday lunch, but there was nowhere to stay in the village so we pushed on.
Day 9 : Cacabelos - Alto do Poio
---
| | |
| --- | --- |
| Distance | : 17.8 km |
| Total | : 152.8 km |
Shortly afterwards the rain came sweeping down and the temperature dropped. We trudged on, wet, tired and cold, on a path that curved steeply upwards into swirling mist. Things were looking bleak, but as so many pilgrims we've met have predicted, "The Camino will provide" ... and it did. As I crested the rise we were climbing I saw the welcoming sight of an albergue directly in front of me, smoke curling from its chimney. Across a tarred road was a hostal, but I didn't even bother going to look at it, I just went straight into the albergue. A plump and busy Spanish lady inside informed me that they did indeed have a private room available, "Si, con banyo" (with bathroom). What a relief; we took the room without hesitation.
Unfortunately that was the end of the good news for the day. The private room turned out to be a cramped icebox with mouldy walls and a bed smaller than a standard double. The floor was tiled, icy cold and the temperature INSIDE the room was about 6 degrees! The hostal across the road (that we hadn't gone into) would almost certainly have been a better option, but we were relieved to have a place out of the rain at least. We each had a fast semi-hot shower then headed down to the albergue common room, where a fire was blazing and the French Open men's singles final was on TV; I only had to see that Rafael Nadal was playing to know who was going to win it (Nadal did indeed win; it was his 11th French Open singles title, a record that will surely never be broken).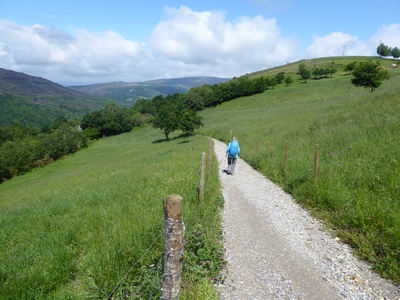 On the path towards Triacastela
In fact, Rafael Nadal won the French Open in 2019, 2020 and again 2022, taking his number of titles at this tournament to 14. Incredible as it may seem, Rafael Nadal has only ever lost THREE matches at the French Open (in 2009, 2015 and 2021). He missed the 2016 tournament due to injury, but apart from these four instances he has won every French Open from 2005 to 2022. Will he be back in 2023? By then Nadal will be nearly 37 years old, but his absolute dominance on clay courts and his renowned fitness suggest that a 15th win is not impossible.
We both had the menu del dia (menu of the day) at the albergue for supper, and were pleasantly surprized at how good it was - thick vegetable soup, very tender mutton and potatoes and Santiago tart (plus loads of bread and an entire bottle of red wine). And that for only 8 Euros each ... we headed back to our icy room with full, content stomachs, and passed an uncomfortable night buried under layers of blankets and fighting for space in the narrow bed.
[Monday 11 June : Triacastela, Spain] It was struggle to get up this morning - heavy mist surrounded the albergue and Karen's phone reported a temperature of 4 degrees. On 11 June? In Spain? Is this a weather joke, or has global warming been reversed?
Triacastela, Spain ...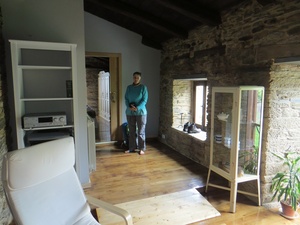 Our fantastic suite at Albergue Atrio
(above and below)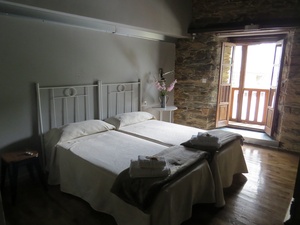 The restaurant at Complexo Xacobeo (below)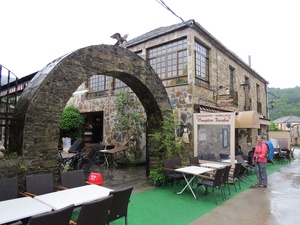 We had hot chocolate and toast in the warm dining room of the albergue, gloomily contemplating the mist swirling round outside and the pilgrims who came in, dripping wet and bedraggled. But we had to get moving so we hefted our packs and headed off down the road towards Triacastela. The cold was damp and insidious and we kept up a cracking pace in an attempt to keep warm. We walked so fast that we actually OVERTOOK several groups of people, a most unusual state of affairs for us - usually we were the ones being overtaken.
Our first stop of the day was at a new, custom-built albergue in the village of Fonfria, where we enjoyed excellent coffee. Shortly after that the mist rolled away and the sun appeared (yes, the SUN!). The path, which had been right next to a busy road, veered away and for several kilometres we enjoyed a delightful meander through lush green meadows, rolling hills and woodland. Our noses told us that we were in cow territory; our boots confirmed that the paved path we on was used by farmers to drive their cows. Houses and buildings became more numerous and at 1:15 PM we arrived in Triacastela, a major town on the pilgrim route.
Day 10 : Alto do Poio - Triacastela
---
| | |
| --- | --- |
| Distance | : 12.1 km |
| Total | : 164.9 km |
We debated whether we should walk on, but decided to stay the night. The first hostal we went to was full, but the second (Albergue Atrio) had a most fantastic double room available - a bedroom, lounge and bathroom, exquisitely renovated by somebody who must have been a professional interior designer. The building itself was very old; it had thick stone walls and ancient oak beams but inside it was ultra modern - polished wooden floors, glass, chrome fittings and recessed lighting. What luck, and what a difference from the rigours of the night before. Thank you Albergue Atrio!
Our good fortune in Triacastela continued when we went to supper at Complexo Xacobeo, a restaurant-cum-hotel just down the road. Karen had the menu del dia and I had what they call a "combination" - pork, chips, peppers and salad. Of course, Karen's meal included bread and an entire bottle of red wine (which we shared) plus three courses. Her soup was excellent but the trout was absolutely exquisite; luckily for me she was quite full by then so I had some trout as well. And boy, was it good ... I struggled to finish off my own delicious plate of food, but I manfully persevered (as one must on the Camino). Amazingly the entire meal, for both of us, came to only 15 Euros!
[Tuesday 12 June : Sarria, Spain] Another day which started off in mist, progressed to drizzle then became rain as we climbed up through thick forest to Alto do Riocabo (a paltry 910 metres above sea level). The countryside was beautiful but we had trouble appreciating it as we stomped through muddy puddles, rain dripping from our noses. We could not even rely on good coffee to keep our spirits up - the two places along the way that were open were both hippie joints and neither had espresso ... it seemed we had stumbled into the flower power, herbal tea and yoga area of Spain. The second of these places was simply an open shed in the forest with an array of food that anybody could help themselves to and leave a donation if they felt like it; it had a "free hugging zone", and indeed, a chap with long hair and a beard who sat there stamping pilgrim credentials and hugging people. I stepped carefully around him, avoiding all eye contact.
Day 11 : Triacastela - Sarria
---
| | |
| --- | --- |
| Distance | : 18.7 km |
| Total | : 183.6 km |
The village of Pintin (no relation to the fictional comic book detective with a similar name) finally provided both a ray of sunshine (literally) and a strong cup of cafe con leche. And after that the rain stayed away as we walked through a succession of small settlements, all stinking of cow dung, and hit the outskirts of Sarria at 3:30 PM. Sarria is the biggest town we've walked to since León, so we had to navigate a couple of kilometres of suburbs before reaching the stone steps leading up into the centre of old town. At the top of the steps we found Hostal Escalinata, where a friendly lady showed us a bright and sunny en-suite double room for only 35 Euros. Simple as that - and we had thought finding a room in Sarria would be difficult (this is where most pilgrims START the Camino, because it is approximately 100 kilometres from Santiago, the minimum distance you have to walk).
Supper was a fry-up of note at one of the many restaurants that line the winding main street through old town - calamari and chips for Karen and bacon, egg, pork and chips for me. We then went to the daily pilgrims' Mass in Sarria's big stone church, our arteries groaning under the strain of our greasy dinner ... but some yoghurt and an apple from the "Froiz" supermarket down the road helped. In Karen's case, her remedy was half a bar of chocolate ... each to their own, I guess.
Mass was celebrated by three priests - the local priest (who was from Burundi, amazingly) plus two others who were doing the Camino themselves and passing through Sarria. One was Canadian and the other from some Eastern European country. After Mass all the pilgrims were called forward and the three priests gave us a special blessing for our journey; a special moment.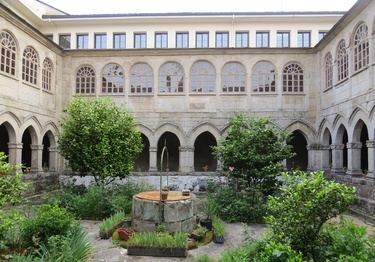 The courtyard and cloisters, Monastery de Magdalena in Sarria
[Wednesday 13 June : Mercadoiro, Spain] We were already ahead of schedule, so we got up late, had a leisurely breakfast of fruit and yoghurt and trudged out of Sarria at about 9:15 AM. For the first time in days it wasn't raining or misty, although there was quite a lot of cloud cover. Monastery de Magdalena on the way out of town was an interesting diversion - incredibly detailed stone paving in the cloisters and a sombre chapel.
The path wound steadily upwards through farms and woodland, interspersed every now and then with a cluster of stone buildings - farm houses mostly. At the first albergue we came to we stopped for coffee. The place looked very nice from the outside, with a sunny terrace and tables under umbrellas. But my suspicion was aroused when my usual "coffee scan" of the interior failed to reveal an espresso machine, merely a big metal box with taps like an urn. However, we were parched after several kilometres of walking, so we duly ordered coffee. To my horror the lady behind the counter filled a cup with some noxious brown liquid from the metal box and presented it to me under the guise of coffee. I didn't know how to protest in Spanish, so I just accepted the muck and drank it ... big mistake, it was so weak and milky it tasted like TEA.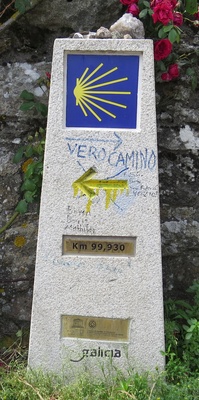 Less than 100 km to go ...
Simmering with rage, I chucked a petrol bomb through the window and ran for it as fast as my heavy boots and backpack would allow, then watched with satisfaction from a distance as the wretched place burned to the ground (well no, I didn't really, but for a brief second I entertained the idea ... what I actually did was call out a meek "Gracias" and amble off down the path).
Some time later we emerged from a succession of leafy country lanes onto a road and saw a bar ahead of us, Mercado do Serra. At least they had an espresso machine so we got real coffee - not the greatest, but it went down a treat with the tortilla and pastry we ordered. As we were leaving the girl behind the counter gave us a muffin each and wished us a cheery "Buen Camino"; very nice gesture, I think we may have been the first South Africans she'd ever served.
Day 12 : Sarria - Mercadoiro
---
| | |
| --- | --- |
| Distance | : 17.1 km |
| Total | : 200.7 km |
The problem with coffee on this section of the Camino is that many new cafes and albergues have sprung up to cater for the ever-increasing number of pilgrims, most of whom seem to be American. So the coffee they provide is what they think Americans want - weak and milky, more like a latte than an espresso. The back street Spanish bars that serve REAL coffee do not exist on the Camino route around here, except in the bigger towns, and even there you have to look for them. This became very apparent at a place we stopped at in the afternoon called Mirador da Brea. When I ordered my usual cafe con leche I watched as the lady did it. She pulled a single espresso into a huge cup then started filling it with frothed milk. I called out to her "No!" and she stopped.
"No mas?" she asked.
"No mas leche" I confirmed.
"Mas cafe?"
"Si!" I said. Now we were getting somewhere. "Mas cafe, no mas leche".
She smiled with understanding and filled the rest of my cup with the remaining coffee from the espresso basket. And this time it was good.
A liitle while later we passed two milestones at almost the same time - the 200 kilometre mark of distance we had walked so far and the 100 kilometre mark of distance remaining to Santiago. And by that time we were ready to find somewhere to stay the night ... unfortunately the albergue at Ferreiros (which we were aiming for) was full, so we had to walk on another three kilometres to Mercadoiro. The up-market albergue there had no private rooms left, only bunk beds. What to do? We were tired and it was late. Walk on in the hope of finding a private room somewhere else? There might not be one, perhaps not even a bunk bed. We debated and eventually took two bunk beds at Albergue Mercadoiro - not our first choice, but at least the dorm room was clean and quite spacious.
The albergue was between towns so there was nowhere to eat except in their restaurant. But the food there turned out to be superb - once again we had one menu del dia plus a single bowl of soup. We shared the main course so we each had soup and half a plate of very tender roast pork and potatoes ... and an entire bottle of wine, of course (standard with the menu del dia in every restaurant).
The path out of Portomarín
[Thursday 14 June : Castromaior, Spain] The path followed a minor road from Mercadoiro this morning, and after a couple of kilometres we were surprized to see the words "stadig" (Afrikaans for "slow") and "kyk links" (look left) painted on the tar. Just to the left of the road was a building with a bright red door, firmly shut, with a "Vende" (for sale) sign on it. Turns out this was an albergue owned and run by a South African, but it looked like a life of catering to the whims of pilgrims on the Camino became too much for him.
The city of Portomarín appeared as a close-knit collection of buildings marching up the side of the ravine on the other side of a broad river (the Río Miño). We crossed the river on a road bridge and climbed up into town, looking for coffee and a supermarket. The former was easy - Cafe-Bar Espana was a dark, typically Spanish place on the main shopping street and we enjoyed an excellent cup of a local blend called "Cafes Penela". A block away we found a ramshackle supermarket run by one lady, who sprinted around weighing fruit, looking up prices and manning the till. She wrote the price of each orange on the fruit with a pen! We eventually walked out with a baguette, salami, sardines and a couple of oranges for a picnic lunch later.
The sun came out while we were walking out of Portomarín and within half an hour we had a totally blue sky for the first time on this trip. It was hot and the path was gradually uphill, but we toiled on until we came to a concrete drainage ditch in the shade. "Baguette time?" I asked Karen. I didn't need a reply - she had already shrugged off her backpack. So there we sat, on the edge of a drain with cars and trucks roaring past on a busy road a couple of metres away, eating a baguette and salami or sardines. And it was one of the best picnics I've ever had.
Images of the Camino ...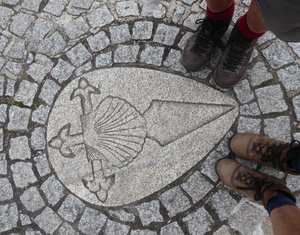 A Way of St James route marker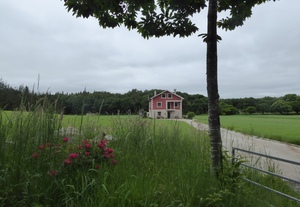 A lonely farmhouse next to the path
Exhausted pilgrims need their sleep
After the trouble we'd had finding a bed the night before, we'd taken the precaution of booking a private room at a casa in the village of Castromaior about ten kilometres from Portomarín. We eventually arrived there with leaden legs, grateful not to have to share a dormitory with six other people again. Castromaior turned out be a tiny settlement of a few houses straddling a narrow road, with only a single shop doubling up as a restaurant. We arrived during mid-afternoon, so (this being Spain) the shop was closed until 8 PM. But the restaurant "menu" was pasted in the window, so we pondered the option of having either (1) a bocadillo, or (2) a hamburger, for dinner that evening, then wandered off to explore the village. That took about 30 seconds, after which we returned to our room and I spent the afternoon downloading and editing photographs and updating the blog you are reading now.
Day 13 : Mercadoiro - Castromaior
---
| | |
| --- | --- |
| Distance | : 14.3 km |
| Total | : 215.0 km |
We were outside the shop-cum-restaurant at 8 PM when the owner/chef/waitress/cleaner arrived to open up. It was strictly a one-man (in this case, one-woman) operation ... which wasn't a problem seeing as we were the only guests in the restaurant. In fact, as far as we could tell we were the only people in the entire village because we saw nobody else the whole time we were there (apart from the woman running our guest house and the one at the restaurant). The menu may have been limited, but the food was wholesome and tasty.
We stepped outside into bright sunshine after dinner at about 8:45 PM and almost bumped into a pilgrim striding past. "G'day" she said. She was blond, Australian, about 40 and looked very fit but had a certain weariness about her. It turns out she had started walking from St Jean Pied-de-Port less than three weeks before, which meant she had walked about 700 kilometres in 20 days, a staggering average distance of 35 kilometres a day! I was stunned. Here we were, not even managing 20 kilometres a day and this lass was doing nearly double that! No wonder she looked weary. It was 9 PM and she said she still had a few kilometres to walk that evening ... holy mackerel.
[Friday 15 June : Palas de Rei, Spain] We were woken at an early hour by the sound of pilgrims marching past in the road outside our window. These were the people who leave at 7 AM (or even earlier) and walk until late, clocking 30 or more kilometres per day. Our rather more sedate approach results in between 15 and 20 kilometres per day, starting only at about 8:30 AM and with frequent coffee stops thrown in. But we also try to take in all the sights and experiences along the way, rather then just putting our heads down and walking. A good example of this was the partially excavated ruins of an ancient settlement we visited this morning - it involved a detour off the main path of only about 200 metres, but we saw streams of pilgrims walk straight past without looking or even slowing down, either oblivious or not interested (perhaps both). Only one other person went to have a look at the ruins - a young chap who saw us rejoin the path, stopped and asked what we'd gone to look at. We told him and he headed off to see for himself; good for him.
The ruins themselves weren't that interesting, but they dated back over 2000 years and showed houses, rooms, doors and pathways. The roofs had long since collapsed, but it was fascinating to see a glimpse of how humans lived back then (archaeologists estimate the settlement was inhabited at around 4 BC). A little further on we came across another curiosity - a tiny church that was once a hospital of the Knights Templar, a religious order shrouded in secrecy. This 1000-year old chapel is "watched" over by a blind custodian, who stamped our pilgrim credentials with a shaky hand that had to be guided to the right place on the page.
Apart from the ruins, the Templar chapel and two coffee stops (one mediocre, one excellent), we walked for the rest of the morning and early afternoon in overcast conditions on a path next to a very narrow minor road. We dodged tractors quite often and saw (and smelled) much evidence of dairy and pig farming. The settlements we passed were tiny, two or three houses clustered along the road. Finally we came to a huge resort-style hotel, with swimming pools, sports fields and spacious lawns, and knew we'd reached the outskirts of the biggish town of Palas de Rei. The Camino path took us straight through town, down some steep steps and roads busy with Spaniards going about their business, until finally we dumped our packs with relief in an immaculate room at the Casa Camino hotel.
Day 14 : Castromaior - Palas de Rei
---
| | |
| --- | --- |
| Distance | : 15.7 km |
| Total | : 230.7 km |
The hotel had a restaurant on the ground floor with a giant high definition TV screen, and as luck would have it Spain were playing Portugal in the 2018 World Cup finals at 8 PM that evening. We moved down to the restaurant at 7 PM to make sure of a good table, ate supper and watched the game. It had a sensational start when Cristiano Ronaldo (Portugal's captain and regarded as one of the two best players in the world, along with Lionel Messi of Argentina) was fouled in the penalty area in the third minute. Ronaldo himself converted the resulting penalty, putting Portugal 1-0 ahead after three minutes of play. Spain equalized and then Ronaldo scored a second goal for Portugal seconds before half time. The level of skill on display was exceptional, and the game fluctuated dramatically in the second half. Spain scored two further goals and were leading 3-2, but with only a few minutes remaining on the clock Portugal were awarded a free kick about 30 metres from the Spanish goal. Ronaldo stepped forward, and under massive pressure he coolly slotted the ball into the top right hand corner of the net to secure a 3-3 draw. A worthy end to an outstanding game of football. It was, apparently, Ronaldo's first hat-trick in any World Cup Finals match.
[Saturday 16 June : Melide, Spain] Another day closer to Santiago, on legs that have accumulated nearly 250 kilometres ... but the path was for the most part through beautiful countryside or dense oak forests. Even a section that went past an industrial park was not unpleasant. The approach to the big town of Melide was promising - we crossed the Furelos river on an old Roman arched bridge and walked through the attractive riverside suburb of Furelos. Unfortunately that's where it ended - the quaint stone restaurants and bars of Furelos petered out and we found ourselves in an area of ramshackle houses, derelict buildings and factories. One albergue we passed looked like a concentration camp barrack block!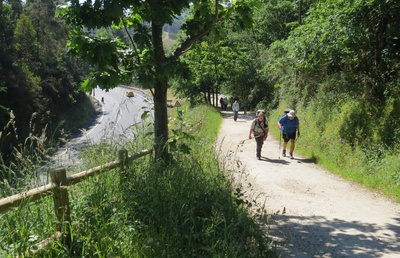 A hot day on the trail near Castañeda ... pilgrims toil up the path
next to a busy road (above) and Paul takes a break (below)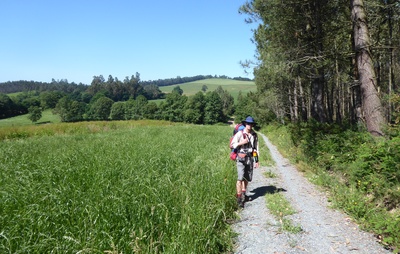 We had booked a private room for the night in Pension El Molino, and found the place after some difficulty in the unmarked and shabby back streets behind the centre of town. The bar of the hotel (where we checked in, together with two women from France) was packed with swarthy, semi-drunk Spaniards glued to the World Cup football on TV. Then we and the two French women had to walk out of the door, round the corner and down the street to another building, where we found our rooms up two flights of stairs. After many kilometres of walking the French ladies were quite unable to lug their luggage up to the second floor, so I had to help them; they were so grateful they couldn't stop saying "Merci" to me. Despite the rather insalubrious neighbourhood we found ourselves in, the room was very nice indeed - either the hotel had renovated the building we were in in the hope that the surroundings would improve or the area had once been quite smart but had become seedy over time.
Day 15 : Palas de Rei - Melide
---
| | |
| --- | --- |
| Distance | : 15.1 km |
| Total | : 245.8 km |
We went to Mass in the big church in the centre of Melide in the evening then had supper at a nearby restaurant. Afterwards, as we were strolling around town we heard a commotion from the main square. It turns out that today was the annual Palas de Rei-Melide half marathon (21.1 kilometres), with the finish line in Melide's town centre. The race started at 6:30 PM (late, but everything in Spain is late), so the runners were coming in just as we finished supper, accompanied by the usual loud music and snappy announcements over a PA system by some local disc jockey. We watched the sweaty finishers for a while before heading back to our digs in the dodgy part of town.
[Sunday 17 June : Arzúa, Spain] World Cup fever is starting to grab us - there are always matches on TV when we stop for lunch and in the evenings in our hotel. As I write this, Germany are playing Mexico, meaning it is ruthless, metronomic (but deadly boring) efficiency against South American flair - unfortunately efficiency usually prevails in these encounters because the side with flair typically makes mistakes, and at this level mistakes are punished ... However, in this case I am pleased to report that Mexico confounded the norm and beat Germany 1-0; they were by far the better side and fully deserved their victory. Incredibly, tiny Iceland managed to get a 1-1 draw against Argentina yesterday; Lionel Messi missed a penalty and Argentina camped in Iceland's half for the last twenty minutes but failed to score.
After a few nights of fairly ordinary accommodation, we found ourselves in relative luxury this evening in a new hotel called Cima do Lugar in the modern town of Arzúa. And, for the first time on this trip, we had blue skies the whole day and it was hot - I was wet with perspiration by the time we checked into the hotel. Our room had a sunny private courtyard, and we took the opportunity to wash the clothes we haven't been able to wash because they wouldn't have got dry in the rainy, cold weather we've had. On a walk as lengthy as this, if you are carrying all your own gear then you can only afford to have TWO shirts and TWO pairs of pants (one "dirty" set for walking in, one "clean" set for wearing in the evening). So, like it or not, you'll be wearing the same shirt every day for weeks on end ... if the weather is hot you can wash it in the evening and have it dry by morning but we haven't had that luxury up to now. But tomorrow I will have a CLEAN SHIRT to wear!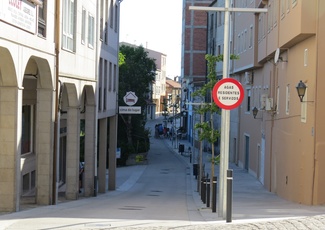 Arzúa: The main street (above) and Karen outside
our fantastic hotel, ready for an early start (below)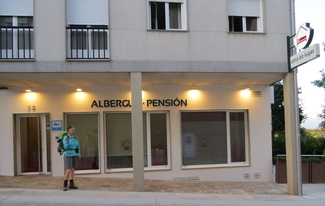 Day 16 : Melide - Arzúa
---
| | |
| --- | --- |
| Distance | : 14.5 km |
| Total | : 260.3 km |
Socks and underwear are different of course - we carry three sets each, wash one every night and pin them on our backpacks as we walk. These can take two days to dry, so three sets are needed. You can always tell who the long-term, independent pilgrims are by the wet clothes swinging from their backpacks as they walk! But by this stage (less than 50 kilometres to go to Santiago) we are exceptions - most pilgrims are either on package trips, with pre-booked luxury hotels and luggage delivered every night, or they use one of the many private companies that ferry luggage from one overnight stop to the next every day. In fact, every morning when we leave our hotel or albergue we see backpacks and suitcases lined up at the door, each with a carefully addressed envelope indicating where the bag must be delivered and containing the required number of Euros in exact change.
We encountered an oddity in the forest today - next to the path in the middle of nowhere a man was playing the bagpipes (yes, in Spain) and a woman was sitting on a wooden box, banging it like a drum and chanting. They wanted a donation, of course, but it was still a weird experience. They were the first buskers we've come across on the Camino so far. Odd people a-plenty, but not roadside musicians ...
[Monday 18 June : Pedrouzo, Spain] Our mileage had been slipping over the past few days, so we knew we had to put in a longer day today to catch up. Consequently we were up earlier than normal and on the road out of Arzúa just after 7 in the morning. Of course, many pilgrims leave much earlier than that, sometimes in the dark, either to clock massive distances (35 or more kilometres) or simply to get to a particular albergue early enough to secure a bed for the night.
Many albergues on the Camino do not accept bookings and operate on a first-come, first-served basis; the only way you can get a bed for the night is by arriving before all the beds have been taken. Albergues like these usually only open at 3 or 4 in the afternoon, so people wait outside in a queue - you see a line of backpacks outside the front door, indicating the position of each person waiting. Later arrivals who know how many beds are available at the albergue count the backpacks and if there are as many (or more) backpacks as there are beds they know the albergue will be full that night and move on to the next one.
This "bed hunting" procedure typically only applies to bunk beds in dormitories, which are very cheap, usually about 10 Euros a night. Private rooms (which we stayed in for the most part) always accept bookings and have fewer restrictions. But not all albergues have private rooms - these are often only available at pensions, hostals or hotels.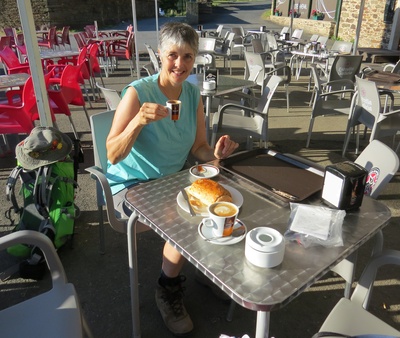 Excellent coffee and a chocolate pastry at the Amenal Hotel
Our first coffee stop was at one of a cluster of cafes around the 6 kilometre mark and after that we walked for hours without seeing a bar or restaurant. I was feeling distinctly leg-weary when we finally stopped for the second time at 11:45 AM, and was amazed to discover that we had covered a further 9 or so kilometres. In fact, we walked 15.7 kilometres before 12 noon! That was a record for us, and made the last stint into the biggish town of Pedrouzo fairly easy. By 2 PM we were at the pension we'd booked into, relaxing in a room with a tiny balcony above the busy road through town. Nearly 21 kilometres by 2 in the afternoon - I guess we must be getting fitter ...
Day 17 : Arzúa - Pedrouzo
---
| | |
| --- | --- |
| Distance | : 20.6 km |
| Total | : 280.9 km |
A lot of the time today we walked through plantations of Eucalyptus (gum) trees from Australia. It seems they are planted for timber here, but it would have been nicer to have vegetation around us that was European rather than Australian. Signs of logging were everywhere and we saw several tractors towing trailers piled high with wood [Aside: Gum trees are regarded as invasive alien weeds in South Africa and are removed wherever possible]. Large groups of noisy teenagers were on the trail, shouting, singing, playing rap music and generally disturbing the peace and tranquility of the Camino ... but they were very polite when we spoke to them, so their noisy excesses appeared to be merely youthful exhuberance.
In the evening we went to the pilgrims' Mass at Pedrouzo's Catholic Church. It was in Spanish of course, but three other priests who were themselves walking the Camino and happened to be in Pedrouzo concelebrated Mass with the local priest (they were from France, Guatemala and Thailand). The church was packed with pilgrims from all over the world and we all received a special blessing afterwards.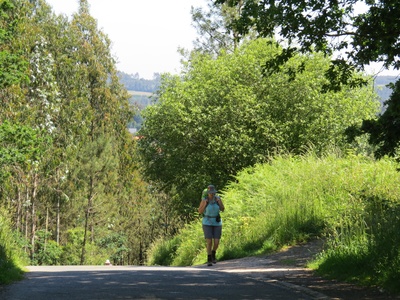 Karen toils up the road in the heat near San Marcos
[Tuesday 19 June : San Marcos, Spain] Our second-last day on the Camino - we planned to arrive in Santiago on Wednesday morning with enough time to check into our hotel and get to the pilgrims' Mass at 12 noon in the cathedral. So today we would be staying in a hotel on the outskirts of Santiago, leaving us only a few kilometres to do the next morning. This was partly because we had calculated when we would arrive in Santiago and booked ahead because hotels there fill up fast, but we had walked faster than we had anticipated so we had a day to "kill".
We walked the whole day amongst a steady throng of pilgrims, most of whom were either doing only the last 100 kilometres or simply walking a couple of hours as part of a package group. We met several people who told us that their tour bus drops them at a specific point on the path each day then collects them later at another pre-arranged spot and ferries them to a fancy hotel for the night, usually kilometres away. They carry no luggage except their money and perhaps a bottle of water. "Long-term" pilgrims were now few and far between, but you could always spot them - they had a certain weariness in the way they walked and their clothes were dusty and wrinkled. By this stage most long-term people had abandoned their walking sticks, either because they are too heavy or they don't help or both. I don't use a stick - I tried once, but found it more of an irritation than an aid.
Day 18 : Pedrouzo - San Marcos
---
| | |
| --- | --- |
| Distance | : 14.4 km |
| Total | : 295.3 km |
Towards midday we heard the sound of aircraft engines and shortly thereafter the path detoured round Santiago's international airport (Lavacolla Aeropuerto). The runway fence was right next to us and we could see planes arriving and departing. There was lots of road construction nearby, an indication that we were nearing a big city and the end of our journey.
The days of cold weather and rain had now been replaced by what I expected in Spain - a burning sun and heat that made walking in the middle of the day an ordeal. No wonder the Spaniards have a siesta most of the afternoon when it's so hot ... We had a mini siesta of our own today - we found a grassy, shaded spot next to a trickling stream and ate the bread and cheese we'd bought at a panaderia while watching red-faced pilgrims striding past. This particular spot was near a fairly confusing intersection where several paths joined each other, and a few times we had to direct hikers or cyclists to the correct route. But two unfortunate cyclists must have had a very, VERY bad afternoon - they came past at high speed, missed the turnoff and zipped off down the wrong path, heading south towards Portugal (rather than west towards Santiago). They passed far too quickly for us to to stop them in time. We took bets as to how long it would be before we saw them coming back, huffing, puffing and wondering where they went wrong. But we never did see them again, so for all I know they may still be cycling south.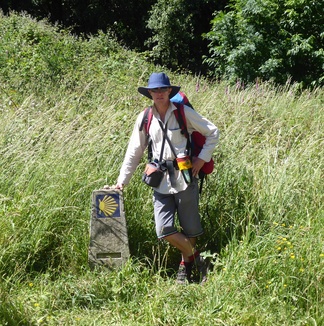 Only 10 kilometres to go to Santiago ...
Despite the heat we could not wait until it was cooler (that would only be at about 7 PM) so after eating and lazing around we reluctantly donned our backpacks and trudged onwards. Karen's umbrella made an appearance and I quickly became drenched with perspiration. It was with some relief that we spotted the Hotel Akelarre ahead of us, and checked into a comfortable room overlooking the busy main road into Santiago.
[Wednesday 20 June : Santiago de Compostela, Spain] Today was a short day because we wanted to get to Santiago de Compostela in time to leave our backpacks at the hotel we'd booked into then get to the pilgrims' Mass at the cathedral at 12 noon. As it turned out, our final day of walking was easy - a gentle downhill all the way into Santiago. On the way we passed Monte del Gozo, location of the biggest albergue on the entire Camino route. It is an enormous and rather bleak place in the shadow of the hill nearby, consisting of rows of concrete dormitory blocks catering for hundreds, perhaps thousands, of pilgrims. It resembled the kind of austere Communist-style barracks you see in parts of Eastern Europe; it was hard to imagine why anybody would choose to stay there, but perhaps it was nicer inside than it looked (and it was probably very cheap). We saw no signs of life, which was odd - either everybody was still in bed (unlikely) or all the pilgrims staying there had already left in order to get into Santiago early.
Nothing was open for coffee until we reached the outskirts of Santiago itself, where we dived into a typically Spanish bar catering to early commuters ... and had excellent coffee for the final two kilometre stretch through the confusing streets of old town to Plaza Obradoiro, the huge square in front of Santiago's massive cathedral.
Karen and I had walked over 300 kilometres, through rain, cold, heat and wind, and finally rounded the last corner into the square, holding hands in a moment of quiet triumph. We just stood there, savouring the moment, as the sun rose behind the twin spires of the cathedral; all around us little groups of pilgrims were enjoying the climax of their own Camino, some sitting with closed eyes, others taking selfies, all with happy faces. We were quite early (it wasn't even 10 AM yet) so the square wasn't crowded with massive groups of chattering tourists. We savoured a few minutes of reflection and contemplation, took the requisite photographs then headed down a side street to our hotel. Unfortunately the main facade of the cathedral is undergoing extensive renovation, so the front was covered with scaffolding and a mobile crane was parked there, unloading girders, bricks and equipment accompanied by shouting from workers.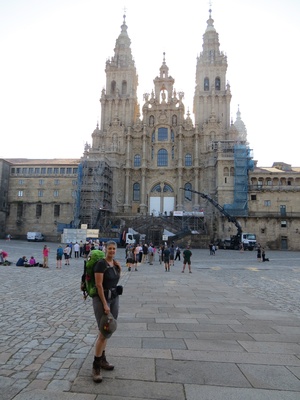 We made it ... Karen in front of the cathedral
in Santiago, after walking for 301 kilometres
We had time before Mass to go to the pilgrims' office and queue up with hundreds of other people to receive our Compostela - the certificate attesting that you have completed the Camino. We were early enough that we only had to wait about 20 minutes, so we managed to get back to our hotel and make ourselves presentable for Mass ... no time for a shower, but the pilgrims' Mass is always crowded with sweaty people in boots and clothes that have been worn for too long.
The pilgrims' Mass was crowded with hundreds, perhaps thousands of people; even though we got there at 11:30 AM we had to stand. Mass was "chereographed" by a nun who led and directed the singing with a voice that was captivatingly beautiful. Her soaring tones echoed round the high ceilings of the cathedral amidst silence from the packed congregation; I've never heard anything like it in a church before. Unfortunately I understood nothing of the priest's homily, except that a lot of it was about pilgrims and the Camino (I heard the words "peregrino" and "camino" several times).
Camino Trail Log
---
Day 19 : San Marcos - Santiago
---
| | |
| --- | --- |
| Distance | : 5.9 km |
| Total | : 301.2 km (Final) |
Highlight of the service was at the end when a giant incense burner was swung down the length of the transept [Aside: Spanish churches are invariably built in the shape of a cross, with the altar at one end of the longest arm and the main entrance at the other. The transept is the cross-arm, which normally extends on either side just in front of the altar]. Called Botafumeiro, this huge silver urn is suspended from the ceiling and swung like a pendulum by six attendants via ropes and a pulley system. They start slowly but gradually increase the arc of the swing until the urn hurtles past at high speed and reaches almost as high as the ceiling on each side. The original idea of this was to fumigate the sweaty, disease-ridden pilgrims who had walked hundreds of kilometres to get here, but it has now become something of a tradition at the pilgrims' Mass ... which is not say that there weren't, perhaps, some sweaty and/or disease-ridden pilgrims there. However, judging by the number of camera-clicking people who surged forward from the back when the incense burner was lowered, this tradition is now more of a tourist attraction than anything else.
After Mass we went to the central post office and collected the suitcase of extra clothes we'd posted from León on 6 June. The process took only a couple of minutes and left me deeply impressed with the efficiency and level of service of the Spanish postal system. It was so simple and easy, and didn't even cost that much. Back in our hotel we were bewildered at how many clothes we suddenly had ... and many of them were CLEAN!
Santiago's Cathedral
James, one of the original 12 apostles, preached extensively in the Iberian Peninsula in the first century AD. After he was beheaded in Jerusalem his body was brought back to Spain and buried where the cathedral is now located. When his grave was re-discovered in 813 AD it was decided to build a church in his honour on that exact spot. News of this spread throughout the Christian world and people started to walk to the small church as a pilgrimage. Over the years several successively larger churches were built to accommodate the increasing numbers of pilgrims, but in 997 AD raiding Moors from the south demolished everything. By the middle of the 10th century the church had been rebuilt and city walls were constructed to keep invaders out, and in 1075 construction of the current cathedral began. It was in Romanesque style and completed in 1128; there are later Gothic and Baroque additions. The various churches, the cathedral and the city that grew up around them were all called "Santiago", which is Spanish for "Saint James".
[Thursday 21 June : Santiago de Compostela, Spain] For the first time in weeks we don't have to get up early, pack and start walking ... so we luxuriated by lying in late while drinking coffee in bed. Then it was off to the cathedral to perform the "pilgrim ritual" that we hadn't had time to do the day before (the queues were too long after Mass finished at about 1 PM) - first we should have entered the cathedral via the grand portico (the Portico de la Gloria) and gazed at the huge statue of Saint James the Apostle above the central archway, then pressed our fingers against the stone carving of "The Tree of Jesse" and finally touched our heads against the bust of Master Mateo, sculptor of the grand portico. But none of this was possible because the entire front of the cathedral is currently closed off for renovation.
Instead we went in via the cathedral's side entrance and climbed the steps to the rear the altar. This led to a position behind the jewel-encrusted statue of St James, where we put our arms around his neck. In fact, during Mass you can see endless streams of people climbing the steps and arms appearing out of the darkness behind St James to hug his statue. Lastly we descended to the crypt underneath the altar and gazed at the illuminated silver casket containing the remains of St James.
A hot afternoon resulted in nothing more strenuous than a combination of siesta and World Cup football on TV. The evening was perfect, so we packed a loaf of crusty bread, some cheese and a can of sardines and headed to Alameda Park for a picnic. The park was full of Spaniards walking, running, holding hands and relaxing on benches, enjoying the sunshine. We found a nice spot on the grass and enjoyed an excellent picnic supper. It was still light when we arrived back at our hotel, just in time to see Croatia thrash Argentina 3-0 in the World Cup finals - a shock result, but a well-deserved one; Argentina were very poor and never even looked like scoring.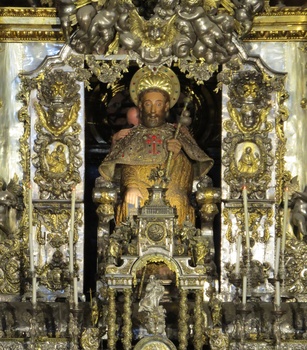 The statue of Saint James behind the
altar in Santiago's cathedral
[Friday 22 June : Santiago de Compostela, Spain] The winding streets of Santiago's old town are marvelous to explore. And the rain of a week or so ago is a distant memory - the days and nights are brutally hot. Our wanderings today included a visit to the Galician Museum of Contemporary Art, a modernistic building on the edge of old town that showcases works by contemporary artists, shopping and strolling around the back streets of old town.
Every day we see more and more pilgrims arriving in Santiago, tanned, tired but almost always exhilirated. Those that arrived the previous day or earlier are often limping or hobbling around on bandaged feet, but they always have an air of quiet triumph about them. It truly is a most extraordinary experience and little wonder that people do different variants of the Camino every year over and over. Believe it or not, there are people who walk from Jerusalem (in Israel) to Rome (in Italy) and then on to Santiago! That is thousands of kilometres ... and, amazingly, some of them then walk back again! We met a Belgian girl two days out of Santiago who was walking in the other direction, and when we stopped to talk to her she said that she had walked from Belgium to Santiago, a distance of over 3000 kilometres, and now she was walking back home again! Staggering.
[Saturday 23 June : Barcelona, Spain] Getting back to Barcelona by train or bus from Santiago would have taken over eight hours, so we decided to fly using cut-price airline Vueling Air. That meant leaving our hotel fairly early to catch the 8 AM bus to the airport, followed by a 90 minute sardine-in-a-can knees-up-to-the-chin elbows-bent-double you-want-a-drink-that-will-be-300-Euros-sir experience ... in other words, the usual cut-price airline setup. But they were on time and it was a lot quicker than the train so we had no complaints.
Unfortunately that was the end of the good news for the day. The guest house we'd pre-booked in Barcelona months before had sent me a snotty email while we were on the Camino saying that there would be nobody there after 1 PM to let us in. But our flight from Santiago was only due to land at 11:55, meaning it was going to be touch and go whether we would make it in time from the airport. I told the guest house owner this in an email and we went back and forth via email and WhatsApp a few times until it was agreed that if we arrived after 1 PM we would find a wifi spot somewhere nearby and WhatsApp them when we were at the door. They would then let us in, although it wasn't clear how. It sounded dubious and Karen and I debated at length whether we should cancel the booking, but in the end we decided to leave it and hope for the best. Big mistake ...
Barcelona, Spain ...
Karen strolls down La Rambla amongst the summer crowds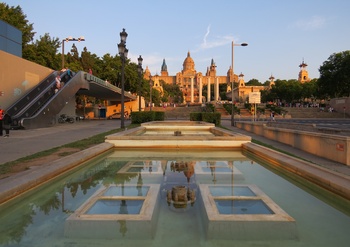 The Catalunya Museum of Art at sunset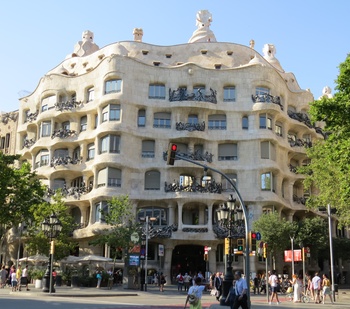 Casa Milà, a Gaudí-designed apartment block
As it turned out our plane landed early in Barcelona, but there was a huge delay at the baggage carousel so by the time we'd collected our bags it was already 12:45. After that we took the airport shuttle to terminal T2 then the train into Barcelona, getting off at the Passeig de Gracia station. A short walk through the streets brought us to the door of Plaza Catalunya Guest House, one of many occupants of a typically grand old European building. By this time it was nearly 2 PM so I wasn't hopeful when I rang the bell of the guest house; as expected there was no reply and the heavy iron and glass door remained firmly locked. It was Saturday afternoon, and looking at the names of the other tenants of the building I could see that they were mostly businesses, which meant there was very little hope that anybody would happen to come out and thereby allow us to slip in. We had to find wifi somewhere and contact the guest house owner.
I don't want to clutter this story with a long and turgid explanation of what happened over the course of the next two hours, so let me just say that it was extremely frustrating and unpleasant, I eventually got quite angry but we did, FINALLY, manage to get inside and into our room at about 3:45 PM (after arriving just before 2 PM); the full story of what we went through can be found here. It was by far the shoddiest service I've ever received from a hotel or guest house anywhere in the world. And they weren't cheap either (although, to be fair, Barcelona is generally very expensive). So if anybody out there is reading this and thinking of staying in Plaza Catalunya Guest House in Barcelona, I recommend most strongly that you find somewhere else.
After settling in and getting our anger under control, we took the obligatory stroll down La Rambla, Barcelona's famous pedestrian thoroughfare. It was as crowded with people as I remember from my previous visit in 1999, mostly with locals and tourists doing the same thing as us (just taking it all in), but there was also the usual quota of buskers, street artists, con men, pick-pockets, drug peddlars, pavement salesmen, beggars, restaurant touts and even a few policemen. The weather was good so it was quite pleasant ambling along, watching the action. Down at the sea front I saw that a new Waterfront development had been built, but it just looked like more shops and restaurants so we turned round at the monument to Christopher Columbus and headed back up again [Aside: Christopher Columbus was Italian but his voyages to the Americas in the late 1400's and early 1500's were sponsored by Queen Isabella I and King Ferdinand V of Spain - hence his statue in Barcelona].
That evening we took the Metro to Plaza d'Espanya and walked up the street to the Museu Nacional d'Art de Catalunya (Catalunya National Museum of Art) in Montjuic. A series of "stepped fountains" starts below the imposing museum building and runs down the middle of Avenue de la Reina. The middle fountain is called Font Magica (Magic Fountain) and can be programmed to provide complex displays of water and light. These are free and very popular with locals; the next show was at 9:30 PM and even though we arrived there well before 9 PM the whole place was already crowded. But we found a seat on the steps near the top and waited in the evening sunshine for the show to start.
Spectacular! I would not have imagined that some jets of water and lights could produce a display like that but it really was quite amazing. For over half an hour water shot up to different heights, at different angles and in complicated combinations, illuminated from below in all colours of the rainbow and accompanied by music of every genre, from classical to rock. We watched from the top for a while then gradually moved down the steps, taking in the flowing water and the fountain from all angles. Thousands of cameras and cell phones must have shot Terrabytes of digital footage of that show ... A great way to end the day, but it did mean that we got back to our guest house quite late after an early start from Santiago and a trying afternoon, so I hit the sack well after midnight, exhausted.
[Sunday 24 June : Barcelona, Spain] The day started with a "sung" Mass at the cathedral in Barcelona's old town (called Barri Gottic) - almost everything was sung or chanted, either by the priest, the congregation or a choir in the front. The choir had its own conductor and a man on the altar stepped forward and conducted the congregation whenever a response was required. Afterward we strolled round the old town's rabbit warren of twisting streets, somehow managing NOT to get lost (a feat I failed to accomplish when I previously visited Barcelona in 1999).
The afternoon belonged to Park Güell, a housing estate designed by renowned architect Antoni Gaudí in the early 1900's. The intention had been to build houses for Barcelona's upper class in a park-like setting, but only two of these houses were ever built (one of which Gaudí himself lived in for several years). The housing estate idea was eventually abandoned and the park was officially opened as a public park in 1926 ... oddly enough, the same year that Gaudí died. We explored the park thoroughly, which involved a lot of walking and a lot, and I mean a lot, of steps. By the time we got back to Plaza Catalunya on the Metro it was past 9 PM - the time when Spaniards START to think about eating supper. Restaurants were packed, bars were buzzing and the sidewalks were jammed with people strolling, laughing and partying as only Spaniards can do ... but for two old codgers like us bed was calling, so we simply bought a couple of bocadilloes at a fast food place and headed back to the guest house.
[Monday 25 June : Barcelona, Spain] Today was Sagrada Familia day. Because it is Barcelona's most popular tourist attraction, the number of visitors is limited and your ticket stipulates an exact time in which you must enter the basilica. We had chosen 9:15 AM when we bought our tickets weeks before, which meant a hastily gobbled breakfast at our guest house, a fast walk to the nearest Metro station and a short ride across town. But the Metro is so efficient (and there's a station right outside the Sagrada Familia) that we actually got there 15 minutes early - meaning I did, in fact, have time for that third cup of coffee at breakfast that I had sacrificed for the sake of speed. Oh well, there's always tomorrow morning ...
The Sagrada Familia
The Sagrada Familia (Sacred Family) is an incomplete Roman Catholic basilica in Barcelona. Antoni Gaudí was not the original architect but took over in 1883, a year after construction had started, and worked on the project until he died in 1926. He radically changed the design and incorporated many ground-breaking new architectural techniques. The four sides, or facades, represent stages in Jesus' life, from the Nativity (east) facade showing His birth to the Passion (west) facade showing His death on the cross. The 18 towers represent the 12 apostles, the 4 evangelists (Matthew, Mark, Luke and John), the Virgin Mary and Jesus himself.
The basilica is still not finished. When Gaudí died in 1926 only the Nativity Facade and 1 of the 18 towers had been built, but work is continuing rapidly to ensure that everything will be completed by 2026, in time to commemorate the 100th anniversary of the famed architect's death. Gaudí knew that he would not live to see the end product of his life's work, so he left detailed plans and models for subsequent architects and craftsmen to follow. In 2010 the basilica was deemed sufficiently complete to be usable, and was consecrated by Pope Benedict XVI. There is a chapel in the crypt below that is in every day use as a local parish church.
We stood on the sidewalk, waiting for our designated entry time, and gazed up at Gaudí's unfinished masterpiece. I have to say that from the outside it is a bizarre piece of work, to say the least - unusual shapes and curves, conical towers and odd carvings everywhere. It is eye-catching and incredible, but I wouldn't call it beautiful. But when you go inside, your mouth drops open in amazement. The slender pillars soar up to the heavens like trees and the entire east and west walls are given over to massive stained glass windows, blueish on the east (where the sun rises) and reddish on the west (where the sun sets).
The result is a cascade of light across the interior. This is no dim and dark Gothic cathedral but a light and airy space, as you would find in a forest of very tall and widely-spaced trees - exactly as Gaudí had intended. The pillars that support the roof and the towers are thick at the base and taper off as they go up, then branch out into several "trunks" near the top - as trees do when fighting each other for light. There are clear windows in the roof above the pillar "branches", simulating the light that filters down from the top of the forest canopy. Pillars designed in this way can support enormous weights, far more than conventional Gothic or Romanesque pillars and without the need for external supports like flying buttresses. And what weight they must support - when the basilica is finished it will have no less than 18 towers, the largest of which will be 172.5 metres high; it will be the tallest church in the world.
What an incredible construction. I have never been inside a building like it. Before I went in I was a little unsure whether Gaudí's work was that of a madman or genius, but the Sagrada Familia has convinced me that not only was he a genius, but (just like Albert Einstein) he was able to conceive of new and unorthodox ideas that are beyond the limited imaginations of lesser mortals. Words simply cannot do justice to the awe-inspiring interior that Gaudí's vision has created.
After our Sagrada Familia experience an afternoon spent exploring more of Barcelona's architectural delights in the Eixample district was rather mundane. The city has so many grand buildings that one only needs to walk up and down the streets north of Plaza Catalunya to be impressed. We followed a map that listed the best of them before our legs told us enough was enough for the day.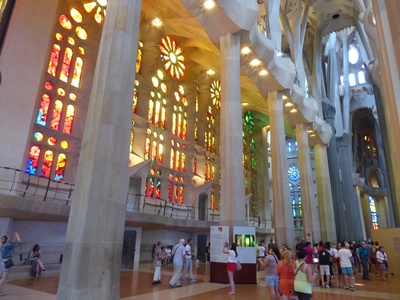 The Passion Facade of the Sagrada Familia from the inside
[Tuesday 26 June : Barcelona, Spain] This morning was devoted to some final shopping, including the prized discovery of Lavazza coffee at the Carrefour supermarket on La Rambla. Lavazza is simply the best coffee on the planet but for some reason you can't get it in South Africa any more. And it wasn't even very expensive ... very odd indeed. Then we had to make the trek to the airport, via the train from Passeig de Gracia to terminal T2, then the shuttle bus to terminal T1 and a LONG queue at the Qatar Airlines check-in desks. And I haven't even mentioned all the security checks, which included taking our belts and shoes off, emptying my pockets of everything (INCLUDING a handkerchief, for heaven's sake) and a full-body search. Why does flying not get any simpler or easier, despite the advances of modern technology?
[Wednesday 27 June : Doha, Qatar] Our flight from Barcelona landed late so we had no time for leisurely coffee before our connection to Cape Town. We did, however, take the automated train from one end of the terminal building to the other - the best (indeed only) entertainment we could muster at 20 minutes past midnight in Doha, where the outside temperature was nudging 35 degrees Celcius.
[Wednesday 27 June 2018 : Cape Town, South Africa] And the adventure is over ... greetings from a wet, rainy and cold Cape Town. But if you enjoyed this story please come back regularly and check for updates - I wrote a lot of it in a hurry so I'm sure there are many mistakes which I hope to rectify in the coming weeks. I also plan to add in more anecdotes about some of the interesting people we met while walking the Camino.
---
© Paul Kilfoil, 2023