Paul Kilfoil's World of Travel, Technology & Sport
---
Estonia, Latvia & Lithuania : May-June 2014
Map © Nations Online Project (

info

)

Estonia
Capital
Tallinn
Area
45 226 km2
Population
1 340 000
Latvia
Capital
Riga
Area
64 589 km2
Population
2 245 000
Lithuania
Capital
Vilnius
Area
65 303 km2
Population
2 988 000

The three Baltic states had a torrid time in the 20'th century. They achieved independence in 1918 after World War I, but were occupied first by the Soviet Union (in 1940), then by Nazi Germany (in 1941) followed by the Soviet Union again (in 1944). This "liberation" from the Nazis merely changed the nature of the oppression from Fascism to Communism - it was only when the Union of Soviet Socialist Republics (USSR) collapsed in the early 1990's that the Baltic states were able to overthrow the Russian yoke and return to the independence they had briefly enjoyed between the two World Wars.
This page describes a trip by Paul Kilfoil to Europe in 2014.
Check out my
travelogues
page for details of other trips I've done.
If you enjoyed reading this, please send me an email. All correspondence is appreciated!
[Sunday 25 May 2014 : Cape Town, South Africa] My first experience of Turkish Airlines started with a long-haul overnight flight from Cape Town to Istanbul via Johannesburg. And a pleasure it was too, with very possibly the best food I've ever had on a plane, helpful air hostesses and a wide variety of in-flight movies. I managed to watch Shadow Recruit, starring Kevin Costner, Keira Knightley and Kenneth Branagh, with Chris Pine as Tom Clancy's fictional CIA agent Jack Ryan; just like most modern incarnations of books a few years old, it was full of relentless, brain-suspending action, incredible stunts and very short on a storyline of any note.
[Monday 26 May : Istanbul, Turkey] We landed at Istanbul airport at 6 AM (5 AM South African time), which meant a wait of about five hours until my connecting flight, a short hop north to Vilnius in Lithuania. Knackered though I was, I couldn't pass up the opportunity to have a quick look around Istanbul, particularly in light of the fact that South Africans can get a free visa for Turkey on arrival. The queue at Passport Control was miles long but I had no problems getting through and after quite a long walk I found the Metro station in the bowels of the airport. Istanbul's Metro and Tram lines work on a token (jeton) system, whereby each trip you take, no matter how long, needs one token; a token costs 3 Turkish Lira (a Lira is worth about 5 SA Rands). The automatic token dispensers were pretty easy to figure out and before long I was being whisked into the heart of the ancient city that straddles Europe and Asia.
The Metro was fast, smooth and very clean, as was the Tram that I had to take to get to the Sultanahmet district. Unfortunately I didn't have much time but I did see Istanbul's two most famous landmarks - the Blue Mosque and Topkapi Palace. Then I had to get back to the airport via the Tram and Metro, fight huge crowds at Security and Passport Control and check the number of my boarding gate before finally sitting down with a cup of coffee at an Italian place called Caffe Nero ... which cost a fortune (8 Turkish Lira, about 40 SA Rands) and was mediocre. And this from a joint that prides itself on having "the best coffee this side of Milan". What side? The bum side? I can make better coffee than that using our domestic espresso machine at home.
I spent a month in Turkey in 2023 (nine years later). For the full story of that trip, click here.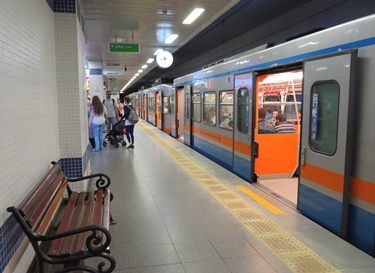 Istanbul, Turkey : The Metro from the airport (above)
and the Blue Mosque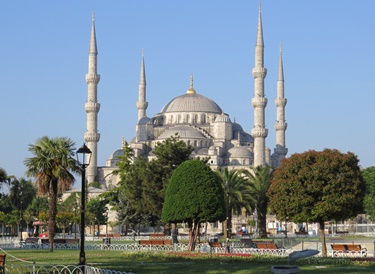 Istanbul Airport is neat and well laid out but it was clearly never designed for the number of flights it now handles. There were people everywhere, sitting on ledges, lying on the floor, filling every available space. I could not find anywhere to sit while I waited for my flight to Lithuania ... which was similarly packed to the rafters. What is it with all these people going to the Baltics? Hardly anybody even knows where these countries are, yet Turkish Airlines somehow manages to fill a massive plane with people going there. What gives?
[Monday 26 May : Vilnius, Lithuania] The mystery was partly solved when I discovered that the flight from Istanbul to Vilnius continues on to Tallinn in Estonia, so at least some of the passengers weren't going to Lithuania after all. We landed at Vilnius at about 1:15 PM, and when I disembarked the experience could not have been more different from that of Istanbul airport. Vilnius airport is tiny but sparkling new, spotless and as near to perfect as you could get ... and also completely deserted. I was the second person off the plane and as the guy ahead of me and I walked through the gleaming corridors it felt like we were in some kind of futuristic movie set. There was absolutely nobody around. At midday? On a Monday? We got to the baggage claim area and it was totally empty. None of the carousels were working and the place was in semi-darkness. So we stood at the carousel for our flight and waited; eventually it kicked into life and a few bags started appearing. A few more passengers from our plane straggled in, but it is quite clear that Vilnius airport does not get much traffic - which I suppose explains why our flight was so full. Maybe the only way you can get in or out of Lithuania is via Turkish Airlines?
In the meantime I had spied out the "Nothing to Declare" door, but having experienced the workings of Customs people in the past I did not want to be the first person through. So I lingered a while, and just when I thought I was starting to arouse suspicion a woman and a young child hauled their luggage off and headed for the "Green" door. Perfect. I slipped in behind them, hoping for them to be my decoys, but I needn't have worried - there was nobody at Customs at all! Not a soul. Incredible ... in all my years of flying that is the very first time I've ever gone through an unmanned customs post at an international airport. Vilnius airport really is quite a backward little place, albeit a very smart and shiny one.
Once I was through Customs the facade of gleaming chrome and polished tiles came to an abrupt end. The public side of the airport was old and cramped, a style I could not place but I guessed it was Russian. Unfortunately Lithuania has not yet converted to the Euro (unlike Latvia and Estonia), so I first had to get some local currency (the Litas). Luckily the world is connected these days; even tiny Vilnius airport had no less than three Automatic Teller Machines for international VISA cards.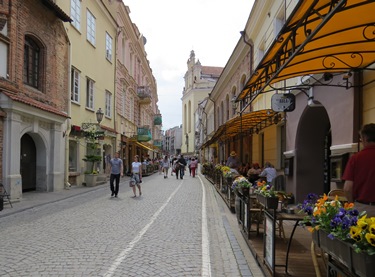 Vilnius, Lithuania : An old cobbled street (above)
and the Cathedral and Belfry
That was all fine, except I now had another problem - the machine gave me five 100 Litas notes, but my guidebook had warned me that the conductor on the train from the airport never has change for notes larger than 20 Litas. Reminiscent of Beunos Aires in 2010 (when we struggled to get coins for the bus into the city), I traipsed around the airport trying to get smaller notes. Eventually I succeeded by buying a bottle of water, but this whole money process used up so much time that now there were only three minutes to the next train - and an hour's wait if I missed it. Then I struggled to spot the tiny signboards to the train station and eventually sprinted all the way, getting there just as the train was about to leave. I hauled myself in, dripping with perspiration (reminiscent of the near-miss I had in China in 2012 with the Lanzhou-Xi'an overnight express).
The train itself was much like the airport - gleaming, spotless and almost empty. It was a ten minute ride into Vilnius, but before I headed on to the hotel I'd booked into I checked the train schedules for trains to Šiauliai and then Klaipeda. Vilnius' main train station wasn't big but it was quite organized, so it was easy enough to get the tickets I needed for the next few days (despite the total lack of English spoken at the ticket counter).
From the station it was a ten-minute stroll to the City Gate Hotel where I moved into a very comfortable room, just as nice as the pictures on the internet had indicated. After two flights, a long airport layover, metro and tram rides in Istanbul and a train ride in Vilnius, it was a relief finally to put down my backpack and relax for a while. Supper that night was a Lithuanian dish, grated potato pancakes with meat - the meat was unidentifiable (hmm, memories of China in 2012) and it was a little on the oily side for my taste, but on the whole it was pretty good.
It was almost ten years since I'd last been to Europe (France, Belgium and Luxembourg in 2004), and it was fantastic being back amongst the cobbled streets, stone buildings and graceful old architecture that is characteristic of so many European cities. Vilnius may not be the most famous or well-visited city in Europe, but it is certainly a stylish and enjoyable place in which to spend a couple of days. It also appears to have recovered very well from years of German and Russian occupation.
[Tuesday 27 May : Vilnius, Lithuania] After a great breakfast in the hotel (including bottomless espresso-based coffee), I hit the streets of Vilnius for a day of exploring. The memorial to wild rocker Frank Zappa was an oddity amongst the plethora of immaculately-maintained churches; however, years of Nazi and Soviet oppression has so reduced the once thriving Jewish population that there is now only one synagogue left in the whole of Vilnius.
I tried to visit the Genocide musuem, in a building that was formerly the headquarters of both the Gestapo (during World War II) and the KGB (after the war), but my luck was out - it's closed on Mondays and Tuesdays. This museum apparently shows in gruesome detail how the Nazis tortured and murdered thousands of Lithuanian Jews between 1941 and 1944. The Russians did not practice genocide like that, of course, but displaying anti-Communist sentiments during the Cold War was a good way to ensure you'd be invited by the KGB for a lengthy and/or painful stay in this dreadful building ... The stone walls of the museum contain the names of some of the Lithuanians who died in the cellars below.
I strolled along the river for a while and ended up at the Cathedral (the city's most famous landmark), after which I slogged up Gediminas Hill to the ruined castle on top. Then it was back to the hotel via a "flat white" at Coffee Inn (a chain of coffee shops that seem to be everywhere in Vilnius) and the Chapel of the Blessed Mary inside the Gates of Dawn.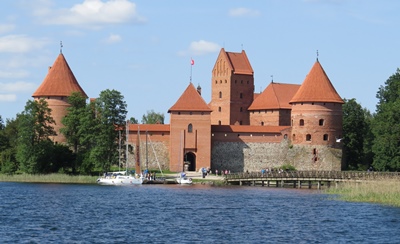 Picture perfect : Trakai Castle, Lake Galve, Lithuania
In the afternoon I grabbed one of the frequent trains to Trakai (pronounced "traakey", as in "turkey"), a pleasant trip of 45 minutes through thick forests. On the way we passed Paneriai, notorious for being the spot where the Nazis executed thousands of people during World War II - they would dig a deep pit in the forest and stand the victims at the edge in groups of ten. A bullet in each head, they'd fall in the pit and the next ten would be lined up until the pit was full of bodies. The next lot of victims would fill in the pit with sand and dig a new one for themselves. And so on ...
I visited Paneriai when I returned to Vilnius three weeks later, on my way back from Latvia and Estonia; see the entry dated 15 June further down in this blog.
It was a walk of about two kilometres from Trakai train station to the fairytale castle of the same name, but it was worth it. The views are absolutely magnificent - Trakai is a thin peninsula jutting out into Lake Galve so there is water on both sides. Trakai castle is on a small island in the lake, now connected to the peninsula by two wooden pedestrian bridges. On the peninsula near the main bridge are scores of restaurants, souvenir shops and t-shirt sellers; the area was packed with busloads of tourists eating, drinking, buying trinkets and enjoying the sunshine.
Taking trains around Lithuania ...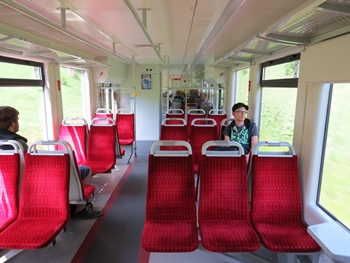 The train from the airport into Vilnius
Vilnius station
The train from Vilnius to Trakai
I walked over to the island and explored the castle, then went back the way I'd come to clamber around the ruins of the Peninsula Castle - unlike the island castle, it has not been restored and is no more than a pile of stones next to the lake [Aside : Both Trakai castles, one on the island and one on the peninsula, were destroyed during the Russo-Polish War between 1654 and 1667. The island castle was restored in the 1950's to the pristine state it is in today but the peninsula castle was never rebuilt. However, in the 1770's a Dominican monastery was constructed within the ruins of the peninsula castle and remains there to this day].
Near the Peninsula Castle I spotted a path leading down to the water's edge. I walked down to have a look and found that the path continued along the shore of the lake as far as I could see, so followed it and it led all the way back to Trakai train station. The path turned out by a very scenic meander right next to the water's edge, quite a bit longer than the road but far more pleasant; it was absolutely perfect for cycling or running.
[Wednesday 28 May : Šiauliai, Lithuania] I was back at the train station again this morning for my 9:45 AM train to Šiauliai (that first letter is not an "S" but a Lithuanian "Š", pronounced like "sh"). Diesel-hauled this time, it was as spotless as the other Lithuanian trains I'd been on and the two and a half hour ride to Šiauliai was relaxing and pleasant. There sure are a lot of trees in this country ... but very few hills, never mind mountains; the place is as flat as a pancake. While I was waiting at Vilnius station the St Petersburg-Minsk-Kaliningrad international express, operated by Russian Railways, rumbled through. It's ironic that the three Baltic states no longer have their own international train services, but several pass through from neighbouring countries such as Russia (the hated Cold War oppressors) and Belarus.
The Turne Hotel was a five minute walk from the train station in Šiauliai and my room, if anything, was even nicer than the one I'd had in Vilnius. Unfortunately I didn't have time to linger because I only had the afternoon to see the Hill of Crosses, so I headed out almost immediately to the bus station. The Hill of Crosses is 12 kilometres out of town on the road to Riga and I wasn't entirely sure of how to get there ... but the lady at the bus station ticket office, despite speaking no English, understood exactly what I meant when I said "Hill Crosses" and wrote down which bus I should take. Turns out I needed to be on a bus to Joniškis but I should get off at Domantai; I found the lane for Joniškis buses easily enough and twenty minutes later I was aboard a bus barrelling down the main road north out of Šiauliai.
After ten kilometres or so the driver pulled over at a nondescript bus stop and pointed down a side road leading off the main road to the right. "Hill of Crosses" he said. "You walk, two kilometres". I stepped off the bus onto the roadside, to be greeted by an icy wind, a bleak landscape and a long walk ... So much for the good weather in Lithuania - on Monday the temperature had nudged 30 degrees Celcius but today the MAXIMUM was only 10 degrees. I trudged on, thankful that at least it wasn't raining.
You can see the Hill from quite far off, but it just looks like a shapeless blob of something unidentifiable. As you get nearer you begin to make out details, and your jaw drops. There are uncountable thousands of crosses of all sizes, stuck in the ground, heaped in huge piles on top of each other, hanging from trees; they are simply everywhere. And not just crosses either - I saw statues, crucifixes, rosaries, paintings and all manner of religious artefacts. There are narrow paths between the masses of crosses and I wandered about among them with a sense of awe. This place must really have irked the Soviets when they occupied Lithuania - as a symbol of peaceful rebellion it makes a very powerful statement. No wonder the Red Army tried (unsuccessfully) to destroy it.
The Hill of Crosses
The exact origin of the Hill of Crosses near Šiauliai is not known, but it is believed that crosses were placed on it from as early as the 14'th century. The numbers multiplied after bloody anti-tsarist uprisings and this tradition as a symbol of rebellion continued into the era of Soviet occupation. The hill was bulldozed flat three times by the Russians, but each time more crosses appeared immediately afterwards. Since independence the numbers of crosses and other religious artefacts have continued to multiply; there are estimated to be about half a million crosses on the hill today. In 1993 Pope John Paul II celebrated Holy Mass at the site and left his own Papal cross there.
Not to be outdone, I had brought my own small wooden cross which I'd purchased from one of the enterprising "cross sellers" near the entrance. I found a place near the edge of the Hill that wasn't too crowded and with a good view over a river and fields, and planted my cross in the ground. So I have also contributed to the national symbol of Lithuanian unity (not that they need it any more - they've been independent since 1991).
Then it was back the way I'd come, along the two kilometre stretch of side road to the main road. I had no idea when there would be a bus back to Šiauliai and I contemplated walking all the way, another ten kilometres, but I decided to stick it out at the bus stop for a while. I arrived at the bus stop at 4 PM and mentally made a note that I'd wait until 5 PM then start walking if no bus had arrived by then, but I nearly gave up much sooner than that because it was lip-numbingly cold standing at the side of the road. The wind was raw and icy and there was no shelter of any kind. I took to walking up and down to keep warm. I kept looking up the road in ever-dwindling hope of a bus, but all I saw was a procession of trucks and private cars, the drivers snug and warm inside as they sailed past.
And then at ten minutes to five, just as I was trying to work up some enthusiasm for a fast 90-minute walk, a bus pulled up next to me. "Sveiki, Šiauliai?" I asked the driver. The bus driver looked at this semi-frozen apparition, speaking broken Lithuanian with an accent he'd never heard before and smiled. "Sure, no problem," he said in English, providing me with immediate confirmation that my Lithuanian pronounciation was indeed awful.
"Dekoju," I replied, fumbling for coins in my wallet with numb fingers. And so I got back to my warm hotel room much earlier than I thought, mightily relieved that I had decided to wait at the bus stop after all.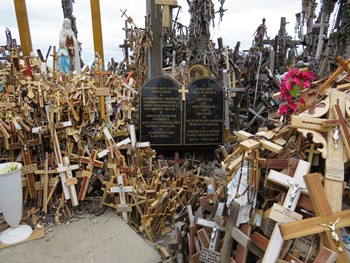 A small section of the Hill of Crosses near Šiauliai
My good fortune continued after I arrived back at the hotel - I had booked my stay several weeks before via the internet and since then the hotel's prices had gone up so they had charged me a little more than what had originally been quoted. I had queried this when I checked in, and as a token of apology they offered me dinner on the house. As soon as I arrived back at the hotel the receptionist told me to come downstairs at 6 PM, and when I did so I was escorted to the deserted dining room and served a huge plate of food. It was steaming hot and delicious, and as I sat there eating on my own I realized that the hotel didn't serve meals at all apart from breakfast; but because of the price mixup they had cooked dinner for me especially. What fantastic service, which I came to realize was fairly typical of the generous hospitality of Lithuanians in general. Thank you, Turne Hotel - after my trip to the Hill of Crosses I didn't feel like going out again to find something to eat, so their free dinner was very gratefully received.
[Thursday 29 May : Nida (Curonian Spit), Lithuania] Today was a hard travelling day. Getting from Šiauliai to Nida on the Curonian Spit required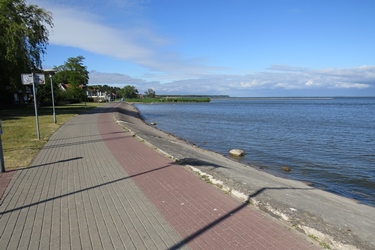 Part of the lagoon-side path in Nida, Lithuania
A short walk from my hotel in Šiauliai to the train station;
A pleasant and relaxing ride on the early train to Klaipeda;
Quite a long walk from Klaipeda station to the harbour, where I waited 45 minutes for the next ferry;
A cold and rough ferry ride across the choppy waters of the Curonian Lagoon to Smiltyne on the northern end of the Curonian Spit;
A wait of over an hour in Smiltyne for the next bus;
A surprizingly long, but very pleasant, bus ride south to Nida (the bus took several detours off the main road to little villages and isolated bus stops in the middle of nowhere);
A short walk from the bus stop in Nida to the guest house I'd booked into.
The bus trip down the spine of the Curonian Spit was very scenic, with forest on both sides of the road and glimpses of the Baltic Sea on the right and the Curonian Lagoon on the left. The entire peninsula, on both the Russian and Lithuanian sides, has been declared a National Park in order to try and preserve its uniquely pristine natural environment.
Nida is the biggest town in the Lithuanian section of the Curonian Spit, a stone's throw away from the border of the Russian enclave of Kaliningrad. Kaliningrad, a province of Russia but geographically separate, occupies the southern half of the Spit; it was originally called Königsberg and part of Germany (in fact, East Prussia) until the end of World War II, when it was overrun by the army of the USSR (the Soviet Union). Königsberg was renamed Kaliningrad in 1946, the surviving German population was forcibly expelled, the region was repopulated with Soviet citizens and Russian replaced German as the official language. Kaliningrad remained part of Russia after the Soviet Union collapsed in the 1990's.
The Curonian Spit


The Curonian Spit (called "Neringa" in Lithuania) is a thin finger of land jutting northwards into the Baltic Sea from the Russian enclave of Kaliningrad. It curves towards the Lithuanian coast but does not quite reach it, being separated from the city of Klaipeda by a few hundred metres of open water. The spit is 98 kilometres in length, the southern half being part of Russia and the northern half part of Lithuania. At its widest point the peninsula is only four kilometres across; most of it is much narrower than that. Almost all settlements are on the lagoon (eastern) side because the weather there is mild in comparison with the Baltic Sea side. The entire peninsula is a UNESCO World Heritage Site.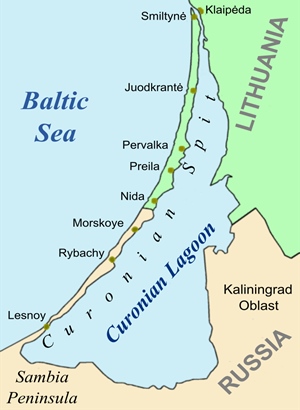 When I arrived in Nida and tracked down the guest house I'd booked into, I found the place locked and bolted with a message on the window to say that guests should phone for help. Now what ... I didn't have a cell phone in Lithuania and in these days of instant mobile connectivity you can't even find a pay phone on the street any more. So I trudged over to the tourist information office and explained my dilemma to an attractive young lass who phoned the guest house owner for me. And just as well too, because the owner couldn't speak English at all, so what I would have said to her over the phone was anybody's guess. I then walked back to the guest house and had to wait no more than five minutes before the owner arrived, very apologetic that I'd had such trouble (or at least that's what I assume from her body language, seeing as her English was virtually non-existent). The room she gave me was big and sunny, and downstairs there was a fully-fitted kitchen which I could use. I dumped my gear and settled in with coffee, a biscuit and a sigh of relief.
[Friday 30 May : Nida (Curonian Spit), Lithuania] After several days of frenetic travelling it was time to relax, and there can surely be few places in the world better than Nida in which to unwind. The town is almost artificially attractive, with neat and clean cycle tracks everywhere, old fishermen's cottages painted bright colours, friendly people (not much English spoken though) and the gentle waves of the Curonian Lagoon lapping the shore. Pedestrians and cyclists are king here; what few cars there are drive very slowly and give way automatically - now that is how life should be.
I saw what few sights there are to see (such as the lighthouse, famous German writer Thomas Mann's house and a peaceful cemetery high up a hillside) then went for a long walk. South of Nida is the highest sand dune on the spit (Parnidis Dune), on the summit of which is a partially-ruined granite obelisk and sundial. I descended the dune on the other side into endless forest and walked a long way down sun-dappled paths until I hit the main road, turned south again and before long I reached the border of Kaliningrad, the Russian province that occupies the southern part of the Curonian Spit and which is completely separated from Russia. Big signs said "No photography" so I merely had a look then turned around and walked back the way I'd come; when I was a hundred metres or so away I took a few quick photos. Plenty of cars came past me, all heading OUT of Russia and INTO Lithuania ... what does that tell you? Almost all had Russian number plates and were huge and opulent - Mercedes, Audi and 4-wheel drive vans. So much for post-Communism poverty in the former Soviet Union. However, it was Friday, so maybe it was the Russian Mafia going on weekend shopping trips?
Walking back to Nida (northwards) I cut through the forest to the west and shortly reached the beach. The western side of the Curonian Spit faces the Baltic Sea and is subjected to virtually continuous wind, with the result that the entire coast is one long stretch of beach (98 kilometres of it). But it is pretty cold and the water temperature when I was there was 8 degrees Celcius. This sure ain't a tropical paradise ... The wind dumps and moves huge volumes of sand (that's what created the beach), but it also means that the entire peninsula is moving eastwards at the rate of nearly a metre per year. In the past few centuries whole villages have been buried under shifting sand, and there are stories of people having to build new houses every generation as the sands slowly overwhelmed them.
Cycling up the Curonian Spit ...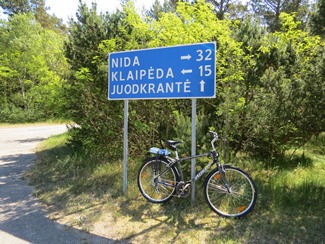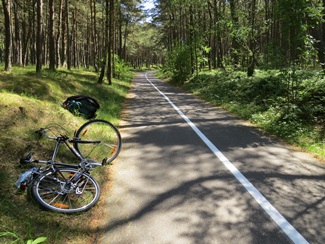 [Saturday 31 May : Klaipeda, Lithuania] What a fantastic day! Early in the morning I collected a rental bicycle from the very organized and friendly folks at Velo Nida, checked out of my guest house in Nida and started cycling north [Aside : I don't often punt commercial operations, but Velo Nida were so helpful that I recommend them unreservedly; if you need a bicyle anywhere on the Curonian Spit then these are the guys to use. Check them out at www.velonida.lt].
There is a dedicated cycle track all the way from Nida to Smiltyne at the northern tip of the Curonian Spit, a distance of 53 kilometres; my aim was to get there in time for the 4:15 PM ferry to Klaipeda on the mainland. I soon entered the pine and birch forests that are characteristic of the Curonian Spit and made good time, thankful that the cycle track was flat all the way because I was carrying all my gear. But even with the extra weight of my main backpack and daypack it was very easy going and the ride was absolutely magnificent. No cars, no noise except birds, just me, the bike and the forest. Occasionally I'd see another cyclist coming the other way and we'd grunt a greeting at each other.
The cycle track was initially on the east (lagoon) side of the Spit, but after passing through the small fishing villages of Preila and Pervalka it veered westward through thick forest and emerged in the open on the Baltic Sea side. For the rest of the ride north the path remained on the western side of the Spit, with trees to my right and the Baltic Sea to my left. Unfortunately the sea wasn't visible because there are high dunes behind the beach for the entire length of the Spit; every now and then there would be plank boardwalks which allowed access to the beach over the dunes. Because of the incredibly sensitive nature of the Spit, it is absolutely forbidden to go into the dunes except on designated paths.
I reached the turnoff to Juodkrante (second biggest village on the Spit after Nida), and because I was so far ahead of schedule I decided a cup of coffee was in order. Of course that meant cycling an extra three kilometres up and over the Spit's spinal ridge to reach Juodkrante on the lagoon (east) side, which would have been well worth doing if the coffee had been good. No such luck however - the coffee was dismal and ridiculously expensive ... and I then had to cycle three kilometres back over the ridge again.
After Juodkrante I encountered many more people on the path (cyclists mostly, but walkers and runners too). By this time my legs were starting to feel the pain, so I was mightily relieved when Smiltyne eventually came into sight. It was only 3:30 PM and with some time to spare before the 4:15 PM ferry I rode another couple of kilometres further, dodging crowds of people who were walking to or from the Lithuanian Sea Museum at the very tip of the Curonian Spit. Outside the aquarium there are some giant models of whales and old-style fishing boats, but I didn't have time to visit the aquarium itself. I turned round, rode back and drew up at the ferry terminal at 3:50 PM having ridden just over 60 kilometres carrying a heavy backpack - that's about twice as far as I've ever cycled in one day before. But the ride was one of the most enjoyable experiences of my entire life and I'm very glad I made the effort rather than lazily sitting in a bus.
The ferry from Smiltyne to Klaipeda was swamped with weekend day-trippers, most of whom had visited the Sea Museum and were heading home. Back in Klaipeda it was a fifteen minute walk from the ferry terminal to the guest house I'd booked into; I dumped my gear in my room, headed into the old town and wolfed down a hamburger and chips before soothing my tired legs in a long, hot shower.
[Sunday 1 June : Riga, Latvia] Farewell Lithuania, hello Latvia ... The 10:50 AM bus from Klaipeda to Riga in Latvia arrived at about 3:15 PM, more than half an hour early. It was just a small minibus with only ten passengers on board, but no less than four of these were foreign backpackers. Amazing - in more than a week in the Baltics I had not come across one other Westerner, and now there were four (including me) on one bus! Two of them were a pleasant but pretty gormless Indian couple and the third was a young German. They had no maps or guidebooks of any kind, just smartphones and the expectation that everywhere they went there would be free internet access ... which pretty much is how it is in Lithuania. Even the bus we were on had free wi-fi on board!
A typical wooden house on the Curonian Spit
When we arrived at Riga bus station it took me a few minutes to get all my gear together for the walk into the city. While I was arranging my stuff the other three backpackers were standing nearby, looking helpless and confused. They kept glancing subtly at me, then looking at their phones, then looking around for help. But I didn't feel like being saddled with three idiots who were incapable of figuring out what to do so I hoisted my kit and walked into the bus station building. After all, I had also just arrived in Riga myself so what was I supposed to tell them? But they started to follow me, and I could hear their three pairs of footsteps behind me as I looked for the "i" sign to Information. By now it was getting creepy. I found a city map in the Information office and studied it for longer than I needed to, hoping this childish ruse would lose the three stooges. Thankfully when I emerged there was no sign of them, so I headed for the underpass into the city at a brisk pace and never saw them again.
The weather was icy, even though today was officially the start of summer. The wind was like a frozen knife blade - what's it like here in winter? At least the sun stays up until well after 10 PM.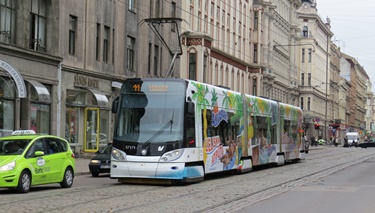 Riga in Latvia : The old and the new (above) and
the House of Blackheads ... no, it isn't what you think
[Monday 2 June : Riga, Latvia] Holy mackerel, I hope it starts to warm up soon. Gloomy grey skies, soft drizzle, temperatures below 10 degrees - I thought the weather in June was supposed to be good in Europe? But you can't have it all your way so I headed out into the cobbled streets to explore. Riga is an absolutely magnificent city, full of gracious old buildings, winding cobbled streets, expansive squares and a baroque church on every corner. It is impossible NOT to like Riga, and for the first time on my trip I saw lots of traditional tourist infrastructure - glazed tour groups following their guide in a sheep-like trance, currency exchange booths, souvenir and t-shirt shops and the dreaded abomination of McDonald's.
I visited the very moving Latvian Museum of Occupation, which documents in graphic detail the horrors experienced by the Latvian people during the periods they were occupied by Nazi Germany (1941-1944) and the Soviet Union (1940-1941 and 1944-1991). There are grainy old photographs showing open pits filled with the bodies of Jews who had been murdered by the Nazis, a reconstructed Russian GULAG concentration camp barracks, countless documents authorising execution or torture (often both) and miraculous stories of how some people survived against impossible odds. It is estimated that 550 000 Latvians perished due to persecution during the 50-year period of foreign occupation, more than one third of the entire population.
Because of the years of systematic "Russification" of Latvia, only 55% of the population are ethnic Latvians! The rest are mostly Russian, many of whom were forcibly relocated during the Soviet era and never returned to their homeland. All signs here are in both Latvian and Russian (Cyrillic) and you hear a lot of Russian spoken on the streets.
The Chinese have been doing the same thing in Tibet, ever since they invaded in 1951. In fact, the relocation of ethnic Chinese to Tibet has gone on for so long and so systematically that the Tibetans themselves are now outnumbered in their own country - the majority of people who live in Tibet now are Chinese, not Tibetan. But Estonia, Latvia and Lithuania managed to escape from the clutches of the Soviet Union before their native populations were completely overwhelmed by relocated Russians. Even so, each of the three countries now has a permanent Russian-speaking minority that has to be catered for.
[Tuesday 3 June : Cêsis, Latvia] I took the 10:38 AM train north-east to Cêsis, a very slow two hour ride through typically flat and forested countryside. The Latvian railway system is very dilapidated in comparison with that of Lithuania - the trains are old, stations are mostly closed and derelict (sometimes there aren't even platforms) and the tracks show little sign of regular maintenance. No sleek and flashy trains humming past at high speed here - just ancient diesels clanking sedately along. To be fair though, while the train I was on looked decrepit from the outside, it was new and spotless inside.
Cêsis (pronounced "tsaysis") is frequently described as the "most typically Latvian town in Latvia", meaning that it largely escaped the architectural (read "destructive") attentions of the Nazis and the Russians. In the centre of town is an old ruined castle next to a lake as well as the inevitable stone church, but what really makes Cêsis special are the winding cobbled streets containing weathered wooden houses in the traditional Latvian style. I strolled around, enjoying the sunshine, had coffee and lunch at a sidewalk cafe and meandered slowly back to the station for the 3:09 PM train back to Riga.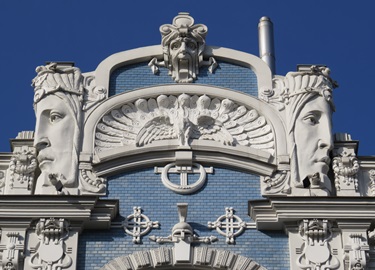 The top of an art nouveau building in Riga, Latvia.
Click on the picture to see the whole building
I got to the station just before 3 PM and received a slap in the face from Latvian Railways. Turns out that, just today, the 3:09 PM train had left at 2:52 PM, over fifteen minutes earlier than I expected. So even though I'd very carefully checked the timetables immediately after arriving in Cêsis I had failed to spot the tiny sign (in Latvian) pasted on the ticket office window warning people that the 15:09 train would be departing at 14:52 today. And, of course, the next train was at 7:02 PM, more than FOUR HOURS later. The Communist-era lady at the ticket office displayed no sympathy at my plight and just pointed at the sign. I was furious, but what could I do? Getting mad at her and stamping my feet wouldn't get me back to Riga.
Luckily Cêsis bus station was actually in the same building as the train station, with a ticket office at the opposite end of the hall. I simply went over there and bought a ticket on the next bus to Riga - an unnecessary expense because I already had a return train ticket, but I wasn't going to wait four hours. The bus was at 4 PM, and during the 45 minutes I sat waiting I observed a steady stream of customers buying BUS tickets but not one single person bought a TRAIN ticket ... which was not at all surprizing considering the type of treatment they mete out to their passengers. Given the attitude and general decrepitude of the infrastructure, I suspect that Latvian Railways' future is bleak indeed. Certainly the Latvian people have decided that using the bus is a better option. In fact, the bus I took back to Riga contained more passengers than the entire train of four coaches that I'd arrived on, and from the timetable I could see that there was a bus to Riga approximately every hour.
A sad reminder of Soviet oppression in Cêsis
("Cheka" was the original name for the KGB)
[Wednesday 4 June : Riga, Latvia] Riga contains more art nouveau buildings than any other city in Europe - over 750 of them apparently. The best of the lot, designed by legendary architect Mikhail Eisenstein early in the 20'th century, are all in one block in the city centre. This morning I got neck ache while walking around and looking up at the strange, often twisted (but always exquisite) gargoyles and sculptures adorning these art nouveau buildings. The amount of work that must have gone into the construction of these intricate designs is staggering.
After getting my fill of art nouveau I checked out of the guest house I'd been staying in in Riga's old town. It was a great location for exploring the city, but for the next two days I was going to be taking day trips out of town so it made more sense to move into a place near the train and bus stations (which were across the road from each other). Mid-morning found me humping my gear across town to Elizabeth's Hostel, a backpacker place in a cavernous old building round the corner from the train station. It wasn't great, and the "private room" I'd booked turned out to be a bed in a small dormitory that happened to have nobody else in it. But it was clean and cheap, and I wasn't going to be spending much time there so I didn't complain.
Then it was time for the beach ... no kidding, Jûrmala beach near Riga has been famous since the 18'th century as the place to go for rest and relaxation at the Baltic seaside. In the Soviet era it was where all the high-up Communist Party Comrades went for their summer holidays. Since the collapse of the Soviet Union nothing much has changed - it's still popular with Russian holidaymakers, except these days it's the Mafia and the elite wealthy (which in many cases ARE the former Communist Party officials, now having embraced the new spirit of free enterprise with gusto). And as luck would have it, the weather changed at just the right time - from a grey and dismal 10 degrees it was over 25 degrees today.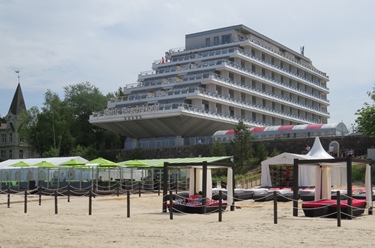 The Baltic Beach Hotel & Spa ...
A hideous Soviet-era monstrosity on Jûrmala Beach
I had an excellent lunch at a pavement cafe in Jûrmala - Chicken Kiev, which I thought was appropriate even though Kiev is no longer in the Soviet Union (it's now the capital of the Ukraine ... but the way things are going there, who knows? Kiev may yet become part of Russia again). It was very pleasant sitting on a shady terrace categorising the tourists as they ambled past - lumpy Russians with grim faces, uber rich businessmen and their simpering trophy wives, testosterone-hyped teenagers looking for girls and (could it be?) aged former KGB agents wanting anonymity and sunshine in their retirement.
[Thursday 5 June : Sigulda, Latvia] I was back on the train again today, this time to Sigulda. Sigulda is a small town not far from Riga, well known for having no less than four castles - two old, ruined ones, one that is perfectly preserved and a fourth which was only built in the 19'th century. It was typically Latvian weather again, cold and rainy in the morning and bright sunshine with temperatures in the high 20's in the afternoon; I'm starting to get used to it by now, so I wore shorts but took a rain-jacket. And I was grateful for both ...
Sigulda is as neat as a pin, with perfectly groomed sidewalks, an immaculate train station (which is indeed rare in Latvia) and tourist-friendly signs pointing out the "castle route". But the sights are quite spread out, so it was a fairly long day with lots of walking. The highlight was the trip across the Gauja River gorge to the tiny forest village of Krimulda by cable-car, a magnificent aerial ride - the tree tops were just beneath the car and there were amazing views down the river in both directions. After a quick look at the totally ruined castle in Krimulda I followed a very scenic trail through the forest to Gûtmana Cave, the largest erosion cave in the Baltics. This cave is legendary for having been the spot where a stunningly beautiful 17'th century girl called Maija Roze, known as the "Rose of Turaida", was hacked to death by a love-crazed soldier. Old court documents uncovered relatively recently show that this incident actually happened - the guilty soldier was arrested and sentenced to death for his crime.
The "new" castle in Sigulda, Latvia
From Gûtmana Cave the path continued through open and beautiful countryside (part of the Gauja National Park, in fact) to Turaida, a crossroads where there is yet another castle and a coffee shop. By now, after several kilometres of walking, the coffee shop was of far greater interest, despite my guide book proclaiming that Turaida Castle and Museum Reserve was THE top attraction of the area. I'm afraid my view of it was simply what I could see from the bus stop across the road, where I sat waiting ... and waiting ... and waiting for a bus back to Sigulda. Eventually I gave up on the bus and walked back the way I'd come, but rather than ascending the hill via Krimulda and the cable-car I crossed the Gauja River on the road bridge and slogged up an endless set of wooden steps through thick forest on the other side.
Back at the train station in Sigulda I checked the time of the next train back to Riga, making sure that (unlike my experience in Cêsis two days before) there were no last-minute schedule changes. And then I had plenty of time to rest my weary legs in a sidewalk cafe across the road from the station ... with coffee and a pastry, of course.
[Friday 6 June : Pärnu, Estonia] Today I arrived in Estonia, my fourth country in two weeks. I feel rather like I'm part of the "It's Tuesday so it must be Belgium" routine ... Another difficulty I'm having is remembering which of the phrases I've learned are Lithuanian, Latvian or Estonian; unfortunately the three Baltic languages are sufficiently different that they cannot be interchanged (as can be done with Swedish, Norwegian and Danish). So should that be dekoju, paldies or tänan?
The view from my hotel room in Pärnu, Estonia
When the bus from Riga in Latvia to Pärnu (pronounced "pair noo") crossed the Estonian border this morning, I noticed an immediate difference - smoother roads, better signs, a much more Scandinavian feel than Latvia had had. The actual border post was abandoned and derelict [Aside : all three Baltic countries are now part of the Schengen zone, so there are no longer any formal passport controls when you go from one to another], but shortly after passing through into Estonia an unmarked car pulled our bus over and four heavily-armed policemen climbed out. Two stood guard while the other two boarded the bus and checked each passenger's passport. Very strange, it must have been a random spot-check. The guy who looked at my South African passport scrutinised it from every angle using a small instrument that he held up to his eye, a bit like a magnifying glass; presumably it enabled him to tell if the passport was a forgery. In the end they were all smiles and we drove on, but I'm glad they didn't find any reason to haul me off in the middle of nowhere.
Pärnu is a relaxed place with a summer holiday festive atmosphere (it is known as Estonia's beach holiday and party capital). And the weather has played along, with bright sunshine and temperatures in the upper 20's. There was a huge open-air market underway in a park and I wandered around in the crowd enjoying the action - food stalls, live bands, beer tents, boat rides and all kinds of other entertainment. After checking out quite a few of the eating options I bought a plate of roast pork and potatoes at one of the stalls, for what I initially thought was a rather steep 10 Euros (about 145 SA Rands). However, I revised my opinion when I was given my plate and saw how massively high the food was piled. Then I sat down to eat at a rough wooden bench nearby and simply buried myself in gastronomic pleasure - the food was absolutely delicious. I was to discover that pork and potatoes (prepared in various different ways) is the most common dish in Estonia, and boy, do the Estonians know how to cook it. It was a fantastic meal and a very well-spent 10 Euros.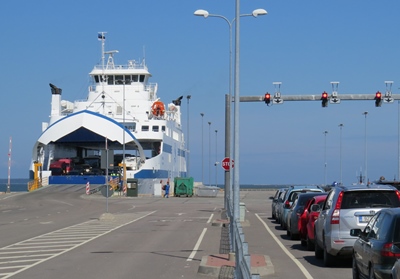 The ferry to Saaremaa island waits at the dock in Virtsu, Estonia
I took advantage of the late summer sun to stroll down to the beach in the evening and have a swim in the Baltic Sea. There are hardly any waves and the water isn't very salty at all, so it's more like swimming in a shallow lake - the shore slopes so gently that you have to go out about 100 metres before the water even goes above your knees! The beach itself isn't great (I guess we're spoiled for choice in South Africa), but at least there aren't any monstrous Soviet-era eyesores blocking out the sun.
[Saturday 7 June : Kuressaare (Saaremaa), Estonia] Island life this weekend - today I headed for the island of Saaremaa, which is in the Baltic Sea about 20 kilometres off the west coast of Estonia. After days of big cities, crowds, trains and buses, it was time for some relaxing and the laid-back lifestyle of Saaremaa was just the place to do it.
The 9:50 AM bus from Pärnu traversed typically forested countryside before arriving at the port city of Virtsu. Because it was a Saturday and the start of the holiday season, there were long queues of cars waiting to get onto the ferry to Saaremaa; the crew packed them in in five rows, bumper to bumper, and still some cars didn't make it. One poor guy was waved on but had to reverse back off again when the crew realized that there was just no way they could fit his car on board. The ferry was an interesting design - it was reversible, with a "bow" at both ends that folded up to allow cars to drive on or off. So it docked on the mainland "bow 1" first and the cars drove on facing "bow 2". Then it steamed straight out and docked on the island "bow 2" first, with the cars driving off in the same order they drove on. Very clever indeed.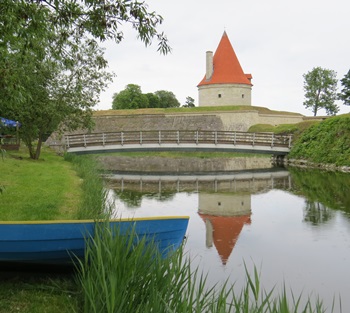 A slightly different view of Kuressaare castle
What passes for the big smoke on Saaremaa island is the town of Kuressaare; no way can it be called a city, although the locals like to think they're in the same league as London, Paris and Rome ... But it is a pretty little town, with an amazingly well preserved medieval castle overlooking the sea. These days the castle is used for nothing more violent than weddings and functions; in fact, there was a wedding on when I visited it in the afternoon.
I had booked a very reasonably priced hotel in Kuressaare over the internet, and as always when you turn up at a place you've never seen before I wasn't quite sure what to expect. But boy, did I get lucky! The hotel looks brand new (or recently completely remodelled) and I was given a fantastic room with a buffet breakfast included. And it was cheaper than most other places I've stayed in in the Baltics! Perhaps they're having opening specials and I just happened to book at the right time? Who knows, but the hotel angels were smiling on me today [Aside : as a token of my appreciation, I'm going to give the hotel a well-deserved punt - If you want a comfortable stay in Kuressaare, try the Arabella Hotel; you won't be disappointed].
[Sunday 8 June : Kuressaare (Saaremaa), Estonia] I needed some fresh air and exercise so I decided to rent a bicycle and have a look at the meteor crater at Kaali, about 20 kilometres out of town. Except I ran into the dreaded "weekend syndrome", a problem sooner or later encountered by all travellers - it was Sunday and all the main bike rental places were closed. In fact, they are only open Monday to Friday ... this on an island known for weekend visitors from the mainland? Go figure. Anyway, I had to wait until 11 AM and then rent a bicycle at exhorbitant cost from a coffee shop that has figured out that there is a lucrative market here. However, the bike was comfortable, it went well and the terrain was flat, so the ride to Kaali was pretty easy.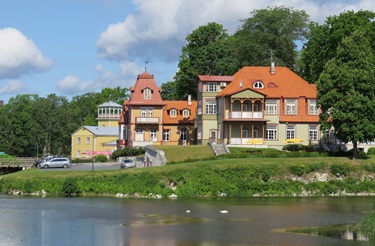 Gracious old buildings on Saaremaa island, Estonia
In fact, there isn't one meteor crater at Kaali but nine craters of various sizes because the impacting object broke up just before it hit the Earth. The main crater is 110 metres across and is almost perfectly circular; the bottom is filled with water and trees are growing up the sloping sides. Various estimates place the age of the crater between 3500 and 7500 years old, making it one of the largest, more recent meteorite impacts known (most large impacts occurred hundreds of thousands or millions of years ago). The meteorite weighed about 50 tons and impacted at an estimated speed of 15 kilometres per second (that's 54 thousand kilometres per hour), generating a blast equivalent to that of the Hiroshima nuclear bomb in 1945.
The ride back to Kuressaare was quite tough because I had to pedal against an infernal headwind. And, unlike the Curonian Spit in Lithuania, there are no cycle tracks outside of towns on Saaremaa island, so I had to ride the whole way there and back (40 kilometres) on roads with cars blasting past me just inches away. It wasn't at all dangerous (drivers in Europe are very considerate of cyclists and pedestrians), just not very pleasant.
That evening I watched on TV as Rafael Nadal won yet another French Open tennis title, his ninth. Incredible - when Bjorn Borg won the French Open six times in the 1970's and 1980's I thought his record was unlikely to be beaten, and now Nadal has nine titles. And nobody looks capable of beating Nadal on clay anytime soon, so there's every chance he'll make it ten in 2015.
Update 1 : Rafael Nadal's winning streak at the French Open ended when he lost in the quarter-finals of the 2015 tournament to Novak Djokovic. Incredibly, this was only his second defeat EVER at Roland Garros! Prior to 2015, Nadal had won every French Open he'd played in (2005 to 2014) except one - in 2009 he was beaten by Robin Soderling, who in turn lost to Roger Federer in the final.
Update 2 : Rafael Nadal missed the 2016 French Open through injury but came back in 2017 and won it for the tenth time, a record that will surely never be surpassed (except perhaps by Nadal himself, who may well make it eleven in 2018).
Update 3 : Nadal did indeed win the French Open in 2018 (and 2019, 2020 and 2022), extending his seemingly unassailable record to fourteen titles at this tournament. But a hip injury kept him out of the 2023 event; will he be back in 2024? By then Nadal will be nearly 38 years old, but his absolute dominance on clay courts and his renowned fitness suggest that a fifteenth win is not impossible.
The meteor crater at Kaali on Saaremaa island, Estonia
[Monday 9 June : Tallinn, Estonia] After another excellent breakfast at the Arabella Hotel in Kuressaare I strolled round to the bus station and rode back the way I'd come two days before - from Saaremaa island over the man-made causeway to tiny Muhu island, then onto the ferry across the Baltic Sea to Virtsu on the mainland [Aside : The short stretch of water between Saaremaa and Muhu islands is called the Väike Strait, and the causeway over it is the Väinatamm. In winter the sea between Muhu and the mainland freezes over and no ferries operate - cars simply drive over the ice to and from the islands].
Two hours later the bus arrived in the city regarded as the jewel of the Baltic - Tallinn, capital of Estonia and the most hip, trendy and avante-garde spot in Europe at the moment. Except I was greeted with pouring rain, which made even Tallinn's fairy-tale old town look gloomy and depressing. It was quite a long walk from the bus station to my hotel in the old town, where I holed up for the rest of the afternoon, hoping for a break in the weather before heading out to get something to eat. I used the time to do that most tedious of chores while travelling - laundry; hopefully three days in Tallinn will be enough time for my socks to get dry.
Tallinn is definitely the most touristed place I've been to in the Baltics - I hear people talking English on the street all the time and most of the popular sights are overrun by big tour groups. A lot of the tours come off huge cruise ships that dock in Tallinn harbour, just a stone's throw from the old town. These tours, of course, aren't that popular with locals because the people sleep and eat on board their ships ... meaning they don't spend money at hotels and restaurants.
Scenes from Tallinn, Estonia ...
A typical street in the old town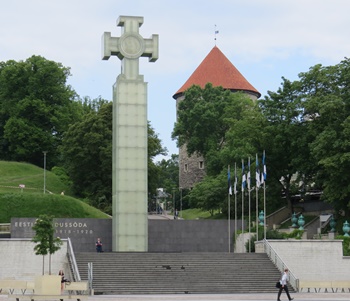 Freedom Square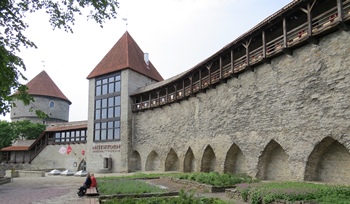 Maiden's Tower in the Danish King's Courtyard
[Tuesday 10 June : Tallinn, Estonia] I spent most of the day exploring the dizzy labyrinth of winding streets in Tallinn's old town. Several kilometres of the old city walls are still standing, together with many of the original fortifications and towers. One of the towers, called Kiek in de Kök, has walls that are FOUR METRES thick in places and withstood serious bombardment by Ivan the Terrible's cannons in 1570. In fact, nine cannonballs are still embedded in the tower's wall and can be seen from the street below.
The town hall building that occupies one side of the main square is the oldest surviving Gothic town hall in northern Europe. On the wall facing the square are a set of iron shackles, still perfectly serviceable, and which have probably been used by generations of parents at their wits' end to threaten unruly children. The other three sides of the square also consist of regal old buildings, the most interesting of which is Town Hall Pharmacy - medication has been dispensed to the public from this shop continuously since at least 1422! Now that is a business that must be doing something right to have lasted for nearly 600 years ... Inside the pharmacy there is a "working" section (a counter with modern pills, etc) and a "museum" section, where various old medicinal instruments and bottles of ancient remedies are on display. Open-air restaurants are all round the square, most of which have an attractive girl in traditional Estonian dress walking around in front, trying to persuade passers-by (mostly tourists) to eat in their establishment.
There are many impressive churches in Tallinn, but very few are Roman Catholic; in fact, the Catholic cathedral is a rather nondescript building that you might walk past without even noticing. This odd fact is because the country is predominantly Russian Orthodox and Lutheran (due to the centuries of rule by Germans and Prussians from the west and Russians from the east). The Catholic church mostly serves the small Polish community, and offers Holy Mass in no less than FIVE different languages - Estonian, English, Latin, Polish and Russian.
Things took a turn for the worse that evening. I was eating supper in a restaurant (pork and potatoes, the Estonian staple) when something hard dropped out of my mouth and clinked onto my plate. It then rolled onto the floor where it probably still is to this day - despite looking, I couldn't find it. I'd broken a tooth and lost an old filling, which explained the slight niggle I'd felt on the lower right side of my mouth for the past few days. I could feel a rough area in my teeth with my tongue, so for the next few days I guess I'll be chewing only on the left side of my mouth. Very irritating (and painful too), but in the list of things that could possibly go wrong this was a relatively minor issue.
[Wednesday 11 June : Tallinn, Estonia] In my wanderings around Tallinn today I discovered a small coffee roastery, right in the heart of old town. The attached coffee shop boasted a sign that read "Voted the best cafe in Tallinn" and "Our coffee is as sweet as sin and as black as night" ... after reading that I just had to go in and sample their wares. And the coffee was indeed good, although (like all restaurants in the old town) it was obscenely expensive - 2.90 Euros translates to 42 SA Rands for one cup of coffee. Most places in the old town charge 2 Euros or more for coffee, but if you go a little way outside to the non-tourist areas the price drops quickly.
An interesting feature of all the former Communist eastern European countries is the number of crumbling relics from the Soviet era that dot the landscape, and Tallinn is no exception. Between the city and the harbour is an absolutely gigantic concrete monstrosity of such monumental ugliness that one can only stare in wonder - the Linnahall, built by the Soviet Union for the 1980 Moscow Olympic Games. It consists of an eye-stretching expanse of concrete, scores of steps going up and down, a multitude of nooks and crannies and, inside, a vast hall that was intended to be used for concerts, receptions and major indoor sporting events. It is huge, it is hideous and it is a blight on Tallinn's landscape; the city council would love to get rid of the thing, but the cost of removing it would be enormous. So it is closed and abandoned, littered with rubbish, scarred by graffiti and the whole edifice is rusting, broken and falling down.
Kadriorg Palace in Tallinn, Peter the Great's former residence
But the Linnahall has the best views out over the sea in Tallinn, so on summer evenings it is a popular spot for sundowners. Couples sit on the crumbling concrete and sip wine, skateboarders dodge the weeds that are everywhere and beer-sodden students add their broken bottles to the mouldy trash lying around. The Linnahall occupies one of the most prime pieces of real estate in the whole of the Baltics, yet it is wasted and disused; Tallinn's city council must surely grind their teeth in frustration at the futility of it.
[Thursday 12 June : Narva, Estonia] I checked out of my hotel and while waiting for the afternoon train east to Narva I tramped around Tallinn's old town in the pouring rain. Soaked through, I was driven by desperation to seek refuge in the one place that is always dry and where you don't get chucked out - McDonald's (yes, the dreaded "M" word). Of course they have free wi-fi, so I sat in a corner and updated my travelogue; the words you are reading now were penned in the "restaurant" chain that is as much a blight on the landscape as the Linnahall (see yesterday's entry), but in this case I have to admit I was grateful to them. I confess I even ordered a cup of coffee there ... and it wasn't bad either. What's happening to me?
Then it was time for the 3:51 PM train to Narva, a city way over in the north-eastern corner of Estonia and slap up against the border with Russia. After the decrepitude of Latvian railways I wasn't quite sure what to expect, but the trip was a pleasure. Estonian trains are modern, fast and extremely comfortable, right up there with the very best in the world. We left exactly on time and after a trip of nearly three hours we arrived in Narva TWENTY SECONDS LATE ... now that is precision that even the Swiss would be proud of.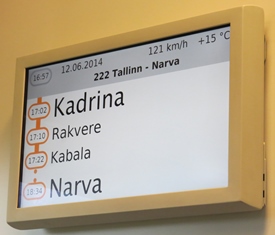 An information screen on board the Tallinn-
Narva train. Note the speed - 121 km/h
A lot of effort has been put into upgrading the Estonian railway system, because for the first time I saw clean, well-kept and modern stations, many with pedestrian bridges over the tracks; in Lithuania and Latvia the norm was for people just to walk over the rails. Stations are unmanned though - you can only buy tickets on the train. The train itself was gleaming and modern, with digital displays in every carriage informing passengers of the time, the speed, the next few stations and the time of arrival at each station. All in all the trip was a pleasure and beat taking a cramped bus hands down.
Narva came as a shock to my system after the elegance and cleanliness of Tallinn. It's a border town, 99% Russian-speaking, and looks at first glance to be a derelict and abandoned dump. Walking from the train station that evening in the rain, dodging broken pavements and looking at graffiti-scrawled, boarded-up and empty buildings, I asked myself "What am I doing here?" But I knew the answer - up to this point I had faithfully followed the standard backpacker route, from Vilnius to the Hill of Crosses, the Curonian Spit, Riga, Sigulda, Pärnu and the Estonian islands, followed by Tallinn; this side trip to Narva represented my attempt to get off the tourist trail.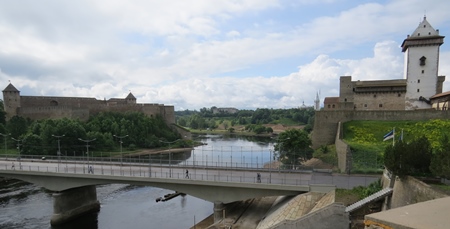 Russia's Ivangorod Fortress (on the left) squares up to Narva Castle
across the Narva River. In front you can see people walking between
Russia and Estonia over the Friendship Bridge
Stumbling along Narva's broken streets in the dark made me realize that I was off the trail all right ... Narva was so insignificant it didn't even rate a map in my guide book. All I had was a hand-drawn map of the town that I'd copied off the internet, and the street names (when there were any) didn't seem to match my scrap of paper. That's when my compass came in handy, because I knew that if I kept going north I would sooner or later strike the traffic circle in the centre of town, and from there I would be able to figure out where to go. Sure enough, I came to the circle, and after that it was a couple of hundred metres to the guest house I'd booked into. The guest house was a surprize in this wreck of a city - it was beautifully appointed and spotless, very Russian in style, but a pleasure to move into.
[Friday 13 June : Tartu, Estonia] Rain, rain and more rain ... this is getting irritating. It rained all day in Tallinn yesterday, it rained on the train to Narva, it rained while I tramped around Narva this morning and it was still raining when I took the bus south to Tartu, Estonia's second largest city after Tallinn. And guess what? When I got to Tartu it was RAINING.
The Old Believers
The Old Believers are a religious sect who broke away from the Russian Orthodox Church in the late 17'th century after refusing to accept a series of reforms that were designed to bring the Russian and Greek Orthodox Churches closer together. They were cruelly persecuted in Russia and suffered exile, torture and even death, and their churches and homes were burnt. As a result many Old Believers fled Russia. A large group of them settled in Estonia on the western shore of Lake Peipsi where they remain to this day. At present the Estonian Old Believer community numbers about 15 000 and is centred around the Lake Peipsi towns of Kallaste and Mustvee.
My bus to Tartu was only at 1 PM, so I spent the morning exploring Narva. The town has always been a border stronghold of one kind or another - there are old castles on both sides of the river, facing each other in a perpetual stand-off. On the Russian side is Ivangorod Fortress and on the Estonian side is Narva Castle (originally built by the Swedes). Between the two is the Narva River and crossing the river are two bridges, one for trains and one for vehicles and pedestrians. The river itself is the border between Estonia and Russia.
The train bridge and railway tracks are totally off-limits, unless you're on one of the daily Tallinn-Moscow or Tallinn-St Petersburg trains. The road bridge has a border post at each end, with heavy security and long queues of cars and people waiting to go across. I was amazed at the number of people that walk through between the Russian town of Ivangorod and Narva - mostly Russians, who come to Estonia to do their shopping and walk back over the bridge with bulging bags. Language in Narva would be no problem for them; the whole town is predominantly Russian-speaking.
The Russian dominance in this town must surely be the explanation for a strange oddity I came across in the grounds of Narva Castle - a statue of Lenin, still standing, his upraised right arm pointing arrogantly across the river at Russia. From what I've seen, every relic of the Soviet occupation of the Baltic countries has been removed, but this statue of the father of Communism remains, albeit hidden away in a remote corner of a town on the Russian border ... Apparently the statue was moved there from its previous location in the centre of town (where his arm had been pointing TOWARDS Estonia); now the old Bolshevik is facing the other way and totally out of sight unless you make a concerted effort to find him.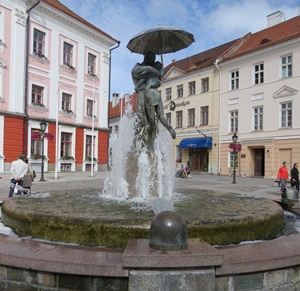 Tartu in Estonia, city of statues : The kissing
students (above) and a stony-faced conversation
between Eduard Vilde and Oscar Wilde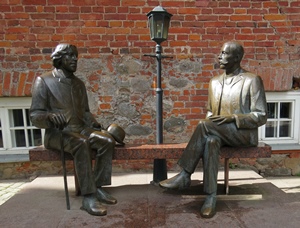 I must admit that I left Narva with a certain degree of relief - the decrepitude and obvious poverty, together with seemingly permanent grey skies and rain were hardly an environment conducive to a festive holiday. The 12:50 PM bus to Tartu headed south, skirting the western shore of Lake Peipsi, the fifth largest lake in Europe and source of the Narva River. The lake is so large that you cannot see the other side, but oddly enough it is also very shallow - it's never more than 15 metres deep. The Lake Peipsi area is well known for being the home of a tight-knit community of "Old Believers", Russian Orthodox Christians who fled Russia in the late 1600's and early 1700's to escape religious persecution.
The bus pulled in to Tartu, Estonia's second biggest city, late in the afternoon. I once again had to walk from the bus station to my digs in the rain, but it wasn't very far and after dumping my gear I enjoyed a delicious pizza for supper.
[Saturday 14 June : Tartu, Estonia] So far on this trip my plans have worked out almost perfectly, which has left me wondering when something would go wrong. Well, today I ran into a problem, albeit a minor one. My flight back to South Africa leaves from Vilnius in Lithuania on Monday 16 June, so I'd planned to spend the night in Vilnius on Sunday 15 June; but the only buses from Tartu to Vilnius on Sunday leave at the ungodly hours of 2 AM, 3 AM and just after 6 AM. There are no alternatives - you cannot fly to Vilnius (Lithuania has no internal flights at all) and going by train involves a long and convoluted journey via Valga (Estonia), Riga (Latvia) and Daugavpils (Lithuania), with at least two changes of train along the way. So I bought a ticket for the 6:20 AM bus, which means leaving my guest house in Tartu at about 6 AM. I'll have to miss breakfast (rats!) and make sure I'm up and packed very early.
But at least it wasn't raining today, and if I looked very carefully I could occasionally see the sun between banks of grey clouds. Or was that the sun? Perhaps I only imagined it ... Anyhow, this morning I followed the tourist trail through Tartu, Estonia's oldest university town, marvelling at the number of statues there are sprinkled all over the place. Estonians do love their statues; anybody who was anybody in Tartu's long and illustrious history seems to have their own memorial on a street corner somewhere. Even people who had nothing to do with Tartu are immortalised in stone here - there is a famous statue of Irish playwright Oscar Wilde and Estonian writer Eduard Vilde sitting on a bench together, outside a house that was originally a printing shop founded by, get this, Peter Ernst Wilde. Interesting connection of three people sharing the same surname, despite the fact that Oscar Wilde and Eduard Vilde probably never even met each other; in fact, there is no evidence to suggest that Oscar Wilde ever visited Estonia. Perhaps that was just WILD speculation?
And of course, Tartu's most famous statue stands proudly on the main square in front of the town hall. Called "Kissing Students", it depicts two young people eternally locked in a deep lip embrace under an umbrella spouting water into a fountain; the girl is standing with her right leg bent upwards at the knee in a classic feminine pose.
On my last evening in Estonia I ate supper at one of the trendy restaurants in the town square. Unfortunately, as is often the case with these places, the food was bland and mediocre and the service was abysmal. There was some kind of beach volleyball tournament taking place in the square - a temporary beach had been created with massive truckloads of sand and 2-person teams played against each other all day. So at least I had something to watch while waiting, and waiting, and waiting, for my food to arrive. The players were good; sometimes they'd keep the ball alive from side to side for what seemed like ages, with miraculous saves and sheer athleticism.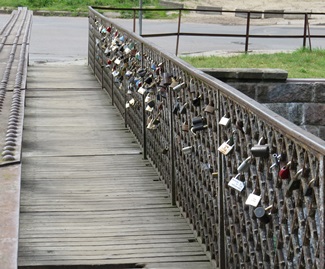 Lock Bridge in Vilnius, Lithuania
[Sunday 15 June : Vilnius, Lithuania] The streets of Tartu were deserted at 6 AM on Sunday morning as I made my way to the bus station - except for a few drunken revellers trying to prolong their Saturday night party as long as possible. Bottles, cans, papers and other debris from a multitude of festivities littered the pavements and restaurant doorways. Tartu is primarily a student town, after all ... I had enough time to grab coffee at the cafe in the bus station before boarding my 6:20 AM bus to Riga in Latvia.
Eight and a half hours later my clockwise route round the Baltic states ended right back where it started three weeks before - in Vilnius in Lithuania. Both the Tartu-Riga and Riga-Vilnius bus trips took about four hours and were aboard Lux Express, the luxury bus operator here in the Baltics. And luxury they were too - each seat had its own small TV screen on which you could watch a variety of movies or surf the internet, there was limitless free tea, coffee and hot chocolate on board, free wi-fi (on a bus!) and a fairly spacious toilet. It was more like travelling on an aeroplane than a bus. Between the two trips I had a twenty minute wait at Riga bus station, just enough to stretch my legs and get some fresh air.
It was also quite pleasant arriving in a place that I actually knew ... I hardly even looked at a map as I walked from Vilnius bus station to the hotel I'd booked into. I didn't hang about at the hotel for very long because it was already mid-afternoon and I wanted to visit Paneriai, so I headed up to the train station and caught the first train out. Paneriai is the first stop on the line to Trakai and Kaunas, no more than ten minutes from Vilnius, and from Paneriai's deserted station I walked down the road for about a kilometre until I came to the forest where unspeakable atrocities were committed during World War II. Today it is silent and peaceful among the trees, but a sombre atmosphere hangs over the place.
It is estimated that over 100 000 people were executed by the Nazis in the forest at Paneriai; they were initially buried in mass graves, but towards the end of the war the Nazis tried to erase the evidence of these mass murders by having labour gangs dig up the bodies, burn them, pound the bones to fragments with sledgehammers and scatter the ashes. However, a few of the labourers managed to escape before they themselves were executed and told their story to the Allies. After the war the site was excavated and many of the bodies were exhumed and identified; the Nazis responsible for these heinous crimes were hunted down and prosecuted by the War Crimes Commission. There are well-maintained paths leading from one grassed-over pit to another, so you can wander amongst the mass graves and imagine the horror as thousands of men, women and children were systematically stripped naked and shot. The Jewish museum nearby shows in shocking and graphic detail what happened ... all you can do is shake your head in disbelief at the levels of cruelty that human beings can sink to.
St Anne's Church in Vilnius, Lithuania
Back in Vilnius I strolled around the old town, soaking up the atmosphere for the last time. Unfortunately the temperature was back in the low teens, so the outdoor restaurants in the square opposite town hall and down Pillies Gatve (the main pedestrian street) weren't doing much business.
[Monday 16 June : Vilnius, Lithuania] My last day in the Baltics ... I spent it exploring a few of the areas of Vilnius I hadn't seen when I was here previously. Most interesting, although "bizarre" is probably more accurate, is the constitution of the so-called Republic of Užupis, which is affixed to a wall in fifteen different languages in the Užupis district. This "free country" is recognized by no government (least of all Lithuania) and is just an inner-city suburb of Vilnius composed mostly of artists, writers, dropouts and other bohemian types. To give you an idea of the absurdity of their constitution, some of the rights enshrined in it are "Everybody has the right to die but has no obligation to do so" and "A dog has the right to be a dog". It is worth noting that the Republic of Užupis declared itself independent on 1 April 1997, April Fool's Day.
Not far from Užupis is St Anne's Church, yet another church but one which is unusually eye-catching even in this city of splendid churches. Its soaring Gothic columns are said to have impressed Napoleon so much that he wanted to take the whole church back to Paris in the palm of his hand; of course, that was when Napoleon's Russian campaign was still going well. Not long after that he had other things to worry about besides beautiful churches.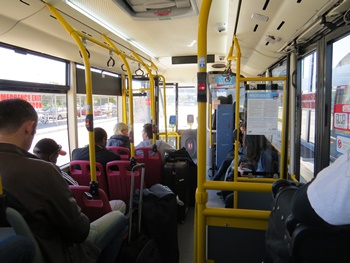 Back in Cape Town, South Africa : Inside a MyCiTi bus
from the airport (above) and a MetroRail train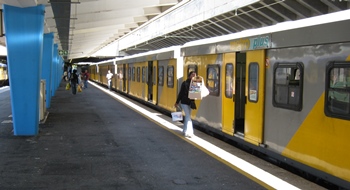 I also came across "Lock Bridge", a bridge across the Vilnia River that is festooned with padlocks of all shapes, sizes and colours. Hopelessly romantic Lithuanian couples are fond of engraving their names on a padlock then locking it onto a bridge somewhere as a declaration of undying love, and this particular bridge is much favoured for this. Some padlocks actually had ANOTHER lock (sometimes even two or three) attached to them - do these extra locks represent special days like anniversaries? I'm not sure about that, but I couldn't help wondering what happens afterwards if a couple splits up ... do they each have a key and either of them can remove the padlock when they want to? Some of the padlocks looked so old and rusted that getting them off would need a serious set of tools.
Then it was time to go. I exchanged my last few Lithuanian Litas for Euros and caught the train to the airport. I had to endure an uncomfortable time at Immigration as the border official clearly didn't know what to do about a South African passport. She consulted a colleague, checked her computer, took a digital scan of the four fingers of my left hand (presumably to see that they matched the fingerprints on my visa) and finally let me through. Boy, this South African passport issue is getting irritating - after we achieved true democracy in 1994 I thought things would get easier, but they've actually become orders of magnitude more difficult. Which is hard to fathom when you consider how South Africa was the pariah of the world in the 1970's and 1980's ... I had LESS trouble travelling in Europe in 1987 than I did in 2014; what am I missing here?
[Tuesday 17 June 2014 : Cape Town, South Africa] Turkish Airlines flight TK040 landed at Cape Town International Airport at 1 PM after a VERY long and tedious journey via Vilnius, Tallinn, Istanbul and Johannesburg. At least here they welcome South African passports ... The slick and efficient MyCiTi bus service whisked me straight into Cape Town from the airport and a MetroRail train took me home, tired but exhilirated. My Baltic adventure may not have been an epic trip, but there were times when I really felt I was a long, long way from anywhere.
And my next stop ...? The Indian Ocean islands of Mauritius and Rodrigues in 2015.
---
© Paul Kilfoil, 2023