Paul Kilfoil's World of Travel, Technology & Sport
---
Switzerland & USA : May 2002
This page describes a trip by Paul Kilfoil,
Karen Gray-Kilfoil
and Scott Gray to Switzerland and the USA in 2002.
Check out my
travelogues
page for details of other trips we've done.
If you enjoyed reading this, please send me an email. All correspondence is appreciated!
[Wednesday 1 May 2002 : Cape Town, South Africa] Flew to Johannesburg, then boarded our Swiss Airlines plane to Zurich in Switzerland.
Scenes from Switzerland ...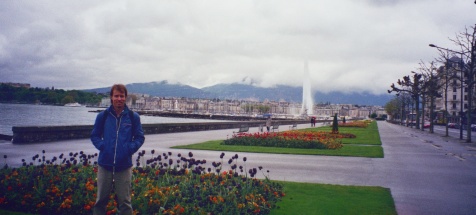 Lake Geneva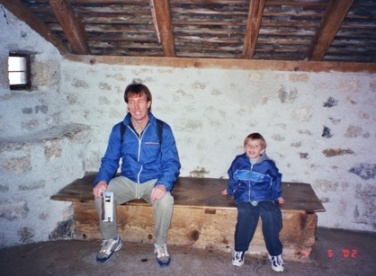 Chateau de Chillon in Montreux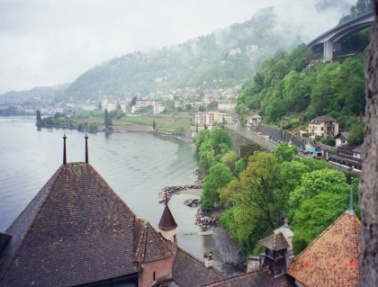 View of Lake Geneva from Chateau de Chillon
The train to Lauterbrunnen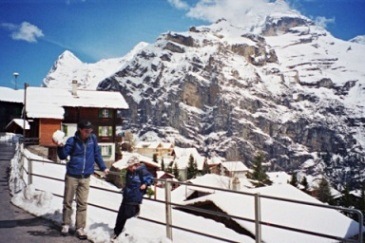 Snowball fight in Murren
[Thursday 2 May : Geneva, Switzerland] After landing in Zurich, Karen and I each bought a 3-day Swiss rail pass at the train station adjacent to the airport. This was a very good deal because these passes allowed us unlimited travel on the Swiss rail network for any three (not necessarily consecutive) days in the next month, plus Scott was free provided he travelled with us. Swiss trains are frequent, fast and extremely efficient and they go to every corner of the country, but they are also very expensive ; these 3-day passes saved us a bundle.
From Zurich's airport station we took a train to Geneva, stopping off in Neuchatel on the way. At Neuchatel we took a scenic train up to La Chaix de Fonds, a small town in the mountains. After exploring for a while we went back to Neuchatel and then on to Geneva. The weather was terrible, with dark gray clouds, wind and incessant rain - much as I remember Switzerland to be like from my previous visit to the country in 1987.
[Friday 3 May : Geneva, Switzerland] The relentless rain continued without a break as we explored Geneva, looking at sights like the United Nations, the longest bench in the world outside City Hall and the botanical gardens alongside Lake Geneva. We also came across a statue of the writer and philosopher Jean-Jacques Rousseau, one of Geneva's favourite sons (he was born in Geneva in 1712). Another famous person to have graced Geneva with his presence was John Calvin, who started the Protestant movement in Geneva and preached in the austere Cathedral de St Pierre between 1536 and 1564 ; much like the Calvinists, the Swiss have been dull and humourless since then. We went for a long stroll along the shore of Lake Geneva - there are trees, benches and walkways for miles. In the middle of the lake is the Jet d'Eau, an enormous jet spouting water 140 metres into the air.
[Saturday 4 May : Lauterbrunnen, Switzerland] Took the train from Geneva to Montreux, left our backpacks in a locker at the train station and caught a bus along the shore of Lake Geneva to the Chateau de Chillon. We spent a couple of hours exploring this impressive castle before heading back and catching the train to Lauterbrunnen, a tiny village in the mountains near Interlaken. We went the scenic way, aboard the "Golden Panorama" train via Zweissimen, then Spiez and Interlaken, winding through beautiful mountains, valleys and meadows. Saw plenty of snow en route and lots more in Lauterbrunnen. When we got to Lauterbrunnen we had a snowball fight in the road outside the train station.
[Sunday 5 May : Lauterbrunnen, Switzerland] Walked to Trummelbach Falls in the pouring rain. These falls are a stunning series of 10 glacier run-off waterfalls, most of them actually inside the mountain itself. You enter the cave system via an underground funicular then walk through a series of tunnels, ledges and caves, marvelling at the sheer volume of water cascading down the mountain. It is cold and wet inside, and the noise of the rushing water makes a roaring din. The rain did not stop for a moment today and the maximum temperature was 7 degrees celsius.
[Monday 6 May : Lauterbrunnen, Switzerland] Just as we were beginning to think we would never see the sun again, the morning dawned bright and clear, without a cloud in sight. The air was frosty but we enjoyed a long walk in the sunshine to the Stechelberg Cable station where we took the cable car up to the car-free alpine village of Murren (mostly used as a ski resort). It was buried under many inches of snow, so we again had snowball fights through town and all the way along the mountain path down to Gimmelwald, where we took the cable car back down again.
Just outside Gimmelwald we came across a very strange site - a public phone booth just next to the path, but inside was not a telephone but a shower! The three sides and door of the booth were panes of clear glass, so anybody brave, mad or foolish enough to shower in the "phone booth" would be clearly visible from outside.
[Tuesday 7 May : Zurich, Switzerland] We took an early cog-wheel mountain train straight up a steep incline to Wengen, another car-free ski resort. Walked around for a while then came back down again to Lauterbrunnen where we took the train to Zurich via Interlaken. We had an early flight the next morning to Miami in the USA, so we spent some time looking for a place to stay in Zurich that would be convenient for getting to the airport. The Formule 1 Hotel proved the best option - it was inexpensive, breakfast was included and there was a free shuttle bus to the airport, 24 hours a day ; we just had to endure the sensation of sleeping in a plastic cubicle.
The hotel was a short tram ride from Zurich city centre, so after checking in we rode the tram back in to the city. We had plenty of time in the afternoon and evening to explore Zurich, ogling at the opulence on display in the famous Bahnhof Strasse and enjoying a relaxed supper at a pavement cafe. Everything looked much the same as it had done when I previously visited Zurich in 1987. These old European cities don't change much ...
[Wednesday 8 May : Palm Beach, USA] After breakfast at the Formule 1 Hotel in Zurich we went in the hotel's shuttle bus to the airport and flew to Miami in the USA, a long and tedious flight. Watched the first Harry Potter movie on the way, which relieved the boredom somewhat. At Miami airport we picked up a rental car and drove a short distance north on the A1A, the Florida east coast road, which sits on the narrow strip of land between the Atlantic Ocean and the Intra-Coastal Waterway.
The Intra-Coastal Waterway is a sort of lagoon that extends for miles up the east coast of Florida ; it is used extensively for recreational boating and allows for three sets of water-frontage real estate (both sides of the waterway plus the Atlantic Ocean). There are four main north-south roads on the east coast of Florida - the A1A next to the sea and east of the Intra-Coastal Waterway, US-1 on the mainland west of the Intra-Coastal Waterway, the interstate highway (I-95) and the Florida Turnpike (motorway or freeway). The Florida Turnpike is a toll road, fast and boring. The I-95 (interstate highway) isn't tolled but is similarly uninteresting. All the best scenery is on US-1 and the A1A, so although these are a lot slower due to traffic lights, stop-streets and lots of cars we kept to these two roads for our entire trip up the east coast.
There is also a rail line extending from Orlando all the way south to Miami. The railway used to continue from Miami to Key West but this ambitious venture came to an end in 1935 when several of the bridges carrying the rails over the sea to the keys were destroyed by a hurricane. Florida looked much the same as it did when I visited the USA previously in 1995.
[Thursday 9 May : Vero Beach, USA] We continued north on Florida's east coast, through the tacky urban sprawl spreading northwards from Miami and Fort Lauderdale (miles of car dealers, fast-food joints and cut-price factory shops), past the opulence and luxury of West Palm Beach and to the relatively "open" space near Fort Pierce. Open space on the Florida coast is extremely relative, because it is very difficult to go anywhere without being in sight of high-rise condominium apartment blocks. We swam at Juno Beach and stopped at Hutchinson Island, where there is a boardwalk nature trail through mangrove swamps. The heat and humidity in the thick tropical forest was intense, and the bugs never stopped biting.
[Friday 10 May : Titusville, USA] Swam at Cocoa Beach, drove over the NASA Causeway past Port Canaveral to Titusville and found a fabulous hotel with a pool that had an amazing waterfall feature. Scott and I swam for hours in the pool ; it was so hot even Karen had a dip ... and that does not happen very often.
[Saturday 11 May : Titusville, USA] Visited the Kennedy Space Centre at Cape Canaveral, a fabulous day. We saw two IMAX movies about space and were bombarded with facts and figures about NASA, space, the moon landings, the International Space Station, future space exploration and the space shuttle.
Scenes from Florida, USA ...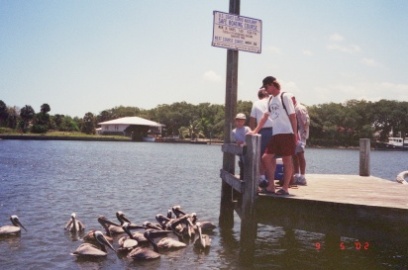 Merritt Island Wildlife Refuge

Mangrove boardwalk on Hutchinson Island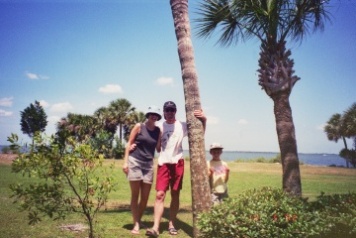 A picnic at Vero Beach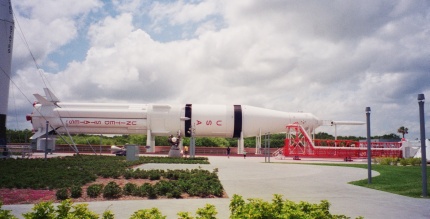 Kennedy Space Centre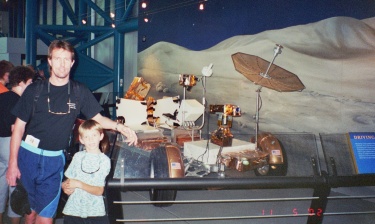 Kennedy Space Centre
Abandoned railway bridge in the Keys
Swimming in Bahia Honda state park
However, there was little or no information available about any part of NASA's unmanned space programme, which in many ways has been far more successful - missions such as Pioneer 10 & 11 to Jupiter and Saturn, Voyager 1 & 2 to Jupiter, Saturn, Uranus and Neptune, Viking 1 & 2 to Mars, Galileo to Jupiter and Cassini to Saturn (and others). I found this lack of information most odd, and when I asked somebody I was fobbed off with an answer like "I don't know, go to web site X to find that out". Very strange ; my only explanation is that the public footing the enormous NASA bill every year is inspired by manned space missions such as Apollo, the space shuttle and the International Space Station, even though from a pure science perspective the unmanned missions have been, and still are, way more valuable. But it almost appears as if they're trying to hide these unmanned missions, because not one person I spoke to could tell me anything at all. I knew more about the ongoing NASA space programme than anybody working at the Kennedy Space Centre!
While there we climbed aboard a disused space shuttle, walked around NASA's "rocket graveyard" and went up to the rocket launch observation tower. Interestingly (and completely unrelated to space exploration), we also saw three alligators right next to the road.
[Sunday 12 May : Orlando, USA] Visited the Merritt Island Wildlife Refuge and went for a long walk through the forest, then headed for the tacky concrete strip that is the Great American Dream - Orlando and its miles of freeways, cut-price stores, shopping malls and theme parks. A truly dreadful place, but we wanted to take Scott to Disney World so we had no choice. It was a very easy decision to put Orlando on my Worst places in the World list.
[Monday 13 May : Orlando, USA] Went to one of the newest Walt Disney theme parks, Animal Kingdom. It was an exhausting day, but Scott met Mickey Mouse, Donald Duck and others. We went on some really good rides, thankfully without long queues. It was so hot that I felt sick by the end of the afternoon. Luckily our hotel, a Days Inn near Interstate 4, had a great swimming pool and we lazed around in the water after getting back.
[Tuesday 14 May : Orlando, USA] Visited SeaWorld and saw all manner of sea life, including Shamu (a famous killer whale), dolphins, stingrays, manatees, polar bears, elephant seals and lots more. There were a few tropical downpours while we were walking around, which was great as they kept us cool. Another tiring day in relentless heat and humidity.
[Wednesday 15 May : Sarasota, USA] Headed south-west from Orlando and found a place to stay for the night in a truly tacky, typically American motel. Karen's camera was stolen at the motel ; we are pretty sure the thieves were a deadbeat couple a few doors down from us, but there was nothing we could do about it. Apart from that it was a boring day of travelling on freeways, the highlight of which was when we drove over the Sunshine Skyway, an unbelievable bridge across Tampa Bay. It crosses miles of water, and in the middle it's raised to allow ships to pass underneath - an incredible sight as four lanes of tarmac, concrete and traffic simply head up into the sky.
[Thursday 16 May : Naples, USA] Walked around Sarasota, a very pleasant, laid-back city, not at all tacky like much of the rest of Florida. We went into the huge 4-storey "Main Bookshop" and bought about ten books - they have an amazing selection of new and used books at incredibly low prices. Then we had a long swim on Lido Beach near Sarasota, a fabulous strip of white sand with warm, clear water. Definitely the best beach we saw on either coast of Florida and right up there with the best beaches I've seen anywhere in the world (such as Whitehaven Beach in Australia, Boulders in South Africa and Lagos in Portugal). We continued south from Sarasota, hoping to reach the Everglades but could not manage it, so we stayed the night in a luxurious but inexpensive motel just outside Naples - huge room, jacuzzi, pool, breakfast, gym and satellite TV.
[Friday 17 May : Everglades City, USA] Once again we "enjoyed" a breakfast comprising the typical fare served up at the sort of motels we've been staying in - doughnuts and coffee. But it was enough to keep us going for the short drive from Naples to Everglades City, which is most definitely NOT a city but rather a small town spread out over a very wide area. It has a "Wild West frontier" feel to it, but it's quite pleasant in an abandoned, desolate and mouldering sort of way.
We went on an airboat ride through the mangrove swamps and grasslands, and later walked through the forest on a boardwalk trail ; at the end of the boardwalk we came to a pond containing a mother alligator and about 50 young alligators of various sizes. Unlike crocodiles, alligators are fairly docile and you can safely get quite close to them.
[Saturday 18 May : Everglades City, USA] Visited Chokoloskee Island, Smallwood's Indian Store (now a museum) and did a wildlife drive during which we saw plenty more alligators, herons, buzzards and raccoons. The weather has changed and it isn't so hot anymore ; in fact, it's been quite chilly since we've been in the Everglades, a very unusual situation for Florida. Hope it doesn't mean there's a hurricane on the way ...
[Sunday 19 May : Everglades City, USA] Rented a canoe from the National Park Station and paddled into the Mangrove Swamp, then up Halfway Creek. It rained for much of the time, including a few torrential tropical downpours and we were virtually eaten alive by swamp bugs, but it was great fun. It's very easy to get lost in the myriad of waterways in the overhanging mangrove swamps so we had to watch very carefully where we went. We found a beach nearby that was crawling with thousands of tiny fiddler crabs.
Scott and Mickey Mouse at Disney World
[Monday 20 May : Marathon (Florida Keys), USA] Left Everglades City and headed east on the Tamiami Trail (US-41) through the Everglades then south to the Florida Keys. On the way we stopped at Shark Valley, a wildlife viewing site in the Everglades National Park. We checked in to a self-catering bungalow for the next three nights in the town of Marathon, about half way to Key West from the start of the Keys. Amazingly, it was the very same place I'd stayed in when I last visited the Florida Keys in 1995!
[Tuesday 21 May : Marathon (Florida Keys), USA] Drove around Big Pine Key and No Name Key, home to the endangered Key Deer. There are only about 300 deer left, and amazingly we saw five of them! We came across one deer on the path of a wildlife trail near Blue Hole, and it walked towards us until it was about two metres away - incredible. Continued south to Key West and spent the late afternoon and evening exploring this historic town with it's plethora of talented street artists on Mallory Square.
While we were in Key West it rained briefly but with such intensity that many streets and shops were flooded ; this must be a common occurrence down here because the shopkeepers simply mopped up the water and continued trading as if nothing had happened.
[Wednesday 22 May : Marathon (Florida Keys), USA] Spent most of the day relaxing in Bahia Honda state park, swimming, lazing and snorkelling in the clear water. We saw the ruined remains of one the bridges of Henry Flagler's railroad, the railway that was built at huge expense "over the sea" to Key West from Miami ; a hurricane in 1935 destroyed the southern part of the line and it was never repaired.
The Florida Overseas Railway (also known as the Key West Extension of the Florida East Coast Railway) was built by American real estate tycoon Henry Flagler from 1905 to 1912. It extended from Biscayne Bay, just south of Miami, to Key West at the southern tip of the Florida Keys, a distance of some 206 kilometres. A number of bridges were built at great expense to carry the tracks above the sea between the islands (keys).

The railroad operated from January 1912 until 2 September 1935, the day a category 5 hurricane (the so-called "Labour Day Hurricane of 1935") destroyed much of the railway infrastructure and also killed between 400 and 700 people. Already struggling, the railroad company was not able to repair the very extensive damage and sold the remaining bridges and trackbed to the state of Florida. Some of these were later used to build the overseas highway to Key West, but a number of the bridges have been abandoned and are now used as fishing piers and occasionally in movies (such as the 1994 blockbuster "True Lies", starring Arnold Schwarzenegger and Jamie Lee Curtis). There is thus no longer any rail service in the Florida Keys and it is unlikely that there ever will be again.
[Thursday 23 May : Miami, USA] Karen swam with dolphins at Dolphins Plus on Key Largo, while Scott and I visited the John Pennekamp Coral Reef state park. Interesting place, with an aquarium (we saw a monster moray eel there), a mangrove boardwalk and beaches. Drove north on US-1 to Miami, to find that it was the start of the Memorial Day long weekend and every hotel on South Beach was jammed to the rafters. We eventually found a room in a hotel quite near the airport, and in insanely congested traffic I managed to get our rental car back to the agency with ONE MINUTE to spare (otherwise we would have paid an extra day's rental). A tough, stressful day.
[Friday 24 May : Miami, USA] After a leisurely breakfast at our hotel we went for a walk, but the area (near the airport) was seedy and industrial. So we lazed away the morning next to (and in) the hotel's swimming pool before we packed for the last time, checked out and caught the hotel's free shuttle bus to the airport for our flight across the Atlantic Ocean to Zurich in Switzerland. Zurich airport was complete chaos due to extensive construction work, but we managed to check in for our overnight flight to Johannesburg in South Africa.
[Saturday 25 May 2002 : Cape Town, South Africa] We spent just over 24 hours on planes as we took three flights to get home (Miami-Zurich, Zurich-Johannesburg, Johannesburg-Cape Town) and arrived home knackered. But it was a GREAT holiday ... next stop France, Belgium and Luxembourg in 2004.
---
© Paul Kilfoil, 2023