Paul Kilfoil's World of Travel, Technology & Sport
---
England, Ireland & France : September-October 1990
This page describes a trip by Paul Kilfoil (accompanied for part of the time by Gavin Douglas-Hamilton) to Europe in 1990.
Check out my
travelogues
page for details of other trips I've done.
If you enjoyed reading this, please send me an email. All correspondence is appreciated!
[Saturday 8 September 1990 : Cape Town, South Africa] Flew British Airways from Cape Town to London Heathrow, with a tedious stop-over in Johannesburg on the way. As always with British Airways it was very cramped - BA undoubtedly have the least leg-room of any airline I've ever flown on.
The London Underground
(called "The Tube")
[Sunday 9 September : London, England] At Heathrow Airport we caught a cab into the city - we had a lot of computer equipment in cardboard boxes and it would have been very difficult lugging it all along the Underground. An expensive trip ... but at least it was a legitimate business expense. We checked into a Pub-cum-B&B just off Fleet Street.
[Monday 10 September : London, England] We spent the next three weeks working, mostly until very late.
[Wednesday 12 September : London, England] Gavin and I and a friend of mine who was then living in London, Rona Cochrane, went to Wembley Stadium to watch England play Hungary in a soccer international (England won 1-0, with the goal scored by Gary Lineker). At that time England was in the grip of "Gazzamania", a sort of sports frenzy induced by the marvellous performances of Paul Gascoigne at the soccer World Cup Finals earlier that year. Gascoigne, popularly nicknamed "Gazza", played for England that night and every time he touched the ball the huge crowd went crazy.
Paul Gascoigne was a supremely gifted footballer, arguably the best player in Great Britain in the 1990's, but he wasted his talent. The fame and adulation went to his head, he enjoyed a wild social life during which he drank and ate too much, became overweight and moved to a succession of ever smaller clubs, always promising to reform. He never did, and eventually retired from the game early, a pale shadow of his former self ... Hmm, anybody remember George Best from the 1970's, an even more prodigiously talented footballer who also drank himself into oblivion?
Images of Ireland ...
[Sunday 16 September : London, England] Went with Rona and her friend Wendy Hardie to the Ritz Hotel for a real treat of a breakfast - very expensive, very nice. After that we took the Central Line tube out to Epping on the north-eastern outskirts of London (the end station on the Central Line, even beyond London Underground's zone 5). Rona's New Zealander friends had two Land Rovers parked on a farm nearby at a place called Ongar, and they were kitting them out for their forthcoming overland trip through Africa down to Cape Town.
[Thursday 20 September : London, England] Got up very early and met Rona at Victoria Station, from where we took the "Gatwick Express" train to Gatwick Airport. Rona flew to Lisbon in Portugal, in order to meet up with her friends from New Zealand - they had driven their two Land Rovers there from London prior to embarking on a 9-month overland trip through Africa. I saw her off then came back to London on the train.
Rona did eventually make it all the way to South Africa overland, but not without several mishaps on the way. One of the two Land Rovers was abandoned in Central Africa and Rona herself "jumped ship" shortly after that, leaving the remaining New Zealanders to their fate. She joined up with another expedition, headed up by a Zimbabwean named Mike Souter, and together they limped into Cape Town towards the end of 1991 in Mike's battered Land Rover ; Rona and Mike are now happily married and have two children.
[Friday 28 September : Dublin, Ireland] I caught an early Tube to the Royal National Hotel in Russell Square where I joined a Con Tiki tour to Ireland, then sat on the bus most of the day as we drove north-west from London to Holyhead on the coast of Wales. The route we took from London went through Snowdonia, a wild and beautiful part of Wales through which I'd hiked for three days in 1987. From Holyhead we took a ferry across the Irish Sea to Dun Laoghaire (just south of Dublin) in the Republic of Ireland. Another Con Tiki bus took us from the ferry terminal to a budget hotel in Dublin for the night.
[Saturday 29 September : Killarney, Ireland] From Dublin we headed south down the east coast of Ireland in the Con Tiki bus, via Waterford (where there is a famous crystal glass factory), Cork, Blarney and Killarney. We visited Blarney Castle, where I kissed the Blarney Stone - backwards, hanging upside down. There are also ancient Druid monuments and a witches' kitchen. We stayed for the next two nights in a hotel in Killarney.
Ireland
Capital
Government
Area
Population
Language
Currency (1990)
Currency (today)

Dublin
Republic
70 280 km2
4 172 000
English, Irish (Gaelic)
Irish Pound (Punt)
Euro (EUR)

The Republic of Ireland is a country independent of the United Kingdom and consists of approximately two-thirds of the island of Ireland, which lies off the north-west coast of Great Britain. Northern Ireland (the northern third of the island) is part of the United Kingdom and has been the subject of political wrangling between the United Kingdom and the Republic of Ireland for years. Often referred to as the "Emerald Isle" because it is so green, Ireland is known for lots of rain, friendly people and potatoes with every meal.
[Sunday 30 September : Killarney, Ireland] We took a scenic drive round the Dingle Peninsula, a wild, windswept and craggy part of the west coast of Ireland. Dingle Bay is famous for the existence of "Fungi", a dolphin that took up residence there in 1983. Fungi apparently loves human attention, and regularly cavorts with swimmers and obligingly jumps out of the water in return for applause. An entire tourist industry has sprung up around this dolphin - boat rides, wetsuit rental, souvenirs, etc. However, it rained incessantly while we were there and we didn't see him. On our drive round the peninsula we did see some ancient beehive huts, which in years past were used as punishment for monks who stepped out of line ; a "bad" monk would be banished to live in one of the huts for up to two years.
[Monday 1 October : Shannon River, Ireland] From Killarney we drove north through Limerick then along the west coast in wet, cold weather. We stopped at the Cliffs of Moher where there is a sheer cliff with a 700-foot drop straight down into the ocean below. After visiting Bunratty Castle we moved our gear onto some cabin cruisers moored at Lough Derg, then sailed the boats north up the lake to a marina. We had supper at a pub nearby (there was a traditional Irish band playing live music) and spent the night on the boats. It was pretty cramped, as each of the five boats slept six people.
[Tuesday 2 October : Shannon River, Ireland] We motored south-west in our boat on the Shannon River in rain, wind and choppy water to Mount Shannon, a sport and recreation centre on the river. The rest of the afternoon was spent canoeing, boardsailing (my first time - it's not that difficult), horse riding and then a relaxing session in the sauna. Slept on the boat again that night.
[Wednesday 3 October : Dublin, Ireland] We returned to Dublin on the Con Tiki bus. A visit to the Guinness Brewery was quite interesting, after which I explored Dublin - a pleasant city, cut in two by the Liffey River. I saw Trinity College, the parliament buildings, Dublin Castle, Christ Church Cathedral, St Patrick's Cathedral (inevitably - this is Ireland after all) and the swish shopping district around Grafton Street.
[Thursday 4 October : London, England] Took the ferry back to Holyhead in Wales from Ireland then had another long day of driving on the Con Tiki bus. Arrived back in London at about 7 PM and spent the night sleeping on the floor of a friend's apartment.
The Con Tiki tour was okay, but I would never go on another one again - everything is too "packaged" and the people on the tour mostly spent the evenings drinking then slept all morning on the bus. That tour was enough to make me realize that I'd much rather travel independently in future - go where I want to go, do what I want to do and organize it all myself. And I've stuck faithfully to that policy ever since.
[Friday 5 October : London, England] Had supper with Wendy Hardie at a Chinese restaurant in Notting Hill. At the time Wendy worked for the BBC, but later she moved to Hong Kong and taught English there before returning to South Africa and becoming an independent TV director/producer.
[Saturday 6 October : London, England] I spent the day working. That evening I caught a late bus ("coach" as they're called in England) from Victoria Coach Station to Paris in France. This entailed driving onto a ferry at Dover to cross the English Channel and getting off at Calais in the middle of the night.
[Sunday 7 October : Paris, France] The coach from London dropped me off at a bleak bus station on the outskirts of Paris at about 5 AM. From there I walked to Gare du Nord ("north station") and caught the Metro into the city. After some effort I found a place to stay in a youth hostel near the Luxembourg Gardens, not far from Boulevard St Germain in the Latin Quarter and very near a Metro station.
[Monday 8 October : Paris, France] I bought a weekly ticket for the Paris Metro (weekly tickets are only valid Monday to Sunday, unlike the London Underground where they can be any seven consecutive days). Boy, did I use that ticket over the next week to travel all over Paris ... Today I took the Metro to Ile de la Cite (an island in the river Seine exactly in the centre of Paris) and visited Notre Dame Cathedral. I climbed the stairs right to the top of the bell tower and saw the bell that was rung by Quasimodi in Victor Hugo's classic novel, The Hunchback of Notre Dame. Nearby is the Palace of Justice containing the haunting Memorial de la Deportation, which commemorates the French victims of Nazi terror during World War II. I also went into a court that was in session, but it was all in French (oddly enough) and I didn't understand a word.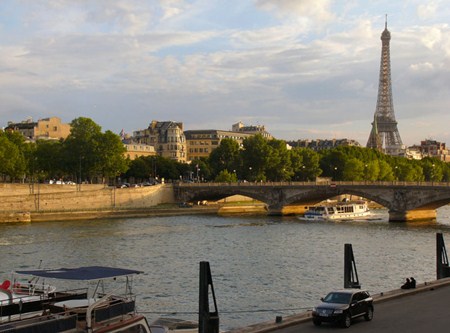 The river Seine and the Eiffel Tower, Paris
[Tuesday 9 October : Paris, France] Today was the mandatory visit to the Eiffel Tower. I walked up the first two levels then took the elevator to the top floor (you can't walk right up to the top). I also ogled at the relentless traffic circling the Arc de Triomphe, visited the Trocadero Gardens and got a neck-ache looking up at the sheer steel and glass facade of the 59-storey Montparnasse Tower.
[Wednesday 10 October : Paris, France] I visited the smart Parisien department stores Printemps and Galleries Lafayette - multiple floors of ludicrously priced merchandise, displayed with typical French style and flair. Next stop was the Georges Pompideau centre, a staggeringly ugly edifice but useful to the traveller in that it has English-language newspapers and free toilets. After that I went for a long walk, via the Jardin (garden) de Tuileries, Place de la Concorde (where 1343 people were beheaded during and after the French revolution), Madelaine Cathedral, Hotel de Ville (city hall), the old opera house (setting for the famous novel/movie/musical The Phantom of the Opera) and the Memorial du Martyr Juif Inconnu (memorial to the unknown Jew).
[Thursday 11 October : Paris, France] Napoleon's tomb, inside the Hotel des Invalides, wasn't very interesting. Later I strolled around Montmartre and walked up the steep steps to the incredibly beautiful Cathedral Sacre Coeur ; the view from the ramparts of the cathedral must surely be the best in the whole of Paris. I also had a look at the two famous Parisien cabaret clubs, Moulin Rouge and Folies Bergere - very disappointing, both of them are now a bit seedy (perhaps they always were?)
[Friday 12 October : Paris, France] I spent the morning exploring the Catacombs - a series of dark and creepy passages under the streets of Paris, filled with human bones. For some reason bones of the same type were grouped together, so there were very few complete skeletons but rather piles of skulls, piles of thigh bones, ribs, shinbones, etc. I eventually emerged into the sunlight miles from where I had first descended, lost and disoriented ; I had to walk to the nearest street corner and look at my map to figure out where I was.
[Saturday 13 October : Paris, France] I went to the Science and Industry City on the outskirts of Paris, a huge building which still seemed to be incomplete.
The Paris metro -
fast and efficient
[Sunday 14 October : Paris, France] Museums in Paris were half-price on Sundays, so I took the opportunity to visit the Louvre, a huge museum filled with every possible kind of artefact imaginable. Merely walking along the interminable passages is tiring. Eventually your brain enters a state of numb exhaustion from sensory overload and you find yourself walking past exhibits containing priceless ancient relics with no interest whatsoever. The "Mona Lisa" was interesting but disappointing - it's a rather small painting, glassed in for protection and cordoned off with ropes. Other notable exhibits I looked for were Leonardo da Vinci's painting "Virgin Mary and Child", "Venus de Milo" (a 2'nd century sculpture), the stelae representing the law code of Hammurabi and "The Winged Victory of Samothrace" (3'rd century).
As if that wasn't enough, in the afternoon I visited the Science Museum, but I didn't understand much - the captions were only in French. That evening I went to Mass in the Cathedral St Sulpice, which many years later (in 2003) featured in the best-selling novel The Da Vinci Code by Dan Brown. This book was made into a film starring Tom Hanks.
[Monday 15 October : Paris, France] Monday was "half-price movie day" in Paris, so I watched two movies, both version originale (VO, meaning that the movies were shown with the original English soundtrack and French subtitles rather than the other way round) - Die Hard starring Bruce Willis and Presumed Innocent starring Harrison Ford.
[Tuesday 16 October : Paris, France] Went to the Palace of Versailles on the outskirts of Paris - it's huge and impressive. The gardens surrounding the palace are amazing and extend for what seems like miles ; there are numerous ponds, fountains and monuments as well as forests and well-manicured flower beds.
Cathedral of Notre Dame, Paris
[Wednesday 17 October : Paris, France] I took a long stroll around the Bois de Boulogne, a massive public park of 846 hectares at the western edge of Paris. I also took the metro out to La Defense, the modern part of the city where there are New York-style buildings and office blocks - very unlike the rest of Paris.
[Thursday 18 October : Paris, France] My last day in Paris. I checked out of the hostel I'd been staying in, left my gear in their luggage room and spent the day relaxing, reading newspapers in the Pompideau Centre and having a leisurely lunch. In the afternoon I collected my stuff, took the metro to the drab EuroLines bus station on the northern outskirts of Paris and boarded the evening bus to London.
[Friday 19 October : London, England] The bus to London was, unsurprizingly, tedious and uncomfortable, with a ferry crossing from Calais to Dover at some time past midnight. On arrival at Dover at about 3 AM we all climbed back on the bus only to be hauled off again (with our luggage) at Customs and Immigration. Most people were let through fairly quickly but I was subjected to the customary grilling that my South African passport seems to demand wherever I go. We finally arrived at Victoria coach station at about 6 AM, and I stayed that night at a friend's flat in Notting Hill.
[Saturday 20 October : London, England] Post-holiday blues set in as I rode the Underground to Heathrow Airport and boarded my overnight flight to Cape Town - another night without sleep in British Airways cattle class, I mean World Traveller Class, dedicated to people with ultra-short legs.
[Sunday 21 October 1990 : Cape Town, South Africa] Arrived back in South Africa knackered after a tiring trip of work and travel ... next stop Sweden and Finland in 1992.
---
© Paul Kilfoil, 2023