Paul Kilfoil's World of Travel, Technology & Sport
---
England & Austria : October 1996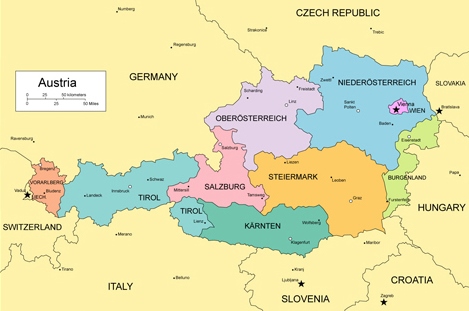 Landlocked Austria shares borders with eight other countries : Czech Republic,
Slovakia, Hungary, Slovenia, Italy, Switzerland, Liechtenstein, Germany
This page describes a trip by Paul Kilfoil to Europe in 1996.
Check out my
travelogues
page for details of other trips I've done.
If you enjoyed reading this, please send me an email. All correspondence is appreciated!
[Saturday 12 October 1996 : Cape Town, South Africa] Flew British Airways from Cape Town to London Heathrow, non-stop. Very cramped - British Airways undoubtedly have the least leg-room of any airline I've ever flown on.
[Sunday 13 October : London, England] The first week of this trip was work, so after landing at Heathrow Airport in London I took the Underground ("tube") to Tower Hill and checked into the apartment that had been arranged for me. A nice place, although the area (part of the financial district, near Tower Bridge and the Tower of London) is completely dead all weekend and after 6 PM during the week. However, the famed Petticoat Lane street market was open on Sunday so I strolled round to it and browsed through the multitude of stalls there. I bought a couple of shirts for the princely sum of three pounds each.
[Monday 14 October : London, England] I worked from Monday morning until Friday afternoon, mostly until very late (on one occasion I left the office at 1 AM). Luckily the office was only about a two minute walk from the apartment I was staying in ; I timed it, and it took me 110 seconds to walk from the apartment block's front door to the office building.
[Friday 18 October : London, England] I finished up everything I was doing and "backed up" my work onto multiple diskettes - the last thing I wanted was to lose any of the stuff that I'd sweated nights on during the week [Aside : Back in 1996 there was no email or internet, nor any flash drives or portable hard drives, just 3.5 inch diskettes prone to failure. And in case you don't remember (or are too young), those diskettes could only store a maximum of 1.44 MegaBytes (not GigaBytes) of data ... so the custom was to ZIP all your files first then copy them onto at least two different diskettes].
[Saturday 19 October : Vienna, Austria] I checked out of my apartment in London, took the tube to Heathrow Airport and flew to Vienna on Austrian Airways. At Vienna airport I caught a train to Wien-Mitte station and walked from there into the city centre. After going to a couple of guest houses I found a room for the next three nights at Pension Dr Geissler, ideally situated a few minutes walk from St Stephen's Square but extremely expensive - Vienna's city centre is bounded by a ring road called (oddly enough) "The Ring", and everything within The Ring is very costly. However, being in the centre meant I could walk everywhere and did not need to take buses/trams/metros. The room was tiny, about the size of two single beds pushed together, but clean and adequate.
Karlskirche, Vienna
[Sunday 20 October : Vienna, Austria] I spent the day exploring Vienna, a stately and regal city that was once the centre of an empire that ruled most of central and eastern Europe. The Habsburg Empire has long since faded into history, but the memory of those grand old days lives on in the cobblestoned streets and imperial buildings of the modern-day Austrian capital. There are so many sights in Vienna that it is impossible (and far too boring) to list them all, but mention must be made of St Stephen's Cathedral (a gloomy and forbidding gothic masterpiece that takes pride of place in the centre of the city), the Hofburg palace and the Ankeruhr Clock. This clock provides a spectacle every hour on the hour when a little door opens and a number of miniature figures pop out, accompanied by music, to announce the hour of the day - there is one figure for every hour past midnight or noon. I got there at a few minutes before noon and watched in amazement as 12 of these intricate little carvings appeared one after the other.
Schonbrunn Palace, Vienna
I gazed through the windows of the legendary Sacher Hotel, where a slice of the famous and decadent Sacher Torte costs a small fortune, not only in money but also in your waistline and cholesterol level. The ancient piece of twisted wood enshrined in the Bank of Austria building proved quite difficult to find but I spotted it eventually. Later on I came across the typically monstrous Russian Fountain and memorial statue and wondered why it has been allowed to remain there ; considering that the Russians tend to build things to last, I suspect that the reason it hasn't been removed is a practical one - it would probably cost too much to get rid of the ghastly edifice.
[Monday 21 October : Vienna, Austria] I took a walk round the city past one of the longest buildings in the world (Karl Marx Hof, a massive block of over 1600 flats that is more than a kilometre long), over the Danube and through Prater Park (a large amusement park). To fortify myself after that I indulged in one of Vienna's favourite pastimes - coffee and a pastry at one of the many coffee houses (Cafe Konditorei) dotted throughout the city. Austrian coffee is fantastic and I developed an immediate taste for it ; once you've had one cup you keep wanting another, and another, and another ... The confectionary isn't bad either. Vienna is not the place to be if you are worried about your waistline or cholesterol levels.
The End of the Habsburgs
Charles IV, the last Habsburg emperor, renounced his right to participate in the affairs of state at the end of World War I in 1918. However, he did not abdicate the hereditary titles either for himself or for the Habsburg dynasty, so the government of the new Austrian Republic passed a law banishing the Habsburgs from Austrian territory unless they renounced all dynastic pretensions and accepted the status of private citizens. Charles refused and the Habsburgs forfeited all property rights in Austria (they were restored in 1935 but withdrawn again by German dictator Adolf Hitler in 1938). After World War II the law preventing the return of the Habsburgs was written into the Austrian State Treaty.
In 1961 the Austrian government rejected an application by Archduke Otto, head of the House of Habsburg, to be allowed to return to Austria as a private citizen, but in 1963 the administrative court of Austria ruled that Otto's application was legal. Amazingly he had to be granted a visa to be allowed to return! To this day the surviving Habsburg family members continue to demand the restitution of their assets, but the likelihood of this ever happening is slim indeed.
[Tuesday 22 October : Salzburg, Austria] I walked up Maria Hilfer Strasse to Vienna's west train station (West Bahnhof) and caught a train to Salzburg. On the way to Salzburg I took an involuntary detour into the hills because I had not understood the German announcements - the coach in which I was sitting was detached from the main train and went up a branch line into the countryside. As soon as I realized my mistake I got off at the next station and took the first train back down again, and then re-connected with the mainline west to Salzburg. Because of that I arrived in Salzburg two hours later than I should have. I found a nice guesthouse not far from the train station, but unfortunately they could only put me up for two nights (they were booked solid after that), whereas I'd planned to be in Salzburg for three nights.
Mirabell Palace gardens, Salzburg
[Wednesday 23 October : Salzburg, Austria] Salzburg straddles both sides of the Salzach River and is a really beautiful city. Two things make it famous - Wolfgang Amadeus Mozart was born there and the classic movie The Sound of Music (starring Julie Andrews and based on a true story) was set and filmed there. Both of these are relentlessly exploited, to the extent that you get heartily sick of hearing about the famous composer and the family from the movie, the von Trapps.
Salzburg is small enough that you can get to all the sights on foot. Hohensalzburg Fortress (Festung) is built on a ridge above town, and the views from there are breathtaking. The fortress is now a museum, but is also used for concerts in the evening. You can take a ludicrously overpriced cable car up the hill to the fortress, or simply walk up. At the cable station at the bottom is a square containing a giant chess set and from there it is a short walk to St Peter's Monastery and the cemetery Petersfriedhof ; the cemetery is secluded and quiet, with many extremely artistic headstones. Below the fortress is an open field that contains only one house - this was the executioner's residence ; the belief was that it was bad luck to live anywhere near the executioner, and so he was guaranteed isolation. The house in which Mozart was born in January 1756 is now a museum.
Salzburg's old town
[Thursday 24 October : Salzburg, Austria] I had been unable to find anywhere to stay on my third night in Salzburg, so after breakfast I checked out of the guesthouse, stored my gear in a locker at the train station and bought a ticket on the night train to Vienna. The rest of the day and that evening I spent exploring Salzburg, seeing as many of the sights as I could. Unfortunately it was late October and it got pretty cold in the evening, so I was eventually driven indoors by the frosty weather. I took refuge in a pizza restaurant, had supper then sat there in the warmth reading my book until the place closed. Around midnight I meandered over to the train station and waited there for my train to Vienna.
[Friday 25 October : Vienna, Austria] The station platform in Salzburg was freezing and the waiting room wasn't heated so I spent a rather uncomfortable few hours waiting for my 3 AM train to Vienna. While I was sitting there the famous Orient Express train came through and stopped briefly on its way to Istanbul in Turkey. Eventually my Vienna train arrived and I climbed into the heated comfort of the Austrian Railways' carriage with relief. When I got to Vienna I checked into the West End Hotel near West Bahnhof (west station) for one night, grabbed a few hours sleep, then spent the rest of the day exploring Vienna. The Schonbrunn Palace is extremely impressive. I also took the metro to Donau Insel (Danube Island) and walked along the Danube through the new riverside area of trendy cafes and restaurants.
Vienna : The Hofburg (left) and Rathaus (city hall)
[Saturday 26 October : London, England] I checked out of my hotel in Vienna, took the commuter train from Wien-Mitte station to the airport and flew back to London. At Heathrow Airport I had to take the airport shuttle bus from terminal 3 to terminal 4 - terminal 4 is dedicated to British Airways, whereas I'd flown to Austria and back on Austrian Airways. I had a few hours to kill before boarding my connecting flight to South Africa so I explored the multitude of (very expensive) shops in terminal 4 and caught up on a lot of reading.
[Sunday 27 October 1996 : Cape Town, South Africa] Arrived back in South Africa knackered after an exhausting trip ... next stop Eastern Europe and Scandinavia in 1998.
---
© Paul Kilfoil, 2023