Paul Kilfoil's World of Travel, Technology & Sport
---
Southern Africa : June-July 2019
Map © Nations Online Project (

info

)

Country
Capital
Currency
Area (km2)
Population
South Africa
Pretoria
Rand
1 219 910
57 398 000
Namibia
Windhoek
Dollar
825 420
2 587 000
Botswana
Gaborone
Pula
600 370
2 333 000
Zambia
Lusaka
Kwacha
752 610
17 609 000
Malawi
Lilongwe
Kwacha
118 480
19 164 000
Mozambique
Maputo
Metical
801 590
30 528 000
This page describes a trip by Paul Kilfoil and
Karen Gray-Kilfoil
around Southern Africa in 2019.
Check out my
travelogues
page for details of other trips we've done.
If you enjoyed reading this, please send me an email. All correspondence is appreciated!
[Saturday 15 June 2019 : Melkbos (South Africa)] The starting point for our traverse of Southern Africa was a camping and caravan park in Melkbosstrand (Milkwood Beach), a town on the west coast a little way north of Cape Town. So after doing our local parkrun at 8 AM, we showered, packed the car and headed north through Cape Town's southern suburbs on a succession of freeways - first the M3, followed by the N2, then the M5 and finally the R27 coast road.
Day 1
---
| | |
| --- | --- |
| Distance | : 62 km |
| Total | : 62 km |
The sprawling northern suburbs of Cape Town (Tableview, Blouberg, Parklands, Big Bay and beyond) have expanded so rapidly in recent years that the new houses have almost reached the edge of Melkbos - within a few years Melkbos will probably be engulfed by this seemingly endless development and will cease to exist as a separate town. But for the moment Melkbos remains a relatively tranquil and laid-back beach community, battered by icy winds off the freezing waters of the Atlantic Ocean.
We arrived at Ou Skip Caravan Park at about 2 PM to be greeted by a chaotic melee of people and vehicles, all milling around and trying to get (or at least look) organized. This was Registration for the 2019 Put Foot Rally, a 19-day road trip through South Africa, Namibia, Botswana, Zambia, Malawi and Mozambique ... which we'd signed on for in a mad moment several months before. Of course, we only had a tiny Suzuki Swift hatchback, and every vehicle we could see at Ou Skip was a huge 4-wheel drive monster, packed to the rafters with tents, gas stoves, tools and equipment. Undeterred, we pulled in and collected our Registration kit from the Put Foot staff who were manning long trestle tables - colourful Put Foot 2019 decals to stick to the sides of the car, flag stickers for every country we'd be passing through, t-shirts, beer mugs and our "team number" (110). While sorting all this out we were gratified to see some other vehicles that weren't 4-wheel drive - an old VW "surfer" combi, an open, converted beach buggy and a 1990's Ford Cortina.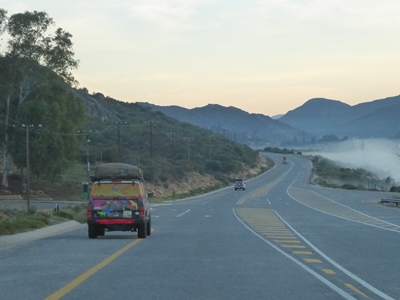 On the road near Clanwilliam, South Africa,
with three Put Foot vehicles visible ahead
We found the permanent tent we'd been allocated for the night (a surprizingly well-kitted canvas setup on a concrete base), unloaded our stuff then strolled down to a large hall that was the venue for the crew briefing session and supper. The briefing consisted of a few snippets of information of varying degrees of uselessness, drinking, drinking and then some more drinking, and finally supper: "bunny chow" - half a loaf of white bread, hollowed out and filled with chicken curry. This was clearly not The Ritz, but despite appearances the food was actually very good indeed, so much so that I went back for a second helping. We also met several of the other crews on the rally, and quite quickly formed an opinion about which of them we wanted to socialize with in future (and who we wanted to avoid).
When the food was eaten the music was cranked up and the real drinking began ... at which point Karen and I stepped out into the icy darkness and navigated our way through Ou Skip's confusing paths back to our tent. Inside the tent it was, if anything, even colder than outside, so we simply brushed our teeth and climbed straight into bed (the tent was equipped with two single beds plus duvets and blankets).
[Sunday 16 June : Melkbos (South Africa)-Grünau (Namibia)] A night with temperatures approaching zero was brought to an end by the sound of vehicles revving outside our tent - at the briefing it had been recommended that teams leave Ou Skip between 4 and 6 AM. We had a long way to go (over 800 kilometres) so we stumbled out of bed at 4:45 AM, threw some coffee down our necks and were on our way by 5:30 AM. It was pitch dark, there was ice on the roof of the car, the windscreen was totally misted up and the N7 northwards was covered with thick fog, so the first couple of hours on the road weren't a barrel of fun ... but eventually the sun came up and when we reached Piketberg we stopped for coffee at Cafe Bonjour, a take-away place adjoining the Total petrol station on the edge of town. The coffee was excellent (although it is possible that we were in such desperate straights by then that even battery acid would have tasted good) and I took over driving duties from Karen with more enthusiasm.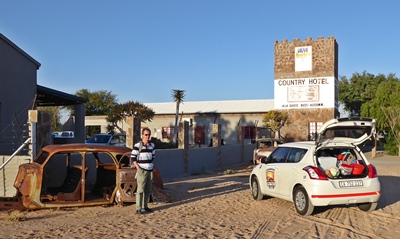 The bustling metropolis of Grünau, Namibia
The day wore on as the kilometres rolled by beneath our wheels - the sun grew hotter and the countryside became more barren as we left the Western Cape and headed into the dry Northern Cape. We swopped drivers every 90 minutes, fuelling ourselves with coffee, water and snacks. The road passed by, or through, Clanwilliam, Vanrhynsdorp, Bitterfontein, Garies and Springbok, and at 2 PM we reached Vioolsdrift, the last town in South Africa before the Orange River. The Orange River is the biggest river in South Africa and runs for over 2200 kilometres from its source in the Maluti mountains in Lesotho to the Atlantic Ocean, and in the far Northern Cape it forms the border between South Africa and Namibia. Exiting South Africa was simple and fast, but over the river we found that getting through Namibia Immigration and the Road Levy formalities (where we had to pay 308 Namibian Dollars to bring our vehicle into the country) was a much longer procedure. But eventually we were finished and at 3:30 PM we were waved through the last checkpoint.
Day 2
---
| | |
| --- | --- |
| Distance | : 815 km |
| Total | : 877 km |
The road north from the border went through relentlessly barren country - flat and virtually lifeless, with nothing but sand and rocks on either side of the road. Occasionally we'd see some clumps of brown grass or, even more seldom, a small, hardy shrub. There were no trees, no bushes, no livestock, no people. Not even cars, in fact - we drove tens of kilometres between seeing the occasional car. By this stage we'd both had enough, so we were mightily relieved when a sign for the town of Grünau appeared. A few hundred metres down a dirt road brought us to the Grünau Country Hotel (where we had a booking), and fifteen minutes later I was relaxing in a hot shower.
Supper at the hotel was a treat - we each had a Springbok burger (the antelope, not the rugby player), which was simply outstanding.
[Monday 17 June : Grünau-Mariental (Namibia)] Thankfully the night at the Grünau Hotel was fairly pleasant, temperature-wise; the same could not be said for the racket made by the people camping and braaiing in the grounds of the hotel - they either stayed up late drinking and talking or left at 4 AM with much revving of engines. We ourselves resisted the urge for another early start and had a leisurely lie-in, with coffee in bed and home made muesli for breakfast.
A roadside watering hole in Namibia
As we were leaving the hotel we came across a long, black tank-like car parked outside. It was a 1970's-style American make, gleaming in the sun and at least twice as long as our car. The three young guys in it looked haggard and worn down. "We're also on the Put Foot Rally," said a bearded fellow who appeared to be their leader. He gestured proudly at their behemouth. "And this is Black Betty."
This revelation was somewhat puzzling because their car was devoid of any Put Foot insignia. "Where are your Put Foot signs?"
Day 3
---
| | |
| --- | --- |
| Distance | : 402 km |
| Total | : 1 279 km |
"We came from Jo'burg and broke down in Bloemfontein," he replied. "We never made it to Melkbos yesterday. We're meeting one of the Put Foot staff in Keetmanshoop to get our kit." He took a long, tired sip of coffee. "And last night the car lights stopped working."
I shook my head and silently gave thanks that I wasn't in their vehicle. "Well, good luck, hope you make it the rest of the way." Not much chance of that, I thought, if you even get as far as Windhoek I'll be surprized. But there was no point in depressing him any further so I didn't say any more. Instead I wandered off for a walk and discovered that there was a train station opposite the hotel, with a set of shimmering steel rails disappearing towards the horizon in a ruler-straight line in both directions. The tracks looked used too - I wonder what it must be like to take a train to Grünau? [Aside: I discovered later that there is a twice-weekly passenger train from Keetmanshoop to Karasburg that goes through Grünau. The tracks continue from Karasburg to Upington in South Africa, but regular cross-border trains ceased operating years ago].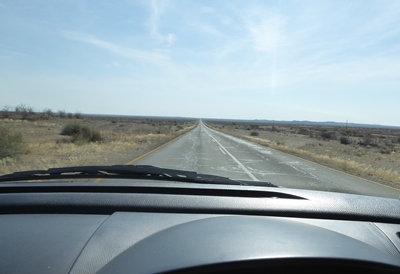 Endless roads and barren landscape, Namibia
We finally hit the road at about 9 AM. Surprizingly, the terrain north of Grünau was much less desolate than that which we'd driven through the previous day - we saw lots of acacia trees, scrubby bushes and rocky hills. But the road was still empty and mostly straight and flat. The monotony was broken by an incongruous sight in the middle of miles of empty desert - a new, very stylish restaurant and guest house complex next to the road called Kitchen 51. We pulled in and had coffee, and boy was it good; strong Italian-style espresso with thick crema. And when we reached Keetmanshoop some time later we were glad we'd stopped, because the entire town seemed to be bereft of coffee options ... apart from a Spur restaurant, and we weren't that desperate yet.
Keetmanshoop itself proved to be a small town trying desperately to get people to think it was an important city, a hopelessly doomed endeavour from what I could see. We drove round the few blocks that comprised the commercial centre, bought some fresh dates in the desultory market in Central Park and took a few photographs of the fine old German colonial buildings that are dotted around. Then it was back on the road northwards again, through more miles of brutal desert on a road that stretched ruler-straight towards the horizon. We swopped drivers next to a broken-down bar and bottle store that looked derelict, but on closer inspection was in regular use, the well-oiled patrons as derelict as the building itself. A guy sitting outside who looked about 100 years old gave us a toothless grin as we drove away, his wrinkled and leather-like skin showing what years in the Namibian sun (and years of drinking) can do to you.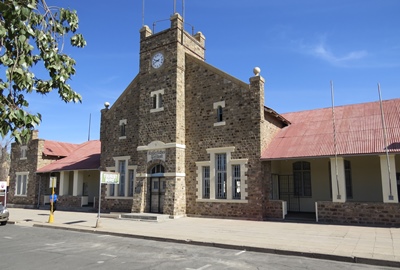 Fine old German architecture in Keetmanshoop, Namibia
We turned into Mariental, a busy little town straddling the main north-south railway line. Supermarkets, clothing shops and furniture stores, even a shopping mall, lined both sides of the main street (called Sam Nujoma Avenue, inevitably). Aub Guest House proved to be a tranquil oasis amongst the heat and dusty streets - it had a patch of manicured grass, banana trees (with actual bananas ripening in the sun) and a fish pond stocked with koi fish. The owner was brisk and efficient, and served us fresh orange juice while showing us to an immaculate room.
After two days of sitting in the car we felt like a walk, so we got directions to a restaurant on the other side of town and set off on foot. It turned out to be a twenty five minute meander, via the main shopping street and across the railway tracks, but the massive pizzas we had at the end were worth it.
Day 4
---
| | |
| --- | --- |
| Distance | : 278 km |
| Total | : 1 557 km |
[Tuesday 18 June : Mariental-Windhoek (Namibia)] This was our shortest day so far, a 278 kilometre hop northwards to Windhoek. We began seeing red Kalahari sand, lots of overgrazed veld and a landscape dotted with trees. Goats were in evidence (hence the overgrazed veld), as well as small herds of thin and bony cows. About 20 kilometres south of the town of Rehoboth we reached the Tropic of Capricorn, a minor milestone because neither of us had crosssed it by land before (plenty of times in the air though). Surprizingly, there was nothing there except a dusty pull-off area and a sign. So we parked directly under the sign and took the obligatory photograph ... a measure of the emptiness of the Namibian landscape was that during the 15 minutes we spent there not a single other vehicle stopped; in fact, only two or three cars went past at all.
Crossing the Tropic of Capricorn near Rehoboth, Namibia
Rehoboth itself was another minor diversion a little later - it was much bigger than we expected and the 111-year old Lutheran church in the middle of town was a splendid sight. It was built in 1908 and we found it by following roads blindly while keeping the tall spire in sight above the houses.
We reached Windhoek at about 1 PM. There was quite a lot of traffic but navigating our way to the guest house we'd booked into was pretty easy and by 2 PM we were relaxing in our room with coffee and a biscuit. We had to drive some distance down Robert Mugabe Avenue to get there, an interesting change of road-naming political butt-kissing after staying just off Sam Nujoma Avenue in Mariental.
Later we went out for a walk and discovered a huge shopping mall a couple of blocks down the road; called Maerua Mall, it looked exactly like any number of South African shopping malls such as Tyger Valley or Canal Walk. All the shops were the same too - Checkers, Mr Price, Dischem, Sheet Street, even Virgin Active. But a bonus was that Food Lover's Market had a fresh food deli restaurant where we had absolutely delicious plates of mixed salads, all paid by weight. The food was so good that I went back for a second plate. I haven't become a full vegetarian, but as time goes by I find myself eating less and less meat and not missing it at all; in fact, I feel much better for it.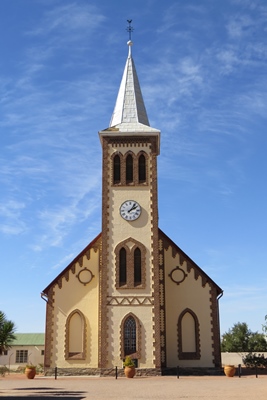 Paulus Kirche in Rehoboth, Namibia
The evening ended on a disappointing note when we turned on the TV and watched the South African women's football team lose 4-0 to Germany at the World Cup Finals. But the girls did South Africa proud just by getting to the finals so I give them a big thumbs up. Well done ladies!
[Wednesday 19 June : Windhoek-Outjo (Namibia)] It was our first time in Windhoek, so after an excellent breakfast at Casa Pension Africana we checked out of the hotel and drove a couple of blocks down the hill to Independence Avenue, the main street through the centre of the city. We found parking outside the Lutheran church that dominates the skyline and went for a stroll. Windhoek was bigger than I expected and appeared to be doing very well - the streets were spotless, most buildings were new and well cared-for and the people walking along looked prosperous. Traffic was heavy and parking was scarce. Down a side street we found a display of several fragments of the Gibeon mateorite that impacted in Namibia several hundred thousand years ago.
Day 5
---
| | |
| --- | --- |
| Distance | : 341 km |
| Total | : 1 898 km |
We stopped for coffee at Slow Town Coffee Roasters in the basement of the First National Bank building, and after a few bad coffee experiences our faith was restored - the coffee was outstanding. And not even expensive for a popular city-centre joint; an espresso cost only 14 dollars. Suitably fortified, we visited the monument to Sam Nujoma (Namibia's first president) then headed north out of town.
Surprizingly, the road out of Windhoek was a 4-lane freeway, the first freeway we'd seen in Namibia. Road-building was in progress to extend the freeway northwards, which seemed overkill - despite the traffic in Windhoek itself, there were so few cars on the roads in and out of the capital that it hardly seemed worth the effort. But we enjoyed the easy driving until the freeway ended and we returned to the single lanes in each direction we'd become accustomed to. Towns with names like Okahandja and Otjiwarongo passed by, dry and dusty places in the middle of the vastness of the desert. We changed drivers, filled up with petrol and drank coffee to relieve the monotony of the ruler-straight road and emptiness on either side.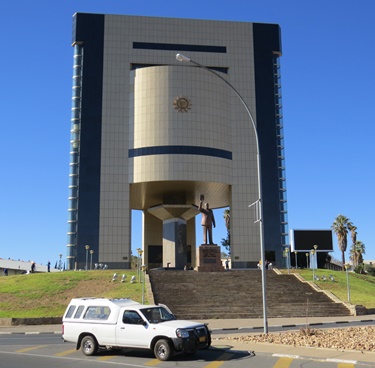 The monument to Sam Nujoma in Windhoek, Namibia
Nearing Outjo we saw countless numbers of warthogs on the side of the road. They appeared to be used to cars and didn't move away when you passed by; but when we stopped next to one and tried to get a photograph close up it sped off at high speed straight through the fence. Namibian roads are so empty that you don't need to pull over if you want to stop (which you mostly can't do anyway because there usually isn't any hard shoulder) - instead you just look in the mirror, confirm that there are no vehicles for several kilometres back and stop. You can easily even reverse if you have to (we did this several times).
We drove through Outjo, onto a minor side road and found Sophienhof Lodge and Campsite a few kilometres out of town. This was the venue for the Put Foot checkpoint in Namibia; we registered, drove in and set up our tent in as much shade as we could find. The campsite was very basic - no grass (a very rare commodity in Namibia), just sand, a few stunted trees and cold water ablutions.
The meal we'd been promised turned out to be a couple of bowls of salad that disappeared down the hatches of starving Put Footers with such speed that several slow-moving and polite vegetarians missed out, followed by raw meat (beef and some kind of unidentifiable sausage) that we were told we had to cook ourselves; fires were provided for this purpose. Are you kidding? What kind of deal is that? There wasn't much choice so I took some sausage (neither Karen nor I eat beef) and found a small corner on one of the braai grids to cook it. All in all it wasn't a great evening.
[Thursday 20 June : Outjo-Onguma (Namibia)] This was by far our toughest day so far - the road through Etosha National Park was atrocious, with massive corrugations in places. But it started off well enough, with coffee and excellent apple pastries at Outjo Bakerei, a legendary German bakery in this far northern town. From Outjo it was a short drive to the southern gate of Etosha National Park on a good tar road, but there the good news ended - it took us over 5 hours to drive the 130 kilometre stretch from Okakuejo in Etosha to Namutoni near the north-east gate. But we did manage to see quite a variety of game, even a rhino! The view was blurred and indistinct through thick bush, but it was unmistakeably a white rhino, grazing in the distinctive head-down lawnmower-style that they have. No predators were in evidence, but we also saw a couple of lone elephants, tens of zillions of impala and springbok as well as giraffe, wildebeest, zebra, gemsbok (oryx) and warthog.
Our problem was that we had been unable to book a camping site in Namutoni, the easternmost camp in Etosha. You cannot drive after dark in the park (even doing so outside the park is close to suicidal) and we finally arrived at Namutoni at 5:15 PM, with the sun low and our options limited. "We're completely full," the lady at camp reception said. "Lots of people have been asking and we have no room."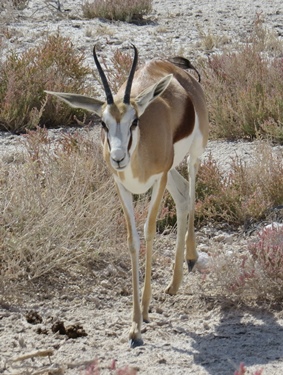 A curious springbok (left) and a big tusker in Etosha, Namibia
"Are there any places to camp outside the park?" I asked her.
"Yes, there's one 2 kilometres past the gate and another one 10 kilometres further."
I looked at my watch. It was 5:30 PM and the sun was fading fast. We really didn't have a choice, we had to go NOW. Etosha's gates would shut at 6:20 and we still had to get out of the park. We almost sprinted for the car and headed out; at least the road was tarred to the main gate so we could maintain a steady 60 kilometres per hour. Outside the main park gates there was a plethora of signs pointing in both directions to lodges and fancy hotels, but nothing to indicate any camping sites. We knew from experience that these places were aimed at well-heeled (read, international) tourists and consequently extremely expensive, typically priced in US Dollars. So we ignored them and carried on, assuming there would be signs further on to these camp sites. But after about 15 kilometres we reluctantly came to the conclusion that either they didn't exist (possible) or we'd missed them (most likely).
Day 6
---
| | |
| --- | --- |
| Distance | : 301 km |
| Total | : 2 199 km |
We pulled into a place labelling itself a "bush camp", which proved to be fancy in the extreme. But the lass at reception did at least tell us the name of a lodge that also allowed camping. "It's called Onguma, about 10 kilometres back towards Etosha on the right hand side." How had we missed it? We thanked her and beetled back the way we'd come, carefully examining every sign we saw. Onguma was indeed where she'd said it was, but the sign merely said it was a lodge, not a camp site.
The guard at the gate was very friendly. "Yes, we do have camping here," he said. "Let me check if there's space tonight." He disappeared into his gate house and picked up a phone. A minute later he was back. "Yes, it's no problem." He opened the gate and waved us through. "Just follow that road for about 3 kilometres and you'll get to reception."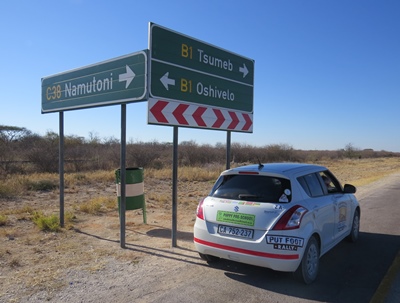 A long way from anywhere in Namibia
It was almost dark as we drove down a rough track, at the end of which we found a swanky lodge and restaurant. The guy at reception took our cash and gave us directions to camp site number 14, which required some complicated turns in the dark to find. But when we finally pulled in we were amazed - the site, indeed all camp sites at Onguma, had its own private bathroom, kitchen and cooking area, all lit up and electrified! En-suite camping - I'd never heard of it before. It was luxurious in the extreme. We put up our tent, cooked up noodles and tuna, had a hot shower each and slept like babies. What a fantastic end to a very long and trying day.
[Friday 21 June : Onguma-Makuri (Namibia)] We packed the tent in icy cold but clear weather (the norm in winter in these parts until the sun gets high enough) and headed off towards Tsumeb. A brief coffee stop there was followed by another long haul to Grootfontein, where we filled the petrol tank to the brim; shortly after leaving Grootfontein we would have to leave the comfort of the tarred main roads in Namibia and venture onto gravel. The distances between towns would be huge, the settlements tiny and petrol scarce.
Day 7
---
| | |
| --- | --- |
| Distance | : 479 km |
| Total | : 2 678 km |
And so it proved ... from the turnoff onto the rural D2844 road eastwards, it was 246 kilometres of gravel and dust to the village of Tsumkwe, with nothing in-between except a couple of isolated houses. The sun was hot, the road was rough and we could go no faster than 80 kilometres per hour maximum, and most of the time it was much less than that. So it was hours and hours of driving with no respite. We swopped every half an hour or so, each time stretching our legs and drinking water. But eventually we arrived in Tsumkwe (where there was no petrol, big surprize) and after a brief look we headed off again. We knew that about 30 kilometres east of town there was a baobab tree of epic size, known (funnily enough) as the "Big Tree", and we were determined to find it. But the best map we had of the area was quite sketchy and Google Maps on our phones simply had no idea of its existence at all.
So we simply drove on and when we saw a rough sign pointing right to Makuri Camp we decided to take it. And that was the start of an adventure of note (which is described in more detail here) ... suffice it to say that we did, finally, find the Big Tree, and boy, was it big. I've never seen anything like it before in my life. A baobab tree with a trunk so wide that you could drive round it in a wide circle. There was rudimentary camp site there, with a bucket shower (no water though - you had to fill the bucket yourself) and a dry, eco-friendly toilet. But best of all, we had it all to ourselves! We were expecting other Put Foot Rally vehicles to be there, but the place was deserted apart from a Khoi San tribesman who was the camp site custodian. He took the princely sum of 70 Namibian Dollars from each of us, carefully wrote out a receipt and bade us a good night.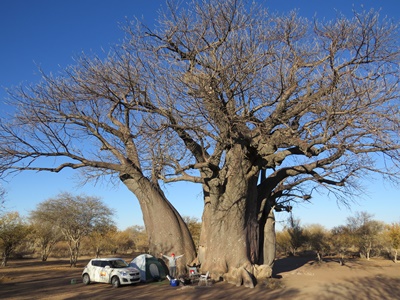 Camping at the Big Tree in North-Eastern Namibia
What an amazing night! It was absolutely, completely pitch dark and the sky was clear so the stars shone with the kind of brightness you never get in big cities or even towns. The band of the Milky Way was a shimmering arc over the entire sky and spotting the Greater and Lesser Magellanic Clouds was easy (these are two small galaxies near the Milky Way, only visible from the southern hemisphere); it is impossible to see these from any light-polluted area. It was also totally silent, eerily so. But it was incredible to have that whole space to ourselves, no loud music, drunken revellers, fires or even distant neighbours. What a magical experience, and if anybody reading this is intending to take the Tsumkwe road in or out of Namibia I recommend making the effort to find the Big Tree (and camp there if possible); on some maps the road to the tree is labelled the "Baobab Trail".
[Saturday 22 June : Makuri (Namibia)-Maun (Botswana)] We headed back down the thick sand of the Baobab Trail, second gear all the way, and eventually reached the main (ie. gravel) road east to Botswana. The border crossing at Dobe was simple and fairly quick, at which point we hit a 100 kilometre stretch of road that was mostly soft sand. For an hour and a half I slipped, slid and skidded my way along, desperately keeping both the speed and engine revolutions up as we ploughed our way through the drifts. We didn't change drivers once for the simple reason that we were scared that if we stopped we'd be stuck and wouldn't be able to start again. Luckily only two vehicles came past because the clouds of dust they kicked up reduced visibility to a couple of metres ... but eventually the road came to an end at the intersection with the main road south to Maun, near a tiny settlement called Nokaneng.
Day 8
---
| | |
| --- | --- |
| Distance | : 390 km |
| Total | : 3 068 km |
We stopped for a breather and looked down the road with dust-rimmed eyes. "Tar!" I shouted with glee. "It's a tar road!" Karen nearly got out of the car and kissed the surface. We'd been driving on dirt roads for over 400 kilometres and were almost delirious with joy at the prospect of getting our wheels onto tar. And indeed it was, beautiful, smooth, perfect tarmac ... for about 10 kilometres. It was clearly a new section of road, not even painted with lines yet, because suddenly it became rough and old, still tar, but full of potholes. Not the ordinary type of potholes that you sometimes get on roads, but deep and massive holes that could swallow an entire car if you weren't careful. Our speed was reduced drastically as we swerved all over the road to avoid them. Luckily there was so little traffic that there was no problem going into the wrong lane, but on a few occasions the holes were wider than our car and there was no room on either side to get past. We had to stop and the non-driver had to get out and direct the driver through via the least damaging route. Big 4-wheel drive vehicles simply went off the road to avoid these monsters, but the problem for us was that there was a steep lip down to a shoulder of very soft sand. So we had to keep at least one wheel on something resembling tarmac. Our pogress was therefore very slow, but we had relief with short sections of new road, and approaching Maun the road improved to the extent that we could get up to 100 kilometres per hour quite safely, with relatively few potholes that were easily avoided.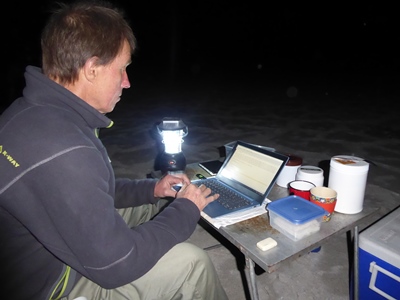 It's hard work keeping this blog up to date
Maun proved to be very different from what we were expecting. It is the biggest tourist centre in Botswana, the jumping-off point for all excursions into the Okavango Delta, but we drove all the way through town and didn't see one hotel, guest house or restaurant except a couple of take-away places of the KFC and McDonald's variety. Confused, we turned round at the north end of town and drove back in again and down a few side streets. They were the same. What was going on? So we looked for "accommodation" on a saved map on one of our phones and saw several pins indicating hotels. We went to the nearest one, and even as we were driving through a blank, unmarked entrance with Karen's phone bleating "You've reached your destination" we weren't sure if we were in the right place. There were no signs of any kind, just a parking area and some nondescript buildings. Only when we parked and got out did we see a discreet hotel entrance. No wonder we didn't see any places to stay when we drove in - the hotels seem not to advertise their existence at all. I suppose these places don't get "walk-in" business, but rely on pre-booked tourists flying in to Maun on charter flights and being ferried to their hotels from the airport as part of their package.
The foyer of the hotel was quite posh. "Yes, it will be 1700 Pula per night, including breakfast," said the girl at reception when I asked if they had a double room for one night.
Karen and I looked at each other. 1700 Pula was about 2200 South African Rands, quite a lot more than we were prepared to pay for a hotel room. "Thank you," I replied. "We're going to look around town and may be back." We walked out of the main door and paused outside to consult the map of Maun on Karen's phone, on which were "pinned" various accommodation options. While we were debating which one to go to next, the girl from reception came out.
"We can let you have the room without breakfast for 1090 Pula," she said.
So they were prepared to negotiate, I thought. The hotel isn't full, it's already quite late (it was about 5 PM) and they'd rather have somebody in the room paying something than have the room empty and get nothing. "We'll take it for 1000 Pula," I said. "Would that be OK?"
The Makgadikgadi Salt Pan, Botswana ...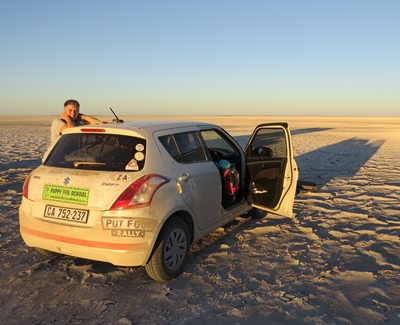 We made it!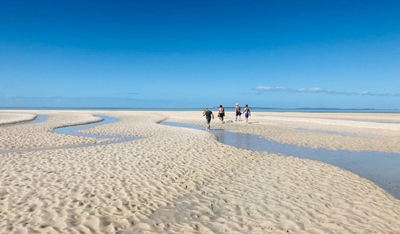 Exploring on foot
Our campsite, just after sunrise
The receptionist didn't ponder this counter offer for long, but simply nodded. She had probably been expecting us to knock off the extra 90 Pula from her first counter-offer; in fact, she had almost certainly added the extra 90 simply to give us something to dicker about, and had been aiming to get 1000 Pula anyway. So both sides of the negotiation were satisfied. We followed her inside, signed a form and ten minutes later we were ensconsed in a very plush room. Neither of us had showered the night before when we'd slept under the Big Tree, so first order of priority was a long, hot shower. After that we strolled out of the hotel and down Maun's main street looking for something to eat, not very hopeful, and eventually had to settle for pizzas at a take-away place. Maun really is quite an odd town - gateway to the Okavango Delta but as traveller-unfriendly as you can possibly imagine. Very strange.
[Sunday 23 June : Maun-Makgadikgadi Salt Pan (Botswana)] Despite a fair bit of effort the best breakfast option we could find in Maun was Wimpy, and judging by the number of other Put Foot teams eating there it was the ONLY breakfast option. Fortified by mediocre coffee, fried eggs, bacon and chips, we hit the road east. We weren't quite clear how to get onto the Makgadikgadi Salt Pan (where the Botswana Checkpoint for the Put Foot Rally was and where we were due to spend the night), but we'd been told to go to a safari lodge in the town of Gweta to get directions.
Day 9
---
| | |
| --- | --- |
| Distance | : 268 km |
| Total | : 3 336 km |
A couple of hours later we turned into Gweta Lodge. Several other Put Foot teams were there, all slightly confused, but no Put Foot staff member was in evidence. So where were we supposed to go? A guy from the lodge eventually explained that the road into the salt pan was a dirt track off the main road, 30 kilometres east from Gweta. Then it was 25 kilometres of dirt until the pan itself. The turnoff was marked with a big "Put Foot" sign. Wary of obscure dirt roads after our experience in getting to the Big Tree in Namibia, I asked him what the condition of the road was.
"Not too bad," he said. "It's quite twisty and narrow but no problem."
"What about sand? Is it soft sand?"
He pondered this for a moment. "No, there's no sand at all." Somebody else standing nearby queried this and he repeated "No sand." I had cause to remember this wildly inaccurate assessment later that afternoon ...
We drove back out to the main road, turned east and found the marked turnoff just as we'd been told. It was a bad road, and very quickly got a lot worse. Narrow, twisty, with a high "middle mannetjie" (raised hump between wheel ruts) and extremely sandy in places. Karen was driving, and it quickly became obvious that if we drove in the wheel ruts the middle hump would hit the bottom of the car and sooner or later cause considerable damage. She put one wheel on the hump and gunned the engine through the soft sand. Several times we almost lost traction but each time the tyres managed to get a grip and we kept moving. It was exhausting.
After about 10 kilometres of this we rounded a bend and saw a car stalled on the track ahead of us. Luckily there was quite a hard section some way before, so we could stop safely without worrying about how we'd get going again. We walked forward to the stopped car and discovered that the middle hump had hit the bottom of the car and punctured their fuel tank. Petrol was leaking out and the driver was lying underneath trying to patch it with putty and duct tape. Several other vehicles (all 4-wheel drive) stopped and various suggestions were put forward, but the two people in the car elected rather to abandon any thought of getting to the salt pan, reversed, turned and drove back to Gweta in the hope of getting their petrol tank repaired.
The other Put Foot vehicles that had been helping drove off, leaving us behind; many of them went off the road to avoid the section of track where the car had got stuck. Karen unfortunately tried to do the same. Going off the track was no problem (the ground was quite hard) but getting back onto the track meant she had to slow down to negotiate the edge and raised hump ... which was fatal because the engine revolutions and speed dropped, the wheels spun, dug themselves into the soft sand and that was it. We were completely stuck.
Now what? Everybody had left and we were alone on the track. I looked around; it was very flat and there was nothing in sight except the dust of the vehicles heading AWAY from us towards the salt pan. It was quite possible that we were the last Put Foot vehicle on the track and that nobody would arrive to help us out. We tried pushing, reversing, going forward, but nothing budged the car. There wasn't much wood lying around (the whole area was mostly tufty grass and sand, with a few stunted thorn trees) but we found a couple of branches and tried digging the sand out and laying the branches behind the wheels. This helped a little and the car moved about 10 centimetres - not much progress but it was something. At least there was hope.
I was busy digging under the wheels when I heard the sound of an engine. Looking up I saw a big white 4-wheel drive stop behind us and three Put Footers got out - two older men and a young guy. They saw the problem immediately and hauled out a little device which one of them attached to the valve on one of the wheels. "We'll have you out in a jiffy," he said. "We just let the tyres down, push you back down the slope and then you'll easily make it through this sand." He reduced the pressure on all four tyres to 1 bar (the normal pressure for a Suzuki Swift is 2.3), I got behind the wheel, started the engine and put it into reverse. As soon as I was ready two of them pushed DOWN on the bonnet. The tyres bit into the sand the moment I let out the clutch and within seconds I had rolled the car back down to the hard section we'd stopped on previously.
That was easy, but we still had to drive another 15 kilometres or so to the salt pan. We debated and decided that I would attempt the drive up the sandy slope that had defeated us before. Karen would follow on foot and as soon as the ground was hard enough to stop safely I would pick her up. I started the engine again, lined up and headed for the slope; by the time the wheels hit the soft sand I was doing about 45 km/h in second gear. The car slid and swung on the sand but it kept going, I kept the speed up and I got to the top. Unfortunately it was soft sand for quite a long way after that so I didn't dare stop, which meant that Karen had a fairly long walk until I finally stopped on a section under a thorn tree that had been baked hard.
The Makgadikgadi Pan
The Makgadikgadi Pan, also known as the Botswana salt flats, is a salt pan situated in the middle of the dry savanna of north-eastern Botswana, south-east of the Okavango Delta. The pan is all that remains of the formerly enormous Lake Makgadikgadi, which once covered an area larger than Switzerland but dried up several thousand years ago. Makgadikgadi is not a single pan, but many pans with sandy desert between them. The total area of Makgadikgadi is about 16050 square kilometres but the largest individual pan only covers about 4920 square kilometres - substantially smaller than the 10620 square kilometres of Salar de Uyuni in Bolivia. The Makgadikgadi pans are dry in winter but are partially covered with water in summer (the rainy season).
Karen climbed in and we continued. The road meandered, twisted and suddenly turned a sharp corner. The hump between the ruts disappeared and the entire road simply became a sea of sand, with vague wheel tracks all over the place. To make matters worse, wooden posts were embedded in the sand to mark the route vehicles should follow. It was a nightmare - I didn't dare let the speed or revolutions drop but trying to steer our little 2-wheel drive through the soft, soupy sand at speed and not hit any of the wooden posts was mostly luck and guesswork. We slid, skittered and skidded our way through the sand, somehow missing all the wooden posts and not getting stuck. How we did it I don't know, but we shot out the other side and back onto the ruts-plus-hump road with a mixture of hysterical laughter (Karen) and clenched jaw (me).
Eventually the sand track became a little harder and the landscape flattened out. A wide circle saw the road come to an end, the expanse of the salt pan in front of us. Our wheels crunched over the surface and we joined the line up of vehicles registering at the Put Foot checkpoint. "You can camp anywhere along there," said the girl who checked us in, pointing along the edge of the pan where an "island" of tussocky grass poked up from the uniform flatness of the salt. "Stay at the edge, near the island. Please don't drive any further onto the salt pan." Apparently vehicles are not normally allowed onto the Makgadikgadi salt pan but Put Foot had been given special permission provided the sensitivity of the environment was respected. We found an open spot and set up our tent, marvelling at the amazing spectacle in front of us - a grey-white landscape, totally flat, stretched away to the horizon, with not a blade of grass, bush or tree to catch the eye.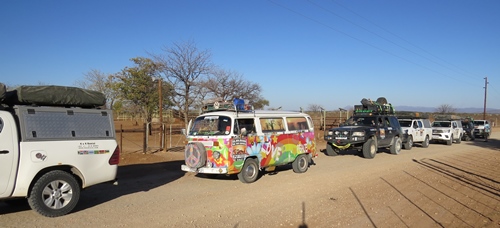 Put Foot vehicles line up at one of the checkpoints
The checkpoint meal, prepared over fires by staff from Gweta Lodge, was excellent. After that, of course, the party descended into the usual drunken excesses, but at least the music was turned off at 10 PM so we had a good night's sleep. Thank heavens our mattresses were quite thick, because the salt pan surface was hard and sharp - sleeping on that without a mattress would have been painful in the extreme.
[Monday 24 June : Makgadikgadi Salt Pan-Kasane (Botswana)] Early morning in the salt pan was spectacular. The sun came up over the ruler-straight line of the horizon in a clear sky, slowly turning the grey landscape white. It was icy cold though, and it was an effort to rouse ourselves from the warmth of our sleeping bags.
A Put Foot team camped near us was packing up while we were drinking coffee. "Don't just moer stuff into bags," barked a woman who seemed to be the team leader. "Pack properly." Three young men in their 20's were standing around with vacant expressions on their faces, their eyes dull and bloodshot. The woman was all action, a frenzy of controlled fury and activity, like a military sergeant-major dealing with a set of particularly stupid and uncooperative troops. Her "soldiers" (the three young men), seemed incapable of movement, action or even thought, and remained slouched in postures of hung over ineptitude. "We're leaving in ten minutes," snapped the woman. "Get moving NOW."
This deadline sparked a reaction in the three stooges and with a supreme effort they took their hands out of their pockets and in a lacklustre sort of way started to help the woman pack their gear into their 4-wheel drive. They were so useless that it would probably have been faster if she had just done it all herself, and I wondered how she had managed to get herself saddled with three such idiots ... But she succeeded in getting their vehicle packed, herded the three men inside and before her ten minutes were up they drove away. I shook my head, glad that I wasn't travelling with them.
Day 10
---
| | |
| --- | --- |
| Distance | : 406 km |
| Total | : 3 742 km |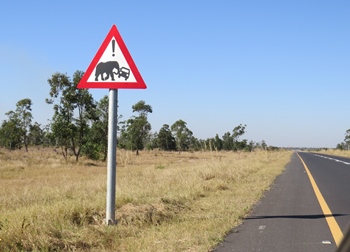 A road sign you don't see very often ... but in Botswana
elephants are everywhere and the threat is real
We were dreading the drive out of the salt pan on the sandy track back to the main road, but as it turned out it wasn't as hair-raising as the drive in. The difference was that our tyre pressure was now very low (1 bar instead of the recommended 2.3 bar) and we knew what to expect and how to deal with it. I kept the engine in second gear with the revolutions up until about half way, where I stopped on a fairly hard section of packed gravel. We swopped and Karen drove out the rest of the way until we hit the main road.
We pumped the tyres back up to 2.3 and turned east towards Nata, mightily relieved to be back on tar with no damage to the car (just to our nerves, but hopefully they will recover). Nata turned out to be a wreck of a town, with a petrol station, a shop that sold nothing except car parts, plastic bottles of water and some packaged food like biscuits. However, next door to the shop was a lodge that, despite a look of neglected decrepitude, promised both coffee and wifi. Unfortunately neither of these two precious commodities was very good - the coffee was instant (and it cost 20 Pula ... are you kidding me?) and the wifi connection was so slow I thought I wouldn't even be able to upload the page you are reading to my web site. But after multiple connection retries I finally succeeded.
From Nata we neaded north to Kasane and the Zambian border. It was very hot and the road seemed to be empty except for us and other Put Foot vehicles, many of whom passed us. After the drunken excesses of the checkpoint party on the salt pan the night before, I suspected that many Put Footers were still hung over, the odour of stale beer and charred meat oozing from their pores as they sat hunched over their steering wheels, squinting into the harsh African sun with bleary eyes, pressing ever onward to the next party and pissup ... where they could repeat the same procedure all over again. Such is life on the road in the Put Foot Rally ...
The Namibia-Botswana-Zambia-Zimbabwe border
The borders of four countries meet at the point where the Zambezi and Chobe Rivers converge -
Zambia
(north-east of the Zambezi),
Zimbabwe
(south-east of the Zambezi),
Botswana
(south-west of the Zambezi and Chobe) and
Namibia
(a narrow sliver of land between the two rivers). There are actually two boundary "tripoints" joined by a short line, rather than one "quadripont" - the borders of Botswana, Zambia and Namibia meet, from where there is a 150 metre stretch of water separating Botswana and Zambia and at the end of this Botswana, Zambia and Zimbabwe's borders converge. These boundary lines are fairly theoretical because the channels of the two rivers shift continually.
A small, ramshackle and overworked ferry runs across the Zambezi between Botswana and Zambia near the town of Kazangula. At the time of writing a new road-rail bridge was being built to replace the ferry; construction of this 923 metre-long bridge began in 2014 and was completed in 2021.
Further east there is a much older road-rail bridge between Zimbabwe and Zambia over the Victoria Falls.
Along the way we saw several elephants on the side of the road or crossing the road, as well as plenty of evidence of their passing - broken trees, crushed vegetation, etc. And we weren't driving through a game reserve, simply open country with houses, villages and people all around. It is always a touchy subject, but you can see why the Botswana government has re-introduced elephant culling; there are simply too many elephants and the destruction of habitat as well as conflict with humans has become a real problem. I have no idea what the solution is ... But we had to be very careful, because hitting an elephant while travelling at 100 km/h did not sound like a scenario with a happy ending for us (or the elephant).
At about 5 PM we arrived at Kazungula, a small village on the Zambezi River located near the point where the borders of four countries converge - Namibia, Botswana, Zimbabwe and Zambia. It was the usual chaotic mess you always get at land borders and it was too late to get the ferry across to Zambia, so we drove west to the bigger town of Kasane. We found a reasonably-priced but mediocre room for the night at Water Lily Lodge on the banks of the Chobe River, then had an excellent dinner at Old House Restaurant and B&B. This place was fabulous and it also had rooms, so we regretted not finding it first. Oh well, win some, lose some.
[Tuesday 25 June : Kasane (Botswana)-Livingstone (Zambia)] The short drive from our hotel in Kasane to the Botswana border post on the river at Kazungula, and the exit from Botswana, proved to be simple. After that things got tougher very quickly ... Once we were through the Botswana border gates we followed a barricaded road a short distance to the Zambezi River, with touts, "guides" and money changers chasing after us. At the water's edge we could see the ferry coming back over the river from the Zambian side, and while we were sitting in the car waiting a particularly aggressive tout leaned in the window and harrangued us about getting some Zambian Kwacha from him. Despite us saying "No thank you" several times he persisted. "Have you got Kwacha? You can only pay for the ferry in Kwacha. I give you a good rate."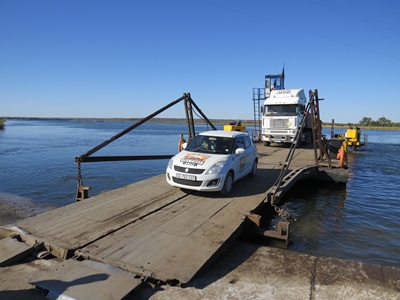 The ferry from Botswana to Zambia at Kazangula
At that point I almost laughed at him. "That is a ferry from Botswana to Zambia. How can they expect you to pay in Zambian currency?" But nothing deflected him and he leaned right into the car, almost in Karen's face. From being only irritated I was now starting to get angry. "Stop leaning in the window and get away from the car," I told him. To be fair he moved away immediately and didn't bother us again.
Day 11
---
| | |
| --- | --- |
| Distance | : 99 km |
| Total | : 3 841 km |
A few minutes later the ferry docked, the cars on board drove off and a guy motioned us forward. Karen negotiated two steel gangplanks and drove right to the end; the guy indicated to me that I should pay and disappeared into a tiny shack on the side of the boat. Before I even asked him anything he said "You can pay in any currency you like. If you have South African Rands it's 150." He'd obviously seen our number plate and knew where we were from. He also instantly proved (just as I'd suspected) that the aggressive tout at the Botswana border had been lying. I pulled out 150 Rand and he gave me a receipt. "Welcome to Zambia."
Unfortunately that was merely a foretaste of the administrative nightmare that awaited us once we drove off the ferry onto Zambian soil. The Zambian border was a chaos of trucks, cars and people, all milling around and parked haphazardly all over the place. First we had to go to Immigration and get our passports stamped. Then we had to get a swathe of forms filled in and stamped, go to a cleverly sited ATM to draw some Zambian currency, get a Customs Import Permit for the car, pay 70 Kwacha for Carbon Tax, another 20 Kwacha for a Council Levy (what council I don't know), followed by 20 US Dollars for road toll fees and finally 162 Kwacha for Third Party Insurance on the car for 30 days (getting the insurance required walking through a gate that said "No Entry", choosing one of several insurance companies at random then walking back again through the same gate). Each of these transactions required us to stand in a separate queue (usually in a separate building) and fill in the same details every time in different books and forms. The whole process was tedious and frustrating, and all the while touts and "guides" pestered us to let them help us.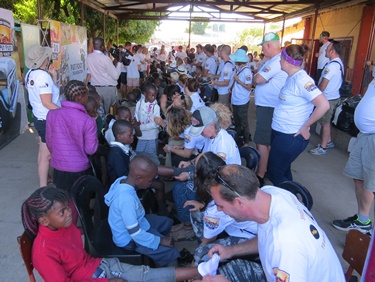 Put Foot volunteers hand out shoes and socks
to children in Livingstone, Zambia
But eventually we got the last document stamped, stuck the Third Party Insurance disk on the windscreen and manoevred our way through the chaos of vehicles to the Zambian entrance gate. A policeman checked all our documents thoroughly then waved us through ... and finally we were in Zambia, after TWO HOURS at the border. From there it was a short drive to Livingstone, the nearest town to Victoria Falls and tourist capital of Zambia. Livingstone was quite a big place, the streets lined with shopping centres, hotels, restaurants and coffee shops.
We found the Zambezi Waterfront, location of Put Foot's checkpoint in Zambia, just the other side of town - it comprised a couple of very swanky hotels, a campsite, a few restaurants and bars and an adventure booking centre strung out along the bank of the Zambezi River. We checked in at the campsite and put up our tent on thick grass, a welcome change from the sand of Namibia and Botswana.
Unfortunately we had no time to relax and enjoy the views of the Zambezi River. A Put Foot Foundation "shoe drop" was scheduled for that afternoon, so as soon as we were unpacked we climbed back into the car and headed to Ebenezer Primary School and Orphanage in Livingstone. There we found hundreds of school kids lined up, waiting to receive their free shoes (and socks) from Put Foot volunteers, who fitted them to each child's foot one by one. Some journalists from various newspapers were there, interviewing people and taking notes and photographs; a report of the afternoon's activity later appeared in the Lusaka Times (see Lusaka Times, 28 June 2019 edition).
The Put Foot Foundation is the charity arm of the Put Foot Rally, and raises funds to supply under-privileged children in various countries with school shoes. The actual handing out of the shoes usually takes place at a specific school and is called a "shoe drop". People doing the Put Foot Rally are encouraged to take part in these shoe drops.
That evening I bumped into Derek, an elderly chap from KwaZulu-Natal who was doing the Put Foot rally with his friend Larry [Aside: Not their real names, I changed them to avoid embarrassment]. These two old soaks were an endless source of amusement to us because they seemed to be permanently hung over, disorganized or clueless, and usually all three. Derek was about 70 and his English was always impeccable even when he was in his cups (which was often). He usually had a quirky grin on his face and an amorous glint in his eye; I learned during the rally that his roving eye considered anything that was (a) female and (b) breathing to be fair game for his advances - at every checkpoint party Derek could usually be found on the dance floor, jiving with a different woman.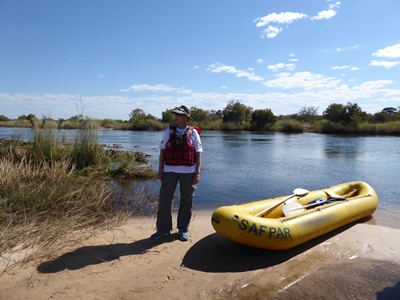 Canoeing on the Zambezi River, Zambia
On this occasion Derek was carrying an armload of dirty laundry, desperately trying not to let socks and undershorts fall to the ground. "I realized I have no more clean clothes," he said. "I hope I can get this lot washed here."
"Yes, I think I saw a sign at reception that they do laundry." I looked around but Larry was nowhere to be seen. "Where's Larry?"
"Larry's in the bar and I'm afraid he's in quite a poor condition."
I chuckled. "And I suspect his condition will get poorer as the evening progresses."
Derek was not amused and stalked off to the reception area, where I saw him dump his pile of dirty laundry on the counter. Of course he had no Zambian cash, that would have taken far too much planning. "Can I pay in US dollars?" he asked. I didn't hear what the guy behind the counter said, but when I saw Derek the next day he was wearing fresh new clothes so I guess his laundry quest was successful.
[Wednesday 26 June : Livingstone (Zambia)] After 11 days of driving, huge distances in some cases, we were relieved to have a day "off". But we had booked for a morning canoe safari on the Zambezi River, so there was no lounging around and drinking cocktails ... By 8 AM we were at the Zambezi Waterfront, sipping coffee and waiting for our guide. Two other people had also booked for the safari, but despite waiting until 8:30 AM they hadn't shown up. Somebody went off looking for them in the campsite and returned five minutes later. "They're still drunk from last night," he said. "They won't make it. You better go without them."
Not for the first time on this trip I was embarrassed by the loutish behaviour of my fellow South Africans. What kind of idiot books a canoe trip in advance and pays 92 US Dollars for it, then drinks himself into such a stupor the night before that he can't go at all? And doesn't even have the decency to stagger 50 metres from his tent to apologise and say he won't be coming? Because of the boorish behaviour of these two cretins, Karen and I, the two guides and the driver had to stand around waiting and eventually send somebody to look for them.
Victoria Falls ...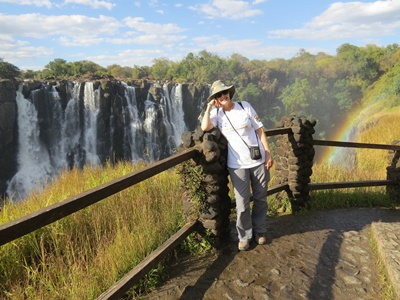 The view from the Zambian side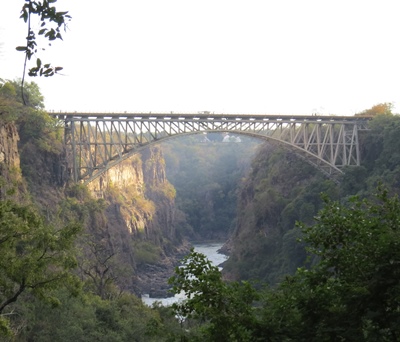 The road/rail bridge between Zimbabwe and Zambia
But the plus side of this was that we had the services of the two guides all to ourselves. And these guys (called Titus and Caesar) were amazing. After we had driven to the launch point up-river and started paddling downstream in yellow inflatable 2-man canoes, they very quickly demonstrated both their acute vision and encyclopaedic knowledge of the wildlife in and along the Zambezi River. They spotted birds and mammals that I had difficulty seeing even when they pointed out exactly where they were. We saw numerous hippos and crocodiles, zebra and several species of birds, but the real charm of the trip was the chance to commune with nature on the mighty Zambezi River, away from the loud music and party atmosphere at the waterfront.
Day 12
---
| | |
| --- | --- |
| Distance | : 18 km |
| Total | : 3 859 km |
After about two and half hours of paddling we reached the pull out point, hauled the canoes up onto the bank and tucked into a delicious cold lunch of pork, beef, salads and rolls. I was tired after the unaccustomed exercise (on this trip so far we'd been sitting on our backsides in the car all day) and packed away more food than I needed.
The Zambezi Waterfront is actually about five kilometres upstream of Victoria Falls, so that afternoon we drove round to the actual falls. We parked the car on the Zambian side of the river, exited through Customs and Immigration on foot and walked over the Victoria Falls bridge. This famous steel arch bridge was the brainchild of uber colonialist Cecil John Rhodes, whose dream it was to build a railway from Cape to Cairo. Although he failed in this endeavour, the bridge over the Zambezi was completed in 1905 and still carries both road and rail traffic, as well as pedestrians, between Zimbabwe and Zambia. The view of the falls isn't great from the bridge and it is quite a long walk to the Zimbabwe border post on the other side, so we merely walked over then turned round and headed back into Zambia again.
Back in Zambia we paid 20 US Dollars each to enter Victoria Falls Heritage Site, the reserve round the falls. Another group of Put Footers came into the ticket office just as were leaving, Sandton bling oozing from their Gucci handbags and designer shoes. When the guy in front saw the price to get in he exclaimed in a loud and obnoxious voice "Twenty dollars! Are you crazy, China? We're from South Africa - we're poor, we can't afford to pay that." The keys to his half-a-million Rand Subaru 4-wheel drive vehicle jingled in his pudgy fist as, outraged, he professed his poverty. The young girl behind the counter looked confused and uncertain how to respond to this verbal onslaught. We didn't wait to see what transpired but scarpered as fast as we could before she could think that we were in any way associated with this example of upper class privilege and entitlement.
Inside the Victoria Falls reserve we followed the various paths around the falls, marvelling at how little water was flowing compared to pictures we'd seen - the drought has reduced the falls from one massive continuous sheet of water to multiple individual trickles, with rocky outcrops between them. We didn't even get wet from spray when we ventured down the path that leads to the closest viewpoint. But even so, the falls were an impressive sight and well worth the visit.
That evening we sat through another Put Foot Checkpoint party, but this time the food was absolutely superb. I kept going back for more it was so good. Vegetarians were more than catered for, with a huge array of roast vegetables, salads and fruit to choose from. What an outstanding meal; thanks must go to the catering staff at the Zambezi Waterfront.
Day 13
---
| | |
| --- | --- |
| Distance | : 495 km |
| Total | : 4 354 km |
[Thursday 27 June : Livingstone-Lusaka (Zambia)] A nerve-shredding nine hour drive north-east from Livingstone finally got us to our hotel in Lusaka just before 7 PM. The road was generally good, apart from one section of 50 kilometres that was severely pot-holed, but the real delay was that the speed limits in Zambia are so low - 100 km/h on the open road, 60 km/h on the approaches to towns and only 40 km/h in towns. There are lots of police checkpoints and frequent speed traps, with very few signs indicating exactly WHAT the speed limit is, so much of the time it's guesswork as to how fast you can go. We doggedly kept to the speed limit and were waved quickly through every checkpoint so we had no major holdups. But the last 15 kilometres into Lusaka and to our hotel took an hour and a half - the traffic and congestion in Lusaka is simply insane.
To our relief the place we'd booked, Troy Lodge, proved to be very nice indeed. The shower was superb and I washed away the grime and stress of the Zambian road system under a punishing spray of hot water.
[Friday 28 June : Lusaka-Chipata (Zambia)] Our booking at Troy Lodge in Lusaka included breakfast but we weren't quite sure what to expect because the breakfast "room" was a semi-outdoors terrace overlooking their parking lot. We turned up at 7 AM to find a man in chef's clothes bustling about, setting tables and bringing food out of the kitchen. "Good morning," he greeted us. "Did you sleep well?" His English had an odd accent that I could not place.
Bridge over the Luangwa River, Zambia
"Yes, thank you."
"Excellent. Help yourselves to anything you like." He gestured at the array of food on a long table. "There's plunger coffee and hot milk over there. Cereal also. Toast is over here. Can I make you both an omelette?"
Day 14
---
| | |
| --- | --- |
| Distance | : 574 km |
| Total | : 4 928 km |
We were taken aback at the bewildering range of eating options he presented us with and simply agreed. Then we sat down and tucked into fresh fruit, yoghurt, muesli, coffee (several cups), pastries, toast, sausage and the omelettes he brought us. Everything was delicious and fresh, easily the best breakfast we'd had on this trip. It turns out the chap who had spoken to us was Turkish (which explained both the name of the hotel and his unusual accent) and he owned the hotel; many of the pastries we ate at breakfast were Middle Eastern. We sat as long as we could, savouring a last cup of coffee and Turkish pastry ... but eventually we couldn't eat any more and reluctantly got up to go. The proprietor wished us a pleasant journey and set about serving some other guests who had wandered in from their rooms. What a find! Troy Lodge must go down as one of the nicest places I've ever stayed in, with a breakfast right up there with the very best. If you're ever in Lusaka you can't go wrong if you stay there.
Suitably fortified, we set off for another long day of driving. Getting OUT of Lusaka was thankfully a lot easier in daylight than it had been to get IN in the dark, and before long we were on a very good road heading towards Chipata in the far east of Zambia. But the going was slow because there were numerous settlements and villages along the way, all of which had "rumble strips" and speed bumps on the approaches and exits and a 40 km/h speed limit while driving through. Between settlements the road was almost continually busy with pedestrians, cyclists, cattle and goats on both sides, meaning that constant vigilance was necessary.
There is an implicit and very disciplined "agreement" between motorists and pedestrians/cyclists in Zambia - the shoulder of the road (marked by a yellow line) is reserved exclusively for non-motorised traffic. People walking or cycling stay within the demarcated shoulder and never set foot over the yellow line, whereas cars and trucks ensure their wheels remain on the road and never stray onto the shoulder. Slow moving vehicles NEVER pull over into the yellow line to allow a faster vehicle behind them to pass. In this way people walk and cycle along, inches away from cars speeding past at 100 km/h, but there is very little danger of accidents because both sets of road users trust the other to remain in the area allocated to them. It took us a while to realize how disciplined the system is, but when we did it became clear that it works very well. Even small children seemed to understand the system - we saw many of them on the road, usually not accompanied by adults, but they always stayed within the yellow line zone.
Towards midday we went through the Luangwa River valley, a beautiful area of rolling hills and green, wooded slopes. The road twisted, turned and went up and down, and finally descended to a bridge over the river. The final steep descent was marked by no less than three crashed trucks, either lying on their side next to the road or in pieces at the bottom of the cliff - testament to both the difficulty of the road and the tiredness of long-distance truck drivers. At the bridge a traffic officer stopped us to allow a truck to pass from the other side; it looked like only one vehicle at a time was being allowed to cross the bridge while repair work was in progress.
It was nearly dark when we reached Chipata. Some confusing directions and a very bad gravel road led us to the backpackers place we'd booked into (Dean's Hill View). The people were friendly enough but the place was a mess. I had a cold shower before we discovered that they had only turned the hot water on when we arrived, so if I'd waited an hour or so it would have been hot - I was a little angry, because they could easily have told us that when we checked in. The restaurant was also a decor, fashion and cleanliness disaster, although the food was good enough. But the real irritation was that a thumpingly loud rock 'n roll party took place until 10 PM in the grounds outside our room. So our last night in Zambia wasn't memorable.
Senga Bay on Lake Malawi ...
Fishermen bring in their boat as the sun sets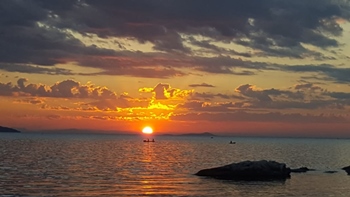 Sunrise over the lake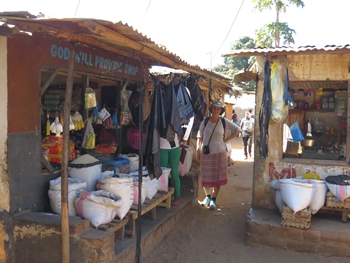 Shopping in the back streets of the local market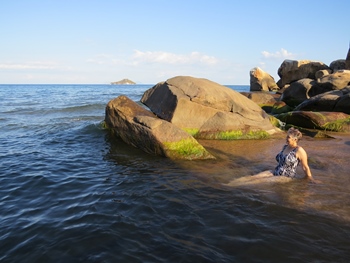 Karen frolics in the warm waters of the lake
[Saturday 29 June : Chipata (Zambia)-Senga Bay (Malawi)] Today we crossed the border from Zambia into Malawi, the 50'th different country I've visited. Just like the crossing into Zambia four days previously, entering Malawi was a time-consuming, confusing and bureaucratic procedure, but also a very expensive one. And for the first time on this trip, we were asked for a bribe - just beyond the border gate in Malawi there was a police check point, where a ragged and disheveled "officer" smiled at us with rotting teeth and said "What have you got for me?" We pretended we had no idea what he was talking about and when he realized we weren't going to give him anything he waved us on. It wasn't aggressive or unpleasant, more of a gentle suggestion that we should give him a gift, but it was nonetheless still a definite request for a bribe.
Day 15
---
| | |
| --- | --- |
| Distance | : 273 km |
| Total | : 5 201 km |
Before leaving Chipata we knew we had to get some Malawian Kwacha because taking a vehicle into Malawi required three payments, two in Kwacha and one in US Dollars. Unfortunately the Burea de Change counter at First National Bank in Chipata informed us that they didn't deal in Malawian Kwacha, so we had no choice but resort to dealing with the money changers that roved the parking lot in front of the Spar supermarket like vultures. But before we began any interaction with them we pooled our remaining Zambian Kwacha and added a 50-dollar note. I calculated approximately how many Malawian Kwacha we'd get for that and so armed we headed over to Spar.
We were immediately besieged by money changers, two of whom latched onto us like hyenas fighting over the carcass of an antelope. We started the negotiations by saying how many Zambian Kwacha we had plus the 50 US Dollars. One of the guys calculated then told us how many Malawian Kwacha they would give us, an absurdly small amount. "No way," I said. "We want at least 80 000" [Aside: The Malawian currency is not worth much - one US Dollar is about the same as 750 Malawian Kwacha]. The numbers went back and forth between us and the money changers for several minutes until we settled on an amount of 65 000 - substantially less than I had initially thought we could get, but it seemed to be the best deal available. We needed 45 000 Kwacha for the border crossing, so at least we had enough for that.
One guy counted out a thick sheaf of grubby and wrinkled notes and handed it to me. I looked at them carefully (I'd never seen Malawian Kwacha before), counted them in blocks of 20 000 (10 notes of 2000 each) and gave them to Karen. But the second guy kept grabbing the money from Karen and counting it again. I got really irritated but no matter what I did the two of them kept interfering with our counting. Unfortunately they already had our money so we could not just abandon the deal and find somebody else. Eventually, after another round of counting during which I watched what happened like a hawk, we walked away with Karen clutching the wad of Malawian notes.
But something didn't look quite right to me so we stopped and counted the money again. And, incredibly, we found it 20 000 Kwacha short! After all the back and forth we'd done and the agreement on an amount of 65 000, we finally ended up with only 45 000. Those two swines had somehow palmed 20 000 Kwacha (about 25 US Dollars) while we were watching them, in a slick sleight-of-hand manoevre that was worthy of the best magician I'd ever seen. I was furious, but of course the two thieves had disappeared and even if we had found them again there's no way they would have admitted to anything or given us back the 20 000 they'd stolen. We were definitely partly to blame - I should have been more assertive during the handover phase and not allowed them to interfere with me while I was counting the notes.
But the deed was done and we had no choice but move on. We had just enough money for the border crossing (provided the information we'd received was correct) so we'd be able to get into Malawi but we'd have no extra cash if we needed to buy anything. Neither of us had the appetite to deal with any more money changers, so we simply drove off towards the border; the two thieves were no doubt watching us behind their sunglasses, chortling at how easy it had been to swindle us.
The border crossing into Malawi, 35 kilometres south-east of Chipata at the tiny village of Mchinji, was chaotic and a shambles, but at least everything was handled in one building. 45 000 Kwacha was indeed the amount we had to pay, so we managed to get all the vehicle documents we needed and drove into Malawi with absolutely no cash ... which did make it somewhat easier to refuse the bribe request we had from a ragtag policeman about 100 metres down the road.
Unfortunately the road beyond the border was immediately worse, and this was our experience throughout Malawi - the roads were narrow, with no shoulder at all, but there were always loads of pedestrians, cyclists and animals on both sides, mostly IN the road (because there was no shoulder). Progress was therefore slow and nerve-wracking. Luckily we didn't have that far to go and despite getting caught up in a snarl of traffic just outside Lilongwe we still arrived at Senga Bay fairly early in the afternoon. The last 16 kilometres from the major town of Salima to Senga were on a road that was crumbling so badly on both sides that it was often too narrow for two vehicles to pass each other. And the "lip" at the edge of the road was so sharp and deep that we could not drive off without risking severe tyre damage ... luckily we managed to tuck in behind a big truck that blasted down the middle of the road to Senga at high speed, without any regard for the vehicles coming the other way; cars, bicycles and motorbikes scattered off both sides of the road ahead of the truck, a little like a police cavalcade in a dictatorship clearing a road for the presidential limousine. We drove close behind in the wake of the truck, not worrying about oncoming cars, as the huge metal projectile in front of us blasted everything out of the way.
The camp site at Senga Bay was a haven of tranquility and we put up our tent in a shady spot with a good view of Lake Malawi. I had never seen the lake before and it was amazing, a huge expanse of water, so big you couldn't see the other side. There were a couple of small islands nearby and a caged shack on the beach for fishing boats. We had a swim (even in mid-winter the water was fairly warm) then went for an early supper at the Sunbird Livingstonia Beach Hotel, a very luxurious place right next to the camp site. The food was excellent and as entertainment we could watch the proceedings of a wedding reception in the hotel restaurant - an American was getting married to a local girl.
[Sunday 30 June : Senga Bay (Malawi)] This was our first day on this trip of no driving at all, and it was bliss. We rolled out of our tent late, had a leisurely breakfast while looking out over the surprizingly rough water of Lake Malawi then walked out of the main gate and up the road towards Senga Bay village. It was about two kilometres before we came across huts, shacks and people. Even though it was Sunday morning in this largely Christian country, down the dusty alleys leading off the main road we found free enterprise alive and well. Fruit, vegetables, fresh meat (mostly goat), clothes, groceries and household goods were being sold from stalls and shops. The people we met looked at us oddly, but were very friendly when we spoke to them - it was very clear that tourists do not often stray from the beach or the confines of their swanky hotels and look for the "real" Malawi in the back streets of local villages.
Day 16
---
| | |
| --- | --- |
| Distance | : 0 km |
| Total | : 5 201 km |
That evening was the Malawi Put Foot checkpoint party. The food was outstanding, and there was a lot of it, accompanied by the usual thumping rock music and drunkenness. Unfortunately the camping area at Senga Bay is quite small, so we were unable to position our tent very far from the action ... which lasted into the very small hours. Even though we left the party before 10 PM, the shouting, revelry and general mayhem kept us awake most of the night. Even after I'd managed to fall asleep I was woken by some woman's angry shouting. "Where's HQ?" she ranted. "Somebody has stolen my keys and now I can't get into my car."
The calm voice of Roel, one of the Put Foot staff, intruded. "Slow down. What happened?"
"We were skinny dipping in the lake and I left my keys in my bra. Then some fucker took my clothes. Now what must I do?" [Aside: Her words, not mine ...]
This went on for ages, with people shouting, cursing and stomping around. But eventually at about 4 AM the noise died down. We never did find out if the woman got her keys or clothes back; indeed, perhaps she's still stranded at Senga Bay with a locked car, naked and swearing ...
[Monday 1 July : Senga Bay (Malawi)-Tete (Mozambique)] Concerned about getting through yet another border crossing, this time into Mozambique, we packed up our campsite early and were on the road out of Senga Bay by 7 AM. The Monday morning crowds of people, on foot, bicycle and motorbike, made driving on the narrow roads difficult and slow, but by 12:30 PM we were at the Malawi border post at Mwanza. This time we were ready for the money changers who descended on us like vultures; I had written down exactly how many Zambian Kwacha we had and before handing any money over we negotiated with a couple of them. I didn't want to rip them off - they also deserve to make some money on each transaction to feed their families, but I object to being scammed (as had happened in Zambia). So when we finally agreed on a price, the guy handed over the Mozambique banknotes and Karen and I both counted and checked the money before I gave him all of our Zambian cash, then waited while the money changer counted it. Only when we'd both agreed that all was correct did we walk off.
Day 17
---
| | |
| --- | --- |
| Distance | : 438 km |
| Total | : 5 639 km |
Getting out of Malawi was easy, despite having to negotiate a direct request for a bribe by the customs guy at the last gate. He leaned in the car, looked around at everything and asked "What can you give me? I'm hungry." For a moment I thought it might get ugly, but we were determined not to pay bribes of any kind and simply smiled at him and said "No." Finally he stepped back and let us out. Interesting that the only country where we were asked for bribes was in Malawi, and it happened twice.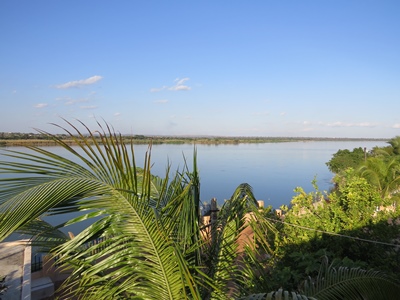 View of the Zambezi River from our motel in Tete, Mozambique
After that we drove about 5 kilometres through "no man's land" before we reached the Mozambique border post. We parked amidst the usual chaos of trucks, vans and seemingly abandoned vehicles, dreading the ordeal ... but, amazingly, the Mozambique procedure was simple, easy and quick. We got our Temporary Import Permit (TIP) and insurance for the car in one place, paid in SA Rands, had our passports stamped and we were through. In fact, there wasn't even an entry gate! The whole process took about twenty minutes; in comparison, getting into Zambia took over two HOURS.
We'd heard horror stories of Mozambican roads, but our first experience was very favourable. There were far less people cycling or walking, no goats running across at random and the road surface from the border was good. But the road was narrow and many trucks came barrelling past at high speed in both directions so it still took quite a lot of concentration. Even so, we reached the outskirts of the sizeable town of Tete way earlier than we'd expected.
Tete is on the south of the Zambezi river and we'd heard of a good motel just over the bridge, on the banks of the river. We approached from the north, but when we got to the bridge over the river we found it blocked off to cars - vendors were selling their wares on the road surface and pedestrians were ambling across. Both the Google map on our phones and our Africa map book insisted that this was the way we had to go, but we couldn't. How were we to get to Tete? I got out of the car and spoke to a woman sitting in her parked car near the bridge approach. "Bom dia. How do we get into Tete?"
Her English wasn't very good but she pointed emphatically down the road parallel to the river on the north side, AWAY from the bridge. "That way," she said. "Tete that way."
Back in the car Karen and I debated what to do. There was no sign that the bridge was going to open to vehicular traffic anytime soon, despite several cars parked nearby, apparently waiting. So we turned round and headed down the road the woman had pointed at ... which began to curve AWAY from the river. What was going on? But we went on and soon the road curved back, rounded a bend and the mystery was solved - ahead of us was a very smart new bridge over the river. It appeared as if the old bridge was reserved for pedestrians between certain hours, and during those times all cars had to use the new bridge to the east. We paid a 50 Metical toll to go over the bridge, turned immediately right on the south side of the river and found Tete Motel just as we'd been told. It was a 1970's style place, baking in the sun and with a faint colonial air of neglect, but they gave us a very spacious and comfortable room for the night.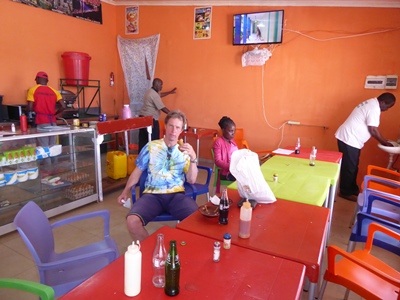 A weary lunch stop in Catandica, Mozambique
[Tuesday 2 July : Tete-Chimoio (Mozambique)] The Tete Motel sent us on our way with breakfast of a 1-egg omelette, greasy chips and instant coffee, but I guess a break from our usual dose of muesli and powdered milk wasn't a bad thing ... Then we settled down for the drive south to Chimoio, wary of the section of potholed road we'd been warned about. For the first 100 kilometres or so we made excellent time on a very good road but after that things deteriorated rapidly. Multiple deep potholes appeared, next to each other and all across the road. Our speed was sometimes reduced to a crawl as we weaved left and right to avoid these tyre-munching monsters. Just like in Botswana 10 days previously (on the road from Nokaneng to Maun), we were sometimes forced to a complete stop in order to plan a route through the potholes. On several occasions the non-driver had to get out of the car and guide the driver on foot ... And all the while huge trucks and 4-wheel drive vehicles came barrelling past in both directions.
The potholes never really ended, they just became less frequent, so for the rest of the way to Chimoio the driver had to keep scanning the road ahead and take evasive action as necessary. We treated any different colouring on the road surface with deep suspicion - only when you were very close could you tell the difference between a shadow, an oil stain, a patched section of tar or a pothole. The worst ones were the potholes inside the shadow of a roadside tree. In those cases the driver had no time to stop or take a radically new line but just had to find the best way past and hope for the best.
We stopped at a local eatery in the village of Catandica for a break and something to eat. Karen was driven by PID (Pothole Induced Desperation) to have a Coca Cola, but it will take more than bad Mozambican roads for me to touch that poisonous and toxic concoction ... unfortunately the only coffee they had was of the instant variety, and Ricoffy at that, so I stuck to water. Locals sitting at plastic tables were putting away massive plates of chicken and chips (the staple food around here) but we simply had a baked pastry each and were on our way again.
Day 18
---
| | |
| --- | --- |
| Distance | : 395 km |
| Total | : 6 034 km |
While we were eating, the TV in the restaurant showed a funny clip of a juvenile elephant being pursued by about 15 lions. Clearly in distress, the elephant ran into a river and almost all the way across, with the lions close behind. Then suddenly the elephant seemed to get angry; after all, he was ten times bigger than any of the lions, why was he running away from THEM? He turned round, his ears flared and he stormed straight back at the lions at high speed. They scattered in disarray, the elephant kept going and the lions scarpered in all directions. It was very funny to watch.
The road improved near the big town of Chimoio; in fact, the approach was via a Chinese-built double carriageway. We had a booking for the night at a place called Linda's Lodge and we dutifully followed the map on Karen's phone to the location where it was "pinned". But the route led us into a run-down industrial area on quite bad dirt roads, and when we reached the supposed location of the guest house it turned out to be what looked like an abandoned and derelict factory. Confused, we went up and down the street but found nothing that even remotely resembled a guest house. I had made the booking over the internet but had unfortunately not made a hand-drawn map of how to get there (as I usually do) because the last few times Google's digital maps had proved more than sufficient; this time, when the digital map was clearly wrong and we really needed an alternative map, we didn't have one.
Now what? We had the address and phone number of the guest house but could not call them because we did not have a Mozambique SIM card (and pay phones simply don't exist any more). Without wifi we could not make a WhatsApp call. We'd have to ask somebody. We drove back to the main road and stopped at quite a smart hotel we'd seen on the way in. The receptionist was busy on the phone so I showed a guy sitting in the lobby the name and address of the place and asked him if he knew where it was. He looked and pondered then made a vague gesture towards the big traffic circle we'd driven around. "I think it's that way." He thought some more then pointed in a different direction. "Or maybe that way."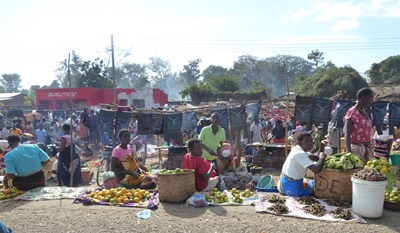 Roadside vendors in a typical village, Mozambique
This wasn't helping, he obviously had no idea at all. I turned to the receptionist and asked the same thing. Her English wasn't very good but she clearly also didn't know where Linda's Lodge was. I pointed to the phone number on my sheet of paper. "You phone?" I made a telephone-style gesture with my hand. "We pay you?" She seemed to understand, hauled out her own cell phone and dialled the number. I heard a person answering at which point she handed the phone to me.
"Bom dia. Por favor, can I speak English?"
"Yes. Can I help you?" What a relief, the people at Linda's Lodge spoke perfect English.
"We have a booking at your lodge but we can't find it. We're at Hotel Castelo Branco. Can you give me directions from here?"
The lady was very apologetic and rattled off a series of instructions which would entail us going back the way we'd come in and turn off the double carriageway next to the Coca Cola factory. I scribbled furiously on a piece of paper; luckily I remembered seeing this factory when we'd driven in so her directions weren't completely foreign to me. "There's a sign at the turnoff," she said. "The road is dirt but we're on the left hand side a few hundred metres after the turn."
"Obrigado, see you soon," I said and handed the phone back to the receptionist. I looked for some money to give the receptionist but the smallest note I had was 100 Meticals, about 30 SA Rands. I gave it to her, thanked her for her help and we left with the precious directions clutched in my sweaty fist.
Karen drove and I directed her. Usually with directions given over the phone like that things go wrong very quickly, but the lady at Linda's Lodge had obviously had this problem before because what she told me was clear and spot-on. We found the turn and sign exactly as she had described and a few minutes later we drove into a motel-like place, with individual units spaced down each side of a long driveway. Our room was fairly basic but it was clean and adequate. We threw together some supper from the emergency provisions we had with us and had a sound night's sleep.
[Wednesday 3 July : Chimoio-Inhassoro (Mozambique)] Our last day on the rally was one of the toughest - we had to negotiate what we'd heard was the "worst road in Southern Africa". And I can confirm that this assessment was entirely accurate. But before we reached this treacherous stretch of road we had to negotiate our way out of Chimoio, a town that proved to be far busier than we had initially realized. At one point while trying to get out of town the road suddenly changed from a single lane in each direction to a divided double carriageway, with the lane I was driving in becoming the second lane in the OPPOSITE direction. But there was no signage (at least none that I saw) and I continued blissfully onwards for a couple of hundred metres before realizing that I was driving straight into two lanes of oncoming traffic. Hooting, flashing lights and angry gesticulating followed; we had no choice but reverse backwards to where the road had forked and try to merge with the cars who were veering off to the left as we should have done.
The Put Foot Rally finish line: Inhassoro, Mozambique ...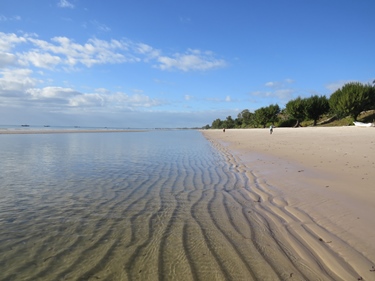 View down the beach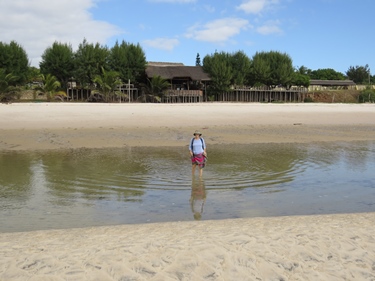 Karen in front of the Seta Hotel and Campsite
Everybody seemed to be driving quite slowly so it wasn't very difficult going backwards; I'm guessing we weren't the first people to make that mistake. It turns out there WAS a sign at the point where the road divided, but it was so small and insignificant that if I drove that way again there's a very good chance I'd do the same thing again. But all ended well and we continued onwards with no harm done. Not only that, I chalked up another first: "Drive the wrong way down a dual carriageway". How many people can make that claim?
We were on the road to Beira (Mozambique's second largest city) so there was thick traffic until we turned off at Inchope. Unfortunately, while the number of trucks and cars diminished massively, the condition of the road worsened in proportion. For nearly 200 kilometres southwards until the town of Save (pronounced "Saavay") the road simply deteriorated to kilometre after kilometre of gaping potholes connected by threads of worn tar clinging to a precarious existence. And the tar that remained was steadily disappearing under the non-stop pounding of the wheels of huge trucks and 4-wheel drive vehicles. We had to come to a complete stop many times to figure out to how get through, but the trucks that passed us in both directions barely slowed as they thundered by, their massive wheels ripping up everything in their path. It was exhausting and unnerving. We frequently pulled over to regroup and swop drivers, calming our shattered nerves with a quick jog round the car. We had thought that the potholes in Botswana and earlier in Mozambique were bad, but this "road" was something else entirely. I have never experienced anything like it before and fervently hope that I never will again.
Day 19
---
| | |
| --- | --- |
| Distance | : 425 km |
| Total | : 6 459 km |
We reached the River Save and crossed it via a creaking old bridge; a new one (Chinese-funded probably) was being built about 300 metres downstream. The town of Save was on the other side of the river, and by the time we pulled up to a trembling stop opposite a very ramshackle local eatery all my anti sugary drink sentiments had been obliterated by the ghastly road that we'd somehow managed to get through unscathed. We stepped inside the shop-cum-restaurant and ordered two Coca Colas (yes, you read correctly) from the hip and trendy local lad running the place. He nodded behind his designer shades, looking completely unfazed despite the fact that we were in all liklihood the first foreigners ever to set foot inside his shop. He popped the lids and placed the two bottles on a table, and we sat there for ten minutes, guzzling Coca Cola in a fug of stunned listlessness.
We got up to leave and out of the corner of my eye I saw the young proprietor take the empty bottles off the table and carefully place them in a crate. Nothing is wasted here, and glass bottles are valuable (we only bought the cokes because the shop had the stuff in glass bottles). Back in the car we forged onwards and to our immeasurable relief the road was immediately better. In fact, it looked like some kind of road-building experiment had been conducted over the next 20 kilometres - every kilometre or so the road surface changed from one type to another. First we had very dark and smooth tar, then a kind of ochre colour which was quite rough, then a light grey, then an almost white surface, then concrete, then very lumpy and bumpy black tar. It was weird. But at least each section was relatively pothole-free so we could increase speed and get some distance under our belts. If I had to hazard a guess, I would have said that several different road-building companies had all been given a chance to build a section of road and the government was waiting to see how each piece of construction fared over a period of time before giving the contract to rebuild the whole road to the company whose work performed the best. Good luck to them ...
Finally we reached the turnoff to Inhassoro and 15 minutes later we pulled up at the gates of the Seta Hotel and Campsite, finishing point for the Put Foot Rally. Loads of other Put Foot vehicles were there, all queueing up to have their photographs taken and receive finish bangles. Karen and I had a moment of quiet satisfaction - many people (including ourselves at times) had doubted that we would make it in our tiny Suzuki Swift hatchback, but we'd proved them all wrong. No punctures, no failures, no breakdowns and over 6450 kilometres through six African countries - team Fantastic Anti-Plastic had successfully completed the 2019 Put Foot Rally. Many teams far better equipped than us had shredded tyres, rolled (at least three teams had turned their 4-wheel drive vehicles over), ripped their undercarriage open, broken down, got stuck in sand and suffered all manner of other mishap, but Karen's reliable little bug just kept going ... what a car. Take a bow Suzuki.
We pitched our tent and headed down to the hotel bar/restaurant for the finish line dinner and party. Unfortunately, and unlike the previous two checkpoints where the food had been both plentiful and superb, the fare this time was mediocre. It was cold, there wasn't enough of it (some people didn't get food at all) and there was no vegetarian option, in fact no vegetables or salads of any kind, despite Put Foot promising that all dietary requirements would be catered for. I had a small first helping and was standing around at the counter where the food was served, hoping more would arrive from the kitchen, when a girl who appeared to be some kind of supervisor came up to me. Her eyes were unfocused and she looked drunk or stoned, perhaps both. "Can I take your plate, Donny Jepp?" she asked archly, pushing her scantily-covered bosoms out in a very unsubtle way. I was confused at the "Donny Jepp" reference, until I remembered that the checkpoint party theme was "Pirates" and I was wearing a silly stick-on moustache that made me look vaguely like the Johnny Depp character from the Pirates of the Caribbean movie series.
I tried to say that I was waiting to see if there would be more food so I wanted to hang onto my plate, but she wasn't even listening. "I like your moustache, at least it isn't red." By now she had pushed herself right up to me, uncomfortably close. What was up with her? Karen was standing nearby but this woman didn't even seem to notice her. Her suggestive innuendo then degenerated into a series of lewd references to parts of the male and female anatomy that cannot be repeated here ... I had no idea what to say, and in any case she didn't seem interested. She appeared to be the restaurant's maitre d' but she was quite clearly not sober; no wonder the meal was a disaster. Finally her addled brain seemed to realize that I was not responding to her suggestive comments in the way she wanted and she moved off to find another victim.
No more food arrived and the music was thumpingly loud, so we didn't hang around late, just long enough to hear the finish line speeches and awards ... then it was off to bed after a long and tough day.
[Thursday 4 July : Inhassoro-Muxixe (Mozambique)] After the days of driving we'd done to get to Inhassoro and the raucus Put Foot finish line party, we needed some relaxation time. We'd planned to spend two nights camping in Inhassoro, but the Seta Hotel campsite was, quite frankly, a dump. The thought of showering a second time in cold water, with blocked drains, dirty floors and broken toilets was too awful to contemplate. So we packed up and drove off, leaving quite a few hung-over Put Footers behind (although many of them had already left long before us). Instead of turning back to the main road south, we drove through Inhassoro; Hotel Estrela do Mar looked pleasant and inviting, so we went in and asked about wifi, breakfast and coffee. The menu stipulated that they could do "expresso" (as well as the usual instant muck that most restaurants in Mozambique seemed to dish up) and when quizzed they understood "espresso" and "Americano". Wifi was both free and available and the restaurant area was a pleasantly shaded semi-alfresco courtyard. We'd found our R&R (Rest and Relaxation) spot.
Day 20
---
| | |
| --- | --- |
| Distance | : 337 km |
| Total | : 6 796 km |
We commandeered a big table, ordered coffee and food and connected our various devices to their wifi; it was great to be back in contact after several days "off the grid". Then the food and coffee came, and boy was it excellent. I hadn't had real coffee for some time and it was very good. We ate and drank happily and planned the next few days of our trip - two days in Maputo then back to South Africa via St Lucia, Ballito and relatives near Ixopo.
Unfortunately we probably sat enjoying the comforts of Hotel Estrela do Mar a little too long, and thus left ourselves a fair distance to do that afternoon - Maputo was too far to manage in one day so we knew we'd have to stop over somewhere in-between. And along the way we wanted to have a look at Vilanculos, famed destination for long weekends from Johannesburg.
Vilanculos was a little disappointing - it had a nice beach admittedly, but nothing exceptional. A quick look, a few photos and we were on our way south on an excellent road. Even so, it was almost dark by the time we reached Muxixe and pulled up outside Hotel Herry. We weren't even sure it was a hotel - there were no signs, no cars and no activity apart from a brightly-lit foyer and a guy sitting behind a desk. I went inside and he confirmed that it was a hotel, he showed us a room and we took it. My tentative attempt at negotiating a better price was a dismal failure; no matter what I said, the hotel guy simply repeated the same rate with an expression of complete disinterest. They obviously weren't very concerned about whether their rooms were occupied or not ...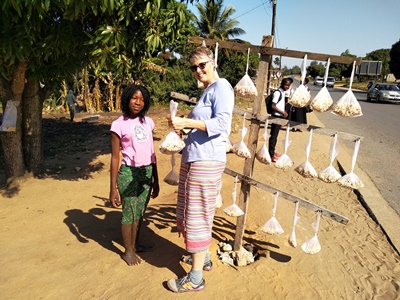 Buying cashew nuts from a roadside seller near Xai Xai, Mozambique
It was clear that the place was brand new and not even finished yet; next to the parking garage was an open area still under construction and when I looked out of the window the room next door was half plastered and unfinished. There were wires hanging out of the corridoor ceilings, waiting for lights to be connected. But our room was spotless and very comfortable, with new furnishings and an excellent shower. Who knows, maybe we were the very first people to stay in the hotel? It was a little creepy, but we both had a good night's rest on a giant bed.
[Friday 5 July : Muxixe-Maputo (Mozambique)] A lack of Mozambican cash hampered our early morning efforts to find coffee and breakfast, so we had to locate an ATM that accepted international VISA cards. Luckily Standard Bank is quite big in Mozambique and there was one just round the corner from our hotel. But after that we didn't feel like wasting more time so we just hit the road south, and eventually found coffee in the town of Chissibuca. Then we just ground through the kilometres to Maputo, mindful of the nightmarish traffic we'd enountered in Lusaka when we'd arrived there at rush hour. Luckily the road was good so we could blast up to 100 km/h between towns, and only drop to 60 km/h when we went through villages (of which there were plenty).
Day 21
---
| | |
| --- | --- |
| Distance | : 481 km |
| Total | : 7 277 km |
We hit the outskirts of Maputo at about 2:30 PM, at which point Google Maps on Karen's phone completely lost the plot. There was a sign indicating two ways to get to Maputo, one via the coast (labelled "Costa do Sol") and another with a description we could not decipher. Surrounded by traffic and with only seconds to decide, we chose the coastal route option, with Karen's phone screaming at us to make a u-turn. But this turned out to be an excellent choice - it appears as if a new road into the capital was recently opened which Google does not yet know about. It was a double carriageway all the way to the city centre and miraculously had almost no traffic on it! On both sides of the road there were vast tracts of open space interspersed with partially constructed factories, office blocks and high rise apartments; presumably this was a new area being developed and the road had been built to service it, but because the buildings weren't yet complete very few people were using the road. We had no complaints - it was plain sailing into Maputo, although the 60 km/h speed limit on an empty 4-lane highway was a little irritating.
Maputo in Mozambique ...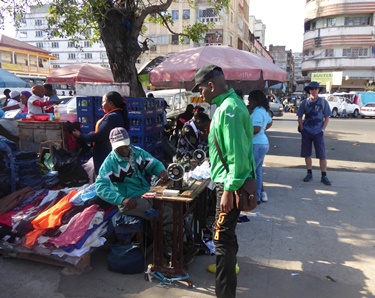 Street tailors operate their sewing machines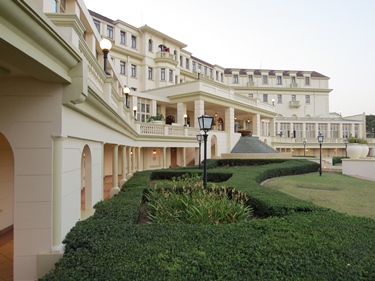 The iconic Polana Hotel - still immaculate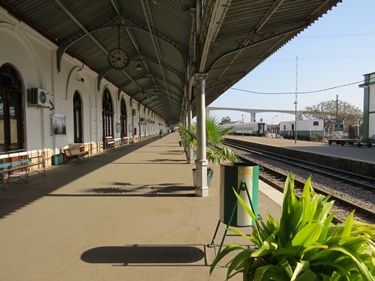 Maputo railway station - well maintained
The last section of the ride in Maputo's city centre was a little nerve-wracking, but we found the Blu Sky Hotel easily enough and moved into a very nice room on the 8'th floor. The view of the city from our wall-to-wall windows was superb, with the new suspension bridge over Maputo Bay to Katembe filling the sky to the south-west [Aside: This bridge was only completed in November 2018]. But we had no time to waste, because it was already 3:30 PM and the sun sets early this far east ... so after unpacking we headed off on foot for the famous Polana Hotel. This iconic hotel, built during the Portuguese colonial era, occupies pride of place on Maputo's seafront and has always been regarded as one of the finest hotels in Africa. We wanted to see how well it had survived the rigours of decades of war and strife in Mozambique.
Unfortunately we misread the scale on our map and the Polana Hotel proved to be quite a lot further away than we'd thought. But no worries - there are dozens of tuk tuk taxis in Maputo, so after dickering a rate with one of them (less than he wanted to get, more than we wanted to pay) he ferried us to the hotel in a couple of minutes, dodging through the tiniest of gaps between traffic-snarled cars. He dropped us outside the front door of the Polana Hotel and we walked inside with the confidence born of years of travelling the world on a budget, carrying backpacks and wearing frayed and worn clothes ... meaning we did not make eye contact with the uniformed footman at the door or the immaculately-groomed receptionists, but strode in without hesitation as if we owned the place (or at least had a room there).
Nobody stopped us so we looked around the hotel for a while then sat down in the pub/restaurant. A waiter took our order with exaggerated politeness - gin and tonic for Karen and coffee (Americano with hot milk) for me. And there we sat, in the finest and most expensive hotel in Mozambique, sipping our drinks and looking out over the sea, while millionaires spoke on cellular phones and closed business deals around us. Everything was exquisitely maintained, so it appears as if this great hotel has come through the hard times in Mozambique successfully. We enjoyed our drinks there, despite the bill coming to almost 200 South African Rand, and wish them all the very best for the future.
We debated having supper in the hotel, but the prices on the retaurant menu contained so many zeroes they made my knees tremble and my eyes water. Instead we walked a couple of blocks up the street and found a whole area of restaurants, pubs and nightclubs. A simple neighbourhood place looked inviting and was indeed a good (and far more frugal) choice. A tuk tuk back to our own hotel closed out a long but enjoyable day.
[Saturday 6 July : Maputo (Mozambique)] We walked around Maputo's city centre all morning, mightily relieved to be on foot, getting some exercise and not stuck inside the car all day. Maputo (and Mozambique in general) has a reputation for being extremely dangerous, but we did not find it any worse than some other places we'd been to and been warned about (such as Lima in Peru). Women walked about on their own, talking on fancy cellular phones, there weren't car guards on every street and people were happily going about their business. So it looked fine, but there were more security guards than you would normally expect and many of them were armed.
Day 22
---
| | |
| --- | --- |
| Distance | : 0 km |
| Total | : 7 277 km |
Parts of the city were drab and poorly-maintained. We spotted several abandoned buildings, gutted and derelict, and quite a few apartment blocks that were either very low rental or occupied by squatters. Lots of people were selling all manner of merchandise on the streets. But we also saw smart new buildings, streets that were being renovated, swanky apartment blocks and whole areas being re-developed. So it appears as if Maputo was in quite a sad state of disrepair but is slowly being improved.
That afternoon, while planning our route back to South Africa from Maputo, we discovered that the new bridge over Maputo Bay, and which shortens the trip to the South African border by hundreds of kilometres, does not exist on Google Maps. Amazingly, the software giant's digital map insisted that the only way out of Maputo to the south was the old long way round, far to the west, despite the bridge having been opened seven months before. And our printed map of Maputo showed the bridge but not the way onto it, which was off the edge of the page; we therefore had no idea which road to take. Not wanting to waste time the next morning driving around Maputo's streets, we thought we'd ask the hotel receptionist how to get onto the bridge. We went downstairs and I spread the map out on the front desk. "Can you tell me which road we must take to get onto the bridge?" I asked the receptionist. I showed her the bridge and the location of the hotel - the bridge was in the bottom LEFT corner of the map (ie. the south-west).
The receptionist looked at the map with a frown. "You go down here to this traffic circle, and then you drive onto the bridge." She pointed to a circle on the bottom RIGHT hand corner of the map, on the complete opposite side of the city from where the bridge was.
"But that's impossible - the bridge is over there." I pointed over my shoulder. "That circle is miles away."
She wafted her hand through the air with a vague gesture. "No, you go there and then you drive up and over."
What...? I was completely befuddled. What she was saying made no sense at all. How could a bridge to the WEST of the city have an on-ramp in the EAST? Karen also looked perplexed, and I was about to argue further when a guy came into the reception area from a back office. The receptionist jabbered to him in Portuguese and he answered, then he took a piece of paper and drew a schematic of the bridge with an on-ramp and an off-ramp. "This is how it is," he said. "This on-ramp joins Avenue 24 de Julho, which is this road." He indicated a major thoroughfare on the map about two blocks north of the hotel.
At last something made sense. In fact, I had guessed that Avenue 24 de Julho was the road we would have to take, so as soon as he mentioned its name I had the answer I wanted. I realized also that the receptionist could not understand the map at all and had merely guessed; perhaps she didn't have a car and had never actually driven over the bridge. The manager didn't want to embarrass her and neither did I, so I merely said "Obrigado" and we went out. It never ceases to amaze me how some educated, intelligent adults seem incapable of grasping the concept of on overhead view of an area and simply cannot translate their street level perpective into an aerial one. The first time I experienced this I thought the person was joking but since then I've realized that the inability to read maps is a real affliction.

Maputo, Mozambique: The Katembe bridge rises above the city centre (above)
Samora Machel (Mozambique's first president) is immortalized in bronze in Praça da Independência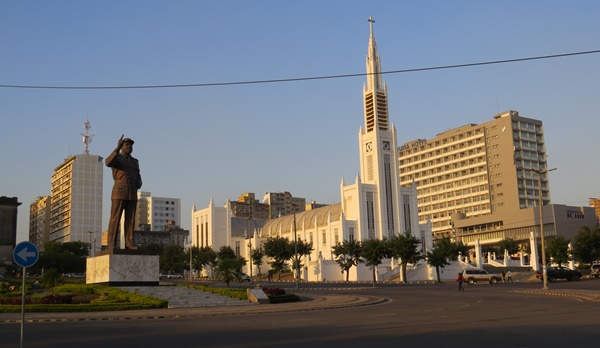 That evening we walked a couple of blocks up from our hotel to the aforementioned Avenue 24 de Julho. Several restaurant options were visible; we chose Cafe Marmara, a place that looked both homely and popular with locals. The Portuguese-speaking waitress assessed us instantly and gave us two English menus ... or at least menus that had been loosely translated from Portuguese into something that bore a certain vague resemblance to English. Actually a rigourous and concentrated scrutiny of the menu was required before a tenuous English connection was revealed; the only way you could tell for sure that what you were reading was English was the fact that there was a small Union Jack printed in the top right hand corner. Many of the items on the menu were so baffling we had absolutely no idea what they were. You could, for example, order "Peru with rice", a "nail" or even a "tee hat". For serious coffee drinkers who did not want to be kept awake they offered the mind-boggling option of a "gallon of decaffeinated coffee". I was tempted to order a tee hat with a nail on the side just to see what would arrive, but in the end we resorted to asking the waitress for a Portuguese menu to help us understand the meaning of the English one.
Linguistic confusion aside, the food was very good and we enjoyed sitting at a table on the sidewalk, watching people going past. The restaurant was busy and did a lively trade while we were there; it was Saturday night after all.
[Sunday 7 July : Maputo (Mozambique)-St Lucia (South Africa)] We returned to South Africa today, via a border post as far away from the one we used to leave as it is possible to get - Kosi Bay in northern KwaZulu-Natal. But actually leaving Maputo in Mozambique turned out to be rather more difficult than we'd thought. The hotel we'd been staying in did not have an underground parking garage or a separate parking lot, but just used a demarcated area of the wide pavement outside their front door for guest parking. Cars were crammed in three deep, and when we'd been directed into the next available spot two days before I'd wondered how people got their cars out again. This morning we found out - they don't. If you're parked in (as we were) you have to go to hotel reception and they call the person (or persons) whose car(s) are blocking you in and ask them to move.
Day 23
---
| | |
| --- | --- |
| Distance | : 394 km |
| Total | : 7 671 km |
Sounds fine in principle, but what if it is early morning (8 AM) on a Sunday and you want to leave quickly because you have 400 kilometres to drive and a border to cross? Answer - you wait, half an hour in our case. That is how long it took from the time we asked to get our car out before somebody ambled down and moved their car from behind us. And he was the second person that was asked; the person whose car was in front of us simply did not come down at all, preferring to stay in bed and leave us fuming on the sidewalk.
But finally we managed to get out and headed up and across town on empty streets, looking for the way onto the new bridge over Maputo Bay. It was easy to find, exactly as the guy at the hotel had described the previous day (and despite Google Maps denying all knowledge of this bridge's existence). Amazingly, the bridge took less than FIVE YEARS to complete (construction started in 2014 and finished in 2018), which suggests Chinese involvement ... but it is certainly an impressive piece of engineering, with traditional concrete supports holding up the sides and a raised middle kept in place by suspension cables. The middle is higher to allow the passage of large ships underneath, because the bridge was built across the narrowest part of Maputo Bay and Maputo harbour is well beyond that point.
The bridge was impressive and afforded us a splendid final view of Maputo. The road south on the other side was equally good and we made fast time towards the South African border. For part of the way the road went through the Maputo Special Reserve (formerly called the Maputo Elephant Reserve) but no tuskers, or wildlife of any kind, was in evidence. Just before the border we turned off to Ponta do Ouro, a beach resort much favoured as a weekend destination by South Africans. And indeed, the whole town seemed to be full of South Africans, from shop owners to restaurant staff to the beer-braai-rugby types who were churning up the beach in their 4-wheel drive vehicles or sitting in coffee shops with smart phones and a superior attitude.
The border crossing into South Africa at Kosi Bay was quick and easy - nobody asked us for any car documents, either on the Mozambique side or the South African side. So much for the supposed new security checks designed to eliminate cross-border trade in stolen vehicles ... But it was good to be back in our home country, albeit several thousand kilometres from home itself. Our phones picked up a signal for the first time in weeks and we enjoyed the high quality South African-built road beneath our wheels; after seeing the cheap and nasty new roads being built by the Chinese in Mozambique I'll never again complain about South African roads.
Howick Falls, South Africa
I was expecting northern KwaZulu-Natal to be lush and tropical, but it wasn't like that at all. It was mostly drab, with a lot of sugar cane and small settlements everywhere. We drove nearly two hundred kilometres south on a minor road and near Hluhluwe joined the N2, the major national highway from Cape Town to Durban along South Africa's east coast. Eventually we turned off to the St Lucia Wetland Park, a world heritage site. St Lucia town itself was not much more than a road lined with hotels, guest houses and restaurants; at the end of town we checked into a comfortable rondavel in thick forest at Lake St Lucia Lodge.
[Monday 8 July : St Lucia-Ballito (South Africa)] We were up early and went for a long walk around St Lucia town, along the edge of the estuary and to the main beach. Unfortunately the St Lucia estuary has been closed off from the sea for the last few years - the mouth became progessively more silted up over time and now it seems to be permanent. The estuary is thus no longer tidal but fresh water and the edges are completely overgrown by reeds that were previously kept in check by the regular surge of sea water. So even at the edge of the water you can't see anything because the reeds are head high and thick. But the walk was very enjoyable, through lush sub-tropical vegetation. We saw several small brown antelope which we couldn't identify, obviously well acquainted with humans because they weren't very alarmed when they saw us and disappeared into the bush without haste as we approached.
Day 24
---
| | |
| --- | --- |
| Distance | : 223 km |
| Total | : 7 894 km |
St Lucia's main beach is magnificent, a huge expanse of pure white sand washed by warm and gentle Indian Ocean waves. People were swimming in the sea, even at 8 AM in mid-winter - an almost unimaginable activity in the icy water around Cape Town in July.
After packing up we debated whether to head up to Cape Vidal at the northern tip of the St Lucia Wetlands Park, but it would have meant another 64 kilometres of driving on a slow road and we'd had enough of that by now; instead we turned south on the busy N2 national road. We had a brief and pleasant picnic lunch at the Tugela River mouth and spent the night with one of Karen's friends in Ballito.
[Tuesday 9 July : Ballito-Donnybrook (South Africa)] We had some time to kill before we were expected at Karen's uncle's farm near Ixopo, so we detoured to Howick Falls, followed by the Nelson Mandela Capture Site monument and museum. The latter is an odd sculpture next to the R103 road north of Howick, at the exact spot where Nelson Mandela was arrested in August 1962. Back then this road was the main route between Durban and Johannesburg; Mandela had been travelling to Johannesburg for a meeting, disguised as a driver because he was a fugitive from South Africa's Apartheid government. But somebody had tipped the police off or he was recognized because the car he was driving was stopped, he was arrested and shortly after that he was convicted of treason and sentenced to life imprisonment. Mandela spent 27 years in prison before being released in February 1990, and served as South Africa's first democratically elected president from 1994 to 1999.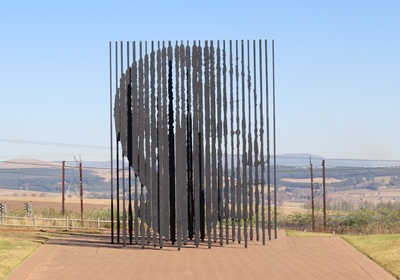 Nelson Mandela capture monument, South Africa
The actual monument to Mandela is a jumble of metal poles embedded in concrete. From the wrong angle they look just like a lot of random bits of iron and you wonder what they're for, but if you walk down to the monument via a sloping brick pathway, at a certain point the poles line up and suddenly Mandela's face appears. The edges of the poles have been cut out in such a way that at a certain angle and from a certain direction the light and shadows form an image af the famous man; it's uncanny. Along the brick pathway are metal boards depicting major milestones and events in Mandela's life, right up to his death in 2013.
Day 25
---
| | |
| --- | --- |
| Distance | : 292 km |
| Total | : 8 186 km |
Just down the road from the Mandela capture site we found Thokan's Supply Store, the very place that Mandela had stopped at shortly before he was arrested in 1962. It's still operating as a take away, although the building is now brick not wooden. Next door to Thokan's was an off-beat coffee shop and roastery called Steampunk Coffee; we'd heard about this place and wanted to try their coffee. And their coffee was indeed very good, but what made it even better was that they do not supply take away coffee cups (these are an environmental disaster) and they had the most amazing slogan scrawled on a blackboard:
Google is censoring your info feed. Don't be naive. Boycott Google!
Steampunk Coffee Roastery, South Africa
Incredible! So there ARE others (like me) who do not idolize Google but regard the software giant as a monopolistic corporate monster intent on taking over the internet, destroying all competition and having access to and control of everything that happens in the connected digital world. Well done Steampunk! Your coffee is excellent as are your IT sentiments ... [Aside: To read more about why Google is bad for your health, see my Anti-Google Blog].
[Wednesday 10 July : Donnybrook (South Africa)] This was a day spent relaxing, with NO DRIVING AT ALL. What a relief. But we still have to get back to Cape Town, a distance of about 1600 kilometres ...
Day 27
---
| | |
| --- | --- |
| Distance | : 550 km |
| Total | : 8 736 km |
[Thursday 11 July : Donnybrook-Dordrecht (South Africa)] Back on the road again after a day of doing very little. Rather than following one of the standard two routes back to Cape Town (either inland on the N1 via Bloemfontein or coastal on the N2 via Port Elizabeth), we decided to take the lesser-travelled back roads - south and west via Underberg, Kokstad, Matatiele, Maclear, Elliot and Dordrecht. The views of the Drakensberg were spectacular for most of the day as we twisted and turned our way through the foothills. The road was generally good and traffic was minimal, a major change from the hectic freeways we'd been on in northern KwaZulu Natal a few days previously.
We reached Dordrecht at about 4 PM and debated going on to Molteno, but we'd had enough and by chance discovered a superb guest house adjoining the Caltex garage in the centre of town - The Forecourt Bed & Breakfast. Everything in our room was brand new (the wall plugs were the new dual type, containing both an old South African 3-pin triangular socket plus a new standard 3-pin socket, which has two pins as per European sockets as well as a third "neutral" pin in the middle), the bed was huge and comfortable and the shower was superb. Unfortunately Dordrecht appeared not have a single restaurant in the whole of town, at least none that were open after 5 PM; we walked down the main street and some side streets and found only closed shops, houses and vacant lots. One general dealer was open and offered us dodgy-looking pies to take away, but we declined and escaped with our digestive systems intact. In the end we were forced to eat tinned tuna and fruit in our room for supper.
A fine old country hotel in Middelburg, South Africa
[Friday 12 July : Dordrecht-Graaff Reinet (South Africa)] Today was probably the most relaxed day we've had on this trip so far - we had no pressure to drive a massive distance and the roads were excellent, so we woke up late and drank coffee in bed while watching Wimbledon tennis and African Cup of Nations football highlights on TV. Then we set off from Dordrecht, west through Molteno and Steynsburg and reached Middelburg at midday. The road into town was appalling, so littered with potholes it reminded us of Mozambique, and I wondered what kind of a wreck of a town Middelburg was. But we'd entered town via a minor back route, and once we reached the main road things looked better. Even so, it took some effort to find a place to have lunch - Picadilli's, a tea garden-cum-coffee shop behind a store selling all kinds of bric-a-brac.
Day 28
---
| | |
| --- | --- |
| Distance | : 330 km |
| Total | : 9 066 km |
After a superb lunch we continued on to Graaff-Reinet and by 2:30 PM we'd checked into Obesa Lodge, a block east of the main drag that leads up to the grand old church at the top of town. Supper was an absolutely delicious repast at Pioneers Restaurant - Karen and I had lamb chops (a Karoo speciality) and a plate of mixed roast vegetables. The meal was truly a taste sensation, so if you're ever in Graaff-Reinet and want an excellent, authentic Karoo meal, try Pioneers Restaurant in Parsonage Street; you won't be disappointed.
[Saturday 13 July 2019 : Graaff Reinet-Cape Town (South Africa)] An early start found us at the start of the Mountain Drive parkrun just outside Graaff-Reinet, shivering in the mist. I hadn't run for four weeks (apart from a gentle jog with Karen's cousin on his farm in KwaZulu-Natal), so the 5 kilometre route on a very hilly course was tough; I could not even manage to finish in less than 24 minutes! But I still came third, largely because there were only 64 runners in total. The "Male 55-59" record at this parkrun was only 25:34 so I beat that easily and took the record for my age category. Unfortunately when I checked the results later in the day I found that the timers had fouled up and recorded my time as 25:56, more than a minute slower than my actual, but very pedestrian, time of 24:40 ... so I DIDN'T get credit for my age category record. Very irritating - I'm not likely to get back to Graaff-Reinet anytime soon to rectify their error [Aside: The Mountain Drive parkrun organizers fixed the incorrect times a few days later, so I did eventually take my age category record].
This is a summary of our trip round Southern Africa:
Country
Days
Distance
South Africa
8
3 097
Namibia
6
1 984
Botswana
3
1 040
Zambia
4
1 199
Malawi
2
543
Mozambique
6
1 916

---

Total
29
9 779
Day 29
---
| | |
| --- | --- |
| Distance | : 713 km |
| Total | : 9 779 km |
After coffee and apfel strudel at a German bakery in town we hit the road for the long haul back to Cape Town. The road west to Beaufort West was beautiful, smooth and ruler-straight for most of the way, and for the entire 208 kilometres we did not see a single car ahead of us! Two cars overtook us and about five came past the other way; the landscape was so empty and vast it felt like Namibia. After Beaufort West we joined the busy N1, the main route between the Western Cape and Gauteng and it was much slower - there were endless streams of trucks trundling along at 80 or 100 km/h.
We finally arrived home at 7:45 PM, after 29 days round six Southern African countries and 9779 kilometres of driving. It was an epic trip, but very, VERY tiring - the time was too short and the distances too long. So we won't be doing it again in 2020, despite many of the other Put Foot teams having already registered for next year. Good luck to them ...
---
© Paul Kilfoil, 2023