Paul Kilfoil's World of Travel, Technology & Sport
---
China : June-July 2012
Map © Nations Online Project (

info

)

China


Capital
Area
Population
Languages
Currency

Beijing (formerly Peking)
9 596 960 km2
1 420 000 000
Mandarin (plus many others)
Renminbi (RMB), referred to as "Yuan"

The People's Republic of China (PRC), one of the few remaining Communist countries in the world, comprises 22 provinces, 5 autonomous regions and 2 special administrative regions (the formerly European-controlled colonies of Hong Kong and Macau).

The island of Taiwan, separately independent since 1949 as the Republic of China (ROC) and with a democratically-elected government, is NOT part of the PRC; however, the PRC does not recognize Taiwan as being independent and claims it as its 23rd province. Tibet became one of China's "autonomous regions" when it was invaded and taken over by Chinese troops in 1951. Both Taiwan and Tibet are ongoing disputes that show no signs of being resolved anytime soon.

China's landscape is vast and diverse, with forest steppes and the Gobi and Taklamakan deserts occupying the arid north and northwest, and subtropical forests prevalent in the wetter south. Western China is rugged and elevated, with the Himalaya, Karakoram, Pamir and Tian Shan mountain ranges containing many of the highest peaks on the planet - Mount Everest (the world's highest point) lies on the Tibet–Nepal border and K2 (the second-highest peak) is on China's border with Pakistan.
This page describes a trip by Paul Kilfoil and
Karen Gray-Kilfoil
to China in 2012.
Check out my
travelogues
page for details of other trips we've done.
If you enjoyed reading this, please send me an email. All correspondence is appreciated!
The story outlined here is now available as a book. Go to
Independent Books
to find out more.
You might also like to read my blogs about the difficulties of travelling in China and our experiences on Chinese trains.
[Friday 15 June 2012 : Cape Town, South Africa] We had an hour or so to kill before our early evening flight to Johannesburg, so we visited the very exclusive SLOW lounge at Cape Town International Airport. It was pretty decadent - a vast array of buffet-style hot and cold food, coffee, tea or any other drink you like and big-screen TV sets showing various international news channels. It certainly beat sitting in a hard chair in the airport concourse ... but China was calling, so we tore ourselves away with some difficulty and boarded our South African Airways flight to Johannesburg, where we went through Immigration before boarding another SAA plane to Beijing in China.
[Saturday 16 June : Beijing, China] A long, tiring day in a cramped aeroplane seat - SAA's direct flight to Beijing left Johannesburg just after midnight and got into Beijing at 9:30 PM that night; taking into account the six hour time difference we spent over fifteen hours in the air (seventeen hours if you include the Cape Town leg of our trip). So we walked through the sparkling new international arrivals terminal at Beijing Capital Airport with a huge feeling of relief. Customs and Immigration was easy - no questions, no problems, just "Welcome to China". If only all countries welcomed foreign tourists like that.
As if that wasn't enough, we had another three hour flight to Lijiang at 7:45 AM the next morning (on the map to the right, Lijiang is in the south-west of China, just to the north of Kunming). It seemed crazy to try and get into Beijing late at night only to have to get back to the airport early the next morning, so we looked for the "Rooms by the Hour" hotel in the airport and checked in until 5:30 AM. A quick shower and we hit the sack in a soulless, windowless cubicle.
[Sunday 17 June : Lijiang, China] The phone in our room buzzed at 4:30 AM and in a state worse than China we packed our stuff and stumbled out onto the airport concourse again. Even at that hour there were people around. Unfortunately our local flight to Lijiang was leaving from a different terminal, which meant a twenty minute shuttle bus ride through Beijing's surprizingly deserted streets; I guess Sunday morning is quiet even in the heart of the world's biggest Communist country.
Another three and a half hours on a Capital Airlines plane brought us to Lijiang, a small town in the sub-tropical south-west of China. Our guest house driver was waiting for us at the airport and she drove us (excruciatingly slowly) through green and hilly countryside, a pleasant trip that acquainted us for the first time with the curious Chinese habit of hooting every time you overtake another vehicle. Cars aren't permitted in Lijiang's old town so we had to walk some distance through a maze of twisting, cobbled streets before finally getting to the Zen Garden Hotel; there is not one chance in a million we would ever have found the place if it wasn't for the fact that the guest house sent somebody on foot to meet us at the point where cars can go no further. Delayed jet lag and lack of sleep caught up with me and I collapsed onto the bed as soon as we'd checked in.
Later on I felt better and we went out for our first real, authentic Chinese meal, in a restaurant round the corner. It was typical of almost every Chinese meal we were to have on this trip - hot, spicy and unidentifiable ... but nonetheless extremely delicious.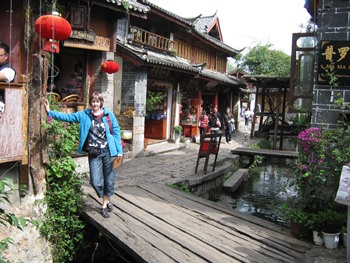 Karen posing in a typical Lijiang street
[Monday 18 June : Lijiang, China] After a fantastic breakfast and pretty good coffee (amazingly, given that China is a nation of tea-drinkers), we headed out to explore Lijiang. This is a World Heritage Site and is consequently overrun by tourists, but even the crowds of gawping Chinese (there are very few Westerners here) cannot detract from the beauty of the old town. Winding cobblestone streets, criss-crossed by canals flowing with clear water, twist their way between a jumble of old Naxi style buildings.
After supper that evening we went to the daily performance of the Naxi Orchestra, a collection of (mostly very old) men playing traditional Naxi music ... which to my tone deaf ears was just a lot of wailing and mournful sounds. It might have been quite enjoyable if the man who started the orchestra hadn't come onto the stage afterwards and delivered an endless speech, listening to which was akin to several hours of painful root canal work. Being the only Westerners there, we felt it would be rude to get up and leave while he was holding forth, so we were forced to stifle our yawns and listen.
[Tuesday 19 June : Lijiang, China] We strolled through Lijiang, past the old water wheels at the northern entrance to the old town and into Black Dragon Pool Park. A stiff slog up hundreds of stone steps brought us to a crumbling pagoda at the top of the hill in the middle of the park, from where there are wonderful views across Lijiang and the surrounding countryside. On the way back we took a detour into the new town, as ugly a collection of concrete blocks as you are likely to see, and after some difficulty found the statue of Chairman Mao. Not surprizingly it is a huge edifice in a grand square, with the old dictator's right arm raised pompously skywards. Unlike Stalin in Russia, Mao still seems to be in favour here.
On our last night in Lijiang we decided to try N's Kitchen, a Western-style restaurant recommended by several guide books as having good food and lots of English-language travel information. We found it at the top of a steep flight of very rickety stairs and sat at a table overlooking one of the myriad small squares in Lijiang, at the centre of which was a gnarled old tree with a shady canopy. It was a great spot for an early supper, but unfortunately the food was pretty ordinary and we decided there and then that we would not eat at Western restaurants in China again.
Lijiang in Yunnan Province ...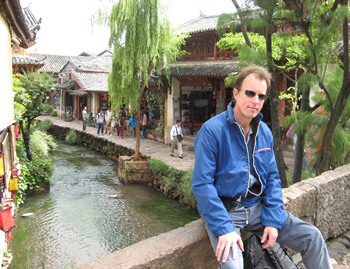 Paul at one of the many stone bridges
Karen taking a break in a restful square
The elusive statue of Chairman Mao
The place was full of foreign backpackers, most of whom were tapping away at their laptops, tablets or phones via the restaurant's free wi-fi connection. The pick of the bunch was a guy in his late thirties with long, stringy hair down his back who did not take his eyes off his laptop the whole time we were there; he reminded us of the characters you see in South-East Asia, people who have been travelling for so long on so little money, always half a step ahead of the Immigration Police, that they become "travel hobos". This chap packed up his stuff shortly before we left and it was fascinating to watch him. He didn't have a proper bag for his laptop - instead he hauled out a big roll of bubble wrap, wrapped his computer up in it and put the bubble-wrapped laptop in a plastic carry bag. He drained the last few drops from his glass (he had ordered nothing except one drink), put an ancient and faded backpack on his shoulders and walked out with a carry bag on each arm.
Given how tightly he wrapped his computer in air-tight plastic bubble wrap, I doubt it will last very long - laptops get quite hot after prolonged use and that heat has to dissipate somewhere after you shut down. If the computer is wrapped in something air-tight (like plastic) the heat will condense into moisture on the inside, and if there's one thing that electronic components do not like it is water.
[Wednesday 20 June : Qiaotou, China] We checked out of our Lijiang hotel and walked through the old town to the nearest "car" road. Still unsure of ourselves in this strange country, we'd asked one of the hotel staff to go with us and help us hail a taxi to the bus station. That turned out to be pretty simple, and at the bus station we boarded the 9:30 AM bus to Shangri-La via Qiaotou, a harrowing three hour drive on an atrocious road, mostly because a huge, ruler-straight 4-lane freeway was being built across, over and through the mountains and valleys around Lijiang. The number of massive concrete arches for the new road we saw was incredible, and was a fine example of how any construction project is tackled in China - with huge resources, absolute dedication and total disregard for the environment.
The bus eventually stopped in the small village of Qiaotou. The driver's assistant came to us and said something we couldn't understand, but we gathered that he was telling us that we were at Qiaotou and we should get off. But he wouldn't let us get up and we couldn't figure out what was going on. He kept yammering at us in Chinese, and although I looked around at the other Chinese passengers, nobody moved or said a word. There was complete silence in the bus as the chap looked at us expectantly. In desperation I said "Wo bu dong" (which means "I don't understand"), at which point the entire bus exploded in guffaws of laughter. The inscrutable Chinese passengers had obviously been following the entire exchange intently, wondering what these idiotic Westerners would say, and I must have responded in a way they didn't expect. At any rate, my "wo bu dong" reply broke the ice, because a young chap in the seat in front of us turned round and explained that the driver's assistant needed to take our bus tickets - the bus we were on was going all the way to Shangri-La, some way beyond Qiaotou, and because we were getting off early and not going to the end they needed to be able to prove that the two "missing" passengers had indeed been on the bus (apparently we were the only ones getting off in Qiaotou).
There were smiles all round as I handed over our used tickets and we climbed off the bus with a chorus of "Zai jian" (meaning "goodbye") from the other passengers - suddenly we were all best friends, simply because I'd been able to tell the driver's assistant that I didn't understand him. I guess they expected us not to be able to say anything in Chinese at all ... strange, but it was fine example of the massive cultural difference between Westerners and Chinese.
It was drizzling in Qiaotou as we walked up the road to the entrance to Tiger Leaping Gorge, where we were greeted by bad news - because of the rain (and consequent danger of landslides), the road and hiking trail through the gorge was closed. "Maybe tomorrow, if it stops raining" we were told. The officials would not budge, even though there were fourteen other hikers also wanting to walk the Tiger Leaping Gorge trail. So we trudged gloomily back to Qiaotou and found a room for the night in an eerily-empty hotel; we walked around the hotel for ten minutes before we finally found a cleaner who checked us in. Actually, I think she just gave us a room key and pocketed the cash - no forms were filled in and she didn't check our passports (as hotels are required to do in China when foreign guests check in). That night I lay awake listening to the rain dripping past the window and contemplating the depressing prospect of not being allowed into the gorge again the next day.
Aside : "Tiger Leaping Gorge" is the name of a deep ravine gouged through the foothills of the Himalayas by the Yangtze river. It is so named because legend has it that a tiger once escaped its hunters by jumping across the foaming waters of the river at the narrowest point of the gorge.
Tiger Leaping Gorge ...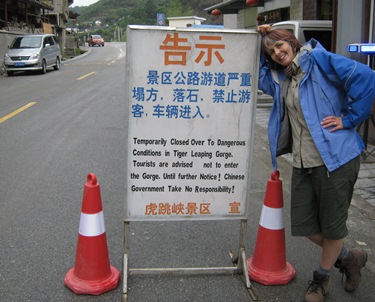 (Day 1) Closed due to bad weather
(Day 2) On the trail, with the Yangtze River far below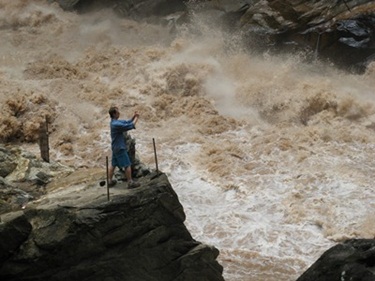 (Day 3) The power of the Yangtze River at Tiger Leaping Rock
(Day 4) The road between Qiaotou and Walnut Garden,
blocked by a landslide
[Thursday 21 June : Bendiwan (Tiger Leaping Gorge), China] Incredible! In the morning the skies were leaden grey and it was still drizzling slightly, so without much hope we walked round to the gorge entrance and were amazed to be told that it was open. We bought tickets (65 Yuan each) and scuttled through the checkpoint as fast as we could before they could change their minds.
For the rest of the day we walked up onto the Tiger Leaping Gorge high trail in rain or heavy overcast conditions, but because this is a sub-tropical area it was never very cold. And every couple of hours we stopped at a tea house for tea and some delicious Chinese food. The toughest part was the so-called "28 Bends" where the path goes straight up the mountain in a series of zig-zags. Except there aren't 28 bends but 44 (we counted them), and it was with much relief that we reached the highest point, 2670 metres (8760 feet) above sea-level. But the magnificent views of the Yangtze river and the soaring peaks on either side (well over 4000 metres high) more than made up for the hard slog.
We spent the night in the Halfway House Guest House in Bendiwan village, a superbly-sited place with fabulous views of the gorge and an impressive exterior; unfortunately the same cannot be said for the rest of our experience there. Our room was dirty, the food was mediocre and the staff were surly and unpleasant - very different from the wonderful hospitality we received from the tea-houses we stopped at en-route. The problem is that Halfway House is the only guest house in Bendiwan and thus has a total monopoly on hikers walking through needing somewhere to stay.
A minor (and still unsolved) mystery was that NOT ONE of the other fourteen hikers we'd met at the Tiger Leaping Gorge entrance the previous day was at Halfway House. Where did they all go? As far as we could tell there was only one place to stay at Halfway House; we were at it and met or saw everybody who was there that night. Did the others start walking before us and go further? Or were they so far behind us that they stayed overnight at one of the guest houses we stopped at for tea? That seems unlikely - we walked very slowly and stopped for tea often, so anybody who started later than we did would surely have overtaken us. Or did they all give up and go back to Qiaotou? Surely at least some of them would have tried to get in to the gorge the next day as we did? Very strange, and to this day I can't figure out what happened.
[Friday 22 June : Walnut Garden (Tiger Leaping Gorge), China] In the morning we handed our room key to the guest house owner and told him we weren't staying for breakfast but would walk on to the next place. This put his nose seriously out of joint; I guess we'd insulted him. No matter, he was a cretin and his guest house a dump. In fact, if anybody reading this is thinking of hiking in Tiger Leaping Gorge I would recommend most strongly that you do not stay at Halfway House Guest House.
Unfortunately the next tea house was closed and before we knew it we were on the steep, knee-jarring descent from the high trail down to the lower road. We came out onto the main road, had a bite to eat at Tina's guest house then descended via a series of stone steps and two iron ladders to the bottom of the gorge. Here we found the actual "Tiger Leaping Rock", the one from which the tiger was reputed to have launched himself across the river. It seems impossible though - the river is a roaring, foaming torrent and is channelled through a narrow gap that nonetheless looks too wide for anything to jump across.
Then it was on the trail again, this time via a path cut into the vertical cliff face. It was incredible - sheer cliffs above and below and the mighty Yangtze river pounding through at the bottom. Eventually the ravine opened out and the path (inevitably) veered up again; at about 3:30 PM we walked exhausted into Walnut Garden village, the biggest village en-route and as far as we had decided to walk (the last section of the trail, to the town of Daju, is mostly along a busy tarred road and isn't very pleasant).
We checked in for the night at Woody's guest house (or Chateau de Woody as it is rather grandly called) and received quite a shock - the owner told us that there had been a major rock fall during the night and the road between Walnut Garden and Qiaotou was blocked off and closed. It was impossible to get back to Qiaotou. Now what? We had to get back - we had a hotel booking in Lijiang on Saturday and a flight to catch to Chengdu in Sichuan on Sunday morning. This was a serious problem, but in the meantime we relaxed at Woody's, a most fantastic place and quite the opposite of Halfway House. We had a spotless room, a steaming hot shower and the food was excellent, served on a shaded terrace overlooking the majesty of the gorge and surrounded by high mountain peaks.
We seemed to be forever puzzled by disappearing hikers, because there were no other hikers in Walnut Garden - we were the only people staying at Woody's and the other two guest houses in the village were completely empty. However, Halfway House guest house the previous night had been bursting at the seams with hikers. Where did they all go? Did they walk back the other way (to Qiaotou) from Halfway House? How did they know about the closed road? Did the Halfway House owner tell everybody about it in the morning but not us because we decided not to eat his crummy breakfast? Very strange place, Tiger Leaping Gorge - both days we were there people seemed to disappear without trace and we could never figure out what happened to them.
[Saturday 23 June : Lijiang, China] In the morning we learnt that the Chinese always make a plan, so despite the rock fall and closed road we did manage to get back to Lijiang after all. Woody's guest house gave us a lift to the rock fall, we clambered over the pile of rocks (scary stuff, lots of them were quite loose) and got into a taxi that the guest house had called on the other side. Of course it wasn't as simple as that - the taxi was a decrepit wreck of a tiny minibus and it broke down before reaching Qiaotou. The driver and his buddy tinkered with the engine, poured water into the radiator and got it going again just when we started to think we'd have to walk the last five kilometres. Back in Qiaotou we dickered with a few shared taxi drivers and easily found a lift back to Lijiang, crammed into a tiny minibus with five other Chinese passengers plus the driver.
It was a short stroll from the minibus terminus in Lijiang to the old town; our hotel welcomed us back like long-lost relatives and put us up in the same room that we'd had before.
[Sunday 24 June : Chengdu, China] An early start found us at Lijiang airport (again), this time for a short one hour flight north to Chengdu. Flying was a lot easier than the train, which (due to the mountains around Lijiang) would have involved a tedious journey south to Kunming then another train north, taking close to 24 hours in total [Aside : Chengdu is a moderately-sized city in China's Sichuan province. But "moderate" is a relative term when used in the context of China's 1.3 billion+ population - over 8 million people live in Chengdu and it is bigger than Johannesburg].
Bus number 300 took us from Chengdu airport through the clogged streets of Chengdu city centre to the inner ring road and Wenshu Yuan, a Buddhist temple dedicated to Wenshu (the incarnation of Wisdom). It's quite a big place, with extensive grounds and a slender 11-storey pagoda between two statues of giant terrapins. There are hundreds of little terrapins in the ponds of the temple gardens, and in the street outside vendors sell terrapins in drawstring sacks for people to buy then release in a pond inside; no doubt they catch them again later and sell them over the next day. But it isn't a bad idea, and being Buddhists you can be reasonably sure the reptiles won't be eaten (Buddhists are vegetarians and practice a "no kill" policy, at least in theory).
From Wenshu Yuan we walked to Sim's Cosy Guest House, a place that had been recommended to us by other travellers. Sim's was full of Western backpackers and was indeed an excellent place to stay, with loads of travel information, free wi-fi and (best of all) it was completely smoke-free. The Chinese tend to smoke everywhere, even next to "No Smoking" signs, so it was a welcome relief to stay in a place where smoking wasn't allowed and the rule was actually enforced.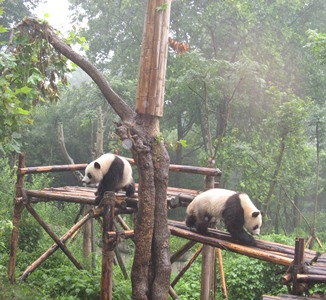 Giant pandas frolic in the rain, Chengdu
[Monday 25 June : Chengdu, China] Incessant rain greeted us as we rolled out of bed very early and caught a bus to the Giant Panda Breeding Research Centre in the northern suburbs of Chengdu. The bus from the city terminated at a busy station way out of town, and rather than take another bus we opted to hire a tuk-tuk from there. Bad choice - both the driver and his machine were decrepit wrecks, and about two kilometres from the panda centre the tuk-tuk's engine seized and we came to a halt on a busy 4-lane road with no pavement. The driver could not get his contraption going again so we had to walk the rest of the way in the pouring rain with buses, trucks and cars blasting past us mere inches away. What a lot of fun that was.
Pandas are endemic to the region around Chengdu and the research centre was established in an attempt to breed these endangered creatures in captivity; to date more than one hundred pandas have been born there. The place is spotlessly clean and extremely well maintained, with acres of woodland, trees and paths threading their way between the various panda enclosures. Unfortunately the rain did not stop at all and there is very little shelter, so we got soaked. But the experience was well worth it and we saw several pandas sleeping, walking around and playing in the trees. In fact, pandas prefer the cold and in hot weather they just lie around and sleep, so the chilly rain was to our advantage - quite a few of them were fairly active, walking around and climbing trees in a lumbering, clumsy sort of way. No cubs were visible, but we did see two sub-adults. The breeding centre also has several red pandas, a completely different species from the giant panda, and we saw a few of these. Red pandas are small fox-like creatures, reddish-brown in colour. They aren't endangered to the same extent as the giant panda and share the "panda" name by accident and not for any sound scientific reason.
Dafo (the big Buddha)
In 713 AD a Buddhist monk called Haitong was inspired to carve a giant Buddha out of the cliffs above the confluence of three rivers (the Qingyi, Min and Dadu) near the settlement of Leshan. This was a notoriously dangerous spot and the rubble produced during construction was used to fill in shoals below the cliffs in an attempt to make the waters safer. The project took ninety years to complete and to this day the statue remains the largest Buddhist sculpture in the world. Dafo (as the statue is called) is 71 metres tall, his ears are 7 metres long and his half-lidded eyes are 10 metres wide. Several other temples were later built in the surrounding area.
Wet and cold, we sought refuge in the restaurant and slurped down a plate of egg and mifan (rice) each while watching an educational video about pandas. After a while the rain eased off; rather than risking a tuk-tuk again we returned to our guest house by bus the whole way (which was actually a lot easier and cheaper - there is a bus stop directly outside the Panda centre's main gate).
[Tuesday 26 June : Chengdu, China] Another long day. This time we visited Leshan, a town about 180 kilometres south of Chengdu. Leshan's claim to fame is that the world's largest Buddhist statue is nearby - Dafo, a 71-metre tall Buddha that was carved out of the sandstone cliffs alongside the river more than 1200 years ago. It would have been quite a lot of effort to get there by public transport, but luckily we met a Dutch couple in our guest house who also wanted to see Dafo so we clubbed together and hired a car with a Chinese driver to take us (arranged by the guest house). The drive there was surprizingly pleasant, through very un-Chinese countryside; lots of thick forests and very little cultivation.
Dafo is certainly impressive. There is a viewing platform above his head where you can look down on the statue and also a steep, narrow staircase cut into the cliff face alongside that winds down to the bottom, allowing you to grasp the sheer size of the thing. Of course, as is always the case in China, there were crowds of jostling people taking photographs of Dafo from every possible angle. And, inevitably, it was raining, but we still strolled around the park surrounding Dafo for a few hours. It's a huge area containing a number of other Buddhist sights, not all of which we managed to see. But the demonic statue of Haitong was worth a look, as was the incredibly scenic arched stone bridge leading to Wuyou temple.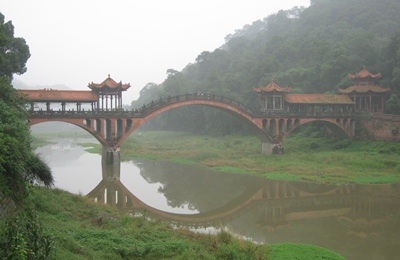 The bridge leading to Wuyou temple, Leshan
The ride back to Chengdu was fine until we hit the outskirts of the city. Then it was total gridlock, first gear bumper-to bumper traffic for nearly two hours. We may have been sitting in the back and not driving, but it was still psychologically exhausting and when we finally arrived back at our guest house all we could do was collapse on the bed.
[Wednesday 27 June : Xiahe, China] The alarm clock buzzed at 3:30 AM and I stumbled out of bed groaning. "Whose idea was this?" I thought. Karen's response to this rather less than profound question was a thunderous silence, so I merely showered and packed my gear as fast as I could. We had been unable to get train tickets from Chengdu to Lanzhou (all trains were booked solid due to the Chinese holidays) so we had to take yet another flight, this time at 7:05 AM. Luckily Sichuan Airlines provided a free passenger collection service and their courtesy bus was due to pick us up at 4:10 AM; hence the early wake-up. In fact, the bus was already waiting for us when we walked outside at 4:05 AM. There were two other passengers also on the bus, and we drove a bewildering route through Chengdu's darkened streets to pick up another person. The driver got lost a few times and simply reversed back down one-way streets to find his way. Even at that hour the streets were quite busy with people commuting to work in the Chinese fashion - by bicycle, scooter, moped or on foot.
The flight from Chengdu to Lanzhou was fast, efficient and, as usual in China, packed to the rafters. Lanzhou is a busy industrial city of about 3 million people in the province of Gansu; its airport was surprizingly small and empty, but getting the bus into town was easy (if not quick - the airport is no less than 55 kilometres out of town). It was obvious that we were now out of the wet tropics, because the countryside was dry and arid.
The airport bus dropped us off in the centre of Lanzhou, and a taxi through congested city streets (hmm, no surprize there) brought us to the south bus station, a grimy building teeming with people. Unfortunately the next bus to Xiahe was only at 2 PM, which meant a three hour wait. Anything was better than sitting in the bus station for that long, so we walked down the street dodging scooters, mopeds, touts and pavement vendors until we came to a restaurant ... although that word doesn't adequately describe the type of eatery it was. In this place (run by Muslims; Lanzhou has a large Muslim community), you bought a ticket for the food you wanted at a counter and presented the ticket at a smoke-blackened hole in the back wall which led to the "kitchen". Billowing clouds of steam issued from this hole, as well as shouting, arguing and various sizzling noises.
Karen in front of the Labrang Monastery pagoda, Xiahe
We observed the other customers for some time before ordering any food. The eating technique here was to lower your face to your bowl and slurp food (mostly noodles) into your mouth as fast as your hands could manipulate the chopsticks; any mess (such as egg shells) you just threw onto the floor. Not a pretty sight ... but let me assure you, the food was delicious and a steady stream of people came and went while we were there. The old adage that you should "eat where the locals eat" was shown to be perfectly true in this case.
It was here that we discovered the best form of food to take on a long bus or train journey in China - hard-boiled eggs. A lot of customers in the restaurant augmented their meal with an egg from a large metal bucket at the counter, and often took a couple of eggs when they left. So we did the same, and ate our eggs on the bus to Xiahe. Thereafter we bought hard-boiled eggs whenever we could; a great way to get a nutritious snack on a long trip!
Our bus from Lanzhou pulled into Xiahe, a predominantly Tibetan town about 250 kilometres to the south-west, at 5:30 PM. After looking at a couple of over-priced hotels we found a very nice, spacious room (in China? Amazing) at the Overseas Tibetan Hotel and booked in for the next three nights. Xiahe is 3100 metres (10 170 feet) above sea-level and that evening both of us experienced a slight but familiar feeling of high altitude acclimatisation - shortness of breath, tiredness and a mild headache (we had much worse in the Andes in Peru in 2010).
[Thursday 28 June : Xiahe, China] The western part of Xiahe consists almost entirely of Labrang Monastery, one of the six most important monasteries in Buddhism. Founded in 1709, it is essentially a Buddhist university, a centre of learning in fields such as Astronomy, Medicine, Law, Theology and Esoteric Buddhism. Nearly 3000 monks are in residence there, although only about 900 of them are permanent. The town itself is mostly Tibetan but there are also many Han Chinese and a small Muslim community as well. You see all manner of people in the streets, from wild-looking Tibetan nomads wearing huge coats with sleeves that reach down past their knees, to old men with wrinkled faces and skullcaps and pretty Buddhist girls in long brightly-coloured skirts and the ruddy complexion of high altitude living. And of course, monks in their dark red robes are everywhere - talking on mobile phones, drinking tea in restaurants and getting in and out of taxis. Motorcycles are also popular and have replaced the horse as the preferred means of transport.

Herds of yak and sheep crossing the road between Xiahe and Tongren
We spent the day wandering in and out of the various monastery buildings. Unfortunately it had rained a lot and was still raining, and very few of the monastery roads are paved, so we had to negotiate a lot of mud. The Chinese government may be pouring millions of Yuan into infrastructure improvements all over the country, but none of this appears to have found its way to Labrang Monastery (nor, dare I say, to any other religious institution).
That evening we had possibly our most delicious meal yet in China, at a restaurant called Nomad's opposite the eastern wall of the monastery. We decided that we had to try Tibetan food - Karen had yak meat dumplings, I had noodles with yak meat and we shared a plate of vegetable paale (crispy bread-like fritters filled with vegetables), all of which were an absolute taste sensation. All I can say about Tibetan food is "Bring it on!"; whoever it was that said Tibetans can't cook should be forever banned from any form of restaurant or food review in future.
[Friday 29 June : Xiahe, China] We roused ourselves out of bed early and headed off to the monastery to observe the daily procession by the monks, culminating in chanting by over a thousand of them in the Grand Sutra Hall. Unfortunately our information was wrong or our brains weren't functioning at that hour because we saw no procession and found only a handful of monks chanting rather desultorily in a small courtyard.
We returned later in the morning to take the English-language tour of the monastery (the only way to get into certain of the buildings), the last stop of which was the Grand Sutra Hall where we did indeed see hundreds of monks sitting in rows chanting. The most interesting part of the tour was the Butter Sculpture Hall; it contains several intricate and detailed sculptures made entirely of yak butter. It was also the only building we saw with modern air-conditioning (to ensure the butter doesn't melt). No wonder we get so little butter for breakfast at our hotel - it all goes to the monastery.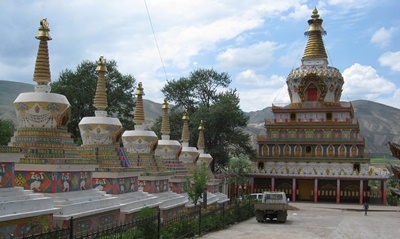 Wutun Monastery near Tongren
[Saturday 30 June : Tongren, China] The 7:30 AM bus from Xiahe north to Tongren was described in our guide book as being "a wonderful trip", and the authors were spot-on. Directly after leaving Xiahe the bus veered onto a narrow road that wound steadily upwards; quite extraordinarily for China there was almost no traffic bar the occasional motorcycle, so there were none of the usual near-miss head-on collisions that are a feature of all bus trips here. The views from the bus were fantastic - high mountain peaks soared up on either side with the road snaking between them in a series of tight bends and u-turns. There were no trees or bushes at all, just steep slopes covered with open grassland. Karen and I were (as usual) the only Westerners on board the bus; many of the other passengers were getting sick and vomiting into plastic bags, presumably because the bus was swaying all over the place on the twisty road. It was odd, because I didn't think the road was that bad - surely people who live in that area would be used to bus trips like that? Well, evidently not ...
We saw several herds of yak, browsing on the grass or being herded along the road by people on horseback. They are hairy, shaggy creatures, somewhat smaller than cows but seemingly very strong because quite a few of them were carrying huge loads on their backs. The bus driver often had to stop to allow yak to cross the road.
We pulled into Tongren at about 10:15 AM. The first hotel we went to refused to take us, a not unusual occurrence in China where hotels often only accept Chinese citizens (hotels in China need permission from the government to host foreigners, and many don't bother to apply). We finally checked into a hotel that superficially looked quite smart, but on closer inspection proved to be dirty, dusty and falling apart. I suspect they didn't have the required permission for foreigners to stay, but took a chance because they were empty and we were only staying one night. They took our cash (a measly amount, it must be said), didn't fill in any forms and refused to give us a room key - every time we came in a guy at the front desk had to walk down the corridor and open our door for us.
Ten minutes walking around Tongren confirmed our initial impression that it was a pretty dismal place. So we hailed a taxi on the street and drove to Wutun Monastery, about 15 kilometres out of town. Wutun Si is (inevitably) a Buddhist monastery and comprises a huge and impressive set of buildings, but on this sunny Saturday afternoon it was completely deserted and baking in the mid-summer heat. We did not see a single person while we were there, not even walking around the prayer wheel circuit. It was eerie and quite weird - most of China is overrun with people, but in the middle of a weekend day we had this vast monastery all to ourselves. How can that be? Very odd, but we were beginning to realize that this diverse country has a way of surprizing you in the most unexpected fashion.
After looking around the monastery we strolled around Wutun village, a renowned centre of the Buddhist art known as thangka. We went into a few studios and saw plenty of beautiful thangka on display as well as several artists at work. But the whole place had a closed feeling about it, and just like at the monastery we did not see anybody else wandering around. In fact, most of the thangka studios seemed to be closed, and the people in those that were open seemed surprized to see us. Saturday is obviously not a good day for them.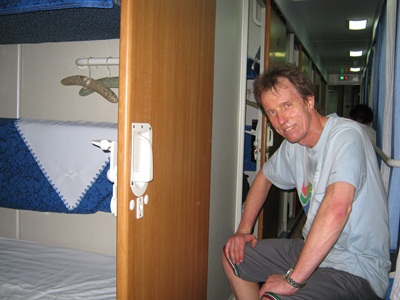 Relieved to be on board the Lanzhou - Xi'an train (above)
Xi'an station the next morning (below)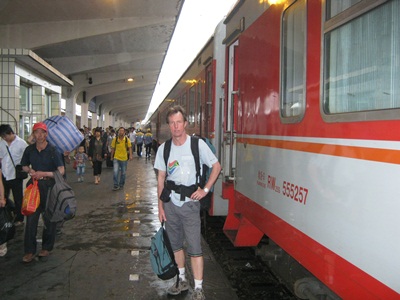 We were standing on the sidewalk trying to figure out how to get back to Tongren when an open-sided minibus pulled up next to us. They were heading in the right direction, so we hopped on and before we knew it we were back at Tongren bus station. The cost of the trip was negligible but I did not have any small change, and the driver would not accept any of the large denomination banknotes I had so we were at a loss as to how to pay. Next thing one of the other Chinese passengers paid our fare for us and waved off every effort we made to pay him back. We walked back to our hotel shaking our heads at such amazing generosity.
[Sunday 1 July : Lanzhou, China] Thus far our trip has gone pretty much according to plan, bar a couple of minor inconveniences (such as Tiger Leaping Gorge being closed when we arrived there). But today was close to being a total disaster, mostly through our own stupidity. We made so many mistakes that if we'd been on the TV reality show The Amazing Race we'd probably have been eliminated.
To set the scene : long-distance train tickets in China can be very difficult to obtain, but while we were in Chengdu we'd managed to get two "soft sleeper" berths (the most popular kind) on the overnight train from Lanzhou to Xi'an, leaving Lanzhou at 10 PM on Sunday 1 July and arriving in Xi'an at 7:30 AM the next morning. That meant we had to get from Xiahe to Tongren to Xining to Lanzhou by around 9:30 PM. We caught the 11:40 AM bus from Tongren to Xining (capital of the province of Qinghai), which was our first mistake - we should have left much earlier (there are buses every 40 minutes between the two). Then the bus was late and only arrived in Xining at about 3:15 PM. According to our guidebook Xining train station was just across the river from the bus station, a short walk via a bridge, but although we looked we could not even find the bridge let alone the train station; where the station should have been was a huge, fenced-off construction site [Aside : we found out later that Xining's main station was closed because it was being expanded and rebuilt to accommodate high-speed trains].
So we caught a taxi to the train station, our second mistake - Xining West station, which was temporarily being used as the main station, was kilometres out of the city centre. The taxi drive was about twenty minutes and when we got to the train station we found massive queues to buy tickets. Eventually we got to the front of the queue only to be told by a brusque and unsympathetic ticket seller that there were no seats left on any train to Lanzhou except one that would arrive too late for us to catch the overnight service to Xi'an. Mistake number three - we paid for tickets on this train (38 Yuan each) before realizing that it would get into Lanzhou too late. The ticket seller refused to exchange the tickets and told us to go to counter 3 to get a refund, which (predictably) had a queue longer than any other.
What to do? It was already 4:30 PM. We then made our first good decision of the day, which was to forfeit the refund on our useless Xining-Lanzhou train tickets and high-tail it back to the bus station in the hope of getting a bus to Lanzhou in time. Then it started getting weird. We had gone from the bus station to the train station by taxi, but no taxi driver we asked would take us from the train station BACK to the bus station ... huh? Whoever heard of a taxi driver turning down a fare? They all just pointed at the local bus stop nearby. So we dragged our gear over to where crowds of people were waiting for city buses (local ones, not the long-distance kind) and managed to figure out that we needed bus number 2, but of course we missed one that left just before we could get on it.
Another long wait. Finally another bus number 2 came along and we squeezed ourselves on; it cost the princely sum of 1 Yuan each. The bus slowly crawled through the city, picking up people at every stop until Karen and I were jammed into a corner, wondering how we would know when to get off. Luckily the long-distance bus station stop was near the end, loads of people got off there and a helpful local showed us where to get tickets. It was now 5:45 PM and things were getting VERY tight, but then we had our first stroke of luck when we really needed it - there was a bus for Lanzhou leaving at 6 PM. We bought tickets, ran for it and just made it in time. The scheduled time to Lanzhou was about three hours, so if all went according to plan we would probably make it in time for the overnight train.
The bus driver made good time on a fast freeway and we arrived in Lanzhou at about 9:20 PM, meaning we had about 35 minutes to get to the train station and find the right platform for our train. The bus driver pointed in the direction of the station and indicated to us that it was close enough to walk; our fourth mistake was to listen to him rather than take a taxi - it was at least a kilometre to the train station and we ran most of the way carrying all our gear. When we finally arrived at the big square in front of the station we were dripping with sweat, only to find long queues to get INSIDE (there is high security at all Chinese bus and train stations, with airport-style x-ray machines and guards that frisk all passengers). 9:40 PM. Our train was at 9:56 PM.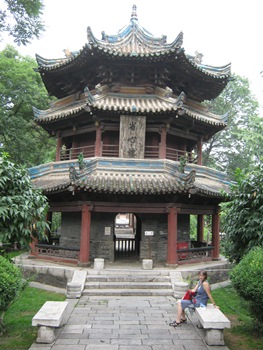 The restful gardens of the
Grand Mosque, Xi'an
Inside the cavernous station building there were a bewildering number of platforms, escalators and signs in Chinese. Where to go? A friendly security guard pointed upstairs and we hauled our gear up a long flight of stairs, through another security check and saw arrows back DOWN to platform level. 9:45 PM. Clattering down a ramp to the platform we at last saw our train and sprinted alongside, looking for carriage 12. Sweat was pouring down my face and my t-shirt was wet against my back. The wheels of Karen's "wheelie-bin" suitcase turned furiously, rattling along at a speed for which they had not been designed as she ran beside me. 9:50 PM.
The carriage numbers sped past and we screeched to a halt next to number 12. A stern-looking railway official inspected our tickets, consulted her book (in which I could see that the entire carriage had checked in except us) and waved us aboard. It was 9:53 PM and at exactly 9:56 PM the train slowly rolled out of the station; we made it by THREE MINUTES. All we could do was sit in the corridor, get our breath back and marvel that after all we'd been through and all the mistakes and stupid decisions we'd made, at the last possible moment things had worked out and we were on the overnight train to Xi'an.
What we should have done was
- left Tongren earlier;
- taken a bus directly from Tongren to Lanzhou and bypassed Xining altogether;
- if that wasn't possible, taken a bus from Tongren to Xining and then immediately afterwards one to Lanzhou.
But no matter what we should have avoided Xining train station at all costs - it is miles from town and getting tickets there is next to impossible.
However, after all that we DID make the train and it was very comfortable indeed. We shared the compartment with two other people but the bunks were soft, the duvets and pillows were freshly laundered and it was spotlessly clean. There were unfortunately no showers, but we made do in the "washing room" before turning in absolutely knackered.
[Monday 2 July : Xi'an, China] The train from Lanzhou arrived in Xi'an at 7:15 AM, and once again we were met with rain as we exited the station into a massive square - this in a place that is so hot in summer that the temperature regularly exceeds 40 degrees. What gives? Wherever we go in China it RAINS, so much so that in Yunnan and Sichuan provinces there were floods and mudslides after we left. Later on the girl at the reception desk of the place we stayed in said that it NEVER rains in Xi'an and that we were very lucky; when we told her that we'd had about two weeks of rain in China she could not believe it. And, of course, it rained for the rest of the day.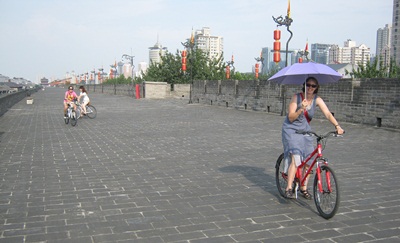 Cycling with an umbrella on Xi'an city wall
The taxi driver mystery deepened in Xi'an. We stopped three taxis outside the train station and none of them would take us to where we wanted to go; all just pointed at the local bus stop. Excuse me, but what the ****? What is it with taxi drivers in this country? Is there some Communist law that prevents them from taking passengers to any destination that is served by bus? Who knows ... but we gave up on getting a taxi, found the right bus after wandering around in the rain looking at bus stop signs and rode through the city to South Gate.
The Xiangzimen Youth Hostel had been recommended to us and we found it with some difficulty in a confusing set of intersecting streets near South Gate. Thankfully they had a private en-suite room for us (and very nice it was too); it was a huge relief to check in and have a long hot shower. For the rest of the day we relaxed and tried to recover from the hectic effort of the past few days - we caught up on our backlog of laundry, checked email and strolled around the labyrinth of back streets in the Muslim quarter. The Grand Mosque is indeed grand, with restful gardens that seem to shut out the hubbub of city noise just a few metres away.
[Tuesday 3 July : Xi'an, China] A day of exploring Xi'an. It is a city of about 6 million people but somehow does not seem to have the traffic, chaos and congestion that was so unpleasant in Chengdu. Xi'an is a major tourist stop in China (being close to the famed Terracotta Army) so there are a lot more Westerners on the streets and for once people don't stare at us. Apart from the Terracotta Army (which is out of town), Xi'an is famous for the almost intact walls and moat that form a 14 kilometre rectangular perimeter around the city centre. The walls are MASSIVE - 18 metres thick and 12 metres high, with a watchtower at each corner and a fortress-like gate in each of the four sides.
The Terracotta Army
In 221 BC Qin Shi Huang became the first emperor of a unified China when his army defeated all the other warring states of central Asia. Despite introducing many forward-thinking reforms (such as a single currency and standardised weights and measures), he ruled his huge empire with ruthless efficiency and stayed in power until he died aged 59 in 210 BC. He had begun work on his tomb and mausoleum shortly after ascending the throne at the age of 13, a project which took 37 years and was the life's work for 700 000 people - every single person who worked on his tomb either died during construction or was buried alive afterwards to ensure that nobody knew where it was.
The Terracotta Army were clay figures created by this massive workforce and buried near his tomb to protect the emperor in the afterlife. No records of them exist. They were accidentally discovered in 1974 by farmers digging a well and since then more than one thousand of the life-size clay soldiers have been discovered. The figures vary in size according to status, but all are approximately life-size. Only a fraction of the estimated total of over 8000 figures that were buried have so far been unearthed.
We entered the wall through the South Gate entrance and by sheer coincidence were lucky enough to see some kind of changing of the guard ceremony at 3:30 PM. Guards in medieval uniforms with long staves marched about, cheerfully out of step and out of synch; the ineptitude of the performance was such that if a sergeant-major from the British Army had been watching he would probably have had a seizure and fainted with shock. Some garishly-clothed acrobats leaped around between the marching soldiers and a bevy of ladies in high heels hammered away on drums while all this was happening. After this interesting and unexpected diversion, we climbed to the top of the wall (18 metres of steps) and gazed down at the traffic on either side. We had planned to walk a little way along the wall, but then we saw bicycles for hire and decided that was a much better option. So we pedalled round the entire perimeter of Xi'an, the easiest cycle I've ever done - the wall is flat, there is no traffic apart from some pedestrians and an occasional cyclist and it was neither rainy nor windy. Karen rode all the way round (14 kilometres) holding her umbrella up for shade.
[Wednesday 4 July : Xi'an, China] Today we planned to visit the Terracotta Army, China's second most famous tourist attraction (the Great Wall is number one). The site is some way out of town so we signed up for a half-day tour with an English-speaking guide. However, when they collected us from our hotel in the morning the guide explained that we were the only two people that day for the half-day tour so they were "upgrading" us to the full-day tour (which visits a couple of extra sights and includes free lunch) at no extra cost. That was very nice (you have to get lucky sometime), but it did mean a long day which we hadn't planned on.
First stop was the Banpo Museum, which documents what little is known about the people who lived in the Xi'an area more than 6000 years ago. Then there was the obligatory viewing of a silk factory, or perhaps I should say "showroom" - these tours always include at least one place where goods are flogged to the tourists that get herded in, with the tour company getting a cut of every sale. The silk stuff on display (duvets, pillows, etc) was exquisite but extraordinarily expensive and we managed to resist the cunning ploys of the sales ladies ... in truth they weren't very "hard sell" at all and it wasn't too difficult to escape with our wallets intact.
Lunch was the typical mass-produced fare dished up to tour groups, after which we (finally) got into the Terracotta Army museum. It is a vast area, currently comprising three pits containing an estimated total of 8000 moulded figures, all made of clay, baked until hard and then painted. It is staggering to consider that they are more than 2200 years old! The figures are of soldiers (infantrymen, archers, horsemen, officers and generals), and each one is different. The original paint has disappeared through exposure to light, but the detail on the faces and bodies of the soldiers is as fresh and new as if they were constructed yesterday. Archaeologists are working to uncover more of the terracotta figures; the theory is that many thousands more of them are still buried, waiting to be discovered.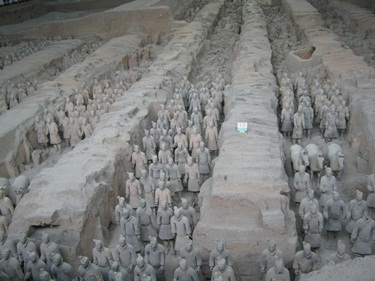 Rows of terracotta soldiers near Xi'an, 2200 years old
[Thursday 5 July : Pingyao, China] Travelling in China is typically characterised by several days in one place, relaxing and exploring, followed by one day of intensive effort to get to your next destination. Today was one of those "effort" days, as we made our way from Xi'an north-east to Pingyao. First we walked to the airport bus stop, a pleasant ten-minute stroll, and took the bus to Xi'an airport. Then we flew to the city of Taiyuan in Shanxi province and caught the airport bus into town, managing (with one or two hiccups) to get the driver to drop us off at Jiannan bus station where we bought tickets on the 1:45 PM bus to Pingyao. The bus trip itself wasn't bad, but near the end of it we fell victim to a minor Thai-style scam that we were almost powerless to avoid.
Just outside Pingyao the bus stopped at a dusty, deserted street corner and the driver called Karen and me forward. "Pingyao" he pointed, and indicated that we should get off. I was confused. There was nothing in sight that looked remotely like the 14-metre high old city walls that surround Pingyao, we weren't anywhere near a bus station (and we'd seen plenty of Chinese bus stations) and none of the other passengers (all Chinese) moved to get off. I tried to argue and find out what was going on but the driver simply made us get off and unloaded our bags from the cargo hold. Then he pointed at a tuk-tuk parked right behind the bus and said "Taxi, Pingyao".
That was the clincher. Why was there only one tuk-tuk there? Usually there are many of them jostling for customers. Why did nobody else get off? How did that one tuk-tuk driver know that two people would get off in that obscure spot, wanting to go to Pingyao?
Riding on a tuk-tuk next to the old town walls, Pingyao (above)
Pingyao's South Gate (below)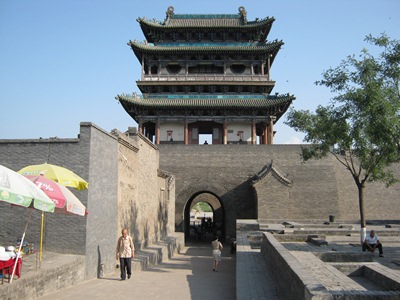 And the answer - the bus driver had phoned his tuk-tuk buddy and told him that he had two Westerners on board who would get off at a pre-arranged spot where there were no taxis. Once we were stranded in the middle of nowhere we would have no option but to use his tuk-tuk, and as expected the price was outrageously steep. I was mad enough that I would have told him to shove his tuk-tuk where the sun doesn't shine and rather walked, kilometres if I had to, but I had Karen to consider and we'd already had a long day. So, just as these two swines had planned, we had no choice and had to cough up to be driven into Pingyao. It was galling, and the first time we'd experienced a scam like this in China. That was part of the reason why we fell for it - our experience with the Chinese so far has been that they are honest, fair and reasonable, so we became complacent. There is no way this would have worked in Thailand, where scams are rife and any street-wise Westerner is on their guard at all times.
It turned out that Pingyao bus station was a few kilometres up the road, from where we could have walked into the old town or got a ride with an honest tuk-tuk driver. No doubt the Chinese people on the bus knew this and therefore did not get off the bus; if only one of them had told us. The Chinese may be honest and fair, but we've noticed that they seldom help anybody else - it seems to be every man for himself (perhaps a reaction to sixty years of Communism?). Oh well, these things happen when you travel; you just have to file them away, be more cautious in future and move on.
[Friday 6 July : Pingyao, China] We spent our first night in Pingyao in a dingy guest house that punted itself as being part of the IYHA (International Youth Hostel Association). However, that must have been several years ago, because the staff were rude and unpleasant, our room was squalid and a group of Chinese guests made a raucous noise in the central courtyard until late at night. There was no way we could spend another night there, so we checked out in the morning and in so doing probably caused deep offence; when the manager asked us if we needed a lift to the train station I said "No thanks, we're moving to another guest house". We didn't complain about anything and were courteous and polite, but I could see that the manager was insulted that we were leaving his establishment and going elsewhere. I suspect the staff that were on duty the previous afternoon when we checked in were hauled over the coals (and deservedly so, it must be said). Just as we were walking out a girl hurried through from a back room and meekly presented us with two bottles of water, probably as a token of apology. I thanked her politely but that certainly wasn't enough to get us to change our minds about leaving.
It was a good decision to move because we checked into a most fantastic place round the corner called Harmony Guest House, and we stayed there for the next two nights. Our room was spotless, it was quiet and the staff were friendly. As with the place we'd been in the first night, our bed was in traditional Shanxi style - raised onto a platform called a kang. It took up the whole width of the room, so we had acres of space to sleep in and we sat on it during the day.
Pingyao is one of the most authentic old towns in China, filled with original 18th and 19th century buildings in the Shanxi style and surrounded by city walls 14 metres high. It is a pleasant place to stroll around in because no cars are allowed in the old town, but it is roastingly hot. It is also unfortunately prone to power failures (there were three while we were there) and the water being cut off.
[Saturday 7 July : Pingyao, China] Cars are not permitted into the old town of Pingyao and the narrow streets are pretty flat so the best way to get around is by bicycle. We rented two bikes for the astonishingly low price of 10 Yuan for the entire day and rode them around town; it was very easy once we'd become accustomed to dodging pedestrians.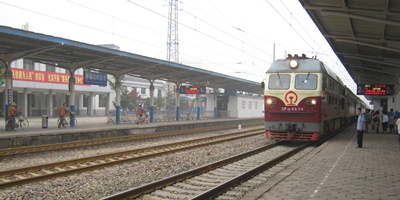 The train to Datong pulls into Pingyao station (above)
Our hard-seat carriage on the Pingyao-Datong train (below)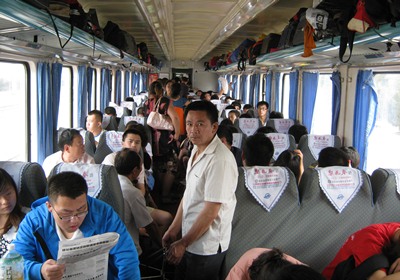 During our wanderings around Pingyao on the bikes we chanced upon, of all things, a Catholic Church. Amazing - we've only seen Buddhist and Muslim places of worship in this vast country so far, although if one considers the huge (and diverse) population of China, it stands to reason that there will be Christians here as well, and probably a lot of them. In fact, there are probably more Catholics in China than there are in Italy! Still, it was an oddity and the church was certainly not as well maintained as the ones you see in Europe. While we were there several Chinese people came in and took photographs, so a Catholic Church must be pretty unusual for them too.
[Sunday 8 July : Datong, China] Sometimes things just go so smoothly that you forget all the tough travel days you've endured to get to this point, and that's how it was today. After another early wake-up we checked out of our excellent Pingyao guest house and jumped onto an electric tuk-tuk for the short ride to the train station. Pingyao train station was unlike any of the others we've experienced in China so far - it was orderly, uncrowded, easy to get into, clean (including the toilets) and a simple matter to find the right platform for our train north to Datong. The train arrived on time and we boarded without any fuss; the only down-side was that we had only been able to get "hard seat" tickets (cattle class, in other words), so the coach was filled to the brim with people and their baggage. But it was surprizingly comfortable, not at all like the name "hard seat" would suggest.
The trip north traversed a mixture of countryside. Initially we passed endless cultivated fields and busy, prosperous towns, but later we started ascending the Shanxi plateau (over 1000 metres above sea-level) and the train twisted and turned through mountains and deep valleys, with some spectacular scenery visible on either side. If it wasn't for the gloomy, dull grey sky (pollution or clouds? You can never tell in China), the green valleys and tumbling streams would not have been out of place in Switzerland.
The train pulled into the northern city of Datong just after 3 PM. We exited the cavernous station into a vast square and, being the only Westerners in sight, were immediately set upon by various touts. By now we were very skilled in fending them off and simply walked across the square to the Hong Qi Hotel, opposite the station and recommended by our guidebook. They had a room for us at a very reasonable rate; I automatically tried to negotiate the price down but the receptionist would not budge an inch. In fact, it was the most dismal example of haggling in history, because she quoted us the price, I suggested a lower price if we took the room for two nights rather than one night but she simply said "No". I went up slightly; same answer. Up a third time, still "No". After that I burst out laughing, at which point she also saw the humour in the situation and cracked a smile. The upshot was that we took the room for the next two nights at the original price she quoted ... which, to be fair, was not expensive given that it was quite a smart place, certainly a cut above the backpacker guest houses we'd been staying in. And it included a full buffet breakfast, so that was a nice bonus.
Supper that night was noodles and Kung Pao chicken (mildly spicy chicken stir fried with peanuts and green peppers) at a local restaurant round the corner from the hotel. Delicious food, great hotel room, an easy travel day; what more could one ask for?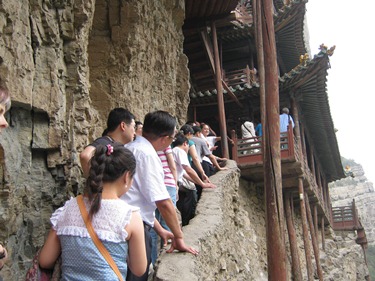 The Hanging Temple near Datong
[Monday 9 July : Datong, China] A fantastic day. We had breakfast at the hotel early (a splendid spread), then walked to Datong's regional bus station. A very persistent and irritating taxi tout hounded me when we got there, insisting that he could take us to the Hanging Temple for less than the cost of two bus tickets. He simply would not take "bu yao" (literally, "don't want") for an answer and even followed me into the toilet, carping at me the whole time. I eventually got angry for the first time in China and swore at him in English; I'm sure he didn't understand the words but the message was clear enough. It seems that the nearer we get to Beijing the worse these touts get.
The bus ride south-east was a confusing one, because at the turn off to Heng Shan (Mount Heng) the nine of us on the bus who wanted to go to the Hanging Temple were told to get out of the bus and were taken the rest of the way in three taxis. Luckily our guide book had noted that this frequently happens on this route so we weren't unduly alarmed, otherwise (after some of our previous experiences) we would have been on edge, wondering what kind of scam this was.
First site of the Hanging Temple is one of those rare jaw-dropping moments. It is a temple that was originally built on the side of a sheer cliff face next to the Heng River in 491 AD. Periodic flooding of the river forced the temple to be rebuilt higher and higher up the cliff over the centuries, so that today it is several hundred metres above the valley floor. It clings to the side of the cliff via wooden beams set into the rock, with long rickety poles underneath for support. Steep stairs and narrow walkways with low handrails connect the six halls (which are caves and ledges with wooden facades); visitors have to walk through in one direction only, as there is no way for two people to pass each other. Looking down is not recommended for anybody scared of heights - it is a sheer drop of hundreds of metres. Ironically, the flooding danger no longer exists as a recently-constructed dam higher up the river has reduced the water flow to nothing more than a trickle.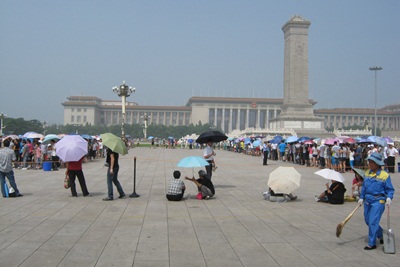 Tian'anmen Square, Beijing; always crowded
Interestingly, the Hanging Temple is the oldest temple in China combining the worship of three different religions or disciplines - Buddhism, Taoism and Confucianism. There are different halls in the temple for each of the three.
The problem for independent travellers at the Hanging Temple is that there is no public transport back to Datong, or on to Heng Shan (Mount Heng) a few kilometres further up the road. So we were besieged by taxi drivers as we exited. We were in no position to bargain and they had undoubtedly clubbed together to ensure that whoever we spoke to quoted the same ridiculously high price. After fifteen minutes of discussion and haggling we realized we had no choice and took the guy whose English was most passable. He drove us 12 kilometres or so up to the parking lot below Heng Shan and agreed to wait two hours for us there.
Climbing Heng Shan proved to be an exhausting slog up endless stone steps. In fact, we only got as far as the first of several temples, had a look at the interestingly-named "Sister-In-Law Cliff" (a sheer rock face) and turned back again; getting to the summit of the mountain would have taken much longer than we had time for - it's over 2000 metres high.
The Chinese flag on Tian'anmen Square, Beijing.
The wall of the Forbidden City (and a huge portrait
of Chairman Mao) can be seen in the background
Back at the parking lot our taxi driver drove us back down the mountain again, and at the main entrance he stopped and called another taxi driver over. A lot of discussion in Chinese followed and then our driver told us that the new guy would take us all the way back to Datong for only 100 Yuan extra. But now we were in a position of power, because our arrangement with the original guy was that he would take us to the town of Hunyuan from where we could get a bus back to Datong. So we said no. The price dropped to 80 Yuan. Still we said no, we'll stick to the original plan. Eventually they said 60 Yuan, at which point we accepted with the proviso that the new taxi would drop us right outside our hotel - 60 Yuan wasn't much more than the cost of two bus tickets and going back by taxi would save us a lot of time as well as a two kilometre walk from the bus station in Datong. I suspect there was a kickback from the original taxi driver to the new guy, because the distance back to Datong could not possibly be done by taxi for only 60 Yuan.
No complaints from us though, and we were back at the hotel before 5 PM. If we had taken the bus from Hunyuan it would have been much later, probably after 7 PM.
[Tuesday 10 July : Beijing, China] Our train to Beijing was only scheduled to depart after 12 PM, so for once we could relax in the morning and not rush. We had a long, leisurely breakfast, caught up on email and Karen went for a massage before checking out of the Hong Qi Hotel. Amazingly there were at least ten other foreigners in the dining room having breakfast; the previous morning (when we'd left much earlier) we had been the only non-Chinese there.
The train east to Beijing was uneventful, apart from the pleasant (and unexpected) surprize of some amazing scenery just before Beijing - mountains, valleys, tumbling streams, a large lake or dam and countless tunnels. According to my map of China, the railway line we were on crosses the Great Wall, but although we kept a sharp eye out we saw no sign of it. In fact, the train went through so many tunnels that I'm guessing we went under the wall!
The outside wall and moat of the Forbidden City, Beijing
Beijing West train station is a huge, confusing place, several kilometres from the guest house we'd booked into. Just our luck to arrive at the one train station that isn't served by the Subway (Beijing's inner-city underground railway) ... It was too far to walk to the guest house and at 7 PM it was getting dark so we were driven onto the street to find a taxi. And of course we were robbed again, but this time we had little choice. However, it was a good thing we did take a taxi, because just before he dropped us the heavens opened and a torrential downpour thrashed down. I don't think I've seen rain like that since Thailand in 2006 - within minutes roads had turned into rivers. We had to walk the last 100 metres or so to the guest house down a pedestrians-only street, although waded would have been a more accurate term because the water was ankle deep in the road. Even with my poncho I was completely soaked through; Karen's umbrella did not help in the slightest.
The guest house did not fare very well either - the downstairs section was flooded in parts, several rooms were filled with six inches of water and staff were running around like headless chickens with mops and squeegees. So our "rain dance through China" remained as strong as ever after more than three weeks on the road - wherever we've gone rain has followed us, often resulting in catastrophic flooding and landslides. Sorry Beijing, but you knew we were coming ... All I can say is that I'm glad our room was upstairs [Aside : The rain and flooding in Beijing became much worse after we'd left China. We heard later that several people had drowned and many areas were under water for days].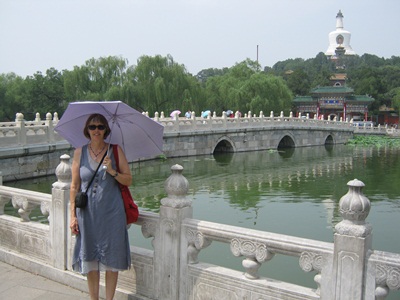 Karen in Beihai Park, Beijing
[Wednesday 11 July : Beijing, China] The word that springs to mind when trying to describe the immensity of Beijing is "vast"; in every possible respect the scale of this city is simply enormous. The crowds of people, the traffic, the size of the monuments, the distances you have to walk - everything is big. We went to Tian'anmen Square and it took us ten minutes of walking just to find the end of the queue to view Chairman Mao's embalmed corpse (Mao Zedong's mausoleum is a massive concrete block bang in the middle of square). The queue snaked backwards and forwards and was easily over a kilometre long. In fact, even getting onto Tian'anmen Square took ages, because unlike squares in "normal" cities there is extremely high security present in the centre of Beijing. Everything is cordoned off except for a couple of entrances where all bags are subjected to airport-style x-ray checks and people are randomly searched. The square itself is an immense open space, teeming with people and without a scrap of shade or a bench to sit on. There are three or four security cameras on every light-pole and (apparently) plain-clothes security policemen everywhere.
We gave up on seeing Mao Zedong's pickled corpse and headed north to the Forbidden City. Well, if we thought Tian'anmen Square was big we found we had to adjust our definition of the word "big" - this former haunt of generations of spoilt and tyrannical Chinese emperors seems to go on for ever. You go through one enormous wall and gate into a massive courtyard, only to find another gate with another, even bigger courtyard on the other side. Followed by another gate and courtyard. And another. And so on ... And on the sides of these courtyards are myriad halls and chambers, many closed to the public. FINALLY you reach the Imperial Garden at the far north end, a haven of (relative) tranquility comprising ancient trees, toilets and even some shade. At this point Karen and I were driven by sheer desperation to buy (yes, I'm not kidding) a Coca Cola each. We normally never touch this poisonous and toxic American concoction, but that's what a day on Tian'anmen Square and the Forbidden City, in temperatures of 35 degrees and jostling with hundreds of thousands of Chinese tourists, can do to you.
The Great Wall of China ...
A lonely watchtower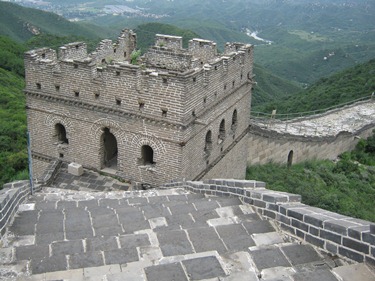 A steep section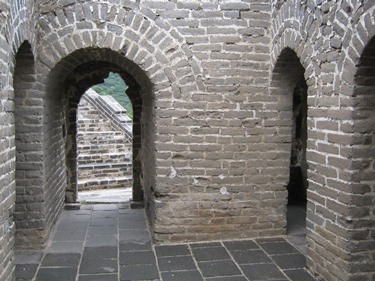 The inside of a well-preserved watchtower
We exited the Forbidden City on the north side and walked through Beihai Park. A tactical error (yes, exploring Beijing requires military-style planning and extraordinary tenacity) caused us to end up on the island in the park's lake, and so we were forced to take the ferry across the lake to the Nine Dragon Screen on the other side. Another long walk past the Drum Tower and the Bell Tower brought us to Guloudajie Subway station, from where we grabbed the first train back to Qianmen. An enjoyable, but unbelievably exhausting day.
[Thursday 12 July : Beijing, China] FINALLY, after nearly four weeks in China, we got to see the biggest sight there is to see in this country - the Great Wall. We had been mulling over how we were going to visit the wall, as there are only a few parts of it that are accessible by public transport, all of them difficult to get to. We definitely did not want to go to Badaling - this is the nearest restored section to Beijing and has become a circus of package tourists, touts, souvenir shops and tacky restaurants; your "wall experience" is shared with thousands of other people traipsing up and down in a never-ending queue.
However, our guest house in Beijing (a place called Leo's near Tian'anmen Square, a firm favourite with Westerners) had a trip going to what they called the "Ancient wall to the secret wall", a newly-opened section of the wall that featured both restored and unrestored sections. They allowed for three hours of hiking along the wall and threw in lunch as well. This sounded ideal, so we signed up and at 7:30 AM with nine other Westerners we climbed into the guest house bus and headed out of the city.
Good decision ... after two and a half hours of driving through the permanently frenetic Beijing traffic, the driver turned onto a rutted dirt track; within a few minutes we were in hilly, forested countryside. We arrived at a large parking square that was completely empty, went through a gate and were dropped at a crumbled, ruined section of the wall with no tour buses or other people in sight. Amazing! This section of wall is called "Residual Great Wall of Badaling" and has been opened to tourists so recently that the access road has not even been finished yet (hence the dirt track). The toilets were brand new, with spotless tiles and pristine paintwork. We really got lucky in stumbling across this trip, because there is absolutely no way we would have even been able to find out about this section of wall, let alone get here by ourselves.
We climbed up onto the wall and almost immediately our Chinese "safety guide" told us "You walk and be back in three hours for lunch. I wait here". That suited us fine and we set off in a generally westward direction, meaning that the south (Chinese) side of the wall was to our left and the north (Mongolian) side was on the right [Aside : the wall was originally built to keep out Mongolian invaders from the north. Hence you can access the wall from the southern side via numerous entrances but on the northern side there are only defensive ramparts, no entrances]. Initially it was easy to walk along as the section near the beginning had been restored, but the further we went the more ruined it became. Some sections were just rubble, and other parts were so overgrown that trees were growing out of the top of wall and you had to thread your way through on a narrow path. Every now and then we'd reach a watchtower, many ruined, some reasonably well-preserved; these were generally sited at the top of a hill. And all the while the views in both directions were stupendous, with the wall snaking off into the far distance.
The toughest part of the walk was the gradient. The wall goes up and down hills with no regard for the thighs of the people walking on it (very inconsiderate, these ancient Chinese wall-builders); sometimes it was so steep that it was more like climbing a ladder. So it was very tiring and within minutes I was soaked with perspiration. Several of our group of eleven turned back after about a kilometre or so. I persevered, together with a few others, until we reached a watchtower beyond which the wall was so ruined that there was little point in going any further. We walked back again (it was even more difficult going down, because some of the very steep sections had loose stones and any slip would result in a nasty fall) then joined the Chinese "safety guide" for an excellent lunch in the brand-new restaurant near the entrance gate.
What an incredible experience. I enjoyed it immensely, even more so because we virtually had the wall to ourselves (we came across only two other small groups of intrepid hikers). The country on either side of the wall was thick, unspoilt forest for miles and I saw no litter at all, not even that most common sight in China - empty plastic water bottles.
[Friday 13 July : Beijing, China] When we'd been in Tian'anmen Square two days before, the queue to see Mao Zedong's embalmed body was so long we gave it a miss. However, I was determined to see the frozen old bugger, even though his madcap policies and senility towards the end of his life had set China back about twenty years. In a futile attempt to beat the crowds we were up early (once again) and on our way to Tian'anmen Square by 7:45 AM. Hmm, are there ever NOT crowds in Tian'anmen Square? By the time we got there at 8 AM the queue was already long, but at least it was moving fast so we joined in and resigned ourselves to a long wait.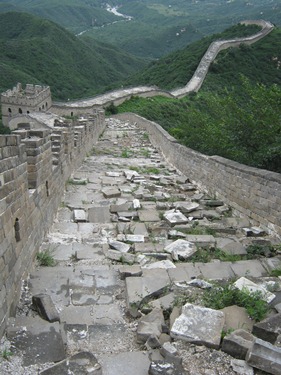 The Great Wall snakes off into the distance
After an hour and a half and a kilometre of walking we finally reached the security checkpoint. All visitors have to show identification, but they didn't seem to be worrying about foreigners and simply waved us through. Inside the massive mausoleum, a square block of ugly concrete, the masses of Chinese visitors became silent and reverential; many of them even put flowers in a huge pile in front of Mao's coffin. We had to walk past without stopping or talking and I only had time for a fleeting look at the waxy-faced body of the man regarded as the father of the People's Republic of China. So we started queuing at 8 AM, got into the mausoleum at 9:26 AM and were out again at 9:27 AM - ninety minutes of effort for a five second look at Chairman Mao. If indeed it was him; rumours abound that there are TWO bodies in the freezer below the mausoleum, one a wax replica and the other the real thing. Certainly what we saw looked very much like a Madame Tussaud's exhibit ...
It was a pretty macabre experience, but the weirdest part of it was the enthusiasm shown by the thousands and thousands of Chinese visitors who also queued for hours in the sun. Don't these people realize that Mao Zedong wasn't a hero, but rather a brutal Communist dictator who almost succeeded in ruining the country? The mindlessly destructive Cultural Revolution of the 1960's and 1970's was Mao's insane idea; the damage wreaked on China's rich history during that tragic period may perhaps never be undone. He was also responsible for the death and torture of untold numbers of dissidents. Yet the Chinese revere him - they queue for hours to look at his frozen corpse and put flowers on his coffin! How is this possible? Have all the people in this country gone completely mad?
My theory is that the Chinese people have been subjected to Communist propaganda and brainwashing for so long now (more than sixty years) that they are no longer capable of independent thought, and simply believe everything thrown at them. Even though modern China is a far cry from the dull, dreary days of Chairman Mao, Communism is still alive and well and it suits the existing regime to keep Mao on his heroic pedestal. And the people soak it up. Remarkable.
On our last night in China we decided to see some of the nightlife and took the Subway to Wangfujing. The pedestrians-only street that leads from the Subway station was a riot of people enjoying the balmy evening air. In the square in front of the cathedral (yes, a Christian church; no idea what denomination but it looked like Greek or Russian Orthodox) a huge dance party was underway. However, this was Chinese-style dancing - rows of people of all ages and genders moving in specific, rhythmic steps while the "leader", presumably an expert, did the same movements up on the steps of the cathedral. Many of the people waved luminous lights as they danced. Karen and I joined in and attracted quite a lot of amused (horrified?) looks when we started doing a Boogie ... in fact, we are now in a great number of Chinese photograph albums and home videos, perhaps even on the "Foreign Mug of the Month" TV show.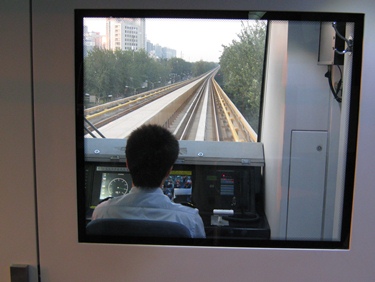 The Beijing Airport Express ... view from the front (above)
Arriving at Beijing Airport (below)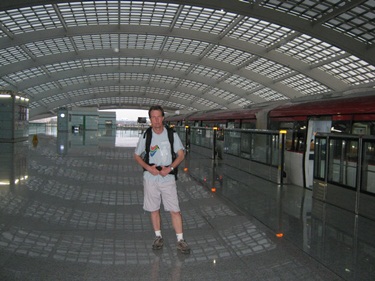 Nearby we chanced upon the night food market, where we marvelled at all the exotic creatures you can eat in China - wriggling scorpions on skewers (still alive, waiting to be deep-fried), beetles, worms, unidentifiable seafood, starfish, sheep's legs and anything else you can imagine (and a lot you can't imagine).
[Saturday 14 July : Beijing, China] We checked out of our guest house, stored our luggage and rode the Subway to the eastern part of the city, an area of markets and shopping centres. The "hi tech mall" was a bit of a disappointment, but a couple of blocks away we found the much more interesting Alien's Market. This is not a site where Martians peddle their other-worldly fruit and vegetables, but rather a hectic scene of tiny little shops selling everything you can think of to Russians. The whole area is dominated by Russian - Chinese people talked to us in Russian and gave us their business cards printed in Russian! We saw lots of foreigners, all with bulging shopping bags and talking Russian. The signs are all in Russian, and the Chinese shopkeepers even speak to each other in Russian. I stopped saying "bu yao" (Chinese for "not want") to the hard-sell traders and resorted to "nyet" instead. Apparently Russian traders come over the border by train from Russia via Ulan Bator in Mongolia, buy tons of cheap Chinese products and take it all back to Russia to sell at huge profit.
We ended our last day in China with probably the best coffee I've had in the country, at a totally deserted place in the Full Link Plaza which seemed to be dedicated to the legendary Brazilian footballer Pele. There was Pele memorabilia everywhere and old black and white videos of Pele in his playing days looped over and over on a TV set. Most importantly, the coffee was hot and very strong (as coffee should be), and not even very expensive either. So if you want good coffee in Beijing, go to Pele's Cup in the Full Link Plaza, a swanky shopping centre near the Chaoyangmen Subway station.
Then it was time to go to the airport for our flight back to South Africa. We manoeuvred our luggage onto the ever-crowded Subway and then transferred to the Airport Express train at Dongzhimen station. The Airport Express is new and very impressive; it was built just prior to the 2008 Olympic Games in China to serve Beijing's glittering new showcase airport. The first part of the route is underground, but when the line reaches the edge of the city the tracks emerge into open countryside and are elevated for the rest of the way. Just like the Subway, the Airport Express is electrified via a third rail on the ground rather than by overhead catenery.
We sat in the first coach and could look through a window into the driver's compartment. The train's speed hovered around 99 kilometres per hour for the duration of the ultra-smooth ride - hardly "high speed", but fast enough and considering that there was only one stop between Dongzhimen (the start station) and the airport I guess it can legitimately be called an "express". The terminus is in the airport itself, under the impressively huge dome that covers the entire airport. We checked in for our late night SAA flight to Johannesburg and then spent a few of our remaining Chinese Yuan on Black Forest Cake at, of all places, Pizza Hut. Beijing's airport may be spotless and new but there are precious few restaurants in it, which is very weird for a country that probably has more eating establishments per capita than anywhere else on Earth.
[Sunday 15 July 2012 : Cape Town, South Africa] Another fifteen long and tedious hours in the air, across six time zones, eventually brought us back to South Africa. Then things went wrong - our connecting flight from Johannesburg to Cape Town sustained damage to one of its engines shortly before takeoff, so all passengers (400+ people) had to get off, collect our luggage and stand in a shambles of a queue while SAA tried to book us all on alternative flights. We eventually managed to get seats on a 4 PM departure; at least they upgraded us to business class and gave us each a voucher for a free meal. And FINALLY, after nearly nine hours in Johannesburg's OR Tambo International Airport, our plane took off and deposited us in a cold, wet and rainy Cape Town at 6:30 PM.
And so ended our Chinese adventure ... Next stop the Baltic States of Europe (Estonia, Latvia and Lithuania) in 2014.
---
© Paul Kilfoil, 2023