Paul Kilfoil's World of Travel, Technology & Sport
---
Italy : September-October 2007
This page describes a trip by
Karen Gray-Kilfoil
, Bronwyn Kiddle, Linda Harvey and Jo Darby to Italy in 2007. You can see more Kilfoil Family travelogues
here
.
If you enjoyed reading this, please
send us an email
. All correspondence is appreciated!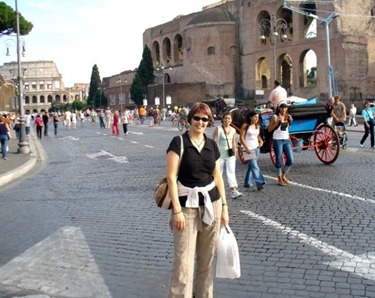 Karen in Rome, with the Colosseum visible in the background
[Saturday 22 September 2007 : Cape Town, South Africa] Karen flew from Cape Town to Johannesburg on Nationwide Airlines. At Johannesburg International airport Karen met Bronwyn where they boarded their overnight Air France flight to Paris.
[Sunday 23 September : Rome, Italy] The queues at Charles de Gaulle airport in Paris were so long that Karen and Bronwyn missed their connecting flight to Rome. However, they got on a later flight and arrived in Rome safely. From the airport they took a train to Termini (Rome's central train station), from where it was a short walk to the guest house they stayed in that night - a place called Fawlty Towers, no kidding.
The Fawlty Towers guest house had a certain resemblance to the fictional TV show of the same name, as the place had vomit green walls and no hot water ; the Italians in charge maintained that this problem could not be fixed because it was Sunday. However, the beds were fine and it was quiet, clean and not expensive, as well as being conveniently close to the main train station. After a cold shower they explored ancient Rome on foot (some old churches and the Colosseum) and had pizza at a restaurant on the way back to their hovel, sorry, hotel.
[Monday 24 September : Todi, Italy] After a cappuccino Karen and Bronwyn had a morning of exploring the bustling city of Rome. The highlight was a visit to the Crypt of the Capuchin Monks consisting of chapels decorated with human bones. The two friends then caught a midday train to Todi in Umbria. After exploring Todi they eventually met up with Linda and Jo, who had arrived in Rome a day earlier and stayed at a spa for two days ; they were late getting to Todi because they couldn't resist a last minute massage at the spa. All four girls spent the night at Fonte Cesia, a lovely hotel in Todi, after a typical Italian dinner at an outdoor restaurant.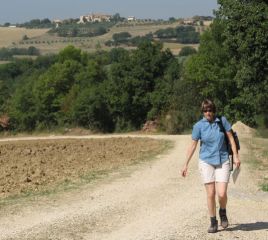 Karen on the path from Todi
[Tuesday 25 September : Giano dell'Umbria, Italy] The four friends (although Jo had not met Bronwyn before) started their 5-day walk through the countryside of Umbria with a 24 kilometres hilly "marathon" - all organised by ATG. They arrived at their overnight stop (the farmhouse of San Felice) knackered. Karen even had a COLD SWIM when they finally got there! Bronwyn injured her knee on the way, but all aches and pains were forgotton with a good traditional Italian meal, Sagrantino vino and loads of laughter. Linda's luggage had not arrived so she and Jo were living out of Jo's 7kg backpack. The saying of the day was "It's in the other bag!"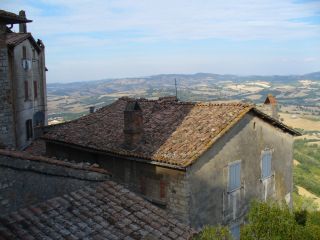 Todi rooftops
[Wednesday 26 September : Montefalco, Italy] The second day of walking proved easier, much of it through farmland, although they were pleased to get to Degli Affreschi, the overnight stop in Montefalco. Linda and Bronwyn tended to read the map while Karen and Jo checked up on them when they weren't sure of ATG's directions. It took some getting used to their terminology. A moment of excitement was when Jo narrowly avoided stepping on a green snake lying in the path. Exploring the hilltop village, Bron and Karen discovered a tiny church with beautiful frescoes being restored by two blonde women. Underwear was washed (no Bridget Jones knickers!) and a hilarious meal enjoyed trying to learn Italian phrases like "I am allergic to your nuts!" Linda nearly got them all kicked out by shouting for the wrong soccer team on the TV.
[Thursday 27 September : Bevagna, Italy] An exquisite day. After a leisurely breakfast at Degli Affreschi they went shopping (some for shoes) in Montefalco before heading out for the third day on the trail, which was the shortest of the entire route - barely three hours of walking. They got to Bevagna early and relaxed for the afternoon. Bron and Karen visited the ancient Roman baths with exquisite mosaic floors and a medieval museum. There were some beautiful little medieval streets with hanging and potted plants asking to be photographed. The four companions had a delicious meal served by equally delicious men, who loved being photographed with them. The hotel was called Brunamonti and was a classic old country building with exquisite frescoes and wrought iron beds.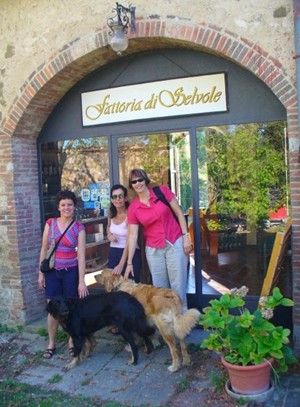 Linda, Jo and Karen at Castello di Selvole, Siena
[Friday 28 September : Spello, Italy] The fourth day was a slightly longer, but very pleasant walk to Spello. They came across a herd of sheep complete with Italian herdsman and dog as they walked through farms and tiny villages. It was uphill to Spello, another medieval town on a hill. They explored the streets and Karen enjoyed the best hot chocolate ever! It was more like chocolate sauce. The hotel, Il Cacciatore (The Hunter ; there are plenty of hunters in Italy, so there is very little wildlife and a lot of empty shotgun shells lying on forest paths), had fantastic views and was very comfortable as usual.
[Saturday 29 September : Assisi, Italy] The fifth and last day of the walk ended in Assisi, where the foursome planned to spend two nights. After a hard long walk over Monte Subasio, through olive groves and gorgeous wild forests, they stopped in at the St Francis Hermitage above Assisi. This is where St Francis spent a lot of time praying and communing with nature. He is known as the patron saint of animals as he talked to them and wrote prayers about them. His followers built the hermitage, with its "caves" and chapels, over the years so they could also spend time there. Bronwyn caught a lift to Assisi (a distance of about four kilometres), as the downhill walk from there was extremely painful for her knee. They stayed at a beautiful hotel in the heart of the old town.
[Sunday 30 September : Assisi, Italy] The friends spent the day relaxing, exploring the old town of Assisi and catching up on laundry. Assisi's most famous resident was St Francis, who died there in 1226. The Basilica di San Francesco houses his crypt and contains a number of impressive frescoes depicting his life and work. By chance Bronwyn and Karen ended up in Mass in the Basilica - an impressive ceremony in Latin/Italian with six priests. After that Karen queued to see the tomb of St Francis, which was underground in the crypt and quite interesting. They also visited the tomb of St Chiara (Claire) and saw some of the clothes worn in the 13'th century.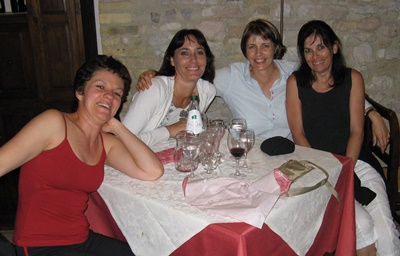 Linda, Bronwyn, Karen and Jo relaxing
in a restaurant after a hard day's walk
Karen lost Bronwyn in the crowded touristed streets and when they met up at the hotel hours later, they were all relieved that Bronwyn wasn't thrown down a medieval well, as an old man had suggested ... They had dinner out to celebrate the end of the "pilgrimage" and sang along to the music in the restaurant, much to the amusement of some American tourists. "Volare...oh...o!"
[Monday 1 October : Siena, Italy] After a week in Umbria the foursome moved on to Siena in Tuscany by bus. Siena is about 70 kilometres south of Florence. Cars are prohibited from the historical centre of Siena - it is only accessible on foot. They waited hours for their driver to collect them and take them to the wine farm they were staying at, about 20 kilometres out of town (Castello di Selvole), but he did stop at a supermarket to buy food for supper on the way. They had a relaxed supper at the farm apartment/cottage on the balcony with vino, laughter and gorgeous views of Tuscan farmland.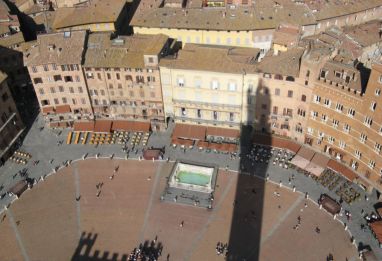 Piazza del Campo, Siena
[Tuesday 2 October : Siena, Italy] The grumpy driver, Sergio, took the four of them to town for the day, driving the Fiat Uno like a Ferrari. Siena is a charming old town, well-preserved and almost unchanged since medieval times. Some of the many impressive old buildings are the gothic Palazzo Pubblico (above which is the Torre del Mangia clock tower - it was named after a gluttonous bellringer who was reputed to have "eaten the profits"), the white and green "striped" duomo (cathedral) and the Museo dell'Opera della Metropolitana. Siena's central square (Piazza del Campo) is converted into a racetrack for the twice-yearly "Palio" horse race. The friends decided to split up and Karen climbed the tower, saw the sights and did a bit of shopping. Karen and Bronwyn separately both saw the awful preserved head of St Catherine, still wearing her wimple. Later they all had a fun wine-tasting session at the farm.
Images of Rome ...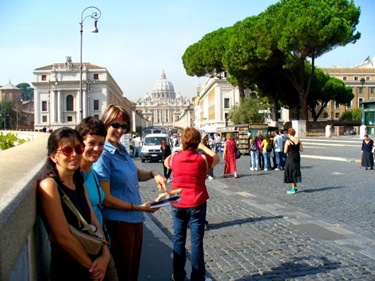 Jo, Linda and Karen on their way to St Peter's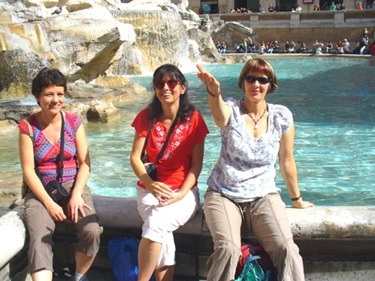 Linda, Jo and Karen toss coins into the Trevi Fountain
[Wednesday 3 October : Rome, Italy] Managing at the last minute to get a happier driver into Siena (who drove more sensibly), the foursome then caught the bus from Siena south to Rome for the last few days of their trip. Thankfully they weren't staying in Fawlty Towers this time, but at "The Pope's Cottage" (Zatti-Angeli). The name of the place turned out to be quite misleading because it was actually miles from the Vatican. However, it was very comfortable and spacious, near bus and underground stations and some shops and restaurants. The little shop/espresso bar next door to the apartment building was frequented by the group as a coffee stop as well as an information bureau.
[Thursday 4 October : Rome, Italy] Using the Metro (underground rail system) they all, even Karen, shopped until they dropped ... Look out Gucci and Valentino! But they also managed to see the Spanish Steps, Colosseum, Pantheon and Trevi Fountain. South African coins were thrown into the fountain amid many wishful thoughts ... Espresso, Peroni (beer), gelati (ice cream) and pizza were consumed in-between. A good girly day was had by all.
[Friday 5 October : Rome, Italy] The four friends visited the Vatican by bus, but the queues to get into the museum and St Peter's were right around the block and St Peter's Square. It was hot and the foursome felt overwhelmed by the tourists, so instead they went shopping for last-minute souvenirs. They also did some sight-seeing, mostly on foot, and saw the Roman Forum. Bronwyn was determined to see the statue of the She-wolf with Romulus and Remus, but they would not let her into the museum without the correct change, so she gave up.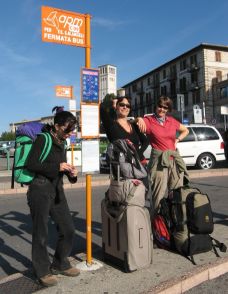 Waiting for the bus
from Assisi to Siena
[Saturday 6 October : Rome, Italy] As the taxi driver insisted on picking them up early, the friends spent seven hours at Leonardo da Vinci Airport, shopping and yes, drinking coffee. Bronwyn even got a cappuccino with a latte heart on the top! Karen and Bronwyn finally boarded their Air France flight to Johannesburg via Paris, while Linda and Jo went on Iberian Airlines to Cape Town via Madrid. Karen and Bronwyn managed to dodge the queues in Paris with some French panache and caught their connecting flight without incident.
[Sunday 7 October 2007 : Cape Town, South Africa] The four companions ended their "Men-o-Pause" trip - Bronwyn in Johannesburg and the other three in Cape Town. Ciao Belli! Plans are already afoot to repeat the experience sometime in the future, perhaps along the Amalfi coast ... Until that happens Karen is looking forward to going to the Middle East (Jordan and the United Arab Emirates) in 2008 with husband Paul and son Scott.
---
© Paul Kilfoil, 2023