Paul Kilfoil's World of Travel, Technology & Sport
---
Nepal : September-October 2016
Map © Nations Online Project (

info

)

Nepal


Capital
Area
Population
Languages
Currency

Kathmandu
147 181 km2
27 400 000
Nepali (and many others)
Nepalese Rupee (NPR)

Nepal is a relatively small landlocked country on the southern slopes of the Himalayas, sandwiched between India to the south-west and China to the north-east. But despite the proximity of these two giants of Asia, Nepal has managed to remain independent since 1923. The north of Nepal is extremely mountainous and contains eight of the ten highest peaks on Earth, including Mount Everest (which is on the border with Tibet, a so-called "autonomous republic" of China). The southern regions are fertile and humid, with the lowest point in the country being only 60 metres above sea level. Nepal is renowned for being the birthplace of Buddha, but surprizingly, only the northern part of the country is Buddhist - over 80% of the population is Hindu.
This page describes a trip by Paul Kilfoil,
Karen Gray-Kilfoil
and
John Watermeyer
to Nepal in 2016.
Check out my
travelogues
page for details of other trips we've done.
If you enjoyed reading this, please send me an email. All correspondence is appreciated!
You might also like to read my blog about the difficulty in finding a really good cup of coffee in Nepal.
[Monday 26 September 2016 : Cape Town, South Africa] The first leg of the long haul from South Africa to Nepal consisted of an overnight flight between Cape Town and Dubai, landing in the United Arab Emirates at 5:30 AM. But Emirates Airlines certainly made the pain of sitting for ten hours in a metal cylinder 11 kilometres above the Earth's surface reasonably bearable, with a wide range of in-flight movies, excellent food and friendly air hostesses. In fact, it's amazing how good airline food has become in recent years - gone are the days of limp and soggy sandwiches and chicken that tastes like plastic; now you get gourmet wine, a nicely printed menu (with two choices) and tasty meals.
[Tuesday 27 September : Dubai, United Arab Emirates] We trooped off the plane at Dubai airport at 5:30 AM, expecting a smart sky bridge and direct access to the glitzy terminal we'd been promised in the Emirates Airlines in-flight magazine ... but no such luck. Instead the plane taxied to a remote corner of this sprawling airport and we were ferried by bus for miles and miles, past factories, rows of parked planes and freeways before finally being deposited at the arrivals hall. Then we endured a thorough security check to get inside (belts, watches and shoes off), only to discover that gate F11, the boarding gate for our flight to Kathmandu, wasn't listed anywhere. The signs didn't help - they just pointed back the way we'd come for gates F1 to F12 ... how was that possible? Surely we couldn't walk out onto the airport apron, and there was nowhere else to go.
A guard told us to go back out through the security gates again (hmm, I thought that wasn't possible at international airports) and pointed down a dimly-lit corridor. "That way," he said; he was definitely a firm believer in the "less is more" philosophy inspired by such verbally-challenged actors as Sylvester Stallone and Arnold Schwarzenegger ... Expecting to be arrested, shot or attacked by vicious dogs, we went through the security gate in the opposite direction to the masses of arriving passengers; doing so attracted some very curious looks, which prompted me to put on a smug expression as if we were VIPs being given special treatment instead of three bumbling idiots who had gone the wrong way.
Kathmandu, Nepal ... Paul in a typical street (above)
Breakfast at the Kathmandu Boutique Hotel (below)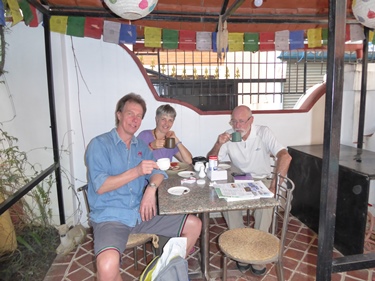 We survived the reverse security procedure, and at the Emirates Airlines "Connections" desk a lady told us we had to take a shuttle bus to terminal 2. "Just follow that guy," she said, pointing at a man in uniform standing at the door leading outside. He led us out onto the tarmac, dodging buses as they arrived to disgorge passengers, and onto a small bus that was already full of people; as soon as were aboard the bus drove off. Once again we went for miles round the airport, stopping at terminal 3 briefly before finally arriving at terminal 2. It took so long that for a few mad moments I thought the flight to Kathmandu had been cancelled and had been replaced by an overland bus service.
Thankfully we were at the right place at last. Unfortunately it was also small and overcrowded with people - terminal 2 seems to be the place for low cost flights to relatively close Middle East destinations, the "poor cousin" of the glamourous terminal 1. There were only two coffee places in the building, so we chose Costa and sat down with some excellent coffee for the first time in two days. At least all these convoluted bus rides and long queues to get through security had taken so long that by the time we sat down it was already 7:30 AM, and two hours of our seven hour layover had been used up.
Our flight to Kathmandu on low-cost carrier Fly Dubai finally took off at 1 PM (half an hour late), flew almost directly east across two time zones and deposited us in the Nepalese capital at 6:40 PM - later than we would have liked, but that was the best flight option we could find, despite quite a bit of looking around. Fly Dubai is about as "no frills" as you can get on a plane - minimal legroom, no seat-back TV, no in-flight magazine, no food and nothing to drink. There was, however, a menu with simple things like fizzy drinks, chips and peanuts for sale at ridiculous prices (payable in US Dollars or UAE Dirhams). Many of the passengers must have flown on Air Dubai before and known about the total absence of on-board catering because we saw quite a few people with their own food.
[Tuesday 27 September : Kathmandu, Nepal] All three of us had obtained our Nepalese visas beforehand and thus we didn't have to stand in the "Nepal Visa" queue with the other gormless Westerners who simply turned up ... so we cleared Customs and Immigration very quickly and emerged into the chaos of the airport concourse. But having been warned of the aggressive touts who descend on all Westerners arriving in Nepal and knowing that public transport options from Kathmandu airport are sketchy at the best of times, we'd ordered a taxi via the hotel we'd booked into. We fought our way through the throng of airport touts, found our taxi driver and after a bewildering ride through confused and shambolic streets we arrived at the Kathmandu Boutique Hotel at about 8 PM.
Everything seemed to be shut by the time we walked out into the darkened streets to look for something to eat, but we managed to find a local eatery that was still open a block away from our hotel. And, as is usually the case with basic restaurants catering for locals, the food was delicious - three plates of Chow Mein disappeared down our respective hatches in the blink of an eye.
[Wednesday 28 September : Kathmandu, Nepal] Breakfast in the tranquil courtyard of our hotel turned into a planning session as we figured out what we needed to organize before heading into the Himalayas for three weeks of trekking. Most important were the permits that all Westerners must have - the Trekkers' Information Management System (TIMS) card for independent trekkers and the Annapurna Conservation Area Project (ACAP) entry permit. A long walk to the Ministry of Tourism building south east of Durbar Square, four photographs and 120 US Dollars later ($20 for each permit for three people) and that chore was done.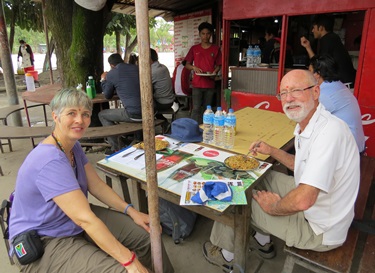 A fantastic lunch stop at a local restaurant in Kathmandu
Next up was money - you cannot get Nepalese Rupees outside of Nepal and we needed quite a lot of cash for three weeks of hiking in the wilds, so that meant drawing money from ATMs. Between us we had a variety of cards from different banks, but this simple task proved to be very difficult indeed. When we tried various ATMs in the city, most of our cards were rejected with messages like "Invalid card", "Insufficient funds" or "Daily limit exceeded" ... despite all of us having gone to extreme lengths BEFORE our trip to ensure that our cards could be used in Nepal and making sure we had enough money in them. But we finally managed to get things right, and armed with cash we enjoyed some excellent coffee and a pastry at Weizen Bakery in the Thamel district.
[Thursday 29 September : Pokhara, Nepal] We had debated how to get from Kathmandu to Pokhara, Nepal's second largest city and jumping off point for treks into the Annapurna region - the distance is only about 200 kilometres, but Nepal's roads are in such a shocking state that the scheduled time by bus is SIX HOURS while the actual time can be as long as TEN HOURS (on occasion even more, if the monsoon rains and unpredictable events such avalanches and earthquakes wreak havoc). So we'd booked flights on Yeti Airlines, which gave us more time in both Kathmandu and Pokhara. In fact, the flight time between the two cities is only 25 minutes, so it was a no-brainer.
Kathmandu's domestic airport is a diabolical shambles ... and we experienced it for longer than we would have liked because all flights to Pokhara were delayed by over an hour. Even so, a 1:45 PM departure meant we walked out of Pokhara's tiny airport at 2:15 PM. We were hoping for views of Mount Everest on the flight, but heavy cloud cover over the Himalayas (the norm) spoilt that idea. The plane itself was a tiny propellor-engined aircraft, with room for only 30 passengers in ten rows of three - one seat on the left of the aisle and two on the right.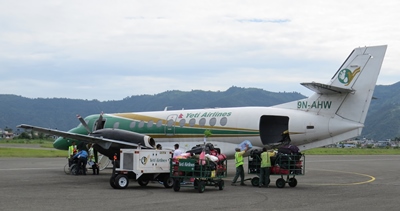 The Yeti Airlines plane we flew in from Kathmandu to Pokhara
The drive from the airport to our guest house showed us immediately how much more relaxed and less frenetic Pokhara is compared to Kathmandu - the traffic actually flows, rather than jerks along in a series of stop-starts, and every street isn't crowded with pedestrians, motorcycles and bicycle rickshaws.
Pokhara is on the edge of Fewa Lake with most of the tourist infrastructure located on the road that winds along the eastern shore; the guest house we'd booked into was half a block from the lake, ideally situated away from the noise and partying. It was quite a nice place, with a relaxed holiday atmosphere.
After Karen and I had settled into our room I went down one floor to John's room (number 210) and knocked on the door. To my complete surprize a very attractive young girl opened up.
"Yes?" she asked. Holy mackerel, I thought, John works fast - we've only been here 15 minutes and he's already got a girl in his room.
"Sorry, I thought my friend John was in this room" I replied.
"Nope, there's no John here, I'm afraid." She grinned cheerfully, so I apologised and walked back along the balcony, glancing in the windows as I went along. Going past room 206 I noticed John's red duffel bag on the bed, but when I knocked on the door there was no reply.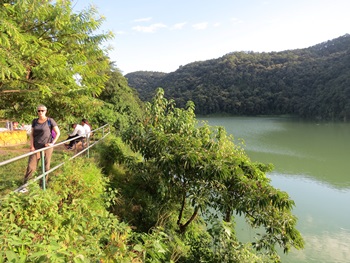 Pokhara ... Fewa Lake (above) and the view from our hotel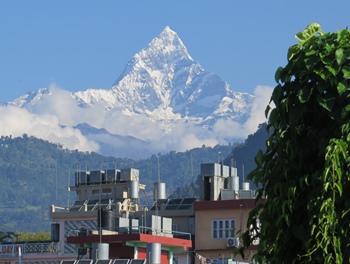 I found John downstairs enjoying tea. "What's up with the young lass in your room?" I asked.
He professed surprize. "No, there was a mix-up and they gave me another room." He thought for a moment. "But maybe I'll go back to 210 and find out for myself exactly what happened."
"Good idea," I replied. "She's there right now, and seems pretty friendly. In fact, pretty AND friendly."
The remainder of this story has not been recorded here. For that, you'll have to ask John. Good luck ...
After tea and coffee at the guest house we strolled along the lakeshore road to find somewhere to eat; unfortunately, every restaurant seemed to be a Western place with the corresponding bad service and mediocre food. We hoped for better at the Nepali Kitchen but it was not to be - the food was bland and the waiters were more interested in watching American wrestling on TV than serving us. And they short-changed us on the bill. But the view from the balcony across the road to the lake was very good and we relaxed there for a while after a hectic morning.
[Friday 30 September : Pokhara, Nepal] Wow! For once the sky was totally clear this morning, and the view from our room north towards the Himalayas as the sun came up was astounding - rows of mountains receding into the distance, with the higher peaks in the background covered in snow.
The hotel we were staying in had a novelty you don't often see in hotels any more - a telephone in each room. So that was a way Karen and I could contact John, whose room was a floor below us. I asked at reception how you dial another room, and was told that it was simply the room number. But when I tried John's room number (206), I just got an engaged signal. I thought he was on the phone and forgot about it ... hmm, maybe he was speaking to the attractive girl in room 210?
Oddly enough, although we were in room 316 the number of our phone was "21" - it was written on the receiver. I told John to dial 21 if he wanted to speak to us, and later when he called us I asked about the earlier incident when his phone had been engaged. "No, I haven't used the phone and it definitely wasn't off the hook." Strange ... I told him to hang up and dialled 206 again; same engaged signal. I waited a while then John called back, and this time I looked on the phone's screen and saw the number "8004" flashing there.
"Looks like your number is 8004," I told John. "Very weird - room 206 is 8004 and room 316 is 21. What drunken fool set up the PABX here?" When we'd finished talking I dialled 8004 and immediately John answered, so by experimentation we'd worked things out. I then called reception and told them the story of how dialling the room number does NOT work, and that room 206's number is actually 8004.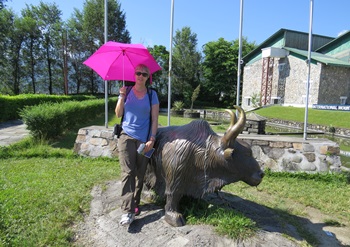 Karen at the Mountaineering Museum, Pokhara
"No, you just dial the room number," the receptionist said.
Had he heard anything I said? "But I tried that and it doesn't work - I just dialled 206 and it didn't ring in room 206."
There was a slight pause. "OK, you must phone 206."
"No, that's wrong! 8004 gets to room 206."
"Sir, please dial the room number."
This was getting absurd. "Are you listening? The phone number of room 316 is 21, and the phone number of room 206 is 8004. You CANNOT dial the room number."
This went backwards and forwards a few more times, and as I got more irritated the receptionist became ever more polite but remained adamant that the phone number of a room was simply the room number. Eventually I gave up, said good night and hung up. In the meantime Karen was bent over double with laughter listening to this ridiculous conversation. They never did believe me, so if you ever stay at the Hotel Grand Holiday in Pokhara, do NOT ask at reception how to phone another room - they have no idea.
The Annapurna Circuit
The "Annapurna Circuit" is a popular hiking trail in northern Nepal. The horseshoe-shaped route circumnavigates the Annapurna Himal, a series of mountain peaks in the Himalayas of which the highest (Annapurna I) is 8091 metres above sea level. People generally walk anti-clockwise, from the starting point at Besi Sahar in the south-east, north over Thorung La (5416 metres above sea level) then west and south to various possible ending points (eg. Jomsom, Tatopani, Naya Pul). The trail distance depends on where you start and end, but is usually between 200 and 250 kilometres and requires two to three weeks of walking.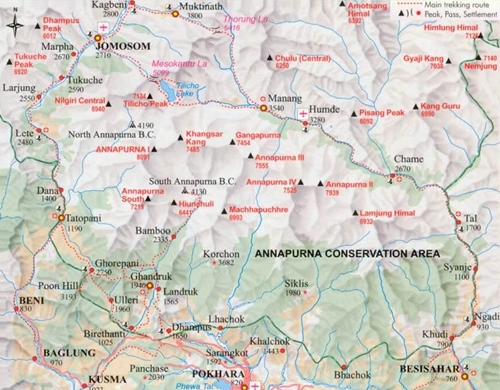 We booked our bus tickets for the next day to Besi Sahar (starting point of the Annapurna Circuit trail) then set off on a long walk to the International Mountaineering Museum. It took about an hour to find it, through a series of back streets that were off the edge of our map of Pokhara. But the museum was worth the walk when we finally got there - it is a huge new building, with exhibits of various climbing expeditions to all fourteen peaks on Earth that are higher than 8000 metres. Interestingly, the fourteen highest peaks are all in the Himalayas; in fact, it is estimated that there are between 70 and 80 peaks in the Himalayas over 7000 metres high that are unnamed! In any other country a 7000 metre peak would be exceptional (Mount Kilimanjaro, the highest peak in Africa, is not even 6000 metres high), but here they count for very little.
Above 8000 metres is regarded as the "Death Zone" by climbers - you cannot acclimatize to the lack of oxygen at that altitude, so the body starts to shut down; you are, effectively, dying. It thus becomes a race against time to scale the peak you are aiming for (such as Mount Everest at 8848 metres) and get back down to a manageable altitude before you die. That is why the majority of deaths on Everest occur on the way down - people can usually stay alive long enough to reach the summit but their bodily resources run out before they reach an altitude low enough to allow recovery.
It also means that if you get into trouble above 8000 metres you can't rest up at that altitude and hope to recover - you'll simply die. You HAVE to descend if you want to survive, regardless of how bad your condition is.
Day 1 : Besi Sahar - Bhulbhule
---
| | |
| --- | --- |
| Distance | 9 km |
| Altitude (Highest) | 1030 m |
| Altitude (Overnight) | 840 m |
[Saturday 1 October : Bhulbhule, Nepal] A wake-up call at 5 AM followed by a 6 AM taxi ride to Pokhara's "tourist" bus station was followed by a nerve-wracking four and a half hour bus ride east then north to Besi Sahar, starting point of the Annapurna Circuit Trail. It was labelled a "tourist" bus but at least half the passengers on board were locals and the bus was packed to the rafters - people were standing in the aisle, hanging over seats and crammed into the doorway. We dodged huge potholes, barely missed hitting oncoming traffic several times and stopped at a roadside stream so that the driver's mate could mop up the vomit on the floor where a passenger had been sick. But discomfort aside, the scenery became ever more spectacular as we twisted and turned our way into the foothills of the Himalayas. The best part was the last hour, but by then we were so tired of the hard seats and cramped positions we were in that we barely noticed.
The bus finally stopped in the dusty main street of Besi Sahar and we staggered out onto the sidewalk. Once we'd assembled all our gear we went into the trekkers' checkpoint office and had our TIMS permits stamped and authenticated - the Nepalese government strictly controls access into the Annapurna Conservation Area so that the environment can remain in as pristine a state as possible. At about 11:45 AM we finally started our trek. At the end of the town's main street we crossed a river over a metal suspension bridge and ascended a slope via stone steps [Aside: we planned to walk for 18 days but had allowed for up to 21 days; as it turned out, we did 19 days].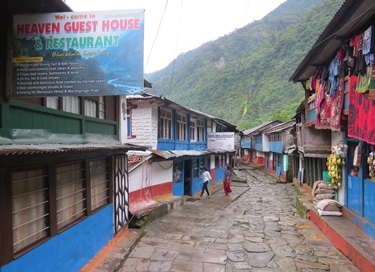 Bhulbhule's main street; Heaven Guest House is on the left
For the rest of the day we walked north, generally upwards, as it became steadily hotter and more humid. We had expected early Autumn weather, so we were unprepared for the heat; the temperature hit the upper 30's as we toiled uphill along paths without much shade. We passed through several small villages, mistakenly thinking they were Bhulbhule, and each time continued on in disappointment. On several occasions we were accosted by small children begging for money, chocolate or sweets; some of them became quite aggressive when we refused to give them anything and one kid tried to block the path and not let us through. Was this what we'd have to endure for the next three weeks? Hopefully not ...
Finally we descended a steep slope past a Hindu shrine and stumbled wearily onto a narrow stone-paved street. We'd reached Bhulbhule, and although our plan had been to head on to Ngadi (the next town), we all decided we'd had enough and went into the first lodge we came to - Heaven Guest House. The owner of the place must have thought we were mad, because we simply dumped our backpacks and proceeded to shovel down huge quantities of tea and food. The dining area was a balcony with a superb view down the Marsyangdi River, and we stayed there until we'd replenished our much depleted reserves. Shower and ablution facilities were basic (cold water, squat toilets, non-potable water) but we'd expected that and simply adjusted to the conditions. Our water purifying drops worked like a charm so we filled our water bottles from the communal supply, added the drops and drank 30 minutes later.
We'd thought that by October the monsoon would be over, but that night the heavens opened and it rained like I haven't experienced since I was in Thailand ten years ago. The clamour of the water hammering onto the roof kept us awake for hours, and I wondered what we'd do if the rain was still bucketing down in the morning - it would be simply impossible to walk in that downpour. But at least we were snug and dry inside.
The main street of Chamche
[Sunday 2 October : Ghermu, Nepal] Thankfully in the early hours the rain stopped as abruptly as it started and when I looked out in the morning the sky was clear. In fact, there was hardly any evidence that it had rained at all - I guess in a country where you get monsoon rain every year for months on end they know a bit about drainage; perhaps what we'd thought was a major storm was no more than a passing shower to the Nepalese ..?
Day 2 : Bhulbhule - Ghermu
---
| | |
| --- | --- |
| Distance | 13 km |
| Altitude (Highest) | 1270 m |
| Altitude (Overnight) | 1130 m |
We'd only finished one day of our trek and were already slightly behind schedule, so by 8 AM we were on the road northwards. We caught up when we went through the little village of Ngadi and celebrated being back on track with a cup of milky tea at a roadside restaurant. Then we concentrated on getting in some real mileage before it got too hot. A couple of stiff climbs and a brutal ascent up a zig-zag jeep track with very little shade brought us to the village of Bahundanda, dripping with perspiration. We were passed by a group of Korean cyclists who had ridden from Besi Sahar to Bahundanda in three hours! These guys were tough - they planned to cycle the entire Annapurna Circuit, including the formidable Thorung La (Pass) at an altitude of 5416 metres above sea level.
We saw these Korean cyclists again the next day but not after that, so I have no idea whether they succeeded in getting over the pass or not. The path from Thorung High Camp up and over the pass is fine for cycling, but the gradient from Thorung Phedi up to High Camp is brutally steep and mostly loose scree; I cannot imagine that it is possible to ride up there. They must surely have wheeled their bikes up this section.
Bahundanda is perfectly located on the edge of a cliff (the same cliff that was responsible for our aching leg muscles), with a beautiful view down over the lush valley we'd walked through. We filled up with water from the communal pipe, had our TIMS cards stamped at the checkpoint then relaxed with tea and pancakes at a restaurant looking out over the valley. Depleted energy levels restored, we headed out of Bahundanda down a gentle descent to the valley floor through thick sub-tropical forest, which (inevitably) led to another long and gradual climb to the village of Ghermu. But the scenery was magnificent as we left civilization behind and entered the steep-sided gorge formed by the Marsyangdi River - waterfalls, sheer cliff faces and tiny villages clinging to hillsides were common. Ghermu itself was on the eastern edge of the gorge, directly opposite a huge waterall cascading down the cliff on the opposite side. We checked into Crystal Guest House just as it started raining, and relaxed at a big table outside with a pot of tea each.
[Monday 3 October : Tal, Nepal] We knew we had a long day ahead of us so we had breakfast at 6:30 AM and got going at 7:30. Immediately after leaving Ghermu we went down a steep cliff and crossed the river to the west bank over a suspension bridge. There is a very rough road on the west side of the river and we followed it for the next several kilometres, quite often sloshing through ankle-deep water running down the side of the mountain. The monotony of the road was broken by a tea-stop at a restaurant with a great view down-river. The proprietor of this establishment was quite unable to calculate the total of our bill (70+70+50=190), despite the use of a calculator, and working out the change for a 500 Rupee note was totally beyond him. I had to do the calculation by hand on his piece of paper while he watched, his 12-year old daughter whispering in his ear the whole time. But finally the numbers converged and he was all smiles.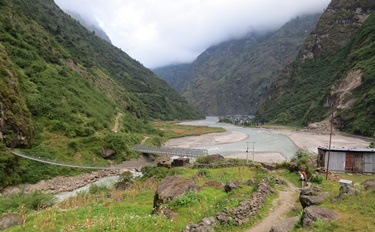 The village of Tal
We passed through the very picturesque town of Jagat and had lunch in Chamche. The food was absolutely delicious, easily the best we've had on the trail, but it took so long to prepare that we were there for over two hours ... which meant we were now well behind schedule. Then we made our first navigational error when we missed seeing the sign for a turnoff that we should have taken. By the time we realized that something was amiss and turned round, we'd walked half a kilometre and this unnecessary detour cost us another twenty minutes of wasted effort.
Day 3 : Ghermu - Tal
---
| | |
| --- | --- |
| Distance | 12 km |
| Altitude (Highest) | 1760 m |
| Altitude (Overnight) | 1700 m |
Back in Chamche we found the right path, crossed the river on yet another suspension bridge and endured an afternoon of climbing. But the more we ascended the more stupendous grew the views, so at every stop for a breather we marvelled at the soaring cliffs and high mountain peaks all around us. The river was a foaming, roaring torrent at the bottom of the gorge. Finally, at about 5:30 PM we went through an archway and saw a broad open plain in front of us, with the river in the middle and sandy banks on either side. The town of Tal was just ahead and we dumped our backpacks at the Peaceland Hotel; they had (incredibly) hot water, en-suite bathrooms and Western toilets! Because we arrived quite late and the place wasn't full (and there were several guest houses further up the street), the owner said we could stay for free provided we ate dinner and breakfast at the lodge ... sounds crazy, but that isn't so unusual in these parts - guest houses make their money on meals and drinks rather than accommodation.
True to the form of previous days, the rain thrashed down that evening while we were having supper. The garden between the guest rooms and the restaurant quickly became a swamp and we had to splash through muddy puddles to get back to our room.
[Tuesday 4 October : Timang, Nepal] Another early start saw us on the path towards Dharapani, first on a track on the east side of the river then via the road on the west side. A lot of the time we were walking in water, as countless waterfalls and streams cascade down the steep cliffs on both sides of the river. We climbed steadily and reached Danaqyu at 12:30 PM, just in time for an excellent lunch at the Tibetan Hotel & Restaurant (egg and vegetable fried rice, one of our staples on this trip). And the place had wifi, so I quickly penned this paragraph and uploaded it.
Lunch was outstanding and we spent some time studying the map to decide whether we should push on or stay put for the night. But it was only 2 PM so we hefted our backpacks and headed north. For the rest of the afternoon we walked on the road, winding steadily upwards into ever more alpine terrain [Aside: The "road" on the west side of the Marsyangdi River is not a 4-lane tarred highway but a VERY rough track that is negotiable only by the toughest of 4-wheel drive vehicles]. Up to this point all the vegetation had been lush and sub-tropical, but as we went higher we started seeing pine and juniper trees and soon found ourselves in thick mist.
We had been wondering about all the Western trekkers who weren't carrying heavy bags - how was their luggage being conveyed? We saw only a few porters and surmized that most trekking companies take their clients' backpacks by jeep as far as they can. But today we saw a mule train being driven up the road, each animal laden with trekking equipment and backpacks. So at least some tour groups still used the traditional method of hauling heavy loads in the Himalayas.
John and Karen on (yet another) suspension bridge
We traversed a sheer cliff face and crossed a wooden bridge over a thundering waterfall that burst out of the mountainside in a booming cascade of water that was so loud we had to shout to make ourselves heard. The bridge over this raging torrent was nothing but a few spindly logs laid across the rocks on either side of the deep cleft that the water had carved out of the mountainside. We walked gingerly across, getting soaked with spray, then stopped at a safe distance on the other side to gaze awestruck at the scene. Two locals who were herding some goats along the road had a tough time getting the goats to walk across the logs, and it was comical watching the poor creatures trying everything possible to avoid the bridge. One goat ran back the way we'd come (and was chased by a herdsman) and two tried to climb down the almost vertical cliff face. But eventually they all crossed safely, albeit with much bleating (from the goats), cursing (from the herdsmen) and camera-clicking (from the watching trekkers).
Day 4 : Tal - Timang
---
| | |
| --- | --- |
| Distance | 14.5 km |
| Altitude (Highest) | 2765 m |
| Altitude (Overnight) | 2750 m |
Our water breaks became more frequent as the road climbed relentlessly upwards, but finally at 4 PM we spotted the roofs of houses - the village of Timang, at an altitude of 2750 metres above sea level. We moved into the Namala Hotel, a somewhat grandiose name for a place that was pretty basic. But we were happy with a clean, dry room and some hot food for supper. For the first time it was cold and there was a persistent drizzle for most of the night.
[Wednesday 5 October : Chame, Nepal] After four tough days of walking we decided to take it easy today. Breakfast at 7:30 AM saw us on the road to Koto at 8:15. The weather was still misty but at least it was cool as we trudged up (you guessed it) another hill. A dog latched itself onto us as we left Timang and walked with us for several kilometres - this is a common occurrence in Nepal where dogs are mostly left to fend for themselves. They are not aggressive, never seem to want food and appear quite happy to wander around in the streets on their own. In fact, when dogs want to walk to the next village they tend not to go alone but wait for trekkers heading that way then go with them; we often wondered whether they were scared of wolves or bears, or did they simply like the company?
From Tal to Timang ...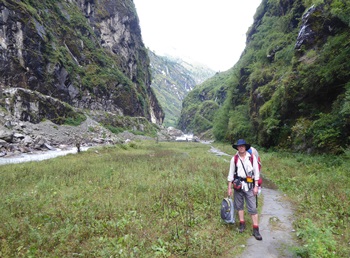 Paul on the path from Tal to Dharapani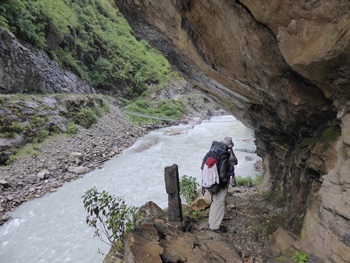 John looking down on the Marsyangdi River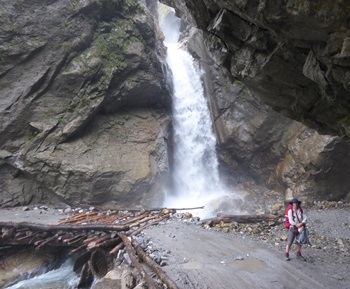 Paul, dwarfed by a waterfall near Danaqyu. The bridge
on the left is the one that the goats wouldn't walk over
We left the road and turned onto a trekkers' path near the village of Thanchowk; although the road was relatively easy to walk on, it was boring and we had to dodge heavily-laden jeeps quite often. The path was beautiful and led down through forests and meadows to yet another suspension bridge over the river. Our canine companion was not at all sure about this narrow, swaying construction and waited for all three of us to cross before it gingerly put its front paws on the bridge then crept over painfully slowly.
A brief stop in Koto for tea fuelled us for the short hop to Chame, the biggest town in the region. Shops, banks, a police station, a post office and scores of guest houses and hotels lined the road through town. We saw loads of other trekkers walking around, eating lunch at restaurants and browsing in shops. Our (rather out of date) guide book informed us that the hotels on the other side of the river were better than the ones in the main street, so we crossed the river and investigated a couple of them. The first had tiny, cramped rooms and no water (never mind hot water) but the second was a lot better - it even had en-suite bathrooms.
Day 5 : Timang - Chame
---
| | |
| --- | --- |
| Distance | 7.5 km |
| Altitude (Highest) | 2840 m |
| Altitude (Overnight) | 2710 m |
The friendly guest house owner (a Tibetan lady) assured us there was hot water but this was proven (not for the first time on this trip) to be incorrect, or at the very least misleading - the "hot water" consisted of a bucket of water boiled in the kitchen; the shower in the en-suite bathroom was only cold water. In fact, the en-suite bathroom was nothing more than an attached wooden frame with a concrete floor, a western toilet and a cold shower straight onto the floor - no basin, taps, shower cubicle, curtain, towel rail or even hooks. There was a window but it had no glass, between the top of the wall and the roof above it was an open gap of about half a metre and the bathroom wall had so many cracks and holes in it that you could see right through to the bathroom next door! In John's room the shower had no water at all. But by the time we discovered all these issues it was late afternoon and we didn't feel like trying to find somewhere else to stay, so I had an icy shower and Karen scrubbed herself from a bucket of hot water.
Thankfully supper made up for the inadequacies of our rooms - yak curry and rice, which was delicious. The yak meat was dried and smoked, then cooked into the curry, giving it a rather wild taste. Yak was on the menu everywhere we went, but we never did get a believable explanation as to why it is acceptable to eat yaks but not cows. We eventually theorized that it probably wasn't yak at all but rather goat; we reckoned that restaurant owners call it yak to appease fussy Western trekkers, who would probably balk at eating goat meat.
[Thursday 6 October : Upper Pisang, Nepal] We were back to the early start programme today - by 7:30 AM we were slogging up the relentless uphill from Chame. The slopes all around us were covered with thick forest, and the few areas of relatively flat ground we passed were given over to apple orchards, the trees looking healthy and bursting with fruit.
Unfortunately our luck with the weather ran out and it rained the whole morning ... but there is seldom any wind here, so the rain comes straight down and it's relatively easy to stay dry with a poncho. We passed, and were passed by, many other Western trekkers on the road out of Chame; at times it was a procession. Most of them had porters, tiny Nepalese men with massive loads on their backs who seemed just to fly up the hills without any effort, wearing simple clothes and sometimes only with slip slops on their feet. The manicured and pampered Westerners for whom they were carrying all this gear struggled along, puffing and groaning in their thousand Dollar trekking pants and ultra-hip hiking gear. The few groups of independent trekkers (like us) forged a comraderie as we kept bumping into each other at tea houses, lodges and rest stops along the way.
Tea was a brief stop at makeshift wooden hut in the forest, where a smiling young Nepali girl served us delicious potato and chick pea samoosas. Then it was back to the path, through damp mist and trees dripping with rain. We reached a milestone of sorts when we passed 3000 metres above sea level, the height where symptoms of altitude sickness typically start to appear. But we'd ascended very slowly over several days so we weren't too concerned. In any case, John had been up to nearly 6000 metres (on Mount Kilimanjaro in Tanzania) and Karen and I had been over 4900 metres (in the Andes in Peru) so we had all had some experience of dealing with high altitude.
Day 6 : Chame - Upper Pisang
---
| | |
| --- | --- |
| Distance | 14.5 km |
| Altitude (Highest) | 3340 m |
| Altitude (Overnight) | 3310 m |
In the dismal settlement of Dhikur Pokhari we made a bad restaurant choice and endured a pretty awful lunch. At least it was fast, so we were on the road again very quickly. Shortly afterwards we had to choose whether we were going to take the high route to Manang via a path through the mountains or the easy way on the road; the high route is considerably tougher but is recommended because it provides excellent altitude acclimatization. So we regretfully turned our backs on the road to Lower Pisang and headed up the path to Upper Pisang. But before we hit the tough stuff we walked for a few kilometres through a flat, open plain and reached Upper Pisang at 2 PM. The candy-striped walls of the Hill Top Super View Hotel looked inviting, the rooms were fine and very cheap and the view from their restaurant was incomparable, so we moved in.
[Friday 7 October : Mungji, Nepal] Our plan had been to reach Manang today, but the brutal ascent up the zig-zag path from Upper Pisang took its toll on us - we gained over 400 metres of altitude on a path with very little shade. There was some compensation in that clear skies meant we had stunning views of Annapurna II, Annapurna III and Tilicho (three peaks over 7000 metres in height, permanently covered in snow, that are usually hidden behind thick clouds).
The Hill Top Super View Hotel in Upper Pisang
The day started with a pleasant walk along a level path, through trees and past a long wall of mani stones, before we arrived at a suspension bridge and an imposingly steep cliff. The path zig-zagged up the hill, groups of trekkers visible as tiny dots moving slowly upwards. It was very hot as we started up the trail, counting the u-turns as we twisted our way up. Many other groups of trekkers were doing the same thing, most of them shepherded by a guide in the front setting a deliberately slow pace so that the group stayed together. It was a tough climb, but at least we could look back at the snow-covered peaks of the high Himalayas every time we stopped for a breather. The village of Ghyaru was visible at the very top of the hill but never seemed to get any closer.
Two thirds of the way up we stopped for tea at a lonely and isolated tea house, the aptly-named Mountain View Restaurant. The place was run by a wizened old lady who was kept busy by the never-ending line of trekkers who stopped there for tea, cool drinks or Snickers bars. I couldn't help wondering how she managed to get by in such an inaccessible spot, but she seemed happy enough. She certainly had the most fabulous view from the terrace of her restaurant - the Himalayas soared into the sky in the distance with the Marsyangdi River and Pisang valley spread out far below. We also noticed that she had a very healthy looking marijuana plant growing in a pot on the terrace; perhaps that was how she remained so calm and content ...?
Day 7 : Upper Pisang - Mungji
---
| | |
| --- | --- |
| Distance | 16 km |
| Altitude (Highest) | 3730 m |
| Altitude (Overnight) | 3410 m |
We toiled up the last section of the zig zag path and joined several other groups of trekkers at the top, all resting in the Tibetan village of Ghyaru; the views across the valley and to the distant snow-capped mountains were incredible. After Ghyaru the path levelled out, and for the next few hours we walked on a stony track that contoured round the steep slopes of the Himalayan foothills, with a long drop down to the valley on one side and a cliff on the other. It was very hot and there was no cover, so it was a relief to come across a stall in the middle of nowhere where we bought cinnamon buns and ate them in the shade. Then we were back on the path for another sweaty stint of walking ... thankfully the village of Ngawal appeared at just the right time for us to enjoy a late lunch of mushroom fried rice before we began the descent to the valley floor via a confusing set of paths. Which way to go? For once there were no red and white markers to guide us. We chose what seemed the most likely route and walked into the late afternoon sun on a dusty jeep track, eventually arriving at a broad open plain with a village directly ahead.
We had been aiming to reach Manang today, but we realized that we must still be some way short of it because the village we'd come to was tiny (Manang is the biggest town in the region). "This must be Braka" I said to John, looking at the map. It was already 4:45 PM and we were absolutely shattered after a tough day, so we abandoned any thought of reaching Manang and went into the first guest house we came to. As it turned out, it wasn't a bad place at all - I had my first hot shower in days. To our dismay, we discovered later that evening that we were not even in Braka but merely the village of Mungji, just over a kilometre from Braka. So not only did we not get as far as we'd hoped (Manang), we did not even reach the town before that (Braka)!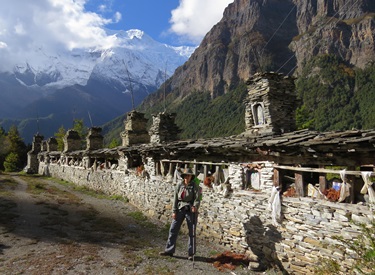 Karen at a Buddhist mani wall on the path from
Upper Pisang, with the Himalayas looming behind
[Saturday 8 October : Manang, Nepal] This was our shortest day so far - we simply walked from Mungji through Braka to Manang, a distance of about 4 kilometres. But we weren't worried about our schedule, because we had always intended on spending two nights in Manang, both to recover from the rigours of the previous week of walking as well as further altitude acclimatization - Manang is 3540 metres above sea level, and in the next few days we would have to go as high as 5416 metres over Thorung La. We strolled into town just before 10 AM and immediately started looking for a hotel; the first was already full of trekkers, the second was expensive, with rooms up three flights of stairs and a "take it or leave it" attitude from the manager but the third (Hotel Nilgiri) was perfect. They also offered us a deal whereby the rooms were free provided we ate two meals in the hotel restaurant (dinner and breakfast). After settling in we had some excellent coffee and apple crumble at a bakery down the street.
One of the best ways to prepare for high altitude is to follow the "climb high, sleep low" principle. So after relaxing for a while John and I walked down a path out of town, crossed the Marsyangdi River and slogged up a steep trail on a ridge - the idea was to go as high as we could then come down again (Karen stayed behind at the hotel, preferring the "rest up, sleep lots" principle). It was tough going, but at least we weren't carrying heavy backpacks ... and the views down to Gangapurna Lake were superb. Gangapurna Lake is a glacier lake, fed by water from snow and ice melt higher up the Himalayas. It has the milky blue colour typical of glacier lakes.
Near Manang ...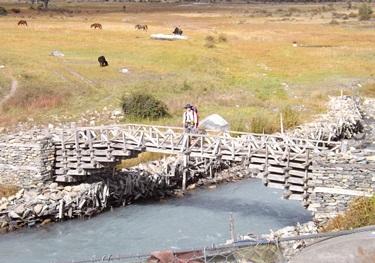 An unusual cantilever wooden bridge over the Marsyangdi River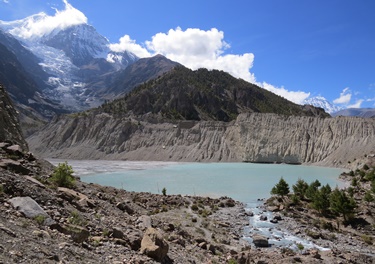 Gangapurna Lake, a glacier lake of ice and snow melt
On the way from Manang to the ridge path, John and I passed a small herd of young bulls, a common sight in this country. They may have had some yak in them, because they were hairy and shaggy, but what concerned us most was that (unusually) they seemed quite aggressive. A few of them were pawing the ground and shaking their horns. As we passed, one bull walked out of the herd towards us and started attacking a pile of cut grass with his horns. I was in front and stopped, waiting to see what would happen. Then the bull suddenly headed for me, so I went smartly down a narrow path to get away; the bull didn't follow but went straight on and I saw John scoot up a sheer stone wall with astonishing (and gravity-defying) speed.
Day 8 : Mungji - Manang
---
| | |
| --- | --- |
| Distance | 4 km |
| Altitude (Highest) | 3800 m |
| Altitude (Overnight) | 3540 m |
The situation probably looked quite funny from a distance, but being that close to a big, hairy, snorting monster wasn't a belly of laughs for a couple of Westerners from a big city ... then a local herdsman came along, threw a few stones at the bull and it scuttled meekly off into an adjoining field. Suitably chastened, we continued on our way.
The path wound its way up the ridge to a lonely restaurant, then continued up to what appeared to be an abandoned village of low stone houses and a gompa. It took me an hour and fifteen minutes to get all the way up, to an altitude of about 3800 metres, then half an hour back down again. It was tiring, but any effort now to help with acclimatization will make things easier later, so the slog was worthwhile.
That afternoon we all had our oxygen saturation levels checked at the Himalayan Rescue Association (HRA) aid station in town. The HRA is a voluntary organization that helps climbers prepare for high altitudes and provides advice on Acute Mountain Sickness (AMS). Our blood oxygen levels were 87, 88 and 89 so we were given the all clear - anything above 80% is fine, whereas below 80% is indicative of the body struggling to cope with the thin air (at sea level a person's oxygen saturation level is between 98 and 100%). The free talk given by one of the HRA volunteer doctors was a bit scary, but didn't really tell us anything we didn't already know; high altitude is dangerous and can kill you very quickly indeed. You just have to be vigilant, keep a sharp eye on your own as well as your travelling companions' symptoms and be prepared to turn round and walk DOWN at a moment's notice.
Day 9 : Manang - Yak Kharka
---
| | |
| --- | --- |
| Distance | 9 km |
| Altitude (Highest) | 4065 m |
| Altitude (Overnight) | 4050 m |
[Sunday 9 October : Yak Kharka, Nepal] We had now reached the business end of the expedition - the road (meaning access by vehicle), civilization and all luxuries come to an end at Manang. From this point on we would be heading into the "real" Himalayan wilderness, where the only way in or out is by foot, on horseback or (if you are desperate and can handle the expense) by helicopter. The walk from Manang to Yak Kharka wasn't far distance-wise, but the altitude gain was over 500 metres; by 7:20 AM we were breakfasted, packed and on the road. We were already over 3500 metres high, so our pace was deliberately slow but steady up to the village of Ghusang (altitude 3900 metres). Tea and a chocolate pastry at a guest house fuelled us for the last leg up to Yak Kharka.
We crossed the Ghyanchang River on yet another suspension bridge and shortly after that reached another milestone - 4000 metres above sea level. The landscape became very bleak and windswept as we walked along a ridge path high above the Thorung River. Every now and then we'd pass some yaks and a lonely herdsman with whom we'd exchange a cheery "Namaste" (Nepali) or "Tashi Delek" (Tibetan); many people in these parts are of Tibetan origin. At 12:30 PM we walked into the isolated settlement of Yak Kharka (altitude 4050 metres), a tiny village in a deep valley between soaring mountain peaks. We moved into very comfortable rooms at the Gangapurna Lodge, from where we had fabulous views of 7454-metre Gangapurna peak to the south. There is absolutely nothing in Yak Kharka except a cluster of lodges and restaurants on either side of a muddy track, so we spent the afternoon lounging around, reading and trying to stay warm. Laundry was achieved via an outside pipe that spewed glacial water into the mud ... I would not have believed it possible for water to be so cold but not frozen solid.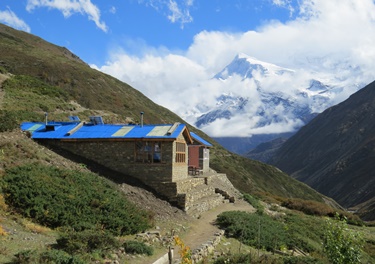 Gangapurna peak (7454 metres), as seen from Yak Kharka
That evening all the trekkers staying in the Gangapurna Lodge were sitting in the lounge-cum-dining room, eating and enjoying the warmth provided by a stove fuelled by dried yak dung - there are no trees and no firewood at this altitude. A young girl came in and proceeded to hang what I thought were shoe laces to dry on the side of the stove. I couldn't work this out and I noticed puzzled looks on the faces of some of the other trekkers sitting round the room. Suddenly I realized that the shoe laces were actually g-strings and lace thongs, and it was the girl's underwear that was drying! I looked up, a guy opposite me caught my eye and both of us nearly burst out laughing. I saw lots of other people also trying to hide their amusement. This girl hung her very sexy lingerie up to dry in full view of a room crowded with people without the slightest sign of embarrassment. In fact, she then sat down next to her underwear and played cards with a group of Americans, every now and then checking whether her clothes were dry. Amazing.
For the first time on the trek I could not face a cold shower at a temperature of about 5 degrees. Instead I used the most common form of bathing on the Annapurna Circuit - a "hot bucket". Hotel staff bring you a bucket of hot water and you use it to wash; not the greatest fun I've ever had, but you gotta do what you gotta do ...
[Monday 10 October : Thorung Phedi, Nepal] We only had 6 kilometres to walk today, albeit with another 400 metres of altitude gain. But we started at 4050 metres, so it was very tough and slow. It took 45 minutes to walk one kilometre up to the village of Letdar (altitude 4200 metres), in temperatures that hovered around 2 or 3 degrees Celcius. As soon as we stepped out of the shadows of the valley into the sunshine, we sweated in our layers of clothing; I changed back into shorts at our tea stop in Letdar.
On the way up several people passed us going the other way (down), and we spoke to a few of them. In each case they said the altitude had caused them too many problems and they were simply unable to ascend any higher. One guy said that he'd been at Thorung High Camp (4925 metres) and had woken up at midnight with a blinding headache and started vomiting. He had to hire a porter to carry his gear and walked down at 1 AM in the dark. "Be careful," he said. "You can feel fine and then suddenly the altitude hits you". It was a sobering reminder that we were entering an extremely dangerous zone. All three of us were left wondering whether we would manage ...
Karen and John at an altitude of 4400 metres on the trail
from Yak Kharka to Thorung Phedi
We crossed the Thorung River over the longest suspension bridge we'd seen so far and battled onwards. The wind was icy and the steep slopes of the gorge were a barren landscape of rock, stone and loose scree; there were a few scrubby plants but nothing higher than shin height. Amazingly, even at this altitude we saw wild yaks; one of them was in the river, seemingly unconcerned that it was in water that must have been no more than a couple of degrees above freezing!
With enormous relief we came to Thorung Phedi, a cluster of windswept trekker lodges at 4450 metres above sea level. The place was already crowded but we found two rooms at the Hotel New Phedi ... or perhaps I should say cells, because each room was simply a square box of unpainted cement, devoid of all furniture except for two beds. However, bowls of steaming hot noodle and vegetable soup in the restaurant restored our mood somewhat.
Day 10 : Yak Kharka - Thorung Phedi
---
| | |
| --- | --- |
| Distance | 6 km |
| Altitude (Highest) | 4450 m |
| Altitude (Overnight) | 4450 m |
At this altitude everything is difficult - climbing a flight of stairs leaves you out of breath, it is icy cold ALL the time and the sun fries your skin in a matter of minutes. Welcome to the mountains ...
That evening it started snowing and it continued snowing most of the night. The temperature dropped to well below freezing so we bundled up in our blankets and went to sleep early. Our concern was whether the snow would close Thorung La and force us to backtrack all the way down to Manang, Chame and Besi Sahar ... but there was nothing we could do about that. We could not even get a weather forecast because Thorung Phedi has no telephone connection of any kind, no internet and the satellite phone they had for emergencies wasn't working. The only way anybody in Thorung Phedi can communicate with the outside world is by hand-written letter carried on horseback down to Manang!
"La" in Nepali means "Pass", so "Thorung La" is "Thorung Pass". The route over Thorung La/Pass crosses the Annapurna range of mountains and is the only way to complete the Annapurna Circuit - there is no other feasible way through this formidable mountain range.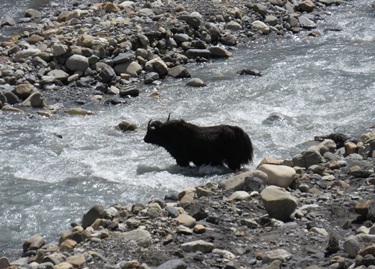 A lone yak crossing the Thorung River near Thorung Phedi
[Tuesday 11 October : Thorung High Camp, Nepal] We had intended to attempt the crossing of Thorung La (5416 metres above sea level) today, but sanity prevailed and we decided that another intermediate altitude stop would be prudent. That meant a steep climb to Thorung High Camp, at 4925 metres about 475 metres higher than Thorung Phedi. But more importantly, it was 475 metres we would not have to do on the day we climbed the pass and it gave us another day's worth of altitude acclimatization.
We got up late to a white landscape; everything was covered with snow. The temperature was still sub-zero as we went down to breakfast wearing almost every item of clothing we had. We left at 9 AM and started the very steep climb up to Thorung High Camp - loose stones, rock and dramatic Himalayan landscapes. We'd been told it was a two hour climb so we'd anticipated three hours (experience with these local estimates had taught us to add an extra "fudge factor"), but after only an hour and 45 minutes the squat stone buildings of the high camp appeared round a bend.
Thorung La (Pass) ...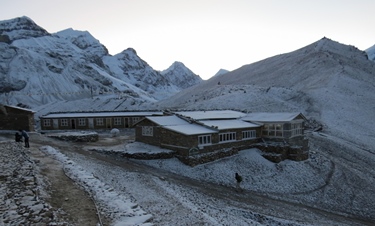 Thorung High Camp at 6 AM (4925 metres)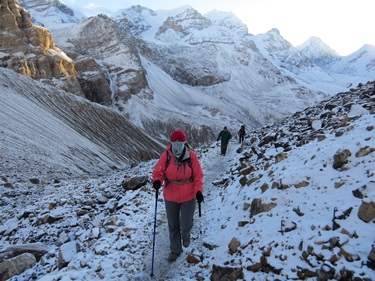 Karen on the trail (5100 metres)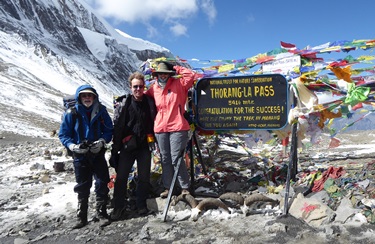 John, Paul and Karen at the top (5416 metres)
Karen enjoying apple pie in the village of Chambar Bhu
(4200 metres), on the way down after going over the pass
Even though we arrived at about 11 AM we were only just in time to get the last two private rooms - the place was already almost full. Our room was bare, basic and icy cold, so we dumped our backpacks and headed for the communal lounge. It was crammed to bursting with trekkers wearing multiple layers of clothing, eating, drinking and swapping travel stories. But because we knew we'd have an early start and a very long day tomorrow, we didn't stay long and headed back to our room for a nap [Aside: I tried to write this blog, but without gloves my fingers were too frozen to type, and with gloves I was too clumsy for the keyboard ... so what you are reading now was penned a few days later in warmer climes]. When we went back to the restaurant for supper it started snowing again, and at 8 PM when we turned in the entire camp was covered in snow.
Day 11 : Thorung Phedi - Thorung High Camp
---
| | |
| --- | --- |
| Distance | 5 km |
| Altitude (Highest) | 4925 m |
| Altitude (Overnight) | 4925 m |
[Wednesday 12 October : Muktinath, Nepal] We did it! One of the hardest days of my life started at 5 AM with breakfast at Thorung High Camp followed by a freezing cold (literally) departure on the stiff climb up Thorung La at 6 AM. The entire camp was blanketed with snow, but thankfully it had stopped snowing during the night and the sky was clear. But the temperature hovered around -10 degrees so we were all bundled up in virtually all the clothes we had. The path was slippery with snow, ice and mud but thankfully the going got easier when the sun came up and melted the ice.
There was a line of trekkers trudging up the trail, mingled with porters carrying huge loads and horses going in both directions - the horses coming down had already taken people to the top of the pass and were returning for (possibly) a second load. The landscape was stark and barren, devoid of the slightest scrap of vegetation. The going was tough and got tougher as we ascended and the air became thinner; every breath was hard and we had to stop for a rest every few metres. When we reached 5000 metres it was a new milestone for Karen and me - the highest we'd been before was 4910 metres in the Andes in 2010. John, however, had been up to 5895 metres on Mount Kilimanjaro in 2012.
A few handlers and unladen horses followed us up the pass and kept offering to take us to the top at ever more absurd prices, but we'd come this far carrying all of our gear and were determined to go the whole way on our own. So we turned them down and shuffled on.
Thorung La has multiple "false summits", so several times we were disappointed when we thought we'd reached the top only to find another long uphill slope stretching out ahead of us. But finally, at 10:30 AM after four and a half hours of walking, we saw the prayer flags and sign indicating the summit of the pass. The wind was howling and it was cold beyond belief, but we managed to hang around long enough to take a few photographs and enjoy our moment of success.
Day 12 : Thorung High Camp - Muktinath
---
| | |
| --- | --- |
| Distance | 17 km |
| Altitude (Highest) | 5416 m |
| Altitude (Overnight) | 3800 m |
5416 metres above sea level ... that equates to 17769 feet; we were knackered but elated. All three of us had experienced various symptoms of Acute Mountain Sickness (AMS) over the past few days - headaches, loss of appetite, nausea and lethargy, but luckily none of it had progressed to the potentially fatal conditions of High Altitude Cerebral Edema (HACE) or High Altitude Pulmonary Edema (HAPE). The only cure for these is to descend to where there's more oxygen, and FAST. Once you get either HACE or HAPE you will be dead within 12 hours unless your oxygen-starved system is treated. In fact, when we were at Thorung High Camp (4925 metres) we saw a helicopter arrive and take on a lady trekker who was obviously in severely bad condition. Once she was on board the helicopter descended rapidly to the valley floor. Such emergency rescues are quite common this high up.
If you're interested in reading more about the dangers of high altitude, have a look at the blog I wrote about this.
Unfortunately, while getting over the pass was our main goal, we still had several kilometres to walk before we reached Muktinath (the next major town and our planned overnight stop). At least it was all downhill, although very, very steep in places. But the elation of having crossed Thorung La and the fact that every step down brought more oxygen into my lungs seemed to give me wings, and I waltzed down the mountain so fast I overtook several groups of trekkers who had been far ahead of us. By the time John and Karen reached Chambar Bhu (a tiny village with a couple of tea houses, 4200 metres up), I had already finished lunch and was lazing in the sun. After that we stayed together for the final few kilometres and 400 metre descent to Muktinath, where we found hot water (a miracle!), en-suite bathrooms, free internet and good food at Hotel The Paths of Dream (yes, that was the exact name of the place). And fine lodgings they were too.
Today we climbed 491 metres up to the top of the pass, then descended a staggering 1616 metres down to Muktinath. I would not like to try this climb from the other direction, because the path on the Muktinath side is extremely steep and even if you start at Chambar Bhu (the highest place to sleep on that side) you would still have to climb 1216 metres straight up to get to the top of the pass. That is a very, very tough ask at that altitude ... but amazingly, I saw three people doing it! I passed a couple going up painstakingly slowly, in what looked like a state of complete exhaustion, and a lone hiker who was checking the route out before making an attempt to cross the pass the next day. This guy was gung-ho and crazy - he had no map and no idea how far it was or how high he would have to go. He was staying in Chambar Bhu and his plan was to take his main backpack up as high as he could go, leave it overnight somewhere, go back down to Chambar Bhu for the night then attempt to cross the pass the next day carrying as little as possible. He'd collect his backpack on the way up. Not a bad plan, actually - his backpack would be completely safe because there are no people or animals that high up. I wonder if he made it? I guess I'll never know ...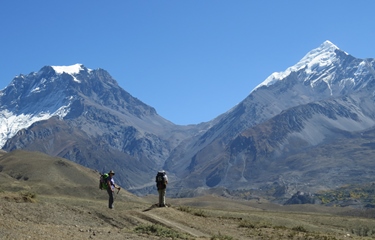 Karen and John contemplate the enormity of Thorung La
[Thursday 13 October : Muktinath, Nepal] We all felt a rest day was in order after the rigours of Thorung La, so we decided to stay in Muktinath for two nights. That meant we got up late, ate a leisurely breakfast, took a slow amble through town and spent the afternoon at the monastery on the hill outside town. This monastery is unusual in that it is a place of worship for both Hindus and Buddhists. These two religions are so tolerant that neither of them has a problem sharing space with the other. Remarkable, and a lesson for some other religions whose names I shan't mention here ...
Muktinath was quite unlike the other towns we'd been through because it seemed to contain more Asian pilgrims (Hindus and Buddhists) than Western trekkers. The pilgrims arrive in large numbers in buses and jeeps that disgorge their passengers in a dusty parking lot at the south end of town. From there they are ferried by motorcycle or horseback the two or so kilometres to the monastery at the northern end; the main road through town is an endless procession of motorcycles buzzing backwards and forwards between the bus station and the monastery, always with one, two or sometimes even three passengers on the back (mostly going TO the monastery in the morning and coming back FROM the monastery in the afternoon). Muktinath is 3800 metres above sea level, and consequently many of the pilgrims were suffering symptoms of high altitude - we saw quite a few people looking pretty sick on the backs of horses or motorcycles. To us, of course, 3800 metres was LOW compared to what we'd experienced on Thorung La in the previous few days.
[Friday 14 October : Kagbeni, Nepal] After a day of rest, relaxation and behaving like tourists, we were back to trekking today. The trail out of Muktinath took us on a circuitous route north then west, through some green and cultivated land and three small but picturesque Tibetan villages (Chhyongkhar, Jhong and Putak). After that it became hard going - the trail merged with a dusty road and wandered for miles westward in barren, semi-desert country. Our feet started to ache from pounding the stony ground, and for the first time on this trip no tea house appeared round a bend to provide some welcome respite. At least we were now going down, not up as was the case prior to our crossing of Thorung La.
Day 13 : Muktinath
---
| | |
| --- | --- |
| Distance | 0 km |
| Altitude (Highest) | 3800 m |
| Altitude (Overnight) | 3800 m |
The road curved past a cliff, and when I looked over the edge I saw a wide flood plain far below. A small village was on the other side but there seemed no way to get to it because there was a narrow but fast-flowing river meandering through the flood plain. We consulted our map and realized we had to go in the other direction from the village; the map seemed to indicate that we were near the large town of Kagbeni but absolutely nothing was in sight. Had we gone wrong? The thought of retracing our steps UPWARDS on the rock-strewn road we were walking on was simply too awful to contemplate.
Then the trail veered off the road to a point on the clifftop, and suddenly I saw Kagbeni spread out on the banks of the river below us. We were relieved, but still had to negotiate a tricky path round the cliff followed by a knee-jarring descent to the bottom. The entrance to Kagbeni was dramatic - the river roared past the path on the right and on the left we had the cliff. We twisted and turned our way through a labyrinth of passages and tunnels in the old town before stopping at the Yeti Hotel & Restaurant for lunch.
Kagbeni in the province of Mustang ... a welcome sight
after several hours of walking (above) and Karen spins the
Buddhist prayer wheels at the entrance to town (below)
The lunch stop provided us with an opportunity to investigate a few hotels, because we could leave our backpacks there and go off individually to have a look around. The Yeti Hotel itself (where we were eating) blew its chances of putting us up for the night because the food took ages to arrive and was rather ordinary. Also, I ordered "milk coffee" and instead I was brought "milk tea"; when I pointed this out to the young girl serving us she simply fetched a jar of instant coffee and was about to spoon some into the tea before I stopped her! I couldn't get her to understand that you cannot convert tea to coffee simply by putting some coffee powder into a cup of tea, so I just gave up and drank the tea instead.
Day 14 : Muktinath - Kagbeni
---
| | |
| --- | --- |
| Distance | 13.5 km |
| Altitude (Highest) | 3800 m |
| Altitude (Overnight) | 2800 m |
I looked at a couple of grim hotels and one rather nice one, but Karen returned with news of a fantastic place - the Nilgiri View Hotel. It had en-suite bathrooms with Western toilets, and (incredibly) carpets on the floor! We were sold. It was a fair bit more expensive than what we had been accustomed to paying, but still pretty cheap. The view from our room across the river and flood plain was stupendous.
[Saturday 15 October : Marpha, Nepal] Wind, wind, wind; that's what we experienced for a good part of the day today. The walk south west from Kagbeni follows the course of the valley carved out by the Kali Gandaki River, and most days the wind howls up the river from about 10 AM until 6 PM. However, we were lucky - it only started blowing from about 11:30 AM, but when it did it was extremely unpleasant; hats and sunglasses would not stay on and sometimes an especially strong gust would blow a wall of sand into your face.
From Kagbeni we actually walked in the flood plain of the Kali Gandaki River, a wide expanse of stones and sand. Amazingly, Karen found TWO ammonites (fossilized marine snails)! These are fairly common tourist trinkets and are sold all over Nepal, but to find them yourself is quite unusual.
There is a very rough road through the flood plain and we spent the morning dodging buses, jeeps, tractors and (mostly) motorcycles. By mid-morning we'd reached Jomsom, the largest town and commercial centre of the Annapurna region, drank some tea at a tea house opposite the windblown bus station then headed up into the hills.
John and Paul cross a makeshift wooden bridge
in the flood plain of the Kali Gandaki River
By this time the wind we'd heard about had started blowing, and for the rest of the afternoon we walked southwards into the teeth of a gale. Luckily we were on a mountain trail so at least we didn't have to contend with clouds of dust from buses and motorcycles. Unfortunately that also meant quite a bit of up and down with very little shade ... and on this little-used path, an almost a complete absence of tea houses. The only place we found open was a tiny coffee shop in the village of Masle, but when we tried to order food the proprietor said "Thirty minutes, OK?" We looked at each other; half an hour in Nepali time meant at least 45 minutes, perhaps longer, and we didn't want to wait that long. So we declined the offer of food and had some tea and a packet of biscuits instead.
Dhumba Lake nearby was a pleasantly attractive diversion, as was the experience of watching small planes take off and land at Jomsom airport. The trail we were on was high above town and we had a perfect view of the tiny airport. Two aircraft landed while we were watching, unloaded a handful of passengers each, loaded up a few more then took off again; the whole process from landing to take-off took no longer than fifteen minutes. We had met several trekkers who were finishing their walk in Jomsom and flying back to Pokhara from there, so I guess many of them were on the planes we saw taking off.
The problem was that we couldn't find anywhere to eat, and the trail went on and on, a narrow shingly path on the side of the mountain east of the Kali Gandaki River. On the other side of the river we could see the sizeable town of Marpha but there was no way to get there - no bridge was in sight, and even if there was it would have been impossible to get down to it. On one side of the track it was a sheer drop of a couple of hundred metres to the valley floor and on the other it was a cliff. My stomach was protesting in the strongest possible terms but we had no choice but continue.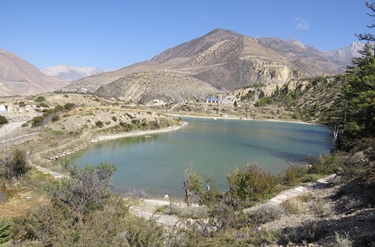 Dhumba Lake between Jomsom and Marpha
Eventually the trail descended and we came out into the wide valley, but still on the wrong side of the river from Marpha. The settlement of Chhairo appeared, but no hotels or guest houses seemed to be open - Chhairo's main (indeed, only) claim to fame is that it houses a large Tibetan refugee camp. But at last we came across a suspension bridge, crossed the river with relief and turned BACK the way we'd come towards Marpha.
Day 15 : Kagbeni - Marpha
---
| | |
| --- | --- |
| Distance | 17 km |
| Altitude (Highest) | 2840 m |
| Altitude (Overnight) | 2665 m |
By this time we were all suffering from a major case of SHF (Sense of Humour Failure), together with groaning stomachs, and to cap it all off when we got to Marpha all the guest houses and hotels we went into were either full or wanted outrageous amounts for a room. In fact, the only offer we had was for a single room with three beds in it (meaning no privacy) for 1500 Rupees; to put that into perspective, we'd been paying about 100 Rupees each per night up to this point!
The seventh place we tried was the Snow Leopard Guest House, which from the outside looked pretty shabby. But they had two rooms available and for only 350 Rupees each. Plus the inside was far nicer than the exterior suggested ... so we took the rooms, dumped our backpacks and headed downstairs to the restaurant. Without any hesitation we ordered three platters of Dal Bhat and devoured them with indecent haste; when the refills arrived I told the girl to pile it on and I ate another platter. Then I polished off all the rice that was still in the serving bowl AND had half a slice of apple crumble and custard [Aside: Dal Bhat, the national dish of Nepal, is bottomless at restaurants - you keep eating, and they keep refilling your plate, until you've had enough. It is incredible to see how much of it the Nepali porters can pack away].
Bulls being driven through the narrow streets of Marpha
It turns out that the Snow Leopard Guest House was actually a most fantastic place - there was hot water (even at night), all the lights and plugs worked, wifi was free, working and fast, there was a big bucket in the bathroom for our laundry, the mattresses were soft and the rooms were spacious. So we were lucky that the previous six hotels were full. Sometimes things just work out that way; when travelling you learn to take your luck as and when you get it ...
Day 16 : Marpha
---
| | |
| --- | --- |
| Distance | 0 km |
| Altitude (Highest) | 2665 m |
| Altitude (Overnight) | 2665 m |
[Sunday 16 October : Marpha, Nepal] We had stumbled upon an excellent hotel and all of us felt like another break, so we decided to stay put today. Marpha is a very attractive town, and we spent a relaxed morning wandering round the narrow, twisting streets and visiting the Buddhist monastery on the hillside. Later we strolled down to the river through apple orchards full of trees bursting with ripe fruit. On the way we met two young children with big baskets on their backs, obviously sent by their parents to pick apples (perhaps illegally).
"Where are you from?" asked the boy. This is the standard question all Nepali children ask foreigners. He was about 12 years old and had bright eyes and a big smile. His sister was a little younger.
"South Africa" I replied. The boy's eyes widened and his mouth dropped open in goggle-eyed amazement.
"South Africa ..." he repeated slowly. I could almost see his brain working as he tried to figure out how far from Nepal that was. They both grinned, waved goodbye and scampered off into a nearby apple orchard.
For the rest of the day we simply relaxed, read our books, drank tea and napped.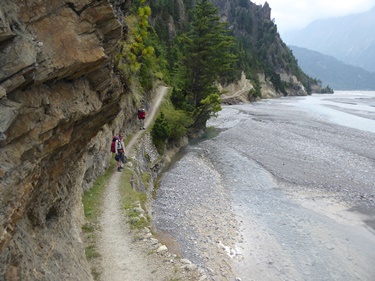 Paul and John on the cliff path between Marpha and Kalopani
[Monday 17 October : Kalopani, Nepal] When we left Marpha this morning we had to retrace our steps from two days ago, back along the dusty road for two kilometres to the town of Chhairo and across the river. Thankfully we left the chaos of trucks, buses and motorcycles behind and entered a pine forest, followed by a very pleasant path through meadows, tiny villages and groves of apple trees. Unfortunately, while very pretty, the trail was devoid of tea houses so by the time we arrived at the tiny settlement of Sauru and found a functioning restaurant we were famished. Three young British trekkers arrived about a minute after us and also ordered food at this restaurant, so it was transformed from a lonely and neglected wayside inn to a hive of feverish activity.
Up to this point in Nepal we had enjoyed fantastic food. Everywhere we'd eaten, even at the simplest of roadside food stalls, we'd been served the most delicious dishes. So we had come to expect good food wherever we went ... now, however, we were let down very badly. John and I ordered "Vegetable Chow Mein", admittedly a Chinese dish but we'd eaten so much rice over the past few days we wanted a break; besides, we'd had Chow Mein several times before and it had always been very good.
Day 17 : Marpha - Kalopani
---
| | |
| --- | --- |
| Distance | 20 km |
| Altitude (Highest) | 2665 m |
| Altitude (Overnight) | 2530 m |
When the food arrived it was a thick stodge of noodles stuck together in clumps with a few vegetables thrown in. I nearly gagged it was so awful ... however, I was so hungry I forced myself to keep eating. But despite my best efforts I could not finish it all and left a fair bit on my plate. Our Nepali hosts spoke hardly any English and we did not want to offend them so we said nothing, paid and left. For the rest of the afternoon the after taste of that dismal meal stayed in my mouth, regardless of how much water I drank to get rid of it.
The contrast between lunch (terrible) and supper (superb) could not have been greater. We arrived in Kalopani at about 3:30 PM and found luxurious accommodation at the Kalopani Guest House. This fairly new establishment had a level of luxury that we had not seen since leaving Pokhara, and for the first few minutes we acted like children with new toys; our room even had a table and two easy chairs in it! That evening in the guest house restaurant I had the best Dal Bhat I've ever eaten - it was so tasty that I just kept on eating, and they kept refilling my plate, until I simply could not continue. So I had both my worst and best meals in Nepal on the same day!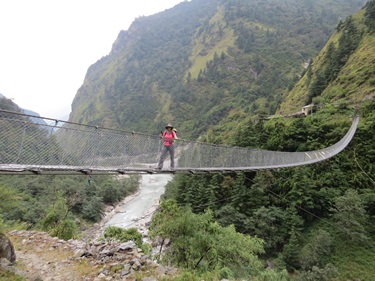 Karen crossing a very long suspension bridge
between Ghasa and Kopchepani
[Tuesday 18 October : Dana, Nepal] This was a fabulous day of walking, on sun-dappled forest trails and cliff-side paths. Luckily we were now descending from high altitude so most of the day we walked DOWN - a welcome change from the endless uphills of the first eleven days. In fact, we descended more than a thousand metres during the day.
Day 18 : Kalopani - Dana
---
| | |
| --- | --- |
| Distance | 23 km |
| Altitude (Highest) | 2530 m |
| Altitude (Overnight) | 1450 m |
At one point as we were walking through thinly-forested terrain next to the Kali Gandaki River we came across a scene of utter chaos. Huge trees were uprooted, splintered or smashed to pieces and massive boulders were lying round. But amongst the destruction stood trees that were completely intact and unharmed; it looked like something had disturbed the cliff above the forest and sent stones, rocks and boulders tumbling down the mountain. As they fell they destroyed the trees in their path, but those trees that weren't hit by falling rocks remained unscathed. You could see where huge boulders had bounced down the slope, wrecking everything where they landed.
Was this a result of the earthquake of April 2015 (which killed nearly 9000 people in Nepal and caused widespread destruction)? That didn't seem likely - the earthquake was 18 months ago but the damage to the trees in this fairly small area looked relatively recent. We picked our way through the debris, awed by the power of nature and glad that we hadn't been walking along there when rocks started falling ...
We had debated how far we would try to go today, mindful of the fact that the final end point of our trek (Tatopani) was just out of reach. The options were the towns of Ghasa, Kopchepani or Dana. We reached Ghasa at about 11:15 AM, had tea there and pushed on. By the time we reached Kopchepani at 3:15 PM we were ready to stop for the night, but the few guest houses there were either closed or very unappealing. So Dana it was; unfortunately when we got there at 5 PM the only smart, modern hotel was full. We had to settle for two very basic rooms at the New Annapurna Lodge (it was difficult to see what exactly was "new" about it), but we'd had plenty of experience of that so it was no problem. The water was hot (too hot in fact; none of us could figure out how to make it colder), the rooms were clean and the food was excellent so who's complaining?
Last few days on the Annapurna Circuit ...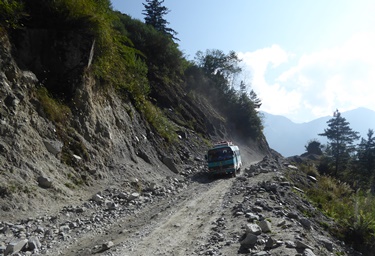 A bus approaches in a cloud of dust and stones (above)
Karen and Paul take a rest (above)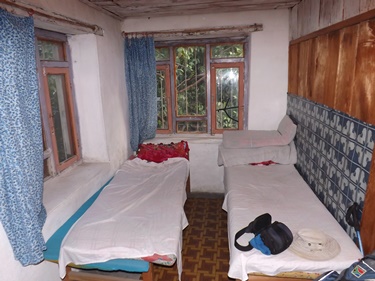 A typical guest house bedroom; this one was in Dana (above)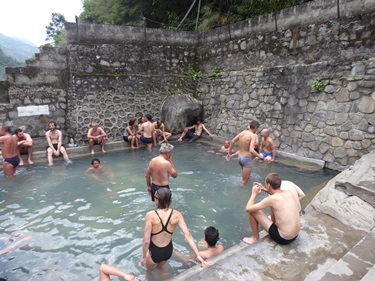 The end - the (very) hot springs in Tatopani.
The author is sitting in the far corner, half under a big rock
[Wednesday 19 October : Tatopani, Nepal] Our final day on the Annapurna Circuit ... although you can continue walking all the way to Naya Pul, we had decided beforehand that Tatopani would be the end point of our trek. The original plan had been to walk for 18 days, so the fact that we finished in 19 days (only one day longer) was pretty good and a cause for celebration.
We'd put in quite a long haul the previous day so today we only walked for about two and half hours before reaching Tatopani. A big modern hotel with the grandiose title of Mount Annapurna Resort was the first thing we saw on the edge of Tatopani; it looked sparkling and new, but we'd learnt that appearances can be very, VERY deceiving in Nepal ... so we walked through town and looked at a few other guest houses, but eventually decided to go back to the new place we'd first seen. Their rooms were very nice and we all felt like some luxury at the end of our expedition so we moved in. Amazingly, everything worked (plugs, lights, taps, etc) and the view up the Kali Gandaki River gorge was superb.
Day 19 : Dana - Tatopani
---
| | |
| --- | --- |
| Distance | 7 km |
| Altitude (Highest) | 1450 m |
| Altitude (Overnight) | 1160 m |
The only problem was the internet, which the hotel manager insisted was "Not working now. Problem in Pokhara". But I could see that the router was up, so I asked him for the password so that I could connect - who knows, perhaps the problem would be rectified later and then we would have access automatically (this happens fairly frequently in Nepal - either the power goes down, or the internet network fails, or both; but such problems are often resolved after a couple of hours). The manager wrote down the router's password and I tried it but it was incorrect. I experimented with several combinations of what he wrote (upper/lower case, spaces/hyphens/underscores between the words, etc) but nothing worked.
When I went back and told him, the manager mumbled something about the password he gave us being wrong (yes, I knew that) and he had no laptop so he couldn't tell me what the correct password was. The whole story sounded odd but try as I might I could not get to the bottom of what was going on; the net result was that we never did get access to wifi at the Mount Annapurna Resort in Tatopani. In my opinion it wasn't a case of "Problem in Pokhara" but rather one of "Manager speak with forked tongue".
"Tatopani" translates to "Hot Water" in English, and the reason for this being the town's name is because of the hot springs nearby. We went there in the afternoon - the spring feeds two concrete pools, and boy, is the water HOT. I could not even put my toe in the first pool. The second one was a bit colder and I managed to get in with some effort; I felt like a lobster being boiled. But you get used to the temperature after a while, and we spent a pleasant afternoon sitting on the edge of the pool with our legs in the water, occasionally doing a quick full body immersion. It was a great way to end 19 days of foot-slogging ...
[Thursday 20 October : Beni, Nepal] To get back to Pokhara from Tatopani involves taking a bus on an appallingly bad road to Beni (south), then another bus to Pokhara (east). Estimates of the total time of this journey varied from four hours to ten hours, so we decided to split the trip over two days and spend a night in Beni. After breakfast in Tatopani we headed down to the "bus station" (just an open patch of stony ground on the edge of the road), found a bus heading to Beni and climbed on board. Unfortunately all the seats were taken except for the back row, which turned out to be so cramped that we had to sit sideways to fit our legs in [Aside: Locals know this and arrive early to avoid having to sit at the back].
The bus pulled away at about 9 AM, and for the next two and a half hours we endured unimaginable public transport torture. The road hadn't looked too bad when we were walking and saw vehicles on it, but every rock, bump and hole the bus swayed or bounced over was felt by the bums, arms or legs of the humans on board, all of whom were clinging desperately to any hand hold they could find. Quite often the bus had to reverse to allow an oncoming bus or truck to pass, and virtually the whole way to Beni we had a jagged rock face inches away from the window on my side and a sheer drop down to the river on the other side.
But eventually all forms of torture have to come to an end, and I am happy to report that in our case it was NOT because we plummeted over a cliff to a watery death but rather that the bus arrived in Beni in one piece; 30 kilometres of "road" had taken over two and a half hours of driving. We stumbled out of the bus, glad to be alive, and walked up the street to a tall building that proclaimed itself to be the Yak Hotel. Tired of buses, tired of looking at hotel rooms (in fact, just plain tired), we didn't even look at another hotel, just took two rooms and moved in. It was quite expensive but it had WORKING wifi (!), en-suite bathrooms and western toilets.
That afternoon we explored Beni. It's quite a big place, with multiple streets of small shops and businesses. There are no tourists or trekkers here - I attracted open-mouthed stares and questions from children like "What are you doing here?". Browsing in some of the shops also made me realize the kind of prices that tourists pay in trekker towns such as Manang; a tube of toothpaste and two packets of biscuits TOGETHER cost the princely sum of 60 Rupees in Beni, whereas on the trail we'd been used to paying over 100 Rupees just for ONE packet of exactly the same biscuits!
[Friday 21 October : Pokhara, Nepal] The Yak Hotel in Beni turned out to be an overpriced rip-off, so we were glad to leave at 8 AM the next morning. We strolled a couple of blocks down to the bus station where I found a bus heading for Pokhara at 8:30; unlike the bus we'd taken from Tatopani to Beni the previous day it was still quite empty so we had the pick of seats. Even so, it was a tight squeeze for Westerners with long legs ...
The drive to Pokhara was not unpleasant, on tar most of the way (Nepali tar, which means potholes, large gaps where there is just gravel, and sections of road destroyed by landslides or falling rocks); it even included a rest stop at a roadside stall where we bought the most delicious samoosas and doughnuts.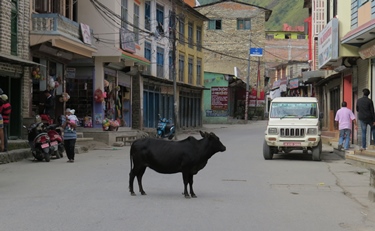 A lone cow wandering the streets of Beni
The bus arrived at the outskirts of Pokhara at 12 noon and shortly after that the driver's assistant asked the five Westerners on board (the three of us plus a Canadian couple) if we were going to Lakeside [Aside: Lakeside is the area of Pokhara next to Fewa Lake where there is a profusion of hotels, restaurants, bars and coffee shops. 99% of foreigners visiting Pokhara stay there]. We all simultaneously answered "Yes" and a little later the bus pulled over at a busy intersection. "Lakeside" called the assistant and beckoned us out. We hauled our bags out of the hold. "That way". He pointed down one of the streets, climbed back on the bus and it drove off, leaving us standing on the sidewalk.
The Canadians looked confused, so I took out my compass. "Lakeside should be west or south-west of here" I said, mentally recalling the map of Pokhara from when we'd been here before. And indeed, the road the assistant had pointed down was roughly westward. "We walked over 200 kilometres carrying all this gear, so another few kilometres should be easy. We're walking, but if you want to get a taxi I'm sure you can find one here."
The Canadians looked at each other and grinned. "OK, we'll walk it too".
John and Karen hadn't even waited to dicuss the issue but had simply hoofed it down the road; I could see them, about a block away from us already. "Good luck" I called, hefted my backpack and followed after John and Karen.
It was about two kilometres to Lakeside, where we managed to turn in the wrong direction and walk AWAY from our hotel before we realized our mistake. But we still arrived at about 1 PM and dumped our backpacks in our rooms with relief. "Full circle" I said to John and Karen. "We left Pokhara exactly three weeks ago and now we're back". We enjoyed a quiet moment of triumph as we reflected on having accomplished exactly what we set out to do, without guides, porters, horses or any kind of assistance, carrying everything ourselves the entire way. It somehow felt right that we walked the last couple of kilometres rather than relying on a taxi, albeit with a wrong turn.
[Saturday 22 October : Pokhara, Nepal] A late lie-in, a leisurely breakfast and several cups of coffee resulted in us heading out to the World Peace Pagoda well after 9 AM. This Zen Buddhist shrine is on a hillside on the far side of the lake from where we were staying, so it was quite a convoluted walk to get there; in fact, once we'd walked round the south-eastern edge of the lake and found the right hill we thrashed through thick forest for several kilometres before we reached the path up to the shrine. We had expected a handful of people there, but found busloads of tourists taking selfies, jabbering and ignoring the signs requesting silence.
The World Peace Pagoda
The giant pagoda on a hillside above Pokhara was financed and built by Japanese Zen Buddhist monks under the guidance of Nichidatsu Fujii. The shrine was intended as a symbol of peace and is known as the "World Peace Pagoda". The foundation stone was laid in September 1973 but early in 1974 the incomplete building was torn down by order of the Nepalese government. Construction began again in May 1992 and in October 1999 the pagoda was finally completed.
The shrine is at an altitude of 1100 metres on the side of Ananda Hill. It has now become a major tourist attraction and provides panoramic views of the Annapurna mountain range, Pokhara city and Fewa Lake.
We wondered how all these people got to the pagoda, because they certainly didn't walk there on the rough forest path we followed. And that is where it pays to have an up-to-date guide book - it turns out there is now a road up the hill, ending at a parking lot just below the shrine, and even a public bus route from town! We didn't know about it because we had an old copy of The Rough Guide to Nepal and the road was built after the book was published. But at least we didn't have a two hour walk back again; we dickered with a taxi driver in the parking lot and he took us back to our hotel in his decrepit Suzuki.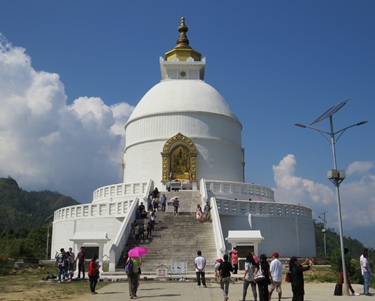 The World Peace Pagoda on a hillside near Pokhara
In the afternoon I continued my quest to find a good cup of coffee in Nepal. Thus far I had been unsuccessful, despite the profusion of coffee shops in Pokhara that proclaimed themselves as having "the best coffee" or "100% organic coffee". The problem is that the Nepalese are a nation of tea drinkers, and coffee is simply not in their culture. So if you order coffee in a restaurant you will get a cup of instant; to get REAL coffee (ie. espresso-based) you have to look for restaurants that specifically say "espresso" or "americano". Then you still have to check out their espresso machine - sometimes they just have a small push-button device which will produce a very ordinary, rather weak brew.
I was quite hopeful at a place called the AM PM Organic Cafe, which had a very nice atmosphere and great food. But the coffee was burnt and weak. Black & White, opposite the lake, was better but there was too much water in my Americano so it was very weak; plus there was no crema. A nameless joint up a side street in Lakeside North had the best coffee so far - strong and flavourful, but again no crema. And they had a copy of the Kathmandu Post, an English-language newspaper, so I happily spent an hour there reading the latest cricket news. After that I couldn't take any more, so my coffee quest will have to continue tomorrow [Aside: My search for good coffee in Nepal is documented in more detail here].
[Sunday 23 October : Pokhara, Nepal] We spent some time this morning sitting in a coffee shop simply called The Coffee, looking at the Westerners as they passed by and trying to decide whether they were "pre-trek", "post-trek" or "no trek". 95% of foreigners who come to Pokhara use the city as a base for trekking trips in the Himalayas, and the appearance of people BEFORE they go trekking is quite different from what they look like AFTERWARDS. "Pre-trek" foreigners are usually slightly overweight, their clothes are spotlessly clean and well-fitting and they have fresh, eager faces. "Post-trekkers", on the other hand, are lean and thin, their clothes hang loosely on their frames and are wrinkled and faded from too much hand washing. "No trek" people are those few that teeter along in high heels and makeup or are so overweight and unfit that it is inconceivable that they could manage any kind of high altitude walking, with or without a porter. The last group is by far the minority in Pokhara - by and large the people that come here are healthy outdoor types of all ages.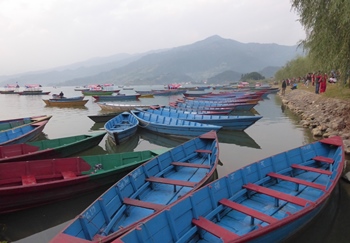 Boating on Fewa Lake, Pokhara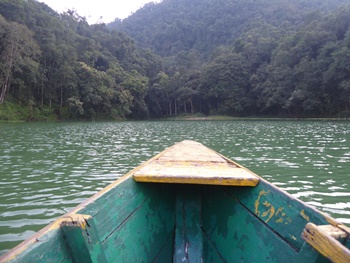 You can rent boats by the hour all along the shore of Fewa Lake, so this afternoon we piled into a wooden rowing boat and paddled out. They insisted we take life jackets despite the water of the lake being as flat as the veritable millpond. The oars were of the "one side only" variety, so paddling was quite a bit more difficult than using a double-sided paddle; you have to keep switching sides otherwise the boat veers off course. But we enjoyed a pleasant hour on the placid water as the sun was setting, looking at birds on the far shore and avoiding other tourists as they thrashed around.
Our last evening in Pokhara was spent at a local restaurant off the main tourist drag, opposite our hotel; it was a place we'd frequented quite a lot during our two separate visits to Pokhara. I enjoyed a last plate of excellent Dal Bhat, Karen had her favourite (grilled fish from the lake and chips) and John had a mountain of rice with his biryani.
[Monday 24 October : Kathmandu, Nepal] We bid farewell to Pokhara, our home from home for the past several days and the perfect spot in which to relax after weeks of trekking. However, before we left I did have time to try some coffee at Crossroads Cafe. It was good but not great; the best thing about the place was that they had a print copy of the New York Times (international edition) so I caught up on some news while I sipped.
That afternoon Yeti Airlines ferried us the short distance to Kathmandu (25 minutes from take-off to landing), where we moved back into our previous haunt, the Kathmandu Boutique Hotel. We very quickly re-acquainted ourselves with the chaotic Kathmandu traffic, a non-stop cacophony of pedestrians, bicycles, rickshaws, scooters, motorbikes and cars all sharing the same road space with an almost surreal lack of rage, accident or incident of any kind.
The key to surviving the streets in Kathmandu is to be both predictable and decisive - if you're walking in the road (as you have to do a lot of the time) you must keep going in a straight line without any sudden sideways movements; vehicles will anticipate your forward motion and miss you by what seems to be a hairs-breadth, but you will be absolutely safe. Crossing a street involves edging forward into the traffic and when the slightest gap appears you must go, quickly and decisively - vehicles will flow around you without stopping but allow room for you to cross. Once you realize that everybody shares the road in a CO-OPERATIVE manner rather than a dominant or aggressive one (which is common in Western cities), you learn to melt into the traffic, allowing it to move past you without stopping on the understanding that they also will allow you to move past them. Everybody wins if all road users simply co-operate to keep everything moving.
In the evening we strolled around Thamel, enjoying the party atmosphere in this thumping, rocking Western-oriented part of the city, and had our last dinner in Nepal at a restaurant in the thick of the action.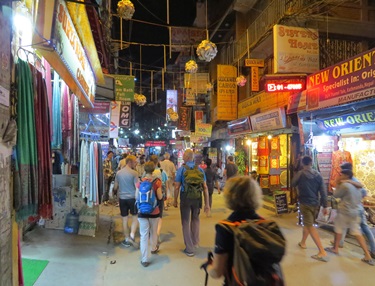 The night-time party atmosphere in Thamel, Kathmandu
[Tuesday 25 October : Kathmandu, Nepal] Our flight to Dubai and then on to Cape Town was only at 7:30 PM, so we checked out of our hotel after breakfast and took a slow stroll to Swayambhu, also known as the "monkey temple". Swayambhu is a combination of Buddhist and Hindu shrines on a hilltop west of Kathmandu; a large population of indigenous monkeys inhabits the temple buildings and the surrounding trees. These monkeys (species Rhesus Macaques) are so tame that they walk right up to or past people without the slightest fear. The down side of this is that you cannot eat anything in the open - they will steal food right out of your hand. In fact, we saw this happen to a group of girls, who lost the ice creams they were eating with shrieks of laughter combined with quite a bit of fear.
The actual temple site is at the top of 300-odd ancient stone steps that seem to get progressively more steep the higher you go, somewhat like a concave surface. The reward, when you finally reach the top, is a bewildering variety of temples, shrines, tombs and statues, all dominated by a huge stupa in the middle. It's hard to tell what's what, particularly as several of the buildings were damaged in the earthquake of 2015 and are still being renovated. Most disappointing, however, is the rampant commercialism on display throughout the whole temple site - almost every available space is occupied by somebody flogging tourist trinkets, from postcards to camera memory cards to cool drinks to Buddhist mementoes.
Monkeys groom themselves at Swayambhu, Kathmandu
A taxi dropped us at the airport at 5 PM, after which we were subjected to no less than seven security and/or passport/ticket checks. Every time we passed through one check, out popped another person who wanted to scan our passports and/or boarding passes and/or hand luggage AGAIN. Do these people not trust each other? What would the seventh check have discovered that was missed in the previous six? It was tedious and frustrating in the extreme. Taking an international flight these days is so much hassle it is little wonder that high speed trains round Europe are so popular - I'll take a 5-hour train ride any day of the week rather than a 2-hour flight. A 5-hour train ride does not have all these irritating security checks or long waiting times to board, so it is actually quicker than flying; you just turn up ten minutes before the train departs, climb aboard and that's it.
[Wednesday 26 October : Dubai, United Arab Emirates] Our layover at Dubai's vast airport was only four hours on our return journey, partly because the flight from Kathmandu was considerably delayed. Some horrendously expensive coffee kept me going in the early hours while I wrote this blog, waiting for the 3:50 AM Emirates Airlines flight to Cape Town. This airport never sleeps - flights were arriving and departing all night long, every duty-free shop and restaurant was open and even finding somewhere to sit at 2 AM was quite a job. At least the airport has 60 minutes of free wifi per device, albeit very slow indeed.
[Wednesday 26 October 2016 : Cape Town, South Africa] Back in South Africa after an incredible month of travelling. Nepal can be frustrating and nerve-wracking, and is very often extremely tiring, but it is also enchanting, exhilarating and endlessly fascinating. The people are incredibly friendly and we never once felt threatened or unsafe. And their food is delicious, ESPECIALLY Dal Bhat ... so it takes some effort, but Nepal is one of the most rewarding countries I've ever visited. Thanks for the memories!
And our next trip? We're going to walk the Camino de Santiago (the Way of St James) in May-June 2018, starting from St Jean Pied-de-Port in France and ending at Santiago de Compostela in Spain. The total distance is about 790 kilometres, so we'll probably have to catch a couple of buses or trains because we simply won't have enough time to walk the whole way (you need a minimum of six weeks).
---
© Paul Kilfoil, 2023