Paul Kilfoil's World of Travel, Technology & Sport
---
Posted on by Paul Kilfoil.
Some coffee shops in Pokhara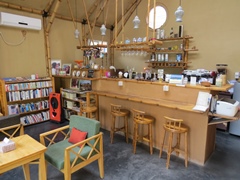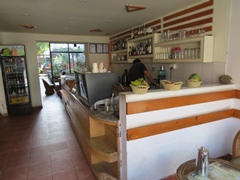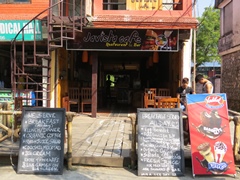 I recently spent a month in Nepal and had a fantastic time (see my travelogue) - the people are friendly, the food is excellent, the scenery is stupendous and everything is generally pretty cheap. However, getting a good cup of coffee in Nepal proved to be very difficult indeed.
The problem is that Nepalese people generally don't drink coffee - tea is the beverage of choice across most of Asia. Many restaurants and guest houses do offer coffee, purely because Western tourists want it, but what you get is often the instant variety. And if you do find filter or espresso-based coffee it is usually quite expensive.
The two places in Nepal where REAL coffee is available are the areas popular with Western tourists - Thamel in Kathmandu (the capital city) and Lakeside in Pokhara (Nepal's second-biggest city but a fraction of the size of Kathmandu). Coffee shops are plentiful here, most of them advertising "organic coffee" or "the best coffee in town". For some reason there is also a considerable German influence, so German bakeries and coffee houses are pretty common.
During my last couple of days in Nepal I tried to find the best coffee in Pokhara. I walked from one end of Lakeside to the other, sampling the wares of as many places as I could, but I'm afraid I did not get a single cup of cofffee that was even as good as the brew I can make on my domestic espresso machine at home ... never mind professional barista-quality stuff. The best coffee I had was in a nameless place up a side street from the main lakeshore road; I looked at it from every angle and took several photographs but it was simply a building without a name.
These are the places I tried:
AM/PM Organic Cafe
Black & White Cafe
Himalaya Joe's Espresso Bar
Javista Cafe
Crossroads Cafe Restaurant
The Coffee
A "nameless place"
Most of these restaurants were very nice inside, their food was excellent and they often had great views over the lake. But their coffee was uniformly mediocre - weak with thin or non-existent crema. So if you're a coffee-holic and are about to visit Nepal, I advise you to prepare yourself for a hard time ...
And the winners of THE BEST COFFEE IN POKHARA are ...
A nameless place up a side street
Black & White Cafe on the lakeshore road
---

© Paul Kilfoil, Cape Town, South Africa