Paul Kilfoil's World of Travel, Technology & Sport
---
Peru, Bolivia & Argentina : June-July 2010
This page describes a trip by Paul Kilfoil,
Karen Gray-Kilfoil
and Scott Gray to South America in 2010.
Check out my
travelogues
page for details of other trips we've done.
Part of this story was published on the American travel web site "The Professional Hobo" on 20 June 2011. Click here for details.

---

Peru


Capital
Government
Area
Population
Languages
Currency

Lima
Democratic republic
1 285 216 km2
29 130 000
Spanish, Quechua, Aymara
New sol (S/)

Peru is the most varied destination in South America, with a wealth of natural, cultural, historical and archaeological treasures to explore. The country is divided into three distinct climate zones - the narrow desert-like coastal belt, the tropical jungle of the eastern interior and the high mountains of the Andes between the two. Peru has 2414 kilometres of coastline and over half a million square kilometres of Amazon rainforest, with only 24% of the land being suitable for farming.
If you enjoyed reading this, please send me an email. All correspondence is appreciated!
The story outlined here is now available as a book. Go to
Independent Books
to find out more.
[Sunday 13 June 2010 : Cape Town, South Africa] We left Cape Town at midday on the regular Malaysian Airlines flight to Buenos Aires in Argentina. This was the last leg of a staggeringly long flight, one which originates in Kuala Lumpur in Malaysia, stops in Johannesburg and Cape Town in South Africa before proceeding across the Atlantic Ocean to Buenos Aires, covering no less than eleven time zones [Aside : the longest commercial flight in the world is one from Auckland (New Zealand) to London (England) via Hong Kong].
[Sunday 13 June : Buenos Aires, Argentina] In Buenos Aires we had to take an Aerolineas Argentinas plane north-west to Lima in Peru ... sounds simple, but try as we might we could find no evidence of any flights to Lima at all. Eventually we discovered that the airport at Buenos Aires has two terminals - a smart new one for international long-haul flights (such as the one we'd arrived on from Malaysia) and a decrepit old one used mainly for flights within South America. We had to walk out of the terminal, round the outside of the building and in another door some distance away, where we finally found the check-in desks for Aerolineas Argentinas.
[Sunday 13 June : Lima, Peru] After all that we eventually landed in Lima, the capital of Peru, at 10:30 PM. Flying west from South Africa meant that we gained time across seven time zones, so even though we spent many hours in the air we arrived in Lima on the same day we left Cape Town! It was nearly midnight by the time we checked into our hotel (in the suburb of Miraflores) and after having a quick shower we slept like the dead.
[Monday 14 June : Lima, Peru] Breakfast was a slow affair at the Kilfoil family table as our internal body clocks tried to figure out where we were. However, we only had one day in Lima and we didn't want to waste it lounging around our hotel, so we headed out into the city to explore. Lima is a huge, sprawling place, hot and muggy, with a curious mix of Spanish and South American influences. It seldom rains here and the city seems to have permanent low clouds hanging over everything. Apparently the sun almost never shines in Lima - something to do with the city's location, nestled between the Pacific Ocean and the Andes mountains.
Lima has a reputation for being dangerous and shambolic, but we didn't find this to be the case at all. The first phase of a new city-wide rapid bus transport service had been opened to the public just a couple of weeks before we arrived. It is an impressive system - smart new buses ride on dedicated lanes all the way through the city from north to south, with rail-like stations along the route. And because the city was trying to encourage people to make use of it, all the buses were FREE! So getting from Miraflores to the city centre was a snap [Aside : Cape Town's rapid bus transport service opened at about the same time as Lima's. There is a remarkable similarity between the two systems, which I commented on when I rode on one of the buses in Cape Town in October 2011].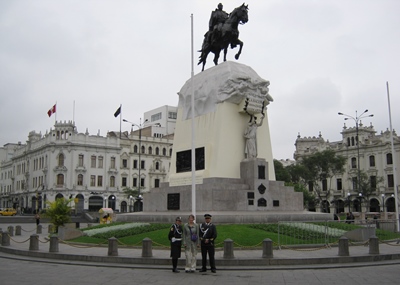 Lima, Peru. The city centre (above), with a typically grey,
cloudy sky and (below) one of the new rapid bus transport stations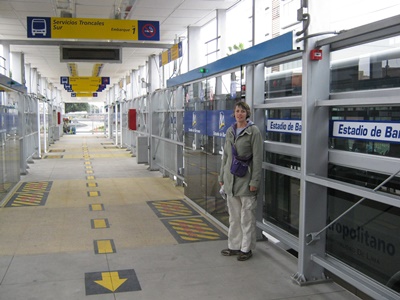 Lima itself is clean and well-maintained, but it was notable that there were security guards and police everywhere, with heavy bars and gates in front of every property, shop or building. Many of the guards wore bullet-proof vests and were armed with automatic rifles, not pistols ... does that tell you this place is dangerous, or what? I haven't seen so many electric and/or razor wire fences since I was last in Sandton, an exclusive South African suburb north of Johannesburg where ultra-paranoid people shiver in fear behind their ten foot-high walls.
Lima's city centre revolves around Plaza de Armas (also known as Plaza Mayor), a grand square surrounded by some elegant old buildings. A temporary "fan fest" had been set up in the plaza for the duration of the 2010 World Cup, the bright red bunting, screens and blaring speakers rather ruining the stylish ambience of the square.
On the way back from the city to our hotel on the rapid bus system we stopped off at Huaca Pucllana, an ancient pre-Inca site that dates back to the 3'rd century. It is a vast adobe (mud) mound, partially excavated, and was apparently a temple and a tomb. The walls were built in a curious "library book" fashion, with mud bricks laid vertically rather than horizontally. Much of it is still being uncovered by archaeologists today.
[Tuesday 15 June : Cusco, Peru] Delayed jet lag hit us as we all struggled to get up this morning. Unfortunately we couldn't lie around because we had a plane to catch; thankfully several cups of coffee helped us to get packed and moving. The flight on TACA Airlines from Lima south-east to Cusco over the Andes Mountains was short but breathtaking - what would have been a very long, hard, overnight bus trip over a succession of steep and twisting mountain passes on dangerous roads was only a little more than an hour in the air. The views of the rugged Andes below us were amazing; jagged, snow-covered peaks seemed to be only a few metres under the plane.
We had pre-booked accommodation in a guest house in Cusco, so at the airport we simply climbed into the guest house's courtesy car (actually a rattling, decrepit old sedan that belched black fumes and was held together with sticky tape) and were whisked to our digs for the next three days - a place called Sumac Wasi, conveniently located less than 50 metres from Plaza de Armas (the square at the centre of Cusco).
Cusco is 3400 metres (11 150 feet) above sea level, and although I'd read about the debilitating effects of the dreaded soroche (altitude sickness), nothing can quite prepare you for what it does to your body. We had spent most of our lives in Cape Town at sea level and had flown to Cusco from Lima (also at sea level), so we were all hit pretty hard by the thin air at this altitude. Headaches, lethargy, loss of appetite and a sleepless first night were the order of the day.
To convert "metres" to "feet", simply divide by 0.3048. This calculation is based on the fact that an inch equals 2.54 centimetres and there are 12 inches in a foot. Similarly, to convert "kilometres" to "miles", divide by 1.609344 (because a mile contains 1760 yards and a yard contains 36 inches).
However, we did manage to visit Koricancha (meaning "Golden Enclosure"), the original Inca Sun Temple in Cusco. It was looted by the invading Spanish in the 16'th century, who stripped it of everything valuable and built their own church on the same site. However, much of the original Inca stonework is still there, the precision of which is staggering when you consider how old it is and the primitive tools the Incas used. The much more modern Spanish masonry is amateurish in comparison.
Scott and Karen with an alpaca and a llama near Cusco, Peru
[Wednesday 16 June : Cusco, Peru] All three of us still felt pretty groggy in the morning, and only made it down to breakfast at about 9:30 AM. Even going up a flight of stairs at this altitude was an effort, so over the next couple of days we relaxed, walked slowly when we did go anywhere and drank lots of water and coca tea - the main reason we were spending three days in Cusco was to acclimatise to the altitude in preparation for doing the Inca Trail, a 45 kilometre walk over four days through the Andes Mountains to Machu Picchu.
Cusco is not very big but it is stunningly located, surrounded on all sides by high mountains. Plaza de Armas is the centre of town, a wide square that is attractively landscaped and with impressive old buildings all around it, including the solid old cathedral and the more delicate Iglesia de la Compania de Jesus. Cusco was formerly the capital of the Inca empire but after nearly 500 years of Spanish occupation not much of their presence still remains in the city.
We visited the market today, which was an interesting experience - it is a huge shed with stalls selling every imaginable form of edible foodstuff, from pig's heads to the innards of animals and many other things that were beyond identification. We stocked up on fruit and had a delicious lunch of rice, chips and a fried egg (which seemed to be the standard dish) at a food counter, sitting with a bunch of locals also eating lunch. Just as we had found in South-East Asia in 2006 and the Middle East in 2008, the best food is generally to be found at tiny, nondescript stalls catering to locals. In the market there were rows of these "restaurants", all serving simple, basic food to ravenous Peruvians. We sat on a cramped bench and slurped up our lunch with plastic forks, but boy was it good. And cheap - 7 SA Rands for a full meal! The same thing at any of the tourist trap restaurants around Plaza de Armas would have cost ten times that much.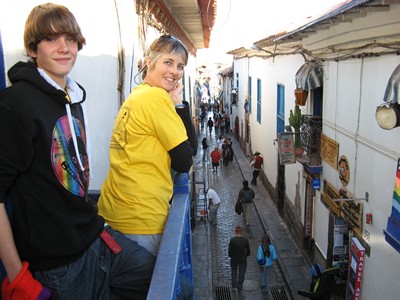 Scott and Karen on our hotel room balcony in Cusco, Peru.
Plaza de Armas is straight ahead at the end of the alley
[Thursday 17 June : Cusco, Peru] This morning, for the first time since arriving in Cusco, I felt normal - I had a great night's sleep, woke up without a headache and had an appetite for breakfast. Keen to see if we could manage a bit of climbing in the rarefied air, we walked up to Sacsayhuaman, an ancient Inca site in the mountains above Cusco. It was a stiff two kilometre slog up a succession of steep streets and stone steps carved into the mountainside, but happily we all made it without collapsing. As always seems to be the case here, it was icy cold in the morning but as the sun rose the temperature soared - you have to be careful about getting sunburnt in the thin air.
Sacsayhuaman was an Inca fort, constructed in the late 1400's, the outer walls built in a zig-zag pattern with typically precise stonework. After bitter fighting the fort was eventually overrun by the Spanish in 1536 and these days it is a ruin, but nonetheless extremely impressive. The stones in the massive walls are enormous (the biggest weighs more than 300 tons) and fit exactly together with no cement or mortar; the outer walls are so strong that they are completely undamaged, even after more than 600 years of weather, earthquakes and relentless battles with the invading Spanish. It is also interesting to note that the stones in the walls are of all shapes and sizes but not square - the most common shape in any Inca building is a trapezoid.
Down in town that afternoon we had lunch at Jack's Cafe, a restaurant very popular with "gringos". It was full of noisy Americans scoffing American-style food, and although the food wasn't bad we vowed that in future we would stick to local restaurants.
[Friday 18 June : Piscacucho (Inca Trail), Peru] Today would have been our first day of walking on the Inca Trail. Unfortunately there was some kind of strike on in the whole Cusco region over the past two days, so we were unable to leave at 5:30 AM as had been the plan. That meant we would have to leave Cusco that evening and start walking very early the next morning, and hope to cover the distance that usually takes four days in only three days. However, the alternative was to cancel the whole walk, which we didn't even consider.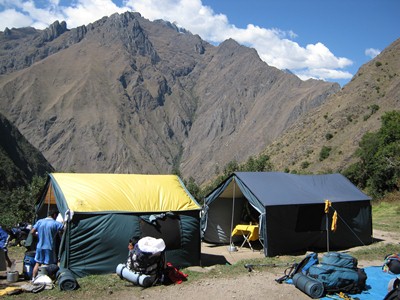 A lunch stop on the Inca Trail, Peru
So we walked around Cusco for the day, doing last minute shopping for plastic ponchos and bottled water. We visited the market and again enjoyed a delicious lunch sitting at a rough-and-ready counter with locals.
We finally left Cusco by bus at 5 PM and after a long drive through the hills via the towns of Urubamba and Ollantaytambo we arrived at the tiny settlement of Piscacucho at about 8 PM. It wasn't much more than a few houses clustered round the station at kilometre marker 82 on the railway line from Cusco. The road ended at Piscacucho - from this point on the only way into the Sacred Valley is by train or on foot (there are no roads through the Urubamba River valley to Machu Picchu, only a single-track railway line). The bus turned into a bumpy football field and stopped in the middle.
Our porters pitched the tents for our group of 15 hikers with the efficiency born of long years of practice and then erected a dining tent, complete with a table, chairs, tablecloth and proper plates and cutlery! Before long a delicious hot meal appeared and we sat down to eat like colonial explorers of old - there was even dessert, incredible as it may seem. We were amazed, as we had been expecting rough-and-ready camping-style food. No complaints from us though ... After eating our fill we crawled into our sleeping bags, glad to be out of the biting wind and near-zero temperature. Although we had descended since leaving Cusco we were still over 2600 metres (8530 feet) above sea level and it was very cold outside.
[Saturday 19 June : Paqaymayu (Inca Trail), Peru] Today was by some margin the toughest day of walking I have ever done, anywhere. Because we had left a day late we walked the entire first two days of the Inca Trail in one day, a total of about 25 kilometres. This does not sound like a lot, but the gradients were frequently as much as 45 degrees, with thousands and thousands of stone steps. Not small steps either - often they were knee high. The Incas never bothered with contour paths; when faced with a hill they simply went straight up (or straight down) and built steps to prevent erosion of the path.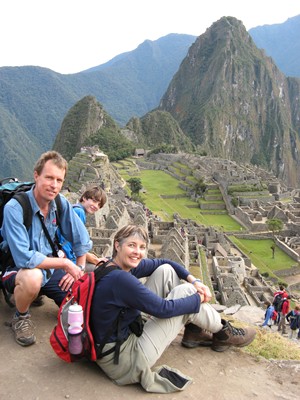 Paul, Scott and Karen at Machu Picchu, Peru
The ascent of Dead Woman's Pass was a brutal, gut-wrenching, hours-long climb to a breath-rattling altitude of 4215 metres (13 830 feet) above sea level. The path was a seemingly endless line of steps up to a distant saddle (the pass) that never seemed to get closer, with each step up agony for thighs that had already walked nearly 20 kilometres. It was simply impossible not to stop every few steps as the air got thinner and breathing became more difficult. I passed several people from other hiking groups on the climb, many of them barely moving, some just sitting in a state of utter exhaustion. Unlike most people who walk the Inca Trail, I had declined to hire a porter so I was carrying all my gear, and my backpack was like a lead weight on my shoulders and legs as I slowly inched my way upward.
The relief of finally getting to the top of the pass was incredible, but no matter how tired you were nobody lingered there because the wind was bone-chilling and the temperature well below zero. Unfortunately the descent on the other side was just as steep, again via an endless line of steps, and by the time we walked into the campsite at Paqaymayu it was after dark and we had to use our head-torches to find the way. The porters again produced a magnificent, steaming-hot meal and straight after eating the whole party hit the sack. It was icy cold during the night - we were still over 3600 metres (11 810 feet) high.
[Sunday 20 June : Wiñay Wayna (Inca Trail), Peru] We started walking at 7 AM, our legs still tired from the previous day's exertions, but thankfully the path was a lot easier today. We climbed two more passes, but neither of them were anything like the ordeal of Dead Woman's Pass and both were much lower in altitude. During the day we passed several Inca ruins, most of which were settlements that provided shelter to pilgrims on their way to the sacred city of Machu Picchu.
Late in the day we took a detour via Intipata, a fine example of Inca terraces (of which there are many in Peru). The Incas lived at high altitude in the Andes and had to adapt to mountain slopes with very little level space for farming and growing crops. They thus created "terraces" up the sides of steep slopes, which were in effect huge steps cut into the mountain side, and on the level parts of the terraces they grew quinoa, corn, maize, potatoes and other crops. These terraces are mind-boggling in their size and scale, often extending for hundreds of metres up at extremely steep gradients, with perfectly constructed stone walls supporting them.
[Monday 21 June : Machu Picchu, Peru] This morning we got up very early (at 3:40 AM to be exact) and walked the last few kilometres of the Inca Trail in semi-darkness to the Sun Gate, from where you get your first view of Machu Picchu, the fabled lost city of the Incas. It takes you by surprize, because you have been slogging through dense jungle and up steep mountain slopes for so long, and then suddenly an enormous valley opens up before you with the city perched on a steep precipice far below. We had read up extensively about Machu Picchu, but nothing could have prepared us for our first view of the ruins. We just stood staring for several minutes, savouring the view, before slowly making our way down into the city.
The Incas & Machu Picchu
At its peak in the 1530's the Inca empire controlled a 4000 kilometre stretch of the Andes from southern Colombia through Ecuador, Peru and Bolivia to central Chile. The Incas spoke the Quechua language (which still survives in central Peru to this day), and the name of the culture is derived from the Quechua word "Inka" which means "king". Astonishingly, this vast empire was toppled by a mere 180 men under the command of the Spaniard Francisco Pizzaro. Taking full advantage of the fact that his men had modern weapons and horses, as well as introducing epidemics to which the Incas had no immunity, Pizzaro conquered the Incas within six years of his arrival in South America in 1532.
Machu Picchu is an ancient Inca site located on a high mountain ridge above the Urubamba River valley, at 2430 metres (7970 feet) above sea level. It is considered to be especially important as a cultural site and is regarded as a sacred place. Constructed in the classical Inca style using polished dry-stone walls, the citadel's primary buildings are the
Intihuatana
, the
Temple of the Sun
and the
Room of the Three Windows
.
It is generally agreed that Machu Picchu was built as an estate for the 15'th century Inca emperor Pachacutec, thus making it between 500 and 600 years old. It is often referred to as "The Lost City of the Incas" because it was never found or plundered by the Spanish during their conquest of South America. Machu Picchu was therefore unknown to the outside world until it was discovered in July 1911 by the American archaeologist and explorer Hiram Bingham.
Spectacular! Breathtaking! Mouth hanging open ... these are some of the ways to describe Machu Picchu. No picture can do it justice - it is far, far more impressive viewed close up than I ever imagined it would be. I thought Angkor Wat in Cambodia was incredible (see my South-East Asia 2006 travelogue), but Machu Picchu shades it. What an unbelievable place, and what a relief the Incas managed to prevent the barbarian-like Spanish invaders from ever finding it. We spent the rest of the day exploring the ruins before taking the bus down to Machu Picchu Pueblo (also known as Aguas Calientes), the small town just below the ancient city.
The bus trip down the steep hill from Machu Picchu was a wild, roller-coaster ride via a succession of hairpin bends; you can also walk down, but it's quite a long way and by this time we'd had enough of walking. The footpath goes straight down (no hairpins) and because the hill is so steep it is probably a tenth of the distance by road. We saw several people walking - they kept popping out of the trees next to the road, crossing over the road then disappearing into the trees on the other side. Depending on how fast they were walking we sometimes saw them again after we'd been round the next hairpin bend and were on the loop below.
The main attraction of Machu Picchu Pueblo (town) is a series of hot springs nearby. We went straight there after checking into a guest house, and relaxed in the piping hot water for a couple of hours. The springs have been channelled into several swimming pools in which you can sit - the water is way too hot to swim in.
Several of the hikers from our Inca Trail group were also in the pools, as well as two chubby young Americans from New York who had somehow managed to complete the Trail against all odds. These two guys were likeable in a beer-sodden, idiotic sort of way, and described how they had come straight up from the Amazon Basin to Cusco the day before starting the Inca Trail - meaning they had had virtually no time for altitude acclimatisation, and consequently suffered badly on Dead Woman's Pass (which is 4215 metres above sea level). At the time both of them thought they wouldn't make it and would probably have frozen to death on the mountain, but through a combination of desperation and bloody-mindedness they forced themselves on, gasping for breath the whole way.
But their near escape in the Andes did not dampen the spirits of these two young guys, and they regaled us with further stories of how they were managing to get by in Peru on a budget that would make an anorexic weep. For example, in Cusco they had mastered the art of the "ultra cheap pub crawl" by going from bar to bar and having the one free drink that each bar typically allowed. And by dint of walking the streets for hours they also found incredibly cheap accommodation - their "guest house" in Machu Picchu Pueblo cost the princely sum of $7, whereas we had paid $45 for our rather more luxurious digs.
We ended the day with a long hot shower in our guest house and an excellent three-course dinner (a set menu) at one of the many restaurants in Machu Picchu Pueblo.
[Tuesday 22 June : Ollantaytambo, Peru] We caught an afternoon train from Machu Picchu to Ollantaytambo, a small town about half way to Cusco. The train trip was spectacular - the railway line is in the Urubamba River valley, right next to the river, and the scenery is magnificent as the tracks twist this way and that, following the river as it winds its way through the mountains. We were quite fortunate to be able to do this trip, because severe flooding of the river early in 2010 had destroyed the tracks and cut Machu Picchu off from the rest of the world for several months (there is no road in, only the railway line). This ride easily makes it onto my Best Train Trips in the World list.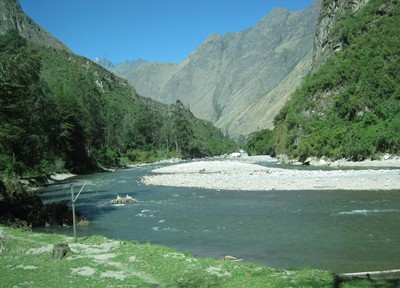 The Urubamba River valley near Machu Picchu, Peru
Ollantaytambo (or "Ollanta" as it is called by locals) is a small town of adobe buildings and cobblestone streets. There are deep drains all over, most of them filled with torrents of strongly-flowing water ... which is odd because the town itself is bone-dry and dusty. The water must be runoff from the high Andes that surround the town; it could not have been rain water because it looked like it hadn't rained in Ollantaytambo for a long, long time. We had a delicious (and extremely cheap) lunch in a little restaurant off a nondescript side street, jammed into a corner and surrounded by elderly locals with wizened faces and gnarled hands. There was hardly a menu, just a couple of choices plus the "meal of the day", but as is usually the case at these simple and homely eateries the food was fantastic.
In the afternoon we visited the Inca fortress on the slopes high above Ollantaytambo. On one side there is an unfinished Sun Temple, with huge blocks of stone carved in immaculately straight lines but not yet placed where they should be. As with all other Inca sites we'd seen, the precision of the stonework was incredible, with each stone fitting exactly in with the others around it without any mortar, cement or clay. In all my travels on all the continents of the world (except Antarctica) I have never seen such precise construction - it puts modern builders to shame. And to think that the Incas built their cities and temples five hundred years ago using stone tools!
[Wednesday 23 June : Cusco, Peru] After a lazy morning and a fantastic breakfast at our guest house in Ollantaytambo we caught a "collectivo" back to Cusco [Aside : A collectivo is like a South African minibus taxi - it travels a set route but at no pre-arranged time and passengers can flag it down anywhere]. This involved a fair bit of haggling in broken Spanish and sign language, but we reached Cusco safely enough, albeit with all three of us jammed into a tiny space at the back.
[Thursday 24 June : Cusco, Peru] Today was New Year in the Inca calendar, marked by the biggest and most elaborate festival in the Cusco region - Inti Raymi. The celebrations went on all day with huge crowds of people swarming the streets to catch a glimpse of the various rituals and processions. We managed to see quite a lot of the ceremony in Plaza de Armas in the morning, and in the afternoon we slogged up the steep hill to Sacsayhuaman and stood in the sun for hours waiting to see the culmination of Inti Raymi - the Inca "king" was carried up onto a sacred stone on a litter, with hundreds of warriors and maidens enacting complex dances around him, all of them facing the sun. Then a llama was slaughtered as a sacrifice, with the heart and entrails burnt as an offering to the Sun God (animal lovers need not worry - the llama was a paper mache fake and no animals were harmed during the ceremony).
Lake Titicaca
Lake Titicaca is the highest navigable lake in the world, at an altitude of 3810 metres (12 500 feet) above sea level. It is approximately 165 kilometres long from north to south and 69 kilometres wide, and forms part of the border between Peru to the west and Bolivia to the east. The lake sits in a basin in the Altiplano, the plateau between the western Andes mountains and the eastern Andes. Even in mid-winter at these altitudes the lake water never freezes - there is a local micro climate that ensures relatively temperate weather all year round.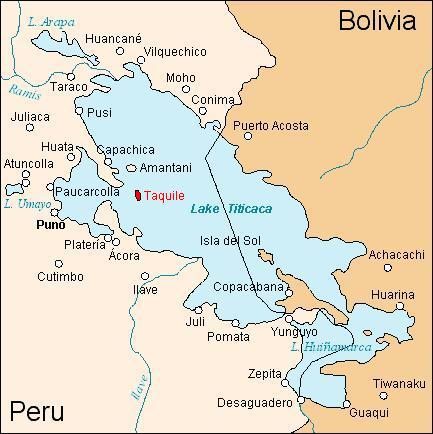 [Friday 25 June : Puno, Peru] We checked out of our Cusco hotel early and boarded a bus to Puno, a city in the south-east of Peru on the shores of Lake Titicaca. On the way the bus stopped in the village of Andahuaylillas where we got off to look at the beautiful Jesuit church in the main square. This church is called the "Sistine Chapel of South America" because of its stunning interior - intricate gold-plated designs, murals, frescoes and huge oil paintings.
Our second stop was at Raqchi, an Inca temple and village. Although it is now nothing more than a ruin, the main temple was huge, about 100 metres long and 26 metres wide, with a central wall 14 metres in height and 11 circular pillars supporting the roof on each side. The design was unusual in that it merged the Inca style from the Andes with that of the Aymara people who inhabited the area around Lake Titicaca - the foundations and bottom parts of the walls show typically precise Inca stonework but above that the walls are of baked mud. There were also houses and over 200 circular "Qolqas" for storage of food. Even though the whole place is now in ruins you can still clearly see, and marvel at, the sheer size of the main temple.
From Raqchi on the road snaked steadily higher, until we reached the "Altiplano", a sort of plateau in the Andes. This high up there are no trees or bushes, only tufty grass and rocks. The bus stopped at the highest point on the road between Cusco and Puno - La Raya, no less than 4335 metres (14 220 feet) above sea level. In the thin air at this altitude the sun is extremely bright and every shadow is a hard, sharp line.
The last stop before reaching Puno was at the museum of Pukara. Archaeologists have excavated the remains of a civilization here that pre-dated the Incas by a thousand years - the Pukara people, who thrived from about 500 BC to about 600 AD. The museum contains several examples of Pukara stone carvings that have been painstakingly excavated.
We reached Puno at about 5 PM and by a combination of sheer luck and hard negotiating found a very reasonably-priced room at the Royal Inn, a 4-star hotel less than a block from the city's main square (also called Plaza de Armas); it was by far the most luxurious accommodation we'd had on the whole trip. Puno is on the western shore of Lake Titicaca at 3860 metres (12 660 feet) above sea level - even higher up than Cusco. Thank heavens we acclimatised at slightly lower altitudes first before coming here ...
Scott standing on a floating island,
next to a reed boat on Lake Titicaca, Peru
[Saturday 26 June : Puno, Peru] Another early morning today, as we headed down to the docks and boarded a boat for a tour of the Uros floating islands and Taquile, a natural island in Lake Titicaca. The Uros islands are artificial islands made entirely of the indigenous reeds that grow in Lake Titicaca - each island is about three metres thick and floats in water that is about twenty metres deep. There are about fifty of these islands supporting several hundred people who spend their lives floating on the water in this way. The islands rot from underneath and have to be continuously replenished with new reeds. The people survive by fishing and hunting of birds; they use boats made of reeds, and which only last 12 to 18 months before rotting completely.
Taquile is a small "real" island in the lake, quite a distance from the Uros islands; it is a rocky, mountainous place, about six square kilometres in size. We landed there and walked over the island from one end to the other, seeing examples of how the people live and work. The Taquile community is famous for one quirky and unusual custom - the men on the island knit, producing beautiful woolen garments of all kinds. Indeed, knitting is a noble and respected activity reserved exclusively for men; women typically yarn and weave cloth. We walked up a steep hill to a tiny village with a drop-dead view over Lake Titicaca and enjoyed a delicious lunch of trout (from the lake), quinoa soup and (inevitably) coca tea [Aside : coca tea is not a drug, and nor are coca leaves - you can only extract cocaine from coca leaves via the mixing of several other synthetic chemicals. In fact, the coca plant in its natural state is extremely beneficial and rich in nutrients]. By this time we were so accustomed to high altitude that the stiff climb over the island at an altitude of 4010 metres (13 150 feet) above sea level didn't even bother us.
It is interesting to note that the people who live on the Uros floating islands are descended from the Pukara culture and speak Aymara, while those on Taquile are of Inca descent and speak Quechua. The customs and way of life of the two communities are completely different, even though they are neighbours of sorts.
[Sunday 27 June : Puno, Peru] We relaxed today after several days of hard travelling and early mornings. After a late and leisurely breakfast we strolled around Puno, but there isn't much to see apart from a very impressive old stone cathedral on the main square. A stiff climb up a steep hill behind town brought us to Huajsapata Park, a high vantage point from which there are superb panoramic views over Puno and Lake Titicaca. A rather stained and graffitied white statue of the Inca king Manco Capac stands at the highest point of the park, his outstretched right index finger pointing into the far distance.
Karen on Isla del Sol in Lake Titicaca, Bolivia
[Monday 28 June : Copacabana, Bolivia] We left Puno on an early bus and headed south-east towards Bolivia along the western shore of Lake Titicaca. Exiting Peru was easy, but at the Bolivian immigration office we were pulled out of the long line of gringos and told we had to buy visas - the old South African passport syndrome. In researching our trip I had not managed to get a straight answer as to how much a Bolivian visa costs, except that Americans had to pay 135 US dollars (the Bolivian government hates the USA, so it takes it out on US tourists). It seemed as if South Africans needed to pay 20 US dollars, which wasn't too onerous, but when the Bolivian border thief, I mean guard, told us it would be 360 Bolivianos EACH and only in local currency, we realized we might be in trouble - the Bolivian currency is the Boliviano, and 360 of them is equivalent to about 50 US dollars.
We only had a couple of hundred Bolivianos between us, because we had been told we could pay for the visa in dollars. We rushed outside and changed 180 US dollars at the nearest money-changer (and were fleeced again, of course), went back inside and got the wretched visas. The guy who took the money was sitting at a battered wooden table and simply stuffed the cash in a drawer, rummaged around inside and produced a roll of small adhesive stickers. He stuck one of these into each of our passports, handed the passports back and indicated that we could go - no questions, no forms, no receipts, just 360 Bolivianos each in return for a small sticker.
I'm reasonably confident we were scammed in some way, but the border people maintained a complete misunderstanding of English and would not budge. Our only other alternative was to haul our stuff off the bus and try to get another bus back to Puno in Peru, which we didn't want to do. So what choice did we have? None ... and the border guards knew it. Welcome to Bolivia.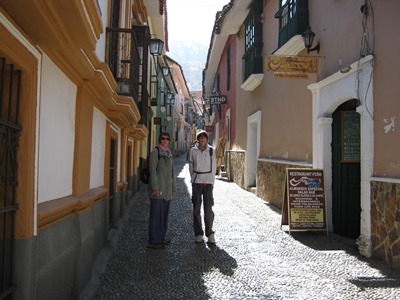 Karen and Scott in Museum Street, La Paz, Bolivia
The rest of the trip east to Copacabana in Bolivia passed without further incident. Copacabana (not be confused with its more famous namesake in Brazil), is a small, run-down town on the shores of Lake Titicaca; it is oddly positioned on a T-shaped peninsula on the western side of the lake that for some reason is part of Bolivia, not Peru - look at the map above and you'll understand the layout. After looking at several grim and desperate hotels (perhaps I should say "hovels"), we found the Hotel Mirador, right on what passes for a beach, and got a great room there for the next two nights for only 20 US dollars a night. Supper that evening was chips, rice and fried trout from Lake Titicaca at one of the many simple restaurants on the lakeshore (plastic chairs, plastic tablecloth and plastic cutlery, but the food was delicious).
[Tuesday 29 June : Copacabana, Bolivia] After an early breakfast we boarded an 8:30 AM boat bound for Isla del Sol (Island of the Sun), the largest island in Lake Titicaca and not far from Copacabana. We landed at Cha'llapampa in the north of the island and after looking around for a while walked to the very northern tip to look at the old Inca ruins there. Then we followed the path south, down the entire length of the island until we reached Yumani, the largest village on the island.
The walk was about eight kilometres and had sounded good when we read about it, but in reality the landscape was bleak (we were about 4000 metres high), with not a tree or bush higher than knee height in sight apart from a few groves of Australian Eucalyptis (gum) trees near Yumani. And every few kilometres somebody with a book of official-looking tickets popped out from behind a rock and demanded we pay more money to pass through the next section of the walk. We could never tell if these people were legitimate fee-collectors or scam-artists, but had no option other than to pay up. However, the views of the lake on both sides were superb. From Yumani the boat took us back to Copacabana on the mainland, docking at about 5:30 PM.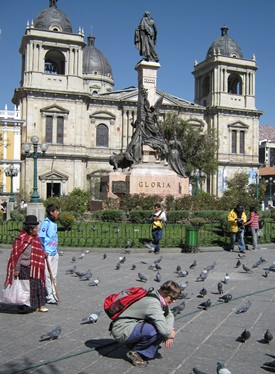 Karen trying to feed birds in La Paz, Bolivia
[Wednesday 30 June : La Paz, Bolivia] We'd had enough of Copacabana and Lake Titicaca so we caught the 1:30 PM bus to La Paz, the capital of Bolivia. The road east from Copacabana was absolutely spectacular as it twisted and turned its way through the Andes, with stunning views of Lake Titicaca first on one side then the other. Once again there were no trees whatsoever at this height (well over 4000 metres), except for the inevitable Australian gum trees. Soon we had the lake on both sides of the road as we entered the narrow peninsula that juts into the lake. The bus stopped at the Straits of Tiquina (the narrowest point in the lake, only 850 metres wide) where we all had to get off, buy a ticket on a ferry to take us across the lake then board the bus again on the other side.
The "ferry" we rode on was a tiny boat, loaded with travellers crammed elbow-to-elbow in a cramped cabin, powered by a geriatric outboard motor that filled our stuffy cabin with noxious diesel fumes. The bus went across on its own flat-bottomed ferry - we saw it, fifty metres away on the water. Why couldn't we have just stayed on the bus on its ferry rather than get off and use a different boat? I'm guessing it was simply a way to fleece people by making them buy another, separate ticket ...
Once we'd crossed the lake it was a fairly flat, boring drive on the Altiplano to La Paz, the outskirts of which were poverty-stricken, depressing and congested. However, as soon as the road started to descend into the city the views were spectacular. La Paz sits in a natural bowl in the Altiplano, far below the road with high mountains on all sides, and as the bus wound its way down the entire city unfolded in front of us. Unfortunately, up close it is not so attractive - narrow, broken pavements, insane traffic, crowds of jostling people and smog so bad it makes your eyes water and nose run.
After getting off the bus in La Paz we noticed that all the other passengers seemed to be climbing into taxis. But no matter where you are in La Paz it is always downhill to the city centre, and it didn't look far on the map, so we simply walked. And indeed it was easy - a gentle stroll downhill brought us to Plaza San Francisco. We found a decent hotel up one of the side streets nearby for the next three nights and treated ourselves to a very nice dinner at a smart restaurant round the corner.
[Thursday 1 July : La Paz, Bolivia] Today we took it easy and explored La Paz. First stop was Plaza Murillo (formerly known as Plaza de Armas), the centre of the city, around the sides of which are the president's palace, Bolivia's parliament building, an impressive Neoclassical cathedral and the national museum of art, housed in one of La Paz's finest surviving colonial palaces. We lingered too long on the pavement outside the president's house reading our guidebook and were brusquely told in no uncertain terms by a tough-looking guard to move on ... which we hurriedly did, having read about Bolivian prisons and not wanting to experience one first-hand. In the square we found a plaque labelled as the "0 km" point, meaning that it is the spot which is regarded as the exact centre of both La Paz and Bolivia.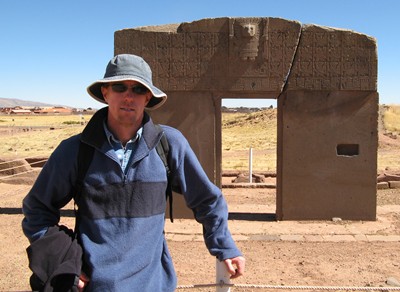 Paul in front of the Sun Gate at Tiwanaku, Bolivia
Not far from the plaza and (inevitably) up a steep hill we found "museum street", location of the four major museums in La Paz. Most impressive is the Gold Museum, where a number of Inca artifacts made of solid gold and silver are on display. It is a tragedy that the marauding and boorish Spanish invaders in the 1500's looted most of the Inca gold in South America, and a large part of what little remained after that was pilfered by a succession of Western explorers (such as Hiram Bingham, discoverer of Machu Picchu in 1911). Only a tiny fraction of the fabulous Inca treasure is still in Peru, Bolivia and Chile - the rest was melted down and sold or resides in American museums.
In the late afternoon we headed up the steep roads behind Plaza San Francisco to the market district. It is a seemingly endless maze of clogged streets with people selling everything imaginable from tents, wheelbarrows and shops, or simply from the pavement or on the road. The Witches' Market was probably the most interesting; here you find hawkers flogging llama foetuses and other weird and unidentifiable artifacts used in ceremonies and as sacrifices.
We had supper that evening at a "hole-in-the-wall" local eatery - no menu, you just chose one of the four standard dishes they cooked. Soup and a filling main course cost the princely sum of 10 Bolivianos (about 12 SA Rand) each.
[Friday 2 July : La Paz, Bolivia] We signed up for a day tour to Tiwanaku (sometimes spelled Tiahuanaco), the ruins of an ancient civilization that flourished for nearly 3000 years, from 1500 BC to 1200 AD. Very little is known about the people who built Tiwanaku as they left no written records; it is speculated that the civilization crumbled because of a sustained period (years or even decades) of little or no rain. Only about 40% of the site has been excavated - archaeologists are working on the rest, but still have a long way to go. We saw two groups of archaeologists using paint brushes, painstakingly brushing sand away from buried relics thousands of years old.
Scott and Paul in Plaza de Armas, Arequipa, Peru
The main temple of Tiwanaku contains a "sun gate" which displays a sophisticated calendar carved into solid rock - 365 days divided into 11 months of 30 days and one month of 35 days. The walls of the temple are aligned exactly north, south, east and west, with the sun gate placed in such a way that on the 22'nd of September each year (Spring equinox in the southern hemisphere) the sun's rays shine directly through the gate. The knowledge of astronomy on display was astonishing.
Tiwanaku is only about 70 kilometres from La Paz on the Altiplano, about 3900 metres up, but the insane traffic of the city meant it took nearly three hours to get there. On the slow drive out of La Paz we were "treated" to a view of the Choqueyapu River. It is a river in name only - over the years it has become so polluted that it is now nothing more than a turgid stream of thick brown sludge. The Seine in Paris, Thames in London or Hudson in New York are polluted but they are all still rivers; the Choqueyapu has simply become a raw and open sewer. Thankfully it has been covered over with concrete in the downtown area, so at least you are spared experiencing it as you walk around the city.
[Saturday 3 July : Arequipa, Peru] This was a long, hard day on two buses from La Paz in Bolivia to Arequipa in Peru. From La Paz we rode on a comfortable "tourist" bus to Puno on Peru, this time via the route that skirts the south of Lake Titicaca through the border post at Desaguadero; the border controls on both sides were easy. In Puno we changed to a local bus for the leg to Arequipa - a scary, uncomfortable ride amongst boxes, packages, loads of Peruvians and an on-board toilet that the driver obstinately refused to open. It took nearly 12 hours to do the whole journey from La Paz to Arequipa. We arrived at Arequipa in the dark with bursting bladders, and had to deal with a shark-like taxi driver at the bus station before checking into a very nice hotel not far from the centre of town.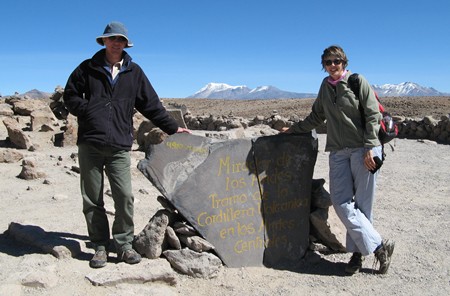 Paul and Karen at 4910 metres (16 110 feet) above sea level on the road
between Arequipa and Colca Canyon, Peru. Note the non-existent
vegetation and sharp shadows at this altitude
[Sunday 4 July : Arequipa, Peru] At last! A relaxing day, spent exploring Arequipa (the second largest city in Peru after Lima). Arequipa is a very elegant place, with many of the buildings constructed using the local sillar stone, a white rock that is easy to cut but is nonetheless extremely strong and durable. Santa Catalina's Monastery is fascinating - it is a working monastery that is still home to about thirty nuns (not monks, oddly enough), but which dates back to the 16'th century. The old part of the monastery is now a museum and has been immaculately restored to show the conditions in which the nuns used to live; these days the nuns live in a more modern section that is not open to visitors. Unfortunately large parts of the monastery (including much of the first floor) were damaged in the severe earthquake of 1868 and have never been repaired.
[Monday 5 July : Coporaque (Colca Canyon), Peru] We signed up for a 2-day trip to the Colca Canyon, the second deepest canyon in the world (it is over 1200 metres from the lip of the gorge to the canyon bottom). The drive there from Arequipa took about four hours on a spectacular road that twisted and turned its way through the high Andes. On the way we passed through a vicuña national reserve, and were lucky enough to see several vicuñas very near the road; they are slightly smaller than llamas but more elegant [Aside : "vicuñas" are a type of wild camel native to South America; they are protected by law in Peru].
Altitude Comparison
The highest we went in the Andes was 4910 metres above sea level on the road between Arequipa and Chivay. By comparison, here are the altitudes (in metres above sea level) of some well-known mountain peaks round the world (above 8000 metres is regarded as the "death zone"):
| | | |
| --- | --- | --- |
| Ben Nevis | Scotland | 1343 |
| Sani Pass | South Africa (Drakensberg) | 2876 |
| Mount Cook | New Zealand | 3724 |
| Mount Fuji | Japan | 3776 |
| Dead Woman's Pass | Peru (Andes) | 4215 |
| Mount Elbert | USA (Rocky Mountains) | 4401 |
| Mont Blanc | France (Alps) | 4808 |
| Arequipa-Chivay road | Peru (Andes) | 4910 |
| Mount Elbrus | Russia (Caucasus Mountains) | 5642 |
| Kilimanjaro | Tanzania | 5895 |
| Mount McKinley | USA (Alaska) | 6194 |
| Aconcagua | Argentina (Andes) | 6962 |
| Annapurna 1 | Nepal (Himalayas) | 8091 |
| K2 | Pakistan (Karakoram range) | 8611 |
| Mount Everest | Nepal/Tibet (Himalayas) | 8848 |
---
Note that in 2016 Karen and I went up to
5416
metres on Thorung La (Pass) in Nepal. On the way over the pass we spent a night at
4925
metres. Full story
here
...
Further on we stopped at the highest point en route, 4910 metres (16 110 feet) above sea level - the highest we've been so far. It is interesting to note that this is higher than the highest mountain peak in Europe (Mont Blanc on the France-Italy border, which is "only" 4808 metres high), and all around us were peaks that are much higher, many of them over 6000 metres! The terrain was bleak and lifeless but there was no snow at all; because it is so dry in the Andes only the very highest peaks are snow-covered. Thankfully we're used to the thin air at these altitudes by now.
[Aside : In 2016 Karen and I went even higher, to 5416 metres (17 769 feet) above sea level on Thorung La (Pass) in Nepal. That was while we were walking the Annapurna Circuit; in fact, on the way up Thorung La we spent a night at 4925 metres (16 158 feet)]
The road down into the Colca Canyon was a nerve-jangling, brake-screeching descent of impossibly tight curves and stupendous views. The canyon is not only deep but also very wide, and from the heights of the road we could see the entire valley spread out below us - the tiny trickle of the Colca River, a scattering of small villages and miles of terraces on the slopes used for the growing of crops. Near the bottom we entered Chivay (the largest town in the Colca valley), browsed round there for a while then checked into a very nice thatched hotel in the village of Coporaque, a few kilometres from Chivay. Dinner in the hotel was an excellent buffet, and we all ate too much and hit the sack early.
[Tuesday 6 July : Arequipa, Peru] We were woken at the ridiculously early hour of 5 AM and left the hotel in Coporaque at 6 AM for the drive to Cruz del Condor (Condor Crossing), an area in the Colca Canyon where there are between 40 and 50 Andean Condors [Aside : The Andean Condor is a vulture-like predator native to South America with a wing span of over three metres, the largest of any land-based bird]. Despite it being freezing cold, by the time we got there the viewing site was already clogged with tourists hoping to catch a glimpse of one of these rare birds. After waiting about twenty minutes we got lucky and a couple of condors ventured out from their cliff-side nests. They were soon joined by several others, and for the next hour we were treated to the sight of between five and ten condors swooping and gliding past us. Fantastic!
Llamas, alpacas and vicuñas
There are four species of camelid in South America -
llamas
,
alpacas
,
vicuñas
and
guanacos
(collectively known as lamoids). All of them are found in Peru, although the guanaco is quite rare and mainly occurs in Patagonia in southern Argentina. Llamas and alpacas are domesticated; llamas are kept for meat and transportation, while alpacas are used for meat and wool. Vicuñas are wild and are protected by law in Peru (killing one carries a five year prison sentence). However, vicuña wool is regarded as the finest, so each year during the month of November local people are permitted to catch vicuñas and shear them of their wool. Afterwards they are released back into the wild again.
Everything after that was an anti-climax, and the long drive back to Arequipa in the afternoon turned into a siesta. The bus driver kept us informed of the score in the World Cup semi-final between The Netherlands and Uruguay; we happened to have a Dutch family on the trip with us, and they were on tenterhooks when Uruguay scored a second goal late in the game. However, The Netherlands held out to win the match 3-2 and progress to the World Cup final.
[Wednesday 7 July : Arequipa, Peru] Scott and I went on a downhill biking trip. A bus loaded with bicycles on the roof took us and six other tourists straight up Chachana, a high mountain peak outside Arequipa. At 4800 metres (15 750 feet) the bus stopped, we climbed aboard our bikes and for the next 50 kilometres we careened down the mountain, on various dirt tracks and then a tar road on the outskirts of Arequipa. There was one tough section of about three kilometres that was uphill in soft sand, at an altitude of 4100 metres - it's been a long time since my lungs burned as much as they did when we cycled up that part. We got back to the hotel covered in dust from head to toe.
A wild vicuña next to the road between Arequipa and Chivay, Peru
[Thursday 8 July : Nazca, Peru] We checked out of our Arequipa hotel and spent a long day on a bus to Nazca. The road from Arequipa passes through desert country before reaching the coast near the town of Camana, after which we turned north on the Pan-American Highway (the road that follows the Pacific coast of South America from the south to the north). The landscape along the west coast of Peru is unbelievably bleak and arid, with the Pacific ocean washing against a shore devoid of any form of vegetation whatsoever. For hundreds of kilometres we drove through absolutely barren country - not a blade of grass, a weed or even any scraggly bushes, just sand and rocks. I have never seen such lifeless terrain anywhere else in the world. The road twists and turns as it follows the contours of the coast, often with sheer cliffs on one side and the sea on the other. There were sections of huge sand dunes as well.
In Nazca we checked into Hotel Alegria, conveniently located across the road from the bus station. The place looked very nice from the outside, had a great garden with a swimming pool and was recommended by The Rough Guide, but it was very disappointing - our room was mediocre, cramped and overpriced, we had to ask for towels and extra blankets and breakfast the next morning was meagre. This was unfortunately a rare example of our normally reliable guide book getting it wrong (in fact, The Rough Guide's Nazca section contained several other inaccuracies as well).
[Friday 9 July : Nazca, Peru] Nazca is famous for being the town nearest the Nazca Lines. The Nazca Lines consist of thousands of lines drawn in the desert sand, many of which are pictures of animals, plants and other figures. The figures are huge, some of them hundreds of metres in size, while there are many straight lines that extend for several kilometres in every direction. The best scientific estimate for the age of the lines is that they were created sometime between 200 BC and 600 AD. Nobody knows who or why the lines and figures were created, and the ancient civilization that was responsible left no written records other than some shards of broken pottery, exquisitely painted. A great many theories about the nature and origin of the lines have been proposed but none of them can be proved or disproved, so the Nazca Lines will likely remain one of the great unsolved archaeological mysteries of all time (in fact, a crackpot named Erich von Däniken has even suggested that the lines were runways for alien spacecraft ... go figure).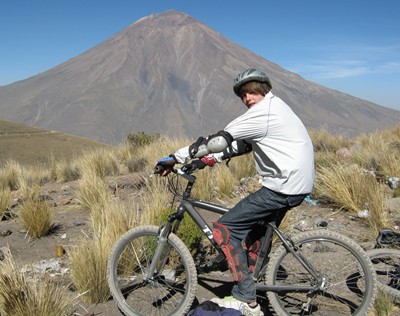 Scott on a rented bike on the slopes of Chachana near Arequipa,
Peru. El Misti, an active volcano, is in the background
The lines were created by simply removing the top layer of dark sand and dust, revealing the lighter material underneath. All of the complex figures are composed of one single, unbroken line from start to finish. The lines have survived for so many centuries because the weather in the desert near Nazca is much the same every day - hot, dry and windless. Virtually no rain falls in this arid region, and with very little wind there are no natural processes to destroy the lines.
After a leisurely morning (we'd been up early too many times in the last several days), we caught a local bus north on the Pan-American Highway towards Ica. About 20 kilometres from Nazca the driver dropped us off at the Nazca Mirador, a 14 metre tall metal tower on the side of the road. We climbed to the top of the tower and from there we had a good view of a few of the mysterious figures in the sand - two oddly shaped hands (one with five fingers and one with four), a trapezoidal shape and a long rectangle that looks very much like an airstrip. We trudged back down the road about two kilometres and climbed two small hills for a different view, but the sheer size of the lines made it difficult to discern any additional detail.
At 11:30 PM that night we boarded an overnight bus bound for Lima in the north. It turned out to be a very comfortable trip, with seats that reclined almost horizontally, and we all managed to get quite a bit of sleep.
[Saturday 10 July : Lima, Peru] The overnight bus from Nazca arrived in Lima at 5:30 AM, about half an hour ahead of schedule. Realizing that we couldn't check into our hotel so early, we waited at the bus station for a while before catching a taxi to the hotel. Luckily our room wasn't occupied so we could move in straight away; a long hot shower helped to wash away the "slept in our clothes on a bus" feeling. We then strolled about a kilometre down the road to the Pacific Ocean, where there is a swanky shopping mall (Larco Mar) on the cliffs above the sea. It was cloudy and cold, so we retired to Dunkin' Donuts for coffee and (you guessed it) doughnuts. We spent the rest of the day exploring Miraflores, the suburb in which we were staying.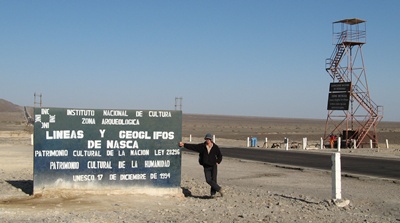 Paul standing near the Nazca Lines observation tower, Peru.
The road you can see is the Pan-American Highway, which extends
from the southern tip of Argentina up the west coast of South
America to Colombia in the north and then through Central
America, Mexico, USA and Canada all the way to Alaska
[Sunday 11 July : Lima, Peru] Today was our last day in Peru before flying to Buenos Aires in Argentina. In the morning Karen and I took the new rapid transport bus service south to the suburb of Barranco; amazingly, the system was still free, a month after we first used it when we arrived in Lima. It doesn't seem likely that these buses will be free permanently, because there are automated ticket machines and turnstiles at the entrances to the stations. However, the ticket machines aren't in use - all you have to do is swipe a card attached to each turnstile on a length of chain and you're in. I guess it's a period of "training" for the citizens of Lima, to get them used to the system.
Barranco is a bohemian sort of suburb on top of steep cliffs next to the Pacific Ocean. We looked at the old Iglesia de la Ermita (Church of the Hermit) and the remnants of the electric tramway that used to run in the area (one well-maintained vintage tram still remains on the tracks, but it is now a museum piece), then walked down a steep path over the Pan-American Highway to the Costa Verde beach. The "beach" is mostly rocks and the water was pretty cold. A kilometre or so further on we came to Fisherman's Wharf, a fishing pier and open-air fish market. On the beach nearby a gaggle of gigantic pelicans flapped around on the sand, with children feeding them bits of fish. I'm not sure if the sea water near Lima is mutated, but these were by far the biggest pelicans I've ever seen.
In the afternoon we stayed in our hotel room and watched the 2010 football World Cup final, won by Spain when they beat The Netherlands 1-0 with a late goal in extra time. Despite Peru's chequered colonial history, most locals were rooting for Spain, and there was hooting and cheering in the streets when the final whistle went. I was also pleased, because Spain have been the best team in the world over the past four years and fully deserved to be crowned World Champions. Then it was time to pack our stuff and make our way to the airport to catch our overnight Aerolineas Argentinas flight to Buenos Aires in Argentina.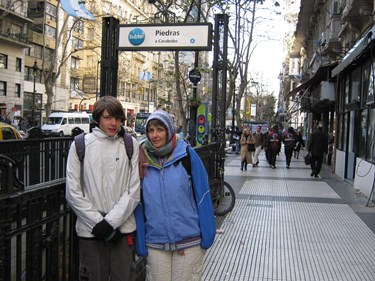 Scott and Karen shivering outside a subway station,
Buenos Aires, Argentina
[Monday 12 July : Buenos Aires, Argentina] The flight from Lima in Peru to Buenos Aires in Argentina was one of the worst I've ever experienced - cramped, uncomfortable seats, boiling hot and stuffy, with dinner served at about 2 AM when everybody was trying to sleep. However, getting through customs and immigration at Buenos Aires was easy. The Argentinians have the right idea about tourists - no visas, no costs, no bureaucratic paperwork, no third-degree questions, just stamp your passport and say "Welcome to Argentina".
The airport at Buenos Aires is a long way from the city. A door-to-door taxi service quoted us 150 Pesos (about 300 SA Rand), but the local bus into town was only two pesos each (about four SA Rand), so that was a no-brainer. The problem was that the local buses only take Peso coins, no notes. And do you think we could get small change in the airport at 7 AM? Incredibly, the shops would not even sell us anything if it entailed them having to give change in coins! However, we eventually managed to get six precious Peso coins and humped our gear to the airport bus-stop, just outside the entrance to terminal B.
Ministro Pistarini international airport in the suburb of Ezeiza near Buenos Aires has two completely separate terminals - A and B. Most international long-haul flights (for example, to Europe or North America) use the smart new terminal A. Terminal B is old, shabby and decrepit, and is mostly used for local flights or short-haul flights to other South American countries.
Once we left the cosy warmth of the airport buildings we discovered that it was bone-chillingly cold, with the temperature below zero and a freezing wind cutting through our layers of clothes. Thankfully the right bus (number 8) came along quite quickly and we climbed aboard with relief, taking a few minutes to figure out the automatic ticket machine (which indeed only took coins, as we'd been told). For the next two hours the bus hurtled towards the city, through increasingly hectic Monday morning traffic, and we began to realize just how big Buenos Aires is. The suburbs seem to stretch for ever, and even when we thought we were near the city centre we found that we still had a long way to go. Eventually we got off at Plaza Congresso, a grand square in the city centre a couple of blocks from the hotel we'd booked into. It was still icy cold as we walked along the pavement, and when we reached the hotel the receptionist told us that we could only check in at 2 PM. However, we left our luggage at the hotel and used their toilets before venturing out into the frosty streets again (not very far though - we immediately dived into a restaurant nearby and warmed ourselves up with croissants and coffee).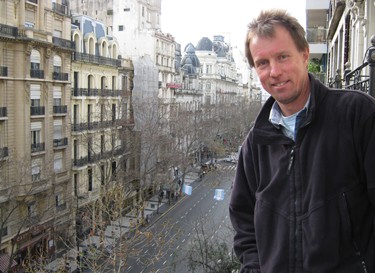 Paul on our hotel room balcony in Buenos Aires, Argentina
After thawing out we strolled down Avenida de Mayo, over Avenue 9 de Julio (quite possibly the widest street in the world - it carries no less than twenty lanes of traffic) to Plaza de Mayo, the political centre of Buenos Aires. At the eastern end of the square stands the pink Casa Rosada building, home of the federal government, from the balconies of which famous figures in Argentina's political history (such as Juan Peron and his second wife Eva) addressed massed crowds in the square.
[Tuesday 13 July : Buenos Aires, Argentina] Buenos Aires is a huge city, the second biggest in South America after São Paulo in Brazil. It has some of the characteristics of both New York and Paris - tall buildings and narrow streets (like New York), resulting in areas of almost permanent shadow. However, like Paris, the architecture is stately and regal, with monumental and classic old buildings everywhere. The city is also very well organized; the subte (subway/metro) is fast, frequent and impeccably maintained, buses run everywhere at regular intervals and metered taxis cruise the streets at all times. No "killer combis" here (unlike Peru, Bolivia and South Africa).
We took the subway (Buenos Aires' underground railway, known as the subte) along the "A" line westwards - this line still uses old wooden rail coaches and is very atmospheric. Then we changed to the "C" line and headed north to Recoleta, where we walked a few blocks to Recoleta cemetery and searched for the grave of Eva Peron. She is buried in the mausoleum of her family, but only managed to secure her final resting place there more than twenty years after her death when her husband (former president Juan Peron) sneaked her body into the cemetery late one night. Ironically, President Peron himself is buried elsewhere! Apparently Recoleta cemetery is a very exclusive place, with a waiting list a mile long and incarceration there by invitation only.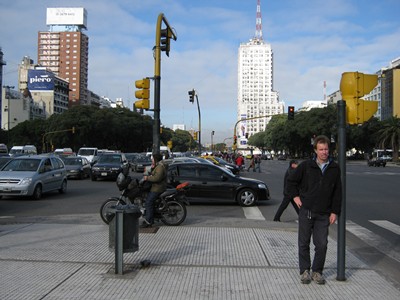 Paul in the middle of Avenue 9 de Julio, Buenos Aires, Argentina
Maria Eva Duarte de Peron, a poor working-class girl who became the darling of the Argentinian public after marrying president Juan Peron, was immortalised in Andrew Lloyd Webber's musical "Evita". She died of cancer in 1952 at the early age of 33. A Hollywood film of the musical was made in 1996, starring Antonio Banderas and Madonna.
Argentina is, of course, the home of The Tango (a type of dancing characterised by swift, abrupt movements rather than the graceful flow of a Waltz), and we just had to get a flavour of it before we left the country. So that night we went to San Telmo, the bohemian district of Buenos Aires, and had supper in a tango bar. We were treated to an incredibly exquisite demonstration of tango dancing by a couple of professional dancers while we quaffed T-bone steaks the size of dinner plates.
[Wednesday 14 July : Buenos Aires, Argentina] Our last day in South America. After a leisurely breakfast we checked out of our hotel and took the bus to the airport. I had learnt my lesson from our experience on the bus coming in from the airport and had been hoarding 1-Peso coins, so this time we had the right change for the automatic ticket machine. The bus ride to the airport was another two hour journey through the relentless traffic of this immense city, but we finally got there and checked in for our Malaysian Airlines flight to Cape Town.
[Thursday 15 July 2010 : Cape Town, South Africa] Home again after eight hours (and five time zones) in a plane across the Atlantic Ocean ... thus ended our South American adventure. Next stop China in 2012.
---
© Paul Kilfoil, 2023