Paul Kilfoil's World of Travel, Technology & Sport
---
Western Europe : July-December 1987
This page describes a trip by Paul Kilfoil (accompanied for part of the time by Mark Gore, Sheryl Smith and Lynda Smith) to Europe in 1987.
Check out my
travelogues
page for details of other trips I've done.
If you enjoyed reading this, please send me an email. All correspondence is appreciated!
Map © FreeUSandWorldMaps.com (
info
)
[Friday 3 July 1987 : Cape Town, South Africa] I met Mark and Sheryl at about 10 PM at Mark's parents' house. They drove us to Cape Town International airport, from where we flew to Johannesburg on SAA's "midnight flight"; back in 1987 these late-night flights were a good budget option, as tickets were half price.
[Saturday 4 July : Johannesburg, South Africa] The three of us landed at Johannesburg airport just before 2 AM, picked up the rental car we'd booked and drove to Mark's uncle's house in Johannesburg. Later that day we took a trip to Eastgate Mall (a huge shopping centre) and bought some last-minute stuff for our trip.
[Sunday 5 July : Johannesburg, South Africa] We returned our rental car at Johannesburg airport and met Linda (Sheryl's sister) in the airport - she had made her own way to Johannesburg from Cape Town. Then all four of us boarded the Luxavia Airlines overnight flight to Luxembourg. Luxavia, a division of Trek Airways, was a cut-price airline that operated between South Africa and Luxembourg in the 1980's and was completely separate and independent of "Luxair", the national airline of Luxembourg [Aside : Trek Airways/Luxavia no longer exists - the airline ceased all operations in April 1994].
[Monday 6 July : Ridderkerk, Netherlands] Landed at Luxembourg's tiny airport and took Luxavia's courtesy bus through Belgium to Breda in the Netherlands. Luxembourg itself looked like a beautiful place and I resolved one day to return ... [Aside : I did go back to Luxembourg 17 years later in 2004 and found it just as impressive as I remembered; click here for the story of that trip]. Mark's uncle collected us in Breda and we stayed the night in his house in the small town of Ridderkerk.
[Tuesday 7 July : The Hague, Netherlands] We went to The Hague by train, going via Rotterdam. Rotterdam is extremely industrialized and has the biggest harbour in the world.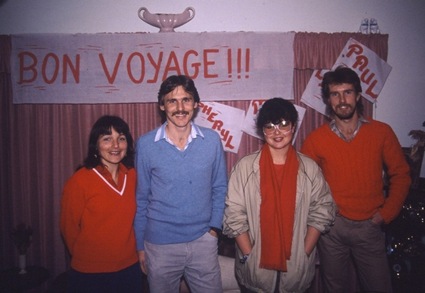 Sheryl, Mark, Lynda and me in Cape Town before the trip.
Bear in mind that this was in 1987, 35 or more years ago
[Wednesday 8 July : Ridderkerk, Netherlands] Mark's cousin was kind enough to lend us one of his company's cars until Tuesday 16 July - very nice indeed. It took some effort to get used to driving on the right-hand side of the road in a left-hand drive car, particularly in heavy traffic (cars drive on the LEFT in South Africa, as in most former British colonies). Everything looked the wrong way round in the rear view mirror and I could feel perspiration trickling down my back when I had to make a left turn across three lanes of fast-moving traffic.
The Hague, Netherlands
City centre
Binnenhof and the Knight's Hall
The Royal Palace
[Thursday 9 July : Ridderkerk, Netherlands] We explored the area around Ridderkerk - Oud Albas, Kinderdijk, Niew Lekkerland and Slingerdijk.
[Friday 10 July : Amsterdam, Netherlands] We went into Amsterdam and spent the day there; it's a filthy place, but contains much that is interesting (not least of which is the Red Light district, where prostitutes sit in shop windows in their underwear, waiting for customers).
[Saturday 11 July : Scheveningen, Netherlands] We took the tram out to Scheveningen Beach, north of Amsterdam. Scheveningen is very popular as a summer weekend spot, but it really isn't that great, particularly if the weather is grey and cloudy.
[Sunday 12 July : The Hague, Netherlands] Spent another day in The Hague, a charming city.
[Monday 13 July : Schiedam, Netherlands] We moved from Ridderkerk to Mark's aunt's place in Schiedam, a suburb of Rotterdam.
[Tuesday 14 July : Utrecht, Netherlands] We heard about a guy called Jerry who apparently sold campervans to tourists with a "guaranteed buy-back" clause - exactly what we were looking for, so we decided to go and have a look. Jerry and his American wife Donna operated from Utrecht, the fourth largest city in the Netherlands, but it wasn't far by train and we found his rambling workshop quite near Utrecht station. They certainly had a lot of camper vans for sale, mostly VW Combis, all kitted out with bunks, mattresses and gas stoves. After protracted negotiating and decision-making we agreed on a deal with Jerry for a VW Combi with a "hi top" roof (so you could stand upright in it) and space for four people to sleep. It was kitted out inside with bunks, a 2-plate gas cooker, cupboards and a sink. However, the van wasn't quite ready; we would have to pick it up in two days time.
Some time after we bought our van from them, Jerry and Donna were found guilty of serious tax offences and all their vehicles and other assets were confiscated by the Dutch government. When Mark and Sheryl went back to them in mid-November they found Jerry and Donna living on the floor of their empty house, with no furniture; all the vans they had for sale were gone. However, to be fair, they did honour their original commitment and bought back our combi ... but left it registered in Mark's name to prevent it also being confiscated by the government!
[Wednesday 15 July : Schiedam, Netherlands] We started getting ready for touring round Europe in the combi we'd bought the previous day, buying food, maps and equipment.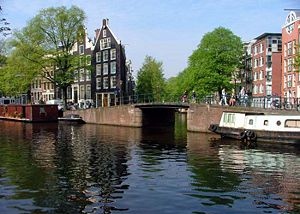 A typical canal scene in
Amsterdam, Netherlands
[Thursday 16 July : Schiedam, Netherlands] In the morning we visited Madurodam, an amazing miniature museum and showground. Everything is miniaturized in exquisite detail, with scale models of Schipol Airport, Amsterdam, Rotterdam harbour, railway lines with moving trains, soccer fields, windmills, etc. The detail is incredible and everything is extremely life-like. In the afternoon we took the train to Utrecht and collected the combi we'd bought two days previously.
[Friday 17 July : Alkmaar, Netherlands] We went to the open-air cheese market at Alkmaar, but because of the crowds of camera-clicking tourists it was hard to see anything. The traditional merchant cheese market as it operated during the post-medieval period was re-enacted in an open square; this appeared to be a complicated combination of sellers shouting prices, buyers negotiating with them and porters in period clothes carrying massive blocks of cheese on wooden shoulder harnesses. We didn't get to try any of the cheese ourselves and headed back to Schiedam in a state of mild confusion.
[Saturday 18 July : Zeebrugge, Belgium] After a couple of weeks in the Netherlands we were finally ready to hit the road and start touring Europe. With the combi packed, kitted-out and loaded up with food, we left Schiedam and drove north-west through the Netherlands to Zeebrugge on the north coast of Belgium. The countryside in the Netherlands is flat and boring, but Belgium is far more interesting - forests, hills and terrain that isn't just farmland. We had booked a 4 AM departure on the ferry to Dover in England, so having arrived in Zeebrugge early, we grabbed a few hours sleep in the combi while waiting to drive onto the ship the following morning.
Canterbury Cathedral, England
[Sunday 19 July : Birchington, England] After a very early and uneventful four and a half hour trip across the North Sea our ferry docked at Dover, and we drove off onto the soggy shores of Great Britain. It was raining, and it rained every single day after that for the next eight days. Welcome to the UK ... From Dover we drove up the east coast into Kent and down to the famous white chalk cliffs. That night we stayed in Two Chimneys caravan park near Birchington.
[Monday 20 July : Tunstall, England] We stopped in Canterbury and visited the famous Canterbury Cathedral, built in 1170 AD. Unfortunately the fame of the cathedral has turned the whole town into a commercialized tourist trap. The rain continued without a break.
[Tuesday 21 July : Thetford, England] We continued driving in a north-east direction through Kent, stopping in Rochester to visit Rochester Cathedral (originally constructed in 604 AD and then rebuilt in 1127 AD) and Rochester Castle. The Normans built the castle about 750 years ago and today it is just a ruin. Heading on from Rochester we crossed the mighty Thames River on the M25 motorway which skirts the sprawling metropolis of London; the road actually goes under the river via a tunnel about a kilometre long. Called the Dartford Tunnel, we had to pay a toll of 60 pence to drive through it (very little, all things considered).
[Wednesday 22 July : Fotheringhay, England] We meandered through the picturesque (and wet) Essex countryside, ending up at the tiny village of Fotheringhay. We camped for the night in an open field, ostensibly a camp site, but with no facilities except a single tap.
[Thursday 23 July : Derby, England] We happened to pass the largest man-made lake in Europe, Rutland Water, so we stopped and visited the Water Museum - it's in an old church on a spur of rock jutting out into the water. Later that day we reached the sizeable city of Derby and stayed with two friends of Mark's. Supper was a MASSIVE quantity of fish and chips from the local take-away place; very nice, there's nothing quite like good old British fish 'n chips wrapped in a newspaper.
[Friday 24 July : Buxton, England] We drove on through the rolling hills (not quite mountains, I'm afraid) of the Peak District. Very scenic, with lots of hikers and campers everywhere.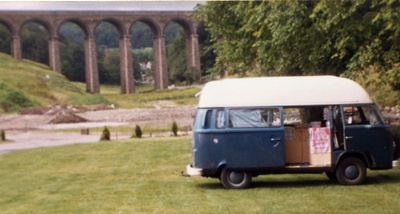 The combi in the Peak District, England
[Saturday 25 July : Holme, England] We spent the morning exploring Buxton, an extremely attractive town in the Peak District that is a mecca for hikers and climbers. Not far on from Buxton we stopped at Chatsworth House, a huge estate with extensive gardens, both cultivated and wild. The gardens are immaculate and must require a small army of gardeners to maintain. The drive today was mostly through beautiful, wooded Peak district countryside, steep gradients and twisting roads. Thankfully the rain eased up at last.
[Sunday 26 July : Helmsley, England] We bypassed Huddersfield in the Midlands and reached the North York Moors national park in mid-afternoon. Although it was bucketing with rain we all walked the Sutton Trail (also called the Cleveland Way) for three hours. The moors are very beautiful, albeit windy and perennially wet.
[Monday 27 July : Ponteland, England] We drove through the heart of the Yorkshire Moors, a beautiful area of desolate, windswept, rolling hills. Pickering is a charming town in the moors, with an end-of-the-line railway station and an ancient castle. Nearby Grosmont Crossing, where we crossed the railway tracks, was one of the most picturesque places we saw in the whole of England. That night we stayed with two aunts of a friend of mine in Ponteland, near Newcastle - they were incredibly hospitable (as were almost all of the people we met in the United Kingdom).
Urquhart Castle and Loch Ness, Scotland
[Tuesday 28 July : Bamburgh, England] On our way north from Ponteland we stopped at Hadrian's Wall, a wall built by the Roman emperor Hadrian back when the Romans ruled most of the known world. Parts of it are quite ruined, but there are sections that are still in very good condition nearly 2000 years later. Hadrian's Wall stretches for 130 kilometres across the north of England, coast to coast, from the Irish Sea in the west (near Carlisle) to the North Sea in the east (near Newcastle). The wall was built to protect the south from the savage northern (Scottish) hordes; in most places it's 5 metres high and nearly 3 metres wide. We explored the remains of Housestead's Fort (properly called Vercovicium) and walked along the top of the wall for some distance.
[Wednesday 29 July : Spott, Scotland] We walked from our campground into the town of Bamburgh, browsed around then strolled out to Bamburgh Castle, a huge, ancient castle on a rocky crag overlooking the sea. The castle has been occupied since about 520 AD - apparently a certain Lord and Lady Armstrong still live there. Nearby there is a magnificent beach that seems to extend for miles. Later that day we crossed the "border" into Scotland.
[Thursday 30 July : Blairhall, Scotland] We spent the afternoon exploring Edinburgh, an extremely beautiful city that is dominated by Edinburgh Castle on the hill that glowers over the city centre (the hill is actually an extinct volcano). Driving out of Edinburgh northwards entailed crossing the Forth Bridge over the Firth of Forth - a very impressive structure. Lynda's insistence that Edinburgh is pronounced "Edinberg" caused much argument and some irritation ... which is what she intended, I suspect.
Loch Ness and the Monster
Loch Ness is a lake in central Scotland containing the largest volume of fresh water in Great Britain; it is 36 kilometres long and 240 metres deep. Legends have persisted since about 600 AD of the existence of a "monster" in the lake, but it was not until 1933 that the first photograph was taken of the alleged monster. There were a flurry of sightings of the monster around that time and these have continued sporadically since then. Many people have taken photographs of the monster over the years, but most of these have been discredited as fake.
The favourite theory of "Nessie" enthusiasts is that the monster is a relic from the dinosaur era, possibly a plesiosaurus, a giant fish-eating reptile supposed to have become extinct 65 million years ago. However, even though a number of intensive and costly investigations have been conducted, there is no convincing evidence that anything larger than a fish lives in the cold waters of Loch Ness.
[Friday 31 July : Loch Ness, Scotland] The scenery was fabulous as we headed into the beginning of the Scottish highlands, via Dunning, Perth (no, not Australia - the Scottish version) and Invergarry. Thick forests, sparkling blue rivers and green valleys preceded rolling hills and moors covered in heather. We camped for the night just off a dirt track in the forest on the western shore of Loch Ness.
[Saturday 1 August 1987 : Bunchrew, Scotland] We drove along the shore of Loch Ness, keeping a sharp lookout for the famed monster that apparently lurks in the lake, but had no luck. We stopped at the Loch Ness Visitor Information Centre, which is almost entirely dedicated to the myth (or otherwise) of the Loch Ness Monster - photographs, facts, hoaxes, etc. Regardless of whether or not a monster lurks in the icy depths, the lake is very beautiful.
Unfortunately a different form of monster was very much in evidence near Loch Ness - thick swarms of flying, biting insects descended and attacked us voraciously, and we had to resort to buying the local insect repellent, Jungle Gel, to keep them at bay. These "midges" are apparently the scourge of the Scottish Highlands in summer.
[Sunday 2 August : John O'Groats, Scotland] This was a long day of driving as we headed north up the east coast of Scotland towards John O'Groats. The roads in the Scottish Highlands are all tarred (sealed) but single lane only, so if you see another vehicle approaching from the opposite direction one of you has to pull off the road into a specially designated passing area and wait for the other to go by - there is no other way for cars to get past each other. The roads are so narrow that it is impossible to pass or overtake unless one of the vehicles has pulled off the road. These passing areas are marked with a diamond-shaped sign on a long pole, so you can see where the next one is from some distance away. Luckily the terrain is fairly flat.
This arrangement sounds dangerous but in reality it works perfectly well because there is so little traffic - we drove for hours without seeing another car. There are also no fences next to the roads and sheep are everywhere; sheep continually cross the road, but somehow they seem to sense the dangers of cars because not once was there ever any danger of us hitting one. We also saw plenty of hardy-looking hikers and tents pitched all over the place. The countryside all looks wild - there are no fences or cultivated fields, so there is no way to tell whether any of it is farmland, but the fact that there were so many sheep around would indicate that much of it is farmed. We reached John O'Groats late that afternoon.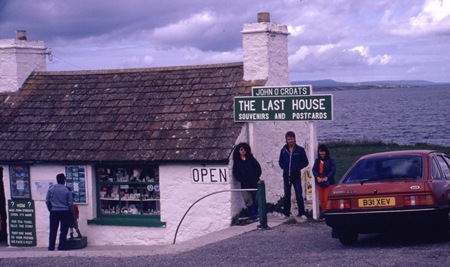 John O'Groats in Scotland : The most north-easterly
point on mainland Great Britain
[Monday 3 August : Durness, Scotland] In the tiny village of John O'Groats we looked at the "Last house in Scotland", and the Last Post Hotel. There's not much else there, so we drove the short distance to Duncansby Head and strolled to the cliff edge of the most north-easterly point of mainland Great Britain. This is a very remote, cold and windswept place. From there we headed west along the north coast of Scotland, into an increasingly bleak and desolate landscape, via Thurso, the Kyle of Tongue (where there is an impressive bridge) and a number of tiny villages. At Durness we went for a walk on the windswept cliff top and explored Smoo Cave. Smoo Cave is a marine cave partly filled with water, inside of which there is a spectacular waterfall.
[Tuesday 4 August : Loch Kishorn, Scotland] Swarms of vicious, biting, flying Scottish bugs drove us out of our rough campsite early. We headed south through barren but starkly beautiful terrain, reaching Ullapool in time for lunch. We continued driving south, more or less following the craggy west coast of Scotland, through many tiny villages. At the Corrieshalloch Gorge we stopped to look at the Falls of Measach; this is an incredibly beautiful spot, with a road bridge crossing the deep gorge above the waterfall and surrounded by dense vegetation. The countryside from that point on was very scenic, with craggy cliffs, sun-speckled woods, tumbling streams and pristine beaches. The weather in Scotland has been amazing, with not even a drop of rain for days on end - very different from what we'd been expecting.
[Wednesday 5 August : Loch Eil, Scotland] After many more miles of single-lane roads down the wild and deserted west coast of Scotland, we crossed the River Shiel near Loch Duich. On the shores of Loch Duich is the photogenic Eilean Donan Castle, a popular image for confectionary manufacturers as the picture to use on the lid of tins of shortbread biscuits. Kyle of Lochalsh on the coast nearby is an extraordinarily pretty village; it stares across a narrow stretch of water at the Isle of Skye, the largest island of the Inner Hebrides.
Smoo Cave near Durness, Scotland
Skye was connected to the Scottish mainland in 1995 via the controversial Skye Bridge, which effectively put paid to the lucrative ferry business that plied passengers and vehicles to and from the island. At its nearest point the island is only a few hundred metres from the mainland (across the Sound of Sleat), but the bridge was actually built over Loch Alsh so that it connected with the existing A87 main road. One pillar of the bridge was placed on the tiny island of Eilean Bàn.
We then cut eastwards to Invergarry, a sizeable town between Loch Garry and Loch Oich. Invergarry is a major road junction - we had a choice of turning north-east towards Loch Ness (where we'd been a couple of weeks before) or south-west towards Fort William and Ben Nevis, the highest mountain peak in the British Isles at 1343 metres (4406 feet) above sea level. So we turned south and in the afternoon we reached Fort William, a very picturesque town on the shores of Loch Linnhe. Ben Nevis is nearby; it's quite an easy walk to the top but it takes about four hours and unfortunately we arrived there in the afternoon. We thus only walked part of the way up and then got caught in the rain coming down. The relative scale of Ben Nevis becomes apparent when one considers that Mont Blanc on the Swiss-French border is 4810 metres high, Aconcagua in Argentina is 6962 metres and Mount Everest is a staggering 8848 metres above sea level. On that basis Ben Nevis can hardly justify even being called a mountain - perhaps "hill" would be a more accurate description.
[Thursday 6 August : Jedburgh, Scotland] As we headed south out of the Scottish Highlands we kept marvelling at the incredible natural beauty of the countryside - green hills and valleys, tumbling, rocky streams and sparkling blue lakes (called "lochs"). Loch Lomond was breathtaking. We bypassed the sprawling industrial mess of Glasgow and camped for the night not far from the border with England. That evening we had an unfortunate mishap with the combi - the sliding door on the side came off its hinges, and although all four of us tried for ages we could not get it back on again. We propped it against the side of the combi for the night.
[Friday 7 August : Aitkon, England] We managed to wedge the sliding door into the combi and drove into Jedburgh, but we could not find a garage there that could fix it. We finally got the door re-attached to the combi at the Toyota dealer (and we were driving a VW - amazing!) in the town of Hawick, twenty kilometres further on from Jedburgh. However, the locking mechanism was damaged so the door could no longer be opened - we had to keep it permanently locked and climb through the combi from the passenger door; very irritating. Back in Jedburgh we explored Jedburgh Abbey and the town before continuing south, crossing back into England not far from Kershope Forest.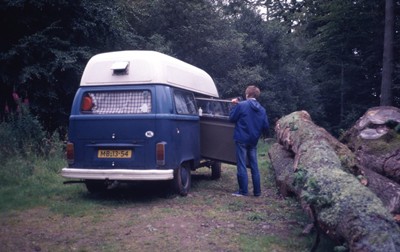 Trying to fix the broken door of the combi
in the forest near Jedburgh, Scotland
[Saturday 8 August : Lake Windermere, England] After many days of almost totally deserted countryside in Scotland we arrived in the English Lake District, probably the most touristed part of the British Isles outside of London itself. The town of Keswick, near Derwent Water, was crawling with tourists. Driven out by the relentless crowds, we headed south via Ambleside and Thirlmere Lake to Lake Windermere, where we stopped for the night at Cliffe Caravan Park (a very nice place on a hillside overlooking Lake Windermere).
[Sunday 9 August : Coniston, England] We reached Coniston Water and followed the road that parallels the lake to the east. We stopped in a lay-bye next to the lake and went for a long walk, then had a picnic lunch in a sheltered cove. In the afternoon we drove into Coniston village and hired two 2-man canoes, paddling them out into the lake - Mark and Sheryl were in one and Lynda and I were in the other. We all got soaked but it was great fun and a good way to get rid of some energy after sitting cooped up in a vehicle for several days. Coniston Village is very attractive, as are most of the little villages in the Lake and Peak Districts.
[Monday 10 August : Ullswater, England] The combi was severely tested as we drove over the very steep and winding Kirkstone Pass to reach Glenridding at the southern tip of Lake Ullswater. We all went for ride around the lake on the antique steamship Lady of the Lake (she was launched in 1877), before driving over Pooley Bridge at the north end of the lake. Our overnight camping spot was probably the most superb site we had anywhere - on a small patch of level ground on a steep hill, with a fantastic view overlooking Lake Ullswater.
[Tuesday 11 August : Middleton-in-Teesdale, England] Before we got going in the morning I went for a long walk into the hills above Ullswater from where there were spectacular views of the Lake District. We then drove south-east out of the Lake District and camped for the night off a minor road right next to the path of the Pennine Way.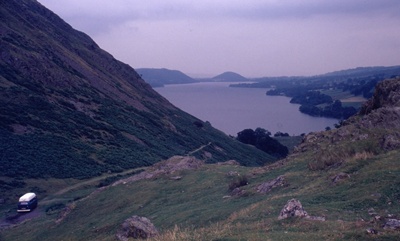 The combi overlooking Lake Ullswater, England
[Wednesday 12 August : Hardraw, England] This morning the gas for the 2-plate cooker in the combi ran out. We spent much of the rest of the day trying to find a place that could refill the gas cylinder; it was unfortunately a Dutch make and design, and not one place we went to could fill a gas cylinder with that particular type of fitting. This meant that from now on we had to cook on small portable gas stoves, which were much slower; luckily Mark and I had each brought a gas stove from home. That afternoon we visited the Hardraw Falls in the Yorkshire Dales National Park, the highest waterfall in Great Britain.
[Thursday 13 August : Ingleton, England] Near Chapel le Dale we went on a guided tour of the White Scar Caves, which were only discovered in 1923. They were pretty disappointing. Further on we came across the charming town of Ingleton - narrow, twisting streets and quaint little shops. We parked on the outskirts of town and walked the Ingleton Falls Trail, a fantastic hike alongside the River Twiss through lush green indigenous forest and past a succession of waterfalls, each bigger than the previous one, culminating in the very impressive Thornton Force Waterfall. Further on the path went through the Baxenghyll Gorge next to the Doe River, where we came across yet another sizeable waterfall, the Beezley Falls. An extremely enjoyable and relaxing few hours of walking in the fresh air.
[Friday 14 August : Capel Curig, Wales] We kept heading south then west into Wales, via Burnley, Queensferry, Colwyn Bay and Llandudno. Llandudno is a typical British seaside holiday resort town, with a long beachfront promenade and plenty of hotels. Late in the afternoon we left Llandudno and drove west on the north coast of Wales, past the very impressive and partially-ruined Conwy Castle. Conwy Castle dates from the 13'th century and is sited on a rock promontory with water on three sides. The castle itself has 8 massive towers and outside the castle gates it is surrounded by an almost-complete city wall; no less than 22 towers and 3 of the original gateways in the wall are still standing. Beyond Conwy we reached the Snowdonia National Park, an area of magnificent scenery - soaring green hills, craggy cliffs and tumbling streams.
The Pennine Way
The Pennine Way is a 430 kilometre long hiking trail running up the spine of England, roughly following the contours of the Pennine Hills. It starts in Edale in the south and continues northwards all the way to the Scottish border, terminating in the little town of Kirk Yetholm in Scotland. Overnight accommodation for hikers is provided by youth hostels, which are never more than about thirty kilometres apart (and usually much closer). Hard-core hikers have been known to walk the entire route in ten days, but most people take a more leisurely three or four weeks.
[Saturday 15 August : Snowdonia National Park, Wales] After being cooped up in the combi for many weeks and thinking about the great time we had walking the Ingleton Falls Trail a couple of days before, Mark, Sheryl and I decided to do some more cross-country walking. We had crossed into Wales the previous day and reached Snowdonia National Park, an ideal place for hiking. So Mark and Sheryl packed their backpacks and headed off in one direction, I walked off in another and Lynda (who wasn't keen on the hiking idea) took the combi.
We all agreed to meet up in the small Welsh town of Blaenau Ffestiniog in three days time, a distance of some forty kilometres. I hadn't been exercising much and it took a while to get used to carrying my backpack with clothes, gas stove, food, sleeping-bag and a tent. I spent a peaceful first night on my own in my tent in an open field. Unfortunately the canister on my small portable gas stove ran out of gas while I was making supper; I didn't have a spare, so it meant I'd have to find a shop the next day and buy a replacement.
Thornton Force Waterfall, Ingleton
[Sunday 16 August : Snowdonia National Park, Wales] After following several footpaths and walking alongside a gently flowing river for a while, I came to Betws-y-coed. A small, very touristy town, it is a bit of a hikers' mecca and so I had little trouble in buying another gas canister for my camping stove. Later on I had lunch in a beautiful river gorge known as "Fairy Glen". After a relaxing day of walking through the rugged and beautiful hills of Snowdonia I put up my tent in a thick forest, not far from a narrow-gauge railway line (of which there are plenty in Wales).
[Monday 17 August : Dolgelau, Wales] My route into Blaenau Ffestiniog was not nearly as interesting as my previous day's walk, although I did come across a small village called (no kidding) Pont-y-Pant. I went past the Gloddfa Ganol Slate Mine (the largest slate mine in Europe) and the Llechwedd Slate Caverns; the area around these was arid, bleak and industrial. I reached Blaenau Ffestiniog in the early afternoon and relaxed on a bench outside the train station while waiting for the others to arrive. They all turned up in the combi not long afterwards and we drove south-west from there. It was great having a hot shower after several days of stomping around in the mountains carrying my backpack.
[Tuesday 18 August : Crickhowell, Wales] I felt wretchedly sick the entire day and hardly noticed the scenery as we drove south through the Brecon Beacons National Park. Must have been something I ate or drank while I was hiking in Snowdonia.
Snowdonia, Wales
[Wednesday 19 August : Plymouth, England] Back in England again after a pleasant few days in Wales ... We crossed the Severn River on the very impressive Severn River bridge, bypassed Bristol, Taunton and Exeter and drove all the way south to Plymouth. Near Exeter we got a puncture and had to stop to put on the spare tyre; given how many miles we covered in the combi I guess we can count ourselves lucky that this was our first puncture. Mark had some friends in Plymouth but they were away, so we camped for the night in a farmer's field off an unmarked 'B' road.
[Thursday 20 August : Mousehole, England] We headed westwards into Cornwall, arriving in Penzance in the afternoon. Penzance is a bustling seaside resort town, with a tiny harbour and rows of hotels facing the sea. We weren't far from Land's End, but decided to leave that for the next day and drove a short way out of Penzance on the coast road, via small touristy villages called Newlyn, Paul and (this is no mistake) Mousehole.
[Friday 21 August : Land's End, England] We were amazed to discover that we had camped right next to an ancient Roman tomb dating from 3 BC. After having a quick look at the tomb (it was pretty nondescript) we headed for Land's End, the south-westernmost point of the United Kingdom. It's quite commercialized, with very touristy shops and displays, and there are way more people here than at the windswept and desolate north-easternmost point in Scotland (John O'Groats). There is a path around the cliffs for miles in both directions and we had a long walk in the fresh air.
[Saturday 22 August : Mere, England] From Land's End we barrelled east towards London, aiming to visit Stonehenge, Stratford and Oxford on the way.
[Sunday 23 August : Stratford, England] We browsed around Stratford, the town where William Shakespeare was born, managing to park right outside the house in which he grew up (it's now a museum). Anne Hathaway's cottage, however, proved infernally difficult to find, but we did track it down eventually.
[Monday 24 August : Oxford, England] We arrived at Stonehenge at about midday. These days it's all fenced off and you can't get very close, so we found it quite disappointing. However, if you consider that the monument dates back nearly five thousand years and some of the stones weigh more than 45 tons then you have to admit that it is a singularly impressive place. Later that day we got to Oxford; by this time, after many weeks of travelling together in the combi, we were all irritable so we parked near the centre of town and headed off in separate directions. After a pleasant afternoon on my own exploring this centre of British intellectual achievement, I joined the others back at the combi. We spent the night parked in a busy truck-stop just outside Oxford.
The London Underground
Referred to as
The Tube
, London's "Underground" is NOT a political movement but rather a very extensive suburban train system that is mostly below ground. The nickname "tube" arose from the fact that the tunnels are generally cylindrical in shape (unlike those of other metropolitan rail systems such as Paris or New York).
The tube is by far the quickest and easiest way to get around London; trains are fast and frequent, there are lines going to every suburb and outlying area and stations are everywhere. Beneath the centre of London there is a rabbit warren of criss-crossing tunnels carrying trains in every possible direction.
Standard rail gauge (1435 mm) is used and electrical power is provided to the trains by means of a "third rail" on the ground - there is no overhead catenery.
[Tuesday 25 August : London, England] We arrived in London and were fortunate enough to be able to stay with my cousins in Putney, not far from Wimbledon and Kew Gardens.
[Wednesday 26 August : London, England] All four of us walked to the nearest Tube station (see inset on the right) and bought weekly travelcards for the London Underground. We then headed into the city and went to the Dutch embassy to get new visas for the Netherlands, Belgium and Luxembourg (with a confusing change of trains at Earl's Court) - the visa we each had was only valid for 30 days and had expired, but we needed to go back there in a few weeks time. We then split up and I went exploring on my own, via Leicester Square, Picadilly Circus, Trafalgar Square (where Nelson's Column was being renovated and was hidden behind scaffolding), the Strand, Fleet Street and Soho. Later I visited an old university friend of mine, Joanne Wackrill, who was living in London at the time.
[Thursday 27 August : London, England] A day of hopping on and off tubes and buses as I took in more London sights - Whitehall, Admiralty Arch, St James Park, New Scotland Yard, Parliament, Big Ben, Westminster Abbey and Westminster Bridge.
[Friday 28 August : London, England] In the morning I played a game of tennis with Will and Rose's son John - I was seriously out of practice, struggled to adjust to the low bounce of the court (I guess the surface is made to mimic as close as possible the kind of bounce you get on a grass court) and ruined a pair of shoes. However, I managed to win the match in a tie-breaker. That evening Lynda and I took the tube out to Whitechapel and then Wapping, a somewhat seedy area where Jack the Ripper killed several women in the late 19'th century. We found the famous pub "The Prospect of Whitby" and had a drink there; the pub is right on the River Thames and is very atmospheric. However, the area is dank, gloomy and very creepy, with fog-shrouded lanes and dark alleys. It is not difficult to imagine Jack the Ripper stalking these shadowy streets, slashing women to death in the gloom ...
From Whitechapel we headed down to Tower Bridge and walked over it to the south bank of the Thames. The bridge is lit up at night and presents a fantastic sight. The former Royal Navy cruiser, HMS Belfast (which saw sterling service in World War II and became a museum ship in 1971), is permanently moored in the Thames, clearly visible from the bridge.
Jack the Ripper
"Jack the Ripper" was an alias given to a brutal serial killer who killed at least six women (all prostitutes) in the impoverished Whitechapel area of London's East End in September and October 1888, with several more murders in later years possibly also his handiwork. The nickname came about because of the particularly gruesome nature of the killings - several of his victims were severely mutilated and internal organs were removed from three of the bodies.
Despite intensive police investigations, the killer was never found and no plausible suspects were ever identified. The case remains unsolved to this day and as such has become the stuff of legend; more than 200 books and countless magazine and newspaper articles have been written about Jack the Ripper.
[Saturday 29 August : London, England] I visited the well-known Portobello Road street market in Ladbroke Grove, but it wasn't all it had been hyped up to be. That evening Lynda and I went to a West End play called "Corpse" at the Strand Theatre, but it wasn't very good. Afterwards I strolled around Covent Garden and then to the Thames Embankment, where I had a look at Cleopatra's Needle - a tapering stone column erected by Pharoah Thothmes III around 1500 BC in Greece. It was removed from Greece and transported to Alexandria in Egypt in 12 BC. In 1819 the needle was presented to the people of Great Britain by the Egyptian government as a reward for the endeavours of Horatio Nelson and Abercrombie.
[Sunday 30 August : London, England] I visited two more London street markets in the morning - Brick Lane and Petticoat Lane in Aldgate. The stuff for sale at Brick Lane was mostly junk, but Petticoat Lane is a bit better. Sunday afternoon meant I just had to visit one of the great British institutions - Speakers' Corner in Hyde Park. This bastion of free speech was host to several speakers when I was there, most of whom were religious nuts, but there was also a racist bigot, a gay, a guy quoting from Peter Wright's banned book Spycatcher, a flower-power one-with-nature hippie type and a chap preaching fundamentalism with a sense of humour (which seemed a contradiction to me). Everybody who visits London should go to Speakers' Corner on a Sunday! From Hyde Park I made my way up The Mall to the Queen Victoria Memorial and Buckingham Palace, where crowds of people were clustered outside the gates hoping to get a glimpse of the Queen.
British Museum, London, England
[Monday 31 August : London, England] Today was a bank holiday in England. I visited the very impressive St Paul's cathedral and the Barbican Centre, which is a huge multi-purpose conference, exhibition and cultural centre. I strolled around the plush galleries and listened to the band playing in the foyer. Without really searching, I also came across the monument to the Great Fire of London - it is 202 feet high and also exactly 202 feet from the bakery in Pudding Lane where the fire started on Sunday 2 September 1666. Nearby is Monument tube station, so named because of its proximity to the Great Fire Monument.
[Tuesday 1 September 1987 : London, England] I visited the British Museum, a huge and impressive place containing more than 7 million artefacts. Some of the more famous exhibits I saw were the Magna Carta (an English legal charter written in 1215 AD), the Rosetta Stone (from 196 BC), the massive statue of Ramses II (an Egyptian pharaoh from around 1250 BC), a load of ancient Egyptian mummies, an Easter Island statue and the mummy of Cleopatra from Thebes. Of all the many museums in the world, I would say that in terms of size, quality and impressiveness only the Louvre in Paris could be said to be superior to the British Museum (I visited the Louvre three years later, in 1990). I also found time to go to the London Museum, which details the history of England's capital city from prehistoric times to the present day. Incredibly, entrance to both the British Museum and London Museum is free, in line with the British government's policy of charging no admission fee for all national museums and art galleries.
[Wednesday 2 September : London, England] All four of us went to Kew Gardens in the combi. Kew is a vast place, and we walked for miles. The relatively new Princess of Wales Conservatory contains no less than ten different kinds of vegetation from around the world.
Tower Bridge, London, England
[Thursday 3 September : London, England] Today was the mandatory visit to Madame Tussaud's waxworks museum, where I looked over some unbelievably lifelike images of people like Michael Jackson, Bjorn Borg and Michel Platini. I also went to the Commonwealth Institute, a museum that depicts the culture and history of every country in the British Commonwealth; South Africa was not represented because we had left the Commonwealth in 1961 [Aside : South Africa was re-admitted to the Commonwealth of Nations in 1994]. Other places I saw in my wanderings today included Lord's Cricket Ground in St John's Wood (the spiritual home of cricket), Harrod's department store in Knightsbridge and the multitude of shops lining both sides of Tottenham Court Road.
[Friday 4 September : London, England] No sight-seeing today; instead I watched the World Athletics Championships in Rome live on TV. The men's 100 metres final was won by Ben Johnson of Canada in a world-record time of 9.83 seconds. It was a sensational victory at the time, but in September of the following year this result (and his 1988 Olympic Games gold medal-winning time of 9.79 seconds) was overturned when it was discovered that he had been taking steroids. Johnson was banned from athletics for two years, his medals confiscated and his world records were struck from the record books. Johnson started competing again two years later and (incredibly) he tested positive for drugs again; he was then banned from athletics for life.
Ben Johnson's time of 9.79 seconds seemed incredible in 1988, but even more staggering is that 21 years later (on 16 August 2009) Usain Bolt ran the 100 metres in a mere 9.58 seconds, WITHOUT any drugs to assist him! Usain Bolt went on to win the gold medal for both the 100 and 200 metres at three consecutive Olympic Games (2008, 2012, 2016), an absolutely extraordinary achievement that seems unlikely ever to be equalled, never mind bettered.
[Saturday 5 September : London, England] Our last day in London. We all went to Stamford Bridge to watch the First Division football clash between Chelsea (the home side) and Nottingham Forest. The atmosphere was incredible; Chelsea won 4-3 after being 1-3 down. Back in 1987 football thuggery was commonplace in England, so we all wore blue clothes and sat amongst the Chelsea supporters - the Nottingham Forest fans (mostly in red) were seated in a separate, cordoned-off section of the stadium.
[Sunday 6 September : Schiedam, Netherlands] We left London at 1 AM and drove south-east to Dover where we boarded the ferry to Zeebrugge in Belgium, arriving just after midday. After getting through customs and immigration we drove east into the Netherlands, via Antwerp, Breda and Dordrecht, and spent the remainder of the night parked in the Schiedam train station parking lot.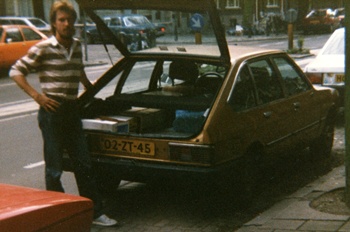 All kitted out and ready to go, Schiedam, Netherlands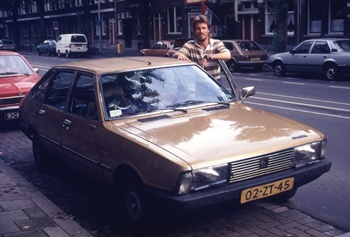 [Monday 7 September : Schiedam, Netherlands] The four of us decided to split up - touring together in the close confines of the combi hadn't worked very well. Mark and Sheryl opted to stay together and offered to buy Lynda's and my share of the combi from us. We agreed; Lynda was going to stay in the Netherlands for a while then head off to England and try and get a job in London. With my share of the money from the combi I thought I'd see if I could buy a cheap car and explore Europe in it for the next three months.
[Tuesday 8 September : Schiedam, Netherlands] A day of little activity and re-charging of our metaphorical batteries ...
[Wednesday 9 September : Schiedam, Netherlands] I spoke to the people in Utrecht from whom we'd bought the combi two months before (Jerry and Donna) and they said they had a hatchback car for sale cheaply. Mark and I went to Utrecht and Jerry showed us the car and took us for a high speed spin in it. It was a Chrysler Simca 1308GT with more than enough room in the back to sleep in. After some dickering I bought the car; Jerry threw in a foam rubber mattress and a couple of pots and pans. By folding the back seats of the car right down I had well over two metres of room at the back - plenty of space to sleep on one side and have my camping/cooking gear on the other. The mattress fitted snugly in the back and I found a sturdy box in which to keep my gas stove, pots and other equipment.
[Thursday 10 September : The Hague, Netherlands] We visited Lynda and Sheryl's grandmother in The Hague.
[Friday 11 September : Schiedam, Netherlands] Having decided to split up, all four of us exchanged our remaining money and travellers' cheques fairly and equally. We went to Mark's uncle's house for supper, which entailed taking a train from Schiedam to Rotterdam, a metro (underground train) from Rotterdam central station to Zuidplein then a bus to Ridderkerk.
[Saturday 12 September : Schiedam, Netherlands] I battled with the headlights on my car which did not work. I found all the fuses and they seemed to be fine. The actual light bulbs were OK because the "brights" worked - it was just the normal headlights which would not go on. I eventually gave up and went to bed frustrated, particularly as it was Saturday afternoon and everything was shut until Monday.
[Sunday 13 September : Schiedam, Netherlands] I spent the day cleaning and kitting out my car for my impending foray into Europe. My plan was to leave for West Germany the next day (Monday), as soon as I'd gone to the local Simca dealer and had the defective headlights fixed.
[Monday 14 September : Dormagen, West Germany] First thing in the morning I drove to the nearby Simca motor dealers and explained in my broken and halting Dutch that the headlights weren't working. One of the mechanics poked his head through the driver's side window, turned a switch and the lights came on ... Extremely embarrassing and I drove out of there feeling like a total idiot - the headlights worked all the time, I simply did not know how to turn them on. After that episode and with my car all kitted out and ready to go, I left the cosy comfort of Mark's Aunt's place in the Netherlands and headed east. I stayed on freeways all the way to the West German border and crossed into West Germany near Venlo. The German guards were intrigued by a South African driving a Dutch-registered car into West Germany, pulled me over and made me show them all my stuff. However, when they realized I was just a harmless tourist they were quite friendly and let me through. Back in 1987 South Africans (amazingly!) did not need a visa to enter West Germany.
At that time the Cold War was still in full swing, Communism ruled Eastern Europe and Germany was split into West and East. Although it would not have been possible for me to go to East Germany (South Africans were simply not allowed in) I could have visited Berlin and I debated doing this. However, it would have entailed a detour of at least 350 kilometres and a long drive on the "international" road from West Germany through East Germany to Berlin; Westerners were allowed on this road but could not stop or turn off anywhere between the East German border and (West) Berlin, a distance of about 175 kilometres. In the end I decided not do this and headed south for the Black Forest instead. Little did I know at the time that Communism was on its last legs and only survived in Europe for a few more years - in November 1989 the Berlin Wall was taken down, allowing people from East and West to cross freely for the first time since August 1961, and in 1991 the Soviet Union itself collapsed [Aside : I finally visited Berlin 11 years later in 1998, after the Cold War had ended and West and East Germany had reunited].
Cologne, West Germany
[Tuesday 15 September : Braubach, West Germany] In the afternoon I reached Cologne where I changed some travellers' cheques into Deutsch Marks and marvelled at the huge gothic cathedral that dominates the centre of the city. When I got back to my car I found that I'd received a parking fine, but having a foreign-registered car with an address to which I was never going to return, I decided not to pay the fine and ignore it. As it turned out, nothing happened; for all I know that unpaid parking fine may still be in the Cologne traffic department's computer (30+ years later), clogging up their system and causing untold headaches for some frustrated German bureaucrat.
From Cologne I followed the course of the Rhine southwards. The river is very busy, with barges and boats chugging up and down in both directions at all hours. That night I stayed in a very nice campground right on the banks of the Rhine.
[Wednesday 16 September : Gross-Gerau, West Germany] I stayed next to the Rhine river, driving south and crossing from one bank to the other as the road and scenery changed. I passed the famous "Loreley" statue (sometimes spelt "Lorelei"), which is on a mole jutting into the Rhine near St Goarshausen. Nearby the impressive bulk of the Loreley Rock soars into the sky above the river.
[Thursday 17 September : Eppingen, West Germany] Just south of Darmstadt I turned off the autobahn and onto a mountain road marked as a "Romantische Bergstrasse" on my map, which loosely translates to "scenic mountain road". The scenery was indeed amazing as the road twisted and turned through the Odenwald and past the Bergstrasse Nature Park. I stayed on this back road through many small picturesque villages and only ventured back onto the autobahn to avoid the big cities of Heidelberg and Mannheim.
[Friday 18 September : Loffenau, West Germany] I stopped at the Eppinger Forest Park, where I found a watchtower built entirely of wood - it was constructed in 1981 as an exact replica of the kind of watchtowers built by the Germanic tribes in ancient times to warn them of impending attacks by invading hordes. South of Eppingen the countryside became increasingly wild and beautiful as I headed into the Black Forest (Schwarzwald).
[Saturday 19 September : Sasbachwalden, West Germany] This morning I explored Baden-Baden, a very popular destination in the Black Forest region because of the natural hot springs nearby. Later I turned onto another scenic mountain road, the Schwarzwaldhochstrasse, and outside Buhlertal I walked a 600 metre trail through the thick forest to a series of stunning waterfalls.
[Sunday 20 September : Falkau, West Germany] Near Waldkirch I turned south-east onto a steep, winding mountain road. Part way up this road I went for another long walk on a mountain trail through the Black Forest, to a peak called Serpentine Kandel where there is a very expensive hotel and a touristy souvenir shop. At the hotel I saw a most unusual sight - a red Ferrari sports car with USA number plates! The owner must have shipped his car across the Atlantic in order to drive around Europe in style.
The weather in Germany has been amazing and it was a pleasure walking through the sun-dappled forest. The Black Forest area is HUGE - I seem to have been driving through it for days.
The Oberammergau Easter Passion Play
The inhabitants of the small German town of Oberammergau have been performing a play depicting the crucifixion of Jesus (called an "Easter Passion Play") since 1634. It was begun originally as a form of thanks for having been spared further deaths in the Plague which swept through Europe in 1632. The play is only performed every ten years, in the first year of each decade (ie. 1980, 1990, 2000, 2010, etc), and the entire cast is made up of local villagers. When the play is on there are five performances a week from mid-May to mid-September; each performance takes five and half hours with a two hour break for lunch.
[Monday 21 September : Heiligenberg, West Germany] More beautiful German scenery brought me first to Schluchsee, a resort town on a lake of the same name. After a brief look around I headed on to Lake Constance (the Bodensee), a vast lake that forms the border between West Germany, Austria and Switzerland. The towns along the shores of the lake are very touristy, but I stopped in Uberlingen and went for a long walk along the promenade. The waters of the lake are incredibly placid - totally flat and calm with no waves at all.
[Tuesday 22 September : Wasserberg, West Germany] I followed the northern (German) shore of Lake Constance until Immenstaad, where I went swimming in the lake (very briefly - the water is filthy) and in a public heated swimming pool. A little further on, in the town of Friedrichshaven, I found a bookshop with a number of English-language books on sale. I was getting desperate for reading matter so I stocked up on paperbacks for the rest of my trip.
[Wednesday 23 September : Schoppernau, Austria] I drove into Lindau, a town on the south-east shore of Lake Constance near the Austrian border. After browsing around for a while I headed out of town and crossed into Austria near Bregenz.
[Thursday 24 September : Oberammergau, West Germany] I drove through the Austrian province of Vorarlberg and into Tyrol, a very scenic Alpine area. When I examined my map I saw that I was pretty close to the iconic village of Oberammergau in Germany, so even though I'd only been in Austria for one day I crossed back into West Germany. The road was a little-used back road, via the Plansee and the Linderhof border post. Oberammergau hosts the famous Easter Passion play in a purpose-built open-air theatre; the play is only performed every ten years, and the next time would be 1990. However, I managed to get into the theatre and have a look around. The rest of the town seems to consist mostly of shops selling wooden carvings of Easter and Nativity scenes.
Zell-am-See, Austria
[Friday 25 September : Zell-am-See, Austria] After one night in West Germany I crossed back into Austria at the Mittenwald border post and headed for Innsbruck. I spent a few hours exploring Innsbruck, a charming city on the banks of the river Inn. Leaving Innsbruck, I drove over the steep, winding Thurn Pass to Zell-am-See.
[Saturday 26 September : Gschutt Mountains, Austria] Zell-am-See is an extremely picturesque, very touristed town in the Tyrolean Alps next to the blue waters of the Zeller See (lake). I browsed around, dodging huge tour buses and went for a long stroll on the edge of the lake, gazing at the snow-capped mountain peaks that surround the town. Nearby there are no less than 30 peaks over 3000 metres high.
[Sunday 27 September : Weichselboden, Austria] Today I went through Bad Ischl, a town whose fame relies on the alleged curative properties of the naturally heated mineral water nearby. Kings, emperors and statesmen from all over Europe have been making Bad Ischl their holiday destination for centuries, and this trend seems to be continuing to this day - the place was overrun with hordes of wheezing and arthritic tourists.
[Monday 28 September : St Aegyo, Austria] Not far from Mariazell I drove up a very bad mountain road for five kilometres to reach the Merien Waterfall Hotel, where I parked and walked down a forest track to the Merien Waterfall. Not a very impressive waterfall, but a pleasant detour nonetheless.
[Tuesday 29 September : Gillersdorf, Austria] Coming down the Hollental Pass I encountered very bad roads, which was extremely unusual for Austria. At the bottom of the pass I browsed around the sizeable town of Gloggnitz before heading eastwards. As I got nearer to the border with Hungary the countryside became flat, less touristy and more industrial - quite a change from days of beautiful Alpine scenery.
A panoramic view of Lake Zeller (Zeller See), Austria
[Wednesday 30 September : Velden, Austria] I drove to within fifty metres of the Hungarian border near Heiligenkreuz. Knowing that I wouldn't be allowed in (this was back in the days of the Cold War, with Hungary being firmly Communist and South Africa the pariah of the world), I took a photograph of the border post, turned round and went back the way I'd come [Aside : I finally made it to Hungary 11 years later (in 1998), after the fall of Communism; click here for the full story of that trip]. Soon I hit an autobahn, on which I drove westwards through Graz, Klagenfurt and to Velden. This was one of the most impressive roads I saw anywhere in Europe, with sweeping viaducts over long, deep valleys, seven tunnels varying in lengths from 250 metres to three kilometres, a countless number of impressive bridges and very attractive picnic sites on both sides of the road, with grass, trees, flagstone paths and benches and tables.
[Thursday 1 October 1987 : Kotschach, Austria] I turned off the main road I was following near the town of Hermagor and headed south into the mountains. Just outside the village of Moderndorf I stopped at a nature trail called Garnitzenklamm. It is a spectacular mountain walk of some six kilometres up a deep river gorge, with the path repeatedly crossing the river on wooden bridges. The water cascades down the gorge at high speed and is crystal clear - you can see right to the bottom of the river bed. There are a number of spectacular waterfalls and the scenery is incredible. It's quite a slog all the way to the top and back down again, but worth every second. I spent that night camped on a grassy lay-bye on the Karnische Dolomitenstrasse, a steep mountain pass that leads to Italy.
[Friday 2 October : Falzarego Pass, Italy] I continued driving westwards on the very scenic and winding Karnische Dolomitenstrasse to Panzendorf, where I turned onto the road to Italy. This became a high mountain pass in icy weather, totally deserted - I did not see another car for ages. The Austrian and Italian border posts were about ten kilometres apart so for quite a while I wasn't sure what country I was in (if any), or where the actual border was. I reached the Italian town of Dobbiaco Toblach, bought some coupons for petrol (only available to tourists in Italy, and cheaper than buying petrol in cash at a filling station) and drove part-way up the steep Falzarego Pass, where I found a scenic lay-bye to spend the night. The views of the Alps were amazing, but it was icy cold.
A lonely outpost : the top of Falzarego Pass, Italy
[Saturday 3 October : Glurns, Italy] It was frosty, icy cold this morning, with the Alps shrouded in thick fog. After going over the top of the Falzarego Pass (2105 metres above sea level) I reached the run-down settlement of Arabba. Even at the bottom of the pass the cold cut right through my multiple layers of clothing. From Arabba I negotiated the steeper, more winding and even more dangerous Pordoi Pass (2239 metres above sea level), which contains 33 hairpin bends up the east side and 27 hairpin bends down the west side - I know, because they were numbered. These were true hairpin bends, with the road repeatedly folding back on itself in an instant 180 degree angle; the edge of the road before each bend was mere INCHES from the edge of the road after the bend. Several times I had to reverse to get round a corner, and my car's brakes were squealing and smoking by the time I got to the bottom. The fog was so thick that visibility at the summit of the pass was only a couple of metres.
[Sunday 4 October : Pontresina, Switzerland] I crossed into Switzerland after only a couple of days in Italy. The difference between the two countries was immediately obvious - in Switzerland everything is perfectly clean, well-maintained and organized, whilst Italy is run-down and derelict. Of course, you pay for this efficiency with uniformly high prices everywhere. Although, for some odd reason, petrol is a lot cheaper in Switzerland than most other places in Europe ... go figure.
Near Pontresina I found a campground for an overnight stop. It was predictably expensive and because I hadn't had time to convert any money into Swiss Francs all I had was a ten-Franc note and a few thousand Italian Lire (which is very little). That meant I had to do some hard negotiating with the campground manager, who wanted fifteen Francs to stay the night. In addition, three minutes of hot water in the shower cost 50 centimes (half a Franc), which meant that I had only nine Francs (plus a few Italian Lire) to pay for my accommodation. Eventually she gave in, pocketed my meagre amount of cash with bad grace and tossed two 50-centime coins onto the counter for the shower.
Liechtenstein


Capital
Government
Area
Population
Language
Currency

Vaduz
Constitutional monarchy (principality)
160 km2
32 000
German
Swiss Franc (CHF)

Liechtenstein is a tiny country sandwiched between Switzerland and Austria. It is the only German-speaking monarchy in the world and is one of the last vestiges of the Holy Roman Empire. Independent since 1719, it has no army to speak of, does not have its own currency (it uses the Swiss Franc) and uses the Swiss telephone and postal systems.
[Monday 5 October : Tiefencastel, Switzerland] I went into the posh and exclusive ski-resort town of St Moritz and cashed a travellers' cheque. Switzerland may be the banking capital of the world but there doesn't seem to be much financial competition here - every bank I looked at quoted 2.42 Swiss Francs to the Pound. From St Moritz I drove over the Julier Pass (2234 metres high), a gaunt, barren place with thick mist at the top.
[Tuesday 6 October : Vaduz, Liechtenstein] After driving through several long tunnels and the sizeable town of Chur (where I again bought some English-language books), I drove into the principality of Liechtenstein, a tiny country sandwiched between Switzerland and Austria. There were no border checks of any kind and the only indication I had that I had actually left Switzerland was a small sign on the side of the road. There's very little in Vaduz, capital of Liechtenstein, apart from a postage stamp museum and a tourist office that charged me one Swiss Franc to have my passport stamped. However, it is quite an attractive town (it's so small it can hardly be rated as a city), with clean, neat streets and well-maintained buildings. The 12'th century Schloss Vaduz, the prince's palace, is on a high bluff overlooking the town but is off limits to tourists. Liechtenstein does not have its own currency; Austrian Schillings and Swiss Francs are both accepted.
[Wednesday 7 October : Zurich, Switzerland] I meandered slowly towards Zurich, enjoying the tranquility of the many small Swiss villages I passed through.
Bahnhofstrasse in Zurich, Switzerland
[Thursday 8 October : Brunnen, Switzerland] I drove into Zurich early in the morning and found a parking place near the train station. For the rest of the day I explored Zurich, a city of two parts - the old town on one side of Lake Zurich (endpoint of the Limmat River) and the new town on the other side. The old town consists of twisting alleys, cobbled streets and old buildings; the new town is mostly steel and glass office blocks. Bahnhofstrasse (Station Road), the main street through the city, runs down from the train station and is only for pedestrians and trams, with VERY discreet and obviously opulent banks lining both sides of the road. Swiss banks do not have tellers, information desks and queues of people - there is usually just one person behind a very fancy desk in a marble foyer who asks you to state your business; penniless backpackers cannot get any further than that and very shortly find themselves back on the sidewalk. That afternoon I reached Brunnen, south of Zurich and near Lake Lucerne.
[Friday 9 October : Furka Pass, Switzerland] I left Brunnen and drove south on the east bank of Lake Lucerne - very scenic, typical picture-postcard Swiss beauty. The road wound through the mountains, via multiple tunnels and ravines before starting to ascend the Furka Pass. The number of cars diminished rapidly as I climbed steeply up into the Alps, with hairpin bend after hairpin bend. The road was unusually bad (for Switzerland) - narrow and with no lines painted in the middle; it was obviously obscure and not well-travelled. The countryside was blanketed with thick snow but thankfully the road was clear. Near the tiny village of Furka I pulled off into a lay-bye and parked for the night with the most spectacular mountain view out of my car windows.
Wilderswil train station, Switzerland
[Saturday 10 October : Wilderswil, Switzerland] Persistent cold rain followed me to the top of Furka Pass, a staggeringly high 2436 metres (7995 feet) above sea level; this was the highest I went during my time in the Alps. It was numbingly cold at the top, with a fierce wind driving the rain in horizontal sheets. Amazingly, there is an Army base near the top of the pass! Most of the buildings on the pass were old, dilapidated and boarded-up or abandoned, except for the very top where there is a hotel that was somehow still open, despite the icy wind and freezing rain. I can't imagine who would ever stay there except adventurous cross-country skiers - it was probably the bleakest spot I've ever seen.
On the other side of Furka Pass I stopped to look at the Rhone Glacier, a stunning, continually moving rock-ice formation with ice caves inside. After Furka Pass I drove over the much lower Grimsel Pass (2165 metres), past Lake Grimsel, through countless tunnels and the town of Gletsch until I "bottomed out" on the flatland below the Alps. The weather was vastly improved at lower altitudes, with the sun even making a brief appearance.
Crossing mountain passes in the Alps ...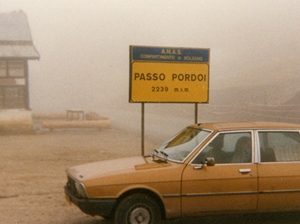 Pordoi Pass, Italy (2239 metres)
Furka Pass, Switzerland (2436 metres)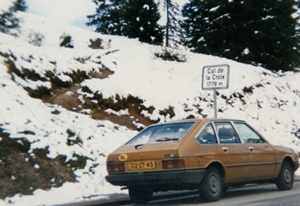 Col de la Croix, Switzerland (1778 metres)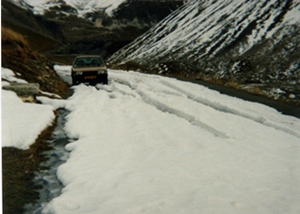 Col du Galibier, France (2645 metres)
Completely snowed-in and closed
[Sunday 11 October : Lauterbrunnen, Switzerland] I reached Lauterbrunnen, a little village nestled in a valley with steep mountain cliffs rising up on each side. It is achingly beautiful, with snow-capped mountain peaks all around and lush greenery on the valley floor. Unfortunately the rain never let up the entire time I was there.
[Monday 12 October : Aigle, Switzerland] The dismal weather continued as I explored the area around Lauterbrunnen - cold, persistent rain, grey clouds and mist. After going to the Krummelbach Falls (a set of spectacular waterfalls actually inside a mountain; you see them from a series of tunnels) I headed west on the bank of the Brienzer See via Wilderswil, Gstaad (winter playground of the ultra-rich and famous), Gsteig, over the Du Pillon Pass, past the Des Diablerets Glacier and down to Les Diablerets and Aigle, where it eventually stopped raining. The top of the Du Pillon Pass was covered with snow, at least ten centimetres deep on both sides of the road, even though the pass is only 1546 metres above sea level. The only notable sight in Aigle is a 10'th century castle.
[Tuesday 13 October : Grandvillard, Switzerland] The rain stopped at last and the sun shone; by this time I'd almost forgotten what the sun looked like. I spent the entire day fruitlessly trying to find a cable car that was operating - every one I went to (and there are many in that part of Switzerland) was closed for the summer but hadn't yet opened for the winter ski season. They typically close at the end of September and re-open in November; just my luck to be there in October. Eventually I gave up and it wasn't until 2002, fifteen years later, that I finally managed to take a Swiss cable car up into the mountains.
[Wednesday 14 October : La Croix, Switzerland] I reached Lake Geneva (Lac Leman in French), the south-western corner of Switzerland. In the picturesque city of Montreux I visited the famed Chateau de Chillon, which is built right on the edge of the lake. Nearby, in the suburb of Territet, I rode on a funicular (cable railway) up a steep mountainside to Mont Fleu. From there it was a pleasant 20-minute stroll through trees to Glion, a little town perched high above Montreux with superb views over Lake Geneva. I went back down again via a different route, on an automatically-operated funicular - they leave top and bottom simultaneously every 15 minutes without any manual intervention.
[Thursday 15 October : St Livres, Switzerland] Near Lutry I looked at a field of stone megaliths dating back to 1800 BC - nearly 4000 years old. They are damaged but in remarkably good condition considering their age. Later I reached Laussanne, the fifth biggest city in Switzerland after Zurich, Geneva, Basel and Bern. I visited the cathedral (considered to be the finest example of Gothic architecture in Switzerland), the art gallery and museum. In the museum there is a fossilised skeleton of a mammoth that is estimated to be over 12 thousand years old.
[Friday 16 October : Du Forclaz Pass, France] After days and days of relentless rain and cold weather in Switzerland I decided to head south for some sunshine. So I crossed into France near Geneva, went through the sizeable town of Annecy, along the shore of Lake Annecy and then part way up Col du Forclaz (Forclaz Pass) where I camped for the night.
Typically stunning Swiss countryside
[Saturday 17 October : Saint-Remy, France] A quiet day - I walked around the town of Faverges and did some shopping.
[Sunday 18 October : L'Orgere National Park, France] Today started out pleasantly but ended in frustration. First I drove over Col du Telegraphe (1566 metres high), enjoying spectacular views of the mountains and valleys I'd just come through. At the top of the pass I went for a long walk in the forest, where I saw lots of hunters with rifles - you see these everywhere in France.
After going through Valloire on the other side I started up Col du Galibier, a high, steep and winding pass over the Alps; it is the tenth-highest paved road in the whole of Europe. This pass is frequently used on the annual Tour de France cycle race and is classified as a hors categorie climb - meaning it is so steep and tough that it is "beyond categorization". I was soon to discover the truth of this ... Part-way up the pass the entire road was covered with several inches of snow and ice. There was absolutely no way through. I had to turn round and go back again; at the bottom there was a sign in French that (presumably) said "Road Closed", but I had driven past it on the way up without understanding what it meant. The entire countryside was blanketed with thick snow. It was beginning to appear as if my route to the south was blocked by the massive bulk of the Alps, and I could not seem to find a way through.
[Monday 19 October : Trecella, Italy] I gave up on trying to find my way to the south of France over the Alps and turned east towards Italy instead. I crossed over into Italy near Susa and continued eastwards on the fast and furious Italian autostrada (freeways), past the sprawling urban spreads of Milan and Turin. My immediate destination was Venice on the east coast, but I didn't make it there before dark.
St Mark's Square, Venice, Italy
[Tuesday 20 October : Venice, Italy] I got lost in a maze of Italian minor roads, somewhere east of Milan and west of Venice. The many small villages I passed through looked derelict, dirty and poverty-stricken (places with names like Trecella, Rivolta d'Adda, Martensana, Crema, Castellucchio, Calvatone and Sanguinetto) and the countryside was flat and boring. I therefore did not feel inclined to stop until I reached Montagnana, which was a major contrast - it boasted medieval city walls two kilometres long, the castle and tower of Sinzeno (built in 1242) and a cathedral dating back to 1431. These sights were all impressive but in a bad state of disrepair, a situation I was to learn was unfortunately rather typical of Italy ... From Montagnana I skirted Padua (Padova), headed north along the marshy coastline and arrived on the outskirts of Venice late in the afternoon. I found a perfect campground to stay for the next couple of days in Mestre, a suburb on the mainland to the west of Venice. There was a bus stop directly across the road from the campground entrance, from where frequent and fast buses went straight into Venice.
[Wednesday 21 October : Venice, Italy] In the morning I walked across the road to the bus stop and caught a bus into Venice. Well, not Venice itself - no cars, buses or trains are allowed in. My bus terminated at Piazza le Roma, near the Santa Lucia train station; from there you can then either walk into Venice or get a water taxi. I hoofed it, following the crowds through the labyrinth of streets and alleys until I stumbled onto St Mark's Square, the centre of Venice. St Mark's Square is magnificent, but most of the rest of Venice is grey, dismal and wet. It definitely looks like the place is sinking, because I came across many streets that were under water - wooden planks are placed over these areas for people to walk on. The water in the canals is stinking and filthy. Venice may be famous and a tourist hot-spot, but I'm afraid that when I visited it was pretty awful ...
[Thursday 22 October : Rocca san Casciano, Italy] I left my cosy campground outside Venice and drove south in persistent rain, down the east coast of the boot of Italy. The scenery was nothing much to write home about and (as always in Italy) the traffic was incessant. Many of the places I went through had an abandoned, derelict look about them.
Italy


Capital
Government
Area
Population
Language
Currency (1987)
Currency (today)

Rome
Republic
301 300 km2
58 900 000
Italian
Lire
Euro

Italy is a large boot-shaped country in Southern Europe. It contains more UNESCO World Heritage Sites than any other country in the world - art and historic monuments are everywhere. It is famous for fashion, cuisine, coffee and luxury sports cars, but also for volatile people and insane traffic. Italy boasts high mountains (the Alps and Appennines), beautiful lakes and long coastlines on both the Adriatic and Mediterranean Seas. Two small, independent states lie within the borders of Italy: Vatican City (home of the Pope, world head of the Roman Catholic Church) and San Marino.
[Friday 23 October : Orte, Italy] While attempting to cut south-west through Italy in order to get from the east coast to Rome on the west coast, I got hopelessly lost in a confusing muddle of small mountain roads. I asked numerous people where I was and which way to go, but could not find a single person who could speak English (a common problem in the rural areas of Italy). Eventually I managed to find my way out to a road that was on my map and continued south. I camped for the night in a thick forest just before I hit the sprawling urban mess of Rome.
[Saturday 24 October : Rome, Italy] I drove towards Rome, and on the northern outskirts of the city I found a nice campground next to the Tiber River. After settling in I walked to the train station nearby and caught a local commuter train into Rome. I could not believe how shabby and derelict the train and stations were - almost every station building was vandalised and covered with layers of graffiti, the windows were broken or non-existent and litter was everywhere. But the train was on time and reliable and I had no cause to complain except for the fact that I had to endure lungfuls of second-hand cigarette smoke all the way into the city; Italians smoke everywhere, all the time, regardless of "no smoking" signs or the considerations of other people.
Rome itself is an amazing place, with crazy traffic, volatile Italians, strong coffee, superb ice-cream and countless ancient sites to look at. I spent the obligatory 15 minutes sitting on Spanish Steps and strolled around the parks and gardens of Villa Borghese.
[Sunday 25 October : Rome, Italy] I evaded the multitude of touts outside the Colosseum (they sell every possible kind of tourist trinket) and went inside. It is an impressive place, the largest Roman amphitheatre ever built; the Romans built 20 or so similar amphitheatres all over Europe and the Middle East. It dates back to the first century AD and has not survived the passage of time very well - most of the floor of the actual amphitheatre has fallen in and you can see the ancient chambers underneath. Nearby is a large Roman forum and two smaller forums - areas of excavated ruins of Roman buildings. From there I went to Trevi Fountain and the Pantheon before getting to St Peter's Square in time for Mass at 5 PM in St Peter's (the Vatican).
Rome, Italy ... St Peter's Square (above)
A bridge over the Tiber River (below)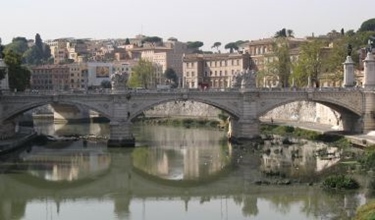 The crowds of people in St Peter's Square provided a new definition for the term "tourist overload", with rows and rows of tour buses parked in the square and all the way down Via Della Conciliazione. Holy Mass was concelebrated by about 40 priests, mostly sung in Italian and Latin. The basilica of St Peter's was the very first building I saw anywhere in Italy that was well maintained and looked-after; it is simply awe-inspiring inside. In the centre of the Basilica beneath the floor are the Vatican grottoes, with numerous small chapels, tombs of various Popes and St Peter's tomb and Necropolis.
[Monday 26 October : Civitavecchia, Italy] I drove north out of Rome, up the west coast of Italy. My original plan was to go south to Naples and have a look at the ruined city of Pompeii, the Vesuvius volcano and the famed Amalfi Coast, but I had the feeling time was running out; although there were still many other places I wanted to see, I had to get back to The Netherlands to sell my car and my open-ended return air ticket from Luxembourg would expire on 5 January 1988 (five weeks time). In addition my car was giving trouble - the engine was misfiring and running roughly. So after some thought I postponed southern Italy until another trip and headed northwards. After quite a lot of effort and bouts of extreme frustration while trying to make myself understood to a succession of Italian mechanics I eventually found a guy who was willing to look at the car problem ... which turned out to be nothing more than a faulty spark-plug. He replaced all four plugs and I went on my way again.
[Tuesday 27 October : Marina di Grosseto, Italy] I continued north along the west coast of Italy, passing through many derelict and boarded-up seaside resort-type places. Near Marina di Grosseto I went for a long walk in a shady old oak forest. I camped for the night just up from a long and mediocre beach - dark brown, gritty sand.
[Wednesday 28 October : Marina di Pisa, Italy] The banging of hunters' guns woke me early; people shoot at anything that moves around here. Little wonder you never see or hear any birds in Italy - they've all been shot. The coastal scenery from Grosseto north until Follonica was a big improvement, with pleasant beaches, thick forest and minimal farmland. Near Livorno I negotiated a series of confusing roads to reach Marina di Pisa, another coastal resort locked up for the winter.
[Thursday 29 October : Pisa, Italy] I drove into Pisa and was lucky enough to find a (free!) parking spot in a side street very near the famous leaning tower. It really does lean at a crazy angle. I walked right to the top of the leaning tower, and as you go round you can feel the gradient change when you move from the "down" side to the "up" side. The tower has eight floors and is inclined no less than four and a half metres from the vertical! The way up is via a narrow, open walkway round the outside of the tower, with no handrails or barrier - one wrong step and you'd fall a long way down to serious injury or death. I was amazed that tourists are allowed to climb up something so potentially dangerous. In the same square as the leaning tower is a cathedral (dating back to 1063), a baptistery (from 1153) and a couple of museums.
Scenes from a mini-reunion in Menton, France
Laundry drying in the window of my car
Mark and Sheryl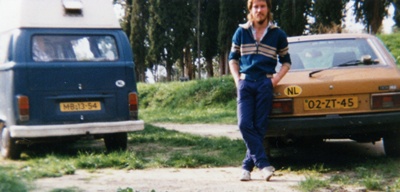 Relaxing in the sunshine
Mark, me and the two vehicles
[Friday 30 October : Florence, Italy] I found a very nice campground in the hills above Florence and moved in. I wanted to stay for a few days, but unfortunately they were closing for the winter the next day so I could only stay one night. With no time to waste I immediately took the bus down into Florence and spent the rest of the day exploring the city. Florence is a wonderful mixture of art, culture, fashion and architecture.
[Saturday 31 October : Viareggio, Italy] I showered, packed and drove out of the deserted campground in Florence. I was the very last person to stay there in 1987 - the manager locked the gates of the place behind me (they weren't going to open again until March 1988). I was nursing a cold as I drove north so I didn't do much for the rest of the day apart from stopping briefly in Lucca, a fair-sized town with massive medieval city walls.
[Sunday 1 November 1987 : Villa Oneto, Italy] La Spezia is a very interesting city, with a large harbour, a long pier and a waterfront promenade lined with palm trees. After walking around La Spezia for while I continued north-westwards, but not along the coast - I stayed on an inland road through beautiful forested countryside next to a shallow, rocky river, via Ricco del Golfo, the Parco Fluviale della Magre (a nature reserve), Carrodano and over the Bracco Pass (615 metres). I eventually hit the coast at Sestri Levante and after that I drove north-west along the Italian Riviera with the sea a stone's throw from my car window.
[Monday 2 November : Imperia, Italy] This was a spectacular day, as I followed the coast road towards France through Genoa, Arenzano and many resort towns with long, sandy beaches. The road hugged the coastline, winding in and out of every bay and rocky cliff, so it was slow going but very pleasant. It was a nightmare getting through the traffic-snarled mess of Genoa - 31 kilometres from one end to the other.
[Tuesday 3 November : Menton, France] I continued west on the Italian Riviera through San Remo, where there was horrendous traffic, to Ventimiglia on the border with France. The French border guards waved me through without my even having to stop (when did that ever happen to a South African back in 1987?) and I immediately found myself in Menton, the French town on the border with Italy. I drove up a steep, winding road into the hills above town and found a fantastic, secluded campground with great views over the Mediterranean Sea; the place only had cold showers but that didn't worry me - I'd showered in cold water in temperatures approaching zero in Switzerland. After many days of travel I decided it was time for a break, so I found a good spot at the campground and settled in for the next few days.
[Wednesday 4 November : Menton, France] I began my "mini break" from the rigours of non-stop travel by doing nothing much except relax and lie on the beach. Menton's a pretty laid-back place, with a long stretch of beach and none of the frenetic activity that you get in many other towns in the Italian Riviera and the south of France (the Cote d'Azur).
[Thursday 5 November : Menton, France] More relaxing, eating baguettes and cheese for lunch, strolling on the beach ... this is the life.
[Friday 6 November : Monte Carlo, Monaco] All this relaxing and doing nothing was getting a bit much, so I got up early and caught the 07h57 express train from Menton west to Monte Carlo, a scenic ride of eight kilometres that took only seven minutes - the railway tracks from Ventimiglia in Italy westwards are right next to the sea. I spent the rest of the day in the tiny principality of Monaco looking at what there is to see. The changing of the guard at the Prince's palace at 12 noon was shambolic and comical, a veritable comedy routine of unshaven soldiers marching out of step, their buttons undone and uniforms awry; as a demonstration of military prowess it was pretty unconvincing.
Of course, Monte Carlo is best known for its casino, so I went and had a look but it was nothing like the glitz and glamour that you see portrayed in movies. Like casinos the world over it contained a plethora of slot machines and gaming tables for blackjack and poker, with the usual dead-beat types chucking away vast sums of money fruitlessly. I saw one American playing blackjack and ask for another card when he had already drawn 18! Amazing. Another guy gave the croupier a tip of 1000 Francs.
When I got back to the campground in the evening I was staggered to see a familiar blue VW combi with Dutch number plates parked next to my car - it was Mark and Sheryl, who had chanced upon the same campground on the same day as me! Who said you don't get mind-boggling coincidences? They looked relaxed and happy, and the three of us sat up late swapping travelling stories.
[Saturday 7 November : Menton, France] Mark and Sheryl took the train to Monte Carlo, as I had done the previous day.
[Sunday 8 November : Cannes, France] All three of us left our cosy campground in Menton and drove west through Monte Carlo on the fabulously scenic (but painfully congested) coastal road that parallels the French south coast - Mark and Sheryl in their combi and me in my car. At Villefranche we stopped and had a long swim in the warm waters of the Mediterranean Sea; there were two American warships moored in the bay. In the afternoon we explored Cannes, a city overrun with tourists in summer and during the famous film festival, but in November the streets were pretty empty. We parked for the night just outside Cannes, overlooking the beach.
Monaco
The principality of Monaco and city of Monte Carlo lie on the southern Mediterranean Sea coast of France, near the border with Italy. Monaco is the second smallest independent state in the world (after the Vatican, which is six times smaller) and is almost entirely urban. With no natural resources to exploit other than its location, climate and reputation as a gambling mecca and host of an annual Formula 1 grand prix, the principality has become a resort for tourists and a tax haven for businesses. Monaco is by far the world's most densely populated independent country with second place Singapore lagging some 10 000 people per square kilometre behind.
[Monday 9 November : St Tropez, France] In the morning Mark, Sheryl and I explored Cannes, strolling along the Boulevard de la Croisette and around the film festival centre. A very pleasant place, Cannes. The three of us stayed together in convoy as we left our splendid overnight spot on the beach at Cannes and drove along the extremely dramatic and scenic Cornice d'Esterel towards St Tropez, renowned for its glitz, glamour and opulence. Unfortunately it bucketed down with rain and all we saw of St Tropez was a grey, soaked and windswept waterfront area, sheets of rain and every shop seemingly closed for winter. There's nothing quite so dismal as a seaside resort that is deserted and sheltering from wind and rain ... [Aside : I went back to St Tropez 12 years later in 1999 and spent an afternoon there in much more pleasant weather; click here for the full story].
[Tuesday 10 November : Martigues, France] This morning Mark and Sheryl drove north to Paris while I kept heading west towards the Camargue, through Toulon to Marseilles. Before we went our separate ways I asked them to book me on a flight back to South Africa early in December; they were going to book their own return flights when they got to Paris in a few days time. I got hopelessly lost in the sprawling metropolis of Marseilles before managing to find my way out in the direction of Arles. Once through Marseilles I turned back towards the coast, hitting the bleak, desolate and windswept marshes of the Camargue. From the fantastic, sunny and warm weather I enjoyed on the Cote d'Azur just a few kilometres to the east it has suddenly become quite cold.
[Wednesday 11 November : The Camargue, France] Armistice Day in France, meaning everything, but EVERYTHING, was shut with military parades at 11 AM everywhere. I drove westwards from Martigues through wild and desolate country, very similar to the terrain you get at Cape Point (the south-western tip of Africa). I reached Les Baux via some minor back roads and spent a few hours there exploring. Les Baux is an old town with narrow cobblestone streets perched on the top and side of a minor mountain; no cars are allowed inside - you have to park outside and walk in. Above the town is an ancient ruined city, called "The Dead City", largely hewn out of solid rock and preserved as a prehistoric monument. The ancient city sits on the edge of a cliff and is unbelievably windy; if there weren't guard rails I suspect many people would fall to their deaths from the stone ramparts. From Les Baux I drove to Arles and explored this old Roman city. There is an extremely well-preserved Roman amphitheatre in Arles that is still used today for bullfights and concerts.
Armistice Day
Armistice Day is the anniversary of the armistice that was signed on 11 November 1918 to end World War I. The signing was at 11 AM, which resulted in the armistice being referred to as having taken place on "the 11'th hour of the 11'th day of the 11'th month". Because France was more or less the centre of conflict in the First World War, 11 November is celebrated as a very special day in France. All shops and businesses close on that day and at 11 AM military parades by veterans of World War I (and from subsequent wars as well) are held in every little French town.
[Thursday 12 November : Les St Maries de-la-Mer, France] I drove west on the shore of Etang du Vaccares (Lake Vaccares), the main body of fresh water in the flat, swampy wastes of the Camargue. From there Route de Cacharel goes all the way to Les St Maries de-la-Mer on the Mediterranean coast, the biggest town in the Camargue. There was water and swamp on both sides of the road, with plenty of white horses knee-deep in the water. It was hard to tell if the horses were wild, but my guess is probably not - I'm pretty sure that any remaining wild horses would long since have been captured by locals.
St Maries de-la-Mer is most well known for the legend that in 40 AD Mary Magdalene, Mary Salome (mother of the Apostles John and James) and Mary Jacobe (Jesus' aunt) came ashore here in a boat from Palestine. The (alleged) relics of these three Saints are kept in the crypt of the 12'th century church in town, and have been venerated by generations of pilgrims for hundreds of years since then. After having a look inside this ancient and gloomy church, I went for a long walk along the beach, sea and dunes on one side and swampy marsh on the other. Unfortunately my walk was cut short when I was attacked by swarms of vicious flying, biting bugs [Aside : I went back to St Maries de-la-Mer 17 years later in 2004].
Rocamadour, France
[Friday 13 November : Le Grau-du-Roi, France] I headed westwards out of the Camargue. There is no bridge across the Rhone River; I had to wait ten minutes then drive onto a cable-driven pont that ferries cars and people across the river every half an hour. I stopped in Aiges-Mortes, which is completely surrounded by medieval city walls built in 1270, and visited the Tower of Constance (dating from 1241). Next stop was Le Grau-du-Roi, a very touristy town next to the sea. Le Grau-du-Roi contains the largest yacht harbour in Europe, Port Camargue, which has space for over 4200 boats. Port Camargue is massive, virtually a town by itself, with rows of luxury apartment blocks fronting the water in a maze of well-kept, neat streets. I stayed the night in a municipal campground on the beach just out of town.
[Saturday 14 November : Rodez, France] Near Le Grau-du-Roi was Le Grande Motte, another overwhelmingly tasteless resort town, with big pyramid-shaped hotels and apartment blocks facing the sea. Near Carnon I headed north-west away from the coast, through Montpellier, Gignac and the La Frierge tunnel (455 metres long), over the L'Escalette Pass (616 metres high) and the D'Engayresque Pass (888 metres) to Millau and Severac le Chateau. The scenery from Montpellier north was beautiful - rolling green hills and wild, open country. Severac le Chateau is built around an ancient ruined castle on top of a steep hill, with commanding views of the surrounding countryside.
[Sunday 15 November : Martel, France] On my way northwards I stopped in Rocamadour, a medieval city perched precariously on the side of a river gorge. It is an incredibly beautiful setting, with the Dordogne river at the bottom of the gorge and the thickly-wooded slopes of the gorge leading up to the town. All cars must park at the bottom of a steep path that zig-zags up the hill - you have to walk up this path to get to Rocamadour itself. I visited the chapel and basilica of Notre Dame (a small church hewn out of solid rock) and the 14'th century chateau at the top of the hill. The zigzagging path up the hill is called Chemin de Croix, and each bend of the path depicts one of the 14 (Roman Catholic) Stations of the Cross.
Pointe du Raz, France
[Monday 16 November : Mortagne, France] A day of non-stop rain and dreary weather; I continued heading northwards through Limoges and Poitiers and camped for the night near Mortagne sur-Sevre.
[Tuesday 17 November : Landudec, France] Today I approached the peninsula on the north-west tip of France which sticks out into the Atlantic Ocean. On the way I drove over the Barrage D'Arzal, a bridge over the Vilaine River near Port Arzal. Port Arzal is a yacht harbour east of the bridge, with a number of boat-building companies there.
[Wednesday 18 November : Brest, France] I arrived at Pointe du Raz in the morning, the westernmost tip of France. It is similar to Land's End in the south-west of England - rocky, windswept cliffs, pounding waves and many souvenir shops (mostly closed for winter). There is a treacherous path across some rocks that leads to the actual point, but it looked very dangerous, with heavy surf thrashing around. After traversing the attractive Crozon Peninsula I drove south to Pointe de Pen-Hir, a spectacular rocky outcrop where there are three huge rocks jutting out of the sea in a line. Nearby is the Alignment des Lagatjar, a group of about 100 prehistoric menhirs arranged in a square pattern (they were restored in 1928 to their presumed original positions). I ended the day near Brest and explored the many old German bunkers and defensive fortifications that were erected during World War II to protect the strategic Brest Estuary (the Nazis had a submarine base there). It is a veritable labyrinth of underground tunnels and forts, many filled with slimy water and all crumbling from age and disuse.
[Thursday 19 November : Ile Grande, France] From Brest I continued north-east along the coast (La Corniche) to the very pleasant town of Trebeurden, next to which is Plage Goas-Treiz - a small bay with a rocky beach, dotted with a number of tiny islands pounded by the crashing waves. Nearby is Marais du Quellen bird sanctuary (ornithological park). Further on I arrived at Ile Grande, a little town right on the edge of the sea. I went for a walk in the wild and stormy weather, onto a narrow spit of land jutting into the water, with waves crashing onto the rocks, spray flying and the wind howling. A cold and wet but spectacular day.
Le Mont St-Michel, by day (left) and at night
[Friday 20 November : Sables d'Or les Pins, France] This morning I stopped at the Centre Nautique on Trestraou Beach, near the town of Perros-Guirec. Leaving my car there I went for a long hike on a spectacular cliff footpath next to the sea, back to the village of Ploumanach, past a lighthouse, the ancient chapel of St Guirec and ending at Quai Bellevue above Ploumanach port. There were magnificent views of the rugged coastline along the way. I spotted numerous small islands just offshore, including Les Septiles (the seven isles), which are collectively a bird sanctuary.
[Saturday 21 November : Mont St-Michel, France] I drove straight to Cap Frehel, the northernmost point of the Cote d'Emeraude peninsula. From the restaurant on the east side there is a superb, breathtaking cliff path all the way round the headland, with a sheer drop into the rolling waters of the Atlantic Ocean on one side and a solid rock face on the other. The Cap Frehel lighthouse itself is very impressive, a sturdy construction of thick stone bricks. Just round the coastline I visited Fort la Latte, an old castle built on a rocky promontory jutting into the ocean. The term "windswept magnificence" is apt for the area around Cap Frehel, which was undoubtedly the most spectacular of all the many "points" I saw on the coast of France.
From Cap Frehel I drove to Dinan, a well-preserved medieval city which I explored for a couple of hours. The entire old city is enclosed by walls and you can walk right round the top of the ramparts to the castle of Duchess Anne. The old town is charming - narrow cobblestone streets and perfectly preserved old houses with porches jutting out above the pavement, supported by wooden beams black with age. I drove eastwards out of Dinan over a spectacular viaduct, then via Dol-de Bretagne to Mont St-Michel.
I thought by now, after nearly five months of touring all over Western Europe, that it would be difficult to top some of the breathtaking sights I'd seen, but the view of Le Mont St-Michel (St Michael's Mount) was perhaps the most jaw-dropping so far. Mont St-Michel is an abbey well over a thousand years old, built on top of a rock that is cut off from the mainland by the sea when the tide comes in. The mont is reached by a narrow, raised causeway with sand flats (or water, depending on the tide) on both sides. From the parking lot at the end of the causeway I walked up a narrow twisting street to the tiny village built around the base of the abbey, a steep climb thronged with tourists. Every building seemed to be a souvenir shop, over-priced restaurant or luxury hotel. There are numerous alleys, archways and stairwells leading off the main street in random directions which can be explored. That night I camped on the mainland within sight of the mont - the rock and abbey are illuminated, presenting a spectacular sight in the darkness. A truly memorable place.
Le Mont St-Michel
Mont St-Michel is a granite "tidal island" off the north coast of France. In historical times the narrow strip of land that connected the island to the mainland was entirely covered with water at high tide; access was only possible during low tide. This natural land bridge has since been built up and converted into a permanent causeway, so these days the mont is seldom (if ever) cut off from the mainland.
The first church on the mont was built in 708 AD; extensions were carried out in 966 AD and on several occasions after that until the 15'th century. The mont was used as a fortress during the Hundred Years War between England and France - the outer walls repelled the English while the inner walls were occupied by Benedictine monks. The monastery was closed during the French Revolution (1787-1799) and was used as a prison until 1863.
In 1874 Mont St-Michel was classified as a French national monument and a century later (in 1979) it was designated a UNESCO World Heritage site. Today, invaders of a different sort overrun the mont very day - relentless hordes of tourists, who come in on tour buses, cars, bicycles or on foot.
[Sunday 22 November : St Aubin, France] Continuing eastwards I reached Normandy, scene of bitter fighting during the Second World War. The Circuit du Debarquement is a road that follows the coast via the 1944 D-Day beaches and monuments. At Pointe du Hoc, where American rangers attacked a battery of German 155mm guns in June 1944, there is a labyrinthine complex of concrete pillboxes and underground bunkers connected by tunnels. You can walk down into the old weapons rooms and gun emplacements, rotting, dank and filled with trash and stinking water. All around you have to be careful where you walk, as many old landmines are still buried in the ground. Nearby is Omaha Beach, a long (three kilometre) stretch of gently sloping white sand where Allied landing craft came ashore on 6 June 1944 - part of the D-Day landings. Huge numbers of troops on both sides (German and British/American) lost their lives here.
Near Colleville sur-Mer and overlooking Omaha Beach is the American Memorial Cemetery. It is a sombre and moving place - 9386 graves in neat rows on very well kept grass. 307 headstones are of unidentified bodies and 1557 bodies were never recovered. These graves also comprise only 39% of the American dead - the other 61% were shipped back to the USA. The whole place is owned and immaculately maintained by the United States government (actually the American War Memorials Commission); it consists of 170 acres, a tiny chapel and a monument showing a history of the D-Day offensive (a semi-circular wall surrounding a black marble statue). It is as neat as a pin, the grass trimmed to perfection, paths swept and everything clean. I drove on, looking at many more World War II monuments and memorials, including an amphibian Sherman tank on display near Courseulles that had been dredged up from the sea 27 years after the war.
[Monday 23 November : Paris, France] Foul weather greeted me this morning when I woke up to the sound of hail lashing my car's windows. Freezing wind, rain, hail and sleet followed me all day as I headed east along the coast through St Aubin to Dives sur-Mer, and then south-east towards Paris via Lisieux, Chambourcy and the Princesses Forest.
[Tuesday 24 November : Paris, France] I drove into Paris early in the morning in thick traffic. First I went to the South African embassy on Quai d'Orsay, where I found a letter from Mark Gore. When I'd last seen Mark and Sheryl (on 10 November) I'd asked them to book me on a flight to South Africa early in December; however, it seems that all Luxavia flights were booked solid and the only confirmed reservation they could get was on 26 November, which was two days time! I had planned to stay in Paris for at least three days then meander slowly back to Luxembourg after that, but I had to cancel all those plans. For the next couple of hours I rushed around Paris, to the Icelandair office to confirm my flight (Icelandair were agents for Luxavia), to the Dutch embassy (to apply for a "Benelux" visa to get back into Belgium, Netherlands and Luxembourg) and then to a campground on the banks of the Seine for the night [Aside : I was so disappointed to have time for only one night in Paris that on my very next trip to Europe I stayed in Paris for 12 days and got to know the city quite well. That was in 1990; click here for the full story of that trip].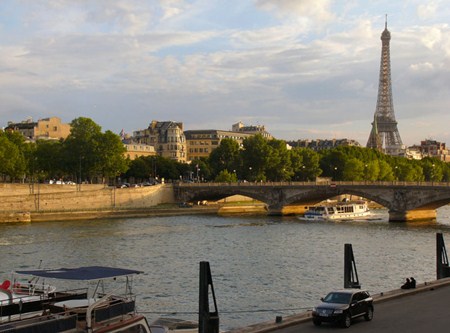 The river Seine and the Eiffel Tower, Paris
[Wednesday 25 November : Ridderkerk, Netherlands] Another long, hard day. I left the campground early in the morning and drove into Paris city centre, round the Arc de Triomphe (perspiration trickling down my back while negotiating eight lanes of traffic on the unmarked, cobbled streets) to the Place de la Concorde and over the river to the Dutch embassy. I found a parking spot right outside their front door, collected my passport and Benelux visa then drove north-east out of Paris (quite a job on my own in the traffic and rain). I spent the rest of the day driving east through France, Belgium and the Netherlands in heavy rain, snow and sleet, eventually getting to Ridderkerk at about 8 PM. By then my car was running on fumes, because I had used my last few French francs on petrol and all I had left were travellers' cheques; in the Netherlands I even sold some unused bus/tram strip-tickets to a petrol attendant in order to get another litre or so of precious fuel! In Ridderkerk I met up with Mark and Sheryl - they'd been here for a couple of days after having returned from Italy.
[Thursday 26 November : Luxembourg City, Luxembourg] I only had a couple of hours to sell my car before flying out of Europe, so the endeavour wasn't very successful - the best deal (in fact, the only deal) I could get was at a scrap metal dealer, who offered me the paltry sum of 25 Guilders (about 25 SA Rands) for the car. But what choice did I have - I couldn't drive the car back to South Africa and leaving it with somebody in the Netherlands would have created a big problem for them. So I took the cash and handed over the keys with a few pangs of regret; that car had ferried me over 11 000 kilometres around Europe and had been my home for three months ...
With hindsight, what I should have done was drive to the airport, park the car in the long-stay area and taken the keys back home. I could then have given the keys to somebody I knew who was heading to Europe and told them they could have the car; all they had to do was get to Luxembourg and pay the accumulated parking fees. But I suppose that would have created a whole host of new problems - by the time somebody went to collect the car the battery might have been flat and the parking fees may have been so much that it wasn't worth it. Never mind flat tyres and all kinds of other deterioration from standing out in the open through a European winter.
With that chore done, Mark, Sheryl and I caught the Luxavia bus to Luxembourg and flew from a nearly-frozen Luxembourg airport to Johannesburg. The temperature was -1 (degrees Celsius), and the entire airport and surrounding countryside was blanketed in snow.
[Friday 27 November : Johannesburg, South Africa] Landed in Johannesburg after a relatively pleasant flight which included a stop in Nairobi (Kenya) to refuel. I stayed with my aunt and uncle in Boksburg for the next few nights; Mark and Sheryl stayed with his relatives in Johannesburg.
[Monday 30 November : Johannesburg, South Africa] I took a local commuter train from Boksburg to Johannesburg where I met Mark and Sheryl at the station. From there we boarded the overnight "Trans-Karoo" train to Cape Town.
[Tuesday 1 December 1987 : Cape Town, South Africa] Arrived back in Cape Town after five months away, refreshed and infected with the incurable virus Travelosis Itchy-fee'itis. Next stop England, Ireland and France in 1990.
---
© Paul Kilfoil, 2023