Paul Kilfoil's World of Travel, Technology & Sport
---
South Africa's Wild Coast : September-October 2021
Our Route
Cape Town-Riviersonderend-Wilderness-Knysna-Port Elizabeth-Grahamstown-King William's Town-East London-Gonubie-Butterworth-Mthatha-Port St Johns-Msikaba-Port St Johns-Mthatha-Butterworth-East London-Port Alfred-Uitenhage-Steytlerville-Willowmore-De Rust-Calitzdorp-Ladismith-Barrydale-Suurbraak-Swellendam-Cape Town
Distance
2841 km
This page describes a road trip by
Paul Kilfoil
and
Karen Gray-Kilfoil
, as well as a hike with John, Clare and Sarah along the Eastern Cape coast of South Africa (the "Wild Coast") in 2021.
Check out my
travelogues
page for details of other trips we've done.
If you enjoyed reading this, please send me an email. All correspondence is appreciated!
[Wednesday 29 September 2021 : Cape Town-Wilderness] Spring in the southern hemisphere? Supposedly, but it sure didn't feel that way during the course of the day - driving east from Cape Town on the N2, we hit a wall of rain just beyond Caledon and it rained relentlessly all the way to Wilderness. Occasionally the heavens threatened to seal off the taps, but each time this proved merely to be an empty promise; a few minutes of spitting rain would be followed by further heavy downpours. At least there wasn't much traffic on this midweek, non-holiday day.
Hashtag Coffee in Knysna
But the obligatory coffee stops at Peregrine's farm stall near Grabouw and the ever-reliable Ou Meul Bakery in Riviersonderend were bright spots of enjoyment in an otherwise dull day of sitting in a car while being mesmerised by the swish-swoosh of the windscreen wipers. And our room at the Tequila Moon Guest House in Wilderness was fabulous, despite the total lack of tequila in the place. The view over and across the Wilderness lakes was superb.
[Thursday 30 September : Wilderness-Gonubie] We were on the road from Wilderness by 9 am, desperately searching for a coffee spot - Tequila Moon Guest House may have been superb, but unfortunately not in the coffee department. Sedgefield was a dismal failure (we couldn't find coffee there at all, despite driving the length of town on the access road parallel to the N2) and before we knew it we were skirting the edge of the Knysna lagoon. Near the western edge of Kynsna Karen spotted a sign for Hashtag Coffee and shouted "Stop!" I reversed into the brick-paved parking lot of a small business mall and we went inside. Hashtag Coffee was small and neat and shared space with a printing shop, but the coffee was absolutely outstanding. As were the peanut butter cookies we ate. What a find! All I can say is that if you want good coffee in Knysna, go to Hashtag Coffee on the Main Road, north side, near the Cape Town end of town. You won't be disappointed.
Plettenberg Bay and Storms River passed by and we entered the Eastern Cape. Shortly after that the rain came down. In buckets. And for the next 450 kilometres we aquaplaned our way north-eastwards, past Port Elizabeth (now Gqeberha), Grahamstown (now Makhanda), King William's Town and East London to the seaside town of Gonubie. King William's Town appeared to be a busy and thriving business centre, hectic with traffic and pedestrians; the roads were well-maintained, the shops prosperous and swanky new shopping malls were hurting the eyeballs with their giant neon signs. The same could not be said of Grahamstown (Makhanda) - we stopped there for petrol and were shocked at the dismal state of this once proud settler town. The roads were just a mess of broken tar and potholes, wind-blown trash was everywhere and many buildings looked like derelict hulks. We had spent a week in Grahamstown during the annual National Arts Festival a few years ago, and the state of deterioration of the town since then was depressing.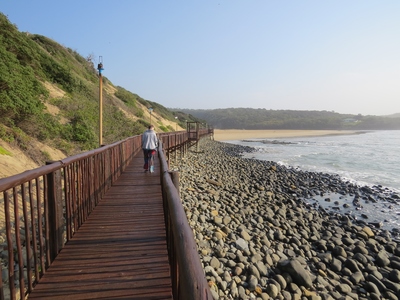 The boardwalk along Gonubie beach to the river mouth
The road from King William's Town to East London was a beautiful, smooth 2-lane freeway, and we averaged 120 km/h through the rain in the late afternoon. We bypassed East London itself and headed south-east down to Gonubie, where we checked into a compact but spotless apartment at the Rose and Ale Guest House a couple of blocks from the beach. The remote check-in procedure (all down by phone while standing outside the gate) was a marvel of organization.
We strolled down to the beach and along the boardwalk to the Gonubie River Mouth. The beach and boardwalk were deserted on this wet and windy day, but the walk revived both our spirits and our appetites ... unfortunately, the covid pandemic has put such a kybosh on the restaurant trade that the only place we could find open to get something to eat was the pub at the Gonubie Hotel. Drunken bozos, barflies and a few peroxide-blonde floozies shouting slurred insults at the cricket showing on big TV screens did not auger well for a decent meal. Nor did a plastic-laminated menu comprising a single page of uninspired choices ... but appearances can be deceiving, and the chicken schnitzel I ate at the Gonubie Hotel was astoundingly good. A great way to end off a long, hard day.
[Friday 1 October : Gonubie-Port St Johns] "Blue sky!" shouted Karen. And she was right, even if it was only a tiny patch ... but we were so desperate after two days of relentless clouds and rain that we were ready to grasp at any straw. We took the opportunity to walk down to Gonubie beach after breakfast in our apartment, and were treated to a stunning early-morning display of natural beauty. The clouds rolled away and the sun lit up the empty beach gloriously.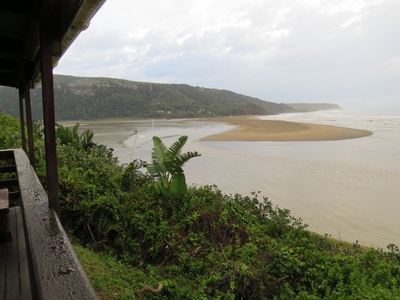 A wet and misty morning in Port St Johns
But Port St Johns was calling, so we hit the road north-east. Endless miles of rural Transkei villages rolled past the windows until we reached the congested ugliness of Mthatha. We negotiated several city blocks of multi-lane mayhem before turning east onto the road to Port St Johns. More villages, unmarked speed bumps and steep descents followed before we came to the sub-tropical zone alongside the Umzimvubu River. I had last been in Port St Johns in 2003 (18 years ago), so I was amazed to see how the town has changed since then. Gone was the laid-back, ganja-smoking hippie hangout I remember - now there are millionaire resorts about 5 kilometres up from the river mouth, and a dirty, traffic-clogged town at the mouth itself. The restaurant options were limited and coffee shops were non-existent, but there was a huge warehouse-like liquor outlet doing a roaring trade on this Friday afternoon. Such is progress ...
But we had another startlingly excellent meal at Steve's Pub & Grill while watching (and listening to) the raucus campaigning of the Democratic Alliance candidate in the upcoming local government elections. He had loudspeakers mounted on the roof of his 4x4 double-cab, and blared his message forth to the passers-by, all of whom simply walked on and ignored him. The lure of the bottle store was clearly more enticing than the opposition party's political message. There was no sign of the ANC or the EFF.
The rain came pelting down as we left the restaurant. Wet and muddy, we holed up in our wooden chalet for the rest of the evening.
[Saturday 2 October : Port St Johns-Msikaba] Rain dripping onto our balcony greeted us in the morning, not a good sign at the start of five days of hiking along the Wild Coast. But by 8 am it was hot and sunny. We checked out of our rather less-than-luxurious digs at The Glass House Bed & Breakfast (where there was no breakfast) and drove round to The Spotted Grunter resort further up the river. This was where we were due to be collected by the driver from Active Escapes, the adventure company organizing our hike; we had arranged to leave our car at the Spotted Grunter while we were away on the trail.
A typical river on the Wild Coast
The drive from Port St Johns to the Msikaba Tented Camp at the mouth of the Msikaba River was a 3-hour ordeal that became steadily worse as the condition of the road deteriorated. It started off reasonably well, on the tarred road north-east from Port St Johns towards Lusikisiki, and even the first few kilometres on the side road towards Msikaba wasn't too bad. But more and more potholes and mud appeared and the speed of the minibus was reduced to a crawl. We bounced up and down and came perilously close to getting stuck several times, but on each occasion the driver managed to get through by heavy use of the accelerator. Eventually the minibus stopped before a section of road that was quite obviously impassable - it was simply a track of mud, sand and sharp rocks. The manager of the Msikaba Tented Camp met us there in his sturdy 4-wheel drive vehicle and took our luggage down to the camp; we walked the rest of the way, a distance of only about 200 metres. The driver from Active Escapes turned the minibus round and drove back to Pietermaritzburg.
Msikaba Tented Camp proved to be a long way away from the traditional notion of camping. En-suite bathrooms (hot showers, toilets, running water), electricity and comfortable beds fitted with sheets and duvets awaited us. And there was no mucking about with fires, camping gas stoves or instant noodles - we were served a fantastic meal of chicken, vegetables and samp and beans.
[Sunday 3 October : Msikaba-Luphuthana] By 8 am we were trudging up the road from Msikaba Tented Camp on the first day of our hike, looking at the grey skies with foreboding. But the rain stayed away as we traversed rolling fields of grass, a stone's throw from the sea. An indication of how much rain had fallen was the amount of mud we walked through; at times the grass was so waterlogged that the path had simply become a swamp. We crossed many rivers, but none of them required anything more than knee-deep wading until we came to Goss Point in the afternoon. The Mkweni River was more than two metres deep (we know because John went in to test the depth of the water) and flowing strongly. After some debate we decided not to risk swimming it. The only alternative was a long walk up-river to find an easier place to cross. We skirted Goss Lodge, a private lodge nearby, and went down a delightful path next to the river through thick evergreen forest. But after going some distance I found that the river was still flowing too fast and strong to cross.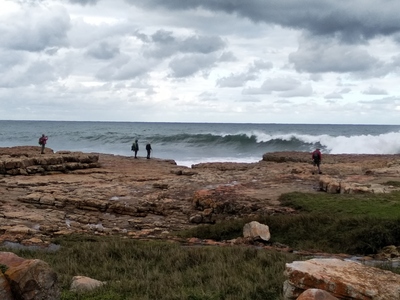 Massive waves crash against a rocky platform
I turned to walk back, deciding that our only option was to swim over at the mouth. But I quickly encountered John and Clare coming down the path towards me with a young man I didn't recognize. "This chap knows where there's a way across," said John. "He's going to show us the way." So I turned around again and we all followed the guy. He went quite a long way further up-river than I had gone until we arrived at a spot where the river cascaded through a rocky area. The water was about thigh deep and you had to step very carefully to prevent yourself from being swept off your feet, but all five of us made it across the river without mishap. A short but stiff climb up the side of the ravine brought us onto the escarpment.
The young guy was apparently the "boat man" - it seems he has a boat that he uses to ferry people across the river. But I didn't see any sign of a boat. And if he had a boat why didn't he use it? There were 14 hikers on the trail, so he would have had quite a lot of business that afternoon.
Near Luphuthana Tented Camp we walked aong a section of flat, wave-cut rocks that rose straight out of the sea. Monster waves were breaking directly against the rocks and throwing up enormous clouds of spray. It was quite spectacular, and we strolled through a fine mist of salty water as we headed towards our second overnight spot. Which, of course, was on the other side of a river and we reached it just as the rain came down. It was a long day of 18 kilometres, but all weariness was forgotten when we tucked into another fantastic meal in the open-sided dining area while listening to the roar of the sea just metres away.
[Monday 4 October : Luphuthana-Mbotyi] The day started out in spectacular fashion. First we walked a couple of kilometres south, along another wave-cut platform and down a difficult and slippery series of rocks to a cave. Bessie's Cave, as it is called, is open to the sea and only accessible at low tide. We timed it right and managed to get inside - it was a wet, dripping and gloomy cavern, filled with about a metre of water but still an awesome spectacle.
Waterfall Bluff, a waterfall straight into the sea
A liitle further along the coast was an even more spectacular sight - Waterfall Bluff, where there is a waterfall that drops fifty or more metres straight into the sea. The path to reach it was quite treacherous, but it was worth it. After that, unfortunately, things started to go pear-shaped ... we clambered up a steep incline next to the waterfall and got lost several times amongst the myriad paths that criss-cross the Wild Coast grasslands. Every time we found the correct path we lost it again a few hundred metres later. This went on for the rest of the day, resulting in very slow progress in the right direction. The last course correction was late in the afternoon and caused a knee-wrenching descent down a hillside to a beach, where, finally, we knew we were on the right track. However, by this time it was after 4 pm, we still had some distance to go and it had started raining. Softly at first, then harder and harder, with a stiff breeze as well. One long beach was followed by another with a river crossing between the two, and then yet another beach. We saw several houses, but none of them resembled the Mbotyi River Lodge, our overnight stop.
One of the beaches was called Drew's Camp, a spot that, according to local legend, was a hideout for the notorious Stander Gang. The Stander Gang was a group of three bank robbers (Andre Stander, Lee McCall and Allan Heyl), all of whom had been convicted of separate crimes in South Africa in the 1970's and had met in prison. They escaped from jail in 1983 and together embarked on a spree of bank robberies throughout the country. The story goes that late in 1983 Stander and his accomplices fled to the Wild Coast in a Nissan Skyline, towing a caravan down many kilometres of atrocious roads. They holed up for a couple of months in the trees just above the beach at Drew's Camp while plotting how to make their final getaway and enjoy the ill-gotten proceeds of their crimes. They eventually abandoned the caravan and drove to Johannesburg. That part is the legend, the authenticity of which I have been unable to verify ... But what is true is that Stander flew to the USA and was killed by American police in Fort Lauderdale, Florida in February 1984. Lee McCall was shot by the South African police in a raid on their Houghton hideout in January 1984. Allan Heyl evaded capture until he was arrested in England in 1985. He served a long prison sentence there, followed by many more years in jail in South Africa after being extradited.
After Drew's Camp there was another river, then more beach. All of us were soaked through, tired and not interested in anything but a hot shower. I spotted a chap running along the beach towards us and intercepted him. He turned and pointed to a series of low wooden structures, barely visible in the grey mist and rain. "That's the hotel," he said. "Cross the river over there then turn right. You can't miss it."
Of course the hotel had to be on the other side of a river ... it seems that on the Wild Coast, no matter where you are, you're always on the wrong side of a river. This river wasn't massive, but it was deep enough to necessitate the removal of boots, a tedious process at the best of times. However, I was so wet through already I didn't bother and simply waded across. A few minutes later we were checking into the hotel, a rambling sort of place that had seen better days but was trying its best to keep things together. Unfortunately the half-broken shower in our room and mediocre dinner later were an indication that, in some departments at least, they were failing.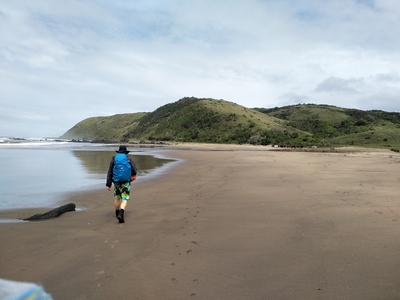 A rare moment of good weather on a pristine Wild Coast beach
[Tuesday 5 October : Mbotyi-Manteku] The Mbotyi River Lodge redeemed itself at breakfast. Real coffee (filter, not espresso, but we were grasping at all possible straws by this stage), fruit, yoghurt, muesli, oats porridge, an excellent omelette, toast and marmalade went down the hatch very smoothly before we headed off on the trail again. Unfortunately, some wildly inaccurate directions from a local led us across a deep river and up and over a hill unecessarily, before we made a right angle turn and rejoined the main path. Thereafter followed several hours of blundering around on a multitude of confusing paths, many kilometres of ankle-deep mud and rain and arguments over where we were on maps and phone GPSs that often contradicted each other. Eventually we found our way round a deep ravine and reached the coast again. Wet and tired, we urged tired legs up one last steep hill and down the other side, to find a lagoon several hundred metres across between us and Manteku Tented Camp, our destination for the day. Now what? There was no way we could wade across that, or even swim it - it was far too wide.
Then we spotted a chap in a canoe paddling across from a small beach below the buildings of the tented camp. It was the camp boatman, sent to ferry us over. He could only fit one other person in his canoe and there were 14 people to take across (our group of five and another group of eight plus their guide). But this guy was smart and very strong - he brought over a second, empty canoe, balanced on top of his canoe! So then three people went over at a time. Even so, it took a while, it was raining and I was the last one across. Once again I squelched into the camp, dripping water and mud everywhere. But this time the shower was hot and fantastic.
[Wednesday 6 October : Manteku-Ntafufu] With the prospect of a relatively short day ahead of us (only 10 kilometres), we relaxed over a lazy breakfast and left at about 9:15 am. After days of walking through grassy fields and on cliff edges, for most of the time we were on beaches or on a path directly above a beach. So the going was flat and relatively easy. And the numerous river crossings were straighforward as well, except for the Ntafufu River right at the end. This major watercourse was flowing strongly into the sea and would have taken a strong (and brave) swimmer to cross, but luckily a young chap with a canoe was on hand to ferry us over. An oddity among all the beaches we walked on today was one with black sand.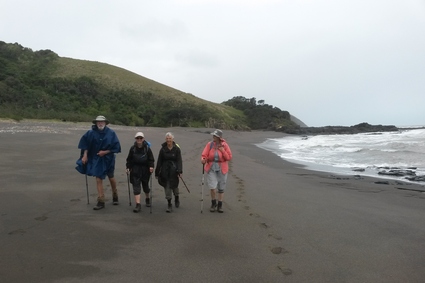 Beach walking in the wind and rain
[Thursday 7 October : Ntafufu-Port St Johns] For the first time on the hike the sky was bright blue and cloudless in the morning. We headed out straight onto a beach, and for the rest of the day it was either beach-walking or rock-hopping - there was none of the blundering around on multiple confusing paths through rolling hills that had plagued our first four days. So our progress was steady and by early afternoon we could see Port St Johns in the distance. There was the small matter of getting across the Imzimvubu River, the biggest river on the entire trail, but we were confident enough of our timing to arrange with the trail organizers to alert the ferryman to be ready to fetch us at 3 pm (after days of being out of contact we suddenly found ourselves with cellular reception again).
But with perhaps a kilometre to go to the Imzimvubu River, we encountered an insurmountable obstruction. The beach narrowed then disappeared. The tide was in and waves were crashing against a pile of jagged rocks. Behind the rocks was a steep bluff that looked very difficult to climb, and which was covered with dense sub-tropical vegetation. Getting round the rocks through the waves looked impossible, and climbing up the rocks would be very tough because they were smooth and slippery and you'd be swamped with water while doing so.
A long debate followed. Eventually the other four decided to walk back the way we'd come, to a point where a dirt road ran alongside the beach. I hauled myself up the bluff, hoping that a short, stiff clamber would get me to the road. I could not have made it without holding onto trees for support, but after the initial near-vertical section the slope eased somewhat. But then I had to contend with a tangled mess of coastal forest - bushes, trees, vines, creepers and shrubs were growing in such profusion that progress was slow and often painful. The worst was a parasitic creeper that wrapped long, thin, spiky tendrils around everything and which snagged my arms, legs and shirt. The tiny spikes shredded my shirt and before long I was bleeding from multiple cuts. Luckily I had a thick wide-brimmed hat on my head, otherwise I would have had to give up.
Being ferried across the Ntafufu River by canoe
Unfortunately the bluff was a lot higher than it had appeared from the beach. Several times I nearly turned round and went back, but I reasoned that the road we'd seen earlier simply had to be behind the bluff and I would hit it sooner or later. Finally I reached the top and looked over hopefully. But all I saw was another steep slope, covered with the same thick vegetation. So down I went, thrashing my way through. The slope became steeper and steeper until eventually through a gap I spotted the close-packed dirt of the road far below. At least my theory was correct ... but my ordeal wasn't over yet. I emerged from the forest to find myself on the edge of a cutting, with a drop of about 6 or 7 metres down to the road. The road-builders had blasted a way through the bluff to construct the road, leaving a sheer rocky edge that could perhaps be climbed by an experienced mountaineer, but certainly not by a weary hiker with a backpack and heavy boots.
I looked along the cutting in both directions, hoping to see a section where it was lower so that I could jump down. But as luck would have it I had come out on more or less the highest point. A low point further on was so far away that getting there through the tangled undergrowth would take ages. If I jumped from where I was I would almost certainly sustain a serious injury. Could I lower myself by holding onto a root, of which several were hanging down the cliff? If I found a long enough root that could hold my weight, then dangle at a full stretch I would need to fall for less than two metres, a manageable distance. But the first root I tried pulled out of the earth when I tested it. A little way further along I saw what looked like a stronger root that was dangling quite far down. So I crabbed my way through the jungle to the root and pulled it as hard as I could. It held firm. I tugged with all my weight but it didn't budge.
"Here goes," I thought, and lowered myself over the edge, heart thumping. I quickly reached the point of no return so I scrabbled my way down the jagged cliff as fast as I could until I was holding onto the very end of the root. That was as as far as I could go. I looked down. It still appeared to be a long way, but I reasoned that my feet were a lot closer to the bottom than my eyes. I let go of the root and fell, bending my knees as I hit the ground. Crunch! I stumbled but there was no pain of a broken ankle or any injury. I'd made it! I gazed up to where I'd climbed down and was mightily relieved that my ordeal was over and I'd come through unscathed.
Doing the Port Alfred parkrun alongside the Kowie River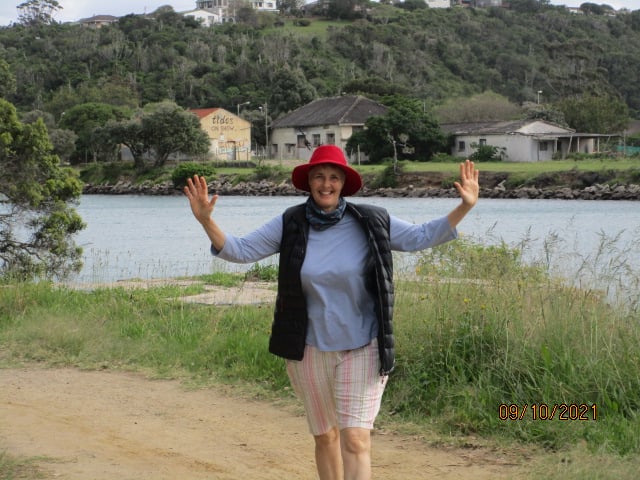 I dusted myself down and walked off in the direction of Port St Johns, wondering how far behind me the others were. Or perhaps ahead; maybe they'd found a quick and easy way from the beach onto the road. I hauled out my phone and saw that I'd had three missed calls from Karen while I'd been blundering over the bluff. When I called her back I discovered that the other four had had to walk more than two kilometres back the way we'd come before they'd managed to get onto the road. Then they started towards Port St Johns, but all of them had been so tired by then that they'd phoned the Spotted Grunter resort and asked them to send a bus to pick them up. "Wait there," instructed Karen. "And when you see the Spotted Grunter bus go past, stop it and climb on." By this time I was at the Imzimvubu River, near the ferry pickup point. I could see the cars and activity of Port St Johns across the river. I picked a spot in the shade and waited.
The minibus came past some time later and after collecting the other four members of our group further up the road we eventually found ourselves back where we'd started five days earlier, at the Spotted Grunter resort. Then it was back to our lodgings at The Glass House Bed & Breakfast, where we endured piles of filthy clothes, load-shedding and a howling wind.
[Friday 8 October : Port St Johns-Port Alfred] A long day of driving, from Port St Johns to Mthatha (where we rejoined the N2 national road), then south-west through numerous small villages to East London. We arrived in Port Alfred, a pretty seaside town at the mouth of the Kowie River, at about 3:30 pm. Unfortunately Karen had developed an excruciating pain in her side that seemed to show all the symptoms of appendicitis. After some debate we went to the emergency room at Port Alfred Hospital. Incredibly, on a Friday evening, there was no queue of people waiting to be attended to and a young female doctor examined Karen immediately. Blood and urine tests suggested that appendicitis was unlikely and that it was probably a torn muscle. A hulking great male nurse on crutches gave Karen a Voltaren anti-inflammatory injection and then sent us on our way with smiles and good wishes. What outstanding service at a public hospital in a small provincial town! Port Alfred Hospital, you guys are fantastic.
The hospital experience and the good news that Karen didn't have to have an emergency operation to remove her appendix called for a celebration in the form of dinner. But by now it was after 7 pm and Port Alfred was shut up and dark. The only activity seemed to be coming from Ocean Basket (a chain of seafood restaurants) and a couple of grim and raucus sports bars. The restaurants that showed up on Google Maps all appeared to be closed. Karen was a bit woozy from her injection and just wanted to go to Ocean Basket, but I wasn't happy with that - surely we could find a more atmospheric restaurant that was open?
A place called Graze By The River was, according to Uncle G, open and should have been almost directly opposite Ocean Basket and the fancy MyPond Hotel. But that side of the road seemed to be small businesses and houses, all dark and closed. I walked along and saw that the gate of one of the houses was open, and inside a dimly lighted window a girl was working at a counter. We went up the path and found a hand-written sign on the closed door: "Gone swimming." Huh? I peered inside and saw tables and chairs. Was this a restaurant? Karen knocked on the door and the girl I'd seen opened up, looking at us enquiringly. "Are you open?" asked Karen.
"Yes," the young lass replied. "But we only have shellfish left."
Karen and I looked at each other. Neither of us eat shellfish any more. But Karen wasn't prepared to give up yet. "What about vegetarian?"
"Yes, we have a vegan stew. Wild mushrooms, spinach, artichokes and other vegetables. It comes with Basmati rice."
Karen's eyes lit up, and I knew we'd found our eating spot. "Ok, we'll have two of those," I said. The girl led us inside, through a room cluttered with bric-a-brac to a small dining area that was full of people talking, laughing and eating. There was one table free, and ten minutes later we were tucking into a most delicious meal. We finished it off with lip-smackingly good Belgian chocolate mousse. Graze By The River was an excellent find and I was most relieved that we had not succumbed to the easy but mediocre option of Ocean Basket.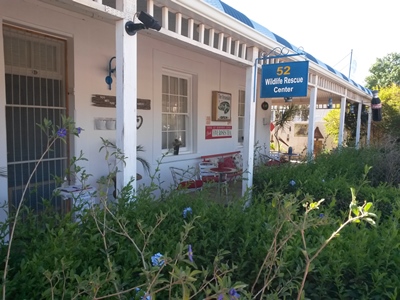 A haven of tranquility: The Verandah Coffee Shop,
Car Museum and Wildlife Rescue Centre in Steytlerville
[Saturday 9 October : Port Alfred-Willowmore] The easing of lockdown restrictions in South Africa had resulted in many parkruns re-opening for the first time since March 2020. I hadn't been able to establish if Port Alfred parkrun was one of these, so at 7:45 am we drove down to the town hall, wondering what we'd find. But the news was good - the parkrun banners were fluttering in the breeze and volunteers were scurrying about setting up the finish chute. Port Alfred parkrun turned out out be beautifully scenic, four loops along the edge of the Kowie River, and Karen and I revelled in our first parkrun in over 18 months. My time wasn't too bad either, although I could have been about 20 seconds faster if I hadn't misunderstood the course layout - near the end I thought I still had to do a second loop of about 200 metres around the library so I hadn't begun my final sprint to the finish yet. But just as I started down tha gravel path behind the library, a marshall pointed to the side and called "No! There's the finish." I nipped into the finish chute a few metres away, not as tired as usual. That often happens on a new course when you don't know the route and there aren't enough runners to have a stream of them ahead of you to follow. In this case there were eight guys faster than me who were totally out of sight by the time I got to the finish.
We drove back to our digs, showered, checked out and went in search of coffee. Rise Cafe in The Courtyard was excellent, as was the slice of carrot cake that Karen and I shared. Then we hit the road again. Shortly before we reached Port Elizabeth we turned onto the road to Despatch and Uitenhage, past the few scattered buildings of the Coega Industrial Development Zone, a multi-billion Rand grand scheme that (thus far) has been a dismal failure. The back road leading to Despatch was blighted by the very worst case of garbage and dumping I've ever seen - industrial waste, building rubble, plastic detritus, worthless junk and countless numbers of cans, bottles, cigarette packets and takeaway containers were strewn in massive piles. The litter was right next to the road and continued for several kilometres. The road was clearly well known as a "safe" place to dump unwanted waste, because most of it looked like deliberate industrial dumping rather than just rubbish dropped by passing motorists or pedestrians. It was a ghastly eyesore, far worse than anything we'd seen in countries like Cambodia (see my South-East Asia travelogue), Bolivia (see my South America travelogue) or Malawi and Mozambique (see my Southern Africa travelogue). The state of that road was a terrible reflection on the ineptitude of the Eastern Cape provincial government.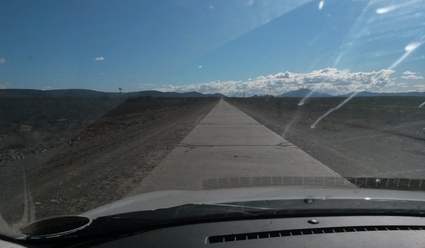 The single lane concrete strip road between Steytlerville and Willowmore
Further on we passed kilometres of tiny low-cost houses and shacks. They were built in a bleak, dusty plain without a tree in sight and not far from the dumping ground ... perhaps the most awful place to live I've ever seen. Despatch wasn't exactly a slum, but its proximity to such an extensive and festering garbage dump must surely have been a major health hazard.
We headed further inland and the temperature ratcheted up as we entered the arid plains of the Great Karoo. A welcome break in the landscape was the town of Steytlerville, a single street of houses baking in the sun. Steytlerville is home to The Verandah Coffee Shop, Wildlife Rescue Centre and Car Museum, an unlikley combination of activities to find under one roof, let alone in an obscure Karoo town on a little-travelled back road. The proprietor of the coffee shop and rescue centre showed us a baby springbok she was rearing. It had been separated from its mother and mauled by dogs, but was recovering well. Unfortunately, due to the extent of its injuries and the fact that it was now tame it could never be released back into the wild again; it would have to go to a wildlife sanctuary where there were no predators.
Our last driving leg of the day was the stretch of road from Steytlerville to Willowmore. 36 kilometres of this was still a single lane strip of cement slabs, built in 1954 and never replaced with a 2-lane road. The cement slabs were cracked and bumpy but in remarkably good shape considering that they were over 60 years old. There was a gravel space on each side of the narrow strip of cement, so that if a car approached from the opposite direction both vehicles could put one set of wheels on the gravel and one set on the cement and thus pass each other. As far as I know this is the only road like this in the whole of South Africa.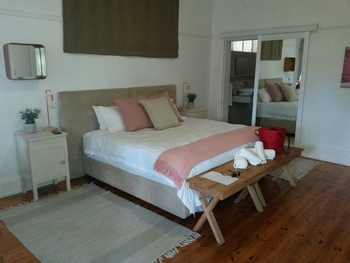 Our exquisite room at the Lapidaria Karoo Rose
guest house in Willowmore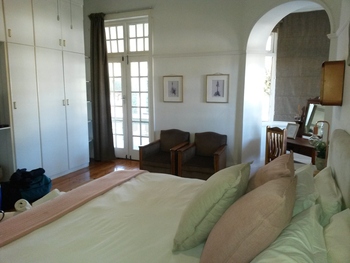 We had a booking for the night at Lapidaria Karoo Rose Guest House in Willowmore. We weren't sure what to expect, but the place turned out to be a huge and rambling old farmhouse, immaculately maintained. Our room was enormous, with creaking wooden floors and a shower big enough to accommodate an entire football team. We spread ourselves out and enjoyed a night of luxury.
[Sunday 10 October : Willowmore-Ladismith] At last our daily driving distances were coming down - today we did less than 300 kilometres for the first time on this trip. That allowed for a leisurely breakfast in Willowmore followed by a long lunch in De Rust. De Rust, a little-known town 35 kilometres east of Oudtshoorn on the N12 national road, was a charming place, with restaurants, coffee shops, tourist stores and guest houses lining both sides of the main street. Everything looked clean and prosperous. Rooi Donkie restaurant caught our eye - it was very hot and their al fresco courtyard was cool and shady. De Rust is located at the point where the Little Karoo meets the Great Karoo, which meant we simply had to have a Karoo lamb pie each. And the pies were delicious.
The same could not be said for the coffee at Rooi Donkie. Their menu listed both Cappuccino and Americano (but not Espresso, which I thought rather strange at the time - you cannot make a Cappuccino or Americano without first making an Espresso), but when my Americano arrived I saw immediately that it was not Espresso-based. At first I thought it was filter coffee, but one sip confirmed my worst fears - it was simply instant coffee. Are you kidding me? Instant coffee, when the menu lists Americano in bold, black and white print? But mindful of not ruining our otherwise splendid lunch on this relaxing day, I said nothing and merely drank the muck. Only at the end, after we'd paid the bill and given the waiter a decent tip, did I mention to him that the coffee he'd brought wasn't an Americano. He was indignant and looked shocked.
"Ask the manager or the barista. They'll tell you," I suggested, and smiled so as not to cause offence. It wasn't his fault, after all. "That was definitely instant coffee. But the pie was excellent."
We left, and as I walked out I glanced back and saw the waiter having a heated conversation in the back of the restaurant with a person sitting at a desk. Perhaps my complaint helped the owner or manager to realize that they can't treat customers like idiots. The waiter was no doubt angry, because he's the one who gets it in the neck from customers when the kitchen staff pull a stunt like that. But apart from that minor incident, our lunch stop in De Rust was most enjoyable.
Ladismith was a short haul down Route 62 (the R62 road) from De Rust. But before we got there, a stop at the Port wine capital of South Africa, Calitzdorp, was in order. There are two famous wineries in Calitzdorp - De Krans and Boplaas. On a previous visit to Calitzdorp we had gone to De Krans, so this time we thought we'd try Boplaas. We are both wine ignoramuses, but a helpful sales woman in the Boplaas tasting room explained the different attributes of their various vintages of port and we came away with three bottles. Then it was on to Ladismith Manor for the night, a grandiose name for an old house with a few guest rooms. But the place was very comfortable and we had no complaints. It was run by a garrulous Scotsman, whose thick Scottish accent had survived nearly FIFTY YEARS in South Africa. Apparently he left Scotland because he didn't like the cold and rain ... in that case he chose a good spot - the temperature in Ladismith was over 35 degrees on this spring (not summer) day, and the town was in the grip of a drought that had thus far lasted seven years.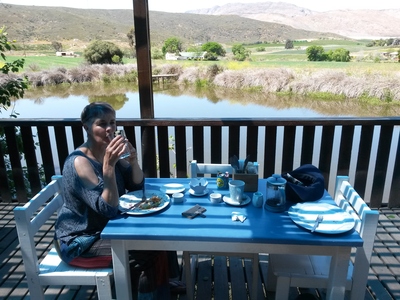 The Blue Cow Coffee Shop in Barrydale ... a restful spot
[Monday 11 October : Ladismith-Swellendam] A sweaty walk on the hiking trail into the hills behind Ladismith preceded coffee and chocolate brownies at The Post House in town. Our decadent start to the day continued in Barrydale, where an enormous slice of home-baked apple crumble at The Blue Cow coffee shop slid down the hatch very well indeed. The Blue Cow was an amazingly restful spot, with a shady wooden deck overlooking a lake that was home to a number of ducks and other birds.
Barrydale is home to an R62 legend - House of Books. This aptly-named second hand bookshop is located on the main street, and is indeed an entire house filled with books. We had visited it in 2014 and had had a long conversation with the owner, a chap called Anton. Anton's disheveled appearance, bushy beard and wild mop of hair belied his articulate and intelligent demeanour. Seven years later we found Anton still running the place; it looked like he hadn't had a haircut since. He had moved the bookshop to the house next door, presumably because there was more space there to stock even more books. The books were everywhere and we spent a pleasant half an hour browsing. House of Books is a treasure and you should not miss it if you are passing through Barrydale. You'll find it on the south side of the main street through town (not the R62 - you'll have to turn off the R62 onto Van Riebeeck Road), more or less opposite The Hub and the Karoo Art Hotel.
From Barrydale we turned off the R62 down a road I'd never been on - Tradouw Pass, a winding route through the Langeberg mountains that joins up with the N2. It was very scenic and before long we were driving through the obscure village of Suurbraak. I'd seen the sign pointing to Suurbraak from the N2 countless times but I'd never been there; it turned out to be a green and pleasant town, full of trees and old farm-style houses. Not much commercial activity though - we only saw one small shop, a general store. Suurbraak is definitely not a hot tourist destination.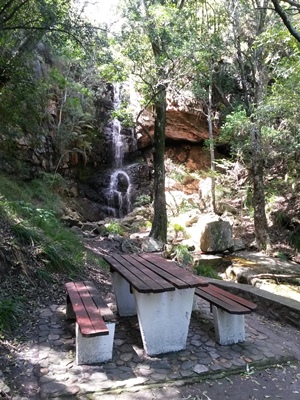 A charming picnic spot on the Tradouw Pass
between Barrydale and Suurbraak
Swellendam was our destination for the night and we checked into a comfortable room at Aan de Bergen, a guest house run with understated efficiency by a blonde woman of German ancestry. Swellendam looked like a town undergoing major changes - the east (Port Elizabeth) end of the long main street was home to several new and trendy restaurants, coffee shops and art galleries. Workers were busy brick-paving the sidewalks in this obviously newly-developed tourist hub. But later, when we went looking for somewhere to have dinner, not one of these retaurants was open. The street, which had been busy with pedestrians, traffic and parked cars when we drove through earlier in the afternoon, was deserted. Nobody was around. That was weird ... maybe Monday was the night all restaurants in Swellendam took a break.
We drove slowly back through the older part of town. Nothing seemed to be open. Even Google could not help us. Then I spotted an open-air terrace that was filled with people sitting at tables. It had to be a restaurant or a pub, so we parked and walked over to look. It was indeed a pub, called Barrel & Blues, and it was a hive of activity. They served food as well as beer so we sat down at one of the outside tables. The place was possibly the "Anti Vax" head office of Swellendam, because there wasn't a mask in sight, not even on any of the waiters. There was no social distancing either, or any evidence of compliance with the covid pandemic regulations. We had plenty of time to ponder this while waiting, and waiting, and waiting, for somebody to take our order. Finally, after 20 minutes or so, a harrassed girl stopped at our table and asked "Have you been served?" She was most apologetic, noted what we wanted to eat and scurried away. Then the real waiting began. We sat and sat, getting hungrier and hungrier. All the waiters seem to have completely disappeared.
We had arrived at about 6:30 pm. At 7:45 (an hour and 15 minutes later) we had still not been served and I was getting really browned off. "I've had enough," I told Karen. "If nothing happens by 8 o'clock let's just leave." Karen was also unhappy, but went off to look for somebody and try to find out what was going on. She came back with our original waitress, who again apologised and said our food was "nearly ready." I was skeptical and we continued waiting. Finally, with a couple of minutes to go until my 8 pm deadline, the waitress appeared with Karen's food. Mine arrived shortly afterwards. We tucked in hungrily. My chicken burger, touted as "the best" by the guy who had originally led us to a table, was good, but no more than that. The chips were cold. We ate and left as fast as we could.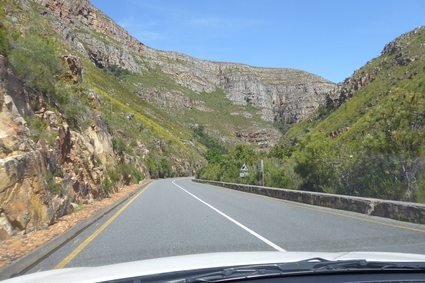 Driving down the Tradouw Pass between Barrydale and Suurbraak
Barrel & Blues was absolutely terrible, and I would recommend most strongly that if you are looking for a restaurant in Swellendam, find somewhere else. Monday nights seem to be a problem though. You have been warned.
[Tuesday 12 October 2021 : Swellendam-Cape Town] Eskom, South Africa's national supplier of electricity, demonstrated its usual incompetence with a bout of load-shedding in the morning. That meant we couldn't make tea or coffee in our room; instead we packed and left early, and by midday we were back home in Cape Town. We'd had an amazing trip, seen some incredible scenery on the Wild Coast, stayed in a few superb guest houses and covered 2841 kilometres without mechanical mishap or either of us getting sick or injured. But it was good to be back after two weeks on the road ...
---
© Paul Kilfoil, 2023