Paul Kilfoil's World of Travel, Technology & Sport
---
Cape Town to Johannesburg : December 2015
South Africa's National Road 1 (the N1), all the way from
Cape Town to the Zimbabwe border via Johannesburg
This page describes a trip by Paul Kilfoil and
Karen Gray-Kilfoil
from Cape Town to Johannesburg and back in 2015.
Check out my
travelogues
page for details of other trips we've done.
If you enjoyed reading this, please send me an email. All correspondence is appreciated!
[Monday 14 December 2015 : Cape Town-Hanover] Our target was a 6 AM departure from Cape Town and we left exactly on time, white-knuckling it via Paarl, Worcester and the tunnel through the Du Toit's Kloof mountains before stopping for breakfast and coffee in Touws River. The restaurant adjoining the BP garage in Touws River is simply called "The Restaurant", but they served a fantastic mushroom and cheese omelette; I was somewhat dubious as to how good the coffee would be, but the waitress understood perfectly when I asked for an Americano and when she brought my coffee it was excellent. It appears as if the coffee culture in South Africa has spread even to nondescript roadside restaurants in platteland towns ...
Distances covered on this road trip
Day 1
Cape Town-Hanover
731 km
Day 2
Hanover-Johannesburg
718 km
Day 3
Johannesburg
79 km
Day 4
Johannesburg
99 km
Day 5
Johannesburg-Prince Albert
1 112 km
Day 6
Prince Albert-Cape Town
422 km

---

Total
3 161 km
After Touws River we hit the Karoo, a seemingly endless expanse of arid scrub and rock-strewn plains. The road disappeared into the haze ahead of us, the only break in the monotony being an occasional town of white-washed houses and tin roofs, baking in the heat. We enjoyed a welcome lunch break at the huge filling station in the almost non-existent town of Three Sisters, so named because of the three Karoo kopjies (hills) nearby that line up perfectly for the archetypal Karoo landscape photograph. The "Steers" restaurant at this busy garage dispenses burgers, chips and fizzy drinks by the bucketful to weary motorists, but we opted for a Greek salad each and were pleasantly surprized at how nice it was. Unfortunately the coffee wasn't very good, but it was very relaxing sitting under the trees outside and enjoying a refreshing salad while cars howled past on the national road a few metres away.
At about 3:30 PM we reached Hanover, a small town that is almost exactly half way between Cape Town and Johannesburg. It is thus much favoured as an overnight stop and consequently contains a disproportionate number of guest houses and B&B establishments as well as a typical country hotel. We had a booking at the hotel and checked into a very nice, and surprizingly spacious, room - apart from the bedroom we also had a kitchenette and a lounge with a sofa, armchairs, a huge TV and dizzying array of DSTV options. A door from the lounge led onto a shady verandah overlooking a well-kept garden and a swimming pool.
Relaxing at the Hanover Hotel after a long day's drive
After a day of sitting in a car we needed our legs stretched, so we went for a stroll around Hanover. There is a small hill at the edge of town and we climbed to the top, gazing over the sun-scorched expanse of the Karoo that stretches into the distance in all directions then explored some of the back streets. The town is bigger than you first think and we came across a library, banks, restaurants, a very photogenic church (Dutch Reformed, of course) and several guest houses. We had an early supper of Karoo lamb and vegetables in the hotel dining room then hit the sack; we had another long day of driving ahead of us the next day.
Distance covered today : 731 km
[Tuesday 15 December : Hanover-Johannesburg] A typically hot and cloudless day greeted us at 7 AM as we loaded the car and drove out of Hanover. Once again we'd left before breakfast; our aim was to reach Colesberg, 75 kilometres away, before stopping. Colesberg is a busy junction - several roads converge here and there are filling stations and truck stops on both sides of town. We tried the Engen 1-Stop first, but a fairly unhelpful lady at the adjoining Wimpy restaurant informed us that their espresso machine was broken so they could not make real coffee. That was a blow and a waste of about twenty minutes of our valuable time, because reaching the Engen 1-Stop involves a tedious detour off the N1.
The Free State ... flat plains, endless roads, big sky
Irritated, we declined her offer of instant or filter coffee and drove a few kilometres further on to Engen's main competition, the Shell Ultra City on the north side of town. And here our luck was in - I spotted a "Torrador" outlet and we scuttled over there as fast as we could. Torrador is a Portuguese speciality coffee brand, marketed in South Africa by Vida e Caffe, and there we enjoyed an excellent cup of coffee and a pastry.
Suitably caffeinated and fortified, we headed off again but were almost immediately pulled over at a road block. A very friendly female traffic officer checked the car's registration details then asked to see Karen's driver's license and told her to blow into a breathalyzer. I'd never seen this done before and was amazed that they were testing people for alcohol at 8 AM on a week day! Karen's reading was (predictably, and thankfully) zero and the traffic cop waved us on with a cheery smile. Unlike many people in South Africa, I welcome road blocks and speed traps - we should have more of both, and motorists who contravene the law (drunk driving, speeding, etc) should be nailed.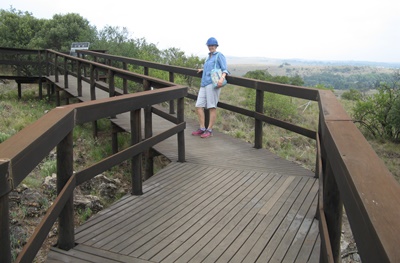 Exiting Sterkfontein Caves, Johannesburg
Shortly after Colesberg we crossed the Orange River, Southern Africa's mightiest river and the border between the Western Cape and the Free State provinces. Except the country was in the grip of the worst drought in over twenty years, so the river was low and sluggish, a long way away from the roaring torrent that it can become.
The Free State was as dry and desolate as the Karoo had been, and we continued steadily on with frequent swapping of drivers. The Vaal River marked the start of Gauteng, South Africa's smallest but most populated province - it contains both the national capital (Pretoria) and the largest city (Johannesburg). The landscape suddenly became greener, the road was a continuous dual carriageway and the number of cars and trucks increased dramatically. By 4 PM we'd hit the outskirts of Johannesburg and began looking for the turn-off to the guest house we'd booked in Muldersdrift (or Mogale City), an outlying suburb to the west of the city. The traffic wasn't nearly as bad as we'd expected, confirming the notion that Cape Town's traffic congestion is far worse than Johannesburg's (see my blog about this), and we arrived at the guest house at 4:30 PM. Knackered after two days of sitting in a hot tin can, having driven 1449 kilometres since Cape Town, we dragged our gear into our cottage and relaxed.
Distance covered today : 718 km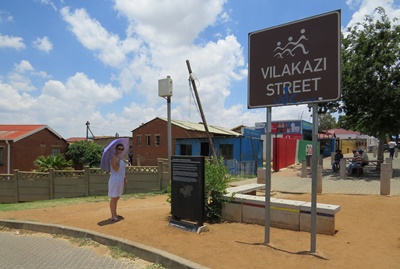 Vilakazi Street, Soweto
[Wednesday 16 December : Johannesburg] After an excellent breakfast at the guest house we headed for the Cradle of Humankind, a World Heritage site of about 250 square kilometres in which a number of major archaeological discoveries have been made. The most famous of these is "Mrs Ples", a 2.3 million year old fossilised Australopithecus Africanus skeleton, found in 1947 in the Sterkfontein Caves. But many more hominid fossils have been unearthed in Sterkfontein Caves and nearby, which is why the entire area was named the Cradle of Humankind.
Our first stop was the Sterkfontein Caves complex. You can't go in by yourself, only as part of a guided tour, so we donned plastic helmets and followed the guide into the gloom. Unfortunately, as with most caves, there really isn't much to see - no million year-old skeletons half hidden by millenia of dust and bat droppings or leopards lurking in dark corners, just the usual dimly-lit tunnels and caverns. Archaeological excavations in the caves are ongoing, so certain sections were off-limits to us.
Mandela House museum in Soweto
From the street ...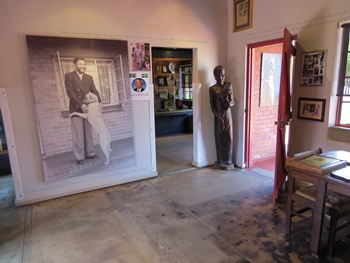 ... and the inside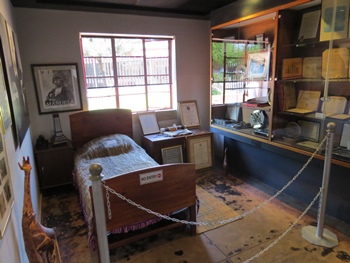 We drove a few kilometres from the caves to Maropeng, the official visitor centre for the Cradle of Humankind. The museum there was very interesting, far more so than Sterkfontein Caves, and I learnt quite a lot about the various ancestors of Homo Sapiens in the evolutionary chain. But my coffee experience was rather dismal - we had a bite to eat in the museum restaurant, and after specifically asking for an Americano (and checking that the place had an espresso machine), the waitress brought me filter coffee. I did not make a big issue of it, but when I pointed out that what she had brought was not what I asked for she was quite put out, which was irritating. After all, why have espresso-based coffee on the menu if you won't serve it? Or if your waitresses don't know what it is?
After a quick shower at our guest house we drove down the road to Bell Gables Country Restaurant, a mock Italian villa set in extensive grounds. This was the main reason for our trip to Gauteng - an old friend of Karen's was getting married there. The wedding ceremony itself was in an art gallery, after which we adjourned to the restaurant for the reception. It was a typically Johannesburg wedding - very bling and over the top, but it was great fun and the food was excellent. Our very best wishes to Bronwyn and Brendan for many happy years together.
[Thursday 17 December : Johannesburg] Another day of sightseeing, and today it was Soweto's turn. Soweto (originally an abbreviation of South Western Township) is a massive suburb to the south-west of Johannesburg, home to over 1.2 million people. The main tourist hub is Vilakazi Street, a relatively short piece of road that contains the house that Nelson Mandela lived in for several years before he was arrested and imprisoned in 1962. In fact, after he was released from jail in 1990 he returned to the house and lived there for a short period. His former house is now a museum.
Getting there was pretty simple and we found a parking spot in Vilakazi Street, a block away from Mandela House museum. Visiting the museum doesn't take long because the house is tiny - three rooms filled with various artefacts from the great man's life. After that we strolled down the road and had coffee at a place called Thrive, which is trying to be hip, trendy and smart but is quite obviously a tourist trap; service was awful and the prices were absurd. Little wonder that it was totally empty apart from us. There weren't even any other tourists there, never mind locals, despite the fact that the streets were teeming with foreigners being shepherded along by their tour guides.
We wandered round some of the side streets and visited Hector Pieterson Square (a memorial to the teenage boy who was killed by security police during anti-apartheid riots in 1976; his death became a symbol of the struggle) before eating a "traditional" African lunch at a restaurant near Mandela House ... except the place was full of foreign tourists and the food was overpriced and pretty dismal, so I'm not sure how traditional it was (we had tried, unsuccessfully, to find a more authentic back-street restaurant in our wanderings).
But despite the mediocre nature of the culinary offerings and dire warnings from friends, none of whom had ever been there, we enjoyed our visit to Soweto and found the people to be friendly and welcoming. It was completely safe and not once did we feel even remotely threatened, despite walking round some non-touristed areas carrying cameras and backpacks. In fact, I enjoyed a lengthy conversation with a street vendor about football (he was an Orlando Pirates fan); between us we completely solved all of Bafana Bafana's woes. Now if only Shakes Mashaba had been listening ... [Aside : "Bafana Bafana" is the nickname for the South African national soccer/football team; Shakes Mashaba was the coach at the time]
Back at our guest house that afternoon I went for a run, breathing hard in the thin Highveld air (Johannesburg is 1750 metres above sea level, not excessive but high enough for somebody who has lived most of his life near the sea to find running a struggle). The sky became very dark and just as I got back the heavens opened and rain bucketed down. It was typically Highveld rain - big, fat drops that hammered onto the roof, accompanied by thunder, lightning and a bit of hail. But unlike the usual Highveld afternoon storm, it didn't stop after half an hour but kept raining well into the evening. You could almost feel the thirsty earth soaking up the water with relief. I don't know if the drought was broken, but it certainly rained long and hard enough to make a real difference.
[Friday 18 December : Johannesburg-Prince Albert] Our brief stay in Johannesburg was over and we hit the road south again. We had a very long drive ahead of us so we didn't have any extended coffee or lunch breaks, just a few brief "splash and dash" refuelling stops. Even so, it was about 8:30 PM before we reached Prince Albert, a small town in the Karoo about 45 kilometres south of the N1 highway. The place we'd booked into was cheap and not very cheerful, but it was clean and the shower was superb. Unfortunately Prince Albert seems to be the mosquito capital of the southern hemisphere because we were attacked all night by relentless hordes of mozzies; the usual insect repellant was no use whatsoever against these mutant blood-suckers. Very strange when you consider that Prince Albert is in the middle of an arid semi-desert ... where do the buggers breed?
Hector Pieterson Square, Soweto
Distance covered today : 1112 km
[Saturday 19 December 2015 : Prince Albert-Cape Town] We rolled out of bed at 6:30 AM after a fairly unpleasant night cowering from mosquitoes and jogged a couple of blocks to Prince Albert's rugby/soccer/athletics stadium. Amazingly, this small town has its own park run and we had decided to stop over here on our way back to Cape Town in part because of this. Unlike other park runs, the one in Prince Albert is at 7 AM in summer (rather than 8 AM), and the reason was immediately obvious - even at 6:45 AM the temperature was already nudging 30 degrees. The route itself is quite tough, out of the stadium and up a small hill outside of town, much of it on an uneven, rocky path, so apart from the heat, sun and uphill gradient you also had to be quite careful with your footing.
[Aside : "Parkrun" is a worldwide concept of free, timed 5 kilometre races every Saturday morning, open to all and organized entirely by volunteers. Karen and I are regulars at our local parkrun in Fish Hoek. For more information about parkruns, read the blog I wrote a couple of years ago]
I didn't know the exact route so I was depending on following the guy in front of me, but there weren't many runners and I quickly found myself in third place; in the last two kilometres I was out of sight of the guy in second place. Because of that I took two wrong turns and finished with a time quite a bit slower than I was hoping for. But it was still a lot of fun and I have great admiration for Zelia Mullins, the lady who organizes the Prince Albert park run every Saturday morning.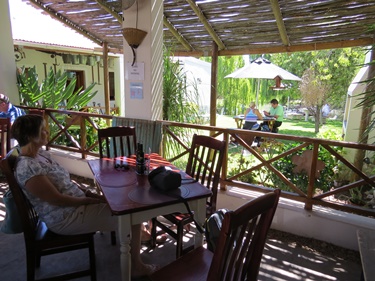 Breakfast at Lah-di-Dah, Prince Albert
For once we did not have a long drive ahead of us, so we had time for a leisurely shower after our park run exertions. We checked out of our guest house then spent the morning exploring Prince Albert. It is a small Karoo town, well off the beaten track, but has a charm of its own with several nice restaurants, a sprinkling of antique and bric-a-brac shops and a gracious old hotel. At the bottom (south) end of the main street we chanced upon a place called Lah-di-Dah, a farm stall cum restaurant with a shady courtyard overlooking a pond; it was a welcome refuge from the baking heat of the street and we enjoyed an excellent breakfast and coffee there. We browsed round the shops for a couple of hours, had lunch at the Swartberg Hotel then hit the road for the last leg of our trip back to Cape Town. Once again there was no stopping for coffee - we simply wanted to get home. By this stage both of us were heartily sick of driving and we realized that Cape Town to Johannesburg and back again is simply too much to do in only six days ...
Distance covered today : 422 km
Total distance : 3161 km
---
© Paul Kilfoil, 2023