Paul Kilfoil's World of Travel, Technology & Sport
---
South Africa's Route 62 : July 2014
Route 62 in South Africa's Western Cape. Cape Town is off the map to the left (west),
at the point where the N1 and N2 roads converge
This page describes a trip by Paul Kilfoil and
Karen Gray-Kilfoil
along the Western Cape's "Route 62" in 2014.
Check out my
travelogues
page for details of other trips we've done.
If you enjoyed reading this, please send me an email. All correspondence is appreciated!
[Saturday 12 July 2014 : Cape Town-Montagu] It was clear and cold as we drove north-east out of Cape Town on the N1 national road. We turned off at Worcester, a fairly large town but one which clearly shuts down at midday on Saturday - the only restaurant that seemed to be open was one that was completely empty, with a bevy of waitresses on the sidewalk waiting to snare any unsuspecting customers that happened to go by. They eyeballed us hungrily, but neither Karen nor I take kindly to this sort of coercion so we walked past them and discovered a pizza joint on the main street that was also open. It was more of a takeaway place than a sit-down restaurant, but we had delicious pizzas there while observing the total lack of activity in Worcester on Saturday afternoon. Across the road from the restaurant was a clothing store called "Gaap", which I guess is the local (Afrikaans) equivalent of "Gap". The advantage, of course, being that no royalties have to be paid and no copyright infringement lawsuits are likely ...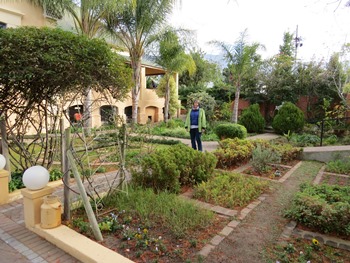 The garden courtyard of the Montagu Country Hotel
From Worcester we went east on the R60, technically not "Route 62" but in reality the start of what has become known as the Western Cape's premier inland tourist trail. The nondescript towns of Robertson and Ashton passed by before we traversed the Cogmanskloof Pass just outside Montagu - a very scenic few kilometres through majestic mountains and towering rock formations that includes a short tunnel, a rarity on South Africa's roads. Montagu was hardly more active than Worcester had been, and it was a trivial matter to get a room for the night at the Montagu Country Hotel. This hotel was once typical of most old-style South African "platteland dorp" hotels, but unlike many others it has had a few makeovers and now boasts a conference centre and a block of modern rooms set in a pleasant garden courtyard.
We were pleasantly surprized to discover that a book festival was taking place in Montagu that weekend - the Breyten Breytenbach Boekfees, commemorating the literary achievements of one of South Africa's most famous authors [Aside : Breyten Breytenbach was born in 1939 in Bonnievale, not far from Montagu, and has received several international awards for his writing. His anti-government stance during South Africa's Apartheid era incurred the wrath of the regime and he was arrested in 1975, charged with treason and jailed for seven years. He is married to a French woman and now divides his time between South Africa, France and the USA]. We were too late to attend any of the festival sessions, but we did book for an evening performance by David Kramer, a legendary South African musician whose songs were typically set in small South African towns just like Montagu.
David Kramer's show was in a small hall a block away from our hotel, and despite his age (he's in his 60's) he entertained the crowd with a number of well-known hits as well as some of his latest music. He mostly played his more intellectual songs and omitted such down-to-earth favourites as "Die Royal Hotel" because, as he explained, the book festival crowd was likely to be a slightly more sophisticated lot than the people that usually attended his concerts. But he did perform "Blokkies Joubert", a famous song about a retired rugby player who sits in his old-aged home and thinks back wistfully to the days when he was young and playing for the Springboks. Afterwards Kramer mingled with the crowd and Karen (who is a big fan of his) managed to meet him and exchange a few words. Just like his music, he is gentle and unpretentious, and we were very fortunate to happen to be in Montagu on the day he was performing there.
Supper that night was at Mulligan's Irish Pub & Grill, the "grill" section of which was completely empty except for us. However, the "pub" section was filled with the usual load of drunken louts sporting fat beer bellies, glazed eyes and crepuscular intelligence, watching rugby and making asinine comments. Isn't it interesting how every town on the planet, no matter how remote, somehow seems to have an Irish pub?
[Sunday 13 July : Montagu-Calitzdorp] The breakfast buffet at the Montagu Country Hotel kept us occupied for a while in the morning, but we finally managed to tear ourselves away and headed east out of town. We arrived at the outskirts of Barrydale at lunchtime and took the turnoff into town that was signposted "town centre". But the main street through town was almost completely deserted, with absolutely no sign of any restaurants or coffee shops open for business. That seemed a bit odd, even though it was a Sunday - you would surely expect at least a couple of places to be open for the traditional Sunday lunch? But no, even though we drove from one end to the other and back again it appeared as if the whole town was shut, at least for the purposes of eating.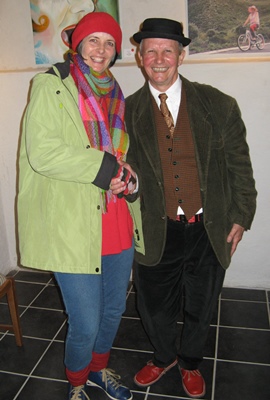 Karen meets David Kramer in Montagu.
Note the trademark red "veldskoen" shoes
But we did find one place that was open - a second-hand bookstore that also doubled as a DVD rental outlet. It was called "House of Books", and as we were to discover this was indeed an apt name. The owner of the bookstore was half-hidden behind his counter, which was piled high with books that he was in the process of categorizing and marking. He had a mop of unruly hair, a huge and grizzled beard that had not seen trimming scissors for a very long time and a quiet-spoken manner that very quickly revealed his love and passion for books. The book section of his store was deserted, but the DVD rental side was quite busy with people taking out and returning movies ; we overheard him trying to persuade a couple to READ instead of just slavishly watching TV, but his noble effort at intellectual upliftment was met with blank stares and a total lack of success. I felt a little sorry for him, having such an obvious passion for reading but having to sit by and observe the modern-day dependence on spoonfed visual entertainment taking precedence over the infinitely more pleasurable option of sitting down with a good book.
When Anton (the bookstore owner's name) realized that we really were interested in books (not DVDs), he mentioned that he had taken over the house next door and was slowly "filling it with books ; would we like to have a look?" He led us round the back, through a garden and into the neighbouring house ; just like the main bookstore, it was a rambling collection of rooms with bookshelves everywhere. We browsed around for a while and, as is usually the case with Karen and me, we found a few books we wanted. Back in the main house we put them on the counter and said we'd like to buy these. Anton was pleasant enough but he took our cash rather reluctantly - you could see that he wasn't entirely happy parting with any books. He was more interested in what we thought of his collection of books than actually selling any of them, and we realized that at heart he was a book COLLECTOR rather than a book SELLER.
How Anton's business worked was that the DVD rental side funded his book collection ; he spent several minutes telling us about some of the very old volumes he had bought and had professionally restored. He asked us to let people know about his bookstore and we gladly agreed. So if you're ever in Barrydale make sure you visit "House of Books" at 37 Van Riebeeck Street (the main street through town) - Anton's shop is more or less in the middle of town, on the opposite side of the road from the hotel and the R62. You will not be disappointed, I guarantee it.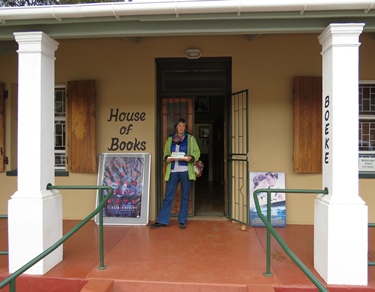 House of Books in Barrydale : An amazing collection of books
We asked Anton about the minor mystery of there not appearing to be any restaurants in Barrydale, and he explained that we should go back to the R62 (the main road from Montagu which bypasses Barrydale to the north) and look there. Still uncertain, we drove out of town at the opposite end to which we'd come in and turned back onto the R62 ... and were stunned to discover that the road was lined with restaurants, bars and coffee shops, all open and all doing a roaring trade. Cars were parked on the hard shoulder on both sides of the road and the array of restaurants stretched all the way back to just before the first turnoff into Barrydale - the turnoff we had taken on our way in, blissfully unaware of the activity just over the small rise ahead of us. The problem is that the strip of restaurants is hidden from view behind a small hill just beyond the turnoff into town, so if you are new to the area (as we were) you would logically drive into town without realizing that scores of restaurants were waiting just a few metres away ; you'd find nothing in town and drive out the other end, still none the wiser. Luckily we had spoken to Anton and he had told us where to go, but how many other travellers drive through Barrydale and completely miss all the activity on the main road? In fact, a couple of restaurant owners we spoke to told us that this is indeed quite a problem for them - they had tried to get the signage changed at the turnoff into town but thus far had had no success.
So we finally managed to have a late lunch at a place called "The Jam Tarts". And absolutely delicious it was too - meat and bean soup, thick, hot and hearty, just what we needed for an icy cold July afternoon in the little Karoo.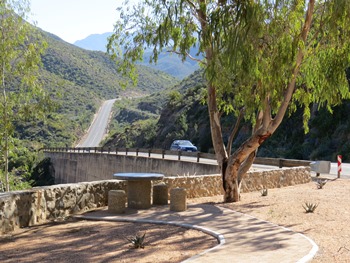 A picnic spot on the Huis River Pass near Calitzdorp
After lunch we bade farewell to Barrydale and headed east towards Ladismith. Not far from Barrydale we saw a sign for the Warmwaterberg Hot Springs and Spa resort, so we turned off to have a look and possibly to stay the night. The resort isn't much more than a campsite, a couple of heated swimming pools and a shop, but there are some self-catering chalets as well ; unfortunately these were all booked up. We didn't much fancy tent camping in mid-winter (and we only had some very basic equipment with us), so we drove out again and continued on our way. There wasn't much traffic and before long we were in Ladismith, an uninspiring little town which also looked dead and closed up on this Sunday afternoon. From Ladismith the road to Calitzdorp, our planned overnight stop, was smooth and fast until we hit the bottom of the Huis River Pass. Our speed slowed dramatically as we negotiated a succession of steep and winding curves, the road twisting its way through the range of hills just west of Calitzdorp. There were spectacular views down into a deep valley on our right and I could see cattle grazing in a meadow far below on the valley floor.
We came down the other side of the Huis River Pass and almost immediately arrived in Calitzdorp. By this time it was quite late, the sun was setting and it was very cold. Would we find accommodation in Calitzdorp on a Sunday night? The prospect of spending the night in a freezing car, or having to drive on to the relatively large town of Oudtshoorn, was not very appealing. The first Bed & Breakfast establishment we stopped at was open but completely full that night ; the well-meaning owners phoned around and told us that most of the guest houses and B&Bs would be shut on a Sunday night unless we had a prior booking. They suggested we head down to the old train station, which was now a backpackers' place - the railway line from Oudtshoorn to Calitzdorp was opened in 1924, but it has been abandoned since 1993 and no trains have run on the tracks for more than twenty years.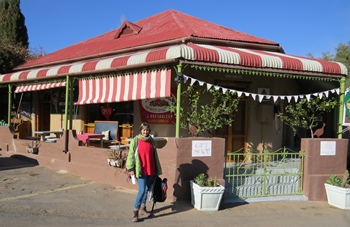 Our delicious apple crumble stop in Calitzdorp.
Don't let the bright sunlight fool you - it was icy cold
It turned out that a private entrepreneur had taken over the disused train station in Calitzdorp and converted it into a rough-and-ready overnight stop, with bedrooms in the old ticket office, several permanently-erected canvas tents and shared ablution blocks. We looked around in the gathering gloom, but unfortunately the ticket office was already booked and only the tents were available ; these were cramped and poky and had no heating. The temperature had already dropped quite substantially and we could only imagine how cold it would be in a tent at 5 AM the next morning (certainly below freezing), so we declined the offer and headed back into town to see what else we could find. I wasn't too worried - it seemed inconceivable that every B&B and guest house was full or closed, and the people who had phoned around on our behalf had only spoken to at most two other places. They couldn't have known the status of EVERY guest house in Calitzdorp!
And so it proved - the very next place we stopped at in town was open and had a room available. In fact, it was an entire self-catering cottage with an undercover parking space, so although we weren't really geared up for cooking our own supper or breakfast, we took it gladly. It wasn't even very expensive either. But it was freezing cold (inside the cottage and outside), so we very quickly gave up the idea of going out for supper but cranked up the heater full blast and ate sardines on salty biscuits in front of the TV.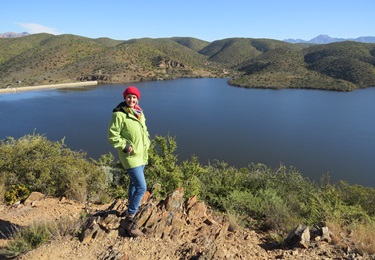 Karen poses at Calitzdorp dam
Indeed, it was a good evening to stay in - it was the night of the 2014 World Cup Final in Brazil, played in Rio de Janeiro between Germany and Argentina. I had no real loyalty to either country, but I was supporting Argentina because they had the finest footballer in the world in their team - Lionel Messi, who had been thrilling soccer fans and bamboozling defenders round the world for the last several years. Not only was Messi the most talented player the world has seen since Diego Maradona (also an Argentinian, oddly enough), but he was also a gentleman and a true sportsman, a credit to the game of football (unlike Maradona). So I'd like to have seen Argentina win the World Cup, but unfortunately it was not to be ; the ruthlessly efficient German juggernaut kept Messi at bay and slowly wore down the Argentinian defence to win the match 1-0 in extra time. Oh well, there's always 2018 in Russia ...
[Monday 14 July : Calitzdorp-Barrydale] After a night of sub-zero temperatures under layers of duvets and blankets, we emerged into the bright sunshine of a new day thankful that we had decided not to sleep in one of the tents at Calitzdorp station. A can of tinned fruit and yoghurt and we were on our way, wondering what there was to see in Calitzdorp. But we hadn't had our morning caffeine fix yet, so before going very far we found an interesting-looking coffee shop and moved inside, finding a nice sunny corner in which to sit. The coffee was ordinary but we had a slice of apple crumble with cream each, and boy was that delicious! Very possibly the best apple crumble I've ever had ...
This place was called "Die Handelshuis" and was more than just a coffee shop - it was a store selling all kinds of vintage bric-a-brac and collectible items. Their logo (if I can call it that) was of a woman wearing a 1950's-style dress, but standing in a somewhat suggestive pose while lifting up her skirt to show off her stockings and suspenders! Not what you'd expect in a small town in the Karoo ... in fact, we'd seen this image on several brochures around town, as well as on the map we got from the tourist information office. We discovered that the artwork was done by a local artist called Marinda Combrinck, whose studio in Calitzdorp we visited later that morning. Marinda showed us a set of paintings of what she called her "glamour girls", images of women in 1950's clothing in various stages of undress ; one of these was the image from the coffee shop. The semi-nude and provocative nature of these paintings would have been scandalous fifty years ago, but in the 21'st century they come across merely as "fun and retro".
Kanna Kombuis in Ladismith - an excellent coffee stop
Calitzdorp's main claim to fame is that it is the Port capital of South Africa. The dry climate (extremely cold in winter and extremely hot in summer) is apparently ideal for growing the kind of grapes used to make port so all of the top port producers have their wineries in and around Calitzdorp. We debated which of them to visit and eventually settled on "De Krans". Their cellar and sales office was a short distance down the road past the old train station ; we spoke to a charming lass there who was somewhat bemused at the fact that we didn't want to taste any of the port, just buy some - it was, after all, only 11 AM and we still had a lot of driving to do that day. Besides the early hour, both Karen and I are wine Philistines and wouldn't know a good port from a blow to the head, so doing any tasting was just a futile exercise.
We eventually settled on a very high quality vintage that had won numerous international awards as a gift for Karen's parents, and a rather more mundane (and far cheaper) bottle for ourselves. Suitably armed with port, we drove north out of Calitzdorp on the gravel road towards Prince Albert - not because we were going there, but because it looked like quite a scenic drive on the tourist office map. Unfortunately the scenery was mundane and the road was slow going, so when we came across what looked like a large lake about 8 kilometres from town we decided not to go any further. It turns out that the lake was actually Calitzdorp Dam, a huge expanse of blue water contrasting sharply with the uniformly brown colours of the Karoo landscape. There was a rough and ready camping site on the shore of the dam and what looked like very basic houseboats for hire, but everything seemed closed on this wintry Monday morning.
Magic Mountains Retreat near Barrydale : The Peace
Pagoda (above) and Labyrinth (below)
Back in Calitzdorp we turned west again, back the way we'd come on the R62, over the winding Huis River Pass and to Ladismith. When we'd come through here two days before we hadn't stopped, but this time we needed lunch and coffee. Thankfully it wasn't Sunday and there seemed to be several restaurants open, so after strolling around we settled on the "Kanna Kombuis". A log fire inside helped dispel the biting cold.
As we walked in I scanned the restaurant's interior to see whether they had an espresso machine (meaning we had a chance of getting real coffee, not filter muck), and was somewhat surprized to see that they did not have the kind of large, double-size machine that you usually see in coffee shops but two small domestic espresso machines. In fact, they were identical to the one we have at home, a 15 bar Russell Hobbs model RH-1915! Amazing ... but at least we were assured of good coffee, because our machine, used correctly, produces an outstanding espresso. And so it proved - the coffee I had was excellent, easily the best cup I had on our whole Route 62 trip. I mentioned this to the owner of the restaurant, and she said that previously they did have a large espresso machine which cost them a fortune because they had to pay monthly rental fees to the supplier, and their customers did not even like the coffee much! So they got rid of it and simply bought two small domestic machines ; they no longer have any rental costs and the paying public (including me) are all much happier with the coffee they serve.
We left Ladismith replete and satisfied. On the way to Barrydale we kept passing groups of cyclists, often with a backup vehicle driving slowly behind them. It didn't look like a race but it was definitely a cycling trip of some kind - they all had fancy racing bikes, the right spandex gear and were riding in "peloton" form. There wasn't much traffic on the road but these cyclists caused a bit of a tailback because (just like most recreational cyclists who have little or no consideration for other road users), they refused to ride in single file but two or three abreast, making it difficult to overtake. The backup vehicle was also going very slowly at the rear.
Our next planned stop was going to be "The Manger", a farm Karen had read about in a book describing holistic South African holidays. It was supposed to be about 15 kilometres east of Barrydale, just off the R62, but on our way through a couple of days before we had failed to see any sign of it. This time we were determined to find the place and we did eventually, but it took some effort - it had changed owners and names since Karen's book was published so the insignificant sign pointing the way did not initially register with us. But this time we examined every turn-off and sign carefully, and when I spotted a board for "Magic Mountains Retreat" at the right distance from Barrydale I knew that had to be it.
Magic Mountains Retreat Centre contains some very unusual features. Near the entrance we found the "Peace Pagoda", a pagoda built by Burmese monks in December 2000. It is seven metres tall and looks as out of place as anything could possibly be in the dry and dusty Karoo landscape. Further on there is a sizeable labyrinth, which we traversed to the centre and out again. Everything looked slightly run-down and unkempt ; a girl we spoke to explained that the new owners were in the process of renovating the farm and setting up some cottages for overnight accommodation. The place certainly has potential but it will take a fair amount of work to undo what appears to have been several years of neglect.
These are some of the places we visited on this trip:
Montagu Country Hotel
27 Bath Street
Montagu
(Phone) 023 614 3125
Web
De Oude Kombuis
60 Long Street
Montagu
(Phone) 023 614 2533
Web
House of Books
37 Van Riebeeck Street
Barrydale
(Phone) 028 572 1024
Tradouw Guest House
46 Van Riebeeck Street
Barrydale
(Phone) 028 572 1434
Web
Barrydale Karoo Hotel
30 Van Riebeeck Street
Barrydale
(Phone) 028 572 1226
Web
The Jam Tarts
Route 62
Barrydale
(Phone) 028 572 1173
EMail
Magic Mountains Retreat
Lemoenshoek
Off Route 62
15 km east of Barrydale
(Phone) 028 572 1643
Web
Kanna Kombuis
Corner South & Albert Streets
Ladismith
(Phone) 028 551 2343
Anna Sophia Self-Catering Cottages
Voortrekker Road
Calitzdorp
(Phone) 044 213 3402
Web
Die Handelshuis
Corner Queen & Geyser Streets
Calitzdorp
(Phone) 044 213 3172
Then we were back in Barrydale again and looking for somewhere to stay the night. The mystery of the groups of cyclists we'd passed on the road was solved when we discovered that the hotel was completely booked out by a cycling group from Port Elizabeth - there were no rooms available and the hotel restaurant was also full. That was a minor blow, because the hotel looked very nice inside despite an exterior that wasn't particularly promising ; we made a mental note that on some future trip we would have to sample the hospitality of the Barrydale Karoo Hotel. Undeterred, we reverted to Plan B - our Rough Guide to South Africa. The authors of this edition of the independent traveller's bible had highly recommended the Tradouw Guest House, so we drove there (a couple of blocks) and as we pulled up at the kerb I noticed a chap sitting at an outside terrace overlooking the road. He was sipping a drink and greeted us with a cheery "hello" ; turns out he was the guest house owner and happily showed us to a very cosy room at the back, looking out over extensive gardens and the distant Langkloof Mountains. The room was exquisitely furnished and not at all masculine, adding fuel to our suspicion that the guest house owner was gay. In fact, we discovered later that he was indeed gay and he ran the guest house with his partner.
By now it was getting dark and very cold. We settled in then braved the freezing temperatures to look for somewhere to have supper ... which meant quite a stiff walk up the hill because, as we had discovered two days previously, all the restaurants in Barrydale were along Route 62. But we needed some exercise before eating and we eventually had an absolutely delicious plate of venison at our old favourite, the Jam Tarts restaurant. We strolled back to the guest house in the inky blackness of a Karoo night, the stars bright pinpoints of light in the sky.
[Tuesday 15 July 2014 : Barrydale-Cape Town] Our last leg back home again saw us retracing our route from Barrydale through Montagu, Ashton, Robertson and Worcester. Our only moderately interesting diversion was a stop in Montagu for coffee, at a very cosy restaurant in an old barn at the edge of town. The coffee wasn't great but the scones were delicious. And so ended our Route 62 adventure ...
---
© Paul Kilfoil, 2023