Paul Kilfoil's World of Travel, Technology & Sport
---
Jordan & United Arab Emirates : September-October 2008
This page describes a trip by Paul Kilfoil,
Karen Gray-Kilfoil
and Scott Gray to the Middle East in 2008.
Check out my
travelogues
page for details of other trips we've done.
An edited version of this story appeared in the "Weekend Argus" (a newspaper published in Cape Town, South Africa) on Saturday 8 August 2009.

---

Map © Nations Online Project (

info

)

Jordan


Capital
Government
Area
Population
Language
Currency

Amman
Constitutional Monarchy
92 300 km2
5 907 000
Arabic
Dinar (JOD)

The Hashemite Kingdom of Jordan is probably the most liberal and open-minded country in the Middle East. There is no conflict between the Muslim majority and a small Christian minority, and relations with the Jewish state of Israel (bordering Jordan to the west) are good. The country is extremely hot and dry, with temperatures in the desert reaching dangerous levels in mid-summer. There is no oil in Jordan and consequently the country is somewhat poorer than several of its neighbours.
If you enjoyed reading this, please send me an email. All correspondence is appreciated!
The story outlined here is now available as a book. Go to
Independent Books
to find out more.
[Sunday 28 September 2008 : Cape Town, South Africa] From Cape Town we flew direct to Dubai in the United Arab Emirates (UAE) on Emirates Airlines, mightily relieved to have a non-stop flight without a tedious lay-over in Johannesburg on the way. In Dubai we had enough time to walk around the airport before we boarded our flight to Amman in Jordan (also on Emirates Airlines); the temperature at 5 AM was over 30 degrees Celsius! We explored the transit area of Dubai airport and quickly realized why so much money is being spent on building a massive new terminal - even that early in the morning the airport was uncomfortably crowded, with people sleeping on the floor all over the place, restaurants full, escalators crowded and barely enough space to walk along.
[Monday 29 September : Amman, Jordan] We arrived in Amman, the capital of Jordan, after a short flight north-west from Dubai. Our research as to whether we would need a visa for Jordan had revealed that ALL Westerners need a Jordanian visa, but that these are easy to get - you simply buy one at the airport. The cost seemed to be debateable, but it was clear that you had to pay for the visa in local currency (the Dinar); US dollars were not acceptable. Luckily I had managed to get some Jordanian Dinars before we left South Africa, so when we landed at Amman airport we immediately joined the queue of people at the "Jordan Visa" counter. The people in the queue were of a variety of European and North American nationalities, but all were checking their passports and documents meticulously and looking worried. Did they know something we didn't? We saw some people being directed to another counter and others sitting around with looks of resigned hopelessness on their faces. So we began to be concerned as well ... all we needed was to be refused entry and sent back to Dubai or (even worse) South Africa.
Our turn duly arrived and in my best Arabic I said "Salaam aleykum" to the grim-faced visa official, sitting behind a high desk where she could survey the wretched infidels grovelling in front of her. I handed our three passports over, fully prepared for the customary interrogation. She barely acknowledged our presence, but when she opened my passport we were astonished to see her face break into a huge smile; she looked down at us and said in English "From South Africa?"
"Yes" I replied, momentarily confused. This was not the reaction I expected ... what was going on? The immigration officer beamed at us, handed our passports back and waved her arms expansively. "Welcome to Jordan! You don't need a visa - you can just go straight in, no problem!".
"Shukran" I replied in my broken Arabic, trying unsuccessfully to hide my surprize, and we headed for passport control in a state of confused shock. We DON'T need a visa? How can that be? The other arriving passengers in the queue just stared at us. I was completely amazed at this attitude - never before in all my travels had I been welcomed so effusively merely because I was a South African!
But even more was to come. There were the usual lengthy queues at passport control, and as we were about to choose what looked like the shortest line an official came over to us and escorted us to the "Diplomatic/VIP" desk. "You can come this way" he said. "No need to wait". There was no queue at all at this desk; by now I was beginning to think that either we were the butt of some kind of elaborate joke or somebody had made a big mistake.
At the "Diplomatic/VIP" desk we handed our passports over, half-prepared to be told to go back and get a visa or at the very least that we were in the wrong queue. But again we got smiles, a big "welcome", three quick entry stamps and we were through. Without questioning anything we walked into Jordan before anybody could change their minds, but when we were inside Karen and I just looked at each other in bewilderment. "What just happened?" I asked her. She had no answer, but it was the most pleasant entry into any country either of us had ever had. South Africans were obviously the flavour of the month in Jordan and we weren't about to complain. The fantastic welcome we received at Amman airport set the tone for the rest of our stay in Jordan - everywhere we went the people we met were unfailingly friendly and helpful.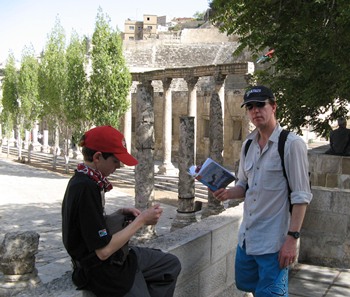 Roman ruins in Amman
We never did find out why we didn't need a visa to enter Jordan - we could only surmise that some bilateral agreement had been reached between South Africa and Jordan whereby the two countries had waived visa requirements for each other's citizens. Whatever the reason, we were very pleased to benefit from it ...

Interestingly, several days later we met two British girls who had to wait at Amman airport for SIX HOURS because they didn't have enough local currency to buy a visa - the ATM in the airport was broken and the foreign exchange desk was closed when they arrived. They weren't allowed in and had to wait until the foreign exchange desk opened to get some Dinars for a visa. So for once a South African passport proved to have an advantage over a British one!
We collected our baggage from the carousel and caught the airport bus into Amman. The bus dropped us at some nondescript bus station in the city, a place which I could not find on my map at all [Aside : Amman's multitude of bus stations caused us no end of headaches - there seemed to be dozens of them, and every time we arrived in or left Amman it was from a different bus station. Nobody was ever able to tell us which was the right one to use or why there were so many, and often they weren't marked on maps]. Having not the faintest clue where we were, we resorted to taking a taxi from the bus station to the hotel we had pre-booked in the downtown area. Called the Palace Hotel, the place was quite a long way from being a palace (a very long way, in fact). It was clear from this short taxi ride that we could not possibly have walked to the hotel from the bus station - downtown Amman's maze of steep and twisting streets would probably have defeated our legs and our map-reading skills long before we got there.
After checking in to the hotel and relaxing for a while we strolled out to the Roman ruins nearby - an amphitheatre and a Roman forum. Constructed between 169 and 177 AD, the impressively intact amphitheatre is still in use as a theatre for live shows today, nearly 1900 years after it was built. We also visited the Jordanian Folklore Museum and the Museum of Popular Traditions. That evening it was announced that Ramadaan had ended and it was now Eid, which meant there were fireworks, street parties and loud bangs for half the night.
[Tuesday 30 September : Amman, Jordan] It was Eid today, and so almost everything in Jordan was closed. At least we could now eat in public during the day, rather than out of sight in our hotel room. The Jordanians are pretty relaxed about foreigners not conforming to Muslim conventions (unlike other countries such as Saudi Arabia, Iran and Afghanistan), but we still tried our best not to be offensive.
The streets were completely deserted as we walked up the steep hill to Jebel al-Qal'a (Citadel Hill), where there are ancient ruins from various eras of human settlement - the Roman Temple of Hercules (2000 years old), a Byzantine church (1400 years old) and the Umayyad Palace complex (1200 years old). The views over Amman from the top of the hill are superb. In the middle of Amman there is a flagpole, on top of which is an enormous Jordanian flag that is easily the size of a large house. Later we visited the Husseini Mosque and struggled to find a restaurant that was open (they were all closed because of Eid).
[Wednesday 1 October : Madaba, Jordan] It was the second day of Eid and again we found the streets empty with no buses operating. We needed to get to Madaba, a short distance south-west of Amman, and eventually had to resort to taking a taxi. After some haggling with the taxi driver (several drivers, in fact), we agreed on a price and were dropped right outside the front door of the hotel we'd booked in Madaba.
Madaba has a sizeable Christian community, and the main attraction of the town is St George's church (the Church of the Map), which contains a mosaic map on the floor that is the oldest map in the world, dating from the 6'th century AD and only discovered in 1884. Madaba is also the centre of mosaic art in Jordan, and almost every building contains incredible mosaics. Near the Church of the Map is an Archaeological Park where there is an almost perfectly preserved section of Roman road, over 1900 years old.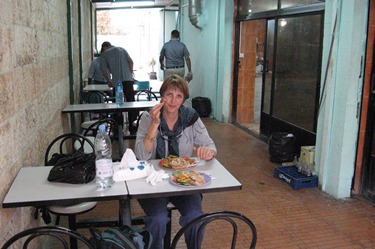 Lunch at a typical Jordanian restaurant, Madaba
[Thursday 2 October : Madaba, Jordan] We were staying in the Mariam Hotel, a fantastic place a few minutes walk from the centre of Madaba. The Mariam Hotel proved to be the nicest hotel we stayed in anywhere in the Middle East, and I would recommend it to anybody. Through the hotel we hired a reputable taxi to take us to Mount Nebo (where Moses reputedly saw the Promised Land), Bethany (the site on the Jordan River where St John the Baptist baptised Jesus), the Dead Sea and the local mosaic factory. Mount Nebo is close to Madaba and up a steep road; the views westward across the Jordan River valley to Israel are superb. However, the utter desolation of the desert makes you wonder how anybody could ever have regarded it as "the Promised Land" ... On the summit there is a small Christian chapel and a section cordoned off for archaeological excavation - a few artifacts are on display, all incredibly ancient.
From Mount Nebo the road down to the Jordan River is a steep, twisting, nerve-jangling descent through arid, lifeless landscape, although there is a fair amount of relatively lush vegetation on the banks of the river itself. The Jordan River is now a trickle compared to its size even 50 years ago, mostly because so much water is drawn off upstream by the Israelis; the Jordanians are pretty angry about this but can't do much about it. A few years ago the whole Jordan River "baptism site" was a military area with no civilian access, but now it's open to everybody. The only military presence we saw was a very bored-looking Jordanian soldier on the riverbank opposite a complex of buildings on the Israeli side. You could easily have swum the few metres across the river to Israel, but I'm guessing that anybody who tried this would be confronted very quickly by several heavily-armed Israeli border guards.
At the Dead Sea we all "swam" in the incredibly salty water. It is physically impossible to sink - all you can do is float and try not to let any of the water get in your eyes. Even a couple of drops of water stings like crazy. So no thrashing about or splashing and it's a good idea to keep your eyes clamped tightly shut ... We also tried smearing on some of the famous Dead Sea mud, but no immediate improvement in skin tone was seen.
We returned to Madaba in the late afternoon and had supper that evening in the famed Haret Jdoudna restaurant, reputed to be one of the finest in Jordan, and indeed it was excellent.
Petra : First a tantalising glimpse through the Siq ... followed by the splendour of the Treasury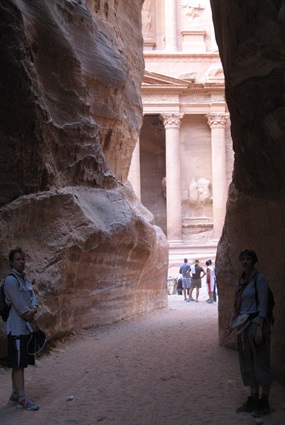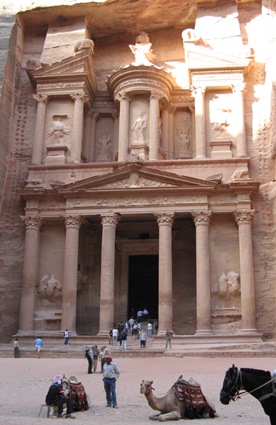 [Friday 3 October : Wadi Musa (Petra), Jordan] We caught a minibus south on the King's Highway to Wadi Musa, the town nearest Petra. The King's Highway is the old north-south route in Jordan and is quite slow because it goes through every little town on the way, over mountains and down into deep ravines. It was interesting and scenic, but a long, hot and dusty trip, via many small towns, down one side of Wadi Mujib and up the other (Wadi Mujib is a spectacular gorge in the mountains) and through the sizeable town of Karak. We stopped at a roadside stall on the lip of Wadi Mujib and enjoyed some fantastic Bedouin tea while taking in a view that stretched off to the horizon.
In Karak there is an amazingly big, partially ruined castle, built by the Crusaders in the 12'th century AD - it is seven levels high, many of them underground. We stopped in Karak for lunch and explored the castle (and got lost in it).
The King's Highway is one of three possible north-south routes in Jordan. The Desert Highway is a modern, fast (but very boring) freeway to the east which goes direct from Amman in the north to Aqaba in the south, bypassing all towns on the way; most public buses go via this route. The third option is the Dead Sea Highway next to the Jordan River, which meanders south along the eastern shore of the Dead Sea and next to the Israeli border. However, there is no public transport on this road - you need to have your own car to go this way.
[Saturday 4 October : Wadi Musa (Petra), Jordan] We bought 3-day passes for Petra, the ancient Nabatean city which was at its peak around the first century BC and AD, but which had been inhabited since at least 1000 years BC. It was conquered by the Romans in 106 AD and abandoned in about the 8'th century AD. The Crusaders went through it in the 12'th century and after that it was lost to civilization until it was re-discovered in 1812.
We walked into Petra down the "Siq" (a narrow cleft between high rock walls) to the Treasury, a mind-boggling carving in the rock face - this is what you see on all photographs of Petra. Both the Siq and the Treasury, called "Khazneh" in Arabic, were used in several scenes of the movie Indiana Jones and the Last Crusade (which starred Harrison Ford and Sean Connery as early 20'th century archaeologists). The scale of the place is truly staggering. The whole city of Petra covers an area of many square kilometres, all of it accessible only on foot or by horse, donkey or camel. Exploring the many sights in the ruined city therefore takes time and is extremely tiring in the relentless heat of the desert. On our first day there we stayed until late and walked out in the dark; it was a moving experience going through the Siq in silence, without the noise of thousands of tourists jabbering and taking photographs, the stars shining through the narrow cleft between the sheer walls of rock on each side.
Images of Petra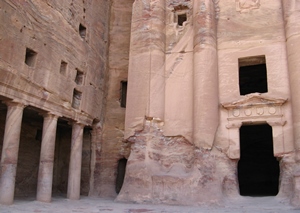 Carved out of stone, centuries old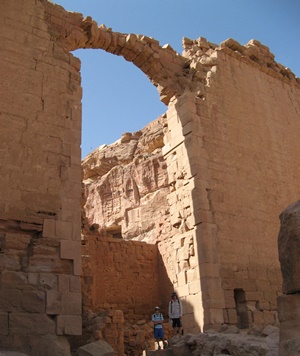 Qasr al-Bint, the only free-standing building
The Monastery
[Sunday 5 October : Wadi Musa (Petra), Jordan] We visited Petra again, taking a different route past several ancient tombs - Urn Tomb, Silk Tomb, Corinthian Tomb and the tomb of Sextius Florentinus, the Roman governor of the area in the first century. There is also a "high place of sacrifice", where goats (and sometimes humans) were sacrificed to appease the Gods. We had Bedouin tea at a ramshackle restaurant opposite the impressive theatre, a semi-circular arena carved out of the rock in Roman style.
That afternoon, after relaxing at our hotel's swimming pool, we took a taxi up to Wadi Musa town (which is some distance from Petra and up quite a steep hill). There isn't much to see in Wadi Musa so we had a late lunch, drew money from an ATM and visited an internet cafe. The words you are reading now were penned in that internet cafe's hot, stuffy, first floor computer room, with a ceiling so low I couldn't stand up, no air-conditioning, and smoke and fumes from cigarettes and hubbly-bubblies drifting around.
[Monday 6 October : Wadi Musa (Petra), Jordan] Our last day in Petra - we walked all the way to the Monastery (called "Al Deir" in Arabic), a ten kilometre slog in the heat up a steep mountain track. The Monastery is huge, a massive edifice that was not actually a monastery but was more likely the tomb of an ancient Nabatean king. There is an urn at the top of the building that looks tiny from below, but which is actually ten metres high! At the top we drank some ridiculously overpriced (but delicious) Bedouin tea in a deep, shady cave overlooking the Monastery. We also saw what is left of Petra's city centre - the colonnaded street, the Great Temple, Qasr al-Bint (palace of the Pharaoh's daughter), Temenos Gate and the remains of the Nymphaeum. Qasr al-Bint is the only free-standing building in Petra still remaining; all other buildings (as opposed to "buildings" carved out of solid rock) have long since been destroyed by earthquakes over the years.
[Tuesday 7 October : Wadi Rum, Jordan] Caught the early bus (6 AM) from Wadi Musa to Wadi Rum, a wilderness area in the southern Jordan desert. For several kilometres the road was parallel to the tracks of the Hejaz Railway, a railway that ran from Damascus in Syria through Amman to Medina in Saudi Arabia. This railway transported Haj pilgrims in great numbers to the Muslim holy cities, but was only operational between 1908 and 1914 - after the First World War the line was largely abandoned. Freight trains still use a short section of track in the south to transport phosphate from Ma'an to the port city of Aqaba, and passenger trains run intermittently between Amman and Damascus.
At the Wadi Rum visitor centre we were met by the Bedouin guides we'd previously arranged through a company called Bedouin Roads; they took us on a 4-wheel drive jeep trip through the desert, visiting various sites such as Lawrence's spring (where TE Lawrence, aka Lawrence of Arabia, found water), the red dunes and a high rock arch that Scott and I climbed. That night we had delicious Bedouin food while sitting on the ground and spent the night in a Bedouin tent. After the relentless heat of the day in the desert it was surprizingly cold in the early hours of the morning.
[Wednesday 8 October : Wadi Rum, Jordan] After breakfast in the Bedouin camp we spent the rest of the day riding camels through the desert - I found it far more comfortable than a horse but Karen had several aches and pains afterwards. Camels "glide" when they walk, rather than bounce up and down like horses, and make loud belching noises similar to Jurassic Park sound effects. They also stop at any opportunity to munch on the tough desert vegetation. Getting them to start, stop, turn or go in the right direction is pretty difficult.
That evening we were treated to the ritual of Bedouin coffee after supper - a long and complex process resulting in a VERY strong, cardamom-flavoured brew served in tiny cups. There is a set procedure involved in drinking the coffee; you sit in a circle and get served anti-clockwise, you must use only your right hand and when you don't want any more you hold your cup out bottom-up.
Riding the ships of the desert, Wadi Rum
[Thursday 9 October : Aqaba, Jordan] Our last day in the desert was spent walking - VERY hot. Thankfully lunch was a long rest in the shade. Late in the afternoon we caught a taxi from Wadi Rum to the Desert Highway (the main north-south road in Jordan) and from there south to Aqaba, a port on the Gulf of Aqaba in the Red Sea. The taxi was absurdly expensive, but there's no public transport from Wadi Rum at that time of the afternoon. The taxi driver was fairly useless and was completely unable to find the hotel we'd booked into, despite an address and very precise directions - I had to look on the map in my guidebook and tell him where to go! But we eventually found the place and we checked in, covered in red desert dust. We'd booked the hotel via our guide book and it was alright, but it had certainly seen better days quite some time ago (30 years ago, in fact).
Scott's dad (Clive Gray) had arrived in Aqaba from Riyadh in Saudi Arabia the same day, so Scott had a quick shower in our hotel room then we walked to the hotel Clive was staying in - it was diagonally across the road, conveniently close by. Scott had all his stuff with him because he was going to be staying with his dad until the day we flew out of Jordan in a week's time. We left Scott with Clive, having arranged to meet up at the Mariam Hotel in Madaba on Wednesday afternoon 15 October.
[Friday 10 October : Aqaba, Jordan] Karen and I walked around Aqaba and relaxed after several days of hard travelling. Aqaba is a laid-back city (town?), on the Gulf of Aqaba on the east side of the Red Sea, with a balmy climate and loads of package tourists. In our wanderings around Aqaba we saw the old crusader fort, Aila (the old city, being excavated) and the toe-to-toe packed public beach. You can see Israel across the sea, with the lights of Eilat twinkling at night.
[Saturday 11 October : Aqaba, Jordan] After sorting out our onward travel arrangements we visited the "Aqaba Gateway" on the beachfront where we watched a Disney-style interactive movie showcasing the highlights of Jordan - very kitsch but quite fun. In the afternoon we took a bus to Club Murjan, a beach resort complex affiliated with our hotel that is located about ten kilometres south of Aqaba (not far from the border with Saudi Arabia), where we swam in the Red Sea and relaxed next to the swimming pool.
[Sunday 12 October : Jerash, Jordan] Caught an early bus north to Amman, a four hour trip on the fast, straight (but very boring) desert highway. In Amman we dickered with a few taxi drivers until we found one to take us north to Jerash; we had booked to stay in a hotel in the hills above town but he got lost on the way. Eventually we found the place, nestled amongst olive groves and ancient pine trees. We had a HUGE 3-course dinner of Arabic food in the hotel dining room that night and swam in their pool. The weather up in the hills this far north is a lot cooler than it was further south in the desert.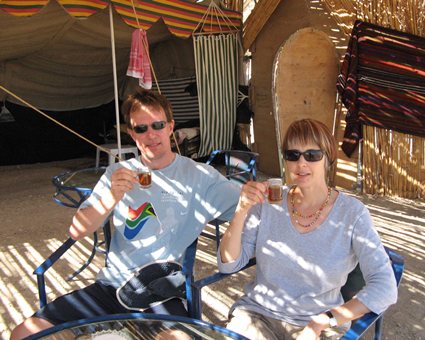 Enjoying tea in a Bedouin tent, Wadi Mujib
[Monday 13 October : Jerash, Jordan] We walked down to Jerash town from the hotel (a long way) then spent the day stomping around the Roman ruins. The old Roman city in Jerash is the best preserved set of Roman ruins in the world, with two amphitheatres in remarkably good condition and still in use. There is a massive arch (Hadrian's Arch), an oval-shaped plaza with impressively huge Roman columns down the sides and a colonnaded street leading off the plaza. Archaeologists are working on several sections of the site, with a massive crane reconstructing walls and columns that have fallen over the centuries. We also watched a kitsch and overpriced enactment of some gladiator battles and a chariot race in the Roman hippodrome.
[Tuesday 14 October : Madaba, Jordan] From our hotel in the hills we caught a taxi down to Jerash bus station, a bus from there to Amman and then a mini-bus (called a "serveece") south-west to Madaba. I tried to persuade the driver to drop us near where we wanted to be but had no success, so we had a 15 minute slog in the heat and dusty streets to the hotel we wanted to stay in - the Mariam Hotel, we'd stayed there before and it is a fantastic place. Unfortunately they were full (we hadn't made a reservation) but there was another place next door (Salome Hotel) that had a vacancy and we moved in there for one night.
[Wednesday 15 October : Madaba, Jordan] We moved our stuff from the Salome Hotel to the Mariam Hotel, which was literally across the street. There was nothing wrong with the Salome Hotel; in fact, it was very nice indeed - new, sparkling clean and with an excellent breakfast. However, we had booked a room at Mariam for that night and previously had such a good experience there that we wanted to stay there again. In addition, Scott and his dad (Clive Gray) were going to meet us at the Mariam Hotel later (they also had a room booked there).
Karen on a reconstructed Roman chariot in the ruins of Jerash
We spent the rest of the day looking at carpets and Jordanian souvenirs; Karen bought not one but TWO very nice carpets after a great deal of haggling. We had our last dinner in Jordan that night at the famous Haret Jdoudna Arabic restaurant - very nice. Scott and his dad arrived late in the afternoon, having taken a bus up from Aqaba via Amman.
[Thursday 16 October : Dubai, United Arab Emirates] Straight after breakfast we took a taxi from Madaba to Queen Alia International Airport (which is between Amman and Madaba) and caught our Air Emirates flight to Dubai in the United Arab Emirates (UAE). We had a scare at the airport when the x-ray scan of Scott's bag revealed two dangerous-looking metal objects. After a long procedure during which Scott's bag was meticulously searched and we had to fill in copious forms, the mystery objects turned out to be old cartridge cases that Scott had picked up in the desert in Wadi Rum; they probably dated from the First World War, as there had been a lot of fighting in Jordan at that time. The security people eventually let us through, but I suspect our names are still on some "potential terrorist" list in Jordan.
The flight to Dubai took about three hours but we lost an hour by flying east. We had some concerns as to whether our electronic visas for the United Arab Emirates would be OK, but we got through immigration at Dubai airport without a hitch. It took a few minutes to figure out the bus system, but it is actually pretty easy and we duly caught a bus to Deira, the part of Dubai to the east of the "creek" - Dubai creek is an inlet from the sea that divides the city into "Deira" on the east and "Bur Dubai" on the west. After a short walk through the bewildering streets near Baniyas Square (which is being ripped up to make way for a station on the new Dubai Metro system) we found the hotel we'd booked, but their reservation system was a shambles and they didn't seem to know about us. However, it worked out very well, because they eventually found a much bigger room for us at the same price - a suite, with two bedrooms and two bathrooms. Very nice, glad their system was rubbish.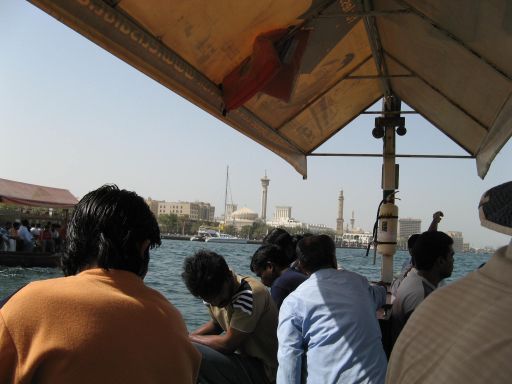 Crossing Dubai creek on an "abra" (water bus)
[Friday 17 October : Dubai, United Arab Emirates] Breakfast at our hotel was interesting to say the least. Every guest in the place except us seemed to be Russian, and these Russians had a single-minded and determined attitude towards the hotel's breakfast buffet. I am not suggesting that watching them was like seeing locusts lay waste to a cornfield, but ... actually, come to think of it, it was exactly like that. Most of the Russians arrived with big, sturdy shopping bags, and as fast as they shovelled food into their mouths they also packed enormous quantities of it in their bags, showing no signs of embarrassment while doing so. They did not even bother trying to be subtle about it - they put food in their bags quite openly.
The kitchen staff were kept fiendishly busy replacing the food on the buffet counter, because as fast as it appeared it was winkled away by the Comrades. We learned quite quickly that we had to be very alert and be ready to move fast if we wanted any food at all at breakfast - if you waited politely for the waiters to finish delivering the next load you'd lose out in the Russian stampede. It rather put into perspective my harmless habit of slipping a boiled egg into my pocket for lunch later ...
After breakfast we took a commuter ferry (a water bus, called an "abra") across the creek to Bur Dubai. "Ferry" is a bit of a misnomer - these are battered wooden boats with stinking engines that take about 20 passengers. People file on board and as soon as the boat is full, it leaves. In Bur Dubai we walked through the market area (Scott bought a knock-off Casio watch for 15 Dirhams, about 40 SA Rand). Most of the traders are Indians and Bangladeshis - very different from Jordan, where almost everyone is Arab. Then we strolled along the creek, past the impressive mosque and into Bastakiya, the old area of Dubai which has been meticulously restored. That evening we went to the Gold Souq and marvelled at the gold jewellery on display.
[Saturday 18 October : Dubai, United Arab Emirates] We crossed the creek by ferry again and caught a bus (number X25) west along the coast to "Burj al Arab", the famous 7-star hotel that is shaped like a sail and built on an artificial island. Of course they wouldn't allow us in so we went to the public beach next to their 20-foot wall and swam in the warm, balmy waters of the Gulf. There was a glitzy shopping mall nearby (perhaps inevitably, seeing as we were in Dubai), and we went there looking for somewhere to have lunch; we spotted a Starbucks coffee shop in the mall and could not resist it, particularly in light of the fact that most of the coffee we'd had on this trip had been mediocre. Unfortunately Starbucks' fare (even the coffee) was similarly disappointing and quite overpriced as well. Contrary to popular opinion, shopping in Dubai is NOT cheap and it became a source of wonder to us that so many people come to Dubai for the shopping. Why? Anything you can get in Dubai is also available in South Africa, and usually cheaper.
On the way back to Deira on the bus we had good views of "Burj Dubai", the tallest building in the world. It isn't quite finished yet; as of 2008 it was 688 metres tall, but it will eventually be almost 830 metres high. In comparison, the twin Petronas Towers in Kuala Lumpur (Malaysia) are "only" 452 metres high (see my Australia & Malaysia 2001 travelogue), and the world's previous tallest building (Taipei 101 in Taiwan) is 509 metres in height.
United Arab Emirates


Abbreviation
Capital
Government
Area
Population
Language
Currency

UAE
Abu Dhabi
Federation
82 880 km2
2 563 000
Arabic (official), Hindi, Urdu, English
Dirham (AED)

The United Arab Emirates is a federation of seven emirates (states or provinces) on the north-east coast of the Arabian peninsula, with coastlines on both the Gulf of Oman and the Persian Gulf. There is no democracy in the UAE - each of the emirates is an absolute monarchy, they are all quite different and have a large degree of autonomy. The emirate of Abu Dhabi is by far the largest of the seven, occupying no less than 87% of the total land area of the entire country; it is also the wealthiest and contains the federal capital. The emirate of Dubai, although far smaller than Abu Dhabi in overall size, contains the largest and most populated city in the country. Sharjah, a short distance to the north-east of Dubai, is the third largest, while the other four emirates (Ras al-Khaimah, Umm al-Qawain, Fujairah and Ajman) are all fairly small.

There are significant numbers of foreign workers in the country, particularly in Dubai; the majority of them are Indians. Exploitation of unskilled migrant workers is common, with human-rights abuses regularly being reported in the foreign press. Migrant workers are typically paid a pittance (when they are paid at all), are forced to live in abysmal conditions and their passports are confiscated to prevent them leaving before their contract of employment is concluded.
The "Burj Dubai" tower was subsequently renamed to "Burj Khalifa", in honour of Sheikh Khalifa bin Zayed al-Nahyan (the ruler of Abu Dhabi) after the Abu Dhabi government bailed the tower's developer out of a massive financial deficit. The tower was eventually completed late in 2009 and officially opened on 4 January 2010. It is 829 metres tall, has 206 floors (of which the top 46 in the spire are for maintenance only) and contains luxury apartments, office space, gymnasiums, swimming pools and an hotel.

It is worth noting that according to a BBC investigation, the workers who built Burj Khalifa (mostly South Asian contract labourers) were housed in abysmal conditions, their pay was often withheld, their passports were confiscated by their employers and their working conditions were so hazardous that an excessively high number of deaths and injuries on site were recorded. This situation is merely one example of the appalling human-rights record in the United Arab Emirates, a country which has no democracy, minimal free speech and little or no regard for the plight of the vast numbers of foreign workers who are lured there then exploited mercilessly.
[Sunday 19 October : Abu Dhabi, United Arab Emirates] We all took a taxi to the airport where Karen and Scott caught their 8:35 AM Emirates Airlines flight back to South Africa. I stayed behind, checked out of our Dubai hotel then caught a bus west through the desert to Abu Dhabi, the capital of the United Arab Emirates.

I'd made the mistake of not doing my research into accommodation in Abu Dhabi (and the guidebook I had was several years out of date), so I walked some way from the bus station in scorching heat before finding a room in a ludicrously expensive Howard Johnson hotel. The guy behind the desk was quite rude to me, and if the circumstances had been different I'd have told him where he could shove his wretched hotel room. Unfortunately I'd had an even worse experience at another hotel a block away and having realized that Western backpackers are not welcomed with open arms in Abu Dhabi, I swallowed my pride, coughed up the cash and took the room. This experience was fairly typical of the obnoxious attitude of most Emiratis (citizens of the UAE), who are generally surly, arrogant and downright unpleasant to Westerners. Immigrant workers, on the other hand, are usually very polite and friendly ... which is odd considering how badly they are treated, but that's how it is.
The whole of Abu Dhabi is geared for business - there are no tourist hotels and even finding an internet cafe that doesn't expect you to have your own laptop was difficult. The entire city consists of gleaming glass, steel and concrete skyscrapers, with wide roads, trees, immaculately kept sidewalks and insane traffic. Every second building seemed to be a bank and I did not see another tourist the entire time I was there. Plenty of Westerners, but they were all part of the suit-tie-and-briefcase brigade.
[Monday 20 October : Sharjah, United Arab Emirates] I got up early and went for a walk around Abu Dhabi before the heat set in. The area along the sea (the Corniche) has been very tastefully landscaped with brick-paved paths, trees, lawns, fountains and shrubbery - squeaky clean and great for walking, running or cycling. I also visited the oldest building in Abu Dhabi (the "old fort"), which dates from the late 19'th century and which shows just how "old" the city is; pretty much everything in Abu Dhabi apart from the old fort has been built in the last 30 years. Even the old fort is not much more than a hundred years old! Before hopping on a bus to Sharjah I grabbed some coffee and doughnuts for breakfast at Dunkin' Donuts; the coffee was way better than what I'd had at Starbucks in Dubai two days before.
The bus trip from Abu Dhabi to Sharjah (a small emirate to the north-east of Dubai) took about two hours, and going past Dubai I was staggered at the amount of construction going on, with cranes and half-finished buildings everywhere. For part of the way the road parallels the new Dubai Metro (which is elevated at this point, not underground) and I saw one of the trains being tested.
Abu Dhabi skyline from the Corniche
I'd learned my lesson from the hotel fiasco in Abu Dhabi and had researched accommodation options in Sharjah at an internet cafe before leaving Abu Dhabi. So when the bus arrived in Sharjah I was prepared, and had the name and address of a budget hotel fairly close to the bus station. It was a pleasant walk to the hotel and I found the place down a quiet side street. They had a single room for me, although the guy behind the counter was clearly suspicious of male Westerners on their own. "No girls or drugs" he warned me sternly. That was no problem for me, but his attitude did confirm what I'd read in my guidebook, that Sharjah was the most conservative of all the Emirates.
[Tuesday 21 October : Sharjah, United Arab Emirates] The emirate of Sharjah is a much smaller and more run-down place than either Dubai or Abu Dhabi, and definitely appears to be the poor cousin of the UAE. There is very little construction work here apart from the swanky new Al Qasbi area. However, Sharjah is known as the cultural capital of the Middle East and there are museums and art galleries everywhere (you certainly could not use the word "cultural" to describe either Dubai or Abu Dhabi).
Taking pride of place in the centre of town is "Al Hisn", Sharjah's old fort which was almost completely demolished then reconstructed by the Emir several years ago using his own private funds. The waterfront area (the Corniche) is a working harbour, with boats loading and unloading goods directly onto the pavement; one side of the 2-lane road along the Sharjah creek is the wharf itself! King Faisal Mosque in Sharjah is very impressive, and is apparently the largest mosque in the UAE. In the late afternoon I took a long walk north-east of town, past the swanky Radisson SAS hotel, to the palm-lined public beach. The beach here isn't great, but I had another swim in the warm waters of the Gulf.
[Wednesday 22 October : Ras Al-Khaimah, United Arab Emirates] I took the 8 AM bus north-east to Ras Al-Khaimah, another of the seven emirates that comprise the United Arab Emirates. On the way we went through Ajman and Umm Al-Qawain (both also emirates). Unfortunately Ras Al-Khaimah, while not large, is extremely spread-out, so exploring it on foot isn't easy - you need to take taxis all the time or have your own car. The bus station is no less than seven or eight kilometres from town! However, there are miles of completely deserted sandy beaches, with the lukewarm water of the Gulf lapping gently at the shore, and I had a long swim with not a soul in sight in any direction.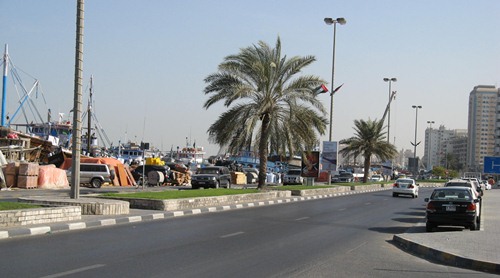 The corniche alongside the harbour, Sharjah
[Thursday 23 October : Dubai, United Arab Emirates] I bought two "knock-off" Rolex watches from a stall in Sharjah then grabbed a seat in a "shared taxi" south-west to Dubai. The traffic is mind-boggling; the distance from Sharjah to Dubai is only about 30 kilometres, but it took almost two hours to get here. Total gridlock most of the way - no wonder they're investing so much in building a metro system in Dubai [Aside : The first phase of the Dubai Metro was opened with much fanfare by Sheikh Mohammed bin Rashid al-Maktoum (the ruler of Dubai), at 9 minutes past 9 on the evening of 9 September 2009 (9:09:09 on 09/09/09)].
In Dubai I walked around the Deira (east) side of the creek until I found a place to stay for the next two nights; this is pretty easy, as there are hotels everywhere, unfortunately all of them expensive. In the relative cool of the evening I took a stroll along the creek past the public library, where I read some English-language newspapers.
[Friday 24 October : Dubai, United Arab Emirates] My last day in the Middle East. I took public bus number 10 from the Deira bus station across the creek to the Mall of the Emirates, one of the many huge shopping malls in Dubai. Mall of the Emirates also contains "Ski Dubai", the only indoor ski slope and snow park in the world. The bus trip was quite an eye-opener, because it went through sections of Dubai that tourists do not see - miles of grimy tenement apartment blocks, dusty, dirty streets and thousands of people (mostly Asian contract labourers) living in squalor. Very different from the "public face" of Dubai, with its gleaming skyscrapers, swanky shopping malls and ex-pat foreigners clogging the roads in their air-conditioned 4WD vehicles. Buses are crowded to the rafters (sometimes the driver does not even open the doors to let people in because the bus is already overloaded) with people waiting at bus-stops in their hundreds. The Dubai government is spending billions on building the Dubai metro (an inner-city commuter train system), but it is questionable whether this will benefit the thousands of poverty-stricken Asian migrant workers who have to queue for ages to catch overloaded buses.
The beach near Ras Al-Khaimah
Inside the swanky Mall of the Emirates I found myself unable to resist coffee and doughnuts at Dunkin' Donuts. I did not go into Ski Dubai but you can look through big windows and see snow-covered slopes, ski-lifts and people muffled up against the cold; all this while the outside temperature is 40 degrees Celsius. There is even a restaurant in the mall just outside Ski Dubai with a roaring log fire! Unreal (or should that be surreal?).
[Saturday 25 October 2008 : Cape Town, South Africa] Got up early, checked out of my hotel and caught the 24-hour airport bus (number 401) from Al Sabkha bus station to Dubai airport terminal 2. At the airport I was confronted with a big red sign saying that Emirates Airlines flights to South Africa were now leaving from the newly-opened terminal 3 (not terminal 2), so I had to take an airport shuttle bus to terminal 3. Terminal 3 is the new state-of-the-art section of Dubai airport and is very spacious and comfortable, with none of the overcrowding we experienced when we transited through on our way to Jordan four weeks ago. My flight to Cape Town left half an hour late, but we still managed to arrive half an hour early, at 4 PM.
And that was the end of our Middle East adventure ... Next stop South America (Peru, Bolivia and Argentina) in 2010.
---
© Paul Kilfoil, 2023