Paul Kilfoil's World of Travel, Technology & Sport
---
Posted on by Paul Kilfoil.
My wife and I visited Spain in May-June 2018 (see our travelogue) and ended the trip with three days in Barcelona. Knowing that Barcelona is very popular with tourists and it would be peak summer season when we got there, we booked our accommodation well in advance. As usual I used Booking.com, my favourite hotel booking site; I've used it for years and have always been very happy with their service. We looked at various hotel, guest house and B&B options near Plaza Catalunya in Barcelona and eventually settled on Plaza Catalunya Guest House - it was centrally located, near a Metro station, breakfast was included and it looked very nice from the photographs we saw. It was on the expensive side (slightly more than 100 Euros a night for the two of us in a room with a private bathroom) but Barcelona is expensive and it was located right on the edge of Plaza Catalunya; besides, we knew we'd need some luxury after walking several hundred kilometres of the Camino in the four weeks leading up to our stay there.
We completed the booking on 4 March for a stay from 23-27 June, received confirmation from Booking.com and thought no more about it. We duly flew to Spain and commenced walking the Camino, a 790 kilometre foot path from St Jean Pied-de-Port in France to Santiago de Compostela in the north-western Spanish province of Galicia.
Plaza Catalunya Guest House on Booking.com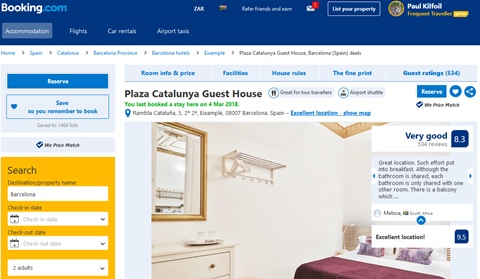 On 14 June, in the tiny village of Castromaior in the north of Spain, I checked my email and found a message from the owners of Plaza Catalunya. The contents of it was extraordinary and I was completely taken aback. They said that there are no staff members at the guest house after 1 PM so if we arrive after that the only way to get in is to download an app onto a smartphone and load a "digital key" that they would send us. The app would then be able to open the front door of the guest house. There was no apology or even a query as to whether we had a smartphone with a Spanish SIM card. We were going to fly from Santiago to Barcelona on the morning of the day we would check in to the guest house, and the timing of the flight was such that it was very unlikely that we would get to the guest house before 1 PM. That meant we would almost certainly have to deal with the issue of getting inside using the complicated procedure they described.
Before responding I did a bit of online research and found that the app they wanted us to download only runs on Android or Apple phones, which was a problem because between us Karen and I only had a Windows (ie. Microsoft) phone. And even if we could install the app the assumption was that we had airtime or data in Spain that we could use to connect with whatever server they had in the building to control the front door. This was another problem, because we did not have a Spanish SIM card or international roaming and only used wifi, and it was extremely unlikely that there would be wifi in the street outside the door.
So I sent an email reply to the guest house, telling them that we probably wouldn't be there by 1 PM and we couldn't use the app to get in. Karen and I debated the problem while waiting for a reply, and considered cancelling the booking - it all seemed too complicated and even at that late stage (less than ten days to go) there were still plenty of hotel rooms in Barcelona available on Booking.com. But the guest house owner replied quite quickly to say that if we could get to a wifi zone in Barcelona and send them a message when we were at the guest house, they would open the front door remotely. Our room inside was unlocked and waiting for us, with a proper key inside. It still sounded suspect and we nearly cancelled the booking, but in the end we accepted the solution offered by the guest house and left things as they were.
We continued walking the Camino and duly arrived in Santiago on 20 June. Three days later we flew to Barcelona, and due to a delay in getting our luggage and a long wait for a train into the city we only arrived at the front door of the guest house shortly before 2 PM. It turned out that the guest house was merely one apartment in a gracious old multi-story building filled with many other tenants, most of which appeared to be businesses. The door was heavy and firmly locked. Even though it was well after the 1 PM deadline they had informed us about, we tried the bell for the guest house anyway, but to no avail. That meant there was nobody there, meaning we had to find a way to contact the owners. WhatsApp was the only possibility, because there are no public phones on the street any more and the SIM card in Karen's phone didn't work in Spain.
The imposing front door into Plaza Catalunya Guest House
in Barcelona ... do NOT arrive here after 1 PM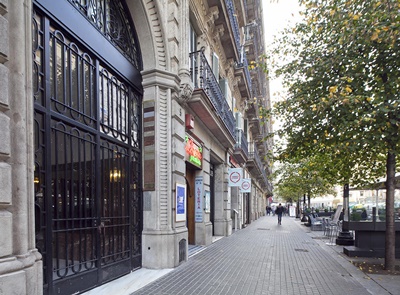 Across the street we saw a Starbucks coffee shop and went there to use their free wifi, but it was unsecured and for some reason it could not send WhatsApp messages. So we ventured further up the road to a restaurant which had secure wifi, ordered coffee and connected via their wifi. This time we successfully sent a message to the guest house owner saying we were having coffee and would be back at the guest house door in ten minutes. We got a response fairly quickly, paid the bill and headed back to the guest house. Of course, the door still wouldn't open but after a few seconds we heard the buzzing noise of the door being unlocked remotely. I pushed the door as hard as I could, but it remained obstinately shut. Amazingly, Karen's phone was still connected to the restaurant's wifi even though we were fifty metres away, and she sent the guest owner a message saying that the door would not open. They replied saying it was open and we must push. We replied that we had pushed and pushed and it would not open.
This went backwards and forwards a few times, with us getting more and more irritated. The guest house owners even, insultingly, suggested that we were at the wrong address, and asked us to send them a photograph of the front door! We did this (Karen had to run back up the street to the restaurant to send it) and they grudgingly admitted that we were, in fact, at the right place. Finally they conceded that the problem was most likely that somebody in the building had double-locked the front door, which meant that the remote door-opening mechanism would not work - the door had to be unlocked with a key first. Their explanation did make sense; it was Saturday afternoon so the business tenants inside would likely have knocked off for the weekend the previous day and locked the door as they left. But it didn't help us, and my anger racked up a notch when the guest house owners sent us a message saying "we didn't anticipate this problem. Wait until somebody goes in or out and slip inside when the door is open".
Finally, after about an hour and fifteen minutes somebody came out of the building and said we could go in (a couple of people had emerged earlier but refused to allow us inside). We headed upstairs and found the guest house door but it, of course, was locked. Repeated knocking elicited no response. And we were now out of wifi range so we could not message the owners. What now? We waited in the corridor for about fifteen minutes or so, hoping that another guest would either arrive or open the door from inside, but the building remained deathly quiet. Eventually we realized that standing in the corridor was a waste of time and we trooped back downstairs again. We had to communicate with the owners, so Karen went out to the street to get into wifi range while I waited in the foyer of the building so that I could open the outer door for her again.
When she returned she said that the owners would remotely open the inner door in five minutes, giving us enough time to get back upstairs again. We did that, and in due course we heard a faint clicking noise from the guest house inner door. But no matter how we turned the knob and pushed we could not get the door open. So again we repeated the process of going back down to the foyer and then into the street, sweating with all our gear and getting angrier and angrier. Karen returned this time saying that the owners could not understand why the inner door would not open - when the blue light came on, the door was unlocked and all we had to do was walk inside.
Back upstairs again and at the guest house door we heard the clicking sound and saw a blue light come in at the door knob. In desperation I twisted the knob violently, as hard as I could, and at last it opened. The door swung open and with utter relief and exhaustion we stumbled inside. It had taken a few minutes short of TWO HOURS from the time we first arrived to get into a guest house that we had booked and paid for. What appalling service! The guest house owners did not seem unduly concerned at all the trouble they put us through or make any real attempt to solve the problem. It was a case of "we've done what we can, you're on your own".
Inside the guest house we found a spacious apartment with several bedroom doors and a big dining room/lounge. On the bedside table of our bedroom was an envelope containing a sheet of paper welcoming us and explaining the situation, and most importantly, keys for the street door, the inner door and our bedroom door. Before doing anything else we tested all the keys to make sure we could get in and out again.
What an ordeal, and what a relief when we finally got inside. And we didn't even get the offer of a discount from the guest house owners! In fact, we hardly got an apology from them - all we got was a terse WhatsApp message saying "I'm sorry, we didn't anticipate this problem". In all my tears of travelling this was by far the worst hotel/guest house experience I've ever had. So if you've booked a stay at Plaza Catalunya Guest House in Barcelona, make absolutely sure you get there before 1 PM. If you can't guarantee arriving in time I suggest most strongly that you cancel your reservation and find somewhere else to stay.
---

© Paul Kilfoil, Cape Town, South Africa