Paul Kilfoil's World of Travel, Technology & Sport
---
Posted on by Paul Kilfoil.
On 6 March 2012 I wrote a story about a rather disappointing visit to Truth Coffee Cult in Cape Town's city centre. At the time Truth was a rather new coffee roastery and was trying to establish a name for itself. They certainly succeeded - since then they have moved to bigger premises across town and achieved the almost-unheard of accolade of being voted "the best coffee shop in the world" (yes, the world) by The Telegraph in the UK (see the original article here).
Truth Coffee Roastery in Cape Town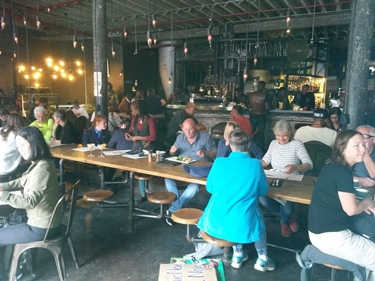 In September 2019 I visited Truth Coffee again, this time at their new venue in Buitenkant Street. The interior is "steampunk" styled, with old machines and equipment adorning every wall. It is very hip and trendy, but I'm afraid the coffee I had was adequate at best.
I am absolutely staggered that anybody could possibly vote this place as the best coffee shop in the world. How is that possible? I know of several places in the city centre which routinely serve better coffee than what I had at Truth, and that's just Cape Town ... what about all the thousands of other coffee shops round South Africa, never mind the rest of the world? I appreciate that it is impossible for one (or even several journalists) to check them all, but don't label a place "the best in the world" unless you really have made a concerted effort to sample a lot of contenders.
An American couple was seated next to me at Truth and I overheard the man ask his wife "How was the coffee?" I didn't hear her answer but she pulled a face ... so they didn't seem very impressed either. And if you read some of the comments posted on reviews such as this one from The Insight Guide you'll realize that there are plenty of other people out there who don't agree with Truth's "best in the world" label.
Not only was the coffee at Truth mediocre, but it was also quite expensive and I twice had to ask the waiter to bring me hot milk. The food was good but it was ridiculously overpriced and the portions were quite small. So it definitely seems to me that Truth are cashing in on the awards that they've won and the fact that they are the fashionable place in Cape Town. But fashions are fickle and change fast, so if you rely on that but don't provide real substance you may find the crowds suddenly move elsewhere ...
---

© Paul Kilfoil, Cape Town, South Africa