Paul Kilfoil's World of Travel, Technology & Sport
---
Posted on by Paul Kilfoil.
My wife and I were in Cape Town city centre recently and decided to visit Truth Coffee Cult for coffee. Truth is a coffee shop located in the front section of the Prestwich Memorial, a building constructed in 2003 in memory of the many slaves who lived and died in Cape Town (in fact, it houses the remains of more than 2500 exhumed bodies dating back to the 17'th and 18'th centuries). The building is in a recently-revamped open space on the corner of Buitengracht and Somerset roads, next to the "Fan Walk" to Cape Town Stadium that was built for the 2010 Soccer World Cup. It is fairly austere inside, but large bags of raw coffee beans and signs advertising that they roast their own beans made us feel that this would be a good choice for our morning caffeine jolt.
Truth Coffee Cult in the Prestwich Memorial, Cape Town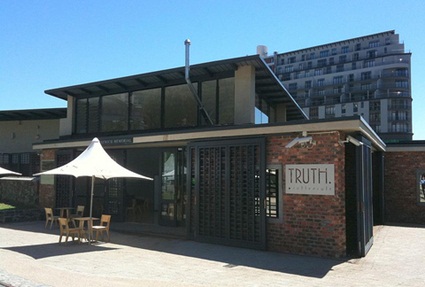 My wife asked for a single Espresso and I ordered an Americano. When the coffees came my wife remarked how small her espresso was - even for a single shot there was very little coffee in her cup. No real cause for complaints though; the coffee wasn't the best we'd ever had but it was pretty good.
The surprize came when I paid the bill, which listed my wife's single espresso as a double and was consequently quite expensive. I enquired about this, pointing out that she had specifically asked for a single. Without a hint of apology or embarrassment, the waitress told us that Truth's coffee machine could only make double espressos, so when a customer asked for a single they simply threw half the coffee away and still charged for a double! I was so dumbfounded at this ridiculous explanation that I was momentarily at a loss for words. Then I said "You're kidding, right?" But the waitress shook her head. "What a waste" said my wife.
I am absolutely amazed that a place that prides itself on being a "coffee cult" can actually do this! My wife's "single" espresso was so small that she would very happily have had a double if the waitress had only told us that they don't do singles, or that the cost would be the same as a double. But no - she simply made a double espresso and threw half of it away! Or at least, that's what the waitress said she did ... who knows? Perhaps when two people each ask for a single espresso they make ONE double espresso, pour it into two cups and charge BOTH customers for a double!
If that isn't an unethical business practice then I don't know what is. And with that kind of attitude to paying customers I can confidently predict that Truth won't last long; there are any number of coffee shops in Cape Town that will serve (and charge for) a single espresso.
The result is that Truth have lost two customers permanently, and if they don't want to lose more I would suggest they modify the way they treat the people who keep their business going.
Truth Coffee Roastery
Prestwich Memorial
1 Somerset Road
Corner of Buitengracht Road
Cape Town
Western Cape
South Africa
(Web) www.truthcoffee.com
[Update] David Donde, the owner/manager of Truth Coffee, contacted me about this article and was very apologetic. I guess mistakes happen in the best of organizations, but the trick is to rectify them and learn from them - which Truth seem to have done. I would therefore like to wish them the very best of luck and I hope that Truth Coffee enjoys every success in the future.
---

© Paul Kilfoil, Cape Town, South Africa