Paul Kilfoil's World of Travel, Technology & Sport
---
Posted on by Paul Kilfoil.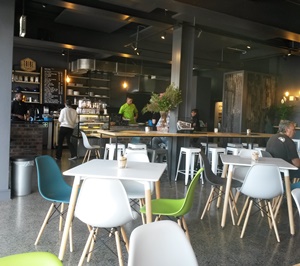 Peak Connect Cafe in Fish Hoek
Fish Hoek, a sleepy seaside suburb of Cape Town in South Africa, has a busy commercial district on either side of the main thoroughfare that runs through town. Called Main Road (or more technically the M4), this long suburban street runs south from Cape Town city centre down the peninsula all the way to Simon's Town and the entrance to the National Park at Cape Point. The part of Main Road that bisects Fish Hoek's business district is about one kilometre in length.
The southern end of Main Road through Fish Hoek was revitalized several years ago when Pick 'n Pay (a huge South African supermarket chain) took over a small arcade that had become quite run-down and rebuilt it. From being dark and dismal, the arcade became light and airy with the new Pick 'n Pay store being the focal point. The surrounding buildings and pavements also received a welcome makeover, resulting in brick-paved sidewalks, rejuvenated store fronts and a hugely improved shopping experience. But the northern part of Main Road remained dowdy and over time has deteriorated further. Second-hand clothing stores, Chinese shops selling cheap junk, loan shark offices and tyre repair centres abound, in buildings that are shabby and ill-maintained. This is particularly true of the buildings opposite the T-junction with Station Road (the road leading to the commuter train station).
The good news is that at last things have started to change in this down-at-heel part of town. Peak Academy, a private study resource centre dedicated to assisting students prepare for their Cambridge International Assessment Examinations (an internationally-recognized matric qualification) took over a run-down building opposite Station Road and spent a huge amount of money converting it into college-style premises. They modernized the exterior and rebuilt the potholed sidewalk, with the result that the whole block suddenly looks better. Hopefully the dowdy old buildings on either side of Peak Academy will receive similar facelifts and the improvement will spread.
But wait, there's more ... the ground floor of Peak Academy's building has been turned into a hip and trendy coffee shop called Peak Connect Cafe. It has floor-to-ceiling windows looking out over Main Road, counters with plug-points for the tablet and laptop brigade, lots of tables and, most importantly, excellent coffee. Wifi, of course, is free and fast. I went there recently and thoroughly enjoyed the experience; for business meetings there is no better place in the south peninsula.
Shabby buildings on either side of Peak Connect Cafe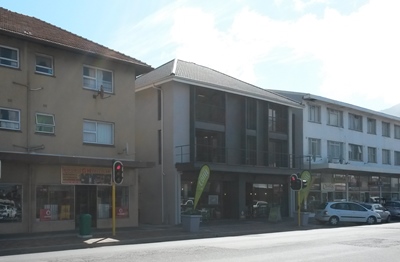 Stag Coffee Company (see my blog), formerly my favourite in Fish Hoek, suddenly has serious competition. And the other coffee shops in Fish Hoek, all of which are rather mediocre, are now really going to struggle for customers ...
---

© Paul Kilfoil, Cape Town, South Africa