Paul Kilfoil's World of Travel, Technology & Sport
---
Posted on by Paul Kilfoil.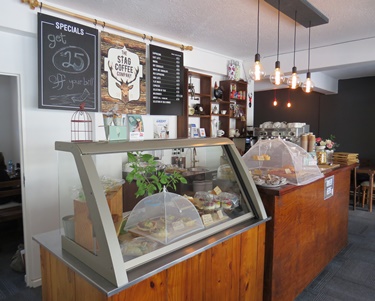 Stag Coffee Company in Fish Hoek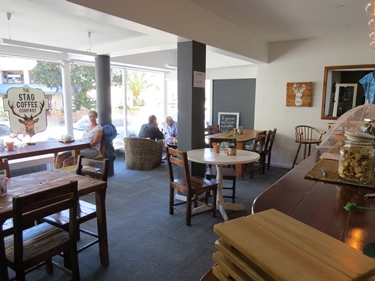 Fish Hoek is a sleepy seaside suburb of Cape Town in South Africa, some distance south of the city and home to many elderly and retired people. It consequently does not have a very vibrant restaurant scene, so it came as a welcome surprize to me to discover a new coffee shop that had opened recently. Stag Coffee Company is located a block and a half from the beach (Fish Hoek's main attraction) and round the corner from the commercial activity on Main Road.
Stag Coffee has opened in premises previously occupied by a place called Chit Chat Coffee Shop. Chit Chat had been there for years but closed some months ago - no great loss, because it was a dark and poky place with dismal food and no atmosphere. Stag's new owners have refurbished the interior and used the big windows facing the street to great effect, resulting in a bright and airy space. The furniture is mismatched and eclectic but somehow each piece "works" in combination with the others; there also aren't so many tables that you can't move around easily inside.
Wifi is available and free of charge to customers; on my first visit there, the place had been full of people working on laptops, tablets and (of course) smartphones, so it appears as if Stag has quickly become the favoured digital meeting and working place for young professionals in Fish Hoek. The wifi password is written on a notice stuck to a pillar, but it changes every day - presumably to discourage freeloaders from using their internet connection while sitting outside in the street. The mechanism of ordering and paying for your food and drinks fits in perfectly with the model of people sitting there and working for long periods - you order and pay at the counter, sit down and a waitress brings your food to your table. You therefore don't get hassled by waitresses all the time and nor do you have to find one when you want another coffee; just go to the counter and order it. It also means you can leave in a hurry at any time because everything is paid for up-front.
Coffee and food is stylishly presented at Stag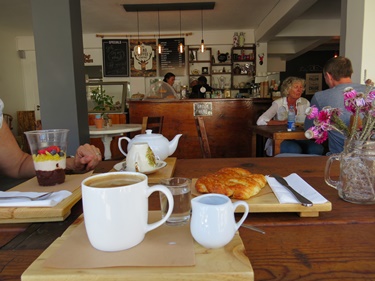 And what of the coffee? Stag uses a brand I'd never heard of before - Joga Joga from Brazil (see jogajogaworld.com). Unfortunately, my experience of coffee roasted in South America is that it is generally on the weak side, and that was also the case at Stag. I had two Americanos, both of which were good but neither had that strong, lip-smackingly excellent taste you get with premium Italian brands such as Lavazza.
Stag does not do meals (yet) - they currently only serve pastries and cakes. I had an apple danish pastry, which was delicious. The coffee and food was served on stylish wooden boards and both my Americanos came with a glass of water, which I thought was a nice touch - most coffee shops only bring water when you ask for an espresso.
Stag Coffee Company is a welcome addition to Fish Hoek and I wish them the very best of luck. I shall certainly be going there again.
---

© Paul Kilfoil, Cape Town, South Africa