Paul Kilfoil's World of Travel, Technology & Sport
---
Posted on by Paul Kilfoil.
The charming Western Cape town of Franschhoek has a habit of throwing up pleasant surprizes. My wife and I have been visiting Franschhoek every year since 2012 for the annual literary festival (see my blog about this festival) and know the town well. But there's always something new, and 2018 was no exception - this time we chanced upon a gem called De Villiers Chocolate Cafe.
De Villiers Chocolate Cafe in Franschhoek
Franschhoek is overflowing with coffee shops, so a new place has to do something different or be exceptional to survive. Melissa's is a case in point - this franchise delicatessen and coffee chain has several stores in Cape Town and is extremely popular, but they opened in Franschhoek in 2017 and didn't even last a year before closing. So what did they do wrong? Nothing much - their coffee and food was good, and the atmosphere of the store was pleasant. But they were located in a quiet courtyard off the main road and didn't offer anything different from the multitude of other places that were more visible [Update : I discovered some time after I'd written this that Melissa's had become insolvent and ALL their stores were closed, not just the one in Franschhoek].
De Villiers Chocolate Cafe is also not directly on the main road, but they are much more than simply a coffee shop - they roast their own coffee and produce their own chocolate from beans sourced in Central Africa. All their coffee and cocoa beans are certified to be free of genetic modification and are from "fair trade" farms, mostly in Uganda. So you can buy hand-made chocolate and locally roasted coffee beans in their store, as well as coffee to drink and the usual array of pastries, cakes and croissants. This sets them apart from the other coffee options in Franschhoek, so they are much more likely to survive.
De Villiers Chocolate Cafe in Franschhoek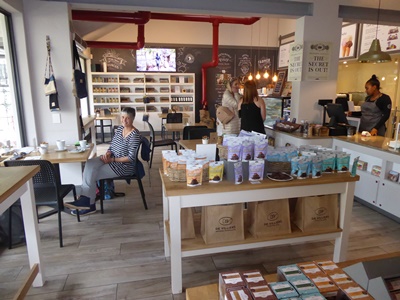 My wife and I had coffee and a slice of walnut cake at De Villiers Cafe in May 2018 and both were delicious. Locally roasted coffee is often weak, but the De Villiers blend was excellent, much closer to the typical superb Italian flavour than an African roast. The inside of the store is light and spacious with a modern contemporary design, the staff are friendly and helpful so the experience was very pleasant. The only down side was that there was no wifi for customers, an omission I suggest they rectify as soon as possible - people these days expect wifi at coffee shops, and if you don't have it the connected yuppie types will simply go somewhere else.
But overall I give De Villiers Chocolate Cafe an unequivocal "thumbs up" and wish them the very best for the future.
[Update] Sadly, when I returned to Franschhoek in May 2019 I found that De Villiers Chocolate Cafe had closed. A great pity.
---

© Paul Kilfoil, Cape Town, South Africa