Paul Kilfoil's World of Travel, Technology & Sport
---
Posted on by Paul Kilfoil.

My wife and I spent the weekend of 11-13 May 2012 in Franschhoek, a small town east of Stellenbosch and about 75 kilometres from Cape Town. It was the weekend of the Franschhoek Literary Festival, a celebration of all things book-related that takes place annually in this charming country town. The festival lasts three days (Friday to Sunday) and comprises workshops, panel discussions and lectures from 10 AM until 5 PM ; every session lasts an hour and there is a 30 minute break between sessions. Several different venues are used so that there are always multiple sessions happening simultaneously. All the venues are in Franschhoek town centre and are easily reached on foot.
The Huguenot Monument, just outside Franschhoek
I had not been to Franschhoek for many years and was very impressed with the changes I saw. Although Franschhoek has become a very popular weekend getaway and is home to several award-winning restaurants, the town's character has been preserved - the main street is devoid of the crass neon signs of fast-food establishments such as McDonald's and there isn't a used-car dealer in sight. Instead one can appreciate graceful old Cape Dutch buildings, cobbled lanes and tasteful shops. Even the newer buildings have been designed with elegance and style, resulting in a pleasing mix of old and new.
Of course, there is a price to pay for retaining such old-worlde charm ; restaurants and guest houses are expensive and the shops are very touristy, with prices to match. This is definitely not a destination for travellers on a budget ... But you only live once and sometimes it's worth it to splash out, so we coughed up and had a great time.
The literary festival itself was extremely popular and most of the sessions were sold out. Each session was riveting in its own way, but the one I enjoyed most was that in which Professor Tim Noakes talked about the book he's just published called Challenging Beliefs. Tim Noakes is a world-renowned sports scientist, perhaps the foremost authority on the planet when it comes to sports medicine, training and nutrition, and he spoke about his life with self-effacing humour. His career has been characterised by some controversial theories, but he is first and foremost a scientist so his findings have always been based on hard scientific evidence and have invariably been proven correct.
An interesting lane in Franschhoek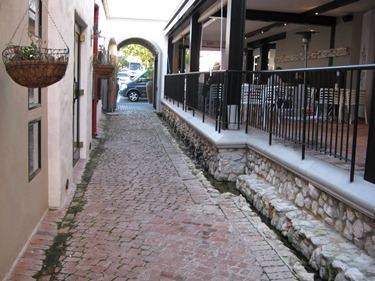 His latest research is of a similar nature - he rejects years of accumulated wisdom in the long-distance running community (which maintains that carbohydrates are the key to fast times) and instead contends that a high protein, low carbohydrate diet is key. And the number one enemy of a healthy diet? You guessed it - sugar. But if you want to know more, you'll have to read his book.

Apart from the literary sessions, the weekend comprised coffee (lots of it, from different restaurants), eating and reading. We ended off on a high note by having tea and scones at Hillcrest Orchard on the way home - quite possibly the best scones I've ever had. So we're already planning to go to the festival again in 2013, except that next year I think we'll get to Franschhoek on Thursday and spend three days there, not two.
---

© Paul Kilfoil, Cape Town, South Africa