Paul Kilfoil's World of Travel, Technology & Sport
---
Posted on by Paul Kilfoil.
Fish Hoek, a sleepy seaside suburb of Cape Town in South Africa, had a fairly dismal coffee shop scene until about a year ago. But recently all that has changed - first C'Est la Vie, a well-known eatery that was previously based in Kalk Bay (a nearby suburb), relocated to Fish Hoek. Then Stag Coffee Company opened early in 2017 and quickly became a firm favourite of the laptop, tablet and smart phone brigade (see my blog about Stag). At about the same time the Silva Spoon Cafe started operating next to the muffin and biscuit factory shop in First Avenue, offering coffee and organic/vegan/banting food. Towards the end of September Chalk & Cheese Cake and Gift Shop moved premises to Recreation Road, directly opposite Stag.
Pull In Brew in central Fish Hoek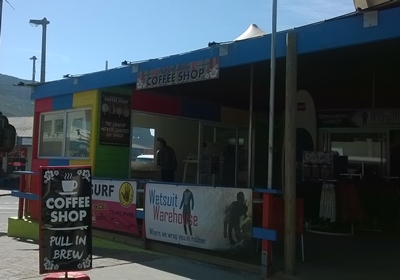 As if this wasn't enough, just recently a sport and surf retail store on the Main Road bashed down the two corner walls of their shop and built a coffee shop there. The name, Pull In Brew, is an obvious reference to the surfing culture of Fish Hoek and the fact that the coffee shop adjoins a surf store - in South Africa the term "bru" is commonly used by surfers when talking to each other, much like "dude" or "man". As one would expect, Pull In Brew is a casual place where barefoot surfers and people straight off the beach are welcome. There is a long counter where you can read the newspaper or work on your laptop (electrical plugs are available) and big windows facing north and west let in plenty of light - no dark and gloomy tables in poky corners here.
The setting is excellent and it is a really pleasant place to sit, but unfortunately the coffee isn't great. Perhaps the reason is because it has just opened, but the guy operating the espresso machine (I hesitate to call him a barista) has a lot to learn. My Americano was weak and there was no crema ; in fact, it was closer to filter coffee than espresso. But they are enthusiastic and keen to be helpful, so I have high hopes that the quality of the coffee will improve.
The place also has very little in the way of food, just some plastic-wrapped biscuits that they get from some local supplier. That aspect of Pull In Brew is also a little disappointing - at least have some muffins and pastries.
The bright and sunny interior of Pull In Brew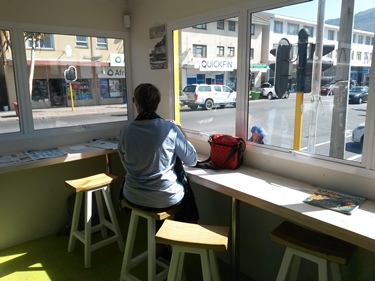 So there are a few things that could improve at Pull In Brew, but they are very new and, I suspect, are still feeling their way. I wish them the very best of luck and will definitely be sampling their wares again in future.
[Update] Sadly (but unsurprizingly), Pull in Brew did not do very well and closed about a year after I wrote this.
---

© Paul Kilfoil, Cape Town, South Africa