Paul Kilfoil's World of Travel, Technology & Sport
---
Posted on by Paul Kilfoil.
Steytlerville in South Africa's Eastern Cape interior must be one of the most isolated towns in the world. It is in the middle of barren semi-desert country, on a minor and seldom-travelled road a long way from any other towns of comparable size in any direction. But when my wife and I drove through Steytlerville on a recent trip to Grahamstown, we were amazed to see a coffee shop on the Main Road with a sign proclaiming that "We serve the best coffee in the world" (those were the exact words).
The Verandah coffee shop in Steytlerville ...
An interesting place but certainly NOT the world's best coffee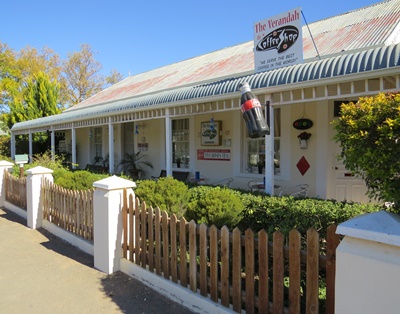 I guess it was good marketing - after seeing that sign we simply had to go in and see (and taste) for ourselves. The place was called "The Verandah Coffee Shop", mostly because the seating area was on a long L-shaped verandah round the side of a house. But I was extremely skeptical about their claim of having the best coffee in the world, so when I sat down and the owner appeared I said to her "That's a very bold statement on your sign outside. You do know how good the coffee in Italy is, right?"
But Michele (the cafe owner) stood her ground and insisted that her coffee was indeed the best. Karen and I glanced at each other and ordered our usual, a single Espresso and an Americano with hot milk. And immediately we knew that we were in trouble, because she asked "Do you want milk with your expresso?" - she pronounced "espresso" with an "x" (as in "EXpresso") and should have known that you do not have milk with an espresso ; if you did it would be a "cortado".
But before she brought our coffee Michele said to us "Would you like to see my bat-eared fox and steenbok?" We readily agreed, and together with two other guests we trooped round the side of the house to a gravel back yard. Amazingly, she had a tame bat-eared fox, a wild predator endemic to Southern Africa - it has huge ears, thick grey-brown fur and eats mostly insects, lizards and small rodents. This one clearly had something seriously wrong with its left front leg and shoulder - the shoulder appeared shrunken and the leg protruded from its body at a strange angle. But it seemed quite happy and came over to us to have its neck rubbed just like a domestic cat.
Behind The Verandah are some surprizing finds ...
A tame bat eared fox roams the garden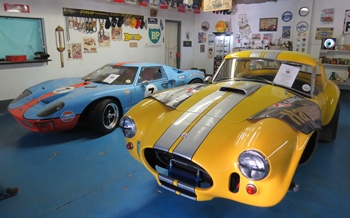 Old cars in various stages of reconstruction
"It was hit by a car" Michele explained. "We found it and nursed it back to life. He recovered but was so badly injured that he can't be released back into the wild again." She then showed us two steenbok that she had in a small enclosure. They were young and very nervous, and jumped in alarm at the slightest movement or camera click. The steenbok were also rescues - one of them, a slightly older female, had been attacked by dogs and the other (a very young male) was abandoned by its mother. Neither of them had been badly injured so her intention was to nurse them back to health then release them. In captivity the female had become the young male's surrogate mother so hopefully that relationship would continue after they were in the wild again.
But the surprizes weren't over yet. Michele's husband Jurie then showed us his collection of cars, eleven of them in various stages of repair. Pride of place was taken by two 1960's sports cars, both Fords. They were in immaculate condition, the bodywork gleaming. "They're both roadworthy" said Jurie. "I used to race them but last time I crashed it cost so much to fix the damage that I gave it up." He pointed to the blue Ford GT40. "That one's worth about 1.2 million Rand." Next door was his workshop - I peeked inside and saw racks of tools and equipment, all neatly arranged and squeaky clean. Jurie was a true professional, everything was in its place, easy to find and ready for use.
Amazing. Here we were, in this isolated town most people had never even heard of, and we found a petrol-head with a workshop as well equipped as anything I've ever seen and cars worth millions parked all over the place. Incredible ...
But back to the coffee. As we walked back from the car museum Michele said "I'll go and put the coffee on". That was confirmation that we'd be getting filter coffee, and I saw a look of resignation cross Karen's face. And indeed that's what it was - Karen's "espresso" was just a small cup of filter coffee and my "americano" was a big cup of the same stuff. Oh well, at least Michele's home-made muffins were excellent and we'd enjoyed seeing the animals and cars.
So I wouldn't recommend The Verandah Coffee Shop in Steytlerville if you want really good coffee, but if you'd like to see an interesting collection of old cars and interact with wild animals being rehabilitated then this is the place to visit. Besides, is there anywhere else in Steytlerville to go to?
---

© Paul Kilfoil, Cape Town, South Africa