Paul Kilfoil's World of Travel, Technology & Sport
---
Posted on by Paul Kilfoil.
South Africa's National Arts festival was first held in Grahamstown in 1974, was not repeated the following year but has been an annual event on the cultural calendar since 1976. The 2017 edition was thus the 43'th staging of one of the largest festivals of its kind in the world - over a period of ten days in June and July nearly 500 performances of all kinds are held in 60 different venues across town. There is a "main" programme as well as a "fringe" festival, both consisting of a bewildering variety of shows and performances of all kinds, from theatre to dance to music to comedy to cabaret. And in addition to the official events there are are also many buskers and impromptu performers staging unofficial shows in the streets, parks and city squares. There is so much going on that it is simply impossible to take in more than a tiny fraction of the shows on offer.
A live performance at the arts festival hub in Grahamstown
Grahamstown seems like an odd choice to host the premier arts festival in Africa - it is a small university town in the Eastern Cape province of South Africa, roughly mid-way between the cities of Port Elizabeth and East London. There are no scheduled flights to Grahamstown from any of South Africa's main centres (Johannesburg/Pretoria, Cape Town and Durban) and it is nearly 1000 kilometres from any of them by road. Trains used to run to Grahamstown but these were stopped several years ago, and the train station is now fenced off and closed.
The only options for getting to Grahamstown are
- fly to Port Elizabeth, rent a car at the airport and drive 130 kilometres;
- take a bus, a very long trip no matter where you live;
- hitchhike;
- drive your own car.
So going to the National Arts Festival is a fairly major undertaking. But my wife and I had never been to the festival, so in 2017 we decided we should go. We drove there ourselves, a round trip of over 1800 kilometres, but turned it into a multi-stop holiday by staying over in Knysna on the way there then spent a week coming back to Cape Town via a series of back country roads and a 3-night stay in the enchanting forest village of Hogsback. We were in Grahamstown from Sunday 2 July until Friday 7 July and stayed in a rented apartment a couple of blocks from the centre of town.
Grahamstown in South Africa's Eastern Cape ...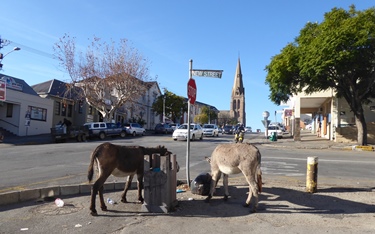 Donkeys can be seen roaming the streets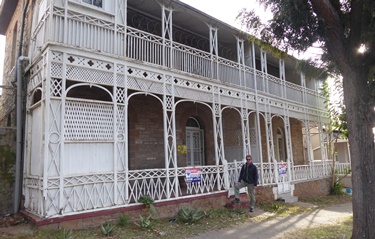 Fine old colonial architecture is everywhere
We both enjoyed the festival thoroughly. Being so near the centre of Grahamstown meant we could walk everywhere and not worry about traffic or parking, and the weather was fantastic the whole time - July is mid winter in South Africa and Grahamstown can get very, very cold (it sometimes even snows), but it was mostly sunny and warm. We went to several shows, some good, some not so good (that's how it always is at festivals like this), ate good food and had a few cups of excellent coffee. But there were signs that things weren't quite as idyllic as they could be ...
(1) Grahamstown didn't seem especially busy, certainly not like Franschhoek during its annual Literary Festival. Most shows weren't that well attended and one that we went to hardly had any people there. Accommodation seemed to be available even at the last minute and you could get into any show by just buying a ticket at the door - we didn't see any "sold out" signs.
(2) The free "hopper" buses provided during the festival were far too irregular and intermittent to be useful. We caught a couple, but most of the time it was easier and quicker to walk where we wanted to go rather than wait for a Hopper bus.
(3) Restaurants were generally quite empty.
(4) Grahamstown's streets and sidewalks were potholed, broken and filthy with litter and mess. This was very off-putting and one wonders what foreign visitors thought of the shabby state of town.
(5) The festival "hub" is at the 1820 Settlers' Monument, which is inconveniently situated on a hill overlooking town. The monument is perfect as an exhibition centre because it has several halls, theatres and display areas and the views from there are excellent, but getting to it on foot requires a long, hard uphill slog. The free hopper buses do go up there, but we could never find one when we needed it.
(6) The village green craft market was fairly empty of crowds. One or two of the vendors we spoke to said they had already decided not to return next year because the cost of renting a stall was high and they had hardly sold anything during the festival.
So it appears as if the festival may be facing a problem. Grahamstown's town council should take note and do something about it - they have this priceless tourist asset which they seem to be taking for granted and are not putting any effort in to preserve. That is a dangerous attitude to have ; there are plenty of other towns and cities in South Africa that would be only too happy to host Africa's premier arts festival. If Grahamstown does not get its act together it is possible that they will lose their biggest drawcard of the year, and if that happens it is very unlikely ever to return ...
---

© Paul Kilfoil, Cape Town, South Africa