Paul Kilfoil's World of Travel, Technology & Sport
---
Posted on by Paul Kilfoil.
Cape Town City Football Club's fairy tale return to top-flight soccer in South Africa, and their incredible surge for the Premier League title in their very first year, enthralled football fans throughout the 2017 season. So when I saw that City were due to play their last home game of the season at Cape Town Stadium on Friday night 5 May, the temptation was too much to resist ... I just HAD to go. No watching on TV, listening to the radio or looking up the result of the match on the internet the next morning, this time I wanted to BE there.
Aside : For more details on the miraculous comeback of a club that had folded 37 years before, see the blog I wrote about Cape Town City.
My match ticket ... Cape Town City vs Free State Stars, 5 May 2017

With kickoff scheduled for 8 PM, it meant that the match would finish at about 9:45 PM or later, probably closer to 10 PM. Hmm, quite late ... then I thought, why not stay over in the city centre afterwards? I could then also do the Green Point parkrun the next morning (Saturday) - the parkrun route starts and finishes very near Cape Town Stadium. So I looked up places to stay on my favourite hotel booking site, booking.com, and found a backpackers' guest house called Never@Home directly across the road from the stadium. I booked a room there for Friday night then zipped off to CompuTicket to get my match ticket.

Friday morning saw me aboard a MetroRail train for the trip into the city, along the scenic False Bay coastline and through the sprawling southern suburbs of Cape Town. The weather was dark and gloomy when I exited Cape Town station at about 11:30 AM and I worried about rain during the match that evening, but there was nothing I could do about that ...


Never@Home in Green Point ... a great place to stay
My en-suite room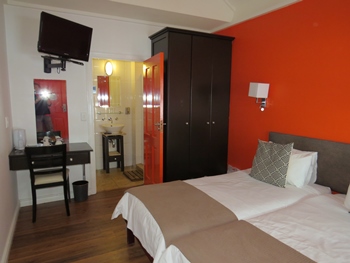 The Randy Warthog restaurant, bar and breakfast room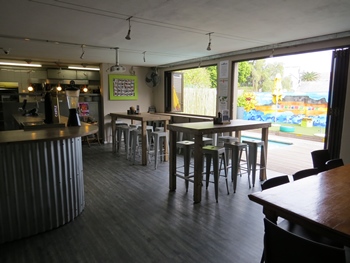 It was a ten minute walk through the city streets to my favourite coffee shop in the centre of town - Ou Meul Bakery, a warm and cosy place with the best pies in the southern hemisphere and excellent coffee [Aside : I wrote a detailed blog about Ou Meul Bakery a few years ago; you can read it here]. I dumped my backpack, ordered then settled back with a sigh of pleasure as I tucked into the incredibly flaky pastry of one of Ou Meul's legendary creations.

Suitably replete, I stepped outside into light drizzle and walked up Riebeek Street, across Buitengracht and into Somerset Road. This part of the city towards Cape Town Stadium is known as the "Fan Walk" - the sidewalks were improved and landscaped for the 2010 World Cup Finals (when no cars were allowed near the stadium and everybody going to any matches there had to take public transport or walk). Even though it is now seven years since the World Cup Finals, the Fan Walk is still a vibrant pedestrian zone so it was a pleasant stroll of about twenty minutes. I found Never@Home easily enough and checked into a very nice en-suite room with bright orange walls. The room even had a kettle and coffee/tea, so I had a quick cuppa then headed out again.

By this time the rain had stopped. I walked north-west down Somerset Road to Three Anchor Bay and Sea Point, then down to Beach Road and back towards the V&A Waterfront along the Sea Point Promenade. Large sections of the promenade were closed off for repairs, and you could see why - the continual pounding of waves had destroyed a lot of the railings and parts of the concrete sea wall were cracked and crumbling. I followed the Promenade past the Green Point putt-putt course (mini golf) and the distinctive lighthouse, alongside the multi-million rand exclusive developments near the V&A Waterfront and into the Waterfront shopping centre, Cape Town's version of The Ultimate Tourist Trap. Glitzy, glamourous and ridiculously over-priced, only well-heeled foreign tourists with Dollars, Euros or Pounds can afford to shop at the Waterfront. Locals simply walk around, have a look, drink some coffee then head home (or to other shops where the same items cost half as much). And that's what I did ... except I headed back to my guest house for the night, not home.

I had an early supper at a steakhouse I'd scouted earlier called Roco Mamas. Their menu was confusing because every item (mostly burgers and chips) could be ordered in three different sizes - small, medium and large. I debated which combination to go with and eventually settled on a small mushroom burger and large chips (because in my experience there are never enough chips), but this was a mistake because the chips came in a metal basket and could have fed THREE people there were so many of them ... No complaints about the taste though - everything was excellent, and I stayed there as long as I could, manfully working my way through the mountain of chips while reading my book. But I had a football match to see, so I regretfully left the last few chips behind, paid the bill and left.

Cape Town gets chilly in the evening at this time of year (and I would be sitting outside until 10 PM), so back in my room I packed on several layers of clothing and a scarf. Suitably insulated, I crossed the road, walked under the insanely busy traffic circle at Cape Town Stadium via the underpass built for the World Cup and joined other fans making their way to the match. The huge egg-shaped dome of the stadium never fails to impress me and once again I stared up at it in wonder, shaking my head at the thought of how much it costs the city (and therefore me, a taxpayer) to maintain. But once you're inside, the financial woes of the stadium are momentarily thrust aside because it really, really is a fabulous place to watch football - the stands are spacious, the lights are bright and no matter where you are sitting you feel close to the action on the field.

Walking along the Sea Point Promenade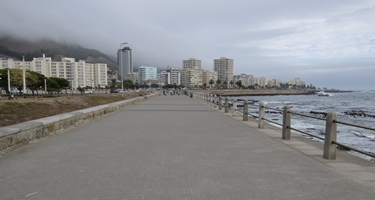 The path past the lighthouse
I wasn't sure how many spectators would turn up for this match - Cape Town City had been in existence for less than a year and Free State Stars, their opponents, were hardly a big name draw, but I was pleasantly surprized to see the crowd swell to several thousand as I was waiting for the game to start. Most football supporters in South Africa, no matter where they live, cheer for one of the "big three" clubs - Kaizer Chiefs, Orlando Pirates or Mamelodi Sundowns (all of which are based in Johannesburg or Pretoria); it is quite common to have 95% of the crowd cheering for Kaizer Chiefs even if they are playing an AWAY game! But the crowd at this match were almost exclusively Cape Town City supporters, wearing blue and gold shirts (the team colours), waving banners and chanting "City! City! City!". It was good to see that Cape Town City has managed to create a loyal fan-base in such a short time ... I suspect most of the people at the stadium were either too young to remember (or could not remember) the days in the 1960's and 1970's when Cape Town City last graced football fields in South Africa.
The match itself wasn't the greatest spectacle - Free State Stars were fighting to avoid relegation from the Premier League while Cape Town City were desperate for a win to stay in contention for the title. City had most of the possession and the better chances, but at half-time the score was still 0-0. In the second half City pressed harder and their efforts were rewarded with a well-worked goal; Vincent Kobola took the ball down the right wing almost to the corner flag, crossed and Judas Moseamedi headed it into the far corner of the net. The crowd went wild as the deadlock was broken. But City had to work quite hard to survive a furious onslaught by Free State Stars before the final whistle brought relief. The players came over to the main stand and applauded the spectators, thanking them for their support during the match; the crowd responded by singing "City! City! City!".
I walked back to my digs on a high after a wonderfully inspiring evening. The weather had been good (neither rain nor wind), the crowd had been vociferous in their support of the home team and, best of all, Cape Town City had won. Now if only Wits and Sundowns would do City a favour and lose their next few matches ...
Cape Town Stadium, waiting for the match to begin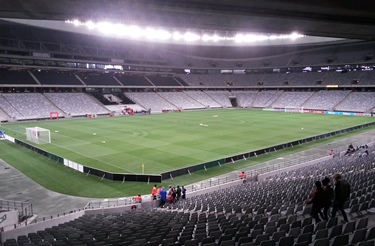 Sitting amongst the Cape Town City fans
Next morning (Saturday) I was up early and after a quick jolt of coffee I jogged across the road to the Green Point parkrun start. The new athletics stadium is nearby, and I was surprized to see a lot of activity inside; turns out the South African Masters athletic championships were being held there over the weekend. These championships are for athletes 35 years and older, who compete in age groups spanning 5 years : 35-39, 40-44, 45-49, 50-54, and so on. While I was warming up for the parkrun I saw a chap I knew who was competing; I was aware that he was a good runner but I had no idea quite how good - he won THREE GOLD MEDALS at the SA Masters championships! That means he is the best athlete in South Africa in his age group (45-49) for those events! Amazing.
I, however, am a far more mortal runner, and duly completed the Green Point parkrun (five kilometres past the stadium and through Green Point park) in a rather pedestrian 21:52. I was hoping to do about 21:15 but the effects of mild flu that I'd had recently were still lingering and I really suffered over the last two kilometres - I went out quite fast and was well on track for a good time after three kilometres, but could not sustain the pace after that. Many runners passed me near the end, a sure sign that I was slowing down. But I was happy to go under 22 minutes at least. To think that in my younger days I could reel off a five kilometre run in 19 minutes, with far LESS training than I do now! Such are the ravages of time and age ...
Aside : If you're not sure what a "parkrun" is, see the blog I wrote about this amazing phenomenon that has become so successful all over the world. The Green Point parkrun website is at www.parkrun.co.za/GreenPoint.
A quick shower back at my guest house was followed by a long, slow and excellent breakfast in their restaurant, a relaxed place called The Randy Warthog. Muesli, mixed fruit, yoghurt, toast and several cups of coffee went down the hatch as I watched a replay of the previous night's big football match in England on a giant TV - Tottenham Hotspur, English Premier League title contenders, surprizingly went down 1-0 to West Ham United, a result that more or less gifted the 2017 title to Chelsea.
Then it was time to check out of the guest house, walk back down to the city centre and catch a train home. This had been only a short one-night "mini getaway" but a most enjoyable one, and I plan to repeat it when the 2017-2018 football season starts in August. In the meantime Cape Town City have three more matches to play this season and I wish them the very best of luck ... go City!
---

© Paul Kilfoil, Cape Town, South Africa