Paul Kilfoil's World of Travel, Technology & Sport
---
Posted on by Paul Kilfoil.
Ou Meul Bakery in the small Western Cape town of Riviersonderend has long been a favourite of travellers plying the N2 route between Cape Town and Port Elizabeth. Serving delicious home-made pies, pastries and bakes, this convenient roadside stop has fuelled generations of weary drivers and cantankerous children.
Ou Meul Bakery in Cape Town's city centre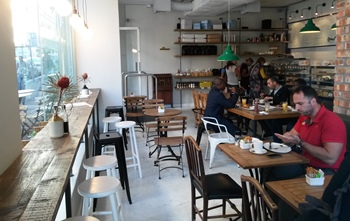 Now the owners have opened a branch in Cape Town's city centre, serving the same incredible fare as the original store in Riviersonderend. Catering to the early morning commuter crowd as well as office workers taking lunch, Ou Meul's superior offerings have hurt other coffee shops in the vicinity, who simply can't (or won't) compete. Cape Town's crowds of locals, workers and tourists flock into the little restaurant all day from early in the morning.
The interior of the restaurant is homely and welcoming, with wooden tables and a high counter along one side where people can sit and look out at the passers-by on Long Street. A corner alcove contains a number of small tables in a more intimate setting, ideal for couples. Because it is on a corner, the whole place is flooded with light from big windows on both the north (Riebeek Street) and east (Long Street) sides. The serving counter and kitchen area is semi-open, with racks of fresh-baked pastries and pies temptingly visible ; add to this the smell of just-poured coffee and you have a setup that is hard to beat.
Ou Meul also offers free wifi for customers (it's almost mandatory these days), and when I walked in on a Friday morning just before 9 AM several people were already busy on their laptops. I sat down and ordered my usual coffee (an Americano with hot milk) and a ham and cheese pie - Ou Meul's reputation for serving the most delicious pies in South Africa is legendary. The coffee was from a local roastery called Bootlegger, a brand I hadn't yet tried ; but I needn't have worried because it was excellent, strong and flavourful. However, the ham and cheese pie was something else, absolutely without doubt the most incredible pie I've ever eaten. The pastry was light, crumbly and full of flavour while the filling was cooked to perfection. Unfortunately the chocolate croissant I had afterwards with my second cup of coffee could not quite match the excellence of the pie - the croissant was good, but after that pie almost anything would have tasted somewhat bland.
Morning sun floods Ou Meul Bakery with light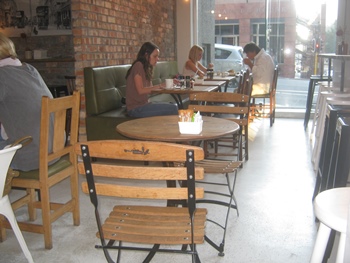 So I now have a new favourite haunt in Cape Town's city centre ... not that I'm in Cape Town that often, but when I do go that's where I'll head for a caffeine jolt (and a pie, of course).
Ou Meul Bakery
Corner of Riebeek & Long Streets
Cape Town
Western Cape
South Africa
(Phone) +27 21 419 0662
(Web) www.oumeul.co.za
(Facebook) www.facebook.com/oumeulbakkery
---

© Paul Kilfoil, Cape Town, South Africa