Paul Kilfoil's World of Travel, Technology & Sport
---
Posted on by Paul Kilfoil.
I first came across Bootlegger coffee when I visited Ou Meul Bakery in Cape Town and enjoyed it immensely (see my blog dd 12 April 2014). I wasn't too sure where it came from but the coffee had a distinctly Italian taste, quite similar to the coffee produced by Origin (a well known Cape Town-based roastery). Over the next couple of years I didn't see the Bootlegger brand anywhere else, except in the various Ou Meul Bakery outlets in the Western Cape.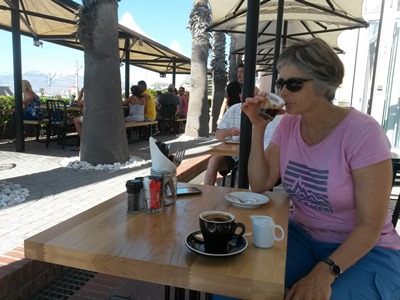 Bootlegger coffee shop in Main Road, Kalk Bay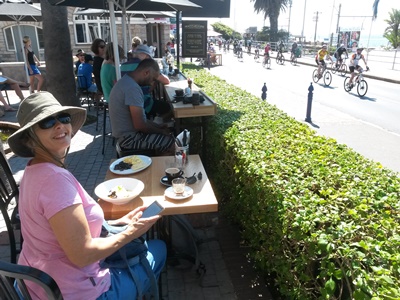 On the day of the 2016 Cape Town Cycle Tour my wife and I were in Kalk Bay, looking for somewhere to have coffee that also had a view of the cyclists streaming past [Aside : Previously known as "The Argus Tour", the Cape Town Cycle Tour is the largest individually-timed cycle race in the world with over 35 thousand participants riding 109 kilometres around the Cape Peninsula]. Walking along the road, I noticed that a new restaurant had opened at a location that had been vacant for a while. Several restaurants have existed there and it remains a mystery to me why none of them were a success - the spot is in a prime location and has a raised, open-air terrace overlooking the Main Road, with tables, umbrellas and a fountain in a small fish pond.
It was perfect for us so we went inside and only then did I see a big "Bootlegger" sign and similar branding on the umbrellas ; remembering how good Bootlegger had been at Ou Meul Bakery, that raised my hopes immediately. We found a table and ordered coffee before examining the menu. A cheerful young waiter brought the coffees and took our food order before we had the first sip ... which was excellent. It had a strong but sweet taste, very Italian and with none of the "wildness" that you often get in coffees roasted in Africa. I was therefore quite surprized when the waiter told me that Bootlegger is a South African company that roasts its coffee in Cape Town. I am sure some of their expertise was borrowed (stolen?) from Origin, because the taste was uncannily similar [Aside : Origin was the first artisan coffee roastery in Cape Town back in 2006 ; they challenged the long-established European brands and helped fuel the explosion of coffee culture in South Africa].
I discovered later that, apart from supplying coffee to several Ou Meul Bakery outlets, Bootlegger already have four coffee shops elsewhere in Cape Town (Kenilworth, Green Point and two in Sea Point). So they are expanding and I wish them every success in future. If you want to sample their coffee yourself, try their new Kalk Bay store:
---

© Paul Kilfoil, Cape Town, South Africa