Paul Kilfoil's World of Travel, Technology & Sport
---
Posted on by Paul Kilfoil.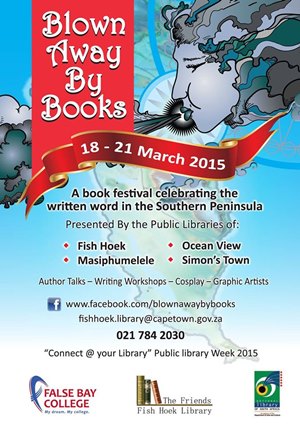 Four public libraries in the south peninsula of Cape Town (Fish Hoek, Simon's Town, Masiphumelele and Ocean View) recently put a lot of effort into organizing a book festival. Called "Blown Away by Books", it comprised writing workshops, panel discussions by authors, talks by publishers and poetry and book readings, all free and open to absolutely everybody. The intention was to promote reading, writing and literacy in this fast-paced era of technology, social media and fleeting attention spans.
Some of the well-known authors who gave up their time to talk at the festival were Andrew Brown, Mike Nicol, Michèle Rowe, Joanne Hitchens, Diane Awerbuck, Helen Moffett, Paige Nick, Finuala Dowling, Beverly Rycroft, Mark Gevisser, Dawn Garisch, Sonwabiso Ngcowa, Arne Söderlund, Michael Walker and Wendy Maartens. They were joined by former politicians Ben Turok and Melanie Verwoerd, journalist Garth King and representatives from Jacana Media (a local publisher), Centre for the Book (a government agency that promotes South African literature) and Cosplay (an organization for graphic and comic book artists). Fish Hoek library, being the largest of the four libraries, hosted two or more sessions on each day of the festival, with the three "satellite" libraries having perhaps one a day. The "discussion" sessions by well-known authors were held in the early evening while the "workshop" sessions took place during the day.
As a regular visitor to the annual Franschhoek Literary Festival, a much more high profile event that attracts thousands of vsitors every year (see my blog), I can honestly say that the sessions I went to at Fish Hoek Library were at least as good as, if not better than, anything I've attended in Franschhoek. The sessions in Franschhoek are typically an hour in length and never last longer than that because the audience members and speakers have to get to their next session ; hence there is little time for questions and interaction with the authors. But at the recent south peninsula festival, the sessions frequently went on much later than the scheduled close. The speakers were entertaining and either kept talking at the audience's request or happily answered question after question until everybody's interest was satisfied.
Diane Awerbuck, Joanne Hitchens, Helen Moffett and
Paige Nick discuss the erotic fiction phenomenon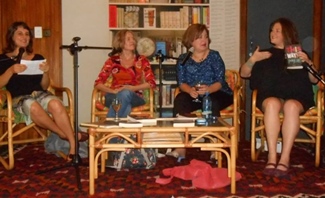 An audience listens spellbound during one of
the evening sessions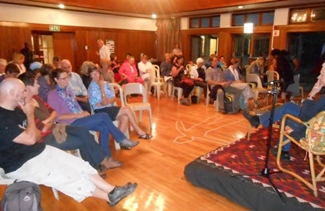 Local graphic and comic book artists display
their work at Fish Hoek library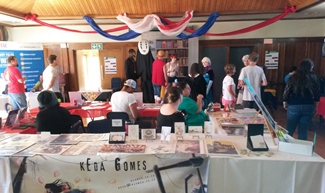 On the opening evening of the festival (Wednesday 18 March 2015), there were snacks and wine at Fish Hoek library together with speeches from library staff, the sponsors (among them False Bay College) and local dignitaries. Then crime authors Andrew Brown, Mike Nicol and Michèle Rowe entertained the audience with hilarious anecdotes and stories from their writing careers, as well as providing insight into the more serious side of their craft. It was a great start to the festival, and the sessions that followed were of similarly high quality.
Crime writers Andrew Brown, Michèle Rowe
and Mike Nicol discuss their craft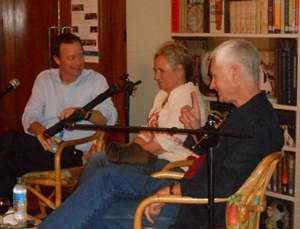 However, it must be said that the festival was not very well supported, despite extensive advertising by the library in the local newspapers, on Facebook and by email. All sessions were free of charge and open to everybody. Many were in the evening and so were accessible by people who work during the day. And some of the speakers were high-profile people, well known in their fields. But despite all this, the various venues used were often far from full ... why? The population of the far south peninsula (inter alia Muizenberg, Kalk Bay, Fish Hoek, Glencairn, Simon's Town, Kommetjie, Noordhoek, Ocean View and Masiphumelele) is massive ; if even a fraction of local residents had attended just one session the libraries would have been bursting at the seams.
The low attendance was quite disappointing, but I suppose people need a while to assimilate anything new. The good news is that the festival will be repeated in 2016 so perhaps it will be better supported next time ... let's hope so. Regardless, I enjoyed it thoroughly. All that's left for me to say is "thank you very much" to the organizers, sponsors and speakers for putting on such an excellent show ; I'll definitely be back again next year!
[Update] The 2016 "Blown Away by Books" festival took place from 14-19 March, and was even more successful than the 2015 event.
---

© Paul Kilfoil, Cape Town, South Africa