Paul Kilfoil's World of Travel, Technology & Sport
---
Posted on by Paul Kilfoil.
On Tuesday 8 January 2013 South Africa played a friendly football international against Norway in Cape Town, only the second time that the national team has played in the Mother City since Cape Town's new stadium was completed in 2010. My wife and I decided to go to the match and see if the experience lived up to the unbelievably festive atmosphere that prevailed during the 2010 Soccer World Cup Finals (see my April 2010 blog entry).
Karen blows her vuvuzela outside Cape Town Stadium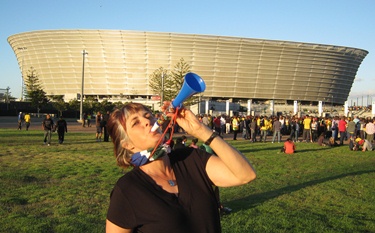 I established that MetroRail would be running special late trains on each suburban line on the night of the match, with the Southern Suburbs train (on the Cape Town-Simon's Town route) scheduled to depart at 11 PM ; these late trains would be free for anybody with a valid match ticket. We decided to have supper in town so we took an early train in, getting to Cape Town at about 6 PM, and strolled up Waterkant Street from the station on the "Fan Walk" to the stadium. Even though the match was only due to start at 8:15 PM there was already a good sprinkling of football fans around, many of them clad in yellow "Bafana Bafana" shirts and waving South African flags. By the time we crossed Buitengracht Street via the pedestrian bridge and reached Somerset Road the soccer atmosphere was in full swing - buskers, magicians and street artists were performing, street-side restaurants and bars were pumping and crowds of people were flowing down the Fan Walk to the stadium.
We noticed a restaurant on Somerset Road called "Beefcakes", so we went inside and asked for a table. Only then did it dawn on us that it was a gay place - the predominant colour was pink and the waiters (all men) were mincing around in tight vests and trousers. But they were friendly enough so we sat down and ordered. And excellent food it was too ... I'm guessing it was an unusual evening for the restaurant because all the diners looked like football fans, with flags, banners and vuvuzelas everywhere ; there were no gay people in sight apart from the waiters. There was even a table of blonde Norwegian girls.
The MetroRail poster advertising special late trains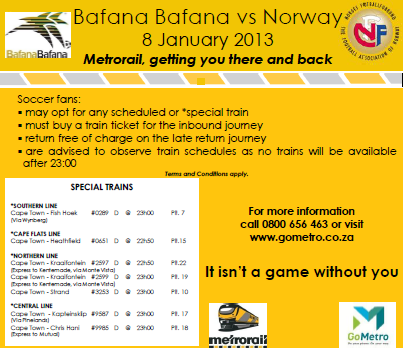 After eating we rejoined the throng of people moving down the Fan Walk and negotiated some heavy-handed security at the stadium. No food was allowed in, not even the two apples I was carrying, so we ate these before going inside. By the time the match started the stadium was about two-thirds full, a good crowd for a mid-week friendly match ; I heard later that the attendance had been over 35 000 [Aside : So why won't the South African Football Association (SAFA) schedule more international matches in Cape Town? The Saturday following this match Bafana Bafana played at Orlando Stadium in Gauteng, the so-called "heartland" of football in South Africa, and yet the attendance there was only about 14 000 - less than half the number of people at the Cape Town match. Is this a conspiracy or what? Is it because Cape Town is governed not by the ruling party (the ANC) but by the opposition (the DA)? Whatever the reason, football fans in Cape Town have demonstrated their support of the national team and SAFA should take note]
The match itself was very disappointing, in that South Africa dominated play and created myriad chances but failed to score. In fact, our strikers were completely inept, a trend which was to continue in the next two matches as well (both goalless draws). Norway were solid if not spectacular, they defended well, did not make mistakes and when they did get a rare chance at goal they took it and won the match 1-0. Towards the end the crowd justifiably became angry at the home team's wasted chances, booing several players and calling for substitutions. The best comment we heard was from a guy sitting behind us, who said that Bafana Bafana had no chance at the upcoming African Cup of Nations but could easily win the "Kak of Nations". A depressing observation, but one which was an accurate reflection of the quality of football we saw from South Africa.
The match started about fifteen minutes late and there were a couple of long injury delays, which resulted in us exiting the stadium well after 10:30 PM. The only train back home was leaving at 11 PM, and it is about two kilometres from the stadium to the train station (through crowds of people), so I knew it was going to be tight. We could have taken a bus to the station, but one glance put paid to that idea - the bus station nearby was jammed solid with people. So we started walking, threading our way through crowds of disappointed fans, and ran the last few hundred metres to the station. It was 10:58 PM when we sprinted onto the platform, reminding us both of the ordeal we'd had in China in July 2012 (when we'd spent the whole day trying to get to Lanzhou in time to catch the overnight express train to Xi'an, eventually making it by three minutes). As promised by MetroRail, we did not need a ticket to board the special late football train - our match ticket was enough.
Waiting for the match to start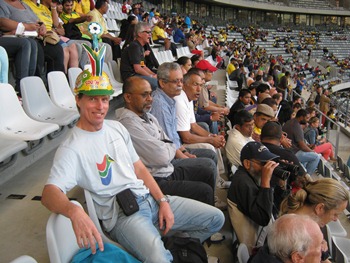 It looked like the public transport arrangement was a success, because the train was crowded with football fans of all shapes, colours, sizes and genders. We had walked very quickly from the stadium to the station (and ran part of the way), so I wondered how many people hadn't made it in time. But somebody had thought of that, because the train did not depart as scheduled at 11 PM and people kept boarding, breathless, panting and relieved that the train was still waiting. The match ended quite a bit later than expected, so the train was obviously delayed to give fans enough time to get to the station - a bit irritating for us who wanted to get home, but actually very considerate and thoughtful.
We eventually pulled out of the station at about 11:25 PM, and that's when the fun really started. Near us was a family of five who had obviously never been on a train before and were completely terrified - mother, father, a boy in his late teens, a girl of about fourteen and a boy of about ten. The mother and daughter managed to find two seats and clung on to each other for dear life. The younger boy sat on his mother's lap and put his arms round her neck in despair. Only the older boy looked comfortable - perhaps he used the train to go to college or university? He and his father stood protectively near the other three, and you could almost read the father's thoughts : "What was I thinking? Why did I suggest we do this? Oh boy, my wife will kill me when we get home".
Cape Town Stadium - a fine place to watch football while
fiddling with your hair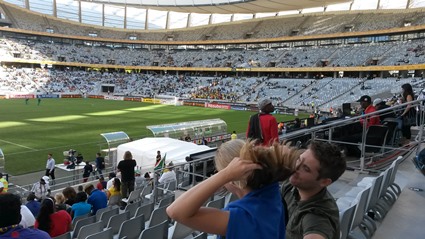 All around them were noisy and boisterous football fans, talking, laughing and discussing the game. By and large they were a rough lot, but completely harmless ; people who live in Cape Town will know what I mean when I say that it felt like we were aboard the "Cape Flats Express". Unfortunately this family appeared unable to adapt to being out of the comfortably-cocooned environment of their air-conditioned Mercedes or four-wheel drive vehicle and no doubt thought they would be attacked, robbed and/or raped at any moment. Their faces showed a mixture of terror and abject fascination at the comments being thrown around by the other passengers. In truth they were in no danger whatsoever, but when they got off at Rondebosch they were clearly relieved that their gruesome ordeal was over. I doubt whether the two younger children will be allowed on a train again (or any public transport, for that matter), at least until they're grown up.
The most entertaining character on board was a guy who kept trying to give his seat to the young boy who was sitting on his mother's lap. But no matter what he said the boy just gripped his mother more tightly and refused to answer. Eventually the chap gave up, but continued his banter with other people in the carriage ; he was a never-ending stream of caustic, funny and/or ridiculous remarks. At one stage he admitted that he had a degree in "kak praat" ("talking rubbish"), much to the amusement of his entourage of sozzled buddies.
The train gradually emptied as we trundled south, and after Muizenberg we were alone in the carriage. We got to Fish Hoek after midnight and walked out of the deserted station with five or six people who had been in other carriages ; even at that time it was still warm enough to be wearing only a t-shirt. What a great way to spend a summer evening - perfect weather, supper in a gay bar, international football at Cape Town Stadium and a relaxing and entertaining train ride ...
[Update 1] Bafana finally broke their goal drought with a 2-0 win over Angola on 23 January 2013 at the African Nations Cup Finals.
[Update 2] My wife and I repeated the above experience on 15 January 2014 when South Africa played Mali at the Cape Town Stadium during the African Nations Championship (CHAN).
---

© Paul Kilfoil, Cape Town, South Africa