Paul Kilfoil's World of Travel, Technology & Sport
---
Posted on by Paul Kilfoil.
After a trip up South Africa's West Coast, my wife and I found ourselves in Table View, a coastal suburb north of Cape Town. It was between Christmas and New Year, the sun was shining, the sea was blue and crowds of people were out enjoying themselves. We parked the car and wandered along the cluster of restaurants and businesses at the corner of Porterfield Road and Beach Boulevard. Most of the eateries were lunch and dinner type places, with extensive menus and wine lists - the kind of restaurants where you are almost guaranteed to get a mediocre cup of coffee.
Morgan's Coffee & Deli in Table View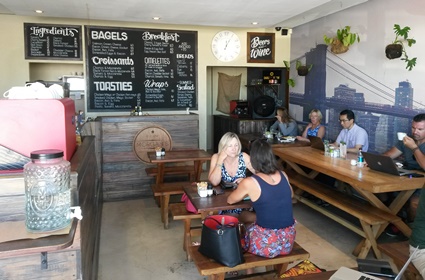 But wedged between a florist and another restaurant was a plain and unassuming coffee shop called Morgan's Coffee & Deli. It had a serving counter, some stools, a shelf along the window looking out over the sea and a few tables. It was small and simple, but the pastries on the counter looked delicious, the coffee machine was a serious Italian make and it was crowded with people working on laptops or reading newspapers. All the tables were occupied so we sat at the counter and gazed over the parking lot at the Atlantic Ocean. I ordered an Americano as well as a double chocolate muffin; Karen's choice was a chocolate brownie.
We weren't that hopeful, having had a fairly dismal coffee experience earlier in the day at a beachfront restaurant in Melkbos, further north up the coast (we'd had breakfast there). But when I poured the beautifully frothed milk into my Americano, saw that the colour hardly changed and took my first sip I realized we'd hit the mother lode of coffees at Morgan's ... it was sensational, truly one of the best coffees I've had anywhere. And as if that wasn't enough, the jumbo chocolate muffin was absolutely delicious as well. It was so big that I hadn't even got halfway through it before my coffee was finished - which meant, of course, that I simply had to have a second cup. Karen wasn't speaking much, just making small groans of pleasure while eating her chocolate brownie.
My second coffee was just as good as the first, and I even contemplated a third cup but my stomach was telling me that I'd had enough of a good thing. I wrapped up the last third of my jumbo muffin in a napkin and congratulated the two young guys who seemed to be running the whole place on their own.
What a fantastic coffee stop! Top quality coffee, excellent pastries and free, fast wifi ... so if you're in Table View then you won't be disappointed if you visit Morgan's Coffee & Deli on Beach Boulevard.
---

© Paul Kilfoil, Cape Town, South Africa