Paul Kilfoil's World of Travel, Technology & Sport
---
Posted on by Paul Kilfoil.
I had a 9 AM business meeting in Cape Town's city centre recently but managed to get there half an hour early. That left plenty of time to grab a quick coffee, so I thought I'd try a place nearby that I'd previously noticed but had never visited - Brownies & Downies, at the bottom end of Long Street. City centre coffee shops are renowned for fast and efficient service, particularly early in the morning when people are hurrying to work or only have a few minutes to spare ... meaning half an hour was more than enough time.
Brownies & Downies Cafe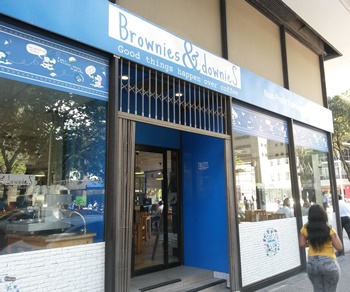 Brownies & Downies is large and spacious inside, and was (surprizingly), empty except for a couple at a window table. Several waiters were standing idly around. When I walked in one of the waiters ambled over with a menu and said I could sit anywhere. But before I sat down or even looked at the menu I asked him for an Americano and a blueberry muffin, surely an indication that I was in a bit of a hurry? The coffee came quickly enough and was excellent - a sign on the window said they used Truth coffee beans, a local roastery with an excellent reputation. I took one of the free newspapers hanging on a rack, sipped coffee and read, waiting for my muffin to arrive.
I kept sipping, reading and waiting ... and waiting ... and waiting. No muffin. Eventually I got up and asked the waiter (who was still standing around, doing nothing) what was going on. He replied that they were heating the muffin up. I sat down again and shortly thereafter the waiter came over with the muffin on a plate. By this time my coffee was finished and the half an hour I had to spare before my meeting was almost over, so I gobbled the muffin (which was of the tasteless, made-in-a-factory variety), paid the bill and left. Just before I stood up the manager belatedly realized that I was in a hurry and came over to ask if eveything was all right. It wasn't really, but by then I didn't have time to have a long discussion about why I had to wait so long.
Brownies & Downies Cafe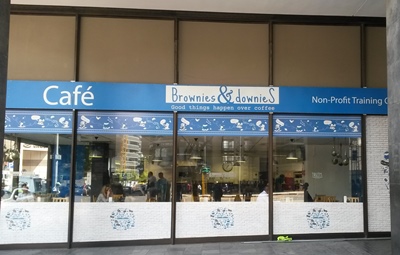 Brownies & Downies don't seem to understand that to be successful in the city centre you have be able to serve people quickly. This is most important early in the morning when commuters and business people are rushing and only have a few minutes for a quick caffeine jolt. If you can't provide this fast service then people will simply go somewhere else ... which appears already to have happened, because Brownies & Downies was empty when I walked in shortly after 8:30 AM. Across the road the Food Lover's Market coffee shop was buzzing and crowded - they are geared up for people in a hurry. It's obvious to me that early morning coffee drinkers have worked things out and avoid Brownies & Downies; there are several coffee shops nearby (not only Food Lover's Market) that will serve a fresh brew and a pastry in no time at all.
My conclusion? I can't complain about the coffee at Brownies & Downies but the service was appalling and the muffin (when it eventually came) was mediocre. So it's unlikely I'll be back, which is a pity because the place is owned by a non-profit organization and operates as a training centre for people with intellectual disabilities. They are also ideally located on a busy intersection and near a MyCiTi bus station, with many high-rise office blocks nearby. I hope, for the sake of the disabled people they are trying to help, that they can improve their service and draw in some of the crowds of people that are getting their coffee elsewhere.
---

© Paul Kilfoil, Cape Town, South Africa