Paul Kilfoil's World of Travel, Technology & Sport
---
Posted on by Paul Kilfoil.
It's odd how you sometimes find outstanding coffee when you least expect it (and, conversely, get rubbish when you think it's bound to be good). This happened to my wife and me on a road trip through South Africa's Eastern Cape interior in July 2017. We had left Hogsback in the morning and travelled west via Fort Beaufort and Adelaide until we reached the N10 national road, a major north-south route to Port Elizabeth. It was midday and we kept an eye out for somewhere to stop for lunch, but we weren't very hopeful because the villages we drove through and the roadside stalls we passed were unimpressive.
Melk en Heuning Padstal near Cookhouse in the Eastern Cape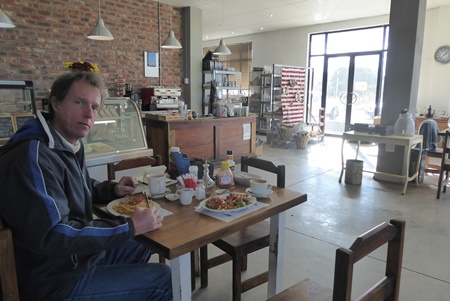 We turned south onto the N10 and saw a sign for Cookhouse ; unforunately the road completely bypassed this fairly sizeable town and we didn't see it at all. By now we were really hungry so when we saw a small roadside settlement just a little further we turned off without hesitation. My map told me that it was the village of Golden Valley, but the place looked pretty bleak from the outside - a windswept petrol station with an attached restaurant and a couple of nondescript houses baking in the sun. The restaurant announced itself as the Melk en Heuning Padstal (Milk and Honey Farm Stall) in bold letters.
The inside of the restaurant was nothing to write home about, but we sat down and were quickly served by a plump and jovial woman. The first thing I saw was the Lavazza logo on their menu.
"Do you have Lavazza here?" I asked the lady.
"Yes" she replied without hesitating. "That's the best coffee".
Holy mackerel, I thought - here we are in the backwoods, many miles from a city of any kind, and there's Lavazza at a desolate roadside diner!
I ordered an Americano without hesitation, as well as one of their homemade chicken pies with chips and gravy. The coffee came, and it was excellent, with that rich and sweet flavour so characteristic of Italian roasts. The pie and chips was a typically platteland farm meal - crusty, filling and absolutely delicious. I savoured every mouthful and ordered another Americano to keep me going on the long drive south and west.
So our lunch stop in the tiny village of Golden Valley turned out to be surprizingly good ; if you're ever in the vicinity of Cookhouse, look out for the Melk en Heuning Padstal and be assured of excellent food, friendly staff and outstanding coffee.
---

© Paul Kilfoil, Cape Town, South Africa