Paul Kilfoil's World of Travel, Technology & Sport
---
Posted on by Paul Kilfoil.
Cafe Hugo in Worcester ...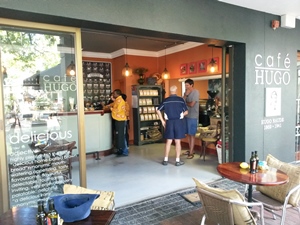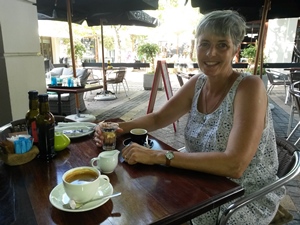 My wife and I were in Worcester recently, looking for somewhere to have breakfast (Worcester is a sizeable town in the Western Cape of South Africa, about 100 kilometres from Cape Town). Opposite the open field in the centre of town is a small arcade, and inside we found Cafe Hugo. It was a most welcoming place, with tables under umbrellas on the cobblestones outside and a trickling fountain nearby. Looking inside, we were amazed to discover that this cafe actually roasts its own coffee! Near the cafe's entrance there is an alcove where a medium-sized roasting machine was hard at work converting raw coffee beans into the delicious nectar that fuels the modern world.
That was the clincher so we sat down and ordered breakfast and (of course) coffee. However, our hopes weren't that high - our experience has been that locally-roasted coffee, while sounding very nice, is often not very good at all ; it is very difficult for a relative newcomer to reproduce the quality attained by the master blenders of Italy (such as Lavazza, Illy and Segafredo Zanetti), who have been roasting coffee for more than a century and have perfected the art. But we needn't have worried - the Cafe Hugo blend was excellent, both for my wife's Espresso and my Americano.
Unfortunately the same cannot be said for our breakfast. The food was quite expensive and fairly bland - my omelette was simply a plate containing, well, an omelette and nothing else ; there wasn't even a slice of tomato to give it some colour. That was disappointing, but the coffee was good so in terms of our "breakfast balance sheet" we were ahead ...
Excellent coffee, hand roasted at Cafe Hugo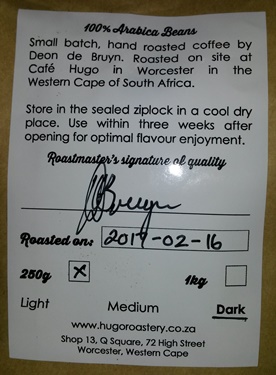 I had a long conversation with the cafe's owner, Deon de Bruyn. He is a former schoolteacher who had been roasting his own coffee in his garage for years. Eventually the ordeal of trying to force facts into the heads of unruly children became too much for him so he gave up teaching, opened Cafe Hugo and became a full-time coffee roaster cum cafe owner. "Way better than teaching" he said with a grin. "Those kids were killing me. Now I just roast, sell and drink coffee."
My wife and I bought a pack of Cafe Hugo's dark roast espresso blend coffee, and we were not disappointed when we tried it at home. In fact, it was probably the best locally roasted coffee we'd ever had at home ... so if you're ever in Worcester and want an excellent cup of coffee, try Cafe Hugo. And while you're there, buy a couple of packs of their espresso blend for us!
Cafe Hugo & Hugo Roastery
Q-Square Arcade
Corner of Baring & Main Streets
Worcester
South Africa
Phone +27 83 997 2697
(EMail) helloCafeHugo@gmail.com
(Web) www.cafehugo.co.za
(Facebook) www.facebook.com/cafehugoworcester
---

© Paul Kilfoil, Cape Town, South Africa