Paul Kilfoil's World of Travel, Technology & Sport
---
Posted on by Paul Kilfoil.
The Hoek Espresso Bar in Franschhoek
The bearded barista at work (above)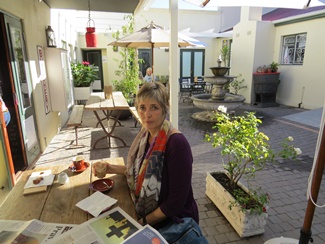 The sunny back courtyard
Franschhoek is an extremely popular, highly-touristed country town east of Stellenbosch and about 75 kilometres from Cape Town. The main road through town is lined on both sides by gourmet restaurants, wine bars, coffee shops and boutique hotels, all of which do a roaring trade over weekends and public holidays. But while classy and stylish, the Main Road establishments are uniformly expensive and are geared at the weekend tourist market, which, in the case of Franschhoek, is generally looking for a fine dining experience - Franschhoek is known as the culinary capital of the Western Cape (perhaps even of South Africa) and several of the restaurants in and around town are indeed amongst the very best in the country.
Coffee is available everywhere in Franschhoek, but most of it is mediocre. The classy restaurants may have top of the range espresso machines, but they generally don't have baristas who know how to use them properly. So getting a really, really good cup of coffee in Franschhoek is a little harder than you might think.
But on a recent trip to Franschhoek, my wife and I chanced on The Hoek Espresso Bar. It is a tiny, "hole in the wall" place off a quiet side street, half a block from the bustling Main Road. There is only one table inside and they do not serve meals apart from croissants, pastries and biscuits - coffee is their passion. In fact, there is a sign on the wall that says
How do you take your coffee?
Seriously.
Very, very seriously.
The Hoek Espresso Bar : Street-side view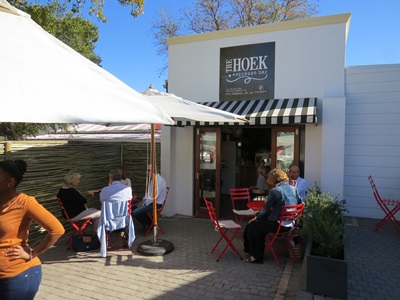 I can confirm that the sentiments expressed in this sign are alive and well at The Hoek. The bearded barista who made us our coffee was a master of his craft, explaining in detail exactly how hard he tamps the grounds, how long the "pull" should be and the temperature at which milk will be perfect. My Americano was fantastic and my wife was so pleased with her Espresso that she immediately announced that we should make The Hoek our coffee base in Franschhoek from now on. No argument from me ...
The Hoek Espresso Bar
Corner of Daniel Hugo & Reservoir Streets
Franschhoek
South Africa
(Phone) +27 79 451 3019
(Facebook)
www.facebook.com/thehoek
So if you want a truly outstanding cup of coffee in Franschhoek, I suggest you ignore the gourmet restaurants on the Main Road and instead visit The Hoek. You will not be disappointed.
---

© Paul Kilfoil, Cape Town, South Africa