Paul Kilfoil's World of Travel, Technology & Sport
---
Posted on by Paul Kilfoil.
The other day I was strolling through "The Watershed", a relatively new craft market in Cape Town's V&A Waterfront. This light and airy building contains mostly arty shops and vendors selling high quality jewellery and artefacts, but there is one food vendor in there as well - a restaurant that goes by the simple name of "Cooked". It is no more than a prefabricated box with a counter, serving hatch and a few tables outside. You order and pay at the counter, collect your food and drinks at the hatch and choose any table you like.
The simple exterior of Cooked in the V&A Waterfront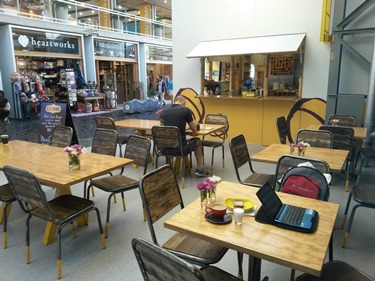 I ordered my usual Americano and became quite hopeful when the charming lass behind the counter informed me that they make all their coffees with a double shot [Aside : If only all restaurants would adopt this very sensible approach]. The coffee was served in a Le Creuset cup and certainly looked promising, with thick crema and a deep, rich colouring that hardly faded as I poured in the milk. And the first sip confirmed that Cooked was indeed a good choice as a coffee stop - the coffee was strong and flavourful, quite distinct from the typical sweet Italian taste or the wildness of an African roast.
The food at Cooked is Middle Eastern and Mediterranean with some unusual options like bacon, egg and cheese pie. I had one of these pies followed by a second Americano, which was just as good as the first. Afterwards I spoke to the manager of the place and he told me that the coffee they use is their own unique blend, roasted to their specification by a local roastery in Cape Town. You can buy this coffee too, ground or beans, in packets branded with the Cooked logo.
So if you want excellent coffee in the V&A Waterfront without the pretentious attitude and absurd prices of most of the restaurants there, try Cooked in The Watershed ; I'm pretty sure you won't be disappointed.
Cooked
The Watershed
V&A Waterfront
Cape Town
South Africa
(Phone) +27 79 925 2931
(Facebook) www.facebook.com/CookedCook
---

© Paul Kilfoil, Cape Town, South Africa