Paul Kilfoil's World of Travel, Technology & Sport
---
Posted on by Paul Kilfoil.
For the past 18 months a new shopping centre has been under construction in Sun Valley (a suburb of Cape Town in South Africa), near where I live. Locals have watched with interest as bulldozers, cranes and trucks drove in and out of the site while the building slowly took shape. The entire shopping centre is owned by Shoprite/Checkers, a huge multinational corporation that has retail outlets all over Africa. No surprize therefore that the anchor tenant in the mall is a large Shoprite/Checkers supermarket, branded as a "Checkers Hyper".
The restaurant in the Sun Valley Checkers supermarket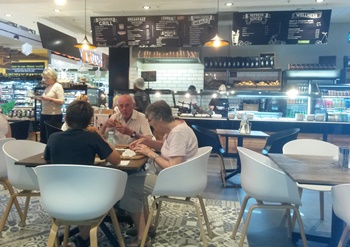 The centre opened towards the end of November 2015, so after the rush of the first few days had died down I went to have a look. I was surprized to discover that the Checkers Hyper supermarket had an in-store restaurant, and not just a counter for quick takeaways but a reasonably-sized area with tables and chairs. All manner of freshly-cooked food is served there, from muffins and croissants to hamburgers and fish and chips. But it was a Saturday morning and my interest was coffee, so I scanned the counter with a practiced eye and immediately noticed the presence of an espresso machine, which was hopeful.
Ordering something to eat or drink in the Checkers coffee shop is a tricky business. You order and pay at one end of the counter then walk back to the serving area and hand over your receipt ; the person there then prepares your food/drink and you carry it to a table (or you can get it in a takeaway container). The muffins looked good so I ordered a blueberry muffin and my usual coffee - a large (meaning a double-shot) Americano with hot milk. The coffee was served in a mug, artfully arranged on a rectangular-shaped saucer which had room on the side for a napkin, teaspoon and milk jug. A nice setup, and it showed that somebody had put quite a bit of thought into making the restaurant a cut above the usual supermarket-style mediocrity.
Good coffee, and quite stylishly presented too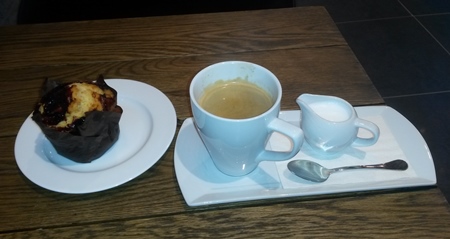 So much for appearances ; what was the coffee like? Being a restaurant inside a busy supermarket, probably without a specialist barista, meant that my expectations weren't high ... but I am pleased to report that the coffee was really quite good. Not the best I've had, but more than good enough for me to go back again in future. The blueberry muffin, although fresh, was somewhat stodgy - the only blueberries I found were those visible on the outside. And the process of ordering, paying and receiving your food is somewhat clumsy and confusing ; I suggest most strongly that Checkers implement a more streamlined procedure for this.
But all in all it was a pleasant coffee interlude and as the former governor of California (aka Arnie, aka The Terminator) would say, "I'll be back".
---

© Paul Kilfoil, Cape Town, South Africa