Paul Kilfoil's World of Travel, Technology & Sport
---
Posted on by Paul Kilfoil.
It's strange how you find the nicest coffee in the most unlikely of places. Last Sunday morning I was in Longbeach Mall, a medium-sized shopping centre in the southern peninsula of Cape Town. I had a few chores to do and then (as usual) I started looking for somewhere to have coffee. Longbeach Mall contains several restaurants, but they are all notoriously mediocre and not one of them is known to serve good coffee. Most of the restaurants are also inside the mall and are uniformly dark and gloomy - not an appealing prospect on a chilly autumn day.
Walking along the main stretch of the mall, I happened to glance down one of the side corridors and saw the "Wimpy" sign. This venerable old South African restaurant chain has been around since the 1960's and is well-known for red vinyl seats, plastic tables, waitresses in uniforms and weak, milky (ie. awful) coffee. But the Wimpy in Longbeach Mall is the only restaurant on the north side of the building, with big windows looking towards the mountain, so I knew it would be warm and sunny inside. "Why not?" I thought, and went in.
Unexpectedly excellent coffee at Wimpy, Longbeach Mall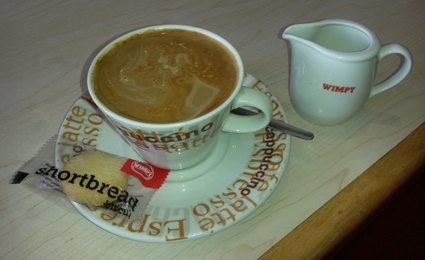 The place was nearly empty so I spread my newspaper out on a sunny table next to a window. Looking at the menu, I noticed that they no longer had the simple, one-size-fits-all "coffee" but now listed all the usual suspects - espresso, cappuccino, macchiato, etc. That gave me hope, and when the waitress came over I asked her if they could make an Americano. "Yes, no problem" she replied without hesitation. The fact that she understood my question increased my hope even further, so I ordered my usual Americano with hot milk as well as eggs, bacon and toast.
I still wasn't sure what to expect, but when the waitress returned I was instantly converted. The coffee was the dark orange colour you only see when it is prepared by a professional barista, and was topped with a thick, foamy crema. I poured in milk and watched as the colour changed very slowly, another good sign. Then the first sip hit my palate and any lingering doubt was removed. The coffee was fantastic, strong and aromatic with an unusual flavour I could not identify - perhaps Wimpy use their own customized blend? No matter, I enjoyed every sip.
After polishing off my breakfast I ordered another Americano and enjoyed the second cup just as much as the first.
Amazing! For years now I have been ignoring Wimpy because of the (obviously incorrect) belief that they still served mediocre coffee. Big mistake - they've clearly had a makeover and their coffee is now espresso-based and excellent. I have absolutely no hestitation in recommending the Wimpy in Longbeach Mall ; I shall certainly be visiting them again.
Update : Wimpy in Longbeach Mall closed in 2017. Very strange - there were always plenty of people inside the restaurant, so I wonder what went wrong?
---

© Paul Kilfoil, Cape Town, South Africa