Paul Kilfoil's World of Travel, Technology & Sport
---
Posted on by Paul Kilfoil.
People driving east out of Cape Town towards Caledon, Knysna and Port Elizabeth on the N2 national road will be familiar with the various roadside farm stalls and restaurants around the Houw Hoek Pass. One of these, Peregrine Farm Stall, has been operating since the 1960's and has always been a firm favourite of travellers. Unfortunately the Red Tractor Cafe (the farm stall's adjoining coffee shop), was completely destroyed in a fire in May 2014.
Wooden beams and a high ceiling in Peregrine Cafe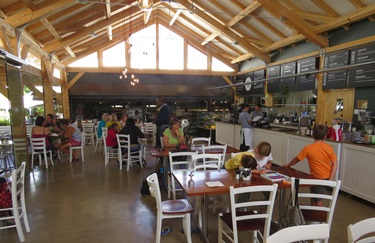 Peregrine's owners were not deterred by this tragic incident and decided to use the opportunity to breathe new life into the restaurant. They engaged architect Barry Gould and master carpenter Simon Smith of Overberg Joinery Works to design and build an entirely new restaurant, and re-opened for business in December 2014. The new Peregrine Café is light and airy, ideal for breakfast, coffee, lunch or anything in between. The structure copies the feel of the many apple barns found in the area, with a high ceiling and big windows on each end that allow light to come flooding in. Massive wooden beams of Austrian spruce, vintage Hoi P'loy lighting and screed floors add character ; the result is a bright, functional and contemporary feel.
Peregrine's owners also understand that their customers are often in a hurry and are just stopping for a quick caffeine jolt. So you can order and pay at the counter if you want really fast service, or sit down and be attended by a waiter. And when you get your coffee, it is very good indeed - they use beans roasted locally at Origin Coffee Roasting in Cape Town's city centre and have trained baristas who know exactly how to extract the best aroma, flavour and crema. Stop at Peregrine's for coffee and I guarantee you'll be energised for the long road ahead, no matter how far you are going ...
The proof of the pudding ... excellent coffee
---

© Paul Kilfoil, Cape Town, South Africa