Paul Kilfoil's World of Travel, Technology & Sport
---
Posted on by Paul Kilfoil.
The game of cricket serves up some strange results, which is a large part of the reason why it is such a fascinating sport. Take Victoria's match against New South Wales in Australia's first class competition, the Sheffield Shield, in February 2014. In Victoria's second innings the score was at one stage 9 runs for 6 wickets, a staggeringly bad collapse at any level of cricket, never mind a first class match being played by some of the best batsmen in Australia. The top four batsmen all went out for a duck before the number five batsman managed to score a single ... and was promptly dismissed. The scores of the top seven Victoria batsmen read: 0, 0, 0, 0, 1, 9, 0.
9 for 6 quickly became 32 for 7 before Glenn Maxwell strode to the crease. An allrounder known for his big hitting and cavalier approach to the game, Maxwell ignored the dire position his team was in and simply smashed the ball to all corners of the ground. He reached his century in only 89 balls and was last man out for 127, scored off 102 balls ... and bear in mind that this was a first class match, not a limited overs contest. The second innings total was 186, meaning that Maxwell scored 68% of his team's runs (74% of runs "off the bat"). In the first innings Victoria had scored 218, of which Maxwell had contributed 94, so in the context of the match Maxwell scored 221 out of 404 runs. And if you exclude "extras" (which comprised 33 runs across both innings), Maxwell's share of runs "off the bat" was an incredible 221 out of 371 - nearly 60% of the team total.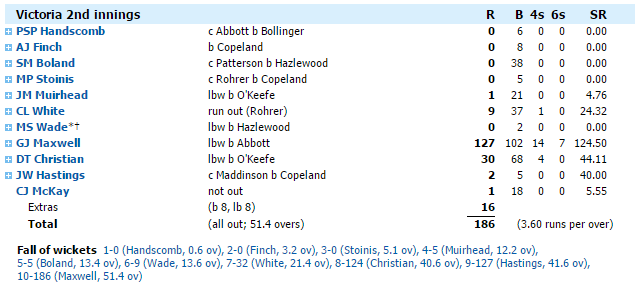 Maxwell easily top-scored in both innings ; the next highest scores by Victoria batsmen were 29 (in the first innings) and 30 (in the second innings). But despite these heroics, Victoria still lost the match by an innings and 48 runs. This was a huge margin of defeat, but take away Maxwell's contribution and the defeat would have been utterly humiliating. At least Victoria's scorecard showed some degree of respectability (not a great deal though).
These kind of strange scorecards are what make the game of cricket such a delightful pleasure, and why people say "We don't like cricket, we LOVE it!"
---

© Paul Kilfoil, Cape Town, South Africa