Paul Kilfoil's World of Travel, Technology & Sport
---
Posted on by Paul Kilfoil.
The Food Lover's Market is a chain of fresh food stores in South Africa. Many of them also have in-store restaurants or coffee bars, and I'd previously enjoyed excellent coffee at the store in Cape Town's city centre (on Hans Strijdom Avenue at the intersection with Loop Street). So when I was in Claremont recently and looking for a good cup of coffee I had no hesitation in turning my back on the pretentious and overpriced restaurants in Cavendish Square and strolling across the road to Food Lover's Market.
Food Lover's Market, Claremont.
Note the Lavazza sign in the window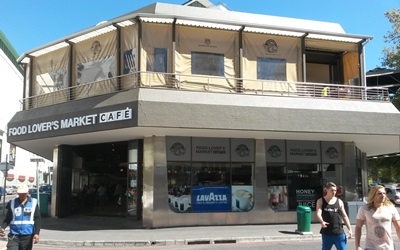 The layout in the Claremont store is similar to that of the one in the city centre, just a bit smaller. There are counters selling pastries, pies, sushi and various other forms of fresh food, and, best of all, a counter where you can sit and enjoy the mother lode of coffees - Lavazza.
Lavazza is not called "Italy's favourite coffee" for nothing - it truly is the Rolls Royce of coffees, quite simply the best coffee on the planet. Therefore I was pretty sure that this would be a good choice ... and so it proved. I bought a pepper steak pie, sat down at the coffee counter and ordered a double Americano. The barista presented the coffee in a tall cup with the hot milk in a miniature milk bottle - I hadn't seen that before, but it was a nice touch. And boy, was the coffee good. I sipped my coffee and read the newspaper in a state of blissful contentment.
Not all Food Lover's Market stores have a coffee counter, and of those that do, not all serve Lavazza or even have good coffee. For example, the large store in Longbeach Mall in Noordhoek has an in-store restaurant but their coffee is distinctly ordinary. So I cannot vouch for what you'll get at many of the Food Lover's Market outlets. But I can say with complete confidence that the coffee in at least two of them is absolutely superb - in Claremont (make sure you go to the counter near the door, not the sit-down restaurant upstairs) and Cape Town (the one in Hans Strijdom Avenue). Try them, you won't be disappointed ...
Is that good coffee, or what?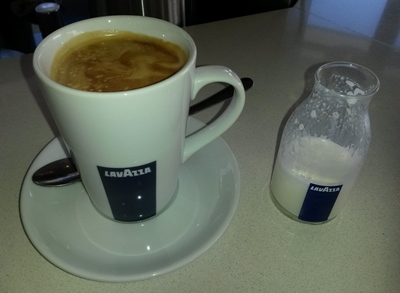 Food Lover's Market
Western Cape
South Africa

(1) Claremont
Corner of Vineyard & Dreyer Streets
(Phone) +27 21 674 7836
(EMail) cavendish@fnv.co.za

(2) Cape Town
Corner of Hans Strijdom & Loop Streets
(Phone) +27 21 425 2814
(EMail) icon@fnv.co.za
[Update] The entire Food Lover's Market building in Claremont has been demolished and the restaurant as described here no longer exists. Their outlet in Cape Town, however, is still going strong and is as popular as ever.
---

© Paul Kilfoil, Cape Town, South Africa