Paul Kilfoil's World of Travel, Technology & Sport
---
Posted on by Paul Kilfoil.
Observatory is an inner-city suburb of Cape Town, south-east of the city centre and on the Southern Suburbs commuter train line. It is a Bohemian sort of place, with old, dilapidated buildings, narrow streets and a general air of decrepitude. Students, Rastafarians, refugees and backpackers on a tight budget crowd the sidewalks and cars jostle for space in the congested streets, looking in vain for off-street parking.
Honeybun Deli ...
View of the street from the counter (above)
The rather drab and uninviting exterior (below)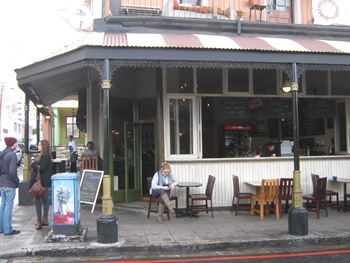 A two-block section of Lower Main Road through the middle of Observatory is packed cheek-to-jowl with restaurants, bars, nightclubs and guest houses. Here you will find food from Mexico, China, Italy and elsewhere, sometimes all together in one place, and the action continues until the early (VERY early) hours. People stumble out of bars and nightclubs at 4 AM, looking for their cars or the next fix of marijuana/cocaine/booze, whichever comes first.
I was in Observatory on a rainy Saturday morning recently, looking for none of the dubious delights mentioned above but rather my usual tipple - coffee. After strolling around for a while I eventually settled on a place called Honeybun Deli, on the ground floor of a building occupied by Bohemian Lofts Backpackers. It was quite small inside, with tables jammed up against each other and crowded with people (which is always a good sign). On the Lower Main Road side of the restaurant there was a counter and a long window, concertina'd open, where I managed to find a seat. The view wasn't great - tarmac, roads, cars and buildings, but it was quite atmospheric and I could feel the "Obs vibe" just sitting there and watching the goings-on outside.
I ordered coffee, not really expecting much. But I became more hopeful when I heard the barista grinding beans a minute later - that meant the coffee would be fresh and almost certainly espresso-based (not filter). The waitress brought my coffee (it was indeed espresso-based) and I added foamed milk, noting that the colour lightened very slowly - meaning it was strong, as coffee should be. I took my first sip and nearly fell off my chair it was so good. What a taste sensation! Strong, aromatic yet smooth and rounded, it was close to being absolutely perfect. How on earth did they get it so good?
I ordered a second cup and again I heard the beans being ground shortly thereafter. Honeybun clearly doesn't serve enough coffee to justify grinding a lot of beans in advance and only grind them on demand - which means each cup is made from the freshest possible coffee and partially explains the irresistable taste. The second cup I had was just as good as the first, and I sat there in a state of caffeine-induced nirvana, reading my book and grateful that I'd had the good fortune to stumble across this place in my wanderings.
The crowded interior of Honeybun Deli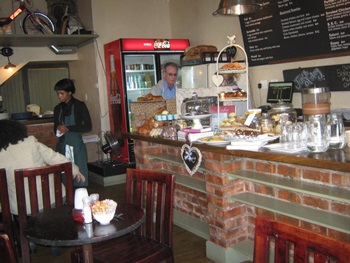 Needless to say, I added Honeybun Deli to my Best Coffee Shops list without any hesitation. It's not much to look at from the outside, but their coffee is absolutely superb. Try it, you won't be disappointed...
Honeybun Deli
Bohemian Lofts Building
Corner of Lower Main & Trill Roads
Observatory
Western Cape
South Africa
(Phone) +27 21 447 0606
(Facebook) www.facebook.com/CafeHoneybun
---

© Paul Kilfoil, Cape Town, South Africa