Paul Kilfoil's World of Travel, Technology & Sport
---
Posted on by Paul Kilfoil.
Holy mackerel! Who would have thought it possible that in May 2013 you could sit at a decent restaurant, not a dive, and enjoy filter coffee for only SEVEN RAND a cup? And that's not all ... refills cost, wait for it, only THREE RAND a cup!
This is not an April fools' joke. This restaurant really does exist, because I've been there and had the coffee. It's not the greatest but it's also far from the worst coffee I've had ; in fact, it was better than some of the stuff I've been served at so-called speciality coffee shops where they charge twice as much.
The coffee selection on Java Cafe's menu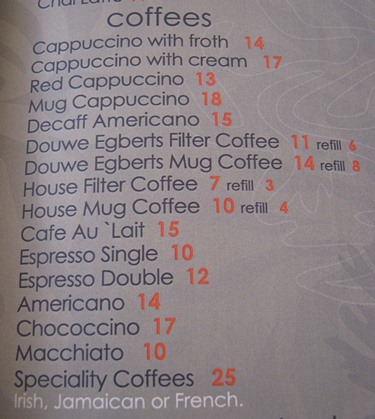 OK, so where is this mythical place? Unfortunately for any Capetonians reading this, it's in Stellenbosch, which is quite a long way to drive just to get a cup of coffee (even if it is extraordinarily cheap). My wife and I came across this restaurant a week or so ago when we were passing through Stellenbosch and were looking for somewhere to have lunch. Strolling down Church Street we saw a place called Java Cafe that looked very nice, with tables on the sidewalk and lots of people eating and drinking. We sat down, I looked at the menu and nearly fell off my chair when I saw the "Coffee" section - they listed all the normal suspects like espresso, americano, cappuccino and so on, but they also had House Filter Coffee R7, Refill R3. I had to read it twice to be sure my eyes weren't deceiving me.
I asked the waitress what brand of coffee the "house filter" was. She had no idea and promised to ask, but the restaurant was very busy and I guess she didn't get round to it because I never did find out. But I was so intrigued that I ordered a cup of the house filter, even though I normally have Americano - I just had to try it. And when the coffee came I was amazed because it really wasn't bad at all. Of course I also had to have a refill, which was just as good. So two cups of freshly-brewed filter coffee cost the princely sum of ten Rand. Amazing.
Stellenbosch is home to the biggest university in the Western Cape, meaning that the house filter coffee at Java Cafe is probably on the menu to attract students. But the restaurant itself is by no means a cheap student hang-out and we enjoyed our lunch thoroughly ; so if you're in Stellenbosch and want to have coffee at a price from ten years ago, why not try Java Cafe?
Java Cafe
25 Church Street
Stellenbosch
Western Cape
South Africa
(Phone) +27 21 887 6261
(Facebook) www.facebook.com/pages/Java-Cafe/171323356242455
---

© Paul Kilfoil, Cape Town, South Africa