Paul Kilfoil's World of Travel, Technology & Sport
---
Posted on by Paul Kilfoil.
I live in a suburb called Sun Valley in South Africa's southern Cape Peninsula, not far from Cape Town. We are surrounded by a fantastic natural environment, including mountains, oceans, dunes, rivers and wetlands. Unfortunately, over the years Sun Valley and its surrounds has become degraded due to urban sprawl - rivers are polluted, public open spaces such as parks are full of litter and graffiti is making its ominous presence felt.
The edge of the Sun Valley Wetlands, next to the
last row of houses in Chebec Crescent. Venus Vlei
is out of picture near the bottom left corner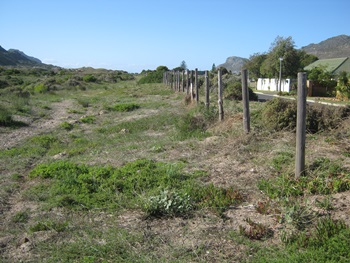 My wife and I have tried our best to keep the neighbourhood around us clean and neat, as have a few other residents. But we felt that more could be done. So in February 2013 we started putting the word out that we wanted to start a group dedicated to keeping the suburb and the surrounding wetlands clean and neat, hoping that we could mobilise support for this initiative from many more people. My wife wrote letters to the local community newspaper, we sent emails and we talked to everybody we knew about it.
The first gathering of the as-yet unnamed group was set for Thursday 21 March 2013, very appropriately designated as "Heritage Day" (a public holiday in South Africa). This initial get-together would be an exploratory walk round Sun Valley, picking up litter along the way, and ending at the wetlands that border the suburb on the north-west. The meeting point was to be Sun Valley Common, a large public open space in the middle of the suburb.
My wife and I had no idea how many people would be interested. In fact, would anybody be prepared to give up their public holiday time for the sake of walking around and clearing up trash? But we needn't have worried, because more than twenty people turned up, including (amazingly) some teenage children. I stood on one of the large boulders on the Common and presented a brief introduction to what we were trying to achieve and then we all headed off on a roughly circular route through the suburb, via many of the parks and open spaces. A HUGE amount of litter and rubbish was collected along the way.
A restful spot next to Venus Vlei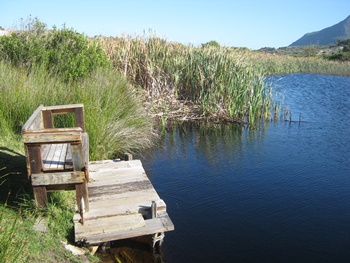 About 45 minutes later we reached Venus Vlei, a fair-sized natural pool and the focal point of the Sun Valley Wetlands. There we met Evanne and Terry Rothwell from The Riverine Rovers, a group that has been instrumental in developing and maintaining the Clovelly Wetlands near the mouth of the Silvermine River. The story of the Clovelly Wetlands is an inspiring one and demonstrates that major improvements to an urban environment CAN be achieved, provided the local community is persistent, committed and vociferous enough.
Evanne conducted a water quality assessment of Venus Vlei and announced that the water was "somewhat impacted", meaning that it wasn't perfectly pristine (which nobody expected anyway), but it really wasn't bad at all - there was a little pollution, but not too much. That was excellent news and made us realize how good Nature is at taking care of itself.
About three weeks after the first get-together we had a public meeting in a local church hall, during which the objectives of the group were discussed, a committee was elected and a proper name was chosen. Even more people turned up for this meeting, implying that what we were trying to achieve was generally supported by the community - a critical issue, because without community support the whole exercise would be futile. The name that was eventually chosen for our group was Sun Valley Eco Watch.
The first committee meeting was held a week later and my wife, Karen Gray-Kilfoil, was unanimously voted in as Chairman - a fitting choice because she has been the driving force behind the entire initiative. The first project we tackled was to remove the rusty and derelict old fence between the Sun Valley Wetlands and Chebec Crescent. This was planned for Wednesday 1 May 2013, and again a lot of people turned up to help. The old cliche "many hands make light work" was proved true as the fence was ripped out in less than three hours, leaving only the wooden posts behind ; we've decided to leave these for the moment (you can see the remains of the posts in the top photograph).
It is still early days for our fledgling organization, but thus far the prognosis is good. Hopefully we will go from strength to strength and ensure that Sun Valley becomes an even nicer place to live, with safe, clean streets and pristine natural areas nearby for walking, running and relaxing. So if you live in or near the area, join us!
Sun Valley Eco Watch's timeline is as follows:
Thu 21 March 2013 : "Discovery" walk round Sun Valley, doing a general clean-up followed by a water quality assessment in Venus Vlei (Chebec Pond).
Tue 9 April 2013 : First public meeting, during which the name "Sun Valley Eco Watch" was accepted and a committee was elected.
Wed 17 April 2013 : First Sun Valley Eco Watch committee meeting.
Wed 1 May 2013 : Remove rusted fence between Chebec Crescent and the Sun Valley Wetlands.
Wed 15 May 2013 : Second committee meeting.
Sat 25 May 2013 : Begin hacking a path through the wetlands abutting Chebec Crescent.
Wed 17 July 2013 : Third committee meeting.
---

© Paul Kilfoil, Cape Town, South Africa