Paul Kilfoil's World of Travel, Technology & Sport
---
Posted on by Paul Kilfoil.
This article was published as the "Letter of the Month" in the February 2013 issue of "SA Sports Illustrated" magazine.
When Faf du Plessis batted for almost eight hours in November 2012 to save South Africa from near-certain defeat in a cricket test match against Australia, he continued a fine tradition of heroic fourth-innings defensive efforts going back several years. In 1997 Jacques Kallis scored 101 as South Africa staved off defeat in Melbourne and in 2005 Jacques Rudolph produced a similarly dogged rearguard effort of 102 not out in Perth. Faf du Plessis must surely have taken inspiration from these fighting innings as he offered a dead bat to everything the Australian bowlers could throw at him, hour after hour.
South Africa vs Australia
Date
22-26 November 2012
16-20 December 2005
26-30 December 1997
Venue
Adelaide
Perth
Melbourne
Result
Match drawn
Match drawn
Match drawn

---

4'th Innings Target
430
491
381
4'th Innings Score
248/8
287/5
273/7
4'th Innings Time
9 hours 9 minutes
8 hours 53 minutes
8 hours 3 minutes
4'th Innings Overs
148
126
122

---

Highest score by
Faf du Plessis, 110*
Jacques Rudolph, 102*
Jacques Kallis, 101
Balls faced
376
283
279
Time at the crease
7 hours 46 minutes
7 hours 11 minutes
5 hours 57 minutes
There are some remarkable similarities in these three matches. In each case Australia had batted first and closed their second innings with a huge lead (they had declared in two of the matches), making it virtually impossible for South Africa to win. South Africa's only hope (and a very slender one) was to bat for a very long time on a deteriorating pitch against some of the best bowlers in the world and thus achieve a draw. The major contributor in each match was a player who was relatively young and/or new to test cricket ; indeed, Faf du Plessis was making his debut. Back in 1997 Jacques Kallis was a 22-year old with only 6 previous tests to his name, and although Jacques Rudolph was already playing his 28'th test in December 2005, he was still only 24 years old.
Looking at the fourth innings statistics and scorecards presented here, it is clear that Faf du Plessis batted the longest and faced by far the most deliveries - nearly a hundred more than either of the two Jacques. So on the face of it it would appear that Faf's effort was the toughest. However, if you look at the bowlers that each of the three had to face, you can see that back in 1997 and 2005 Australia had the likes of Glenn McGrath and Shane Warne in their team. Between them these two legends of Australian cricket bowled 72 and 71 overs in the fourth innings of the 1997 and 2005 matches. But by 2012 McGrath and Warne had retired and the Australian attack was but a pale shadow of the potent force it used to be ; Faf du Plessis had to contend with Peter Siddle, Ben Hilfenhaus and Nathan Lyon, none of whom tend to make batsmen quiver in their boots. I don't think any follower of cricket will dispute the assertion that McGrath and Warne, with 563 and 708 test wickets respectively, were orders of magnitude superior to any bowler in the 2012 Australian team. To make matters easier for Faf, Australia also had to do without the services of their fast-bowling spearhead (James Pattinson), who had been injured earlier in the match and was unable to bowl in the fourth innings.
Test 1392, December 1997 : Jacques Kallis vs Australia
Test 1777, December 2005 : Jacques Rudolph vs Australia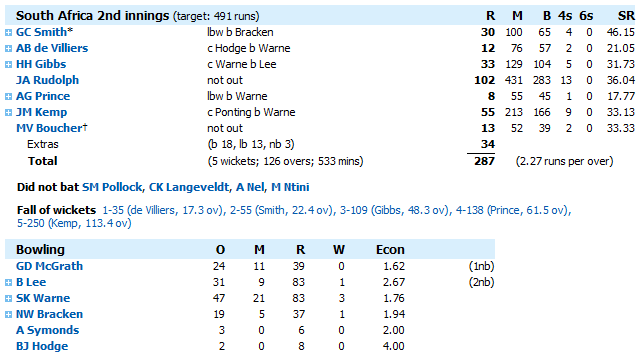 Test 2061, November 2012 : Faf du Plessis vs Australia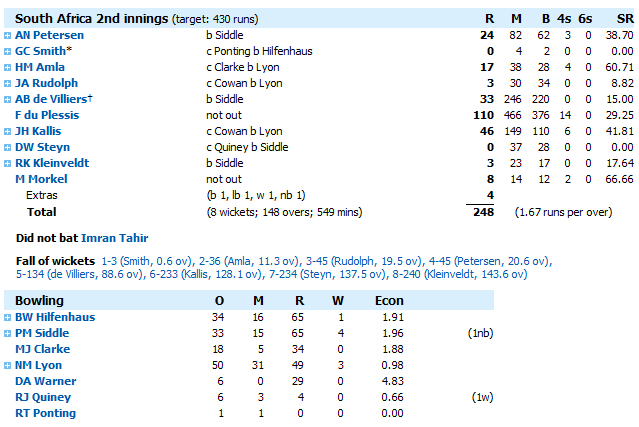 So Kallis and Rudolph faced fewer deliveries but from a very high class bowling attack (in fact, Rudolph also had to contend with Brett Lee, another Australian legend but not quite in the same bracket as McGrath and Warne). Du Plessis resisted for longer and kept out more deliveries but these were largely from significantly inferior bowlers. On that basis it would probably be fair to say that the "difficulty rating" of all three innings was fairly similar. However, in the 1997 match Kallis lost his wicket well before the end ; subsequent batsmen resisted for no less than 24 overs after Kallis was dismissed to secure the draw. But both Rudolph and du Plessis stayed at the crease until the last ball was bowled and remained undefeated at the end. So perhaps one can elevate the performances of Rudolph and du Plessis above that of Kallis.
Further examination of the scorecards shows that of the three, only Faf du Plessis was forced to bat with tailenders - Dale Steyn, Rory Kleinveldt and Morne Morkel. The last recognized batsman in the 2012 match (Jacques Kallis, batting in the unaccustomed position of number 7) was dismissed with 20 overs still to be bowled. But in the 1997 and 2005 matches Kallis and Rudolph had the luxury of batting with competent partners until the end - Shaun Pollock and Lance Klusener were not out in 1997 and Mark Boucher was at the crease with Rudolph in 2005. All of these players were accomplished batsmen with several test centuries to their credit. However, du Plessis had to farm the strike and protect three different batting partners for 20 overs in 2012, which probably explains why he faced so many more balls than the other two. That certainly suggests that Faf had a far more difficult time in the last hour or so of play.
And what about the respective pitches in the three matches - Melbourne in 1997, Perth in 2005 and Adelaide in 2012? The famous ultra-fast pitch at the WACA ground in Perth was probably the easiest to play on on the fifth day, but it would be a toss-up between Adelaide and Melbourne as to which had deteriorated the most. That would mean Kallis and Du Plessis had a tougher time than Rudolph.
Given all the evidence above, I suggest that Faf du Plessis' innings in 2012 was definitely the best of the three knocks, followed by that of Jacques Rudolph in 2005 with Jacques Kallis' 1997 effort in a very close third place. This ranking does not in any way denigrate the latter two performances, both of which were studies in dogged determination and a "never say die" attitude, but it does perhaps bring some statistical perspective into the discussion. All we can say with certainty was that each match was a fine demonstration of the noble game of cricket, showing that you can have a game lasting five full days, end up as a draw and still be utterly engrossing. Long live test cricket!
[Update] Remarkably, Faf du Plessis repeated his heroic 4'th innings batting feat almost exactly a year later in December 2013, when India had South Africa on the ropes in a test match in Johannesburg - this time he batted for 6 hours and 35 minutes and scored 134 as South Africa evaded defeat (and almost reached the near-impossible target of 458 runs for victory).
---

© Paul Kilfoil, Cape Town, South Africa