Paul Kilfoil's World of Travel, Technology & Sport
---
Posted on by Paul Kilfoil.
Facebook, Inc
Based in
California, USA
Chief Executive Officer
Mark Zuckerberg
Listing date (IPO)
Friday 18 May 2012
Share price on listing date
38 US Dollars
Value on listing date
104 Billion US Dollars
Share price on 6 June 2012
26 US Dollars
Value on 6 June 2012
71 Billion US Dollars
So Facebook has done it - listed on the US stock exchange and become a public company. In doing so Mark Zuckerberg, 28 year old founder and Chief Operating Officer, became an instant billionaire, joining the likes of Mark Shuttleworth, Elon Musk and Bill Gates as uber-rich IT entrepreneurs. Several other people who were involved in Facebook from the beginning also walked away with obscenely huge pots of cash, including co-founder Eduardo Saverin (who was forced to sue Zuckerberg in order to claim his rightful share of the company).
After months of speculation Facebook finally changed its status to "public" on the Nasdaq stock market on 18 May 2012 ; the initial share price of $38 gave it a staggering overall value of $104 billion. That is 104 000 000 000 US Dollars, or about 850 000 000 000 SA Rands. If you are struggling to grasp the concept of numbers as big as these (I admit that I am), here are a few comparisons:
| | |
| --- | --- |
| * | $104 billion is only a little less than the Gross Domestic Products of New Zealand, Vietnam or Kuwait. |
| * | $104 billion is MORE than the Gross Domestic Products of Slovakia, Croatia or Luxembourg. |
| * | Microsoft is worth about $253 billion, only about two and a half times as much as Facebook. |
| * | A fully-equipped Boeing 747 "Jumbo Jet" costs about $300 million. |
My post on Facebook on 3 February 2012
Has the entire world gone mad? Or have I found myself in some kind of alternative universe here? 104 billion dollars for a company that has absolutely no products, no long-term business strategy, no sales of any kind? In fact, they have absolutely nothing except a free service and more online (non-paying) users than any electronic enterprise in history. They have an incredibly sophisticated web application, but it's free for anybody to use. The entire basis of these vast and ludicrous sums of money is based on income from silly games like Farmville and advertising revenue ... or should I say, the potential promise of future advertising revenue. And anybody who knows anything about online advertising knows how unpredictable and fickle this market is ; if (when?) enough advertisers wise up to the fact that non-paying Facebook users seldom click on web adverts, the entire Facebook business model will go up in smoke.
So I wouldn't touch Facebook shares for any reason. Doesn't anybody remember the Dot-Com bubble of the late 1990's and early 2000's? A great number of people who should have known better got very badly burned investing in over-priced high-tech enterprises that were shown up to have very little actual value. I should know - I worked for one of these companies whose share price went from around R3-00 per share to as low as ten cents before they did a 10-for-1 consolidation. And the price never bounced back simply because it was never worth the initial value in the first place. See any similarities to Facebook?
Facebook goes public : 11 AM, 18 May 2012 (above)
... and look it at now : 6 June 2012 (below)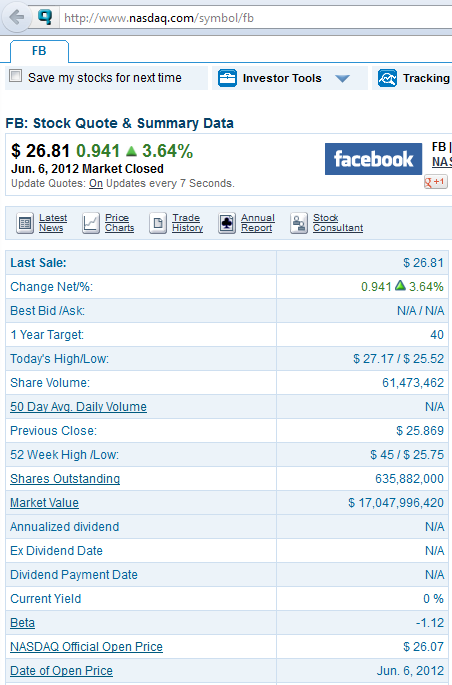 And lest you think I'm writing this with hindsight, here's the exact text of a message I posted on Facebook (yeah, ironic!) in February 2012, more than three months before Facebook went public (at that time it was thought Facebook's value would be "only" $75 billion):
Facebook is about to go public with a quite astonishing listing value of $75 billion (yes, 75 BILLION US Dollars). If you don't think that's an absurd value for a free service that doesn't have a long-term business plan for major revenue generation, then read the article I've linked below ; I don't agree with all of it but quite a lot of what he says is on the button (in my opinion).
So what happened after the much-hyped public launch? Well, very little - Facebook's share price initially went up to as much as $45 then it fell sharply and kept falling. No surprize there, I'm afraid. And less than a week later, disgruntled shareholders who had lost millions started sueing Facebook, alleging that the company had deliberately withheld information related to weakened growth forecasts. In the meantime the share price has fallen to $26 from the initial $38, meaning that the company has lost 32% of its value in three weeks. In fact, Facebook set a new record for the biggest loss ever sustained by a company in its first month of trading (over 30 billion dollars). That's a lot of investment capital down the drain ...
To make matters worse, several technical hitches plagued Facebook's debut on the Nasdaq stock exchange. Many traders were prevented from selling their shares when they wanted to do so and as a result lost millions when the price fell (which means, on the flip side, that many people who had intended to buy Facebook shares were saved from massive losses). Nasdaq have offered to pay 40 million dollars in "compensation" to traders who were affected by these problems, a move which has provoked strong criticism. The New York Stock Exchange (NYSE) had this to say on the matter:
We have yet to receive full details of NASDAQ's plan. However, we believe it would be wholly inconsistent with fair practice and an undue burden on competition to allow NASDAQ to use pricing and other machinations as a guise for fairly compensating those impacted by the Facebook IPO issues. Such a tactic would potentially strongly incent customers to divert order flow to NASDAQ in order to receive compensation to which they are entitled, and allow NASDAQ to reap a benefit from market share gains they would not have otherwise received. This is tantamount to forcing the industry to subsidize NASDAQ's missteps and would establish a harmful precedent that could have far reaching implications for the markets, investors and the public interest. We intend to strongly press our views that NASDAQ's proposal cannot be allowed to permit an unjust and anti-competitive situation.
Of course, you have to remember that Nasdaq (in California) and the New York Stock Exchange are bitter rivals. The NYSE must have been rubbing their hands with glee at Nasdaq's woes and wasted no time in lambasting their opposition.
I think the whole situation was summed up very nicely by the Wall Street Journal, a publication not known for pulling any punches. It called Facebook's IPO a "fiasco".
[Update] Facebook's share price dropped below $18 in September 2012, and as at 9 October 2012 it was trading at about $20 - meaning that the company had lost a little less than HALF its initial value in five months.
---

© Paul Kilfoil, Cape Town, South Africa