Paul Kilfoil's World of Travel, Technology & Sport
---
Posted on by Paul Kilfoil.
On Wednesday 22 February 2012 my wife and I visited Green Point Park in Cape Town's city centre. Properly called Green Point Park and Biodiversity Garden, it covers 105 hectares of public open space adjacent to Cape Town Stadium and was opened in December 2010 - five months after the 2010 Soccer World Cup. The park is easily accessible from the city centre by following the "fan walk" from Waterkant Street and along Somerset Road, or from Green Point through a gate next to the Virgin Active Health Club. You can also take a MyCiTi bus from the station on Hertzog Boulevard to Cape Town Stadium, from where it's a short walk.
One of the many water features in Green Point Park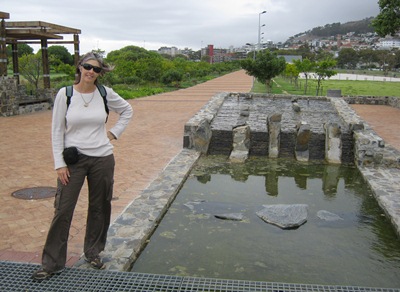 I had not been in this area for several years and I was completely amazed at how Green Point Park has transformed it. From a drab, uninteresting landscape of little-used football fields and derelict parking lots, it is now a verdant and tranquil oasis. There are different areas in the park for different activities and landscapes, all connected by immaculately-paved paths and wooden bridges. You can picnic or play soccer or cricket on one of the many lawns, listen to music at the bandstand and small amphitheatre, work up a sweat on a series of open-air exercise machines, let your kids run amok in a separately-fenced children's play area or stroll through the biodiversity garden, where many different species of indigeneous plants are marked and labelled. There is even a section where different types of grasses are growing side-by-side ; you are invited to walk on each one and feel the difference in texture beneath your feet.
Water is everywhere in the park. On the north-east side a lake separates the park from the Metropolitan Golf Course, and from this lake several streams meander through the gardens. Certain areas have been set aside as wetlands, showcasing bird life, reeds and riverine grasses. Wooden bridges and walkways criss-cross the various streams, with sign boards providing interesting facts about the specific habitat you're looking at. There are plenty of benches on which to sit and rest, read a book or simply relax and enjoy the surroundings.
Green Point Park is a fantastic asset to the city of Cape Town - a restful, rejuvenating area of nature in the midst of the city, into which you can escape to get away from the noise, stress and bustle of traffic. All around the park are the high-rise buildings of Cape Town and Green Point, only a stone's throw away but seemingly part of another world (a bit like Central Park in New York but on a much smaller scale).
A restful green lung in the heart of the city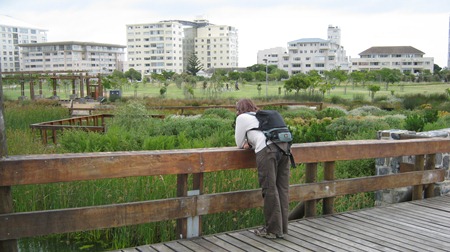 The park is open from 7 AM to 7 PM. Picnics are permitted, but swimming, skateboarding, fires, camping, loud music, picking of flowers and alcohol are not allowed. Dogs are welcome, provided they are kept on a lead and their owners pick up and dispose of their excrement.
Parking is available near the entrance on the corner of Beach and Vlei Roads as well as on Bill Peters Drive (near the Virgin Active Health Club) and on Bay Road (near the Mouille Point lighthouse). Alternatively you can just walk in from your office, apartment or hotel. Whatever you do, get to Green Point Park and revive your spirit in this marvelous green lung in the middle of our city.
---

© Paul Kilfoil, Cape Town, South Africa