Paul Kilfoil's World of Travel, Technology & Sport
---
Posted on by Paul Kilfoil.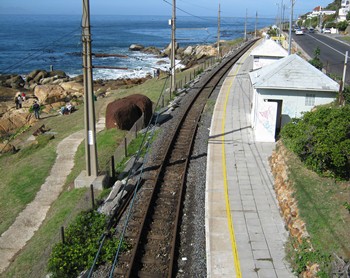 Sunnycove station (above)
Sand-covered tracks at Glencairn beach (below)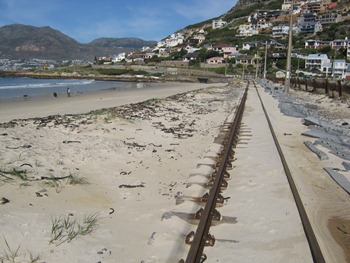 Early in December 2009 a severe storm caused extensive damage to the railway line that runs from Cape Town to Simon's Town down the east coast of the Cape Peninsula in South Africa's Western Cape province. Trains could not travel over the affected section of track so the line was closed between Fish Hoek and Simon's Town pending repairs by MetroRail, the operator of commuter trains over this popular route. Three stations were affected by the closure : Sunnycove, Glencairn and Simon's Town. Trains that used to terminate at Simon's Town were instead terminated at Fish Hoek ; similarly, all trains that previously started from Simon's Town now began at Fish Hoek. A bus service between Fish Hoek and Simon's Town was provided by MetroRail to compensate for the lack of trains.
Unfortunately this bus service has proven to be far from adequate. The road between Fish Hoek and Simon's Town can get quite congested at peak hours, so the bus frequently took longer than the train would have done to cover this distance ; consequently most trains from Fish Hoek left late as they had to wait for the bus from Simon's Town to arrive. Commuters therefore only had a couple of minutes at Fish Hoek station to change from bus to train or vice versa. The buses themselves caused major traffic problems while trying to park or turn around at both Simon's Town and Fish Hoek stations. Many complaints were also received from motorists and residents along the road between the two stations complaining of these buses travelling too fast or recklessly.
Despite repeated assurances and promises by MetroRail, absolutely nothing was done to repair the damage until September 2010, nearly a year later. Even the Football World Cup, held in South Africa in June and July 2010, failed to galvanise the authorities into action. The railway line remained abandoned and rusting, covered by wind-blown sand in places, as public relations officials spouted endless drivel about their plans to re-open the route.
The tracks from Glencairn south, blocked off and closed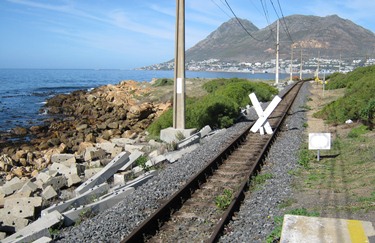 The section of railway between Muizenberg (north of Fish Hoek) and Simon's Town is without doubt the most scenic in and around Cape Town. The tracks hug the coastline, often only a few metres from the sea ; spray frequently hits the train windows and on occasion waves actually break against (and sometimes into) the carriages. From July to November whales can often be seen very close to shore. This route is thus a mecca for tourists and for over a year now the best part of it has been closed to them. The closure coincided with the 2010 Football World Cup, a time when South Africa (and Cape Town) experienced a tourist boom like never before ; the revenue loss for MetroRail must have been massive. Surely somebody in authority with a grain of foresight could have anticipated this and accelerated the repair work so that the line could have been re-opened before the World Cup began? After all Gautrain, a project on a monumentally larger scale, managed to get the rail link from Johannesburg International Airport to Sandton ready in time for the World Cup.
In September 2010 work was finally started on repairing the damage. A huge building site can be seen on and around the tracks at the corner of Main Road and Dido Valley Road, just north of Simon's Town, and massive quantities of rock have been railed in to stabilise the parts of the shore that were undermined by the sea. Much has been said about when the line will be open again, but by now nobody is believing a word of this. It has become a case of "we'll believe it's open when we see a train" ...
[Update] The line was finally re-opened on Monday 21 February 2011, more than 14 months after it was closed.
---

© Paul Kilfoil, Cape Town, South Africa