Paul Kilfoil's World of Travel, Technology & Sport
---
Posted on by Paul Kilfoil.
I absolutely love good coffee (which you would know if you've visited my Best Coffee Shops in Cape Town web page), and it is always a delight to discover a new coffee venue. This happened recently when my wife and I visited Tribeca Bakery and Coffee Shop (now called "Tribakery", see note 2 at the bottom), on the Main Road in Kalk Bay, a suburb of Cape Town in South Africa.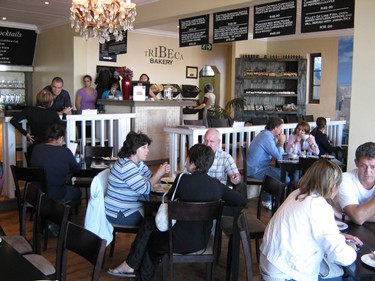 The name of the coffee shop was inspired by an area of Manhattan in New York City called "Tribeca" (an abbreviated name for the "triangle below Canal Street") that is renowned for having a number of excellent restaurants. In keeping with this theme, the interior decor of the shop has been done in a kind of "New York skyline" motif, with giant posters of skyscrapers adorning the walls. There are tables of various sizes and a counter for people on their own who just want to nip in for a quick caffeine jolt.
Tribeca is on the Main Road in Kalk Bay, opposite the train station and facing the sea (ie. east), so in the morning the sun streams in making it warm and pleasant. It has an in-store bakery that produces incredibly delicious croissants, muffins and pastries, the smell of which wafts onto the pavement and draws customers inside like a magnet.
Added to all this is superb coffee. None of your supermarket filter machine muck here - each cup is created fresh. Tribeca uses their own blend of "fair trade" coffee beans, sourced from Brazil, Guatemala, Cameroon and Tanzania and freshly ground every day. I can think of nothing better than sitting in Tribeca with a chocolate croissant, a freshly-brewed cup of coffee at my elbow and my beautiful wife next to me, looking out over the sea as the morning sun caresses the windows with a soft mellow glow ...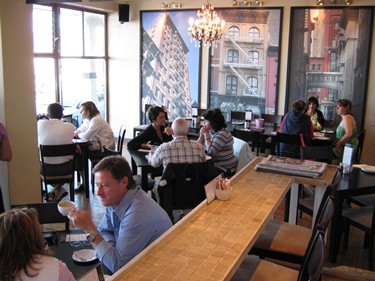 Tribeca Bakery and Coffee Shop
106 Main Road
Kalk Bay
Western Cape
South Africa
(Phone) +27 21 788 3424
(Web) www.tribakery.co.za (see Update 5 below)
(Facebook) www.facebook.com/Tribakery (see Update 5 below)
[Update 1]
Tribeca proved to be so successful that the owners opened three further branches in Cape Town's Southern Suburbs in 2011 (in Noordhoek, Bergvliet and Tokai), followed by two more in 2012 (in the reconstructed Blue Route shopping mall and Cavendish Square). Another is due to open in the V&A Waterfront in 2013. All of these also have the same "New York skyline" theme and are rapidly becoming just as popular as the original store in Kalk Bay.
[Update 2] Apparently the name "Tribeca" was previously trademarked in South Africa by somebody else, and in 2012 this person (or persons) threatened Tribeca Bakery with legal action. All of the popular Tribeca restaurants in Cape Town have thus been renamed to Tribakery.
[Update 3] The rapid expansion of the Tribakery brand has not been without problems - the restaurant in Bergvliet closed down in 2014. The place had just undergone a major renovation, so it must have been a very costly exercise. The original Kalk Bay outlet was also renovated and has unfortunately lost the warm and cosy atmosphere that made it so popular (it no longer looks like the pictures you see on this page).
[Update 4] In 2014 Tribakery's woes continued - almost all of their restaurants (including the original, flagship store in Kalk Bay) have either closed down or have changed names. This seems to me a classic example of "killing the goose that laid the golden egg" ; they had a product that was fantastic, extremely popular and was exactly what the market wanted, but their success resulted in prices going up and quality and service going down. Given the competition in the coffee shop market, the paying public simply went somewhere else ...
[Update 5] In December 2014 Tribakery's web domain (tribakery.co.za) was suspended and their public page on Facebook was deleted ; I guess it won't be long before the entire business disappears. It boggles the mind how such a successful brand could be destroyed so quickly.
---

© Paul Kilfoil, Cape Town, South Africa